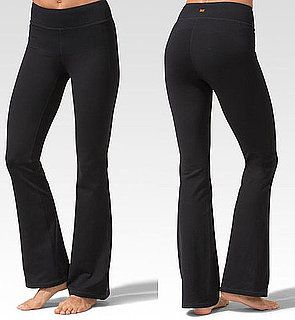 I'm no FitSugar so the idea of spending any more than $20 on a pair of workout pants hadn't occurred to me ever. . . until I tried on the new
Perfect Core Pants
($98) that Lucy sent me to test out while I
battle the baby weight
. Made to encourage body alignment while working out, the "power mesh" zones offer targeted support (also known as sucking a mama in and making her look better), which can boost a flabby and sleep deprived girl's confidence as she heads to the gym to shed her postpartum pounds. Traditional workouts aside, these comfy pants have the perfect amount of stretch for a mom to keep up with kids on the monkey bars and appear slightly more put together in the carpool lane. I wish I had had a pair to wear home from the hospital after my son was born. New moms swear by Spanx and waist cinchers to streamline their post delivery spillage, but for ladies who find those products too restrictive, these pants are a nice alternative that can serve other purposes for the hefty price. Available in practical black and navy, the well-made bottoms match with everything else in a woman's wardrobe. If you want to complete the gym ensemble,
check out Fit's review
of the coordinating top!