There's a mason jar movement [1] that's sweeping the nation right now, with the old-fashioned canning jars being repurposed for everything from wedding [2] decor to craft projects. Once used primarily for preserving fruits, jams, and jellies, mason jars have taken on a whole new role in the kitchen. Check out 15 crafty recipes and meal ideas for your collection of masons that your kiddos will undoubtedly put their seal of approval on.
Mason Jar Muffin Mix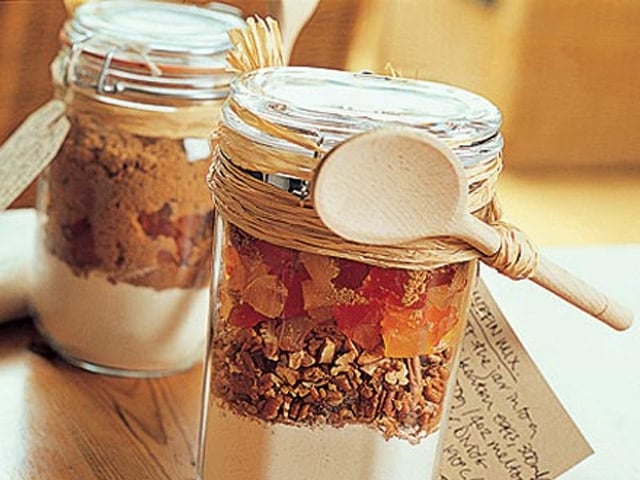 It doesn't get any easier than this morning muffin mix [3]. Just add eggs, milk, and melted butter, and pop them in the oven!
Source: Put It in a Jar [4]
Mini Chicken Pot Pies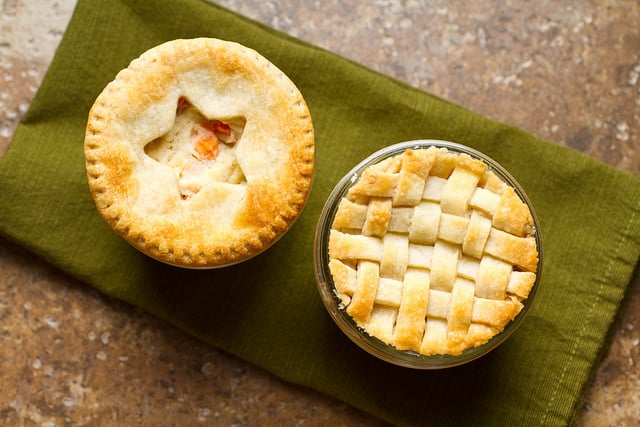 An adorable mini twist on a cold-weather classic, these chicken pot pies [5] are just the right size for little bellies when they're cooked into wide-mouth mason jars. You can even keep them in the freezer for chaotic weeknights when there's no time to start from scratch.
Source: The Nerd's Wife [6]
Banana Coconut Cream Parfaits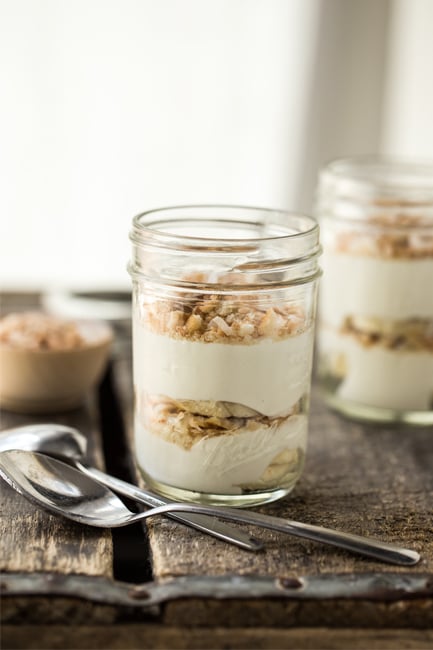 Layers of banana, cream, coconut, and wafers lend a taste of the exotic to these parfaits [7]. They're sure to be a favorite for moms and kids alike!
Source: My Baking Addiction [8]
One Chic Sippy Cup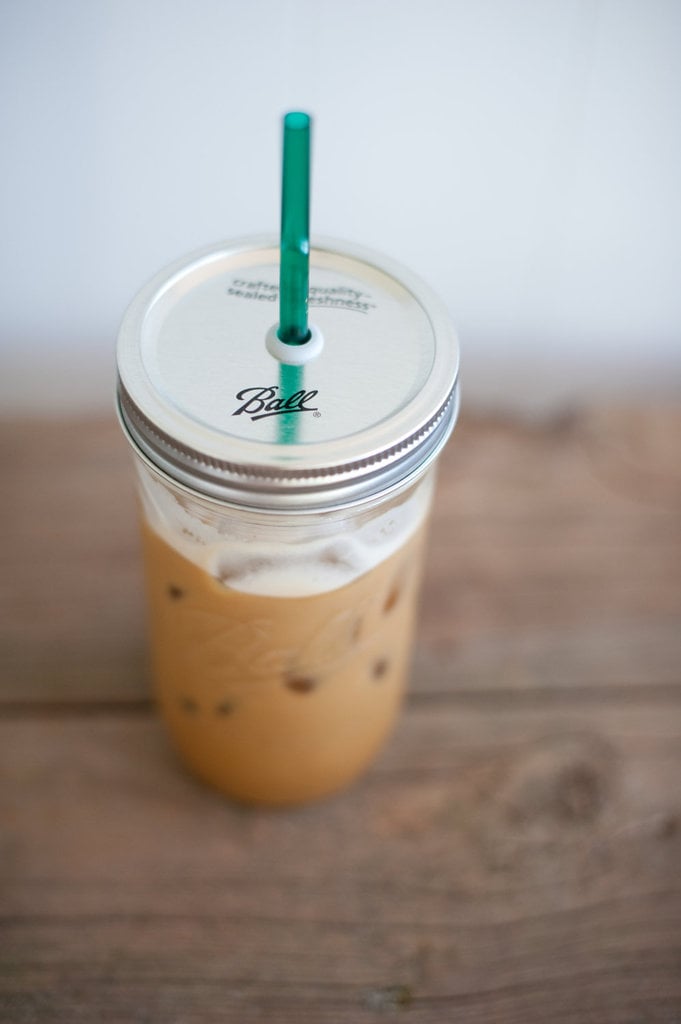 We love these spill-proof mason jar tumblers [9] from Etsy seller PoppyandPearlCo, but you could also make your own.
Source: Etsy user PoppyandPearlCo [10]
Homemade SpaghettiOs With Minimeatballs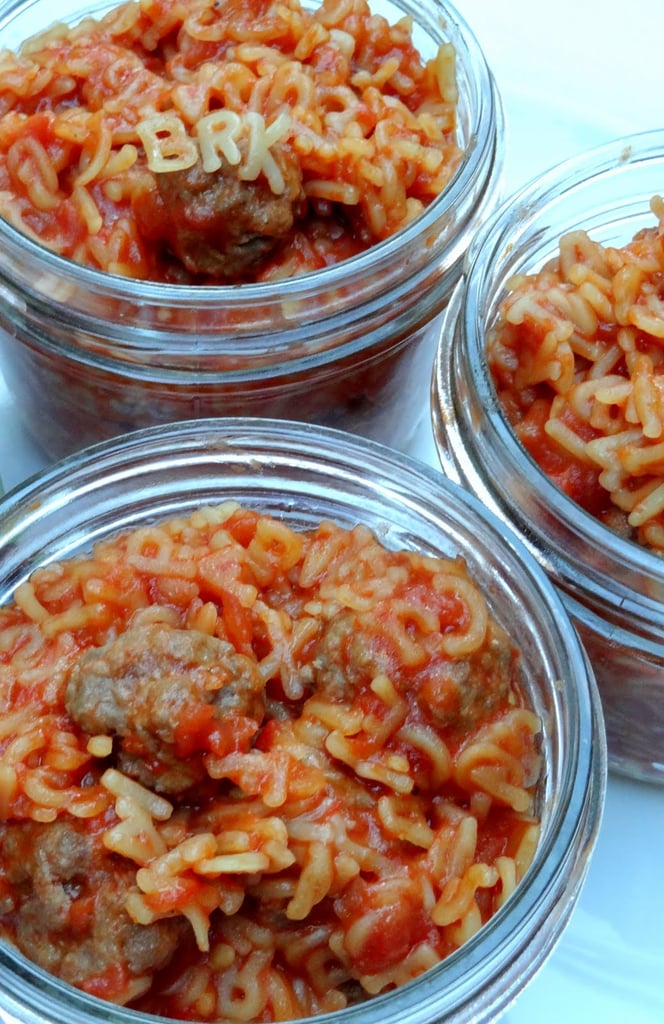 A hearty and healthy lunch or dinner on the go, homemade SpaghettiOs with minimeatballs [11] are oh so cute when served in a wide-mouth mason jar.
Source: Big Red Kitchen [12]
Cookies and Cream Popcorn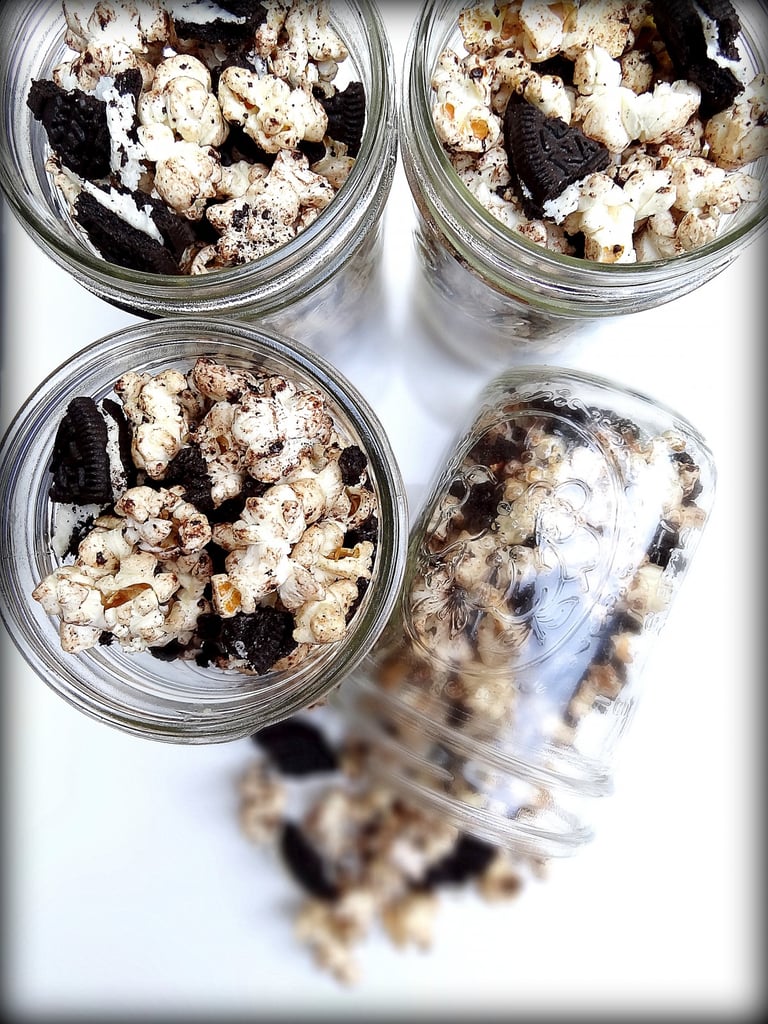 Sweet meets salty in this cookies and cream popcorn [13] snack mix.
Source: Big Red Kitchen [14]
Vanilla Birthday Cupcakes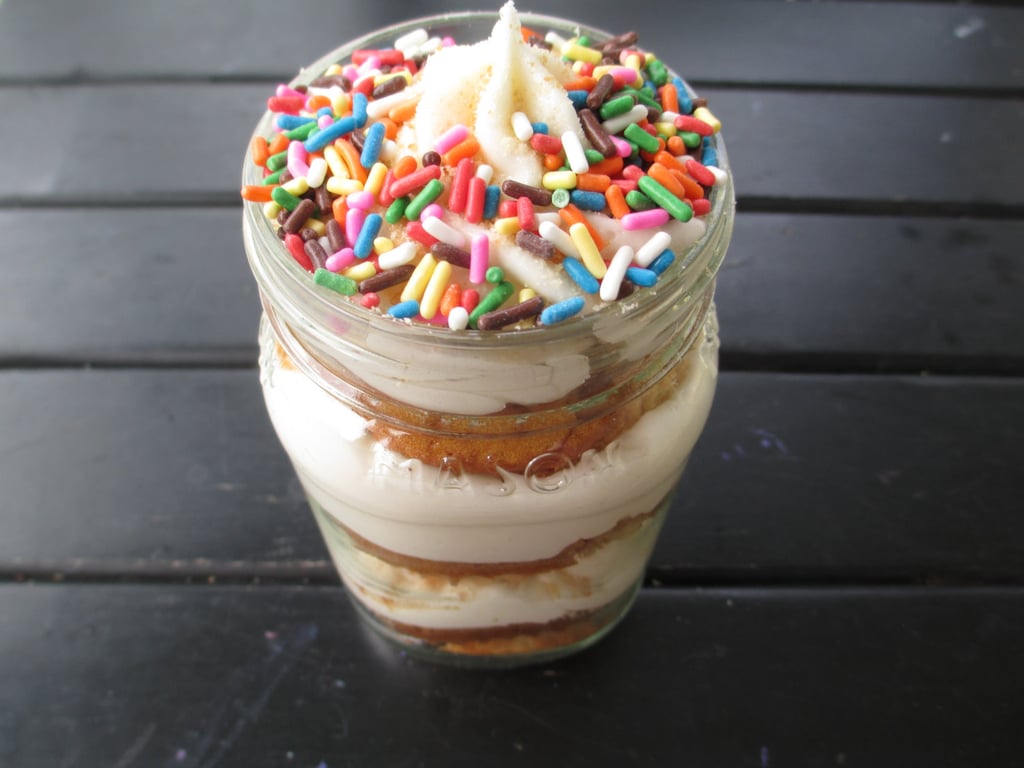 Sink your teeth into the sweetest vanilla birthday cupcakes [15] ($8 and up) from Etsy seller Pure Bliss Bakery.
Easy Rainbow Cupcakes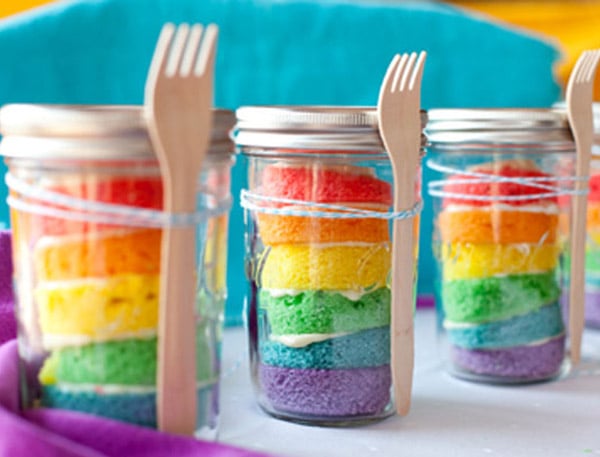 These mason jar rainbow cupcakes [16] would make for memorable birthday party favors.
Source: Put It in a Jar [17]
A Rainbow Layered Salad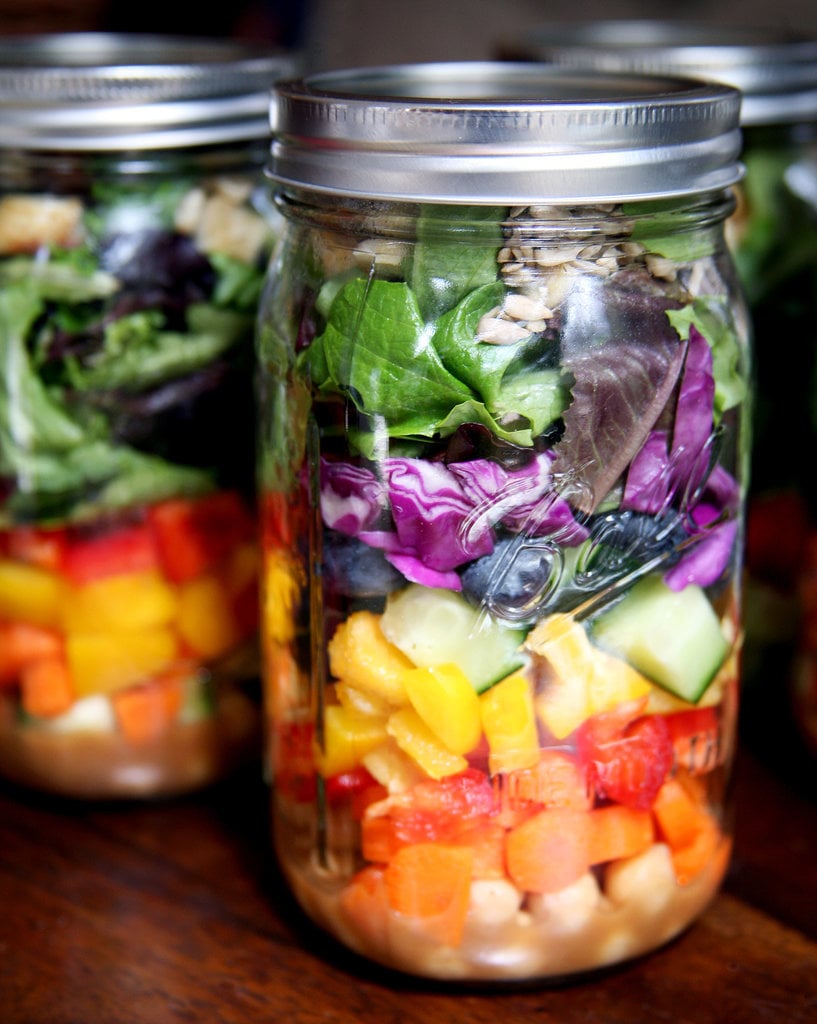 Eating a salad's never been this much fun. Our friends at POPSUGAR Fitness have perfected the method of packing a salad [18] to go, and your kids can play an active role in choosing what goes into theirs.
Photo: Jenny Sugar [19]
Asian Noodle Salad Jars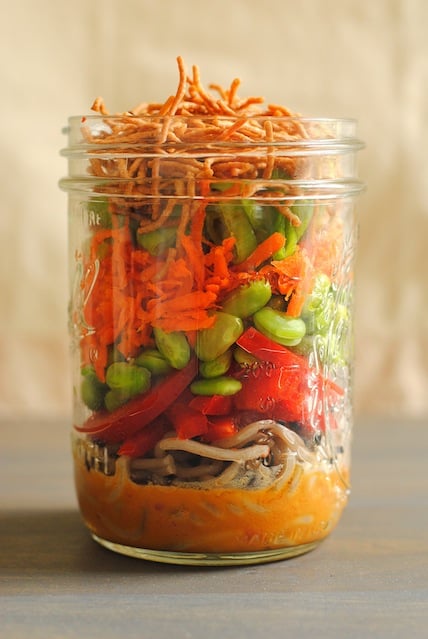 Yum! Foxes Love Lemons' Noodle Salad Jars [20] are crunchy, peanutty, and healthy. Bonus points for eating yours with chopsticks.
Source: Floxes Love Lemons [21]
Green Monster Smoothie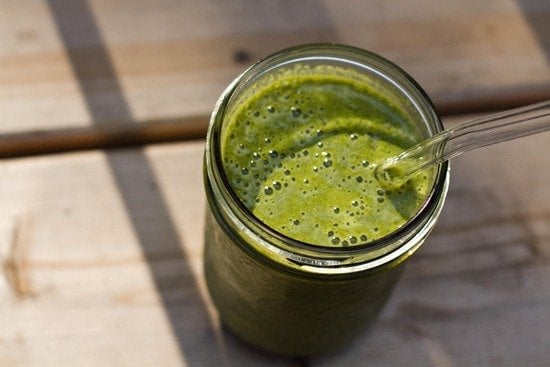 Packed with green goodness, this Green Monster Smoothie [22] is a great on-the-run breakfast (or anytime) sipper, but you could also substitute it with any of these 15 kid-approved smoothies [23] (or your own blend!)
Source: Oh She Glows [24]
Banana Almond Teff Parfait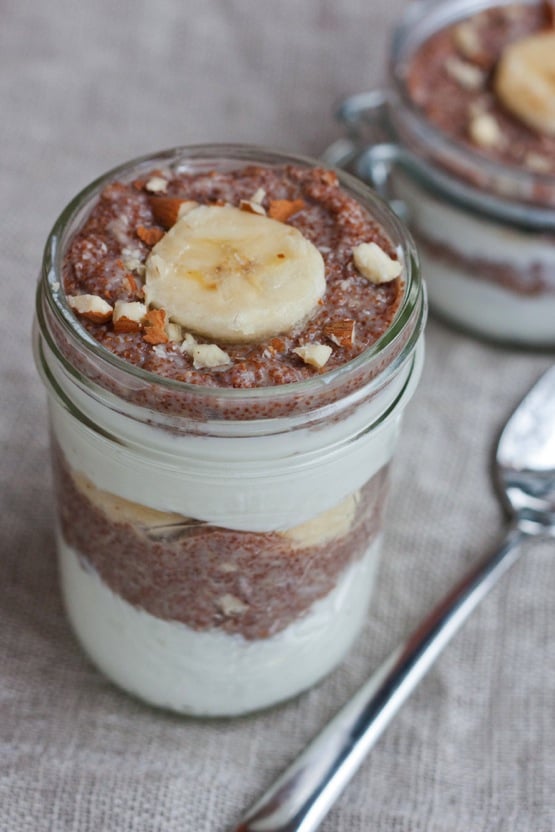 If you've never heard of teff (a tiny, protein- and fiber-packed grain), Eating Bird Food's Banana Almond Teff Parfait [25] could be the perfect way to introduce it to your family's diets.
Source: Eating Bird Food [26]
Salty Sweet Granola and Coconut Yogurt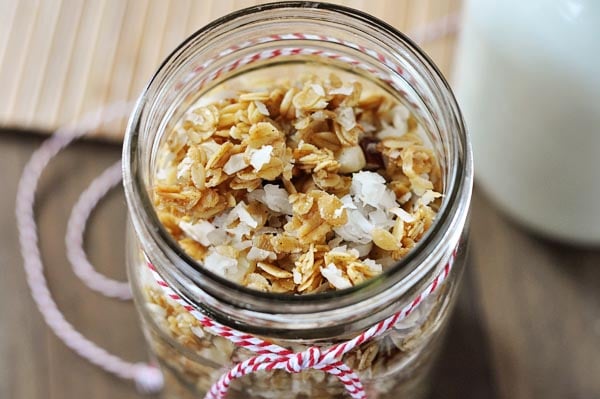 This anything-but-boring granola and yogurt combo [27] from Mel's Kitchen Cafe will start the day off right.
Source: Mel's Kitchen Cafe [28]
Mini Cranberry Cobblers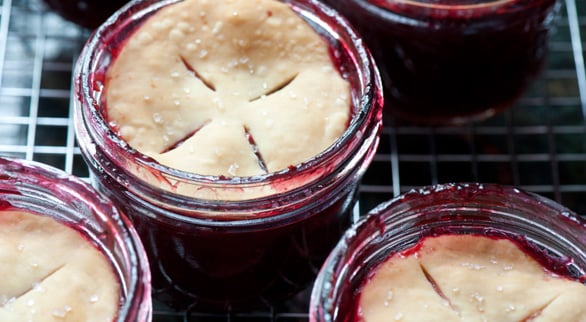 Customize these minicobblers [29] with your favorite fruit for the ultimate Summer sweet.
Source: Tablespoon [30]
Baked Eggs in a Jar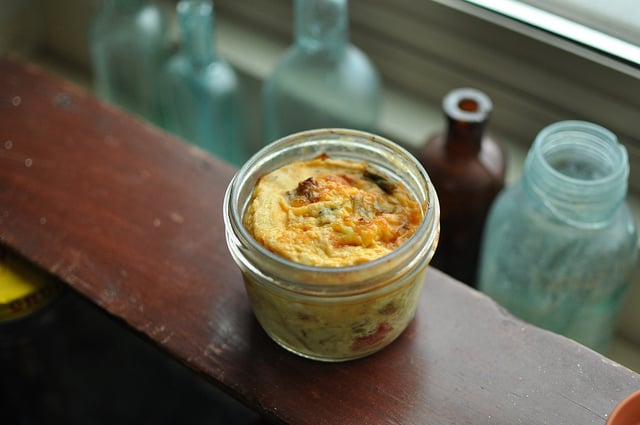 For a heartier (but still healthy!) morning meal, give these baked eggs [31] from Food in Jars a try with your crew.
Source: Food in Jars [32]