Whether you're attempting to conceal your hint of a belly or flaunting a third-trimester baby bump, being a pregnant bride is no excuse not to look and feel fabulous. Luckily, there are plenty of great maternity wedding [1] options for the bride-to-be who's also a mom-to-be. Check out these 15 gorgeous wedding dresses; there's something for every style, from the laid-back beach ceremony to the black-tie affair.
Tina Mak Jean Dress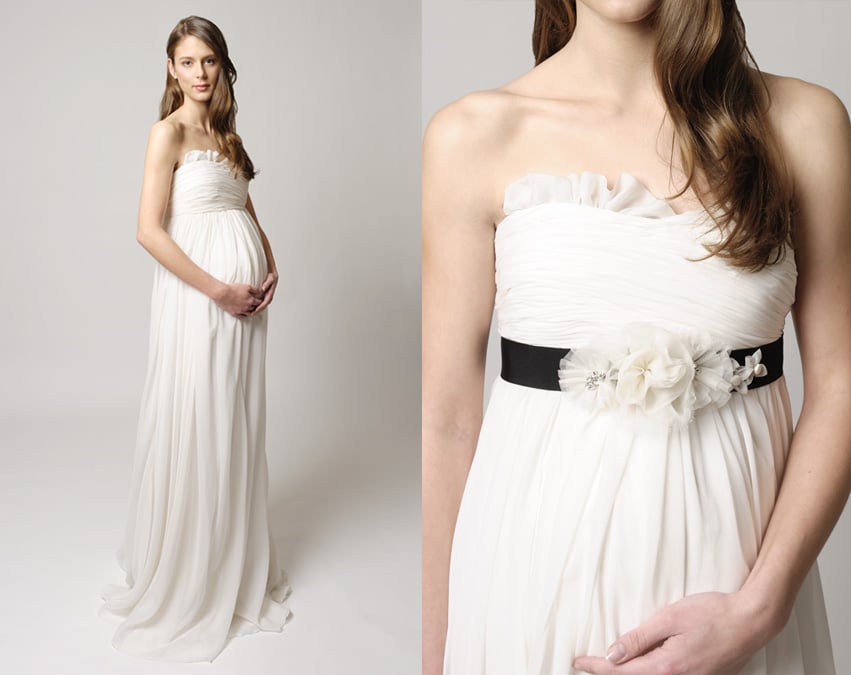 Tina Mak's strapless silk chiffon Jean dress [2] ($1,300) features a ruched bodice with a ruffled neckline. Add the Micaela sash [3] ($235) for some more interest.
Tiffany Rose Chloe Dress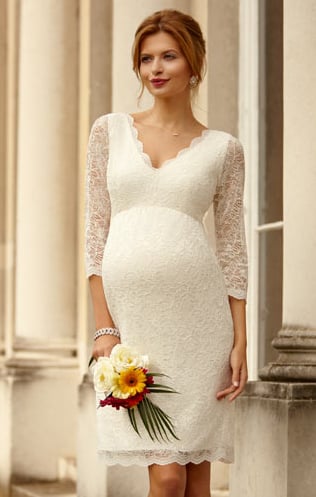 Tiffany Rose's knee-length Chloe gown [4] ($240) is a classic with elegant lace and a scalloped v-neckline for showing skin in all the right places.
Tiffany Rose Kristin Gown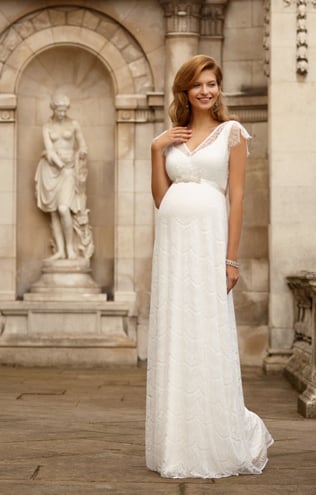 For a graceful wedding [5] look, Tiffany Rose's Kristin gown [6] ($475) is a beautiful option with sheer-lace detailing and a sweetheart neckline.
Maternity Bride Lark Dress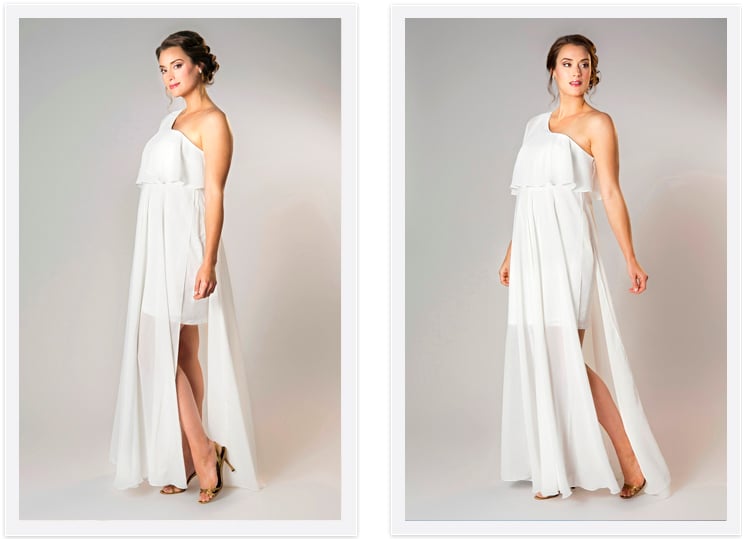 You're not going the traditional route, so why not mix it up a bit more with Maternity Bride's Lark dress [7] ($389)? The half lining is right on trend, and the one-shoulder style is feminine, flirty, and flattering!
David's Bridal Halter Gown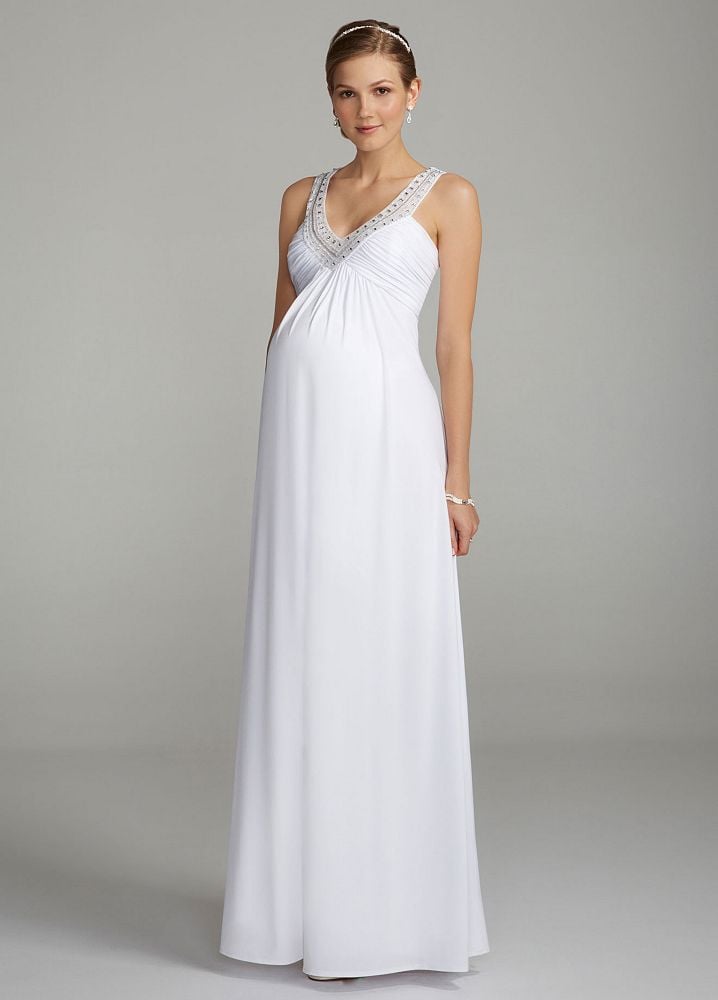 Every bride wants to be beautiful and comfortable! With this beaded gown [8] ($140, originally $229) from David's Bridal, you get both.
Tiffany Rose Verona Gown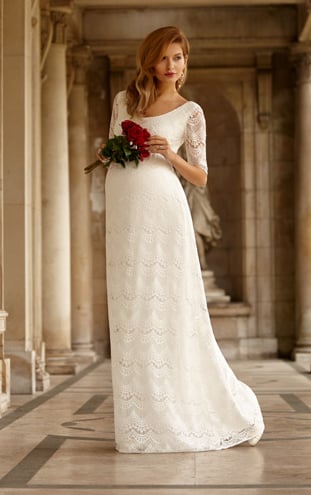 Tiffany Rose's Verona gown [9] ($340) is the perfect option for the delicate bride and mama-to-be with its eyelash-lace overlay.
Rock-a-Bye Rosie Tallulah Wedding Dress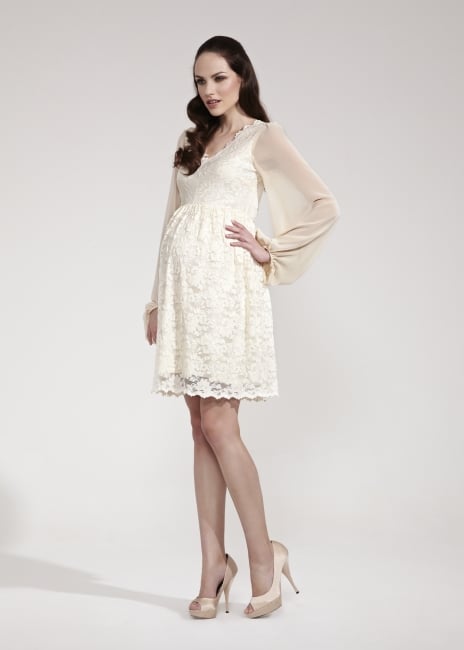 There's no rule that a wedding [10] dress has to hit the floor. Rock-a-Bye Rosie's vintage-vibe Tallulah dress [11] ($140) flatters thanks to a high waist, deep neckline, and hemline that shows a little leg!
Maternity Bride Isis Dress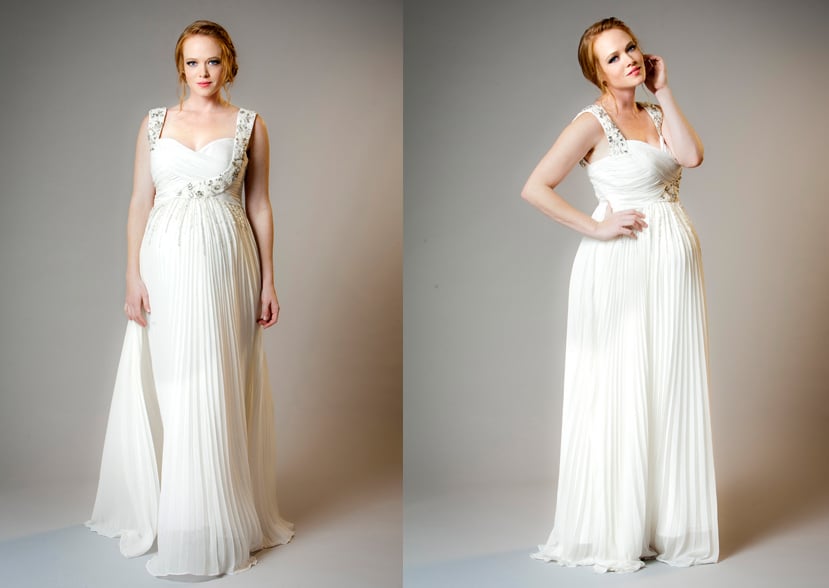 A ruched chiffon bodice and bohemian beaded, fringed, and pleated skirt add to the appeal of Maternity Bride's Isis dress [12] ($1,200).
Tiffany Rose Annabella Gown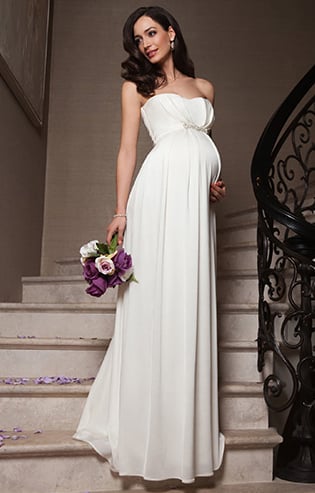 If you want to look elegant yet comfortable, the beautiful ivory drapes on Tiffany Rose's Annabella gown [13] ($630) are made from soft acetate jersey that will gently stretch with you and baby on the big day.
Tiffany Rose Juliette Gown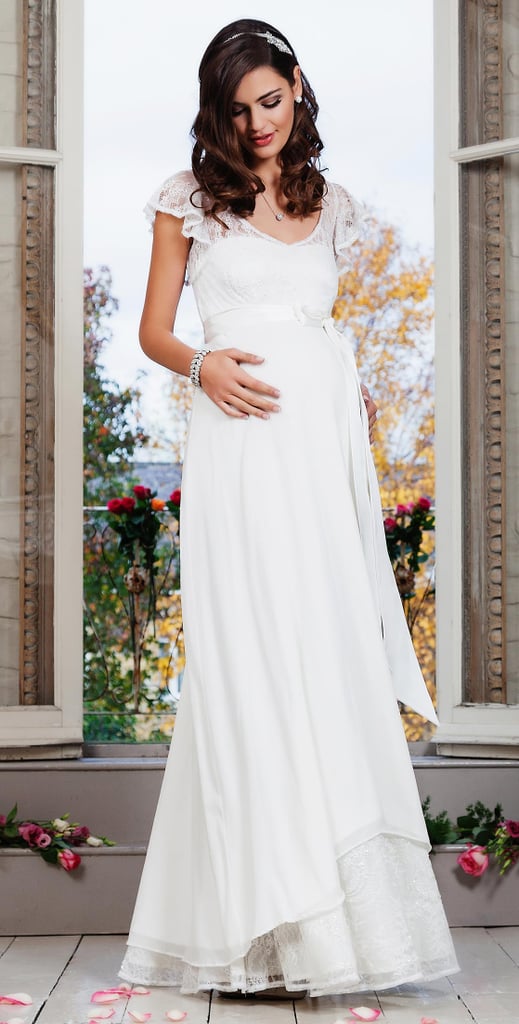 True to its name, Tiffany Rose's Juliette gown [14] ($1,020) features a rich combination of embroidered and beaded sequined lace, ivory silk satin, and floating silk chiffon.
Tina Mak Elissa Dress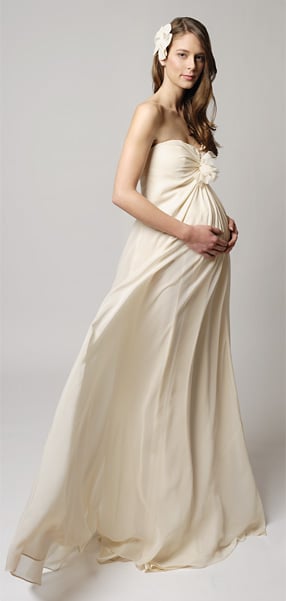 Tina Mak's strapless chiffon Elissa dress [15] ($1,450) features interior boning for a flattering fit. Available in ivory or natural white, the gown is perfect for an outdoor garden or beach wedding [16].
Tiffany Rose Constellation Gown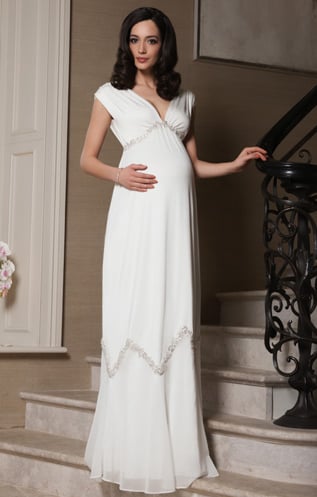 The Constellation gown [17] ($1,020) by Tiffany Rose is a picture of vintage elegance with its dramatic v-neckline and handsewn beaded flower trim.
Maternity Bride Samantha Dress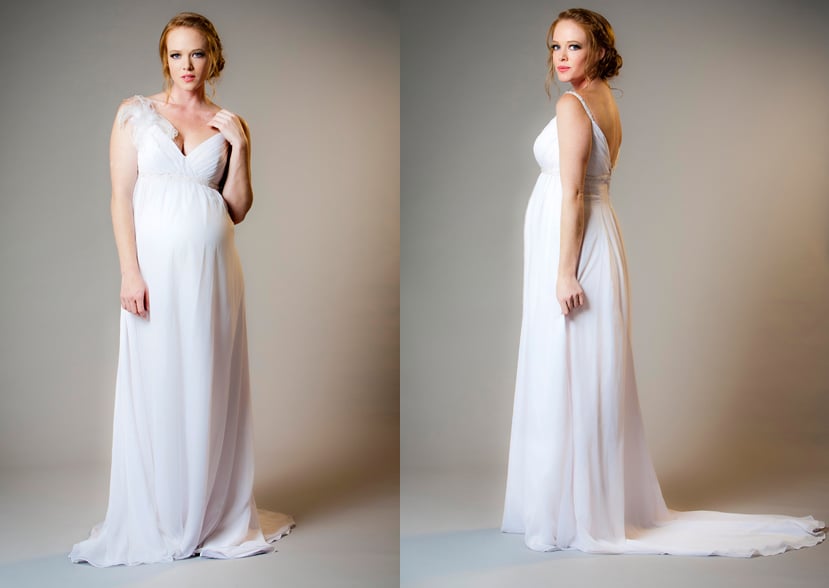 Perfect for the glam mom-to-be, Maternity Bride's Samantha dress [18] ($580) features feathered accents and crystal straps. Shop soon, though, as limited quantities remain!
Tiffany Rose Helena Gown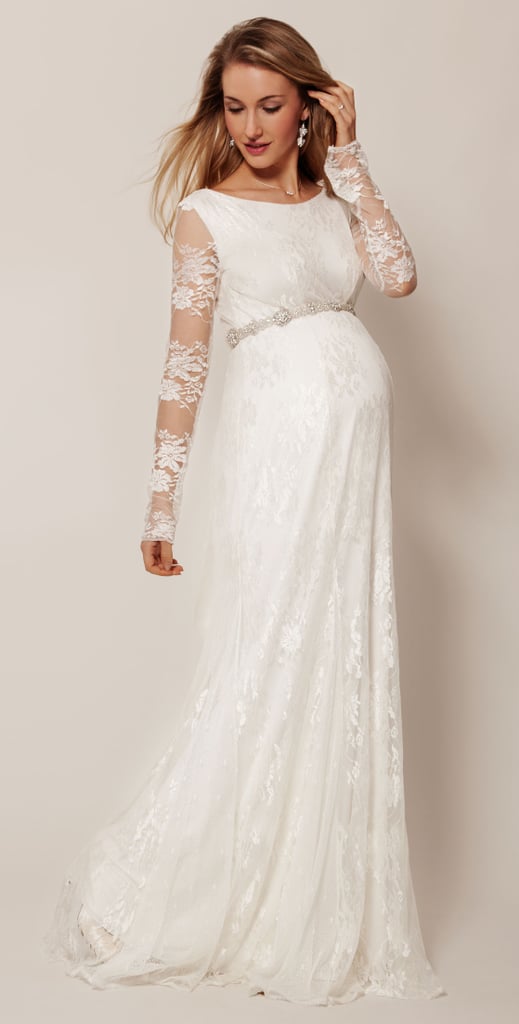 If you love the look of lace, consider Tiffany Rose's elegant Helena gown [19] ($595) — it's accented with a glitzy beaded belt and offers light coverage thanks to semisheer sleeves.
Tiffany Rose Amelia Dress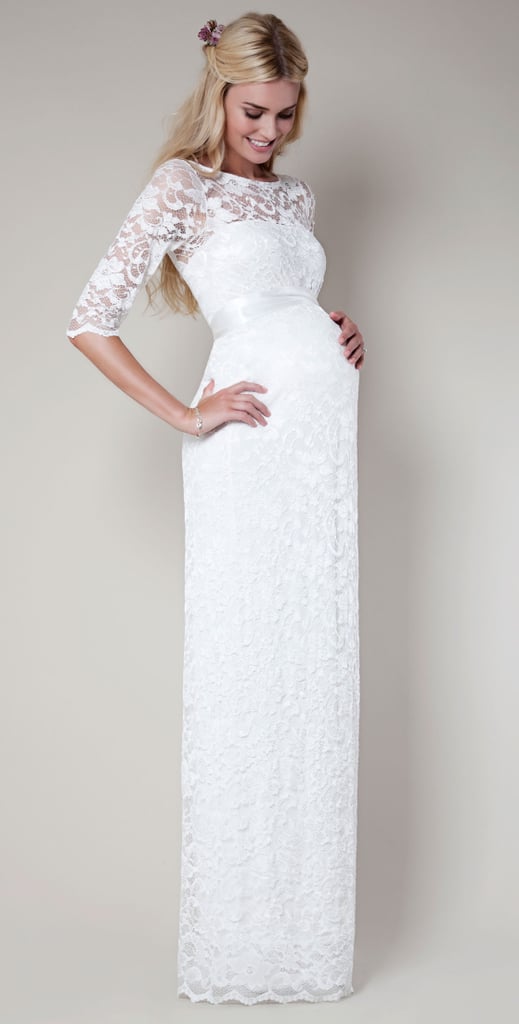 Tiffany Rose's Amelia dress [20] ($425) is a modern classic with lovely lace showcased across the shoulders, neckline, and sleeves. Underneath the floral lace, a layer of soft jersey adds comfort, but both fabrics are stretchy enough to accommodate your growing bump.