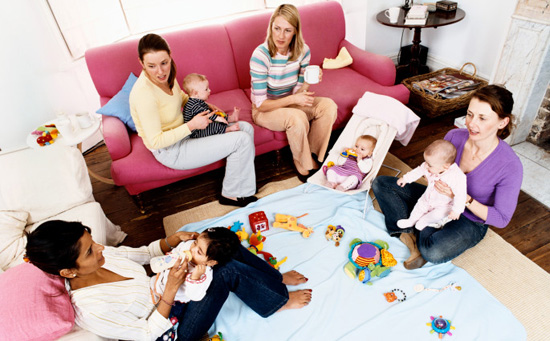 It's like the first day of school all over again — only this time, you're an adult looking for a new friend. Even if mama has a gaggle of friends before giving birth, chances are
she'll seek out other moms
with tots once she enters motherhood. Spending time with moms who are experiencing the same baby milestones and setbacks makes the journey easier but requires some effort. I've rounded up some of my favorite ways to meet fellow moms.
New mom exercise groups: Group exercise programs like Stroller Strides and boot camps help burn the weight and gather women in a central location.
Pediatrician's office: Check the bulletin board in your doctor's office for new-mom playgroups. If there aren't any, post something yourself.
Hospital birth clubs: You know that mom giving birth in the room next door to you? Her tot is the exact same age as yours. Many hospitals help coordinate "birth clubs," which bring new mamas and their tots together for parenting workshops and breastfeeding support.
Playground visits: Your tot may not be old enough for the monkey bars yet, but a walk around the playground with your newborn may make you a magnet for other moms looking for some fresh air and friendship.
Gym babysitting area: Mamas who turn to their gym's babysitting services while sweating away their weight already have something in common. Coordinate your babysitting/workout schedules and watch your friendship blossom.
Mommy and me classes: Yes, baby yoga and newborn music classes are meant to stimulate your lil one, but they're also prime opportunities to befriend other new mamas who are feeling their way around the class.
How did you meet other mothers?