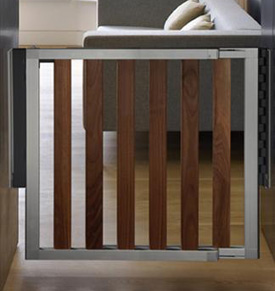 Stairs are enticing for lil ones who aren't supposed to play on them. Though
several LilSugar readers told us
they didn't do much in the way of
babyproofing
their homes, safety gates are a staple for many families with steep staircases.
Consumer Reports
recommends using the baby gates until a child is two-years-old.
Clunky plastic varieties may dominate the market, but there are also modern gates available for more discerning mothers. The Numi Extending Gate ($98) combines a brushed metal frame with dark wooden slats to make for eye candy rather than an eyesore. Check out our other decorative picks below.