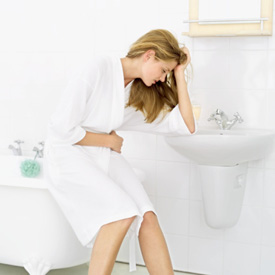 A purse overflowing with saltines, wrists sporting antisickness bands, and a desk drawer filled with ginger drops are sure signs of a woman battling
morning sickness
. While some expectant mamas, like
Celine Dion
, welcome the daily (or hourly) reminders of their pregnancy, many will try just about anything to keep the mad dashes to the restroom at bay. My top three remedies included:
Homemade ginger ale from a local restaurant.
Sitting with a fan directly in front of my face.
Heavily salted pretzels at all hours of the day.
From homemade concoctions to an iPhone app, tell us, what worked for you?