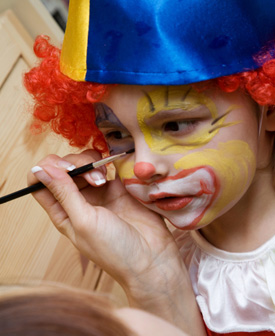 Be spooked by lil ghosts and goblins on
Halloween
[1] night, not the ingredients used to create their costumes. All Hallows' Eve can be scary for a mama who reads the list of substances used to make face paint, nail polish, and hair spray. Most commercially sold products
have been found to contain lead
[2], which can impair brain development, as well as nickel, cobalt, and chromium, which can cause skin rashes and sensitization — despite advertising hypoallergenic ingredients.
While avoiding makeup all together is the best bet for keeping tots safe, here are a few other actions moms can take to keep lil ones looking like their favorite characters without exposing them to added toxins:
Make your own Halloween makeup with all-natural ingredients. We've found recipes [3] for realistic looking goop (wounds, warts, etc.), face paint, fake blood, and fairy glitter.
Create your own hair spray [4] to achieve nontoxic spikes, Mohawks, and curls.
Polish off lil looks with nontoxic nail polishes like Hopscotch Kids [5], Suncoast [6], or Piggy Paint [7].
Seek out non-Halloween organic makeup, such as Luna Organics Pixi Kit [8] to achieve kids' desired looks.
Trade in mama's red lipstick for a tinted beeswax balm [9] that is safer to lil ones who tend to ingest it.