From nurseries for boys, girls, and surprise babies to the most creative indoor and outdoor playrooms and more, when it comes to kids' decor inspiration [1], we can't get enough! We've rounded up 81 of our all-time favorite spaces designed especially for little people. Scroll through, and we can almost guarantee that you'll find a favorite (or two, or three . . . ).
Have an awesome kids' room of your own you'd like to share? Feel free to send it our way [2]!
Bethenny Frankel's Plush Pink Room For Bryn
Now that's one very pink room! Fans of Bethenny Frankel watched as the reality TV star worked with decorators and contractors to transform an open loft space into a dream home for her family of three. Moms of lil girls collectively sighed when the room for lil Bryn, 2, was revealed on the Bethenny Ever After finale. The perfectly pink room is filled with traditional furniture and plenty of frilly accents. Click here [3] to see which furniture pieces and decorative accents Bethenny chose for the room, and her reasoning behind them!
Source: Bethenny.com [4]
A Modern Backyard Marvel
This modern playhouse is too cool. Glass windows, multiple levels, and a slide make this space the ultimate luxury hideout.
Source: Instagram user chefomeo [5]
Baby Dylan's Hip Nursery
Baby Dylan's parents were in for the surprise of a lifetime when, at the last minute, their doctor informed them that the little girl they were expecting was actually a boy! Jennifer Jones of Niche Interiors [6] came to the rescue and was able to salvage some of the nursery pieces that had already been purchased and transform them into the perfect room for a hip baby boy. Check out the details here [7].
Source: Niche Interiors [8]
A Cozy Loft-ed Playhouse
This chic little space combines everything into one. With a slide, tent, and loft, this playhouse is quite the creative space.
Source: Flickr user pannylife [9]
A Glamorous Gray and Pink Nursery
The accents in this room veer towards the glamorous, perfect for a growing girl.
Source: Instagram User interiordesigninspiration [10]
Baby Rylee's Delicate Peach-and-Gray Nursery
It's almost impossible to look through the dreamy images of baby Rylee's Encinitas, CA, nursery and not feel soothed and relaxed. "My idea for the room was to create a calming, dreamy space . . . infused with vintage finds, sweet little animals, and handmade details," says mom Kelli Murray [11], who is an illustrator, painter, and designer. Kelli used a muted shade of peachy pink against soft gray walls to set the tone for the delicate, feminine space. Click here [12] to see more photos!
Source: Kelli Murray [13]
A Playroom With Farmhouse Appeal
Hank Azaria's son has one beautiful playroom. Featured in the June 2011 issue of Architectural Digest, the room is filled with numbered storage baskets (in no particular order), a rustic farmhouse table, and Enzo Mari's La Mela Poster [14].
Source: Architectural Digest [15]
Vintage-Inspired Big Boy Room
When it came time to transform her son's nursery into a big-boy room, Michelle, owner of Vintage Junky [16], who also sells her wares on Etsy [17], did what she does best: repurposing old furniture pieces and adding some character-rich artworks and DIY [18] projects. See all the vintage-junky style here [19], including an awesome DIY paper airplane mobile, a tepee [20] with its own DIY campfire and faux-fur rug, and some seriously covetable chalkboard art made by Michelle's husband.
Source: Vintage Junky [21]
A Room With All-Around Views
Inspired by the modern movement of the mid-20th century, the Illinois [22] is a chic space that'll be the envy of Mom and Dad.
The Ultramodern Rooms of Donny Deutsch's Daughters
Donny Deutsch, the renegade advertising exec and frequent morning television show guest, talks a big game on air and apparently at home, too. After five years of renovations, the adman opened the doors of his contemporary Upper East Side town house to Architectural Digest [23], revealing a light-filled home outfitted with plenty of glass and modern furniture. The shining glory of the home, the fourth floor's "princess floor," is where his two young daughters reign supreme. Check out the rooms [24] to see how you can incorporate some of the pieces into your lil one's lair.
Source: Nikolas Koenig For Architectural Digest [25]
A Comfy Cottage Attic
Shaunna West had a vision to create the perfect kiddie hideaway in her unused attic. With several Pottery Barn Kids' images as her inspiration, she converted the space into a coastal cottage respite for her playful tots.
Source: Perfectly Imperfect [26]
Martha Stewart's Grandchildren's Space
When your grandmother is Martha Stewart [27] (shh, don't call her Grandma, though), you can rest assured that your bedroom and playroom are more than just spaces to throw a few toys. Jude and Truman Stewart, 17 and 5 months old, respectively, are living the high life in a serene NYC triplex that their mom, Alexis Stewart, decorated as an urban oasis. In true Stewart form, both rooms are not only beautiful, but also practical, with furniture that can stay with the kids well past their infant and toddler stages. Click here [28] to see more photos.
Source: Copyright © 2012, Martha Stewart Living Omnimedia, Inc. Originally published in the September issue of Martha Stewart Living magazine [29]
A Mod Outdoor Polyhedron Playhouse
Characterized by its polyhedron shape, expansive views, and even a teak deck, this geometric structure by Manuel Villa [30] is big enough for Mom and Dad to stop by for a visit.
A Grown-Up Girlie-Glam Room
We were wowed by the woodland bedroom [31] Traci Fleming, owner of Nurseryworks [32], created for her son, Mason. So it's no surprise that his big sister's room is equally awesome. Using a mix of vintage and contemporary furnishings and accessories, Piper's sophisticated room has a whimsical feel that's totally kid-appropriate, but it also has a sense of glamour that will work well as she grows up. We have to admit, vintage Murano lights and Asian bedside tables, a Madeline Weinrib ikat rug, and coral tones have us feeling a bit jealous of little Piper's bedroom. Click here [33] for more photos.
Source: Bethany Nauert [34]
Gracie's Eclectic, Sweet Nursery
Interior designer and blogger Bailey McCarthy of Peppermint Bliss [35] is a young, hip mama, and her daughter Gracie's room shows off her daring design skills in spectacular fashion. Bailey even found a craftsman to re-create a Paule Marrot [36] tulip fabric (recently featured on Mad Men) that had been discontinued! An electric mix of colors, patterns, and design styles makes this nursery beautifully unique and marvelously whimsical (the gigantic daffodils are just fantastic!). Click here [37] to fall in love with Gracie's nursery.
Source: Peppermint Bliss [38]
A Celeb Mom's Roller-Coaster Creation
When Hollywood actress and Weeds star Mary-Louise Parker [39] put her classic New York City duplex on the market for $7 million in September, we got a peek at the unit's playroom. It's a child's dream come true: walls of colorful artwork including a roller coaster, a wooden fort with a loft, and plenty of space to play.
Source: Brown Harris Stevens [40]
An Antique-y Nursery For Two (With a Fireplace Just For Kids)
Kirsten Marchand, a retail designer for New Balance and design blogger [41], dreamed about what her nursery would look like long before she was even pregnant. "I wanted to create a nursery that could grow with the kids," says the mom of boy/girl twin toddlers. "I had kept a folder filled with inspiration for years before we started our family, so the nursery truly was a labor of love. One of the best surprises was how functional the nursery ended up being for two very tired parents — plenty of places for storage and play."
With its sophisticated, historic vibe, special art and toy finds, and muted color palette, the nursery isn't a departure from the style of the rest of the farmhouse, which was originally built in the 1700s and is located on Boston's North Shore. But with two cribs (Ikea finds made to look antique with Old Fashioned Milk Paint [42]) and two toddling residents, this room is all about creating a cozy, kid-friendly family space. Keep clicking [43] to see all the details.
Source: Kristin Marchand [44] and Malcolm Brown [45]
Laila Ali's Whimsical Nursery
Laila Ali has styled her daughter a beautiful respite from the chaos of daily life. The former boxer and Dancing With the Stars participant gave birth to her first daughter, Sydney J. Conway, last Summer, but before Sydney arrived, Laila turned to the experts at LA's Little Crown Interiors [46], Naomi Alon and Gerri Panebianco, to create the perfect room for her tot. The result? A "whimsical, traditional" room filled with feminine pieces to make lil Sydney feel at home. Take a detailed look at the room by clicking here [47].
A Retro-Modern Chic Playroom
Lisa Barrett's retro-modern-chic playroom provides plenty of storage space for her toys and still has room to play. From the chalkboard-painted cubbies to the art display area and the "Love It" print, the room gives tots ample opportunity to express their creativity.
Source: Lisa Barrett [48]
Piper's Soothing White-and-Gray Nursery
Pastels aren't the only way to create a calm nursery for a tot. For her daughter Piper's nursery, Lauren Rauter, owner of Nashville's Rock Paper Scissors [49] (and an incredibly stylish new mama), opted for a sophisticated white and gray palette. Animals are a theme throughout, and the overall effect of the neutral color scheme is soft and soothing. Click through [50] to enjoy the journey!
Source: Lauren Rauter [51]
The Most Over-the-Top Outdoor Castle
If you have $250,000 to spare, the British company Blue Forest [52] will build you one impressive tree house. Just ask J.K. Rowling, who has a two-structure house for her kids. Yes, spiral staircases, turrets, trapdoors, nature boxes, and balconies included.
Spencer's Color-Poppin' Nursery
When your mom is a stylist and interior designer and your dad is a comedian and producer of Chelsea Lately, you're probably going to have a pretty cool, quirky room. And little Spencer's nursery doesn't disappoint. Shannon Wollack wasn't afraid of color when she designed Spencer's space, filling it with pops of orange, electric blue, and, most awesome of all, chartreuse. But those bold colors are grounded with lots of black-and-white elements, including a zebra rug and accessories and an amazing Alexander Calder lithograph hanging over the custom-made dresser. Check out all the details here [53].
Source: Shannon Wollack [54]
A Hip, Shared Space For Baby Adela and Her Big Brother
Amanda de Beaufort is not only the brains behind amazing kids blog Coos & Ahhs [55], she's also the mother of two small children: newborn Adela and toddler Henry. Until her family's recent move to a larger place in Brooklyn in anticipation of Adela's arrival, Henry actually shared a room with his parents, so their new two-bedroom space is a luxury in terms of square footage. But it still comes with the obvious challenges of putting a busy toddler boy in the same space as an infant girl. Luckily for these two tots, their mama is seriously gifted when it comes to design, and the room she created for them is stocked full of amazing finds.
Click here [56] to check out the chic shared space.

Source: Coos and Ahhs [57]
Baby Ruby's Fanciful, Fun Nursery
Oh joy! We're thrilled to share 5-month-old baby Ruby's fanciful, fun nursery. Ruby's mom is the wonderfully talented Joy Deangdeelert Cho, the founder of the aptly named blog and creative/business consulting service Oh Joy! [58] She designs textiles, packaging, and branding collateral for her clients, so when it came to Ruby's nursery, attention was paid to every last detail. Check out the eye candy and Joy's commentary on how the whole thing came together. Click here [59] to enjoy the tour!
Source: Bonnie Tsang [60]
A Modern, Neutral Nursery
We love when parents find a way to make shared spaces feel cohesive and thoughtful. Case in point: the gender-neutral New York City nursery [61] created by first-time parents Robyn and Joe Wallace. The couple didn't find out the gender of their baby before she was born (welcome, Scarlett!), yet they managed to create a beautiful, calming space that works for both baby and grown-ups. Click here [62] to check out the details.
Source: Studio 1208 [63]
A City Circus Bedroom For Jenna Lyons's Son
When J.Crew Creative Director Jenna Lyons put her Brooklyn town house [64] on the market this past November, we benefited from the incredible virtual home tour. But as moms, we were most drawn to the bedroom belonging to Jenna's son, Beckett. The yellow-and-white-striped ceiling has a circus-like quality to it, and a single charcoal-colored chalkboard wall adds sophistication and whimsy at once, offering Beckett a fun space to get creative. Check out more photos here [65].
Source: Sotheby's International Realty" rel="nofollow" target="_blank">Sotheby's International Realty [66]
Leighton's Pink-and-Yellow Safari Nursery
When it came time to create a nursery for her little girl, Leighton, brand stylist and award-winning graphic designer Erika Brechtel of Small Shop Studio [67] channeled her Hawaiian roots. "I found some inspiration from our trip to the Honolulu Zoo — where she [Leighton] first saw flamingos, elephants, and zebras — and a touch from the tropical regency style of the very pink Royal Hawaiian Hotel [68]," Erika says. Her goal was to create a room that not only was beautiful, but that also captured Leighton's exuberant personality. Click through [69] and check out what we think was a resounding success!
A Traditional Baby Blue and White Boy's Room
We love the idea of using a monogrammed decal on the side of the crib for a personal touch!
Source: Instagram User annelenet [70]
Baby Giacomo's Yellow-and-Gray Chevron Nursery
We love a baby room that's modern, soothing, and, unexpectedly, yellow and gray. Baby Giacomo's nursery, with its chevron-painted wall, stands out from the crowd. The space is filled with thoughtful details and plenty of one-of-a-kind DIY [71] projects, courtesy of creative mom Nadia of Mamemimany [72]. The former architect even created the chevron wall pattern using AutoCAD software, and her husband and mom helped out with the painting. Click here [73] to see more photos.
A Lil Bit Country DIY Dreamhouse
Along with her husband, blogger Natalie Wright of Natalme [74] crafted this country-saloon-inspired playhouse for her kids.
A Hip, Midcentury Modern Nursery
This midcentury modern nursery has papier-maché animals and a fun bowl chandelier that sets it apart from the rest. While the look is sweet enough for a newborn, we could also see it accommodating a playroom or big kid's bedroom.
Source: Instagram User jennawhitemiami [75]
Charlie's Red, White, and Striped Nursery
It takes one brave, design-obsessed mama to paint three-toned stripes on her nursery wall at 35 weeks pregnant, but that's exactly what Belinda of Nest Design Studio [76] did while expecting her second son, Charlie. That striped wall isn't the only beyond-amazing element in the room. We're also loving the replica egg chair and pint-sized Eames table, the scattering of Ikea spice racks as book holders, and the gallery wall that's both modern and totally kid-appropriate. Click here [77] to see it all!
Source: Nest Design Studio [78]
A Free-Flying Brooklyn Brownstone
You would expect the creators of modern, eco-friendly nursery furniture and clothing line Oeuf [79] to live in a sleek space, but the Brooklyn brownstone [80] shared by Sophie Demenge and Michael Ryan, the husband-and-wife team behind the brand, and their two children is nothing if not unexpected. The living room's flying trapeze (!!) and the family room's curated but decidedly lived-in look make this house feel wonderfully playful and cozy. Click here [81] for more photos.
Source: Stephanie Delau on Project Nursery [82]
An Eclectic Nursery For a Boho Baby Girl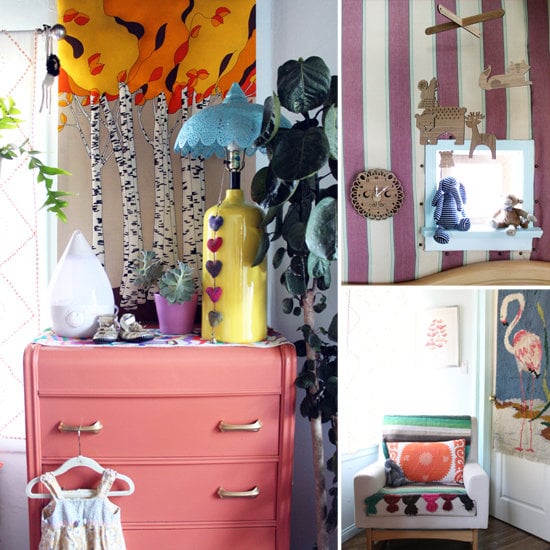 If you have a boho bone in your body, prepare yourself to fall in love with the nursery Justina Blakeney [83] — a self-described "designer and maker, mover and shaker" (love that!) and popular blogger — created for her baby girl. Blakeney transformed her walk-in closet [84] into a bohemian, girlie, and truly inspiring space for her lil one. Click here [85] for all the hippie-chic details.
Chalkboard Gallery Wall
Every nursery is a labor of love, but the cool room [86] created for Piper Jane, daughter of blogging duo Courtney and Dustin Bowden [87], was heavy on labor. Stripping wallpaper, creating a striped ceiling, painting trim, refinishing a hand-me-down dresser, converting an Ikea chair into a glider, creating a DIY [88] area rug, and building book ledges were just some of the projects the couple undertook to create a dream room for their daughter. But our favorite element by far is the awesome chalkboard gallery wall. Click here [89] for more photos and to get inspired to create your own!
Source: Project Nursery [90]
A New Vintage Nursery Full of Personality and Charm
Take an ounce of NYC sophistication, a smidgen of Canadian practicality, and an ounce of LA whimsy, and you'll find yourself in the world of Tamara Kaye-Honey. The Pasadena-based interior decorator behind House of Honey [91] and mom of two recently completed work on a nursery for the 2012 Hampton Designer Showhouse [92] that showcases her signature "New Vintage Style."
Forgoing any hint of traditional pink or blue, or the more popular white-on-white, Tamara transformed the space into an ode to the more eclectic side of childhood with the dark jewel-box colors that highlight the Uptown Collection of baby furniture she designed in collaboration with Nurseryworks. Click here [93] to see how she takes dark colors and antique pieces to create a whimsical room for baby.
J.R. Martinez's Emotionally Charged Nursery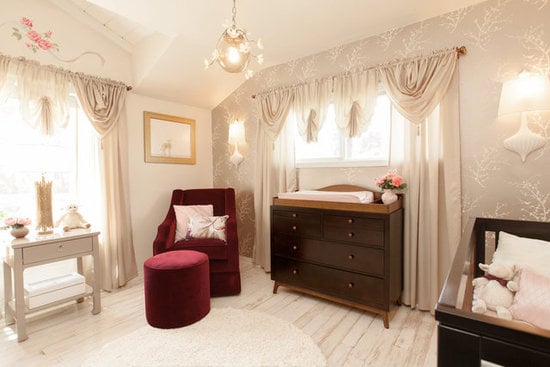 J.R. Martinez's road to victory on Dancing With the Stars was an emotional one. So it's no surprise that when the Iraq War vet and his partner, Diana Gonzalez-Jones, learned they were expecting a lil girl, he envisioned a sentimental nursery that was both comfortable and meaningful. J.R. turned to LA's Little Crown Interiors [94] to design the room of his dreams. Take a closer look at the carefully curated room by clicking here [95].
Melanie Brown's Chic Antique Nursery
Melanie Brown [96]'s pop star fame isn't her first priority anymore, and the nursery she created for her lil one proves it. Prior to the birth of baby Madison last year, the former Spice Girl (aka Scary Spice) and her husband Stephen Belafonte turned to LA's Little Crown Interiors [97] to design a quiet sanctuary. Antique silver furniture, plum crushed velvet, and ivory damask work together to create a calm oasis in the midst of that storm. Take a detailed look at the room by clicking here [98].
Design Diva Estee Stanley's Grown-Up Kids' Rooms
Stylist and designer Estee Stanley [99] has worked with some of the biggest names in Hollywood, styling red-carpet looks for Jessica Biel [100], Lea Michele [101], Ashley Olsen [102], and Penélope Cruz, designing homes for Amanda Peet [103] and Rashida Jones, and launching awesome site HomeMint [104] with Justin Timberlake [105]. So what does a woman known for her designs create for her own children's rooms? "I've always found that everything for nurseries was so childlike . . . princesses and weird animal wallpaper," Estee says. "That's not my aesthetic. You can have a cute child's room without it looking like you're in Disneyland!" Kid-friendly but mature, the spaces Estee designed for her son, Teddy, 4, and daughter, Flora, 1, feature her design hallmarks of muted tones, artistic details, and high-end pieces mixed with vintage finds. Click here [106] to see all the sophisticated details.
Source: Estee Stanley [107]
Family-Friendly High Design in New York
Five active kids, five bedrooms, almost 5,000 square feet, and unlimited creativity (and we're guessing an equally large budget). That was the starting point for this amazing New York City loft and Incorporated Architecture and Design [108], the company charged with turning the cavernous space into a kid-friendly, colorful, fun space. Mom in residence Kelly grew up in Santa Cruz, CA, and while she loves raising her kids in Battery Park, she wanted to re-create the front and backyard of her childhood — indoors. An urban treehouse, which cleverly incorporates Cole & Son's Woods wallpaper, a life-sized cartoon tree in a girls' room, and areas dedicated to climbing, playing, dancing, homework, piano, and more accomplish her dream in outrageous style. Click here [109]; you have to see this house to believe it!
Source: Annie Schlechter For Incorporated [110]
A Glamorous Gold Nursery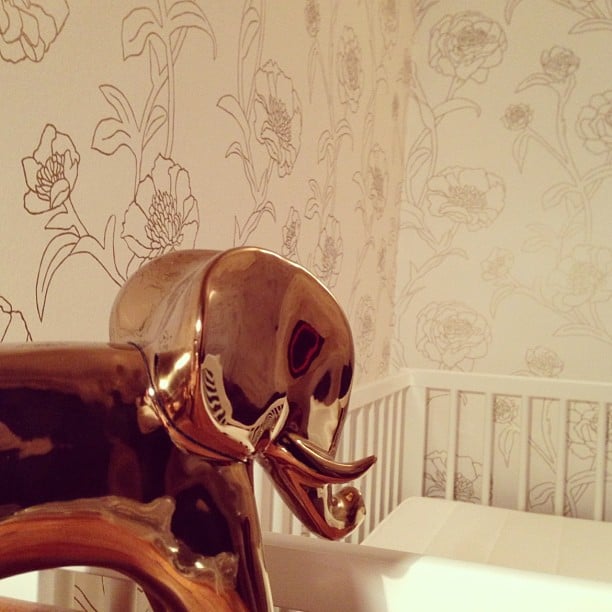 A cream and gold patterned wallpaper is so sweet in a nursery, but could also work well in the space's future iterations.
Source: Instagram User pulpdesigns [111]
Baby Oliver's Dramatic, Dark Nursery
Black walls in a nursery might sound dark and dreary, but baby Oliver's dramatic room is simply stunning, and oh so sophisticated.
Source: A Little Glass Box [112]
Sophisticated, Glam, Navy-and-White Nursery
Nursery design and sophisticated style don't often go hand in hand, but Kate, one of five women who make up the blog Collect 5 [113], proves that it can be beautifully achieved. The space she created for her son Claude, who was born earlier this year, was initially inspired by amazing kids' creations from high-end designers Jennifer Delonge [114] and Kelly Wearstler [115], but Kate managed to re-create the luxe look using a combination of high-end and extremely budget-friendly pieces. While she splurged on a few items (including that amazing Thomas Paul for Duralee curtain fabric), she also scored deals on a big-box crib, a steal of a chandelier, and her husband's childhood bed, all of which make this room look deceptively expensive. Click here [116] to check out all the high and low details.
Source: Collect 5 [117]
The Sweetest Norwegian Nursery For a Baby Boy
Blogger and mother-of-three, Ingvild documents her adventures in home renovation and interior design at Mali-Mo [118]. As the owner of a beautiful 1926 farmhouse in Norway, her aesthetic is quintessentially Scandinavian — white-washed wooden floors and walls, clean, modern furniture, and plenty of thoughtful details. Ingvild's son is the lucky inhabitant of a wonderfully light and airy room that's brimming with character. Click through [119] to see the Norwegian tot's space!
Source: Mali-Mo [120]
A Serene But Playful Little Boy's Room
Most moms would agree that the goal of designing a nursery or child's room is to create a space that reflects the aesthetic of the rest of the house while also serving as a special enclave for the little one who lives there. The room that Nancy Twomey of Alexandria, VA-based Finnian's Moon Interiors [121] designed for the 2012 DC Design House is pure magic. The space is supremely serene, but it's also filled with playful touches that would make a little boy feel right at home. From the red wagon-turned-bookshelf to the delicate giraffe hooks, we're captivated by every detail. Click through [122], and be inspired!
Pink-and-Gold Princess Pad
Little Crown Interiors [123], the California-based design firm created by Naomi Alon and Gerri Panebianco, has created some seriously enchanting nurseries for celebs including Laila Ali, Melanie Brown [124], and J.R. Martinez, so we weren't surprised that their latest design is beyond dazzling in gold and pink. "Gold has been making a serious comeback as the neutral of choice for nursery design," Naomi says. "We were thrilled with the opportunity to incorporate the trend in harmony with the feminine and glamorous Old Hollywood touches this new mom so craved." Full of luxe nursery furniture from Art For Kids [125] and Angel Song [126], silk crib bedding, a unique vanity, and an ornate mirror, this nursery is truly one of a kind. Check it out by clicking here [127].
Source: Little Crown Interiors [128]
A Twin-tastic Nursery For a Lucky Boy and Girl
Stylish LA mom-to-be Kelly Zajfen [129] faced the ultimate design challenge when she found out she was having boy and girl twins. Not only would she have to fit two babies into a small room, but she would also have to find gender-neutral items that suited her modern-chic tastes. She met the challenge with Stokke cribs, custom-made sheets, a gorgeous (and inexpensive) wall map, and a crochet elephant head [130] that's long been on our Lil wish list. See more photos here [131].
Source: Oh Hello Mommyhood [132]
A Crib Built For a Fashionista
Perfect for the budding fashionista (or fashionable mama), this room uses vintage fashion prints to create a focal point above the crib. They're bold and colorful enough for baby, and chic enough for a stylish big girl.
Source: Instagram User mjkeiser3 [133]
An Ultra-Organized DIY Playroom
Open the door to creativity by giving little ones access to the tools they need to create their masterpieces. Over at Modern Parents Messy Kids [134], one smart mama headed to Ikea to buy a shelf and brackets, a magnetic board, a rail and containers, and a small table and chairs to create the perfect arts and crafts nook for a busy tot.
Source: Modern Parents Messy Kids [135]
Baby Rhett's Sophisticated Custom Nursery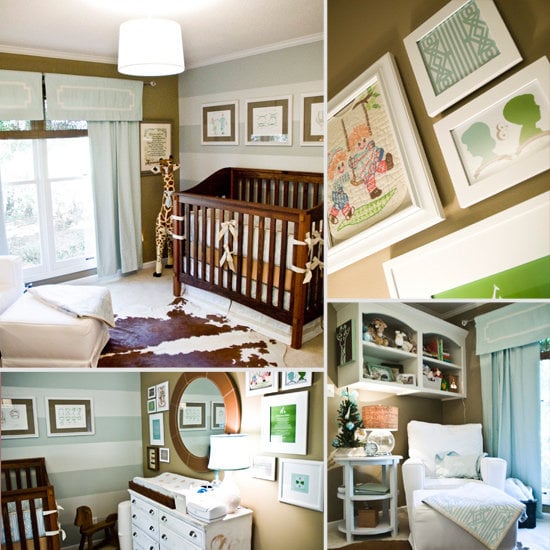 Savannah, GA-based Emily McCarthy of Emma J Design [136] makes paper and other products beautiful for a living. When she was preparing a nursery for her baby boy, Rhett, McCarthy took plenty of time and effort to ensure that the room was totally one of a kind. Check out all the details here [137].
Baby Valentin's Shared Nursery and Guest Room Space
"Like any creative project, designing Valentin's nursery was both a challenge and a wonderful time of joy for me," said Caroline Colom Vasquez [138], proud mama and founder of online marketplace Paloma's Nest. The room, which was designed before Valentin's gender was known, was to serve as a space that could grow with the baby and, in the meantime, accommodate visiting grandparents. Click through [139] to see little Valentin's whimsical, one-of-a-kind bedroom!
Source: Photos by Agnes Blum [140] and Jesse Ryan Photography [141]
Two Story Fun in a City Loft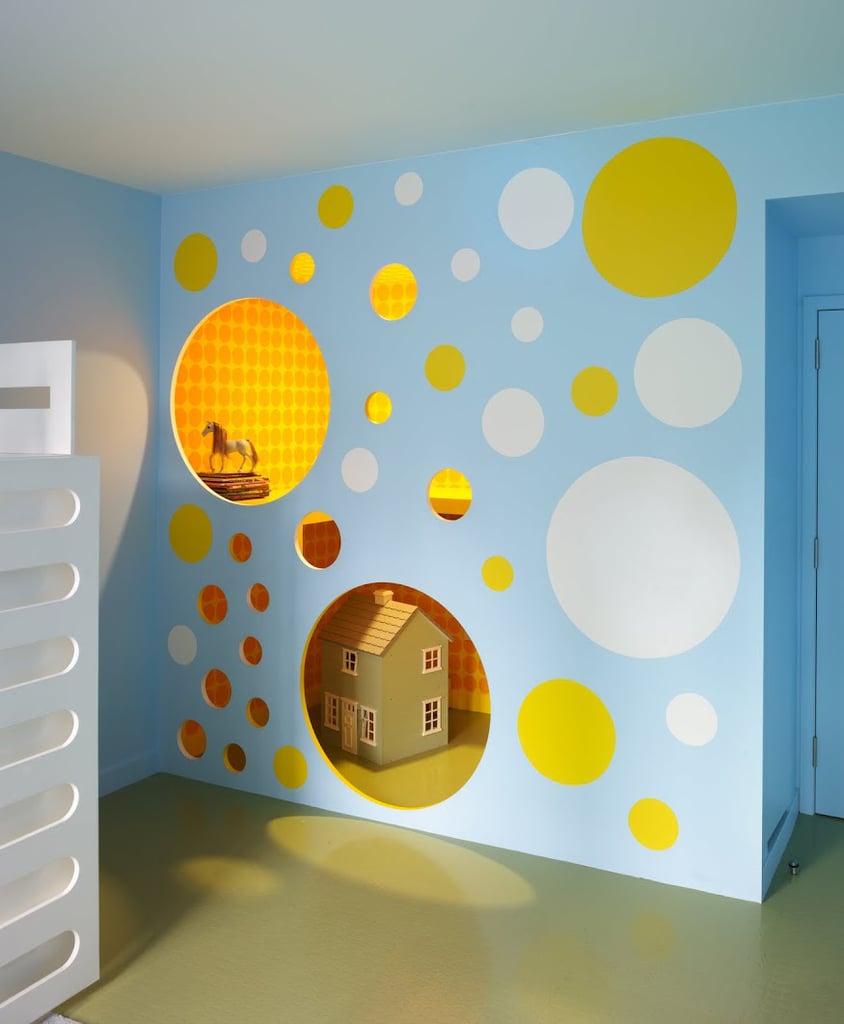 The company Incorporated Architecture and Design [142] was recently charged with bringing the outdoors into a New York City loft. The girls in the family got their own two-story playroom-within-a-room.
See more of what's potentially the coolest family home on the planet [143].
Source: Annie Schlechter for Incorporated [144]
Vintage-Mod Bedroom and Playroom For Two
California-based wedding [145] photographer Raya Carlisle [146] has a house that's big on style but supersmall (about 1,300 square feet) on space. But with a little creative decorating, including turning a seldom-used formal dining room into a playroom and keeping the two kids' room gender-neutral with distinctive, individual spaces, Carlisle has created a home that feels eclectic and warm, kid-friendly but grown-up, cozy, and not cramped. And that's no small task. Click here [147] for all the beautiful details.
Source: Raya Carlisle [148]
Design Guru Camille Styles's Sweet and Soothing Nursery
Camille Styles has gained a tremendous following through her gorgeous lifestyle blog [149], which features well-curated ideas and inspiration on everything from entertaining and food to beauty, style, and home decor.
So it was no wonder that when it came time to design her baby girl's nursery, Camille had a well-defined and very special aesthetic in mind. Through a collaboration with Serena & Lily [150], the nursery came to life in Camille's home, on her blog, and now here! Keep reading [151] to see the beautifully styled, serene nursery.
Source: Camille Styles [152]
A Fab, Fabric-Draped Nursery
Interior designer Melodie Rubin of San Francisco-based House of Ruby [153] has a way with fabric, color, and pattern, so it's no surprise that she's created some extraordinary kids' rooms. Using a combination of trade sources (including that amazing aqua-and-red Zimmer-Rohde fabric), wallpaper from Jane Churchill and Nina Campbell, and finds from Anthropologie, Jonathan Adler, and Serena & Lily, Melodie has created a sophisticated room (and whimsical bathroom) that equally appeals to little ones and their style-loving moms. Click here [154] to check it out, and get ready to feel a bit envious.
Source: House of Ruby [155]
A Modern Toddler Room Makeover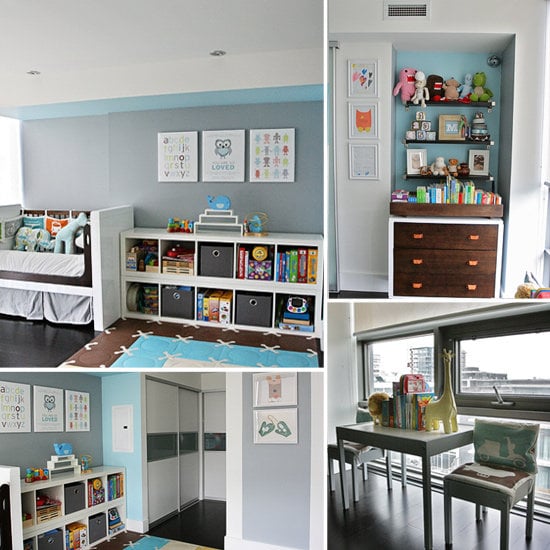 When LilSugar Community member MrsPiecemaker [156] (otherwise known as Janey) decided her 2-and-a-half-year-old son's nursery was ready for a "big boy" makeover, she went for a sleek, modern approach. "Finding new uses for old items can make the transition easier," she said. "I did it because I didn't want to have to put another item into our already-full storage room." Check out how she tackled the transitional tot's room here [157]!
A Favorite Baby Girl's Room — All Grown Up!
Earlier this year, we shared the gorgeous pink and yellow Hawaiian-inspired nursery [158] that brand stylist and award-winning graphic designer Erika Brechtel of Small Shop Studio [159] designed for her little girl, Leighton.
Now that Leighton's 4 years old, her nursery's been transformed to an equally special "big girl" room, complete with a vintage wicker headboard for her bed. Click through [160] to see how the room's been transformed, but be prepared — this is far from your typical room makeover story. The "before" pictures are just as gorgeous as the "afters." We refuse to pick a favorite!
Cool Shades of Aqua, Gray, and Orange
We love the trend in children's rooms of cool over cutesy. And when a decor scheme is able to encompass kid-friendly patterns and colors that can grow with the little one, well, that's the best of both worlds. Utah-based interior designer Kirsten Krason [161] accomplished just that when she made over a bare-bones little boy's room in soothing but fun shades of aqua, gray, and orange. See more photos here [162].
Four Girls, One Room
We're not the only ones who have redecorated with a little help from Pinterest [163]. When Shannon of Googie Momma [164] was brainstorming how to fit her five children (four girls, one boy) into two bedrooms, a pin from another mom-to-many blogger [165] inspired her to create a bunk room for her girls. The end result is a magical shared space [166] for four little heads to rest. Keep reading [167] to check out all the red, aqua, and striped details.
Source: Googie Momma [168]
A Light, White Bedroom and Playroom
This white, light-filled playroom is also a bedroom, but it doesn't look cluttered because the clean white backdrop keeps things simple.
Source: Apartment Therapy [169]
A Bold Aqua-and-Pink Baby Girl's Room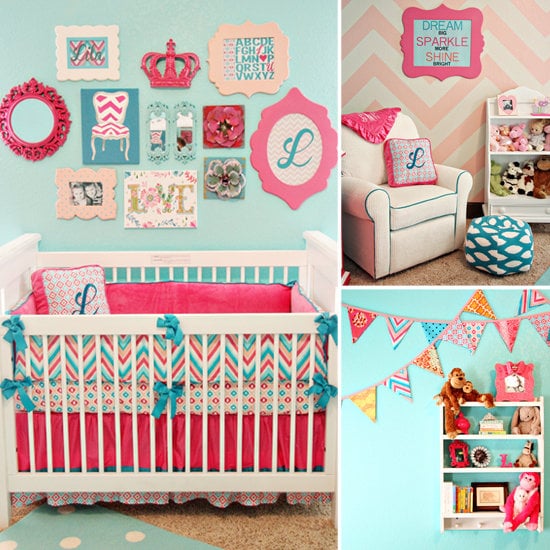 Katy Mimari, the textile-loving designer behind baby bedding company Caden Lane [170], created a bold room full of hot pink and aqua tones for her daughter, Lila. "Lila's nursery is a whimsical mix of color, print, and design. Since this is my third baby, I wanted to be a little wild and decided to make a statement with the dark pink dresser and white glider. Totally impractical? Maybe. Fabulous for design? Absolutely. It's my third . . . no rules apply, right?" Click here [171] to see all the details.
Mason's Woodland Bedroom
When your mom is the president of Nurseryworks [172], you're probably going to score some pretty awesome furniture (like Blue Ivy-caliber awesome [173]). And the woodland retreat where Mason (the son of Nurseryworks's Traci Fleming) rests his head definitely doesn't disappoint. See more photos here [174].
A Soothing Pastel Baby's Room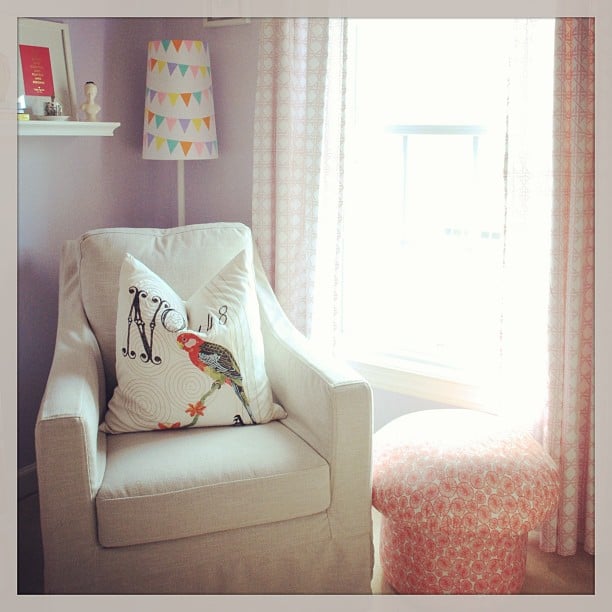 Pastels and fun accessories make this the perfect space for a little girl.
Source: Instagram User properhunt [175]
A Soothing Gray and Purple Nursery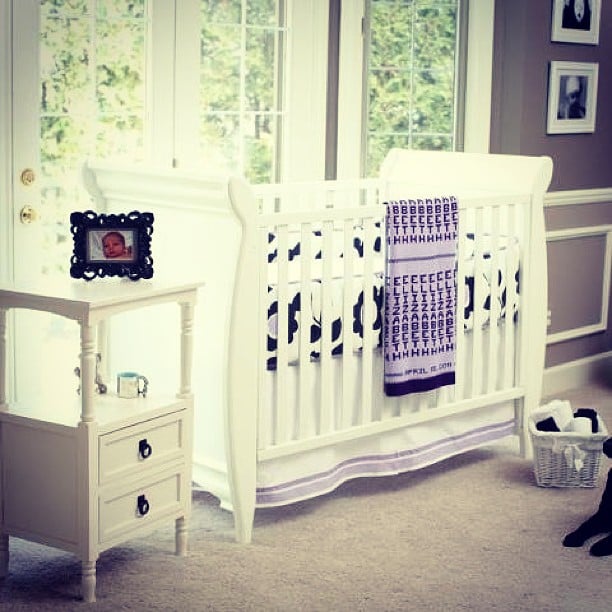 We love how the traditional aesthetic of this room fits right in with the rest of the house, and could easily be updated by swapping out the crib for a regular bed.
Source: Instagram User theblanketlady [176]
A Hip to Be Square Space
The Hobikken house by Smart Playhouse [177] merges rustic charm and avant-garde design.
Mariah Carey's Twins' Nursery
Before her twins' birth, Mariah Carey [178] gave an exclusive interview and tour of the duo's Bel Air and NYC rooms to Life & Style [179], revealing that the nurseries for her son and daughter match but aren't identical so they can "celebrate the twins as separate entities." Forgoing pink and blue color schemes, the classically decorated nursery is primarily outfitted in green, with pink accents (and butterflies, of course) scattered throughout. Click here [180] to see more photos.
Source: Lisa Rose For Life & Style [181]
Adella and Nolan's Creative, Book-Filled Playroom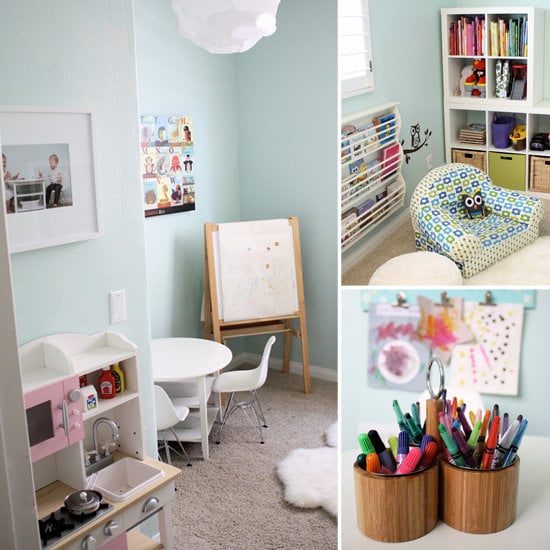 When Lexi Adams — a former fashion designer, blogger [182], and mom to Adella, 4, and toddler Noah — was looking for a new house with her husband, Tim, finding a home with a potential play space was at the top of her wish list. While the home they found wasn't quite playroom-ready, after two years of renovation and lots of trips to Ikea, they turned what was a home office into a light, gender-neutral, creativity-boosting playroom and tot-friendly library. Click here [183] to find out how Lexi created such an awesome playroom on a budget.
Source: Adella & Co. [184]
A Tiny Bedroom Turned Triplet Oasis
While living in a small space can force families to cut down on the clutter and carefully edit their toys, kids will inevitably feel constrained by limited areas. Bob and Cortney Novogratz know all about small homes. The designing duo, and stars of HGTV's Home by Novogratz [185] have lived in and around New York City with their seven kids. The couple helped a friend-of-a-friend convert a small bedroom in NYC's Hell's Kitchen into a clean, functional room for 4-year-old triplets. Click here [186] to see what the designers used to make it functional and fun for the tykes.
Baby Zoe's Minty, Modern Nursery
346 Living [187] features style-conscious DIY [188] projects and a youthful, easy approach to interior design. So when Lizzie, the brains behind the blog, shared the news of her pregnancy, her readers knew that a fabulous nursery was just around the corner.
Baby Zoe's room is crisp, cool, and features a decidedly un-baby color palette of mint and white with pops of gold, black, and pink. "Try and use pieces you already have in your home, or pick furniture that could easily go into another space," Lizzie said. "This way you have amazing pieces that will be very versatile. Shop around at various home-decor stores, and skip the baby stores when it comes to decorating."
Click through [189] for a peek inside this chic chambre fit for a sweet baby girl, plus more advice on how to get the look from her mama!
Source: Michele Beckwith Photography [190]
A Serene, Dreamy Nursery For Twins
Some might call Susan Hutchinson — an interior designer [191] who focuses on baby and kid spaces, an event and editorial stylist [192], and a blogger [193] — a bit crazy for creating an almost-all-white nursery for her twin boy and girl. But the serene space totally makes sense to us. Those little ones are sure to bring enough color into the West Chester, PA, mom-to-be's life! Click here [194] to check out the cream, gray, and white space.
Source: Nesting LLC [195]
From Craft Room to Baby Kate's Crib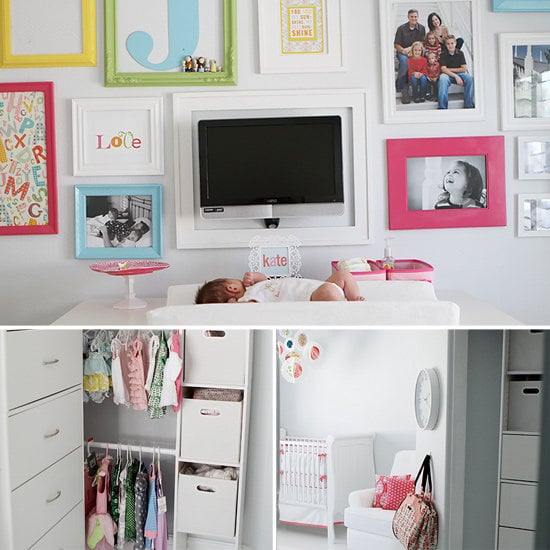 When she needed to create a special space for the family's latest addition, Jen Johnson decided to convert her rarely used crafting room into a bright, modern nursery [196]. The result of her low-maintenance makeover? A one-of-a-kind baby room with plenty of color and personality. Check it out by clicking here [197]!
A Rainbow Of Inspiration
Playful kids will always know which way to go to find the playroom with Cortney and Rob Novogratz's rainbow playroom that they'll feature on an upcoming episode of Home by Novogratz [198].
Wren's Globe-Trotting, Industrial Nursery
Baby Wren's parents spent a majority of their preparenting days exploring the world, so when it came time to settle down and create a permanent space for their new arrival, they wanted the room to reflect their wanderlust. "My husband and I love traveling, maps, and National Geographic," says Wren's mom, photographer Heather Cook Elliott [199]. "We thought it would be great to design a room for our new little traveler using the magazine as the inspiration."
Heather also had to consider the unusual layout of her home: "an old warehouse with cream city brick and half-height walls." "Our baby's room is also part of the living space in a way that most nurseries aren't, so we wanted the room to be adult and modern," she says. The result is a space that highlights the couple's traveling spirit with photos Heather took while on a safari in Tanzania, an awesome and affordable globe mobile, and lots of National Geographic yellow, along with modern elements (check out the white leather rocker!) that come together to create one gorgeous, global nursery.
Click through [200] to see some of the room's highlights!
Source: Heather Cook Elliott [201]
A Serene Nursery Full of Incredible DIY Details
We knew Dina Holland of Honey & Fitz [202] had a great eye, but we were still blown away by the gorgeous nursery she created for her son, Reed. Full of DIY [203] details (A star ceiling! That lovely bedding! Art projects galore!) that you're going to want to copy, the nursery is somehow serene yet stuffed full of incredible details [204].
Photo by Ruth Eileen [205] via Honey & Fitz [206]
A Sweet Safari Nursery
While the idea of a safari-themed nursery may seem bold and boisterous, the designer of this adorable safari nursery [207] opted for a sweeter, more subtle approach for her NYC client. The white-washed room gets a major punch of color from a piece of statement-making modern art, which was the inspiration for the room (and a gift from the new mom's incredibly talented best friend), sunny yellow storage shelves, and the prettiest Anthropologie rug (more on that later!).
Source: Racquel Bianca Creative for Play Chic Interiors [208]
A Stylish Camp-Themed Shared Space For 2 Lucky Girls
Joni Lay of Lay Baby Lay has a ridiculous sense of style, so we knew we'd love the shared space she created for her daughters at her extended family's vacation home! While Joni started with a rustic theme, she definitely put her own contemporary spin on the space [209], stocking it with a combination of vintage and modern finds, adorable bedding from The Land of Nod, and tons of DIY [210] projects, including the curtains, artwork, personalized pillows, and so much more.
Source: Lay Baby Lay [211]
An Ultratraditional Navy and White Boy's Room
Decorating a nursery is easy enough, but creating a special space for a big kid that's equally stylish and age-appropriate is another story. Case in point, this exquisite traditional navy and white room [212] from Dallas-based Emily Hewett & Associates.
Photo: Nate Rehlander for Emily Hewett & Associates [213]
Kevin and Danielle Jonas's Sweet Nursery
If you loved the look of the playroom that Danielle and Kevin Jonas created [214] for their baby girl, Alena, join us on a quick photo tour of her beautiful nursery [215]. The family resides in Morris County, NJ, and worked with designer Kate McIntyre to create a soothing and feminine space for Alena to rest and play in. It's a sophisticated space that can easily grow along with their daughter.
Source: Diane Bondareff/Dreft [216]
A Candy-Colored Nursery With the Happiest Ceiling Ever!
NYC-based interior decorator Lisa Hershman's career in the design world began when she started helping out friends with their apartments for fun. But in 2010, she recognized that her flair for creating beautiful spaces was more than just a hobby, and thus, Play Chic Interiors [217] came into existence. As evidenced in this cheery, candy-colored nursery [218], Lisa's style is fresh and fun with a touch of sophistication.
Source: Raquel Bianca Creative [219]
Molly Sims's Eclectic Blue Room For Baby Brooks
Molly Sims is known for her impeccable style, so it's no surprise that the model and actress put her expertise to work when designing baby Brooks's nursery. Her son's comfortably modern room [220] has a French blue color scheme and fun animal accents that are subtle but inviting among the patterned window coverings and pillows.
Source: MollySims.com [221]
A "Very Boy" Nursery
For Beau Dykstra, baseball season lasts all year long! That's because his nursery is filled with enchanting little baseball trinkets [222] and adorable details in every corner. Actress Jamie-Lynn Sigler and professional baseball player Cutter Dykstra explained that their goal was to create a "very boy" room for their now-6-month-old son. "I wanted everything to be very simple," she said, "and the embellishment in the accessories."
Source: Chris Patey [223] for Domaine Home [224]