Nutritional Needs for Kids
Into the Mouths of Babes: Food Facts For Kids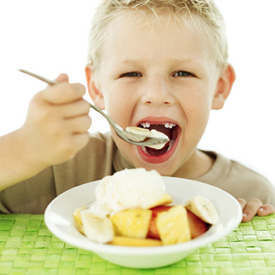 The anecdotes that come out of the mouths of babes entertain parents, but what goes in can consume them. Last week, we tested your toddler nutritional needs knowledge and many of you were surprised by the facts.
To help mamas understand just where their children should be getting their food, we consulted the USDA's Food Pyramid. The pyramid, which was updated late last year, emphasizes protein and vegetables opposed to the grains.
To see the specific requirements for your lil eaters, read more.
Food Group
Daily Requirements for 2 & 3 Year Olds
Grains
3 ounces, half from whole-grain sources
Vegetables
1 cup
Fruits
1 cup
Dairy
2 cups
Meats, Beans, Fish & Nuts
2 ounces
Food Group
Daily Requirements for 4 - 8 Year Olds
Grains
4-5 ounces, half from whole-grain sources
Vegetables
1 ½ cups
Fruits
1 ½ cups
Dairy
2 cups
Meats, Beans, Fish & Nuts
3-4 ounces
Food Group
Daily Requirements for 9 - 13 Year Olds
Grains
5-6 ounces, half from whole-grain sources
Vegetables
2-2 ½ cups
Fruits
1 ½ cups
Dairy
3 cups
Meats, Beans, Fish & Nuts
5 ounces