Ever since Pinterest [1] entered our lives, not a day passes without a "Why didn't I think of that?!" moment. From cheap and easy DIY [2] projects that look like they cost a bundle to easy, everyday fixes, we're eternally grateful for all the crafty, creative types out there who are willing to share! Today, we're highlighting 19 amazingly easy quick fixes that'll make Mama's life just a little easier. Happy hacking!
Use a Shoe Organizer For Cleaning Supplies
Hang an over-the-door shoe holder/organizer in your laundry room to keep cleaning supplies at eye level. So much better than the typical under-the-kitchen-sink mess!
Total Time: 10 minutes to hang and fill up
Total Cost: $15
Source: Instagram user regjlg8 [3]
Use a Command Hook as a Bib Hanger
Until I discovered this trick, my baby's bibs were never in the right place when I needed them. Now I just get him situated in his high chair, reach back, and grab a bib — easy and out-of-sight!
Total Time: One minute
Total Cost: $5
Source: Instagram user popsugarmoms [4]
Use an Ice Cube Tray For Jewelry Organization
Pretty porcelain jewelry boxes look great displayed on your dresser, but earrings and chains often end up tangled or misplaced. Keep jewelry and other small trinkets neat and tidy in individual ice cube tray compartments [5]. It may not be pretty, but it works!
Total Time: Depends on how organized you are to begin with
Total Cost: $3
Photo: Emily Co
Use a Drying Rack to Keep Coloring Books Organized
A drying rack is just the right size for coloring books, and its caddy can hold markers, crayons, and more.
Total Time: Two minutes to set up
Total Cost: About $12
Source: Antonis Achilleos for Real Simple [6]
Use a Lazy Susan in the Fridge
In my house, salad dressing and condiments always seem to easily get overlooked on the refrigerator door. Using a lazy Susan on one of the fridge's shelves keeps everything at eye level — so smart.
Total Time: Five minutes to organize your condiments
Total Cost: $10
Source: Martha Stewart [7]
Use Shower Curtain Hooks as Bag Hangers
Keep handbags easily accessible and organized by putting shower curtain hooks on your closet rod.
Total Time: Five minutes to hook and hang
Total Cost: Around $3
Source: Burcu Avsar for Real Simple [8]
Use a Curtain Rod For Easy Ribbon Access
You don't need an elaborate gift wrap room to give yourself organized, easy access to your supplies. Install a small curtain rod or towel hanger above a desk or countertop for a neat wrapping station.
Total Time: 20 minutes to install the rod
Total Cost: Less than $20
Source: Country Living [9]
Use Baby Food Jars For Spice Storage
After painting the lids with chalkboard paint and filling the jars with spices, baby food jars easily become part of a great-looking spice rack or drawer.
Total Time: One hour (plus however much drying time your paint of choice requires) to paint the jar lids, transfer your spices, and label the lids
Total Cost: $0 (if you already have leftover baby food jars)
Source: Frugal Decor Mom [10]
Use a Peg Board For Bathroom Storage
Peg boards are common in classrooms, so why not use them at home? Martha Stewart [11] suggests using them in the bathroom to keep toys and towels off the floor. Attach wire baskets, pegs, and hooks to the board to store bath toys (it will help them dry between baths too), hang towels, and even keep a toothbrush from falling in the sink.
Total Time: 15 minutes to install
Total Cost: $25
Photo by William Abranowicz. Copyright 2012. Courtesy of the Martha Stewart Living [12] Organizing 2012 Special Issue
Fix Squeaky Floors With Baby Powder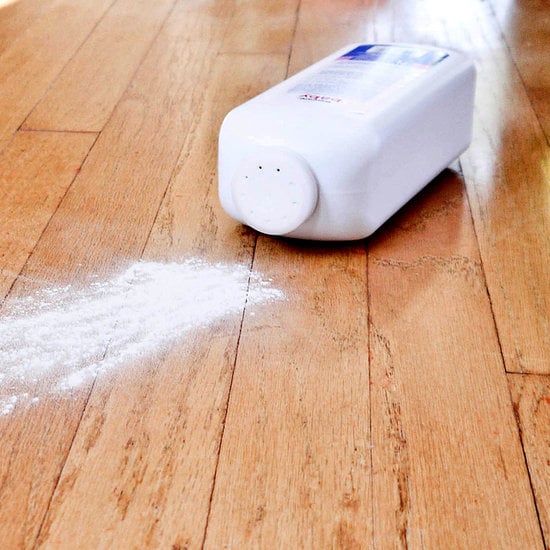 If you've got wood floors that always seem to squeak, then fix the problem with a quick dusting of baby powder [13]. This astringent powder leaves things nice and fresh while keeping down the screeches — just sprinkle some onto the trouble area, and sweep it into the cracks with a broom; problem solved!
Total Time: 1 minute (really!)
Total Cost: $4
Photo: Sarah Lipoff
Make Kids' Slippers Slip-Proof
Call off your search for special nonslip slippers for your little ones, and instead upgrade the pairs they currently own with Prudent Baby [14]'s hot glue gun solution!
Total Time: 10 minutes (plus drying time)
Total Cost: Mere cents if you already have a glue gun. If not, pick up this miniature one [15] for just $7 (and it comes with glue sticks!)
Source: Prudent Baby [16]
Microwave Two Bowls at Once
To fit two bowls into the microwave at the same time, simply place one on top of a glass so that it sits higher than the other. How easy is that?
Total Time: Depends on what you're nuking!
Total Cost: Free
Photo: Lisa Horten
Organize Wrapping Paper
Cut a toilet roll through the middle, and wrap it around wrapping paper to keep things in place and prevent it from unrolling.
Total Time: 5 minutes
Total Cost: Free
Source: Joy Astle for Apartment Therapy [17]
DIY Outlet Cover
Skip those funny little outlet covers from the baby-proofing brands, and instead seal off hazardous electrical outlets with bandaids.
Total Time: 10 to 20 minutes to do the whole house
Total Cost: Around $2 (depending on how many bandages you need to cover all your outlets)
Photo: Lisa Horten
Prep Your Kids' Strawberries
Simple strawberry solution alert. Get rid of those pesky stems without wasting too much of the fruit by inserting a straw into the bottom of the strawberry and pushing up. The leaves will come off too!
Total Time: 5 to 10 minutes to go through a small basket
Total Cost: Just the cost of the straw
Source: Flickr user Kathrine Felland Gunnlogsson [18]
Roll Your Clothes When You Pack a Bag
Maximize the storage space in your luggage by rolling clothes instead of folding and stacking them.
Total Time: Depends on how long it takes you to pack!
Total Cost: Free
Source: Instagram user superprincessjo [19]
Turn an Old iPhone Into an iPod Touch For Your Kids
Upgraded to the latest iPhone? Instead of trying to sell your old one, make your kids' days by converting it their very own iPod with one easy step [20]. Magic!
Total Time: 5 minutes
Total Cost: Free
For Safety's Sake, Snap a Family Photo
If you're at a theme park, beach, or any other public place this Summer, buy yourself piece of mind by snapping a quick photo of your kids before the day begins. This way, in the (extremely unlikely) event that someone gets lost, you'll have an accurate and current visual of what they look like, and what they're wearing.
Total Time: 30 seconds
Total Cost: Free
Source: Flickr user Tim Pierce [21]
Corral Your Kids in a Kiddie Pool (Indoors!)
Extend the life of an inflatable kiddie pool well past Summer by using it as an indoor playpen. Toss a bunch of your baby's toys in there, and buy yourself 10 minutes to vacuum, fold laundry, or make a quick phone call.
Total Time: 5 minutes
Total Cost: Cost of the pool (free-$30)
Source: Flickr user Jason Berberich [22]