With two cold-weather babies, I've always envied moms who could plan an outdoor birthday party and take advantage of their backyard or local park. Nature makes the great outdoors ideal for garden parties, water games, messy projects, and sporting events — and best of all, they can be done at a fraction of the price of indoor ones without rental fees. Check out 44 fun parties you can throw right in the yard, without ever worrying about how you'll fit all those kids in your home!
A Cowgirl-Chic Birthday Party
This cowgirl-chic birthday party [1] has it all — a stitched-burlap invitation, a gorgeous ruffle cake, clever treats, and a petting zoo. So get ready to meet your inner cowgirl, 'cause this party is going to bring her out! Hee haw!


Source: Pea and Thank You's [2]
A Floral Party
This flower-filled birthday party [3] is full of beautiful details like fabric rosettes, hints of burlap, and two beautiful food stations — one for brunch and one for desserts! If your yard is in bloom, then it will add to the sweetness of the afternoon.
Source: Courtney Vickers for Party and Pigtails [4]
A Scavenger Hunt Party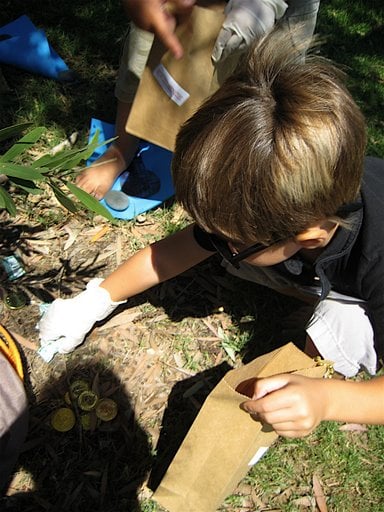 Put lil sleuths to work with a detective party at the local park [5] that plays on their natural curiosities.
A Ghostbusters Party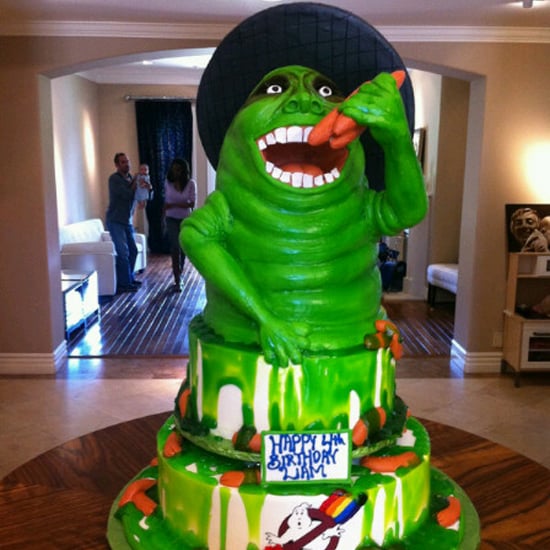 Who you gonna call for a Ghostbusters party [6]? Tori Spelling [7]! The Beverly Hills, 90210 alum and mom of two threw her son a Ghostbusters-themed afternoon included a giant slime cake, custom cookies, cake pops, and homemade proton packs for the guests to wear — complete with silly string to fight oncoming apparitions. Keep the house clean by taking the silly string fight outside!
Source: Plixi user Tori Spelling [8]
An Alice in Wonderland Birthday Party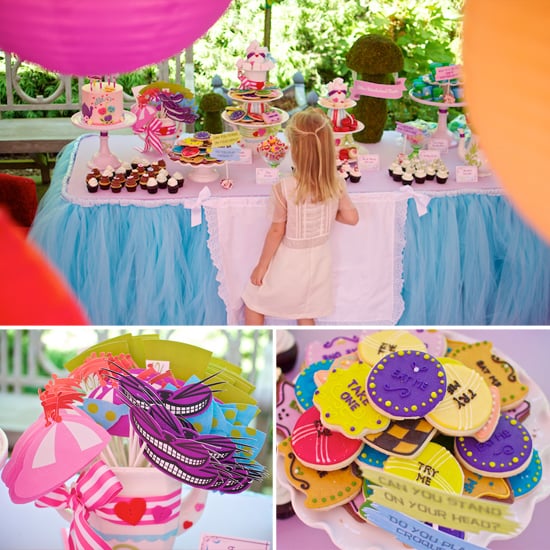 Fall down the rabbit hole and into this
Alice in Wonderland birthday party [9]! With Lewis Carroll's classic tale as your guide, a magical backyard afternoon tea party in Wonderland will delight for your girl's next birthday celebration.
Source: Sweets Indeed [10]
Afternoon Scavenger Hunt
Have a scavenger hunt! Little toys, snacks [11], and favors can be hidden along a path to be hunted for. Inexpensive tote bags are a great way for kids to collect the items that they gather on the hunt. Consider embellishing them with a party motif, or have the kids personalize them with some basic craft supplies.
Photos by Francesco Lagnese. Copyright © 2011, Martha Stewart [12] Living Omnimedia, Inc. Originally published in the June 2011 issue of Martha Stewart Living magazine.
A Wet and Wild Wipeout Party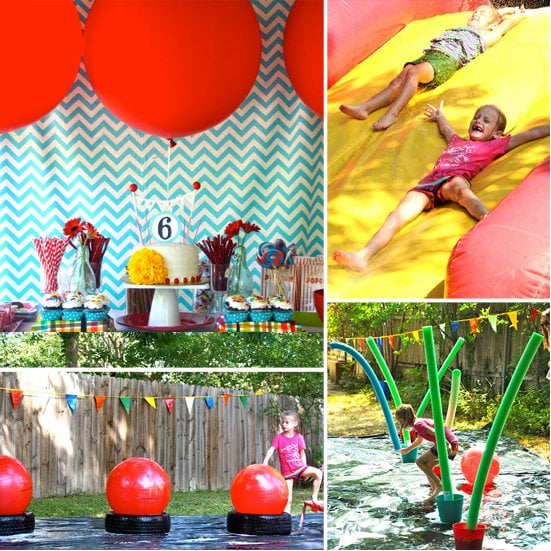 Inspired by ABC's Wipeout, this water-obstacle-filled party [13] would make any tot smile. With slippery slides, bouncing balls, and plenty of opportunities for getting wet and wild, this party is perfect for kids looking for a way to keep cool.


Source: Brenda Marafioto for Beth and Co. [14]
An Angry Birds Birthday Party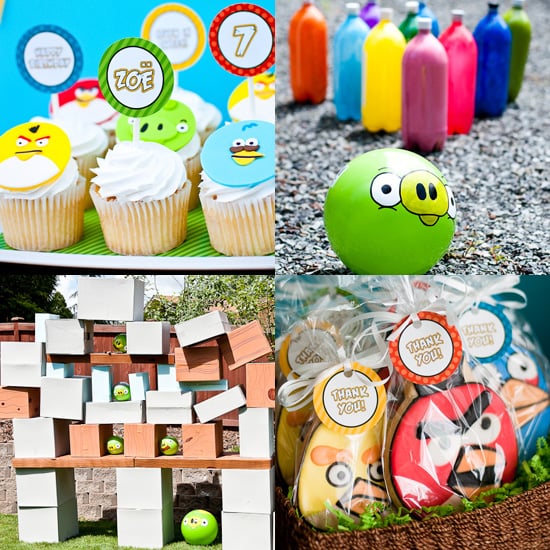 We just can't get enough of Angry Birds, so it's safe to say that an Angry Birds-themed birthday party [15] is a guaranteed hit! This themed party for a 7-year-old even featured a life-sized Angry Birds game in the backyard!
Source: Simply Styled Home [16]
Butterfly Garden Birthday Party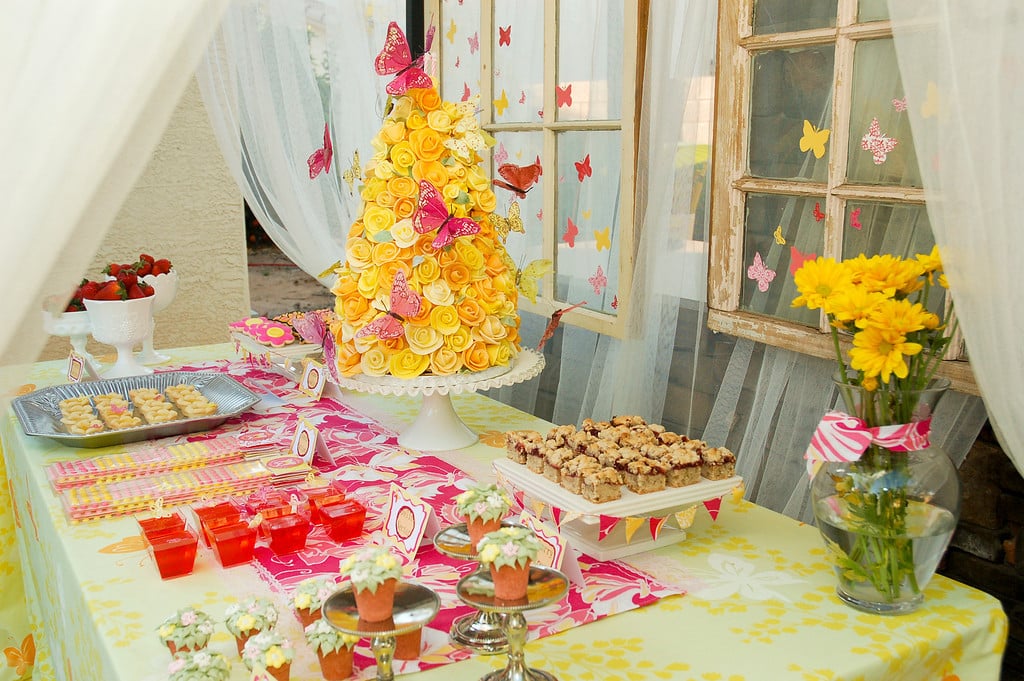 A little girl is never too young to host a garden party! This butterfly garden birthday party [17] featured a whimsical backyard dessert table tent and lots of special handmade details for a second birthday celebration.
Source: Tradewind Tiaras [18]
A Dr. Seuss-Themed Birthday Party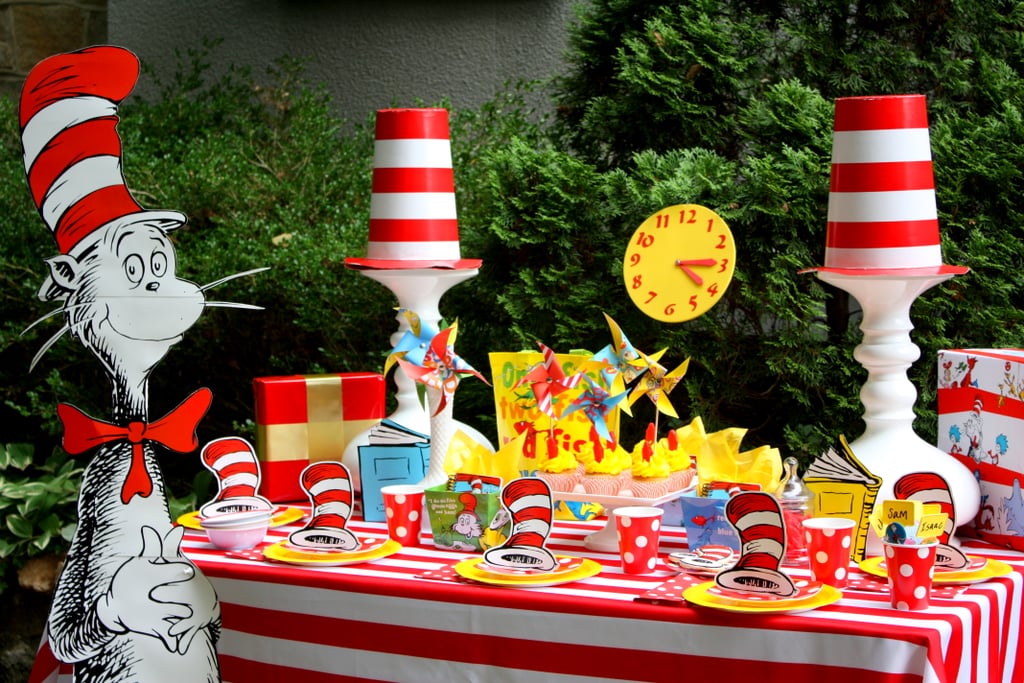 For a bright and whimsical birthday theme, Mama doesn't have to look further than baby's favorite books for inspiration! Dr. Seuss classics — like The Cat in the Hat and One Fish, Two Fish, Red Fish, Blue Fish! — are filled with colorful characters that can be used to decorate a very special Dr. Seuss-themed party [19] for your lil one's next birthday.
Source: Phronsie + Courtney Dial of Pizzazzerie [20]
A Peter Pan Party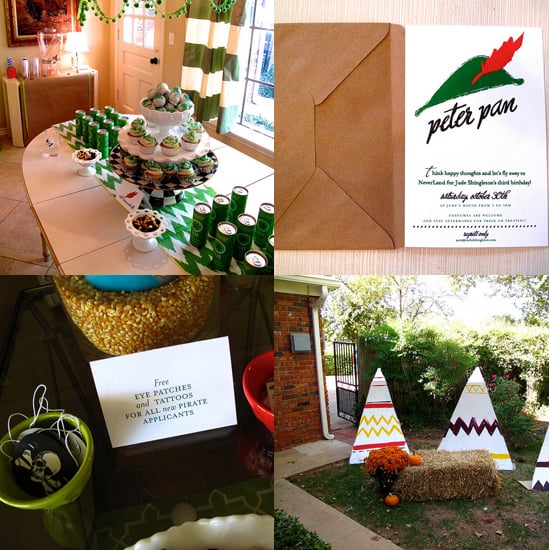 When Rachel Shingleton's son turned 3, she transformed her home and yard into Never Never Land [21], complete with eye patches, tattoos, pixie dust, and tepee photo stations for the lost boys attending in their best Peter Pan costumes.


Source: Pencil Shavings [22]
A Fireman Party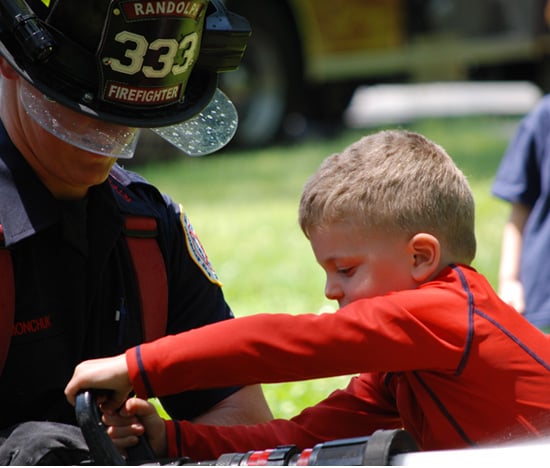 It's the sound of the siren, the pressure of the hose, the shiny polished trucks, and the fearlessness of firefighters that fascinate youngsters. With a fireman birthday bash [23] at your local station, you'll have a fiery success!
A Pirate Party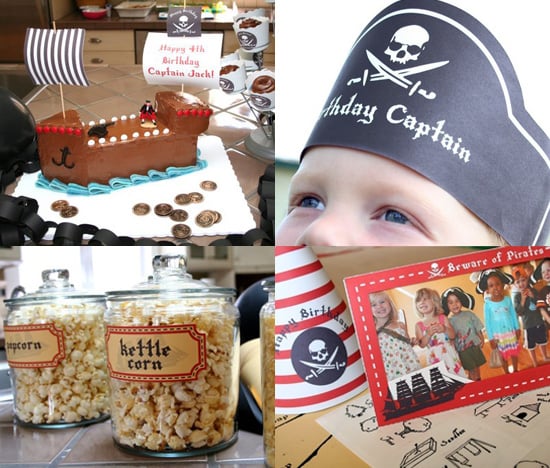 Ahoy, mate! Lil pirates will love boarding your backyard pirate ship [24] to set sail for hidden treasures.
Source: Piece of Cake Parties [25]
Outdoor Movie Party
No reason to sit inside and watch your lil one's favorite flick when the weather's nice. Local A/V stores often sell inflatable movie screens [26], or they can be rented from party supply stores so your tot can screen her favorite film for her friends. Depending on her age, create a true red carpet entry to your yard, complete with "photographers" snapping their every move. A menu filled with favorite theater snacks will keep everyone munching throughout the showing.
Bedtime Story Party
For an evening birthday party, lay some blankets on the lawn, have some dessert, and celebrate with an outdoor "story hour" that the kids are sure to love (perhaps a favorite of the birthday boy or girl's choosing). Ice cream is always a crowd-pleasing favorite in the Summer, so consider root beer floats or ice cream sundaes [27].
For older kids, set up a few activities like card games and board games [28], and for the young ones, try setting up a simple craft station, and make easy and creative party favors [29] for everyone to take home.
Photos by Francesco Lagnese. Copyright © 2011, Martha Stewart [30] Living Omnimedia, Inc. Originally published in the June 2011 issue of Martha Stewart Living magazine.
Classic Kids' Games
Classic games like a three-legged race, water balloon drop, and paper airplane toss [31] can be grouped together and turned into an Olympic competition [32], complete with medals or achievement certificates [33]. You could make your own or download our clip art version [34] of t-shirts that can be made based on any theme that you choose. A number can be added to the backs to make it feel more like a sporting event.
Photos by Francesco Lagnese. Copyright © 2011, Martha Stewart [35] Living Omnimedia, Inc. Originally published in the June 2011 issue of Martha Stewart Living magazine.
A Colorful, Clever Rainbow Paint Birthday Party
We all want to foster creativity in our children, but we don't necessarily want the mess in our house! This clever rainbow paint party [36] is full of unbelievably creative details and activities, including Spin Art and artist palette cookies to Rice Krispies Treat paint brushes and colorful candy displayed in clear paint cans.
Source: Hostess With the Mostess [37]
Olympic Party
The London Olympics are on everyone's mind these days, so consider throwing an Olympic party of your own. For an international take on the traditional backyard games, partygoers can be divided into teams based on the colors of the Olympic rings and compete in classic potato sack races, a ladder run (jumping through the rungs of a wooden ladder laid flat on the ground), water balloon races, rope swings over an inflatable kiddie pool, etc. Conclude the races with an award ceremony where everyone receives a medal, and then gather the teams together for a meal of international flavors.
A Green-Minded "Plant a Seed" Birthday Party
This eco-friendly planting party [38] is as green as it gets . . . and thrown on a budget too! The party hosts spent a grand total of $58 to throw the Summer outdoor birthday bash! Considering the number of cool details that filled the very hot (97-degree!) day, it's hard to believe that they filled the party with inexpensive paper products, thrift store containers, and, of course, lots of seeds to inspire little gardeners [39].
Source: Frog Prince Paperie [40]
A Strawberry Shortcake Party
This Strawberry Shortcake-themed party [41] just screams Summer, when the sweet berries are in season!
Source: Kiki's List [42]
A Camping-Inspired First Birthday Party
Summer is the season for camping, and this backyard camping-inspired party [43] used every kid's favorite outdoor overnight experience as a jumping-off point for one cute first birthday party. The mini bundt cakes in two flavors — s'mores and pancake with maple-syrup buttercream and bacon topping — are perfectly camp-tastic!
Source: Allyson Wiley Photography for A Little Savvy Event [44]
Minigolf Party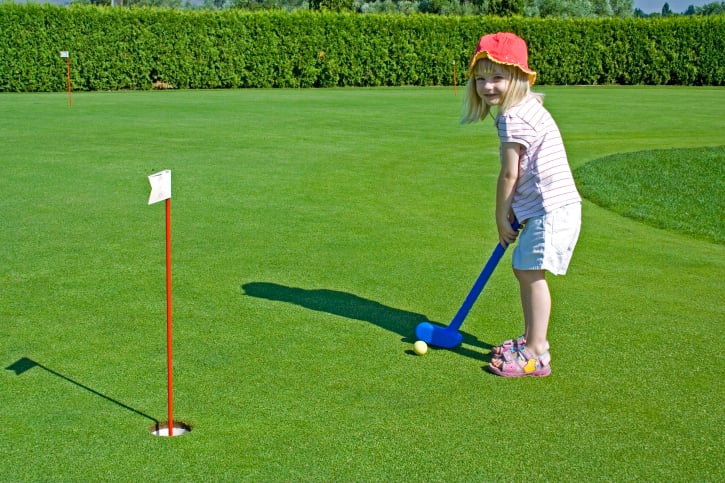 For lil fans of the PGA Tour, create a backyard golf course using croquet and toy golf sets. Using some of your lil one's bigger toys, add obstacles to the course too.
A Rainbow Birthday Party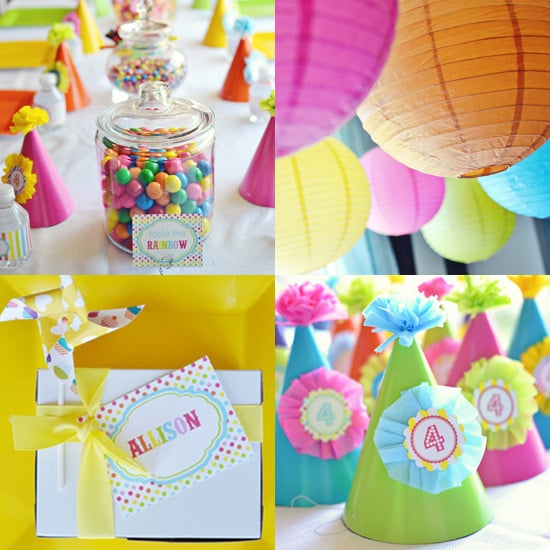 Perfect for a girl or a boy, a rainbow birthday party [45] is easy to plan and execute! Colorful decorative items — like paper lanterns and polka-dot pinwheels — and one-of-a-kind party hats make this party extra cheerful.
Source: Belva June [46]
A Girlie Camping-Themed Birthday Party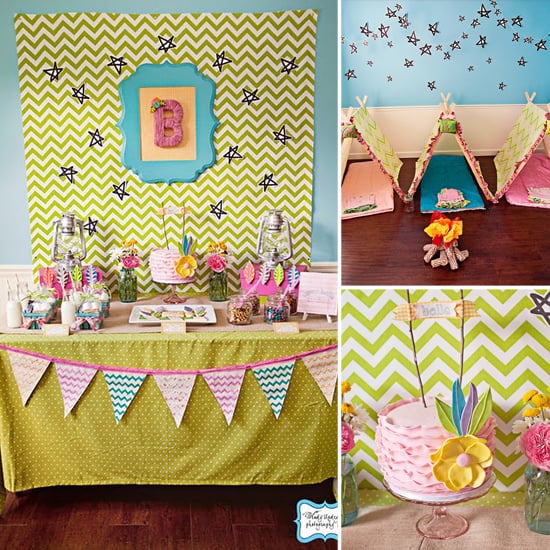 If your girlie girl has a romantic notion of camping, you don't want to miss this stylish girlie camping-themed birthday party [47]. It's the camping party little girls' dreams are made of!
Source and Photo Credit: Wendy Updegraff Photography [48]
A County Fair Party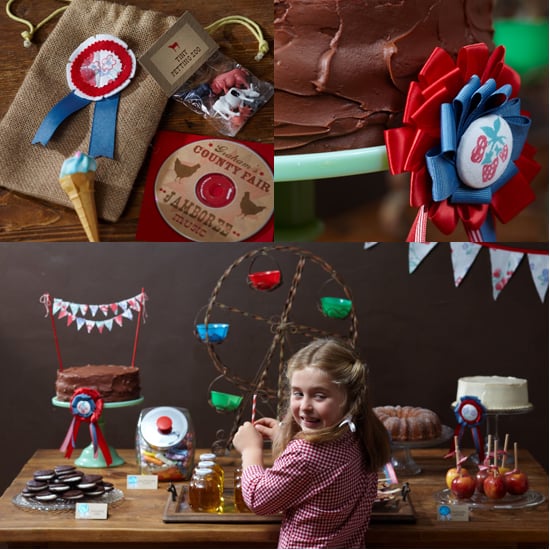 Take tots on a trip to the county fair with this retro-inspired party. Michele Wimborough's fair-inspired party [49] for her 5-year-old son provided the perfect opportunity to play some fun old games and indulge in traditional fair treats.


Photos courtesy of: Sherry Heck [50]
A Carousel and Chalkboard Tribute Party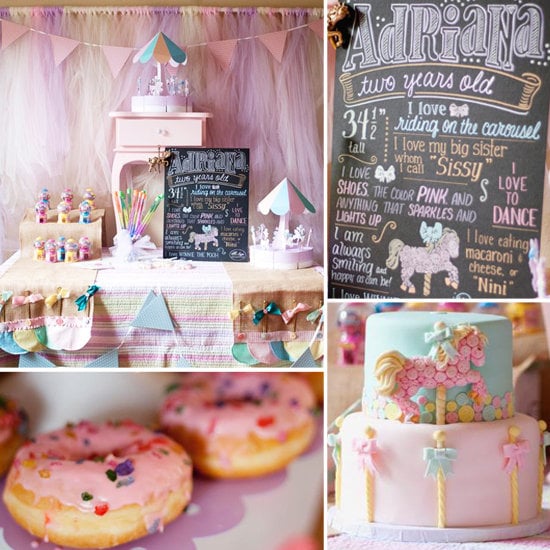 Suzanne Olvey of Fanciful Events sent us this jaw-dropper: a pastel carousel-inspired party [51] she dreamed up for her youngest daughter, Adriana. The amount of detail in this event is almost overwhelming, with gorgeous backdrops and table coverings, the sweetest desserts, and tons of thoughtful carousel-themed extras, but it's the custom-created birthday girl chalkboard [52] from Etsy's Moulage Collection that really put us over the edge.
Source: Fanciful Events [53]
A Sweet and Sunny Lemonade Party
This adorable, sweet, and sunny lemonade party [54] created by Ali Polson of Parties on a Pedestal [55] for her daughter, Bella, is Summer perfection. "The inspiration for the party came from my daughter's sunny personality," Ali says. "Her smile lights a room." If you're dreaming of lemonade-filled warm days, then don't all the bright and lovely inspiration from this party, from the sweet and girlie pink-and-yellow decor (including every girl's dream picnic table) to the clever crafts!
Source: Parties on a Pedestal [56]
A Lorax-Inspired Birthday Party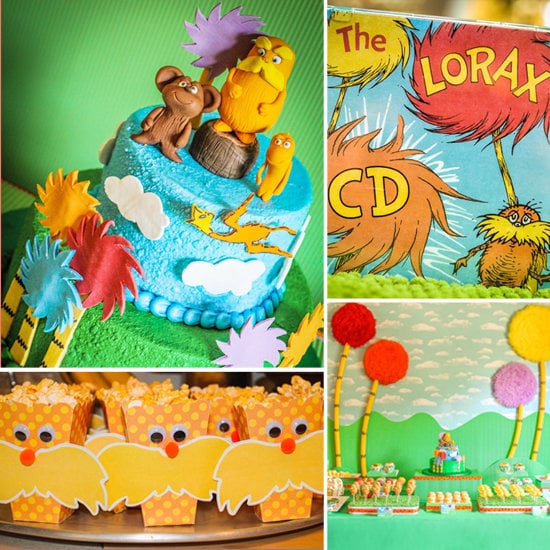 Mom-blogger Smita of The Party Wall [57] dreamed up an imaginative, intricate, and fanciful The Lorax party [58], inspired by the book and film, for her son's fifth birthday party. Full of characters and imagery from the book, upcycled decor, and eco-friendly activities, this party has an almost overwhelming amount of detail. Some of our favorite parts: the 12-page personalized invitation book, written by Smita in Seuss-speak, the insanely amazing cake, and some awesomely creative, thoughtful extras (kids were given five cents, a nail, and the shell of a great-grandfather to gain entry to the bash).
Source: The Party Wall [59]
A Mad-Scientist Birthday Party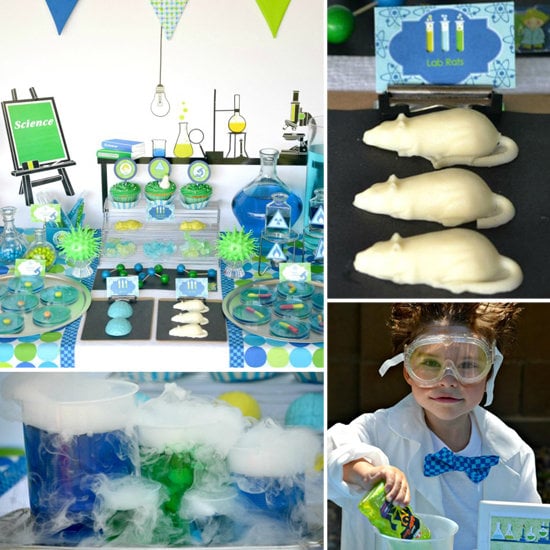 "What's a better way to learn about science than having a mad-scientist party?" says Cris McGrath of Crissy's Crafts [60]. And what little boy wouldn't be mad about a party full of edible treats that look like atom balls, lab rats, brains, frogs, and bacteria culture? This mad-scientist party [61] truly has something for every budding lab rat, including a ton of beakers, test tubes, petri dishes, and lab googles (not to mention some awesome printables [62]). While this bash might look like it could end in a bang (and not the good kind), the only explosion that occurred at this birthday party was an outburst of fun!
Source: Crissy's Crafts [63]
Dig It! A Cool Construction Birthday Party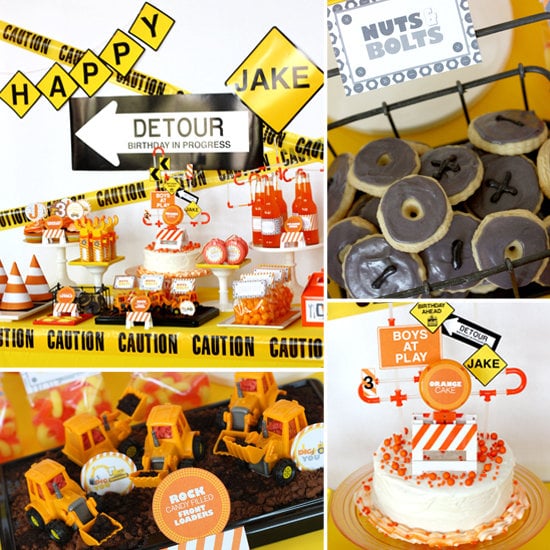 We have a serious party crush on Debbie of Wants and Wishes Design [64], the mastermind behind this construction-themed birthday party [65]. Moms of boys know it can be hard to translate their guys' greatest obsessions into adorable parties, but this soiree managed to make construction cute. Wants and Wishes even offers awesome printables [66] that you can download to recreate the party yourself. Can you dig it?
Source: Wants and Wishes Design [67]
A Supersweet Up-Inspired Party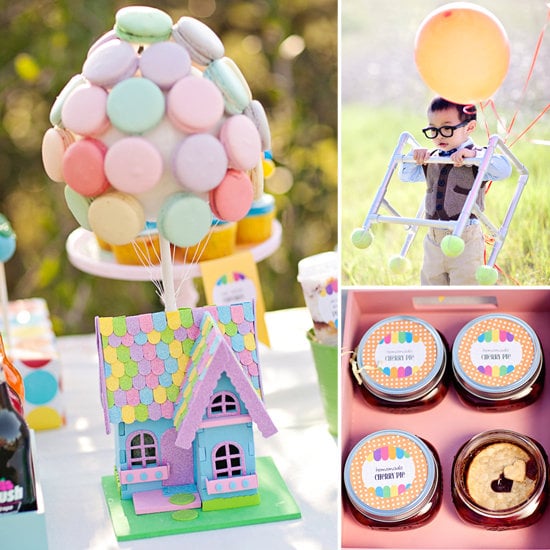 Majell del Castillo [68] designs absolutely beautiful events, but we were blown away (up, up, and away, that is) when we spotted the Up-inspired birthday bash [69] she recently created. "We were mostly inspired by vintage details from the first 15 minutes of the movie," Majell says. "The props were mostly DIY [70] projects that were on the vintage side, from globes to grape soda and 'Ellie badges.'" But our favorite details have to be the balloon-inspired sweets, including an awesome house with macaron balloons and the cutest cupcakes around.
Source: Majell del Castillo Events [71]
A Groovy Vintage Barbie Camping Party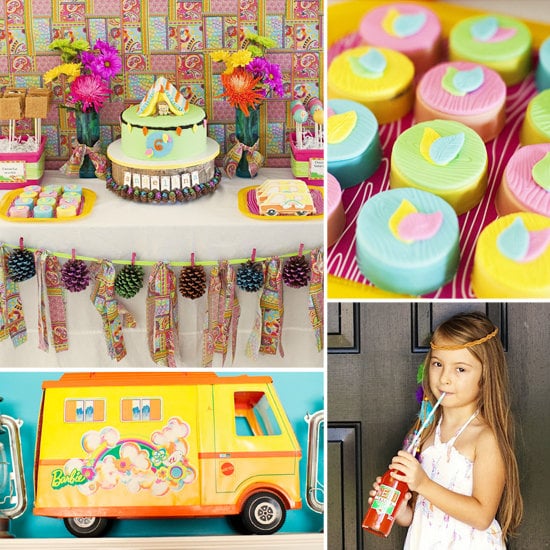 Maria of Love & Sugar Kisses [72] loves throwing a creative party, so when her daughter decided she wanted a Barbie-camping-themed birthday bash [73], she didn't go the typical pink route. "I decided to put a fun spin on the theme and went with a '70s vintage vibe. It all started with this great find, a 1971 Barbie Country Camper!" Maria says. Add in some far-out sweets and happening games, and you've got one groovy Barbie party.
Source: Love & Sugar Kisses [74]
A Gorgeous Glamping Party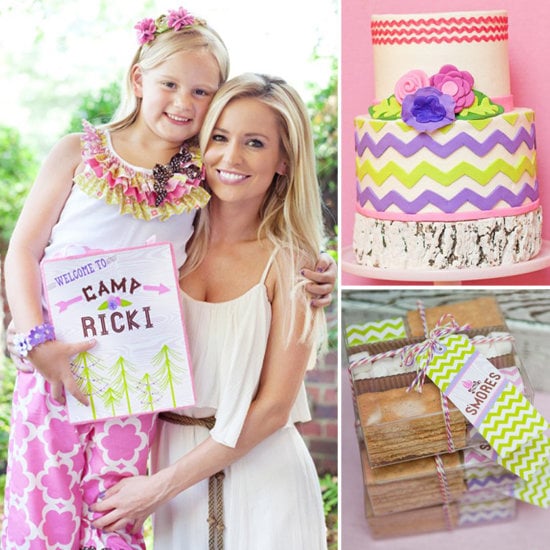 The Bachelorette Emily Maynard is a supermom, and she didn't let her suddenly extremely public persona stop her from throwing an incredible, girlie camping birthday bash [75] for her daughter, Ricki. The talented gals of Anders Ruff [76] got together with Emily to create a creative, sweet glamping (that's glam-camping for those of you who haven't caught on to the trend yet) party. Complete with a gorgeous cake and on-theme sweets (the individual trail-mix containers and take-home s'mores are just two of many standout components), girlie paper goods from Anders Ruff's printable collection [76], and lots of stylish details (including, of course, an awesome tent), Ricki's party is positively lovely — and nope, there wasn't a rose in sight.
Source: Anders Ruff [77]
A Mermaid Birthday Party Fit For an Underwater Princess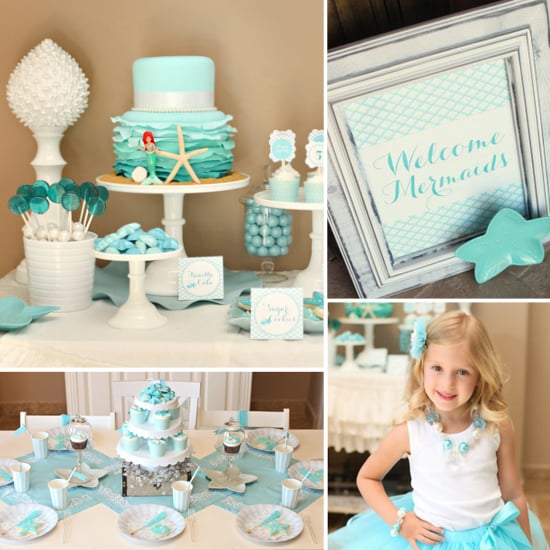 Kim Stoegbauer of The TomKat Studio [78] throws an abundance of inspired parties [79], but the mermaid bash she created for her daughter Kate's fifth birthday is one of our all-time favorites. Eight of Kate's friends attended the sweet party, full of blue-and-aqua, pearl, and iridescent accents (all available through TomKat's shop [80]), one of the prettiest cakes we've ever seen, and, of course, an appearance by Ariel. Click here [81] for all the undersea birthday beauty, captured by photographer Vicki Lynn [82]!
Source: The TomKat Studio [83]
A Bold, Candy-Colored First Birthday Party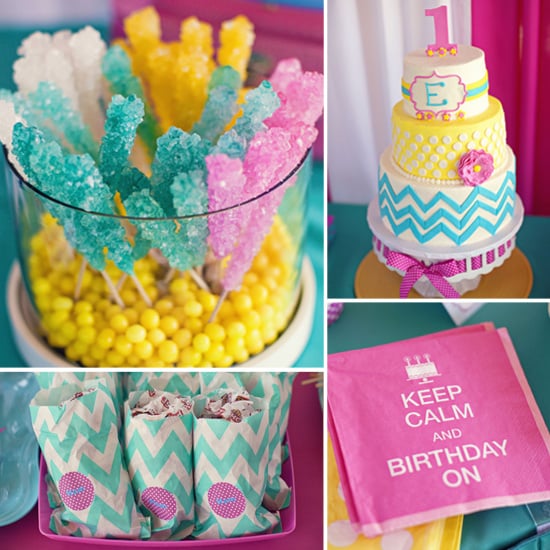 A summertime bash calls for bright colors and outdoor games, and this first birthday party didn't disappoint on either front. Full of candy colors and treats, bold patterns, and plenty of backyard fun, this is one party that's guaranteed to put a smile on your face. "I found my inspiration to the party when I spotted the invite on Etsy [84], and I instantly fell in love the with the modern chevron pattern and color scheme," says the birthday girl's mom, Jill Hill. "This was my first time throwing a birthday party, so I just decided to have fun with it — make it bright with colors and fun with lots of kids' activities." Click here [85] for all the bright birthday details!
Source: Wendy Updegraff Photography [86]
A Colorful Up-Inspired Party With DIY Details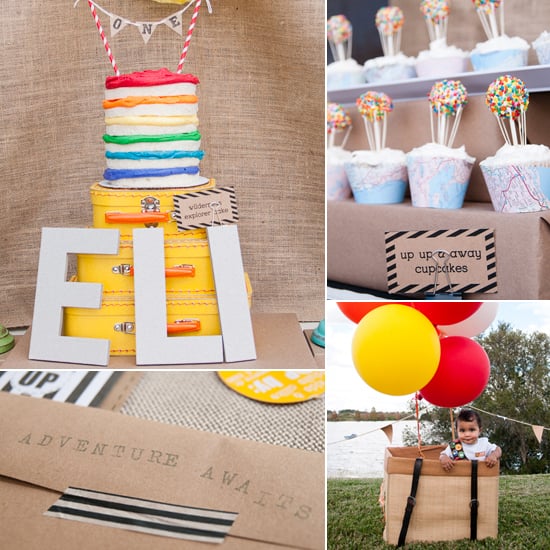 This isn't the first time we've fallen for an Up-inspired birthday party [87], but we're completely smitten with the first birthday party created by Siuleth Rivera of stationery and event styling company Eleven Note [88] for her son, Eli.
Colorful DIY [89] details — including a rainbow-frosted layered cake, bright animal magnet favors, and a fingerprints-as-balloons guest "book" — abound at this creative bash. "Up is about adventure and love," Siuleth says, "and little Eli is both our greatest adventure and our greatest love!" Click here [90] for all the details.
Source: LH Photography [91]
A Too-Too Cute Tutus and Teacups Birthday Party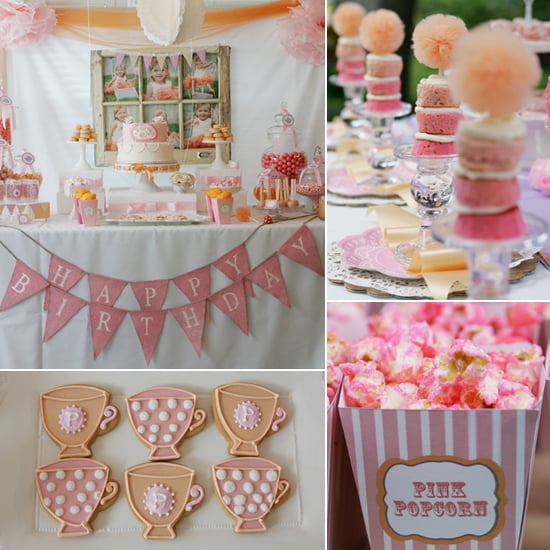 "I am a planner by nature and knew the day after my daughter's first birthday that I wanted to do a teacups and tutu theme using soft pinks and oranges for her second," says Johanna Saucier, mom to 2-year-old Presley.
"I incorporated teacups in the cake balls and printables and in real teacups purchased from flea market and used for floral arrangements," she continues. "I also wanted subtle and sweet touches of tulle, including the pom garland, tutus for each little girl, and tulle wands." But the details don't stop there. From a DIY [92] dress-up closet and shabby-chic doily accents to a framed photo dessert table backdrop, there are so many ideas we want to steal from this party. Our favorite, though, has to be the tulle-topped ombré cakes that lined the party table. Simply "tutu" chic! Click here [93] to check out all the details of this inspired party.
Source: CN Photography [94]
A Safari Birthday Party For an Animal-Lovin' Little Lady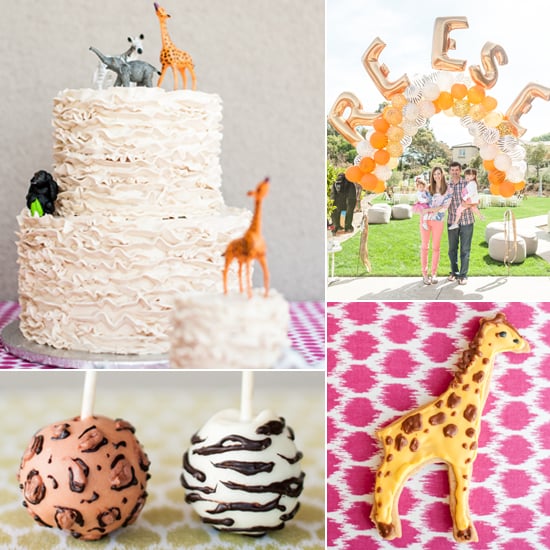 We see a lot of adventurous birthday party themes for little boys, but who says girls can't also get in on the action? For little Reese's first birthday bash, her parents decided a safari theme was the only way to go.
"Reese loves animals," says Kelly McLeskey-Dolata of A Little Savvy Event [95], the party planners hired to execute the kiddie event. "The greatest activity of the day had to be the live safari animals. Reese loved seeing the snakes and baby alligators, and it added an unexpected and lively aspect to the day." Click here [96] to see all the sweet safari details!
Source: A Little Savvy Event [97]
A Dreamy Under-the-Sea Birthday Party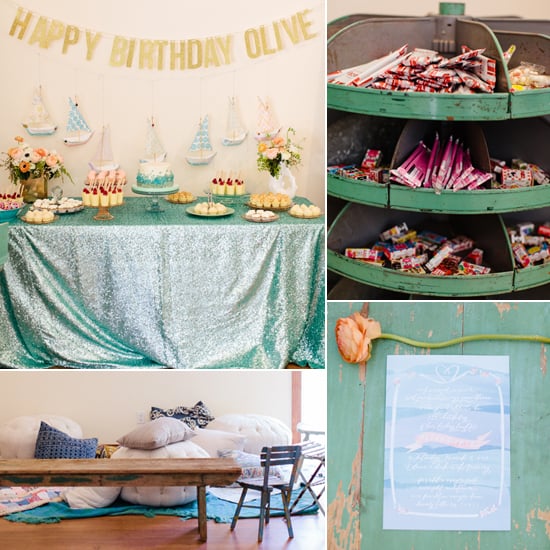 What do you get when you put together an event planner mama (Angel Swanson of Love & Splendor [98]), the Korean tradition of a Dol (an over-the-top first birthday celebration), and a whimsical under-the-sea party theme? Party perfection! This party, thrown for little Olive, has something for everyone: a baby lounge, kid-friendly entertainment, including an amazing bubble show, plenty of sweet treats, and gorgeous decor in shades of mint and pink. Click here [99] to check out all the details of this dreamy party!
Source: Love & Splendor [100]
A DIY Numbers-and-Letters-Themed Birthday Party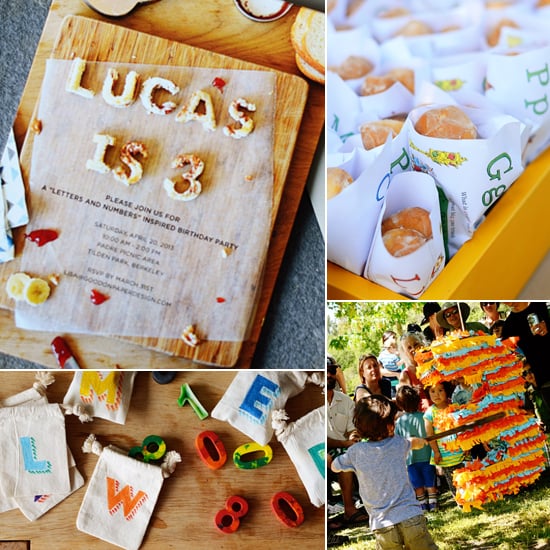 Stationery designer and mom Lisa Wong Jackson of Good on Paper Design [101] didn't have to look far for a party theme for her son's third birthday bash [102]. "Lucas has really been into reading letters and numbers on everything from books to license plates, so I thought the perfect theme for his party would be letters and numbers," Lisa says.
Lisa took what could have been a simple idea and ran with it, creating an imaginative, kid-focused event that was full of fun activities, including parachute play, a DIY [103] piñata, and a live band led by Lucas's preschool teacher. Click here [104] to see all of the party fun, including Lisa's incredible invitations and homemade crayon favors!
Source: Good on Paper Design [105]
A Fossil Hunter Birthday Bash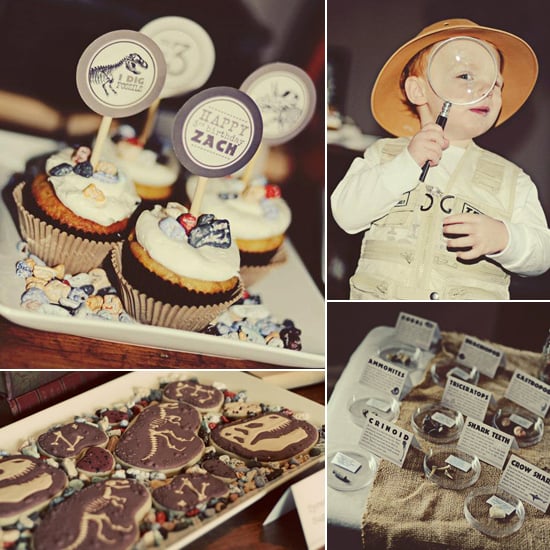 "For my little guy's birthday, there was never any question about the theme: fossils!" says Gretchen Brittain, mom of three and the creator of adorable party printables shop Three Little Monkeys [106]. "Zach is obsessed with dinosaurs. Obsessed. But not the cartoon variety. He digs real fossils."
Gretchen used Zach's love of fossils and her own addiction to all things vintage to create one of the coolest little-boy parties ever, styled to feel like an old fossil excavation site with a vintage map backdrop, replica fossils, and old books, trunks, and camping gear. Click here [107] for all the dino details.
Source: Three Little Monkeys Studio [108]
A Sweet Barnyard Birthday Party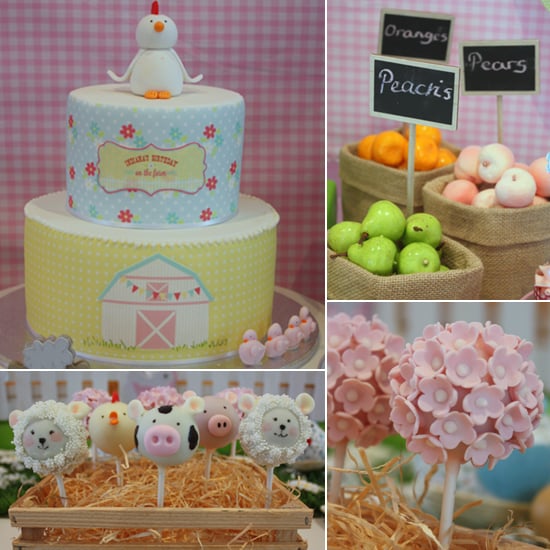 Kate Brown and Yolanda Cerra, the creative minds behind Aussie event company Kiss Me Kate [109], never cease to amaze us with their gorgeous parties, and this barnyard-inspired birthday bash for 2-year-old Indiana is no exception.
"Our client Megan approached us to design a dessert table," Yolanda says. "The brief was simple: a farmyard theme with a girlie bent. We achieved this look by incorporating sweet cottage flower prints and a pastel color palette throughout. The party was scheduled in the first week of Spring, so we drew inspiration from flowers, fabrics, and, of course, assorted farm animals." Click here [110] to head down to the farm!
Source: Kiss Me Kate [111]
A Brave Birthday Party
Inspired by her daughter Ella's love of Disney film Brave, Hana Lynch, a mom, blogger [112], and photographer [113], created a whimsical fifth birthday party that appeals to the inner rebel-princess in all of us. "I wanted the party table to evoke a sense of being within the enchanting forest that Merida encounters during her adventure," Hana says. "I created this feeling using natural elements like moss and tree stumps to display the food. The light-up 'wisps' gave it a magical touch." Add in an incredible cake; gender-neutral activities including a "haggis" toss, archery, and design-your-own coats of arms; and one adorable birthday girl, and you have one adventurous birthday bash! Click here [114] for all the incredible details.
Source: The MomTog Diaries [115]
A Cool Airplane Birthday Party
Suzie Boluarte of Project: Party Perfect [116] knew just what the theme for her son Caiden's second birthday should be. "We live near a small airport, and he loves going to the observation deck," Suzie says. "It's on the tarmac, and he gets an up-close experience seeing small planes and private jets take off and land." Suzie took that love of planes and created an inventive party full of high-flying clouds, DIY [117] crafts, and cute treats. Click here [118] for all the details.
Source: Project: Party Perfect [119]