When it's time for your new addition to make his "real world" debut, what you choose to dress him in can be a big decision — especially when snap-happy dads and grandparents are going to be there to capture every moment on camera.
Eighty-two percent of POPSUGAR Moms readers [1] say they bought a special ensemble for their newborn to wear on this momentous day, and if you're planning on following suit, we recommend an outfit that's soft, cozy, and easy to get on and off. Converter gowns and kimono styles are especially desirable, as are pieces that don't go over the new baby's head.
Check out our 25 favorite finds, and tell us: what did (or will) you bring home baby in?
Land of Nod Superstar Gift Set
Reach for the stars with this Land of Nod Superstar Gift Set [2] ($59) featuring a a snapsuit, blanket, and hat.
H&M Cloud Sweatshirt and Pants
This precious sweatshirt and pants set [3] ($18) is printed with fluffy white clouds on a grey background.
Finn + Emma Feather Convertible Gown
The organic cotton used on Finn + Emma's pretty feather convertible gown [4] ($33) make it a feel-good choice.
Baby Gap Favorite Bear One-Piece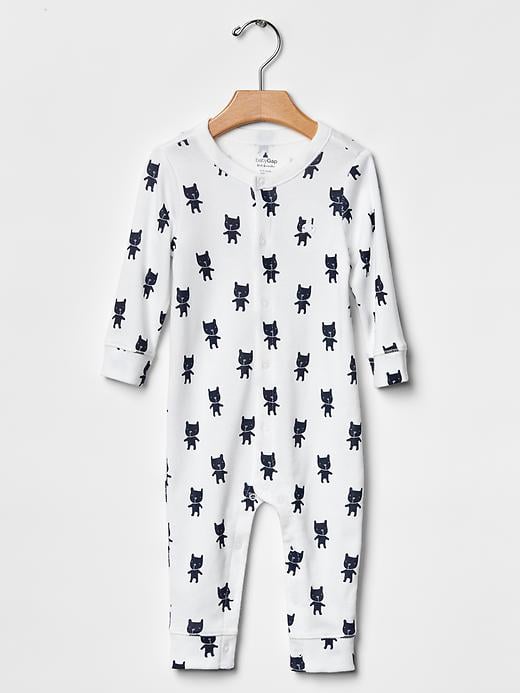 Baby Gap's cozy Favorite Bear One-Piece [5] ($25) is perfect for a newborn boy or girl.
Freshly Picked Bringing Home Baby Bundle
This sweet baby bundle [6] ($150) from Freshly Picked is gender-neutral — though also comes in pink or blue — and comes with grey baby moccassins, a swaddle, hat, diaper bag, laundry bag, and even a pair of socks for mom!
Skip Hop Star-Struck Short-Sleeve Skirted Bodysuit
A bold choice for a baby girl, Skip Hop's skirted bodysuit [7] ($18) helps them to be ready to twirl before they can even hold their head up.
Burt's Bees Baby Bee Sleeper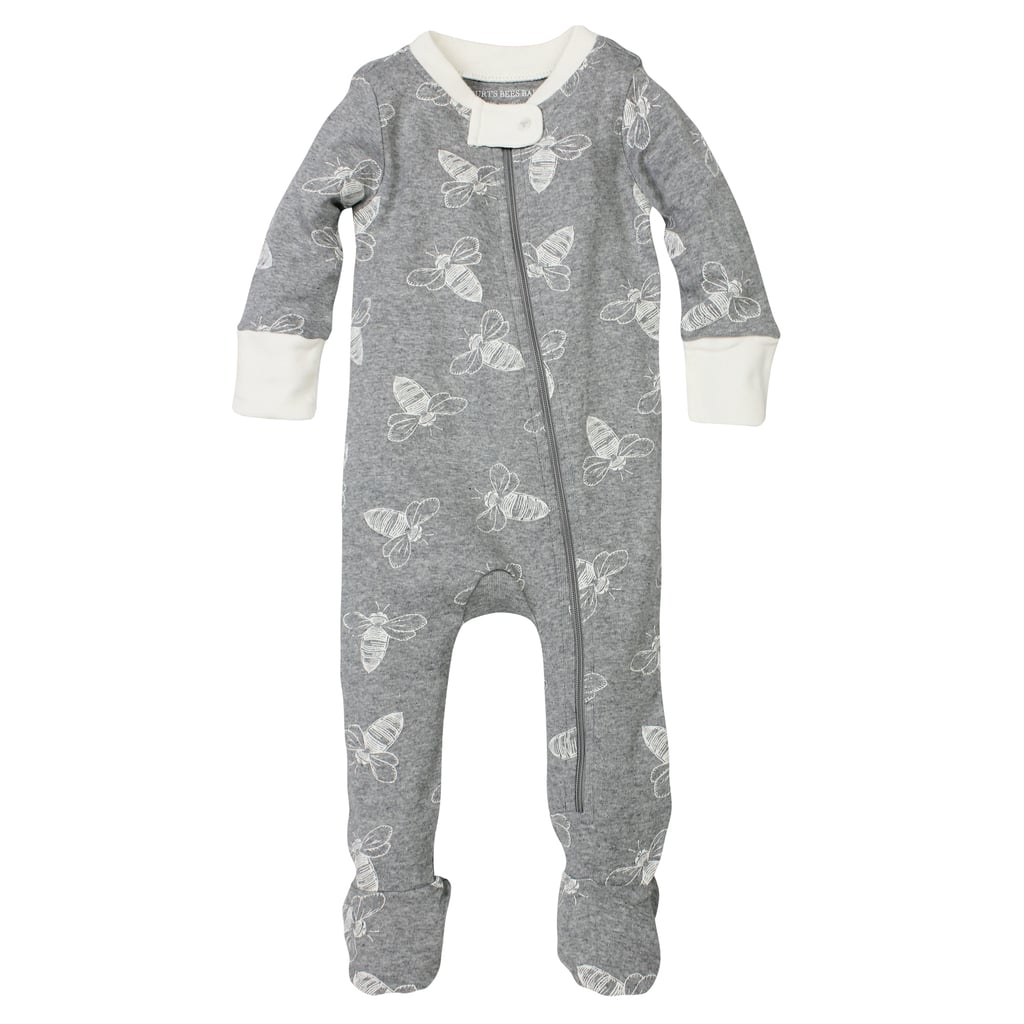 Burt's Bees Baby's charming bee sleeper [8] ($19) also comes in white with blue, purple, or yellow bees printed on it.
J.Crew Baby Lacoste Polo One-Piece
The breeziest way to take home a summer baby, this J.Crew Baby Lacoste polo one-peice [9] ($50) is an exclusive baby version of Lacoste's famed polo.
H&M Sweatshirt Jumpsuit
Keep baby positively cozy on the way home thanks to H&M's organic cotton Rsweatshirt jumpsuit [10] ($20) in gender-neutral natural white, featuring little giraffe's in the lined hood.
Carter's Gold Foil Snap-Up Sleep and Play
Carter's snap-up sleep and play [11] ($7) features gold foil hearts that are absolutely adorable.
Skip Hop Petite Triangle Side-Snap Footie
This petite triangle print on the Skip Hop side-snap footie [12] ($16) is perfect for your petite bundle of joy, and also comes in both blue and grey.
Baby Gap Quilted Chambray One-Piece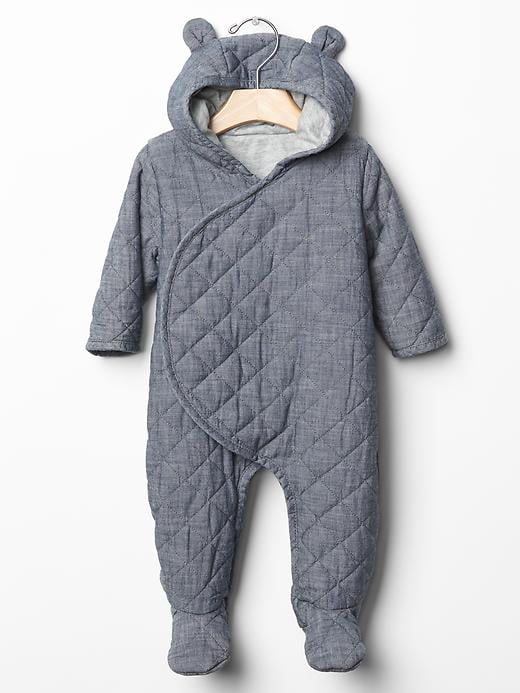 If you're bringing baby home in the Winter, this Baby Gap Quilted Chambray One-Piece [13] ($40) will keep them snuggled and warm.
Giggle Better Basics Long Sleeve Coverall
Your baby can spend its first night at home counting sheep with this long sleeve coverall [14] ($29) from Giggle.
Babysteps Infant Boys' Football Three-Piece Set
Your newest little football fan should come home ready to play! This three-piece set [15] ($36) features an adorabl football motif.
Giggle Better Basics Side Snap Footie
Your baby will stay cuddly and warm in this organic cotton side snap footie [16] ($70) from Giggle. Choose from four vibrant colors for boys, girls, or surprise babies.
Zara Mini Silk Cotton Set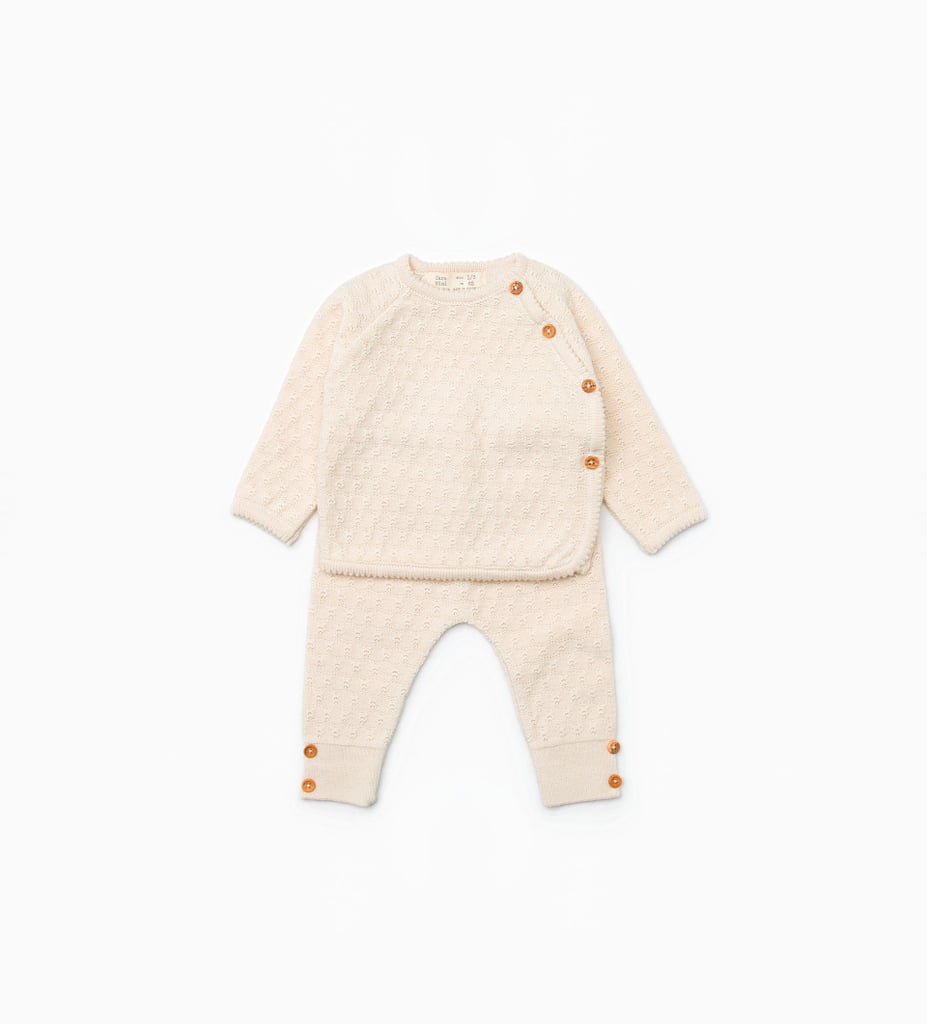 Zara's silk cotton set [17] ($50) will envelope your new arrival in snuggly softness. A special investment for a special baby!
Mini Boden Six-Piece Woodland/Grey Stripe Set
Mini Bodens's woodland and grey stripe set [18] ($90) comes with a footie, bodysuit, top, pants, blanket, and hat.
Skip Hop ABC-123 Gown
Your baby will be singing his ABC's and 123's before he even steps foot at home with this ABC-123 Gown [19] ($16) from Skip Hop.
Little Me Lace One-Piece
This Little Me lace one-piece [20] ($18) is simple yet elegant enough for baby's homecoming.
Land of Nod Twinkle, Twinkle Gift Set
The Land of Nod Twinkle, Twinkle Gift Set [21] ($40) is a sweet pick for any newborn.
Ralph Lauren Striped Kimono Two-Piece Set
Snatch up one of these Striped Kimono sets [22] ($35) in comfy cotton that's just the right weight for cold-weather babies.
Little Me Rose Swirl Footie One-Piece and Hat
The adorable little roses on Little Me's footie one-piece and hat [23] ($18) features sweet pink bows over the snap closures.
Baby Gap Bear Take-Home Set
Gender-neutral bears adorn this charming ensemble by Baby Gap [24] ($68).
Kate Quinn Organics Striped Hat Set
Kate Quinn Organics' sweet and simple striped layette [25] ($44) features contrasting blue stripes and a matching hat.
Baby Gap Kimono One-Piece Set
The simplest of sets, this Baby Gap kimono set [26] ($68) in soft cotton is easy to get on and off your newborn, and comes with a blanket and hat.