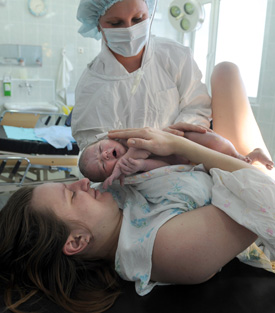 Hold off on that hospital photo shoot! Baby's first picture is a keepsake that mamas hold onto forever, but just how soon after birth can the camera be used? While many laboring moms assign photographer duties to a friend or family member to capture their lil one's arrival,
a hospital in western Maryland
is putting a delay on that first image with a new policy prohibiting video and still photography of deliveries until five minutes after the baby's arrival. According to the hospital, the rule is intended to "protect patient privacy and reduce potential staff distractions."
Would a hospital's photography rules factor into your decision to deliver there?