For expectant mamas heading on vacation, swimwear selection is always top of mind, but when you're heading to the beach — or even the backyard — you may want to celebrate the day wearing a two-piece swimsuit. Fifty percent of our readers [1] showed off their burgeoning bellies in a bikini while pregnant — and they're not alone. Take a look at some of our favorite expectant celebs who also sported bikinis while playing in the sun.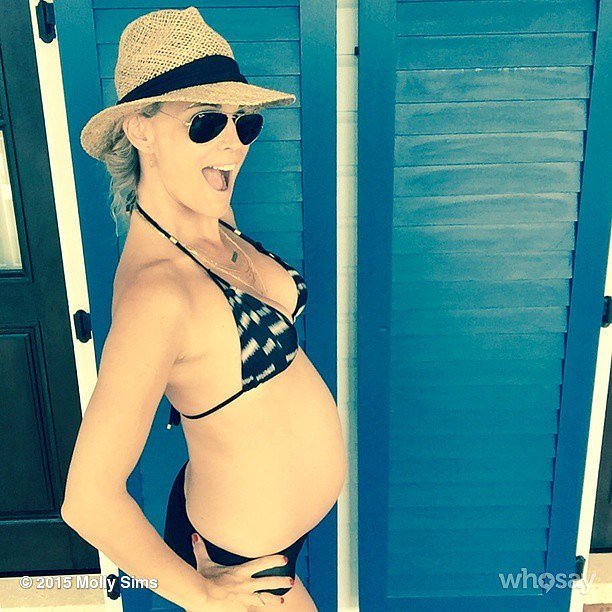 Molly Sims was happy as could be showing off her baby bump in a photo she captioned, "Sports Illustrated Swimsuit Preggers Edition."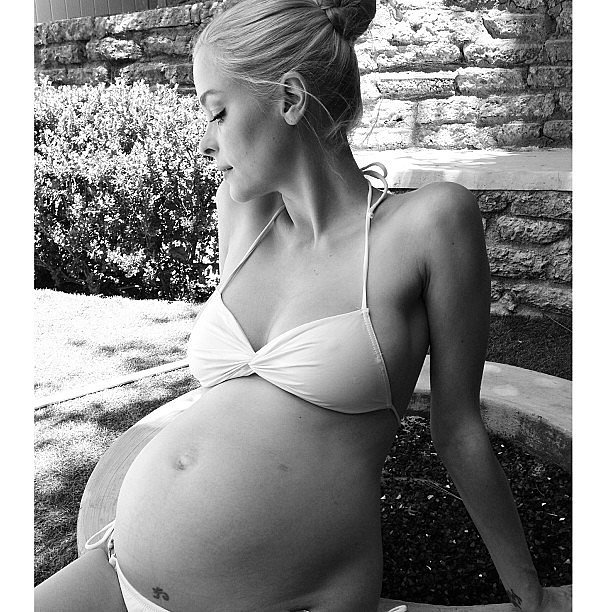 Jaime King donned an itsy-bitsy bikini in her backyard.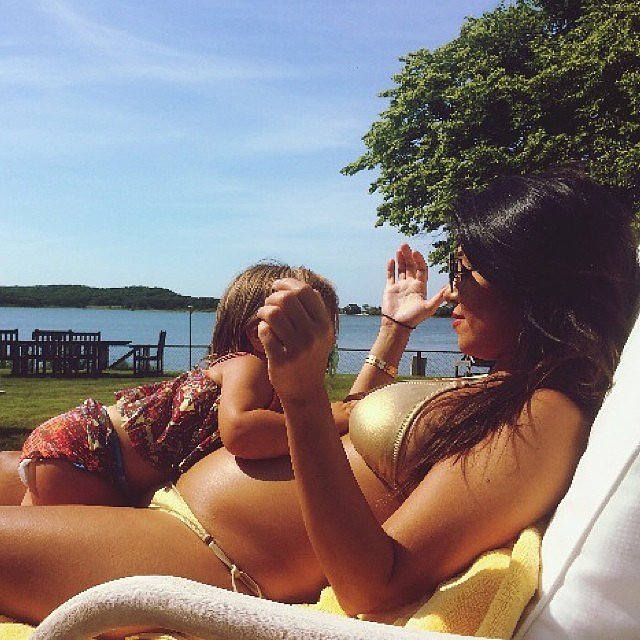 Penelope Disick made herself at home atop her bikini-clad mom Kourtney Kardashian's baby bump while vacationing in the Hamptons.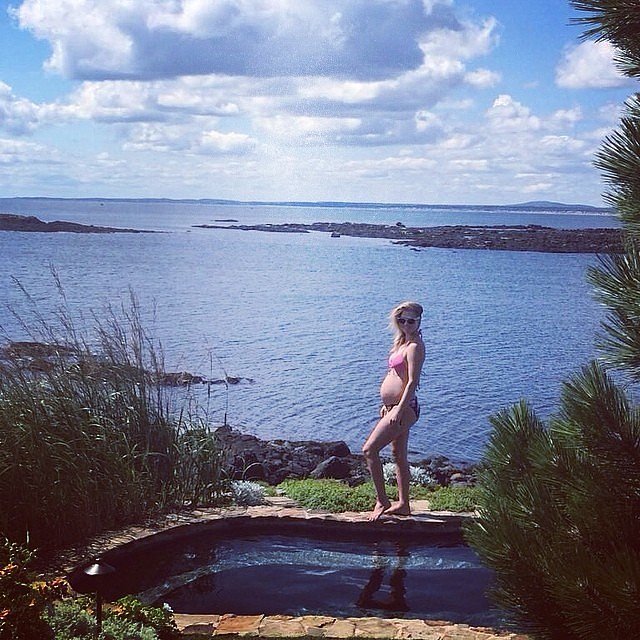 Ali Larter [2] showed off the stunning view — and her belly — while on vacation.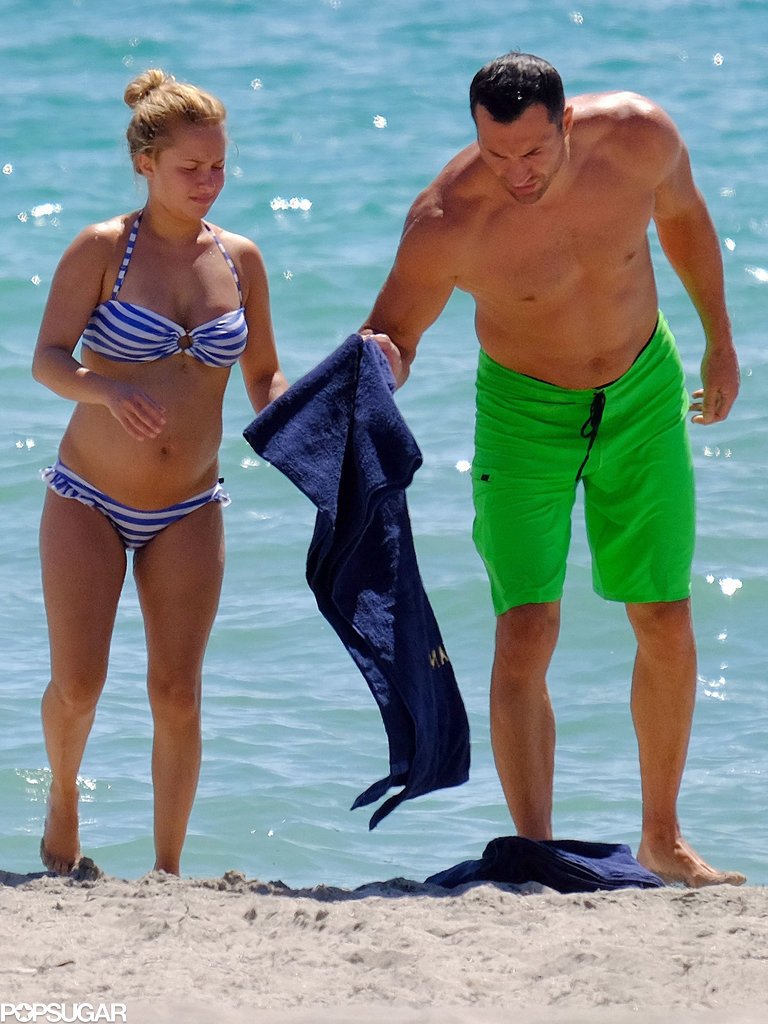 A bikini-clad Hayden Panettiere [3] and her fiancé Wladimir Klitschko headed to the beach in Miami.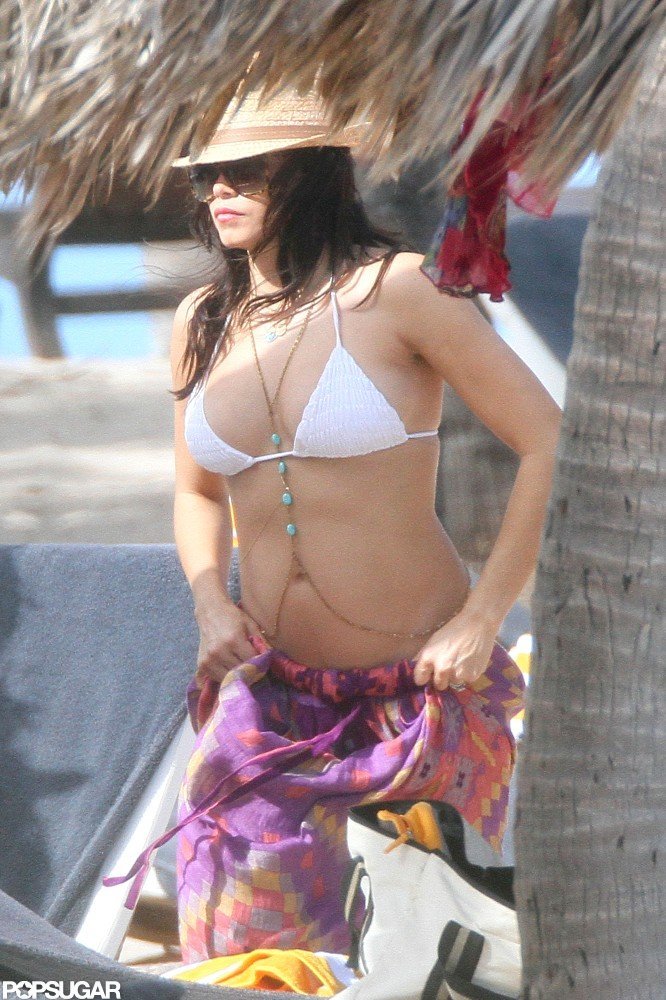 Jenna Dewan decorated her bump while wearing a bikini in St. Barts.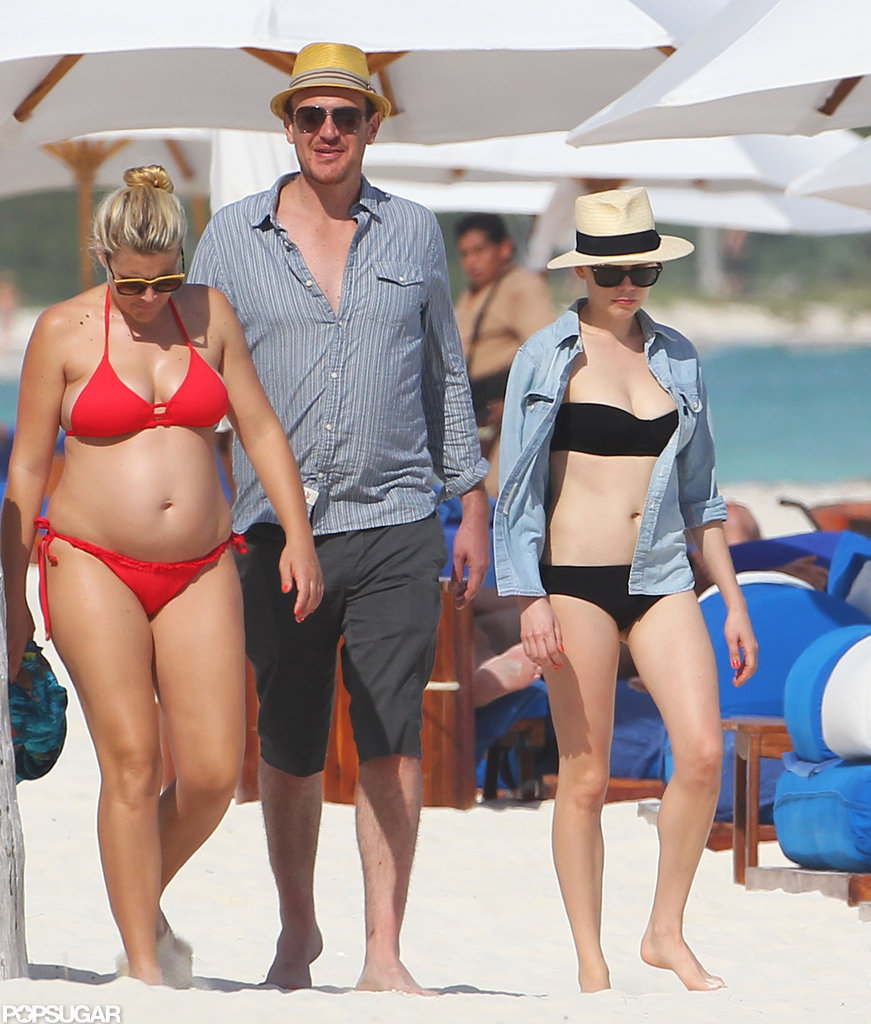 Pregnant Busy Philipps wears a bikini while hanging out with Michelle Williams [4] and Jason Segel [5] in Mexico.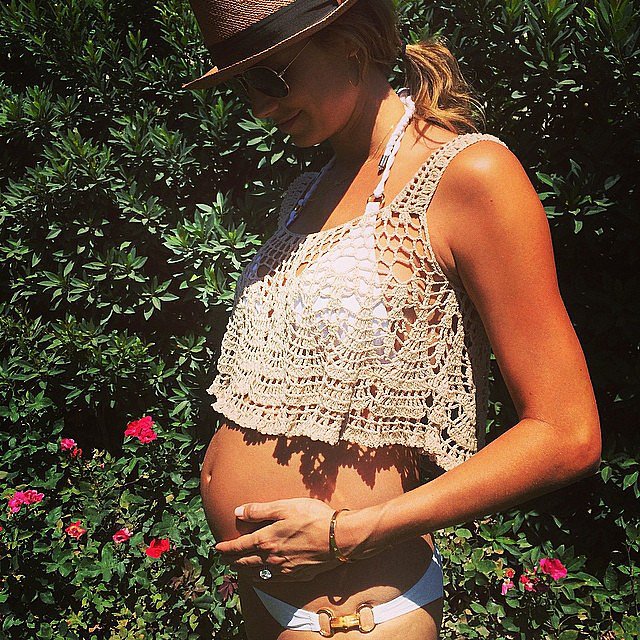 On Mother's Day [6], Stacy Keibler posted this bikini picture of her baby bump.
Source: Instagram user stacykeibler [7]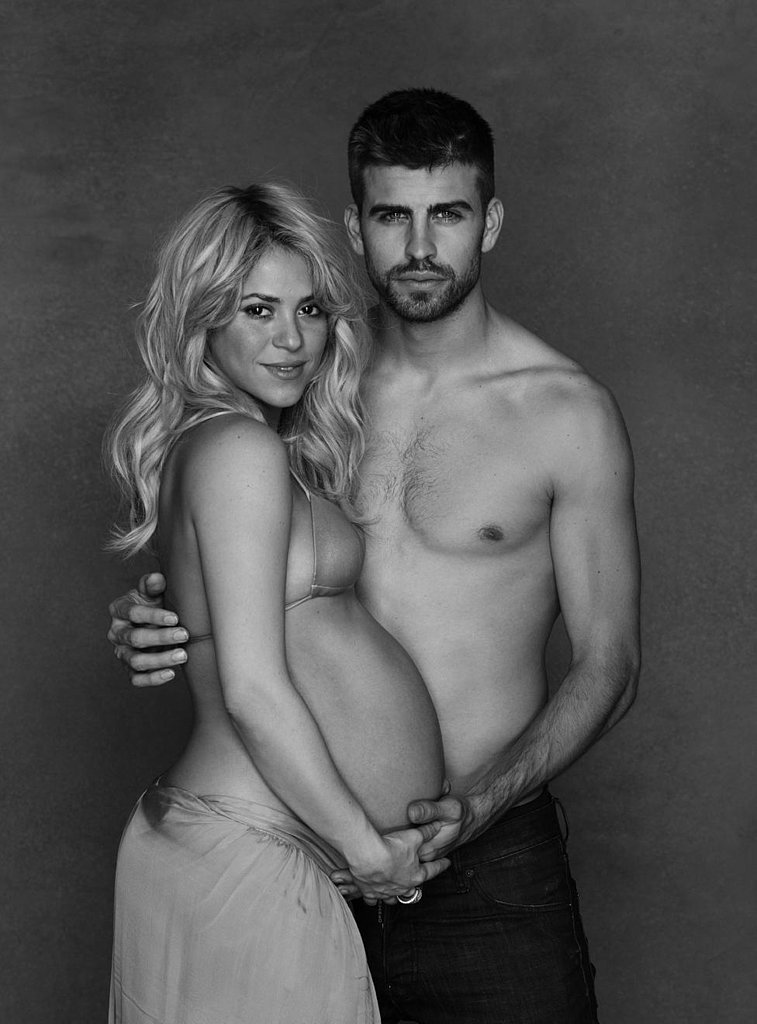 Shakira [8] showed off her full, pregnant belly just before giving birth to baby Milan.
Source: Twitter user shakira [9]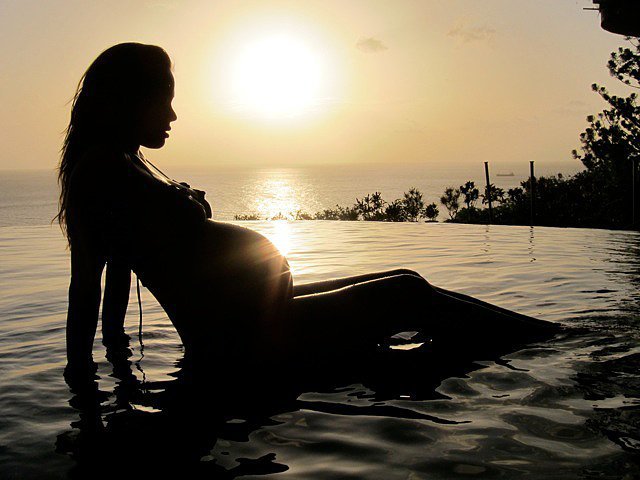 Vanessa Lachey shared a beautiful sunset bikini photo — taken by her husband, Nick — while pregnant with Camden.
Source: Twitter user VanessaLachey [10]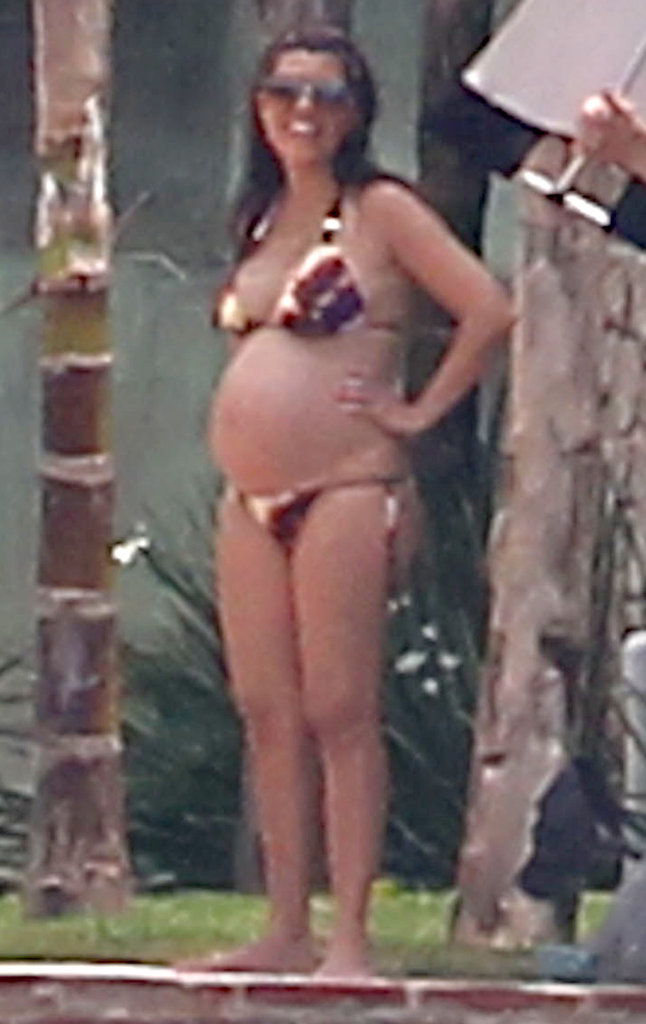 Kourtney Kardashian wore a bikini while pregnant with little Penelope.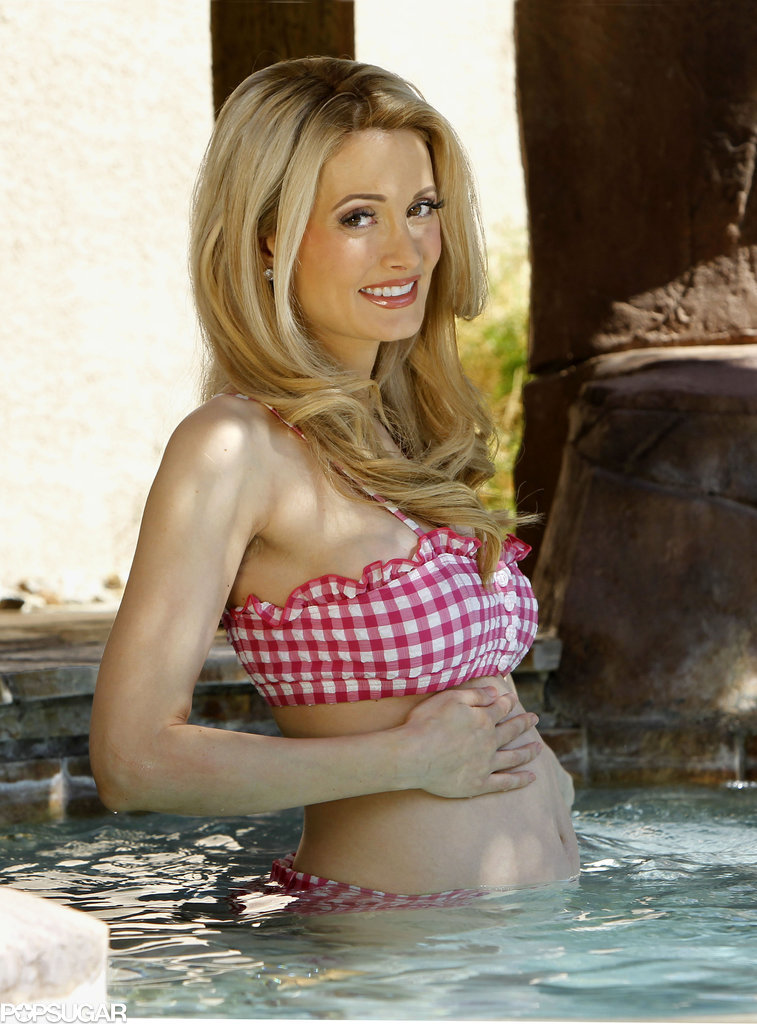 Early in her pregnancy, Holly Madison did a Las Vegas photo shoot in a red checked bikini.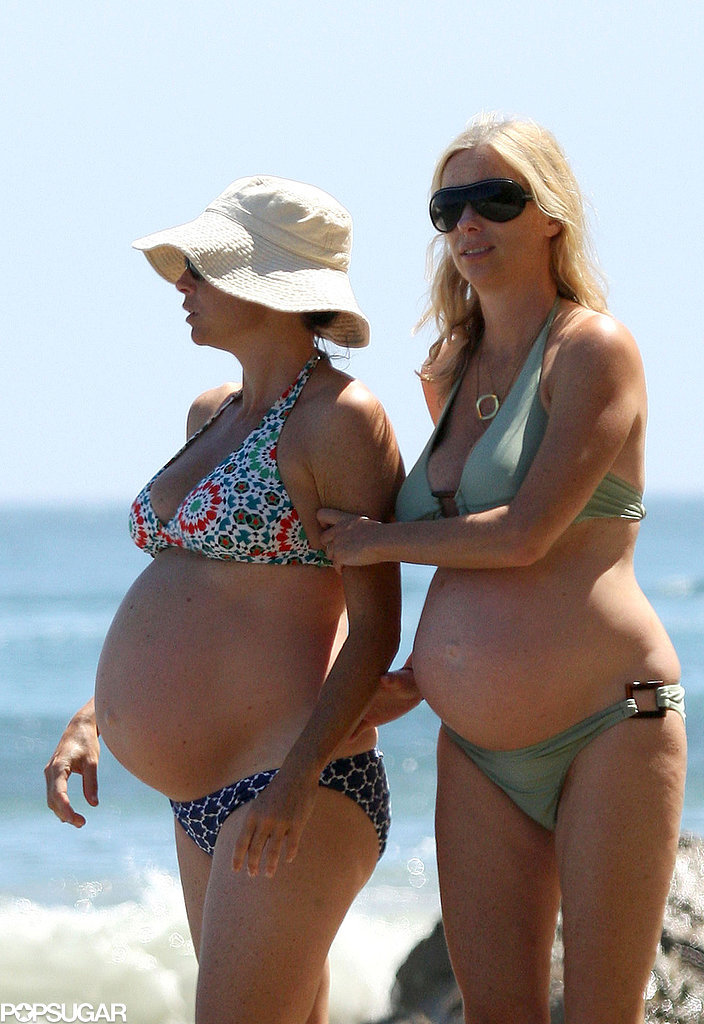 Minnie Driver [11] gave her pregnant belly a little sun during the final days of her pregnancy.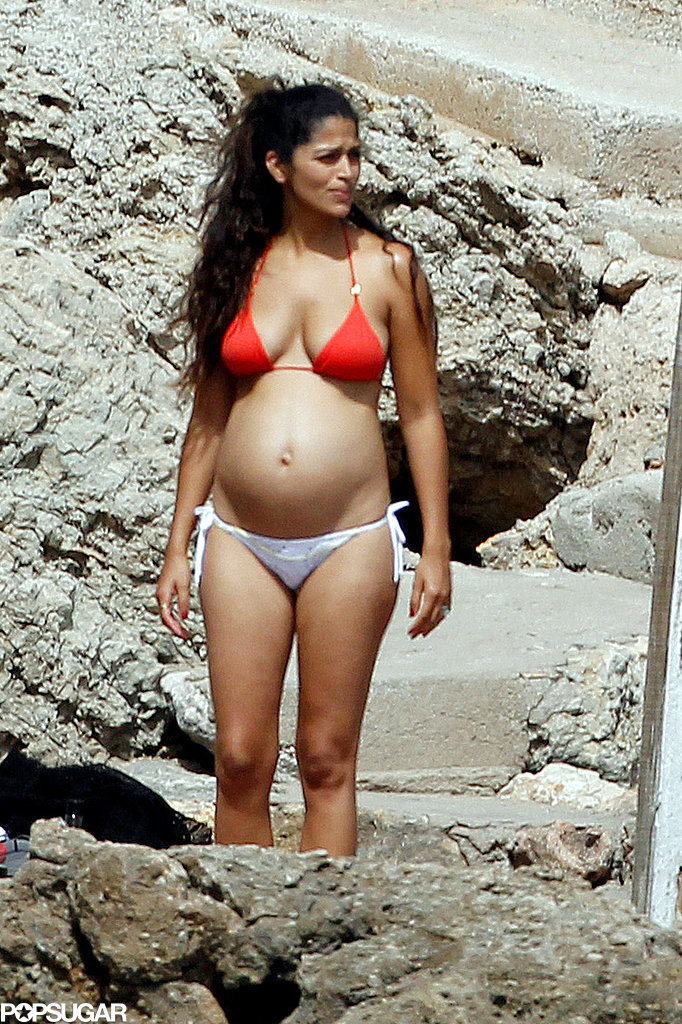 Camila Alves sported a bikini to spend the afternoon strolling the beach.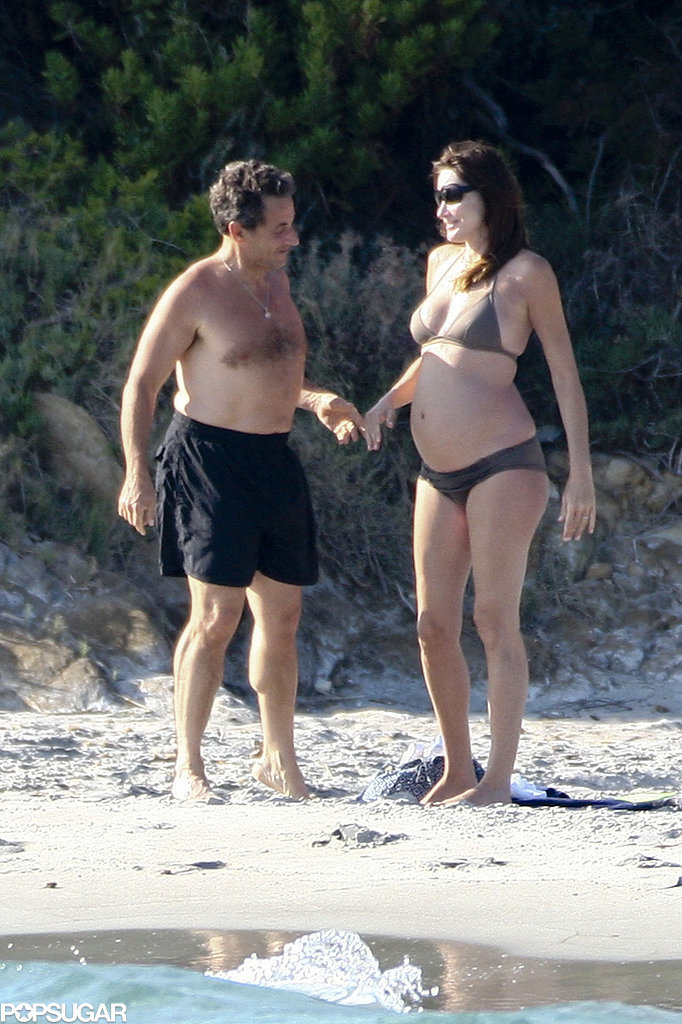 Carla Bruni wasn't shy about baring her bump in a tiny bikini with her husband, then-French President Nicolas Sarkozy, in the French resort town of Fort de Brégancon.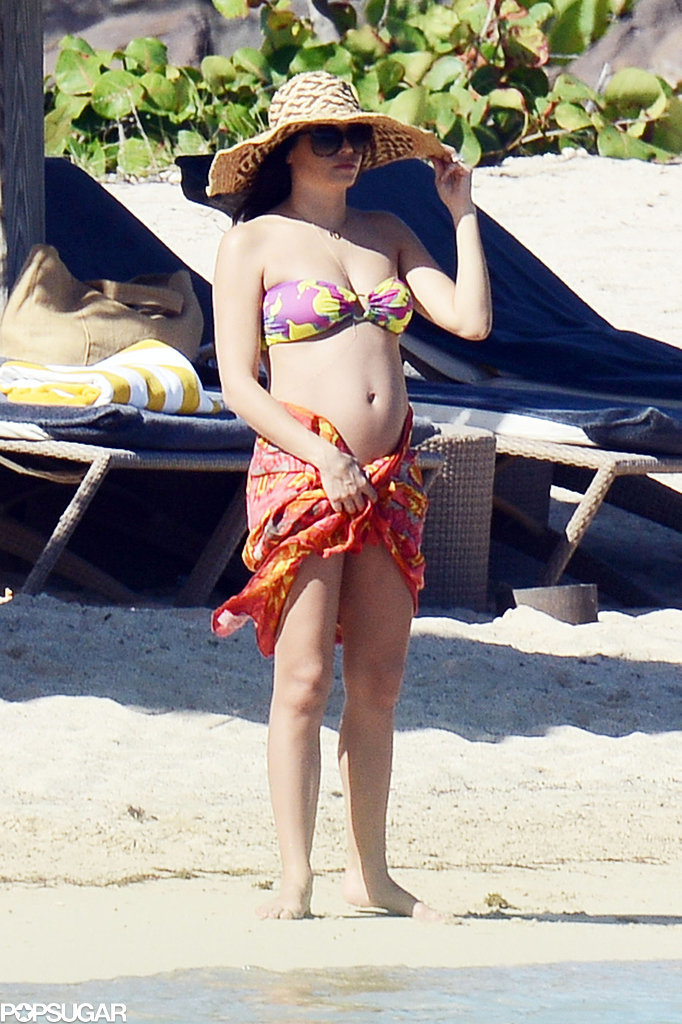 Jenna Dewan showed off her pregnant belly during a vacation to St. Barts in early 2013.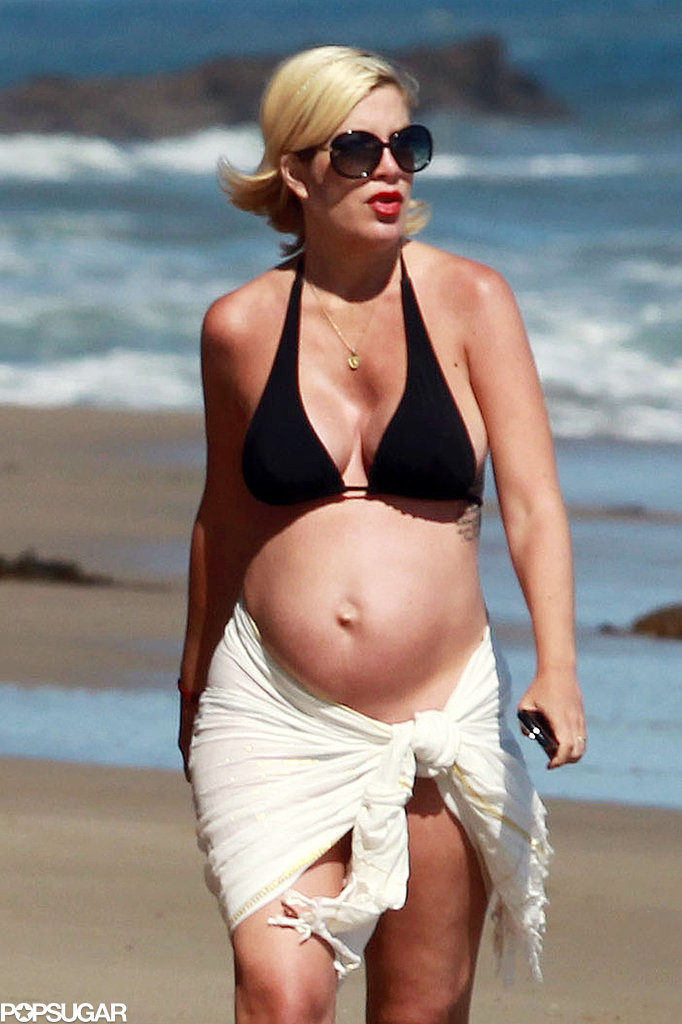 Tori Spelling [12] was spotted taking a walk on the beach with her family while pregnant with baby Hattie. The now mama of four has said she's proud to show off her baby belly in a bikini.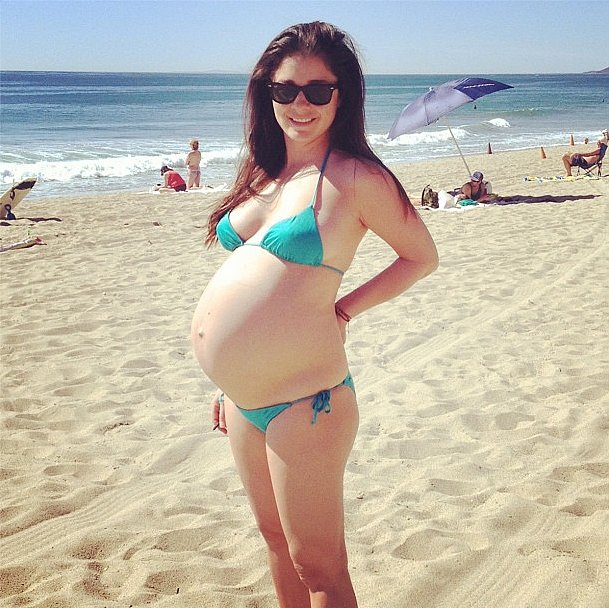 Shiri Appleby shared a picture of herself on the beach during her final month of pregnancy.
Source: Instagram user winnie100 [13]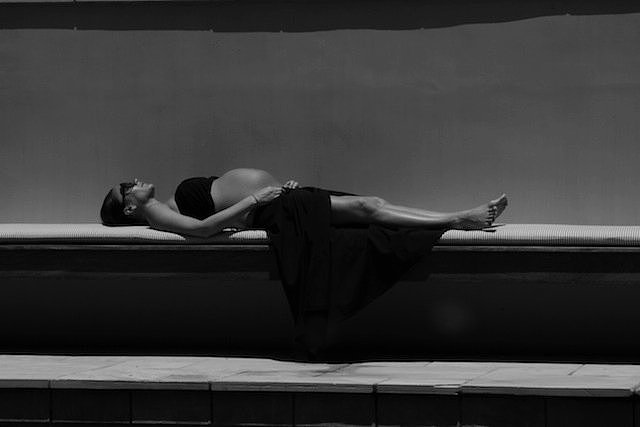 David Beckham [14] snapped a picture of wife Victoria relaxing during the final days of her pregnancy with baby Harper.
Source: Facebook user David Beckham [15]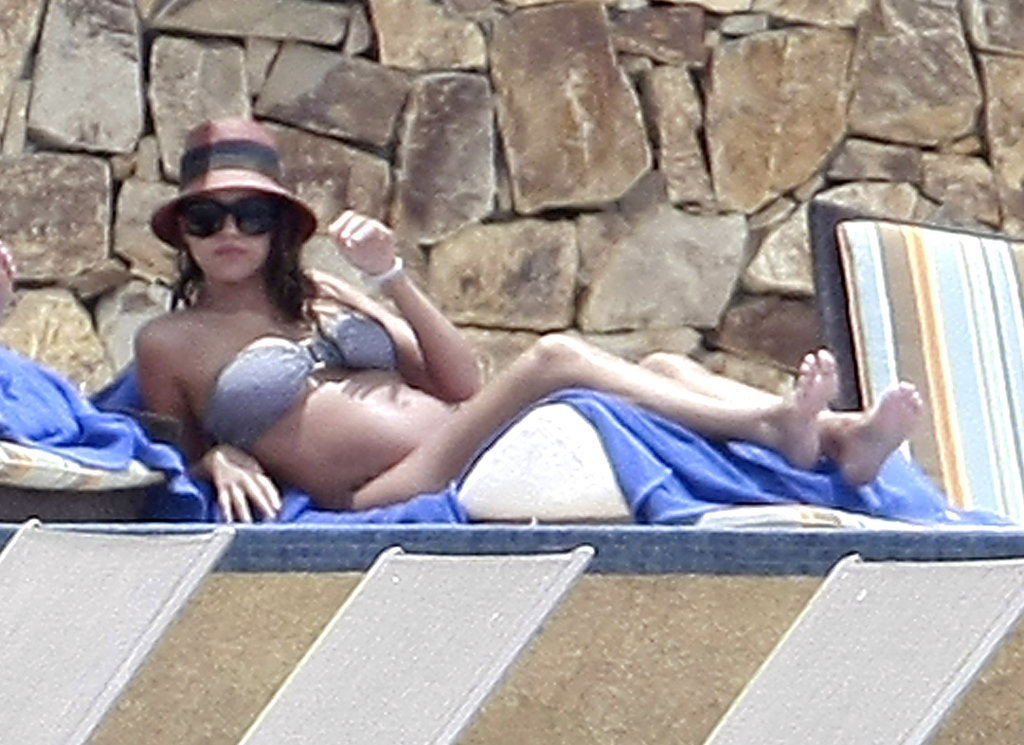 Jessica Alba [16] showed off her growing belly while vacationing in Mexico [17].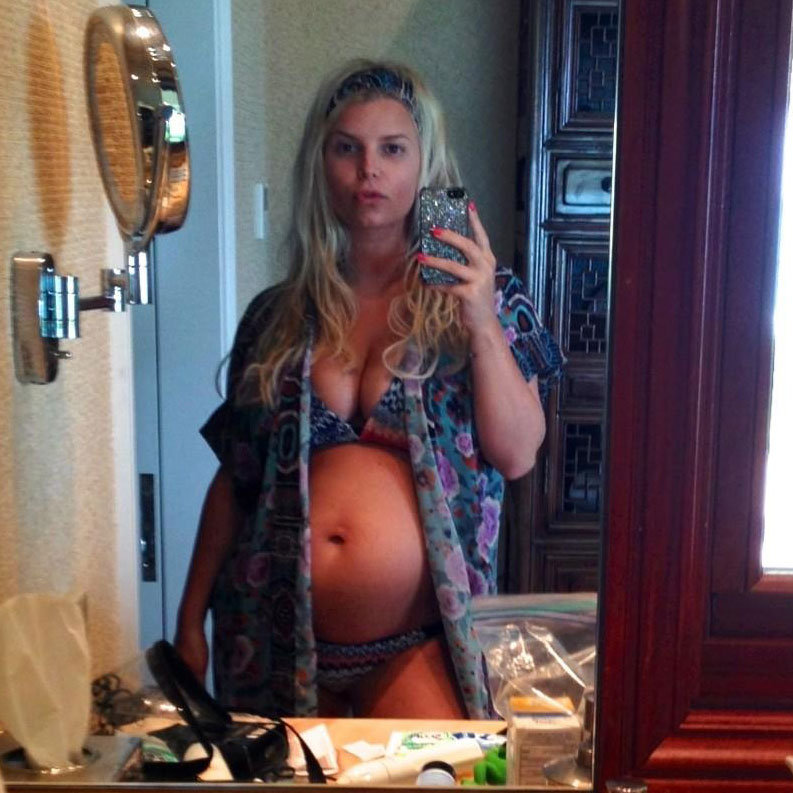 Jessica Simpson [18] showed off her second baby belly with a selfie portrait while vacationing in Hawaii.
Source: Twitter user JessicaSimpson [19]
Elsa Pataky showed off her baby bump while hitting the water in St. Barts.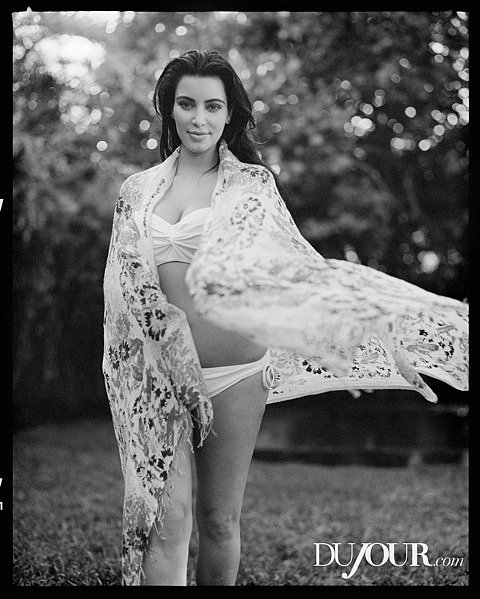 Kim Kardashian [20] showed off her baby body in DuJour magazine's Spring issue.
Source: Bruce Weber for DuJour magazine [21]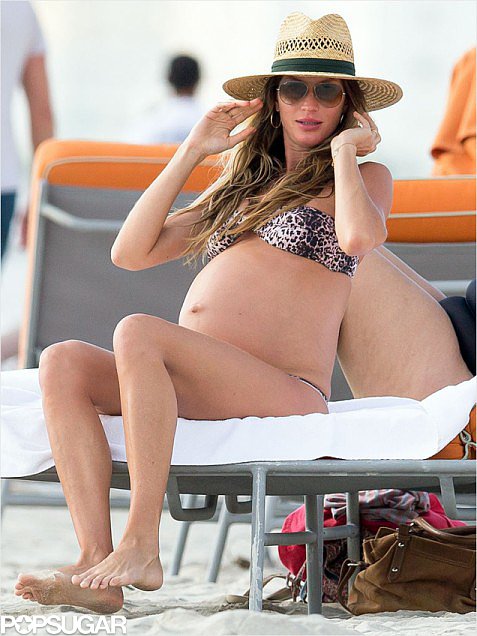 Gisele Bündchen took her bump down to Miami for a weekend getaway with husband Tom Brady [22] while expecting baby number two. She rocked an animal-print bikini on the beach and a large hat to shield her face from the sun.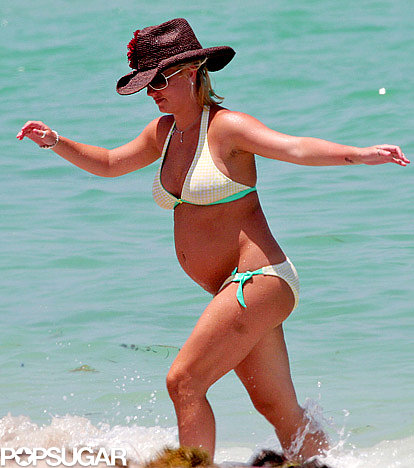 Britney Spears [23] showed off her growing bump on the beach in Miami when pregnant with Jayden James.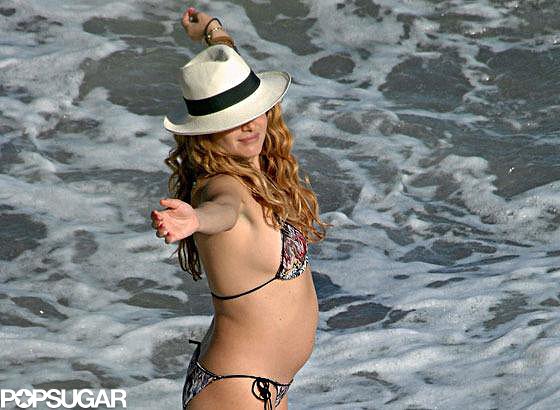 Songstress Paulina Rubio showed off her growing bump in Malaga, Spain.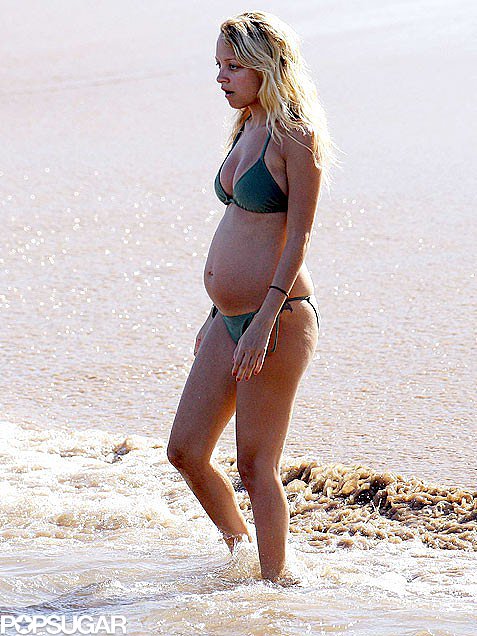 Nicole Richie [24] flaunted her bikini body in Hawaii while pregnant with Harlow in 2007.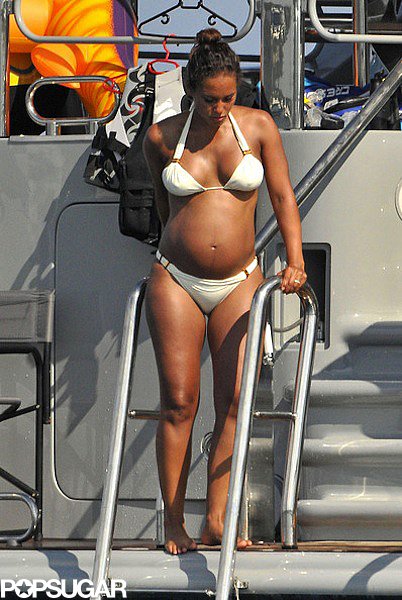 Alicia Keys [25] wore a tiny bikini while celebrating her honeymoon on a yacht [26] off the coast of France.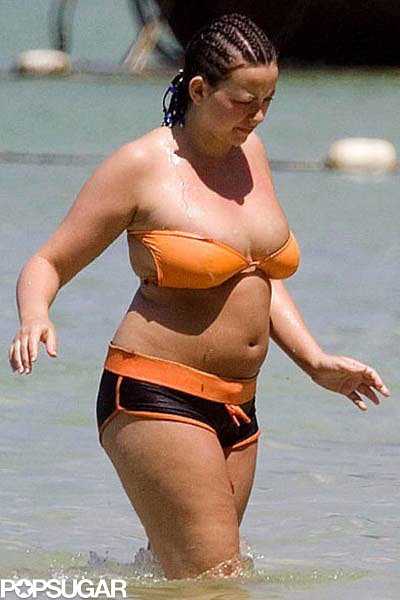 Charlotte Church chose a bikini with boy shorts during a day at the beach back in 2007.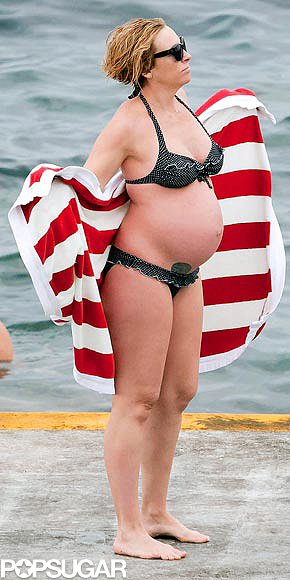 Toni Collette toweled off her expectant bikini body just weeks before delivering in Sydney.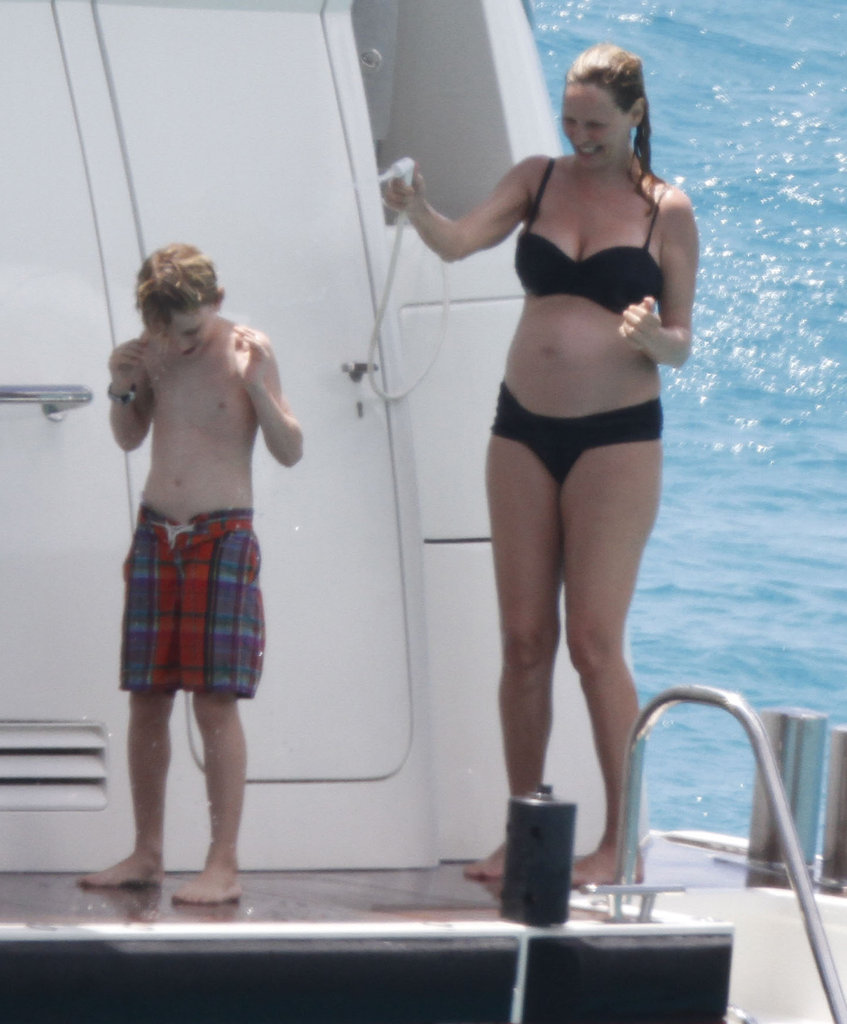 A 41-year-old Uma Thurman [27] showed off her growing bump in a black bikini. She was expecting her third child, her first with her long-term partner Arpad Busson, a London-based financier.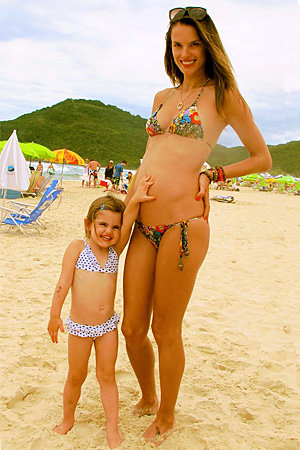 Alessandra Ambrosio shared a picture of herself pregnant and in a bikini on the beach with her daughter Anja.
Source: Twitter user angelalessandra [28]
A newly pregnant Ashlee Simpson [29] took to the beach in a bikini while honeymooning with Pete Wentz [30] in the Caribbean.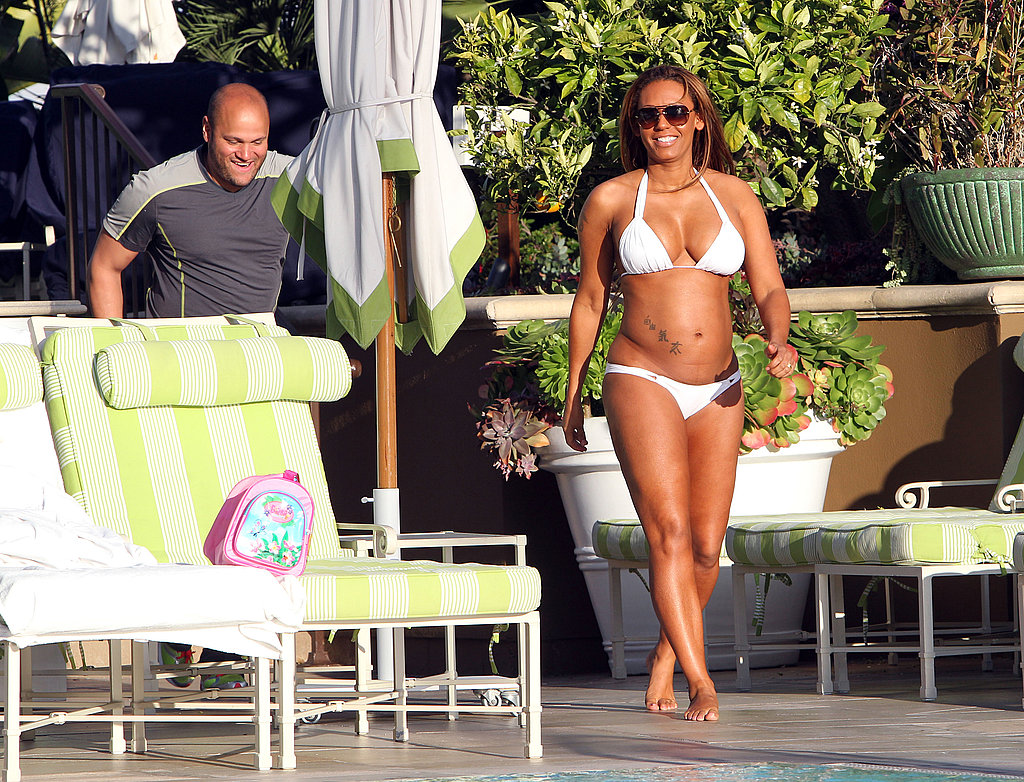 Former Spice Girl Melanie Brown [31] slipped into a white bikini to hang out at the pool [32] with her husband.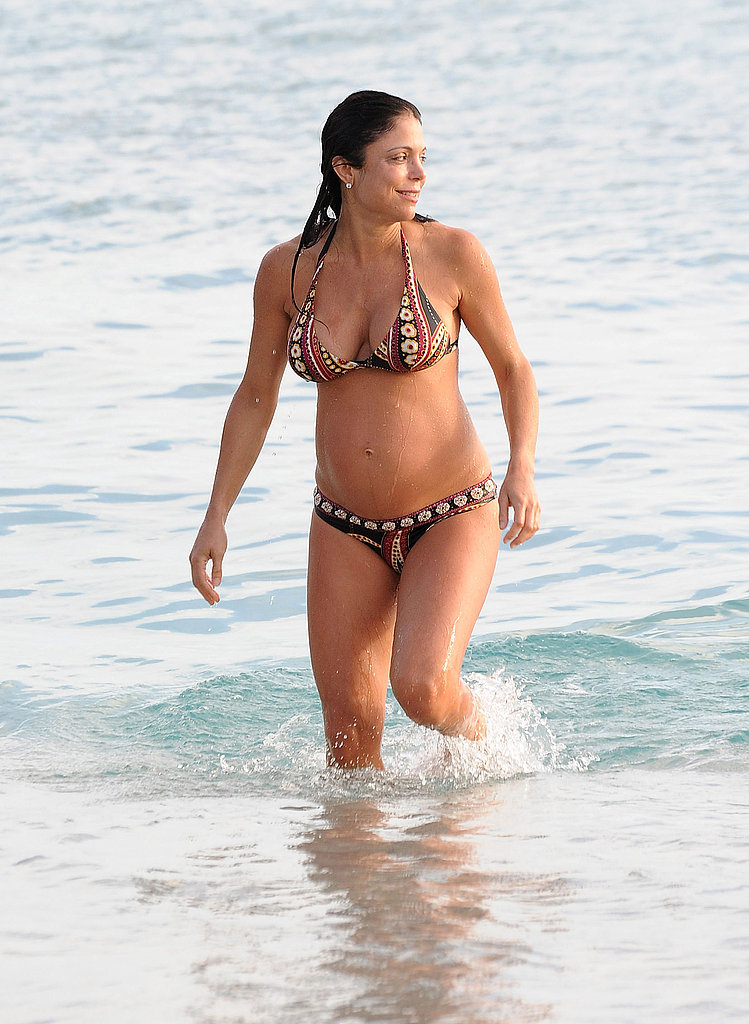 Bethenny Frankel donned a two-piece bathing suit during her honeymoon in St. Barts [33].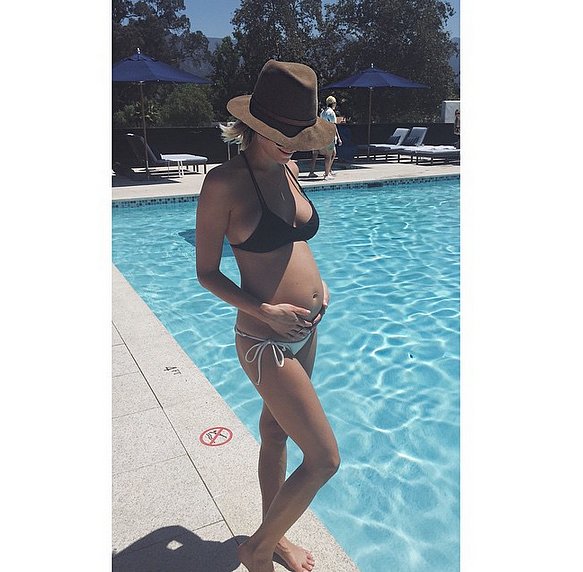 Kristin Cavallari [34] shared a poolside snap, showing off her baby bump in a bikini. In another photo, she posed with her bikini-clad friends, writing, "Had the best weekend for @char_major 's bachelorette! Even though I was the first one in bed it was a blast."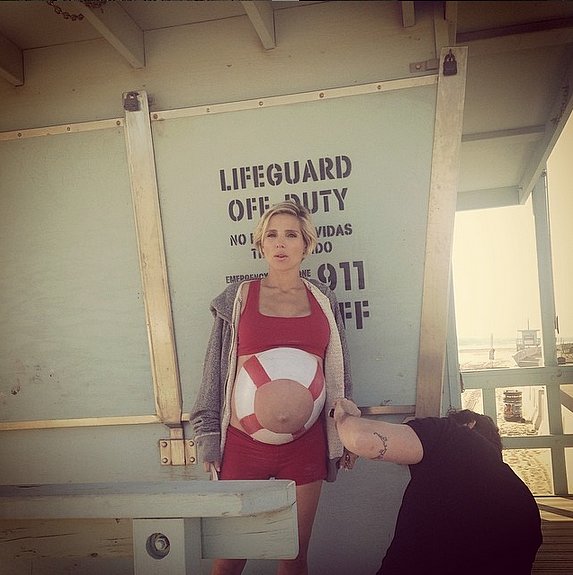 Elsa Pataky decorated her baby bump while on set.