For expectant mamas heading on vacation, swimwear selection is always top of mind, but when you're heading to the beach — or even the backyard — you may want to celebrate the day wearing a two-piece swimsuit. Fifty percent of our readers [1] showed off their burgeoning bellies in a bikini [2] while pregnant — and they're not alone. Take a look at some of our favorite expectant celebs who also sported bikinis while playing in the sun.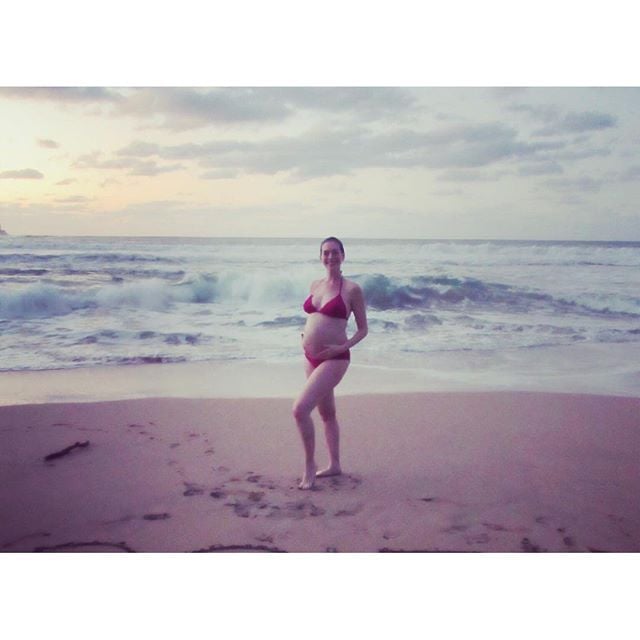 Anne Hathaway [3] debuted her pregnant belly in a bikini shot to kick off 2016. She wrote [4], "Happy 2016 to my beautiful Instafriends! So, posting a bikini pic is a little out of character for me, but just now while I was at the beach I noticed I was being photographed. I figure if this kind of photo is going to be out in the world it should at least be an image that makes me happy (and be one that was taken with my consent. And with a filter :) Wishing you love, light and blessings for the year ahead!"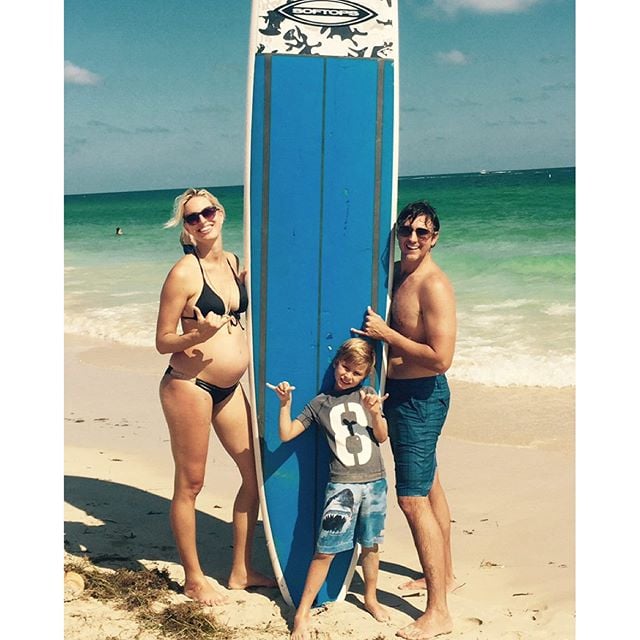 Karolina Kurkova shared a fun family surfing photo that showed off her pregnant belly.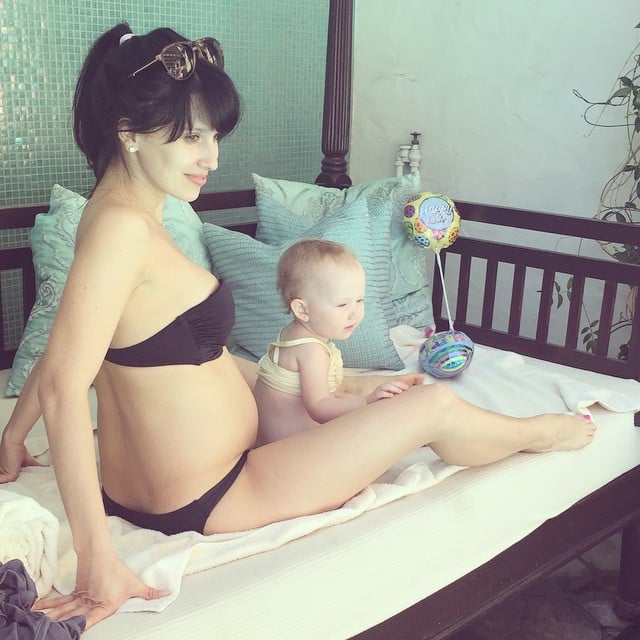 Hilaria Baldwin shared a sweet snap of her pregnant belly sharing some space with soon-to-be big sister Carmen.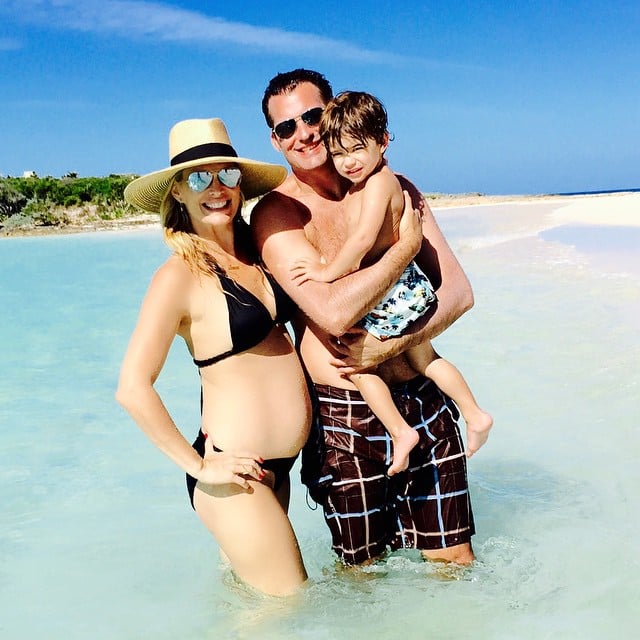 While vacationing with her family, Molly Sims posted a bikini baby bump shot on Instagram.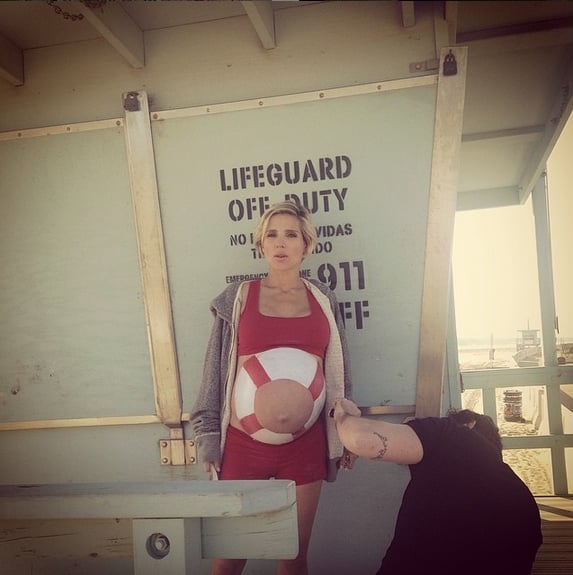 Elsa Pataky decorated her baby bump while on set.
Kristin Cavallari [5] shared a poolside snap, showing off her baby bump in a bikini. In another photo, she posed with her bikini-clad friends, writing, "Had the best weekend for @char_major 's bachelorette! Even though I was the first one in bed it was a blast."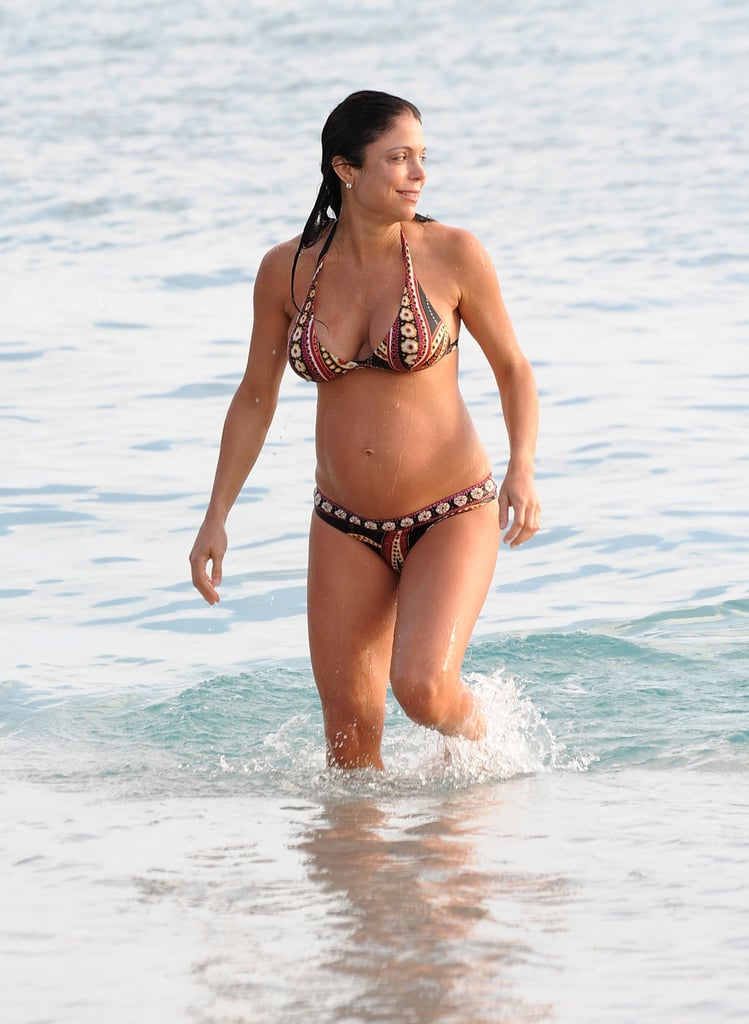 Bethenny Frankel donned a two-piece bathing suit during her honeymoon in St. Barts [6].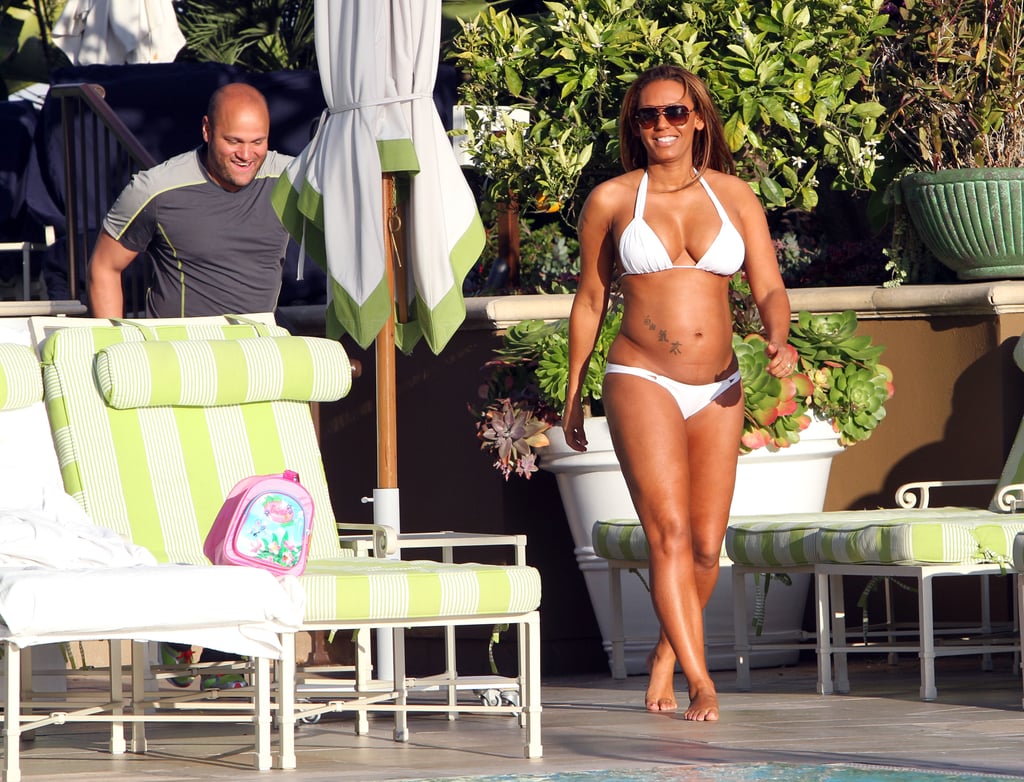 Former Spice Girl Melanie Brown [7] slipped into a white bikini to hang out at the pool [8] with her husband.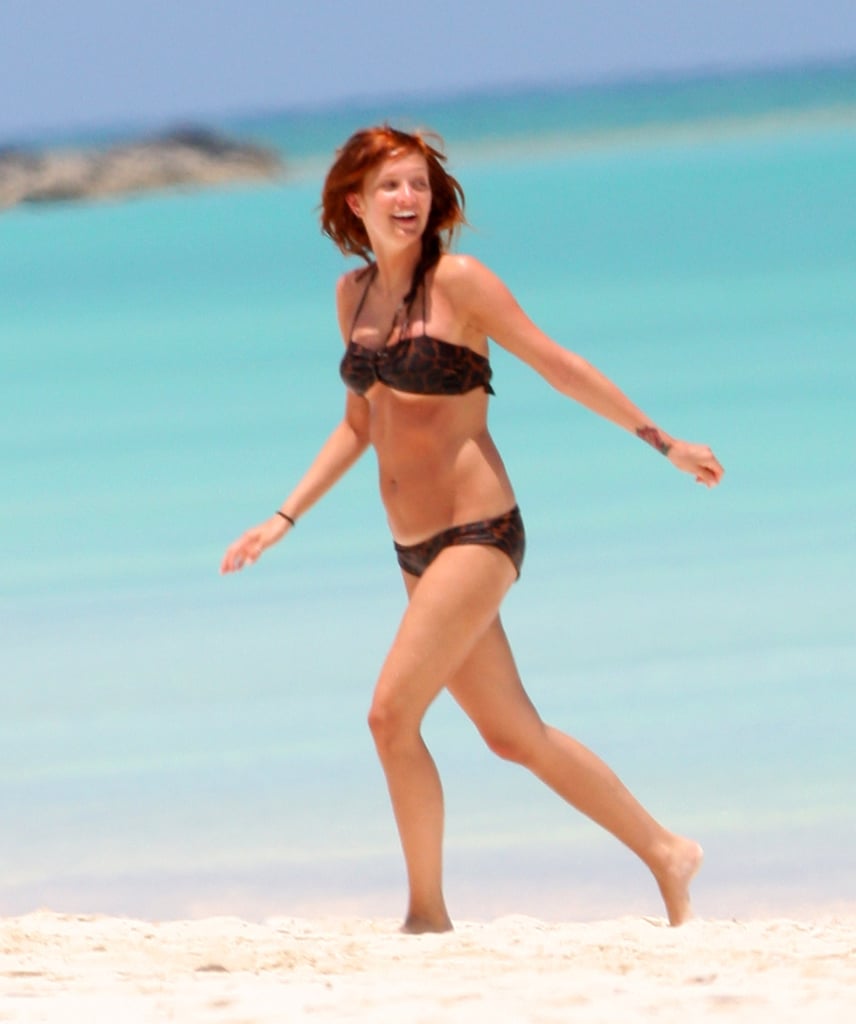 A newly pregnant Ashlee Simpson [9] took to the beach in a bikini while honeymooning with Pete Wentz [10] in the Caribbean.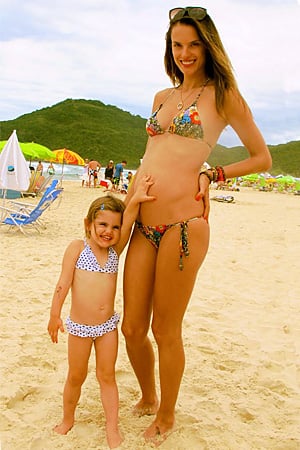 Alessandra Ambrosio shared a picture of herself pregnant and in a bikini on the beach with her daughter Anja.
Source: Twitter user angelalessandra [11]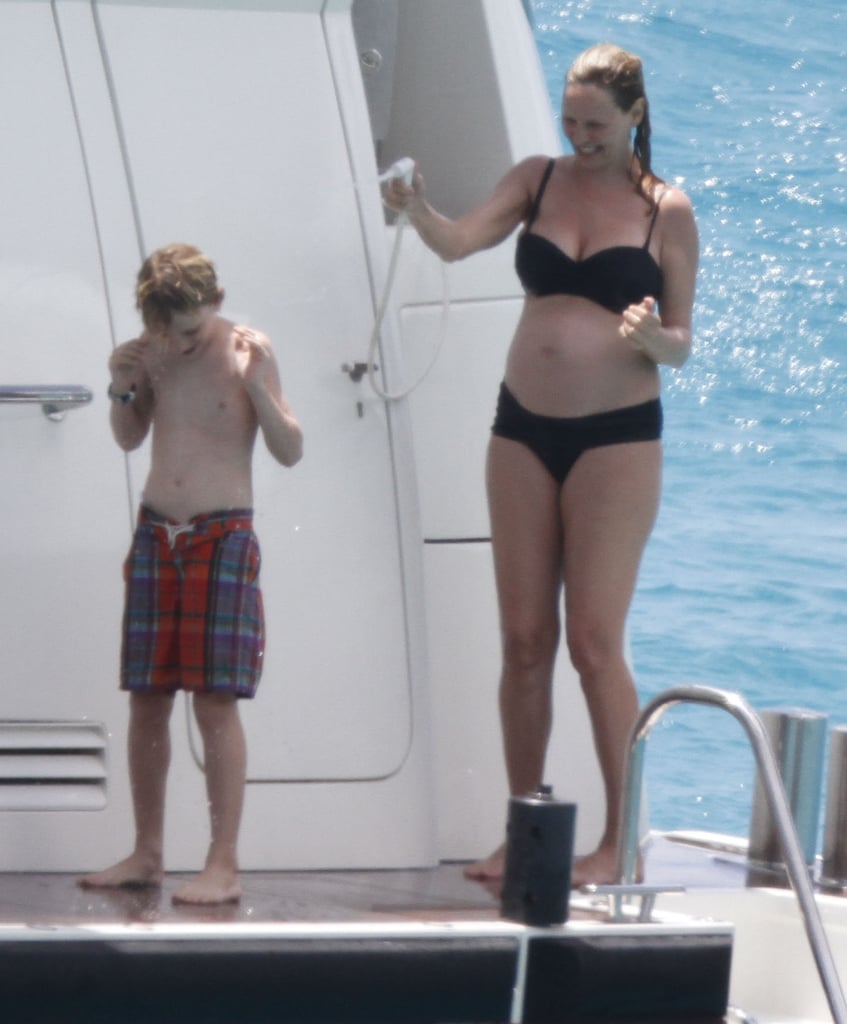 A 41-year-old Uma Thurman [12] showed off her growing bump in a black bikini. She was expecting her third child, her first with her long-term partner Arpad Busson, a London-based financier.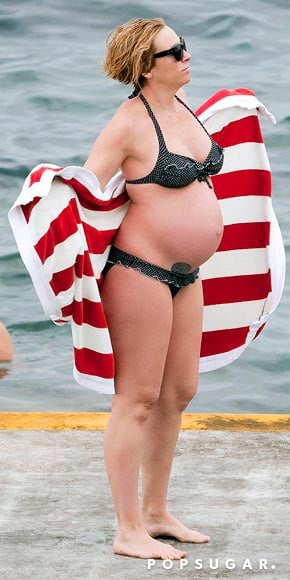 Toni Collette toweled off her expectant bikini body just weeks before delivering in Sydney.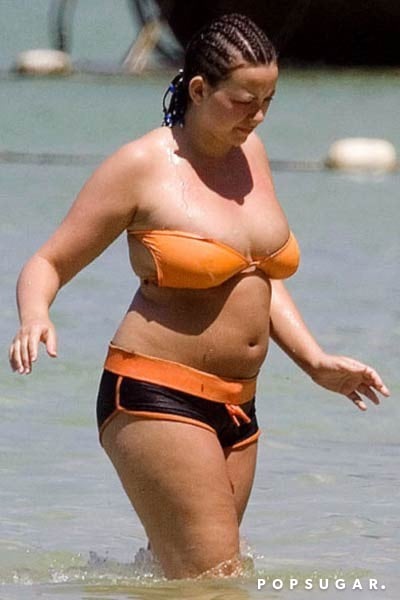 Charlotte Church chose a bikini with boy shorts during a day at the beach back in 2007.
Alicia Keys [13] wore a tiny bikini while celebrating her honeymoon on a yacht [14] off the coast of France.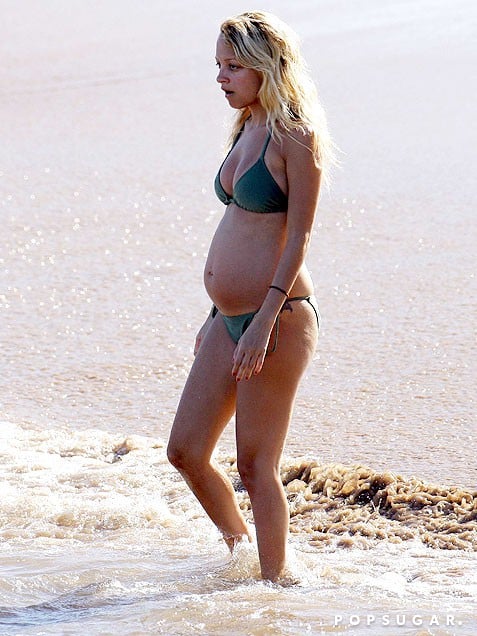 Nicole Richie [15] flaunted her bikini body in Hawaii while pregnant with Harlow in 2007.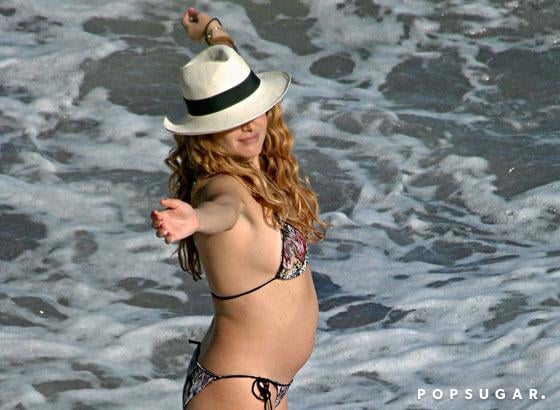 Songstress Paulina Rubio showed off her growing bump in Malaga, Spain.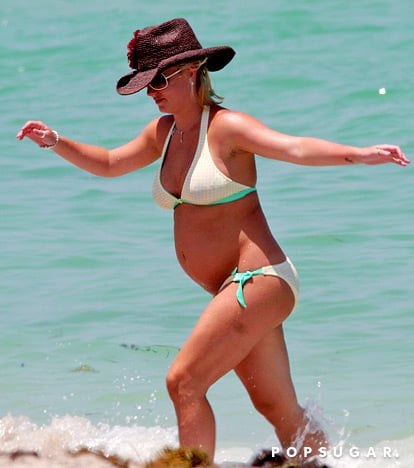 Britney Spears [16] showed off her growing bump on the beach in Miami when pregnant with Jayden James.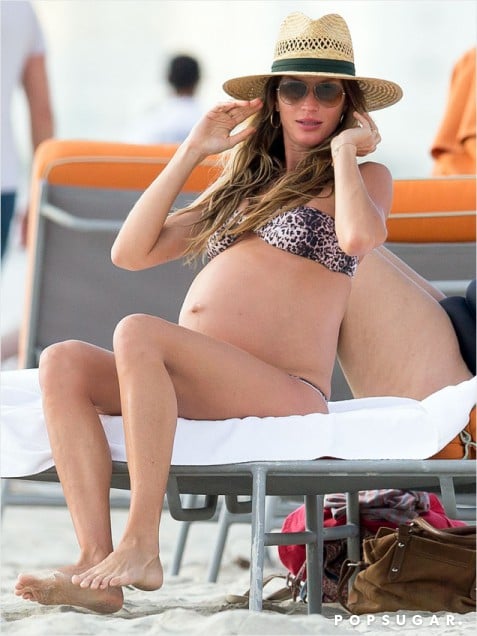 Gisele Bündchen [17] took her bump down to Miami for a weekend getaway with husband Tom Brady [18] while expecting baby number two. She rocked an animal-print bikini on the beach and a large hat to shield her face from the sun.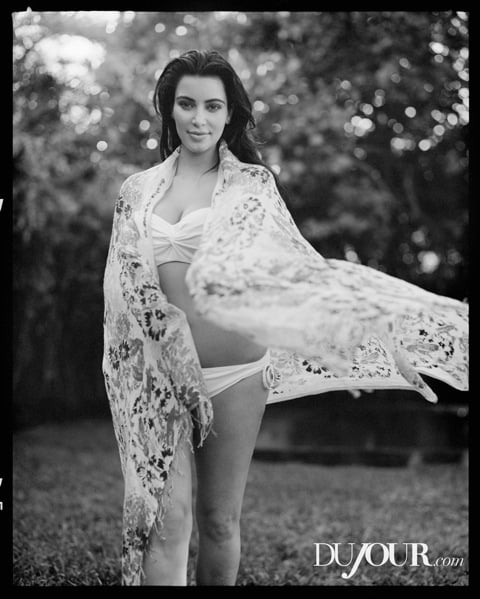 Kim Kardashian [19] showed off her baby body in DuJour magazine's Spring issue.
Source: Bruce Weber for DuJour magazine [20]
Elsa Pataky showed off her baby bump while hitting the water in St. Barts.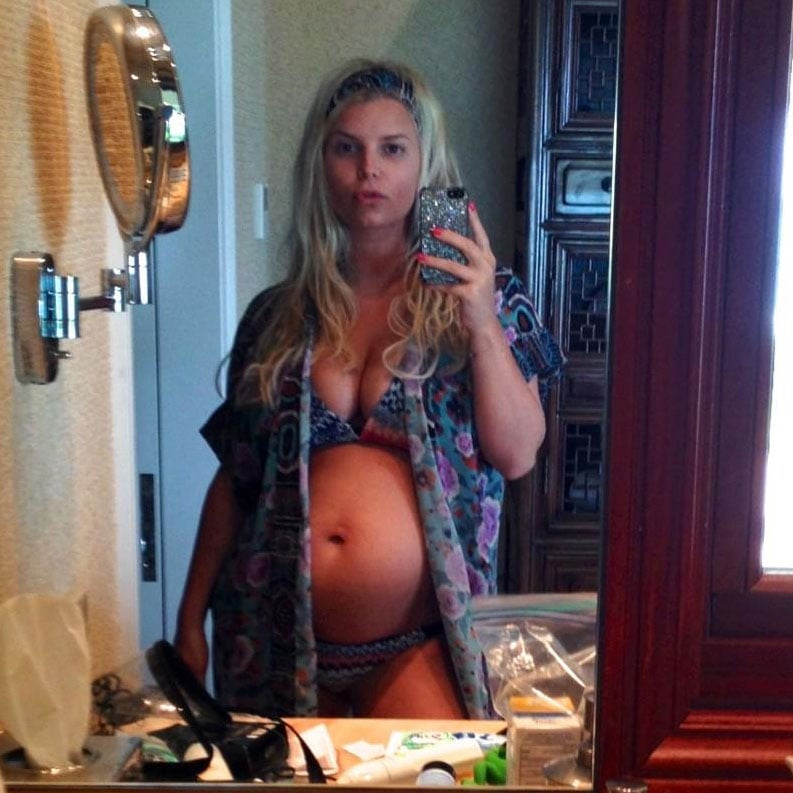 Jessica Simpson [21] showed off her second baby belly with a selfie portrait while vacationing in Hawaii.
Source: Twitter user JessicaSimpson [22]
Jessica Alba [23] showed off her growing belly while vacationing in Mexico [24].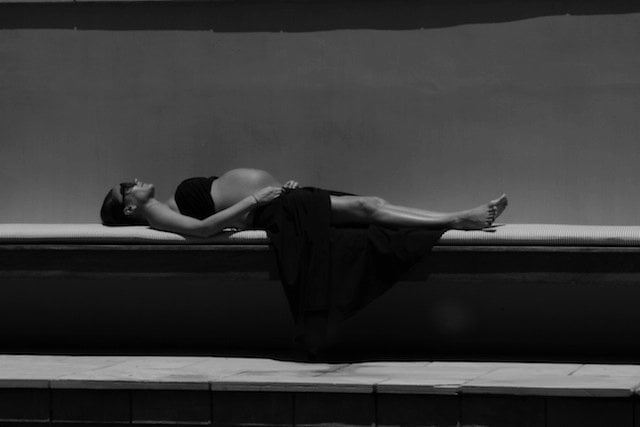 David Beckham [25] snapped a picture of wife Victoria relaxing during the final days of her pregnancy with baby Harper.
Source: Facebook user David Beckham [26]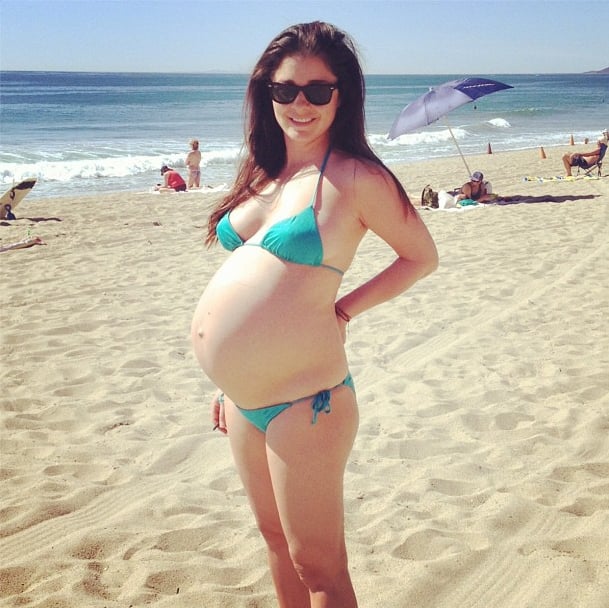 Shiri Appleby shared a picture of herself on the beach during her final month of pregnancy.
Source: Instagram user winnie100 [27]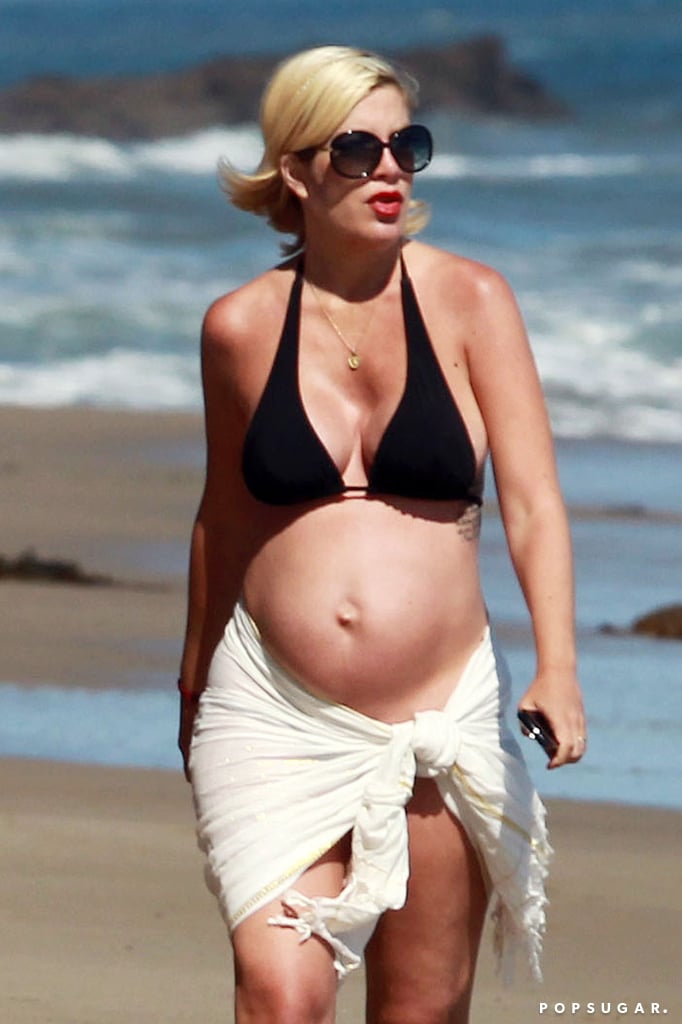 Tori Spelling [28] was spotted taking a walk on the beach with her family while pregnant with baby Hattie. The now mama of four has said she's proud to show off her baby belly in a bikini.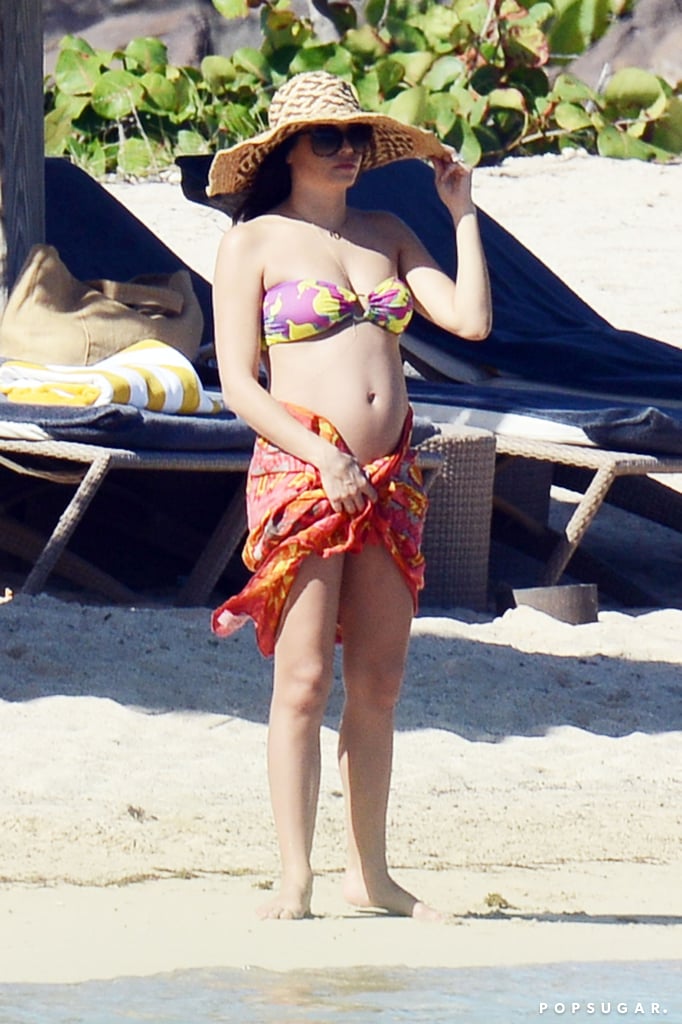 Jenna Dewan showed off her pregnant belly during a vacation to St. Barts in early 2013.
Carla Bruni wasn't shy about baring her bump in a tiny bikini with her husband, then-French President Nicolas Sarkozy, in the French resort town of Fort de Brégancon.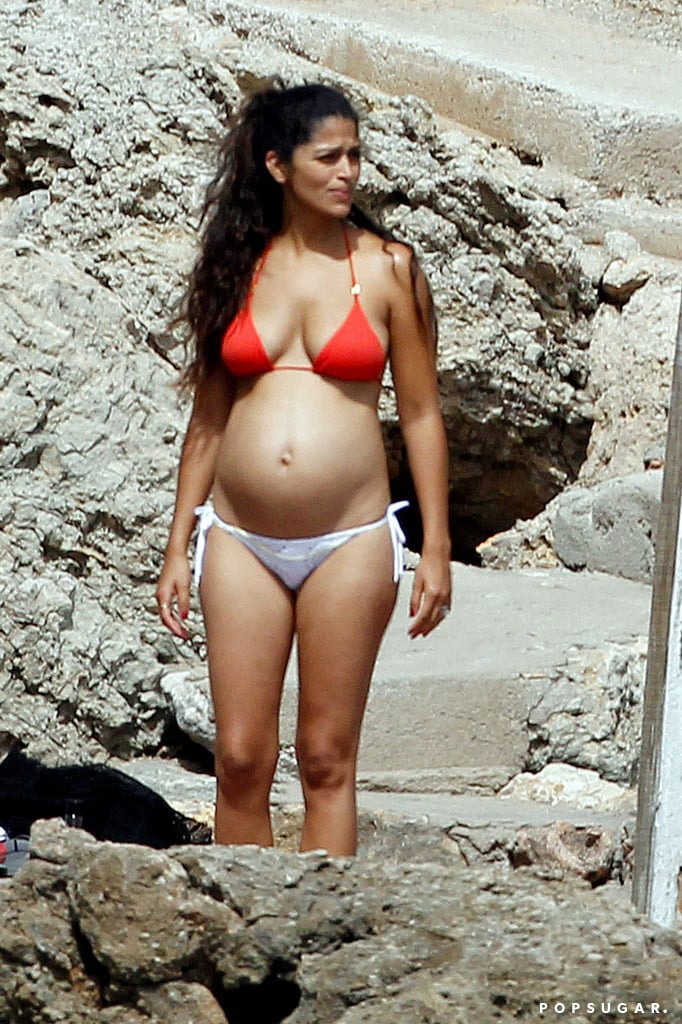 Camila Alves sported a bikini to spend the afternoon strolling the beach.
Minnie Driver [29] gave her pregnant belly a little sun during the final days of her pregnancy.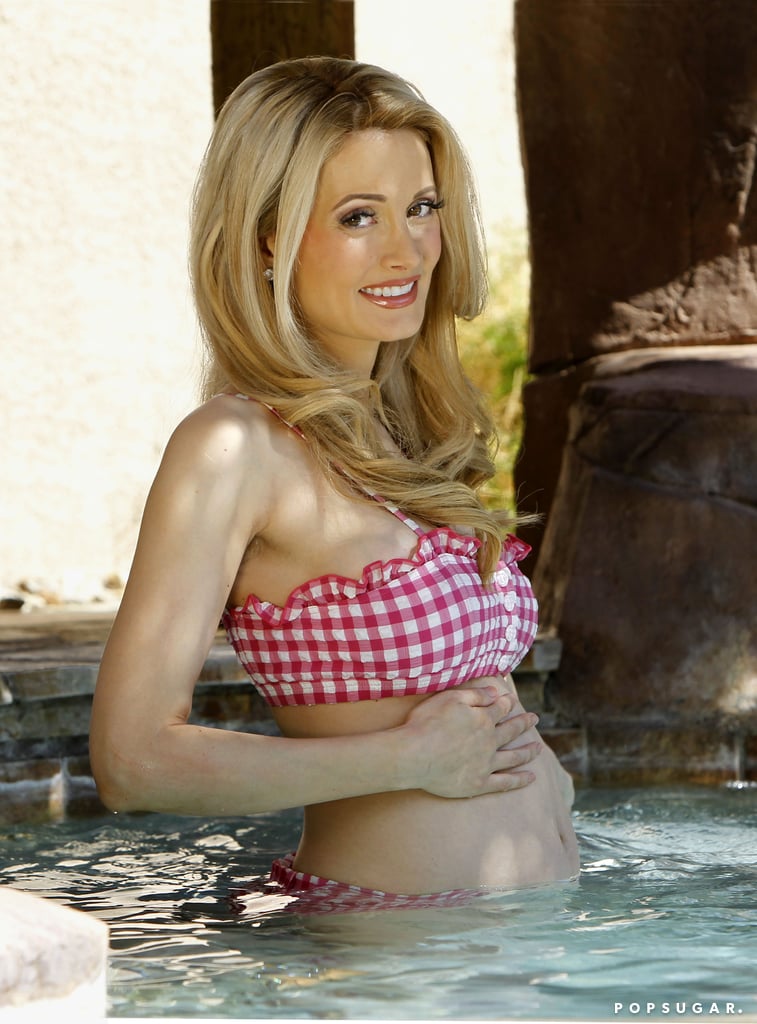 Early in her pregnancy, Holly Madison did a Las Vegas photo shoot in a red checked bikini.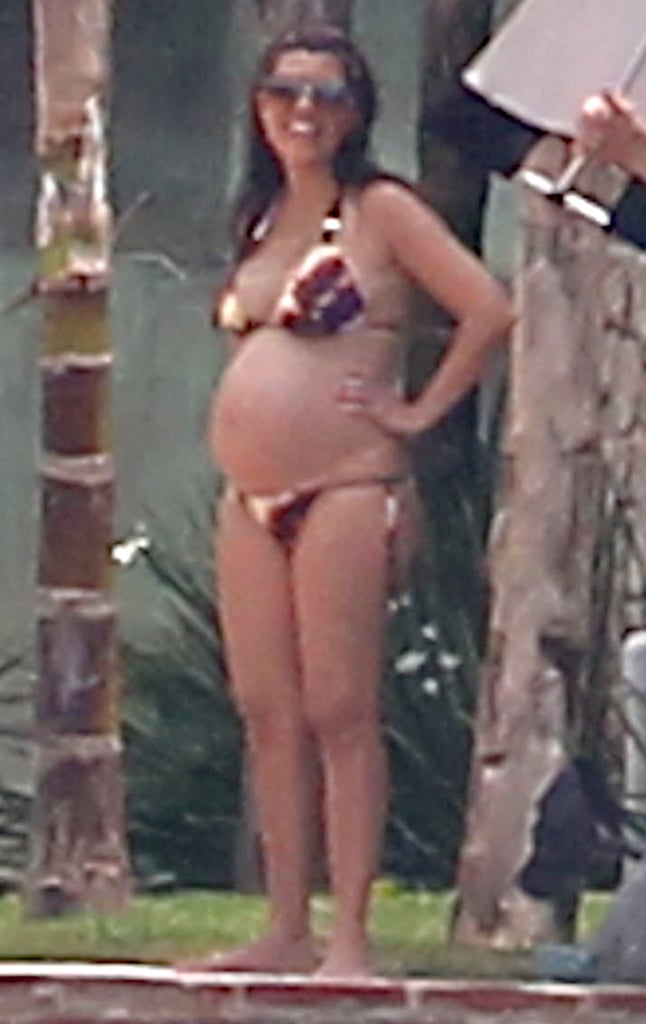 Kourtney Kardashian wore a bikini while pregnant with little Penelope.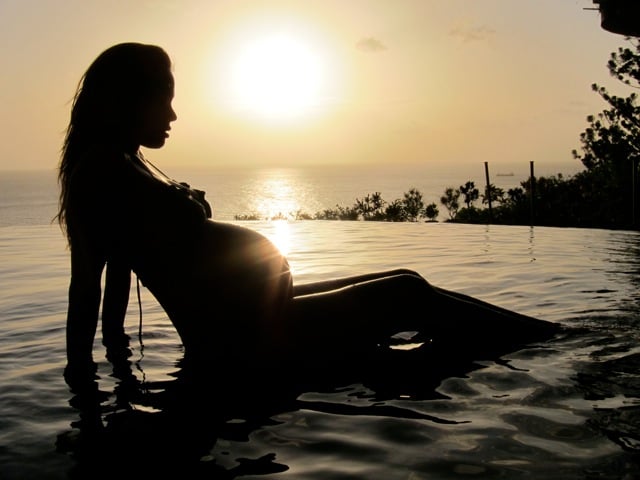 Vanessa Lachey shared a beautiful sunset bikini photo — taken by her husband, Nick — while pregnant with Camden.
Source: Twitter user VanessaLachey [30]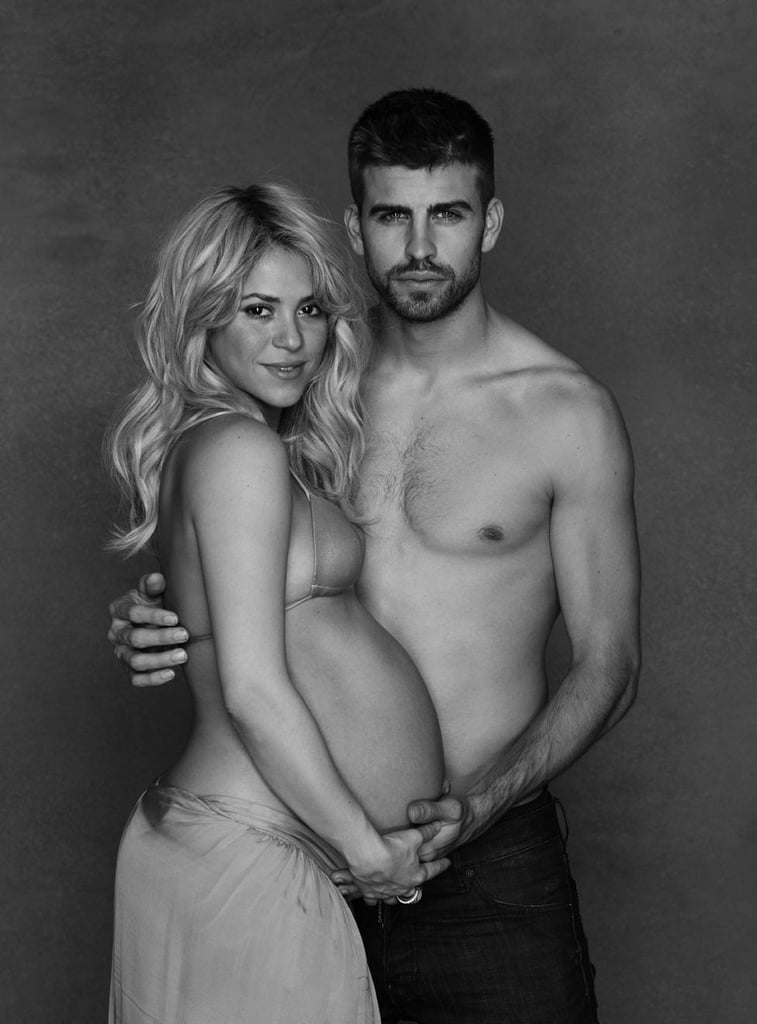 Shakira [31] showed off her full, pregnant belly just before giving birth to baby Milan.
Source: Twitter user shakira [32]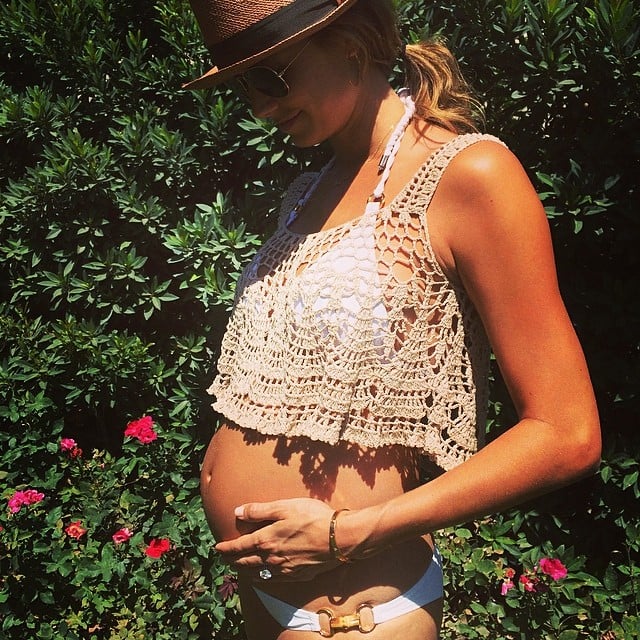 On Mother's Day [33], Stacy Keibler posted this bikini picture of her baby bump.
Source: Instagram user stacykeibler [34]
Pregnant Busy Philipps wears a bikini while hanging out with Michelle Williams [35] and Jason Segel [36] in Mexico.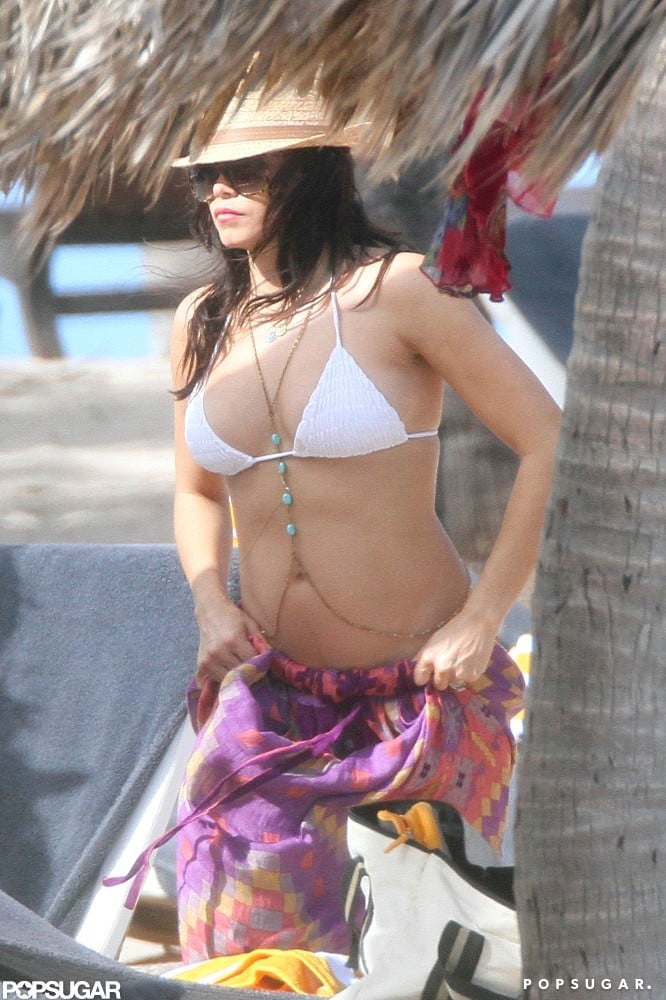 Jenna Dewan decorated her bump while wearing a bikini in St. Barts.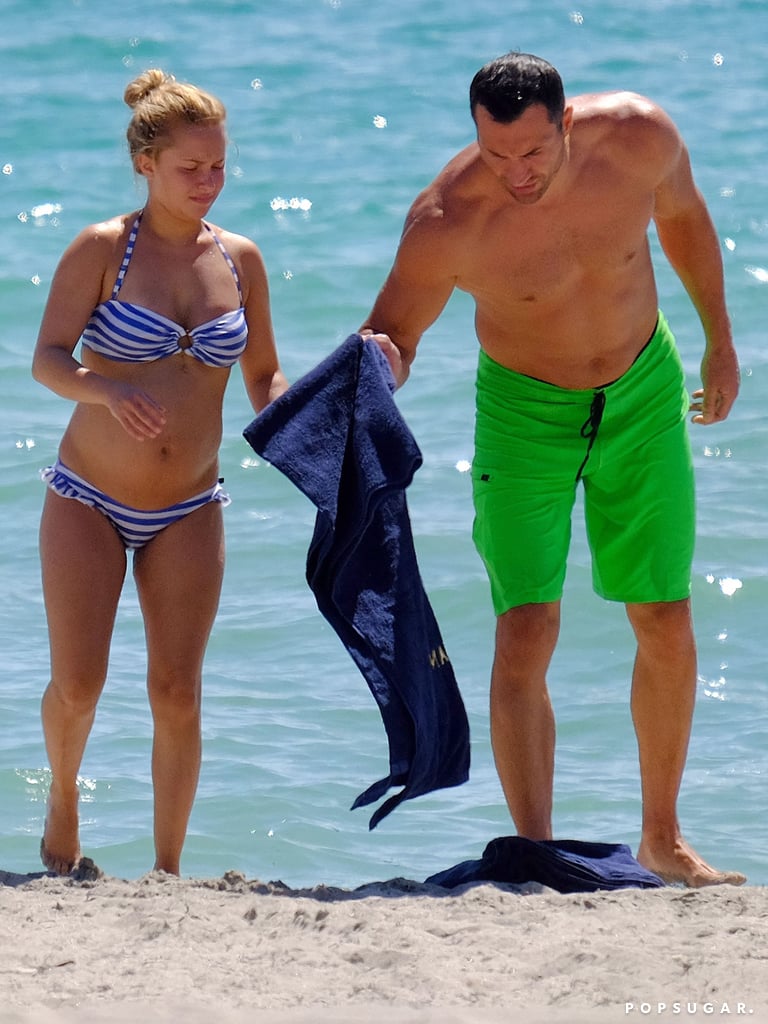 A bikini-clad Hayden Panettiere [37] and her fiancé Wladimir Klitschko headed to the beach in Miami.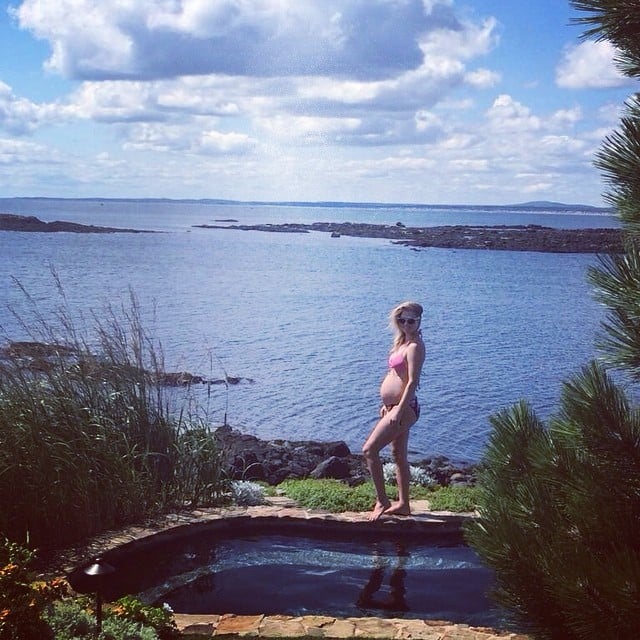 Ali Larter [38] showed off the stunning view — and her belly — while on vacation.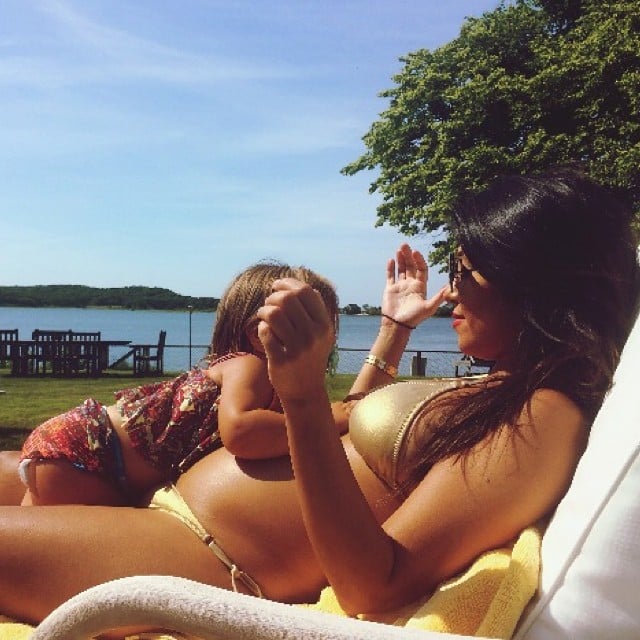 Penelope Disick made herself at home atop her bikini-clad mom Kourtney Kardashian's baby bump while vacationing in the Hamptons.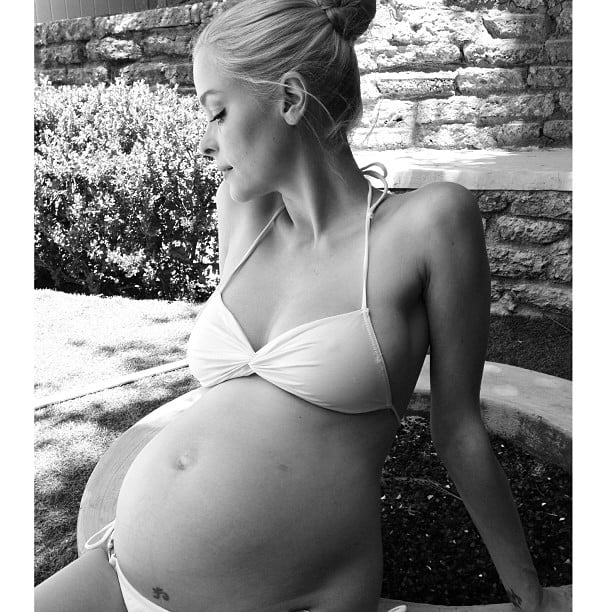 Jaime King donned an itsy-bitsy bikini in her backyard.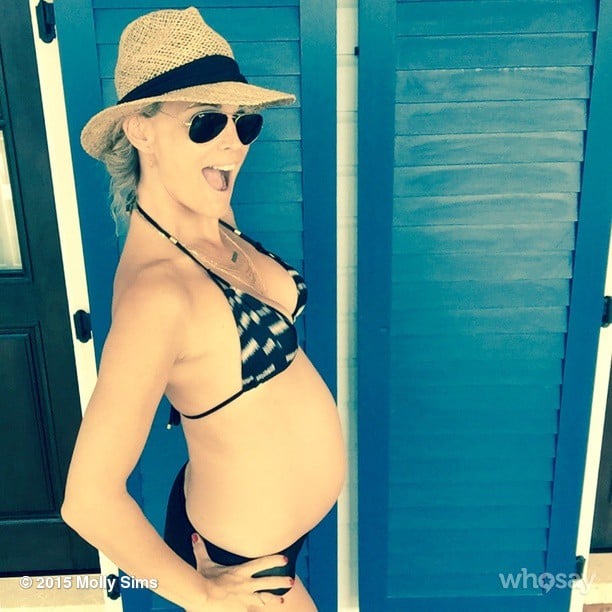 Molly Sims was happy as could be showing off her baby bump in a photo she captioned, "Sports Illustrated Swimsuit Preggers Edition."