Nothing beats a good shower! When planning a shower for a mama-to-be, close friends feel the pressure to make this a party to remember for the guest of honor. To pull off a jaw-dropping event, every little detail counts — just ask party stylist Paula Biggs of Frog Prince Paperie [1]!
Click through to get a look at this Little Pink Birdies-themed baby shower she hosted for an expectant friend — packed with stunning details sure to inspire.
Source: Frog Prince Paperie [2]
Little Pink Birdies Dessert Table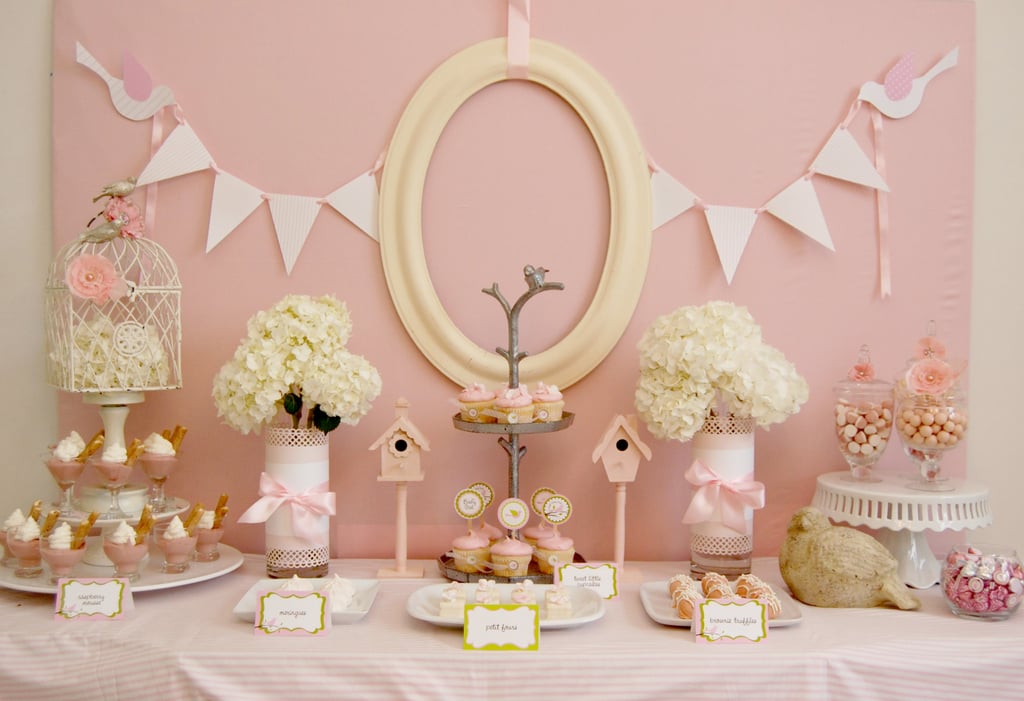 The dessert table at this delicate baby shower was created in a palette of soft pinks for a girlie yet elegant look. A plain pink fabric served as the table backdrop, with a large oval hanging wooden frame and pink paper pennants hanging from each side. Small pink bird houses and fluffy flowers served as decor for this sweets table, while inexpensive glass jars held colored candies for all to enjoy.
Source: Frog Prince Paperie [3]
Bird-Themed Baby Shower Goodies
On the table were a range of deliciously pink desserts like raspberry mousse with fresh whipped cream, petits fours, meringues, cupcakes, and chocolate brownie truffles.
Source: Frog Prince Paperie [4]
Sweet Handmade Details
A stunning decor detail! Handmade hair clips and hair bands [5] were used to decorate candy jars and bird cages for a delicate and whimsical effect.
Source: Frog Prince Paperie [6]
"Tweet" Words to Live By
Pink pom poms [7] hung overhead as party goers were asked to leave a "tweet" message for the guest of honor. We love how all the custom notes were hung as part of the decor!
Source: Frog Prince Paperie [8]
Unconvential Party Decor
Burp cloths and wash clothes shaped into little cupcakes and candies looked darling on display and were ridiculously cute gifts for the mama-to-be!
Source: Frog Prince Paperie [9]