We were wowed by the woodland bedroom [1] Traci Fleming, owner of Nurseryworks [2], created for her son, Mason. So it's no surprise that his big sister's room is equally (if not more!) awesome. Using a mix of vintage and contemporary furnishings and accessories, Piper's sophisticated room has a whimsical feel that's totally kid-appropriate, but it also has a sense of glamour that will work well as she grows up. We have to admit, vintage Murano lights and Asian bedside tables, a Madeline Weinrib ikat rug, and coral tones have us feeling a bit jealous of little Piper's bedroom. Keep clicking for the oh-so-chic details.
Source: Bethany Nauert [3]
Vintage Glam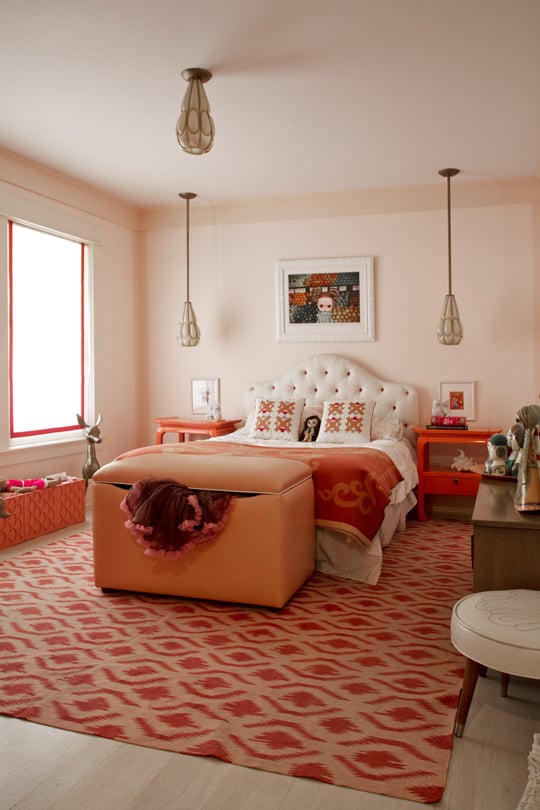 Traci enlisted the help of interior designer Tamara Honey of House of Honey [4] to create Piper's room, which mixes contemporary elements, like the Madeline Weinrib [5] ikat rug, with vintage elements. Piper's preference for pink was also a jumping-off point for the design.
"My daughter wanted pink, of course," Traci says. "We started with a paint color [Benjamin Moore's Coral Gables] [6] as the inspiration and the rest was history."
Source: Bethany Nauert [7]
Big-Girl Bed
Piper's lush bed is made up of a Serena & Lily headboard, a Pottery Barn bedspread, and John Robshaw pillows [8].
Source: Bethany Nauert [9]
Let There Be Light
"Working with Tamara, we took a vintage Murano light [10] that had three fixtures in one and split it into three parts," Traci says. "We put one in the center of the room as a pendant and two over each of the coral nightstands. They remind my daughter of a merry-go-round."
The tickle trunk at the foot of the bed holds Piper's dress-up clothes and costumes, while a photo of Piper's Blythe doll [11] hangs over the bed. "Her photo was taken in front of a produce stand in Brooklyn," Traci says.
Source: Bethany Nauert [12]
Bedside Tables and Window Treatments
Traci scored the coral Asian bedside tables at Jason Arnold for Modern [13], and the brass deer are another vintage find. Rosy-red ribbon from Calico Corners styles up simple white shades.
Source: Bethany Nauert [14]
Sophisticated Storage
A vintage buffet and mirror make for a lovely vignette next to Piper's closet. Traci's design advice for parents looking to build a similarly stylish but kid-friendly space: "Be thoughtful about the future needs of your child. What they play with, what they collect, what is important to them, changes. Having flexibility in your design can accommodate for that."
Source: Bethany Nauert [15]
Vintage Chair
A vintage chair sits beneath another piece of girlie art.
Source: Bethany Nauert [16]
Vintage Doll Display
Vintage rules in Piper's room with old-school dolls, a sideboard, and wall art making an appearance.
Source: Bethany Nauert [17]