On the hottest days, nothing sounds more appealing than an icy-cold popsicle. A warm-weather favorite of grown-ups and little ones alike, we've rounded up 44 recipes that are especially kid-friendly. From the supremely simple, like easy strawberry-banana pops, to the unexpected and exotic — coconut bubble tea, anyone?! — there's something for everyone.
Rainbow Popsicles
These gorgeous rainbow popsicles [1] aren't just pretty to look at — they're made with delicious and healthy fresh fruit smoothies!
Peaches and Cream Pops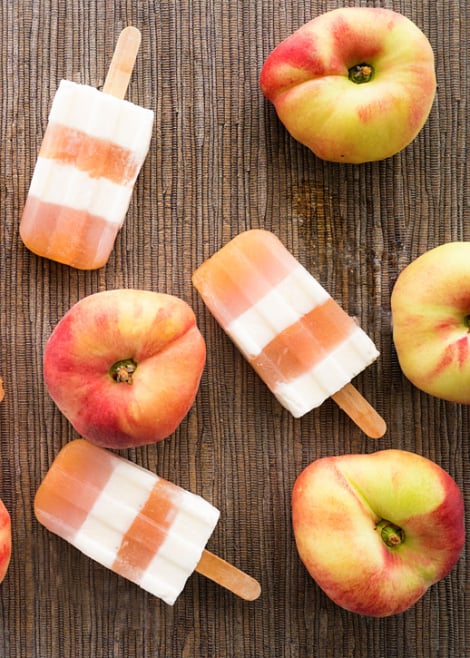 Nanette Wong [2] for Sugar & Cloth has a recipe for peaches and cream pops [3] to make one of the season's most delicious offerings even better!
Cantaloupe Popsicles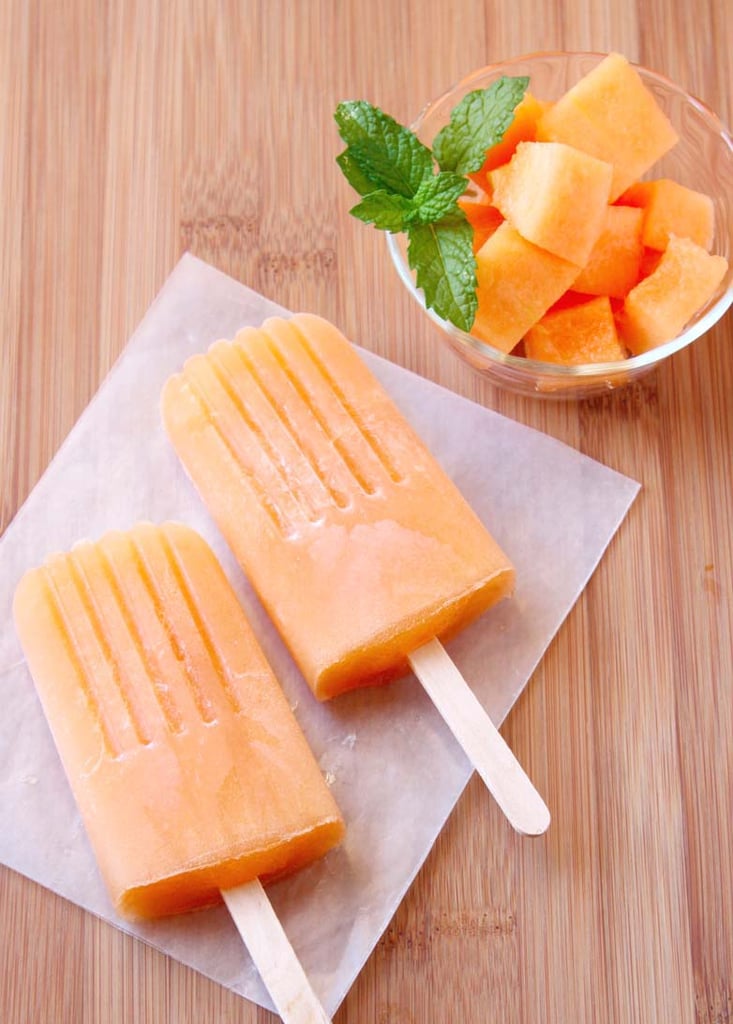 Ripe cantaloupe, fresh mint, and lime zest combine to make these cantaloupe popsicles [4] the perfect thirst-quenching treat on a hot day.
Watermelon Pops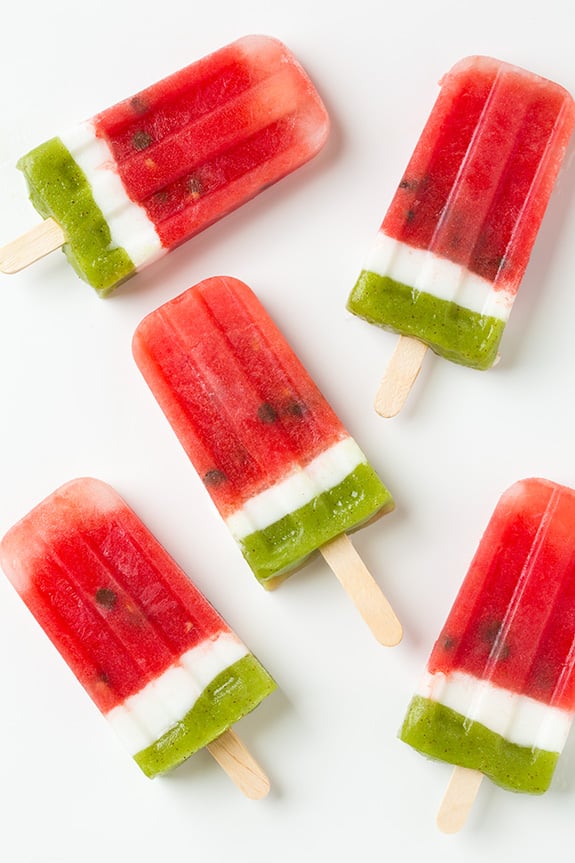 These Watermelon Popsicles [5] have a sneaky lemon layer to them to add some tang to the watermelon flavor.
Lime Creamsicles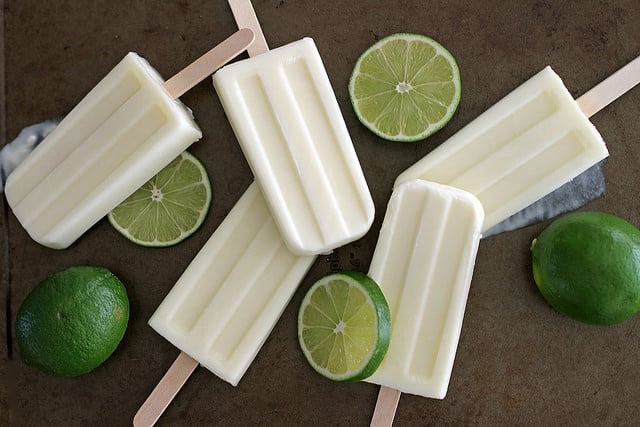 A frozen treat with a bit of zest, Lime Creamsicles [6] are a fruity, tangy addition to a hot afternoon.
Coconut Water Pineapple Popsicles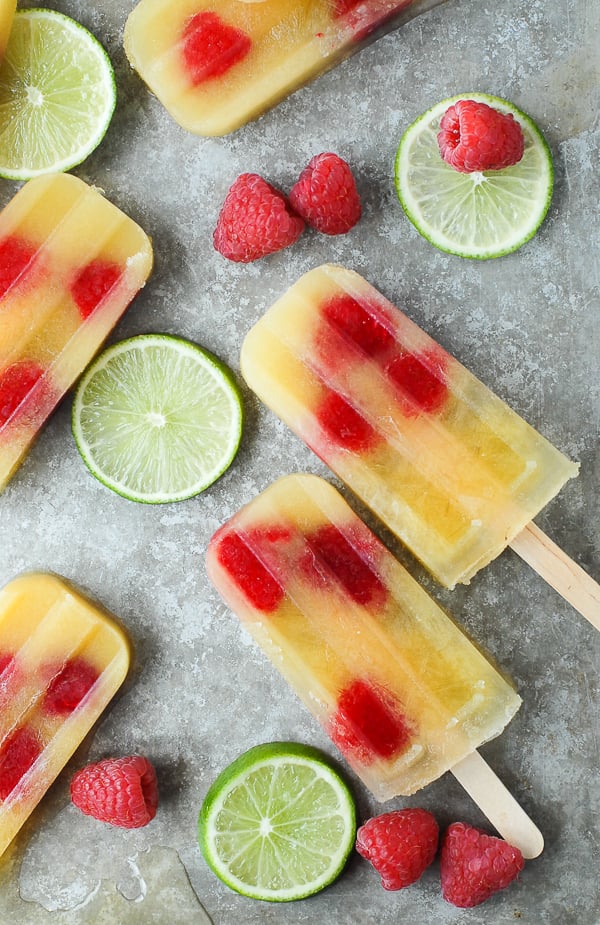 Coconut water is a refreshing alternative used in these Pineapple Popsicles [7] by Boulder Lovacore.
Carrot, Mango, & Raspberry Popsicles
These Carrot, Mango, & Raspberry Popsicles [8] mix fruit and veggies to create a tasty treat that teething tots will love to bite. Cooked carrots are so sweet that they perfectly complement the fruit flavors.
Roasted Berry Popsicles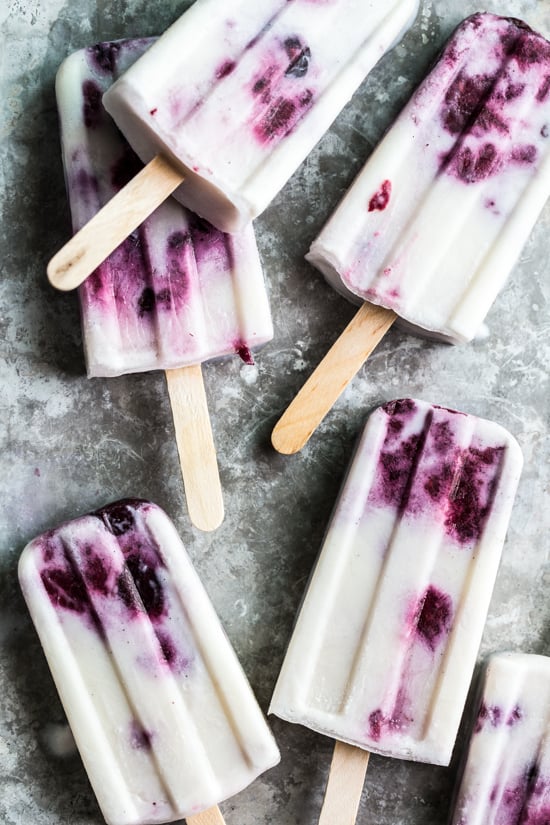 These Roasted Berry Popsicles [9] are sweet and tangy with an interesting secret ingredient!
Greek Yogurt Berry Smoothie Pops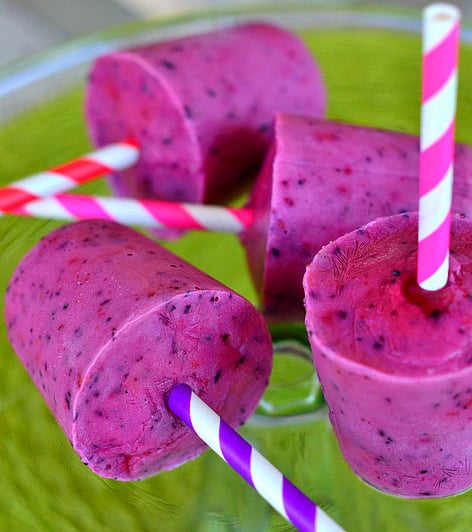 Mom on Time Out's Greek yogurt-berry smoothie pops [10] use frozen berries to create a healty and delicious treat.
Cherry-Limeade Popsicles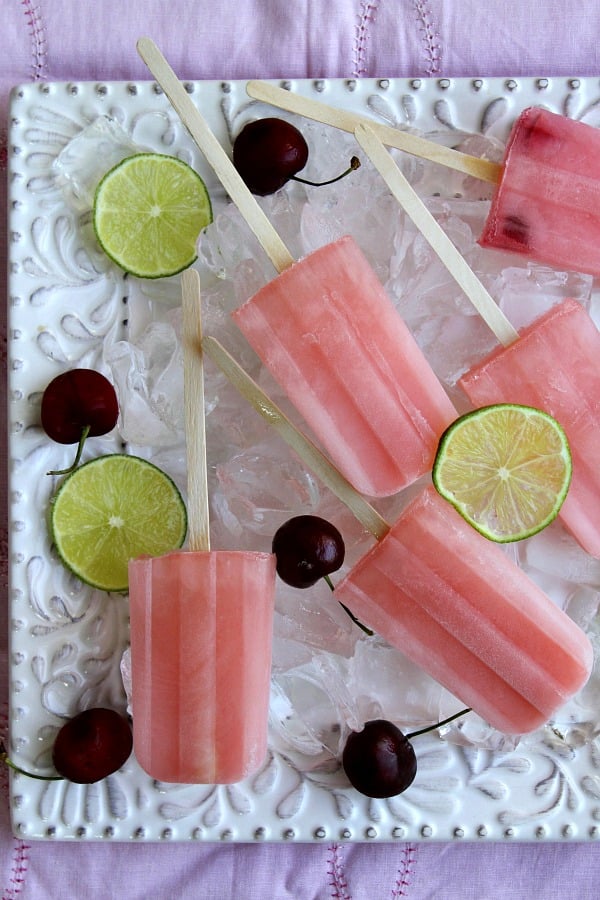 Recipe Girl's cherry-limeade popsicles [11] turn a popular refreshing beverage it into a frozen sweet treat.
Creamy Nutella Popsicles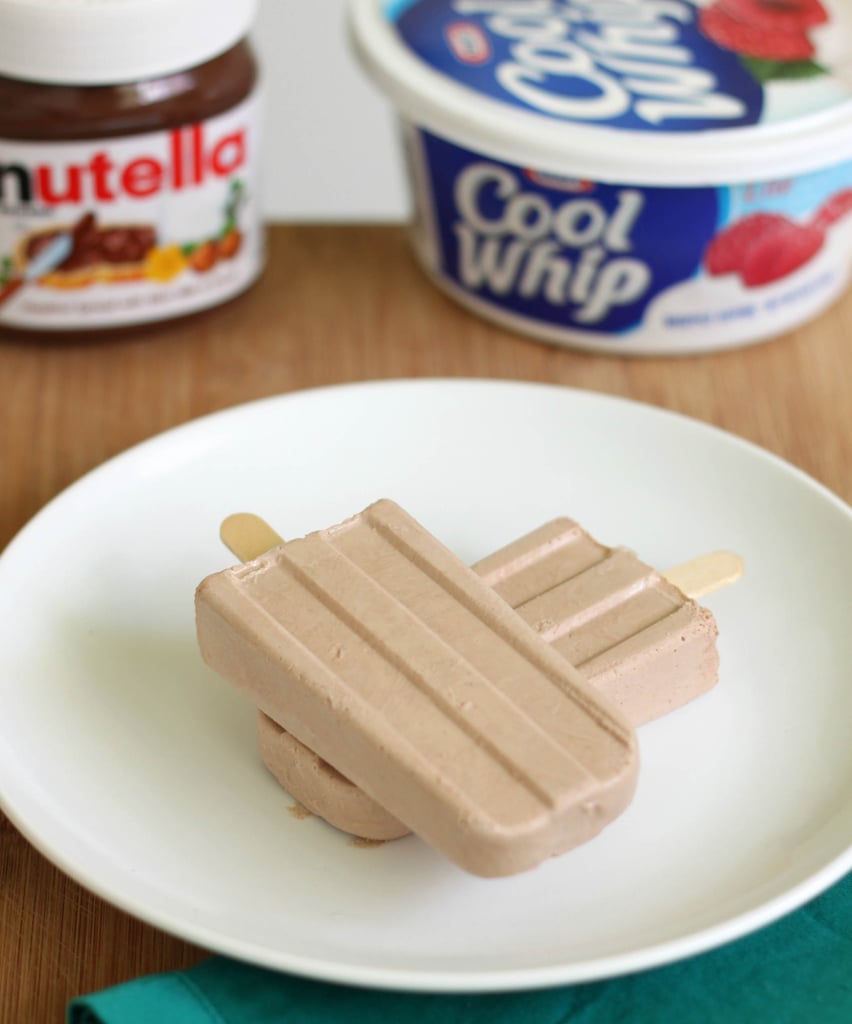 Creamy Nutella popsicles [12] combine Cool Whip and Nutella to make a creamy, rich, but light dessert.
Vegan Strawberry Cheesecake Pops
Cheesecake flavor without the weight, and vegan to boot, these Vegan Strawberry Cheesecake Popsicles [13] look like they could be your family's next go-to favorite.
Funfetti Yogurt Popsicles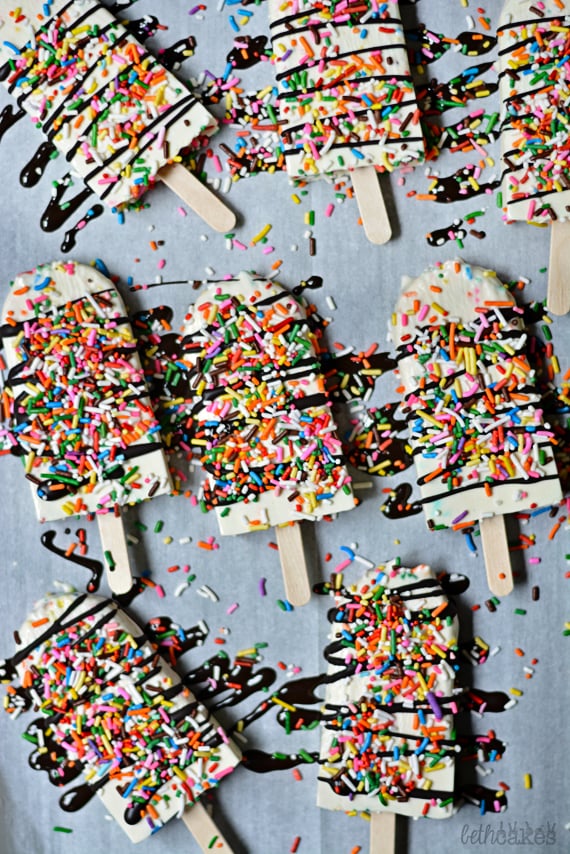 Nothing says dessert like funfetti, so why not mix a family-favorite cake flavor with the joy of a cool popsicle on a Summer day? These funfetti yogurt popsicles [14] are a great way to celebrate every day.
Mango-Kiwi Limeade Popsicles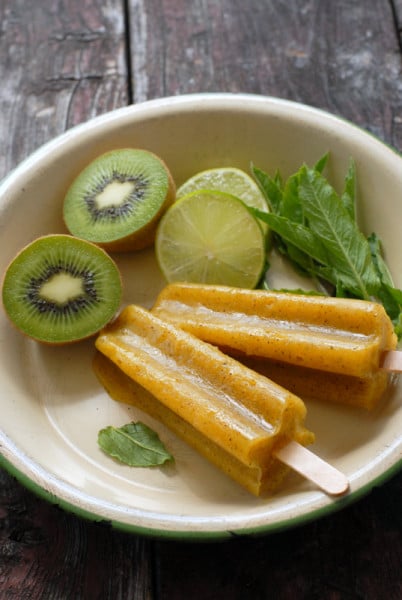 These Mango-Kiwi Limeade Popsicles [15] are fruity with a secret twist!
Avocado and Pear Pops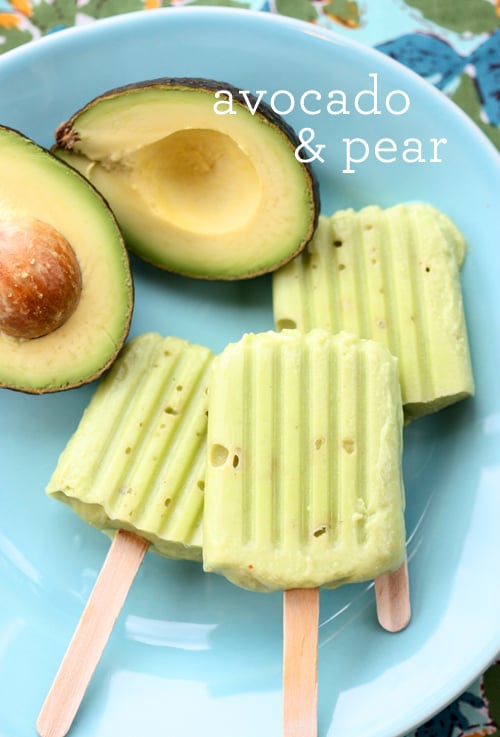 The creaminess of The Spunky Coconut's [16] pureed avocado blended with the sweetness of peeled pears makes these pops the perfect addition to little one's menus.
Chocolate-Covered Strawberry Popsicles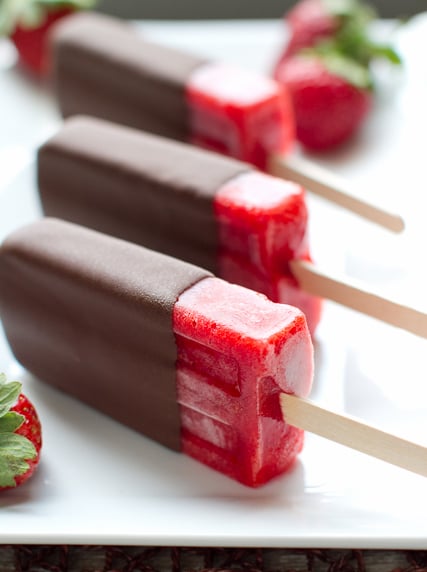 What's better than a strawberry popsicle? A chocolate-covered strawberry popsicle [17], of course. This version is made entirely out of fresh strawberries, dipped in a dark-chocolate magic shell.
Cucumber Chili Pops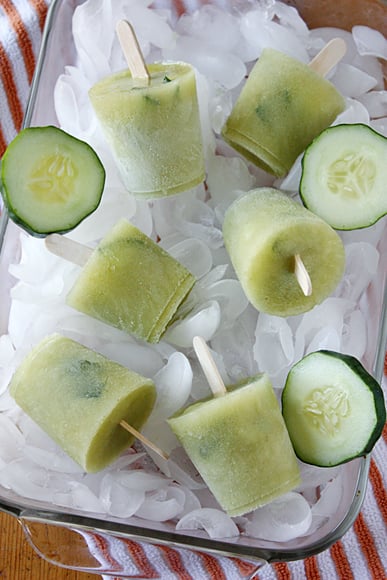 Although cucumbers aren't a fruit, kids will still love this refreshing treat [18] by Girl Versus Dough [18] for Tablespoon [19]. If you think the chili gives it too much of a kick, simply cut back or omit it.
Lemon Dream Popsicles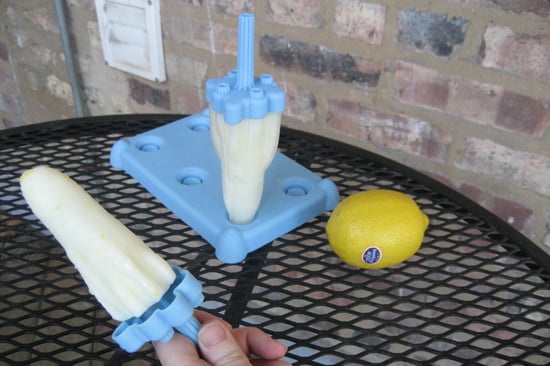 Rather than feed your kid a lemon — which honestly is a hysterical photo-op, if you've never done it before — make some of these Lemon Dream Popsicles [20] for a bit of that tangy flavor.
Firework Popsicles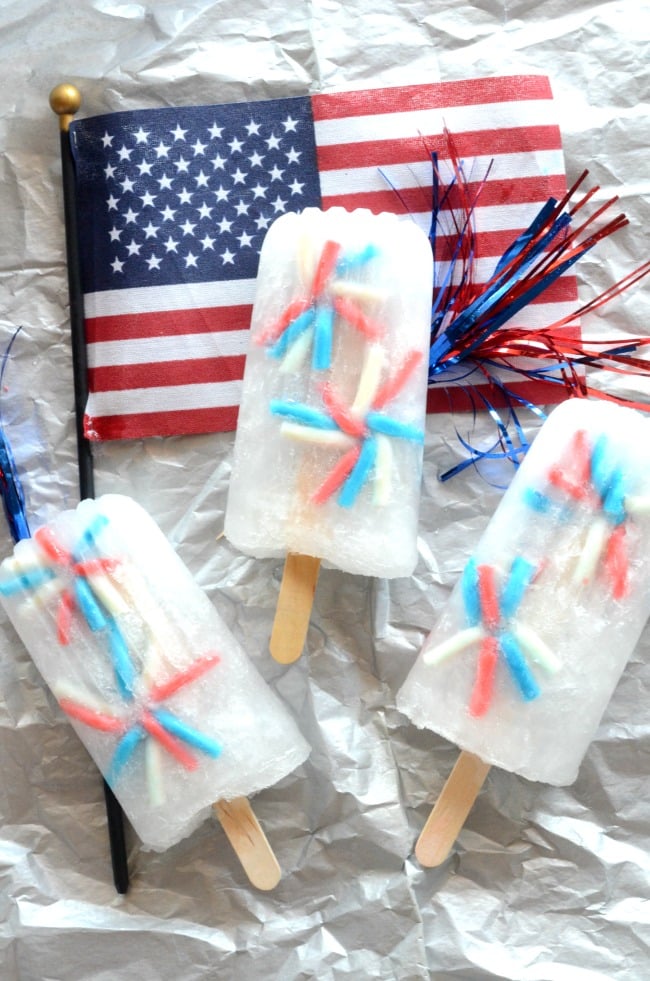 Whether you make them for the Fourth or just as a patriotic treat for a warm day, these Twizzlers Firework Popsicles [21] are a fun frozen treat with a candy surprise!
Mango Vanilla Honey Push Pops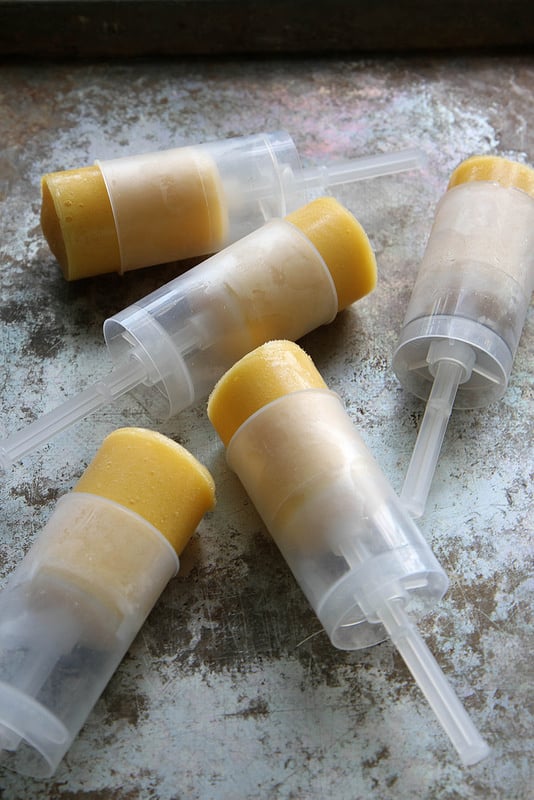 Add a little bit of delicious honey and vanilla flavoring to pureed mango chunks, put it all in some darling push-up molds, and you have yourself Mango Vanilla Honey Push Pops [22] for the whole gang to cool off with.
Blueberry Breakfast Parfait Pops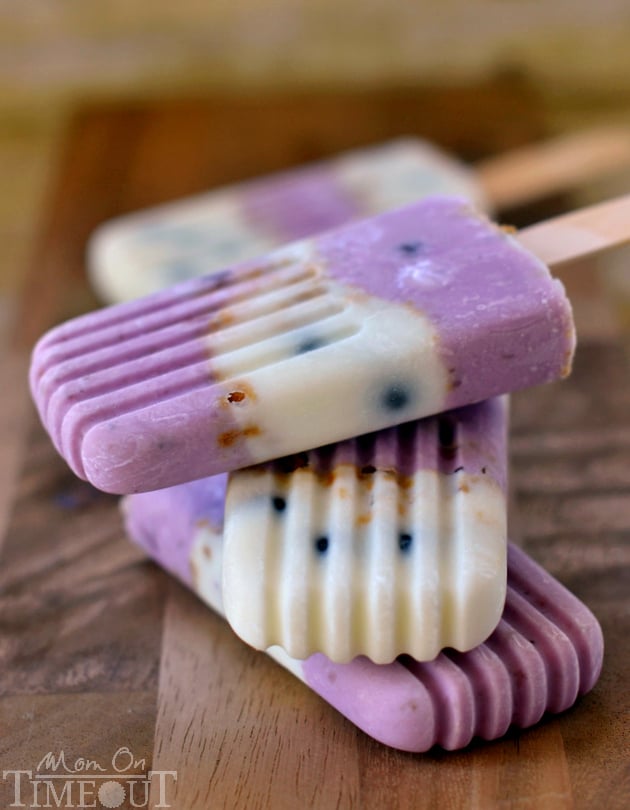 Take your morning yogurt to the next level with these Blueberry Breakfast Parfait Pops [23]!
Root Beer Float Popsicles
Boulder Locavore's root beer float popsicles [24] use just two ingredients — vanilla ice cream and root beer — transforming the iconic float into something new.
Mango Chia Popsicles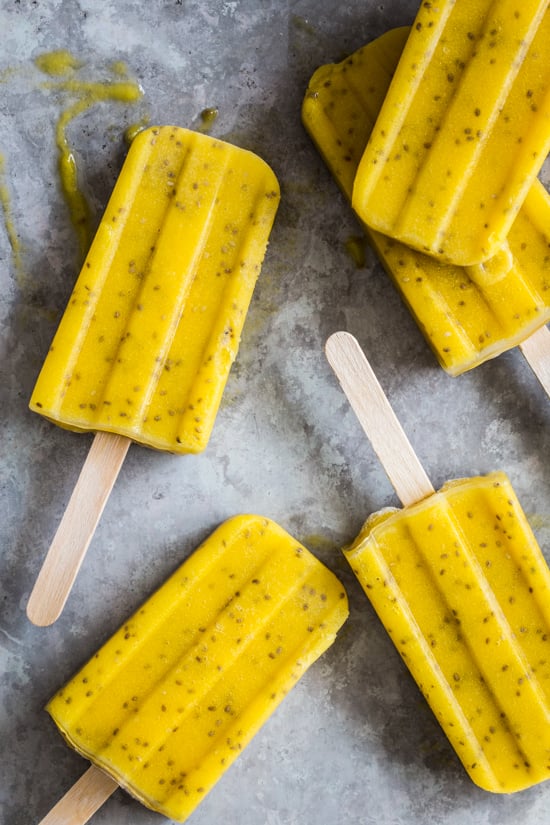 Pureed mango, chia seeds, and coconut milk are all you need for these beautiful looking Mango Chia Popsicles [25]!
Banana Peanut Butter Yogurt Popsicles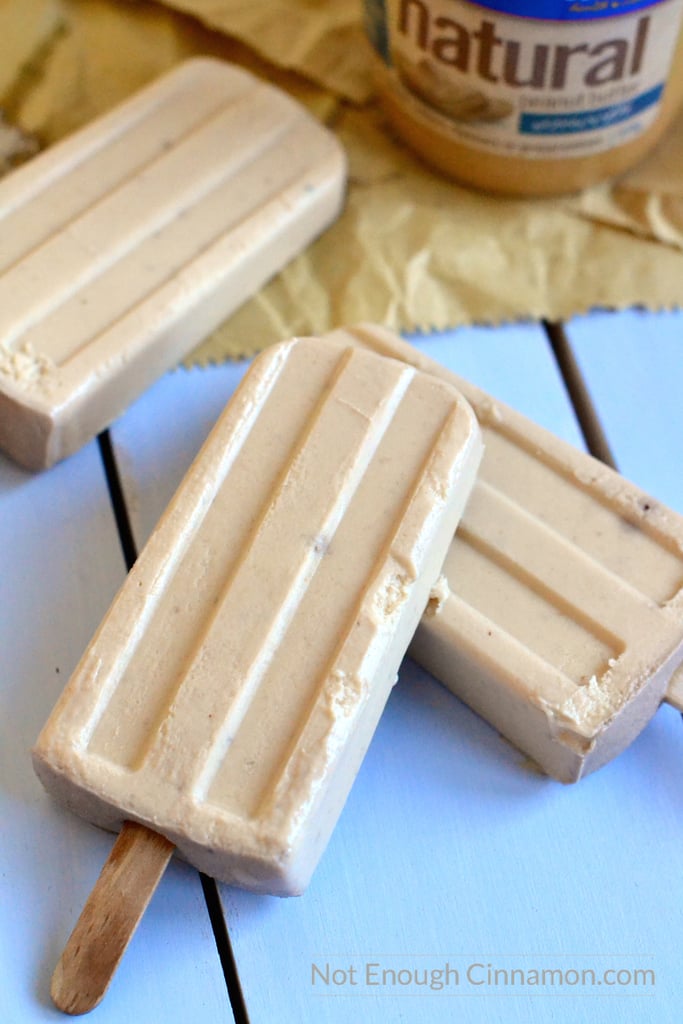 Bananas and peanut butter (or any nut or nut-free butter, to be honest) are a perfect combo. Mix them together with yogurt, freeze 'em, and enjoy cold popsicles [26] on a hot Summer day. Mmmmmm.
Fruity Pebbles Yogurt Popsicles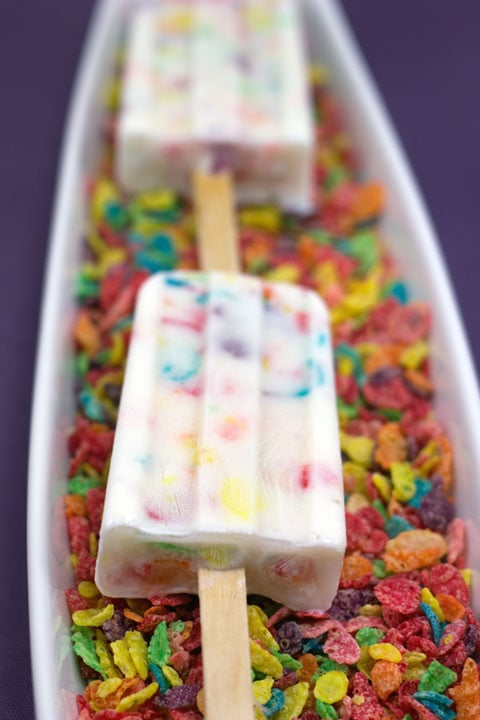 Cereal is taking on a new and exciting form with these Fruity Pebbles yogurt pops [27]. Basically breakfast with their three-ingredient combo of cereal, milk, and yogurt, these puppies can be enjoyed any time of day. Please, Mom?
Berry Greek Yogurt Popsicles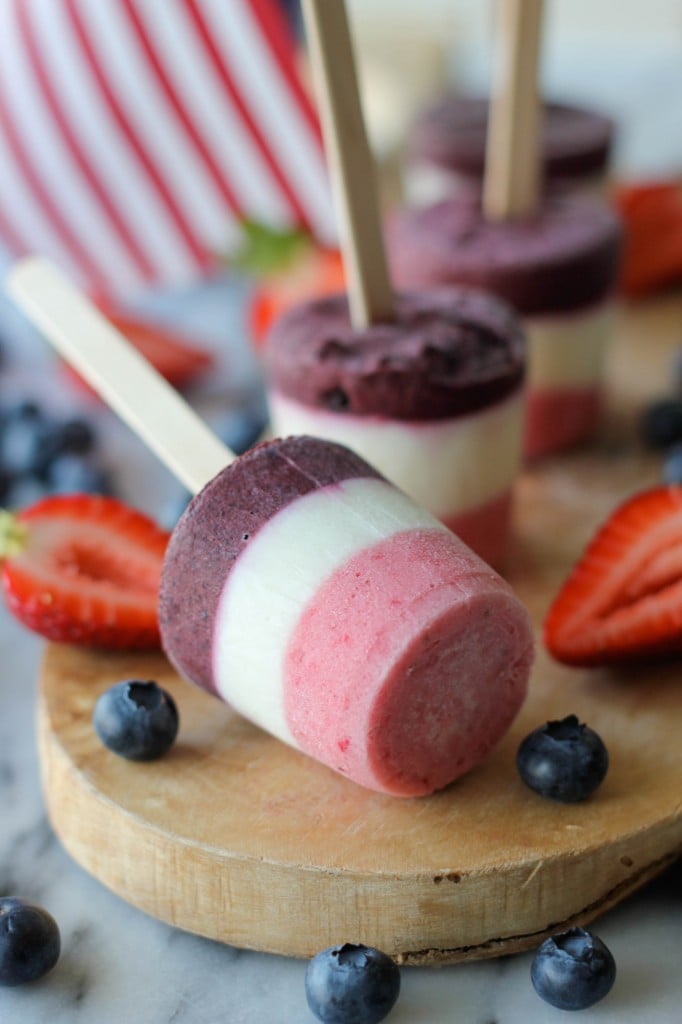 These charming, little striped berry popsicles [28] combine style and flavor for a sweet afternoon snack.
Berry Greek Cheesecake Pops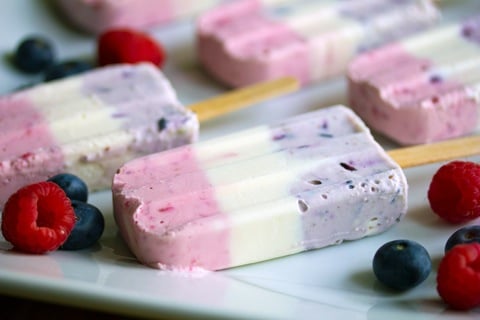 We Are Not Martha's berry Greek cheesecake pops [29] use Greek cream cheese, raspberries, blueberries, sugar, and milk.
Red, White, and Blue Quick Pops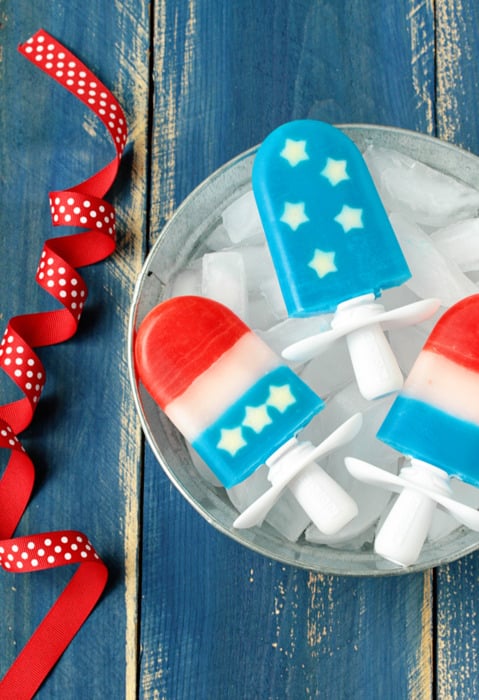 Red, white, and blue stars and stripes [30] make these patriotic pops extra special . . . Would you believe that the stars are actually apples?!
Strawberry and Coconut Milk Popsicles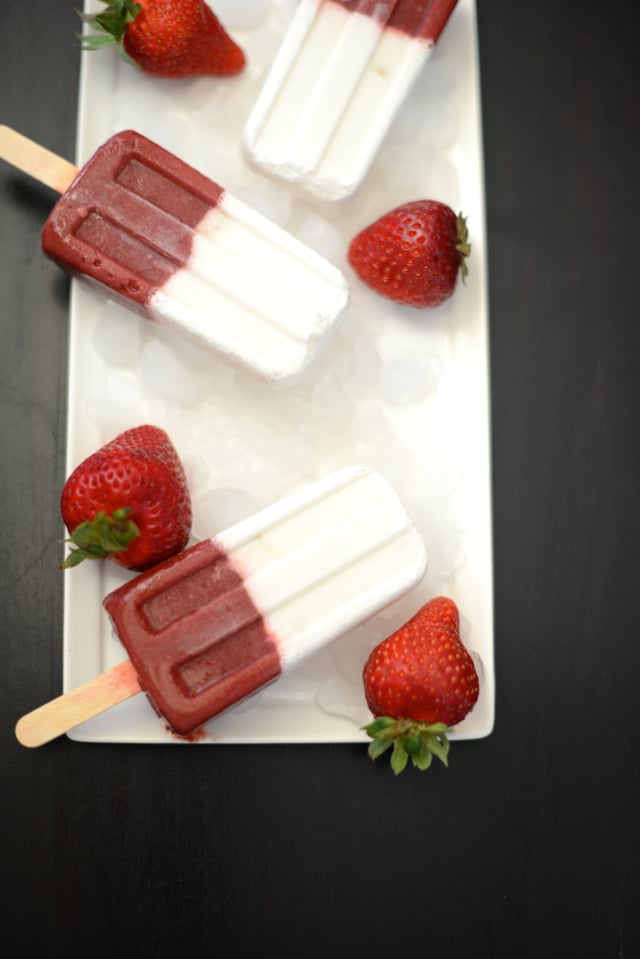 If these beautiful Strawberry and Coconut Milk Popsicles [31] don't give you the urge to jump through your screen, we're not sure what will.
Coconut Berry Popsicles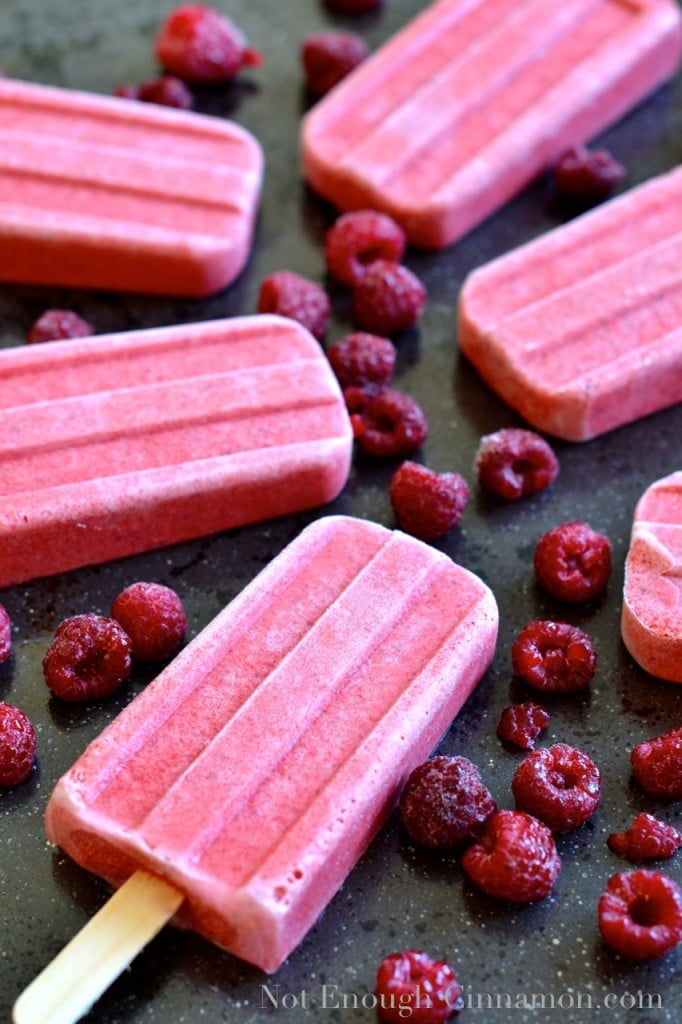 Real coconut flakes and coconut milk go into these Coconut Berry Popsicles [32] to create the perfect sweet frozen treat!
Watermelon Strawberry Mint Popsicles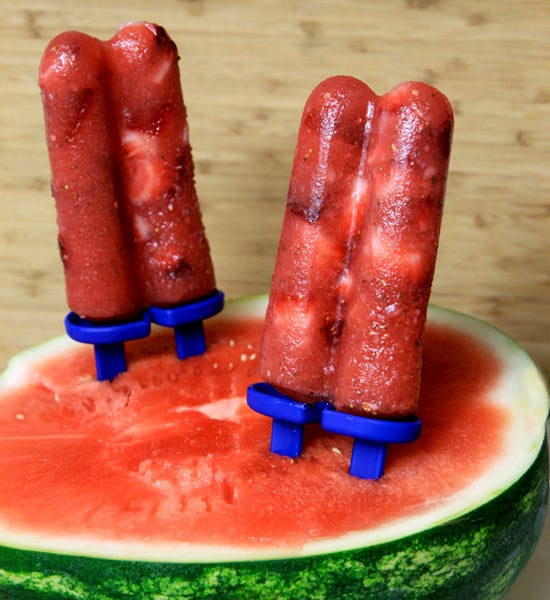 These watermelon popsicles [33] are not only delicious but also low in calories, so you don't have to feel bad if you give the kids two.
Chai-Coconut Milk Bubble Tea Pops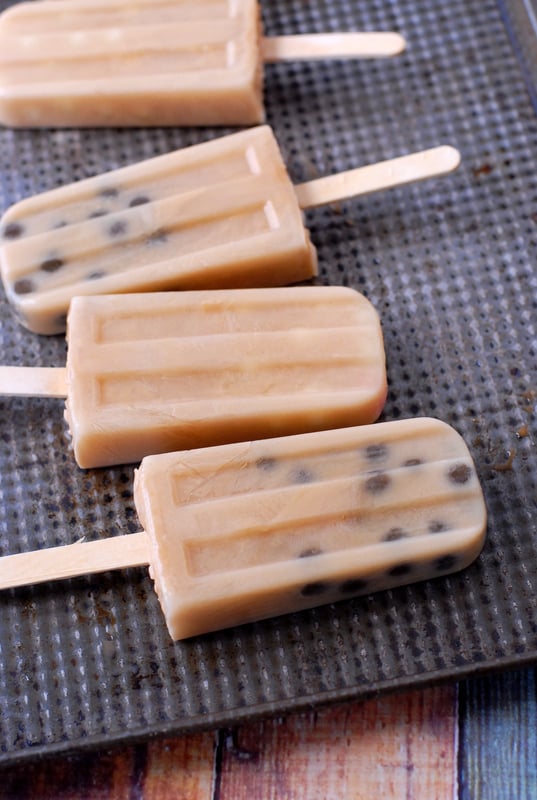 These Chai Coconut Boba Popsicles [34] are a frozen twist on a classic cup of bubble tea!
Invisible Cookie Dough Ice Pops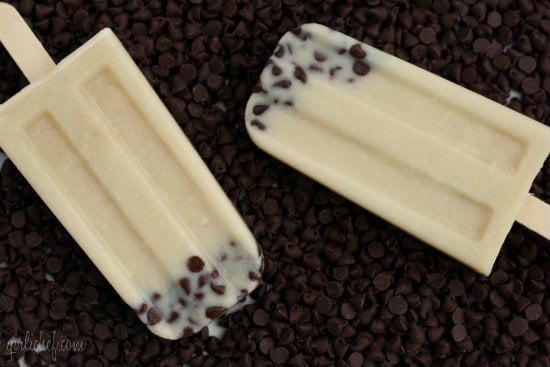 Girlichef's easy- and quick-to-make invisible cookie dough ice pops [35] actually taste like frozen cookie dough. Delicious!
Source: Girlichef [36]
Tropsicles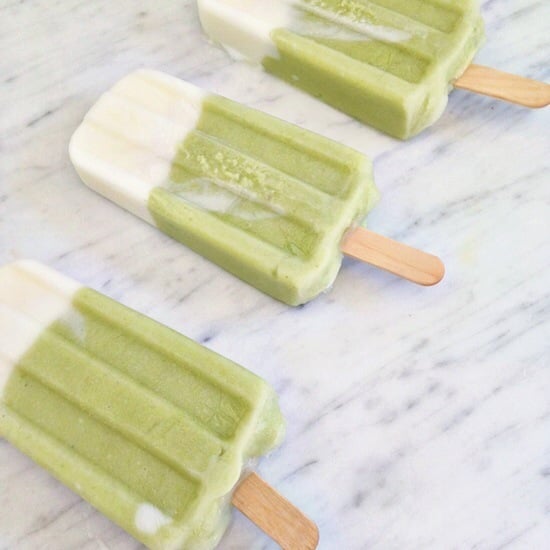 These Cherry Popsicles [37].
Honey-Yogurt Popsicles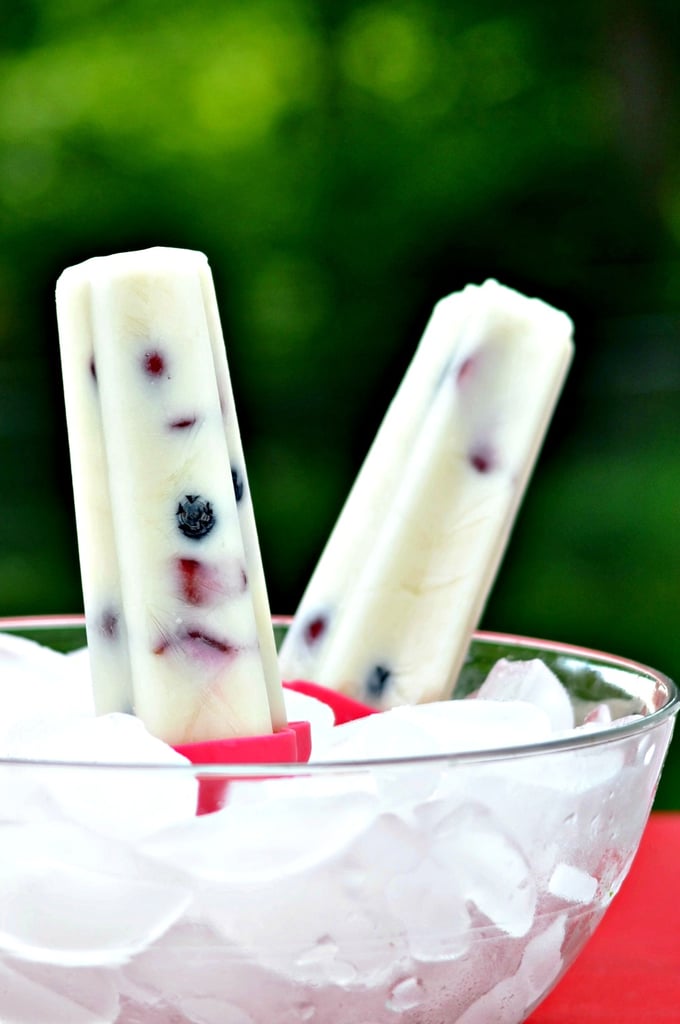 Yogurt, milk, fruit, honey, and vanilla join forces to make these delicious-looking popsicles [38] possible. With the red cherries and blue blueberries, these would make for a perfect Fourth of July treat.
Raspberry Cheesecake Popsicles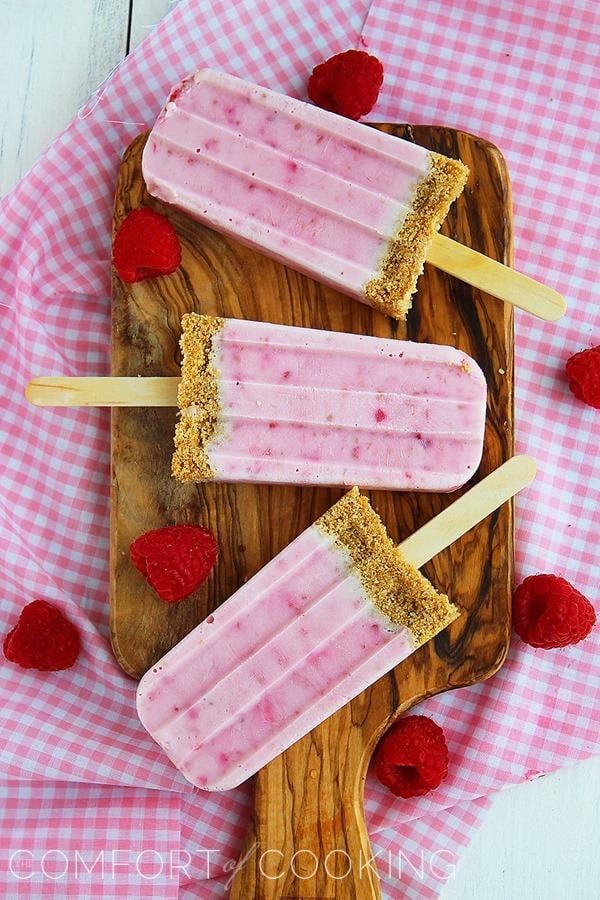 The Comfort of Cooking's raspberry cheesecake popsicles [39] are tart and sweet, with a buttery graham cracker crust. You can also use strawberries, blueberries, or blackberries if raspberries aren't your favorite.
Caramel Popcorn Quick Pops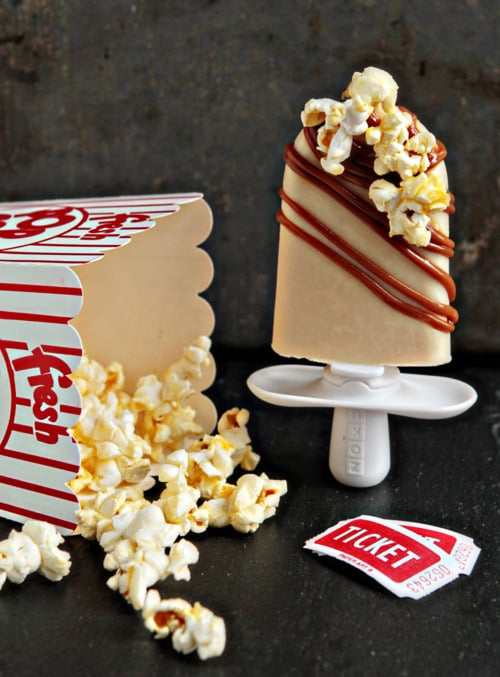 Satisfy a serious sweet tooth with these Caramel Popcorn Quick Pops [40] — they'd be great for a circus- or movie-themed Summer party!
Leftover Veggie Pops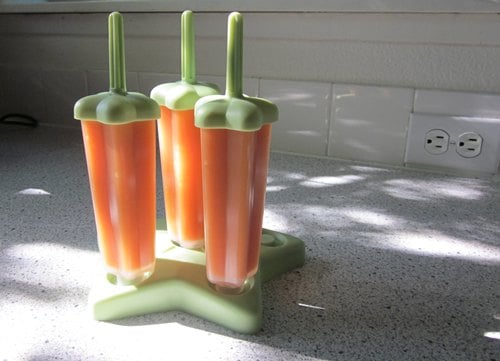 Over at Growing a Green Family [41], Jennifer Chait experimented making pops out of leftover vegetables including carrots, zucchini, and yams. The results were approved by her son.
Speculoos Popsicles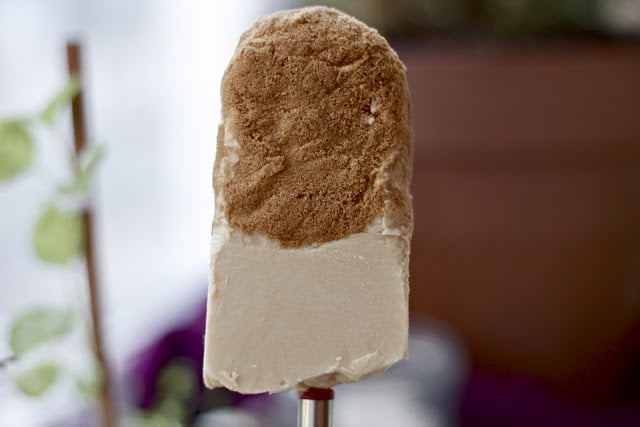 These "speculoosicles [42]" contain speculoos spread, as well as cookie crumbles, to create the ultimate sweet and creamy yogurt treat.
Rocky Road Pudding Pops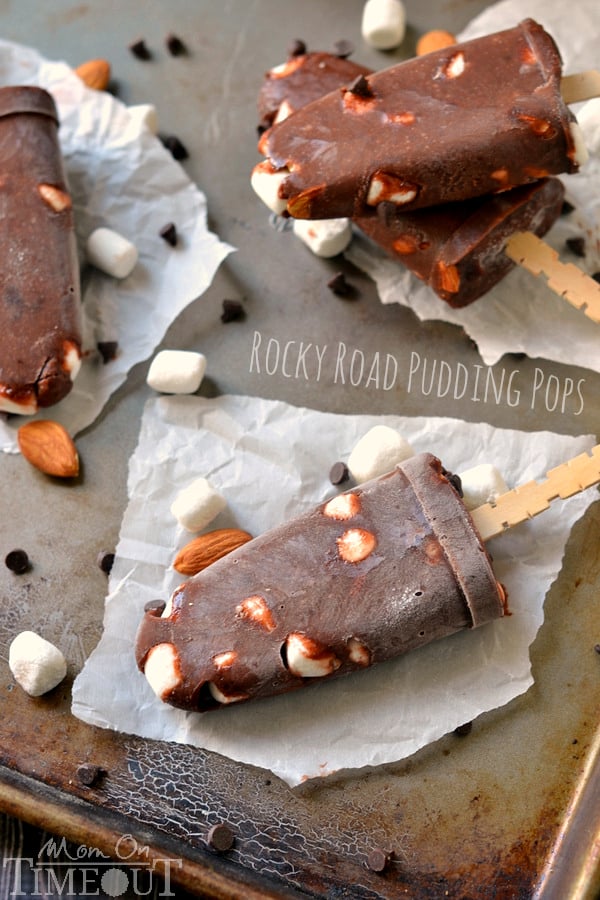 Woah nelly! These pudding pops [43] are a lighter version of their ice cream counterpart, but seem like the way forward on warm day when an indulgent frozen treat is highly necessary (so . . . every single day).
Layered Raspberry-Yogurt Pops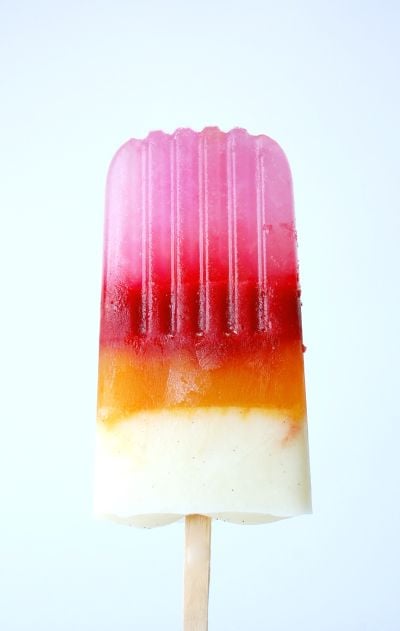 Get creative with this recipe for Layered Raspberry-Yogurt Pops [44] and incorporate any of your kids' favorite fruits.
Kiwi Orange Popsicles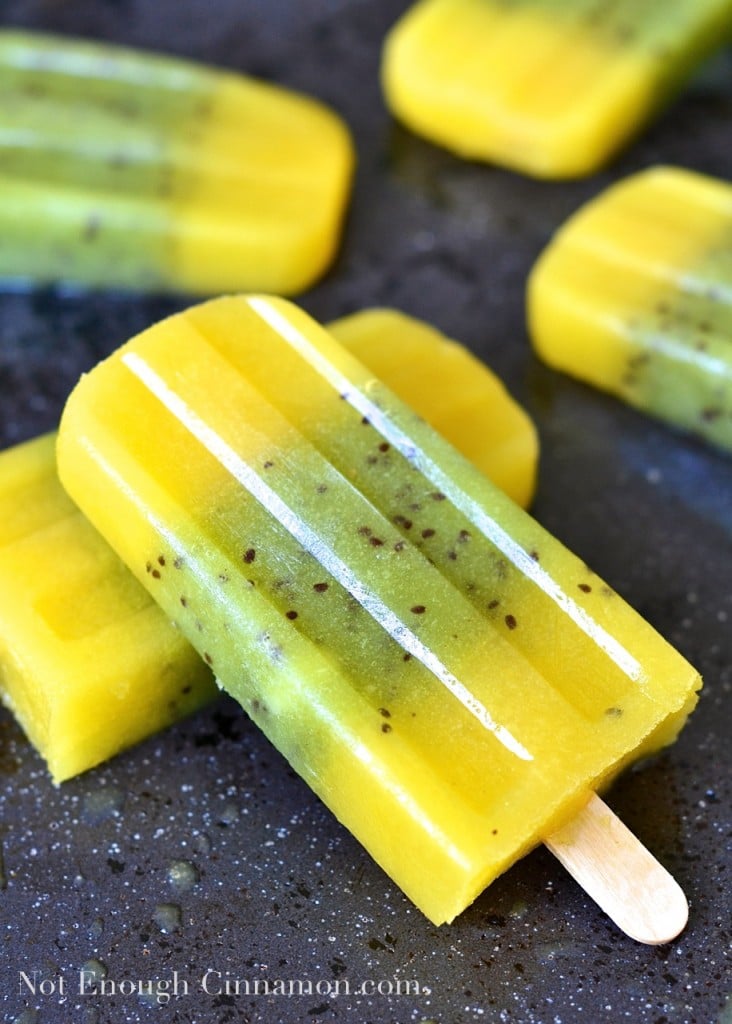 A tangy combination of flavors, these Kiwi Orange Popsicles [45] are sure to cool the whole family down the tasty way.
Strawberry-Banana Popsicles
Wondering what's with the green layer? These Strawberry-Banana Popsicles [46] include a secret ingredient — spinach!