Pre-Teen Girls' Clothes
What's the Story With Girls' Clothes After They Outgrow Toddler Sizes?
Like us on Facebook
Here's a post from our partners at BabyCenter! Every week, we bring you the best parenting and lifestyle stories from the experts at BabyCenter, including this post from Joyce Slaton about girls' clothes.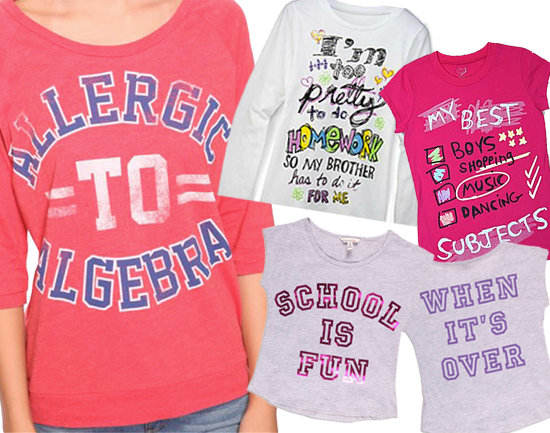 Clothing manufacturers seem to divide girls' clothing into three ages: Infant (up to 1 year), Toddler (1 to 6 years — pretty old toddler at 6, huh?), and Junior Skank (first grade right up to college). As you can see, I'm not a fan. When my daughter was 2, 3, 5, I was able to select her clothing from a wide variety of affordable and age-appropriate choices. Sometimes it was a little hard finding something plain that wasn't encrusted with butterflies/fairies/legends reading, "Daddy's li'l princess." But with a little effort, I could find stuff that was cute and right for her.

Related: Confession — I think I want a minivan!

But these days, unless I'm willing to shell out for expensive stuff like Hanna Andersson and Naartije, I'm having trouble finding clothing that looks like it's made for actual little girls. OK, I was a 15-year-old once. I get the appeal of super-short shorts, which are just made for legs that haven't yet grown cellulite. I used to leave the house and roll my skirt up too.

Click here to read the rest of Joyce's post.

More from BabyCenter:
Do you know what's inside your baby's diaper?
Maggie Gyllenhaal isn't sure how she'll handle two kids
Barbie really isn't that bad
Is Christmas Eve the best day for baby making?
12 quilt ideas for baby