Work it! One of the biggest dilemmas expectant mamas face is how they'll dress their growing bumps for nine (almost 10) months. There's certainly no shortage of cute maternity clothes these days, but it's how the clothes are styled that make a pregnant mama feel like a hot mama-to-be. We've rounded up our favorite maternity looks from 90 celebrity mamas for a little pregnancy style inspiration. Check them out!
Chrissy Teigen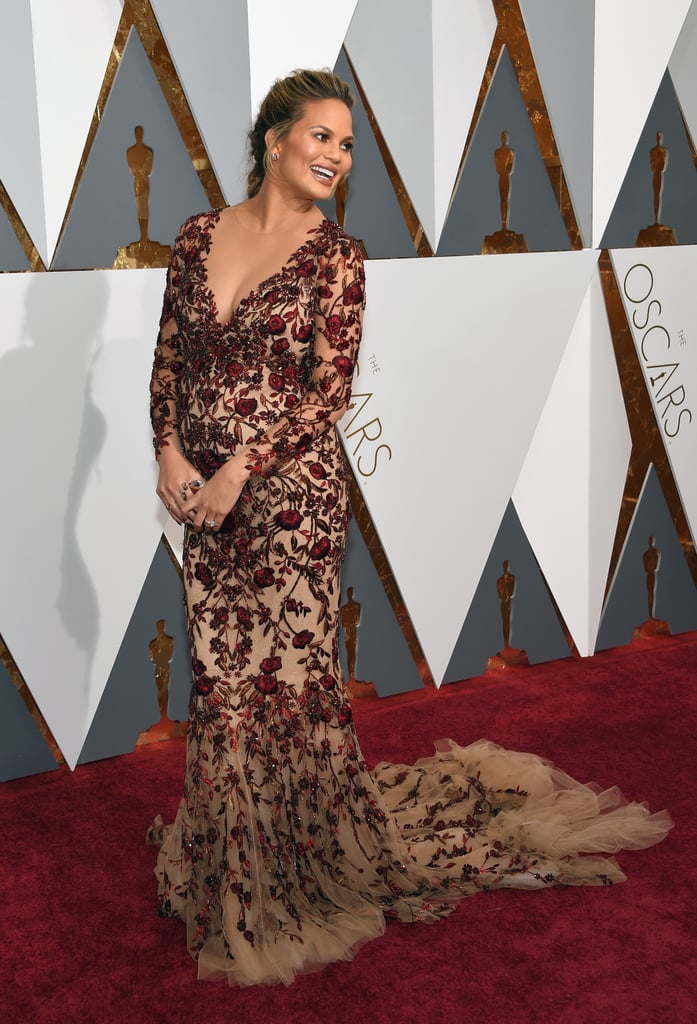 Chrissy Teigen left many speechless after she wowed on the red carpet in a nude Marchesa gown with burgundy embroidery at the 88th annual Academy Awards.
Angelina Jolie
For the Cannes premiere of Kung Fu Panda, Angelina Jolie [1] stunned in a Grecian-style gown from Azria Atelier. Earlier that week, her costar Jack Black [2] spilled the beans that the megastar was expecting twins.
Victoria Beckham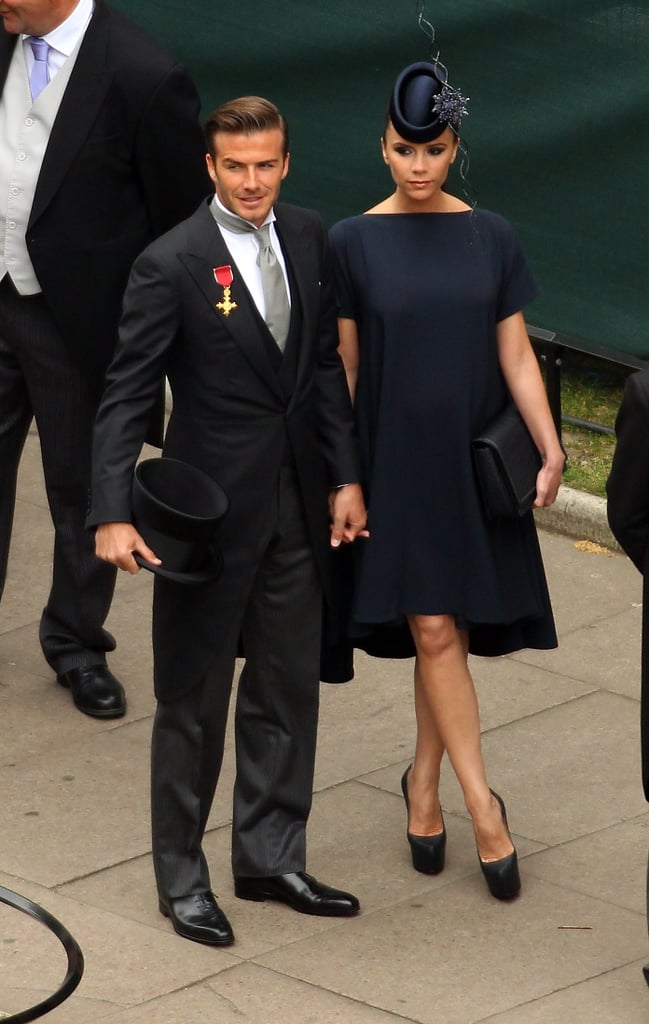 Victoria Beckham [3] almost stole the show at Prince William and Kate Middleton's royal wedding [4]. Wearing a modified version of one of her own designs, she received plenty of attention for her fourth baby bump.
Kim Kardashian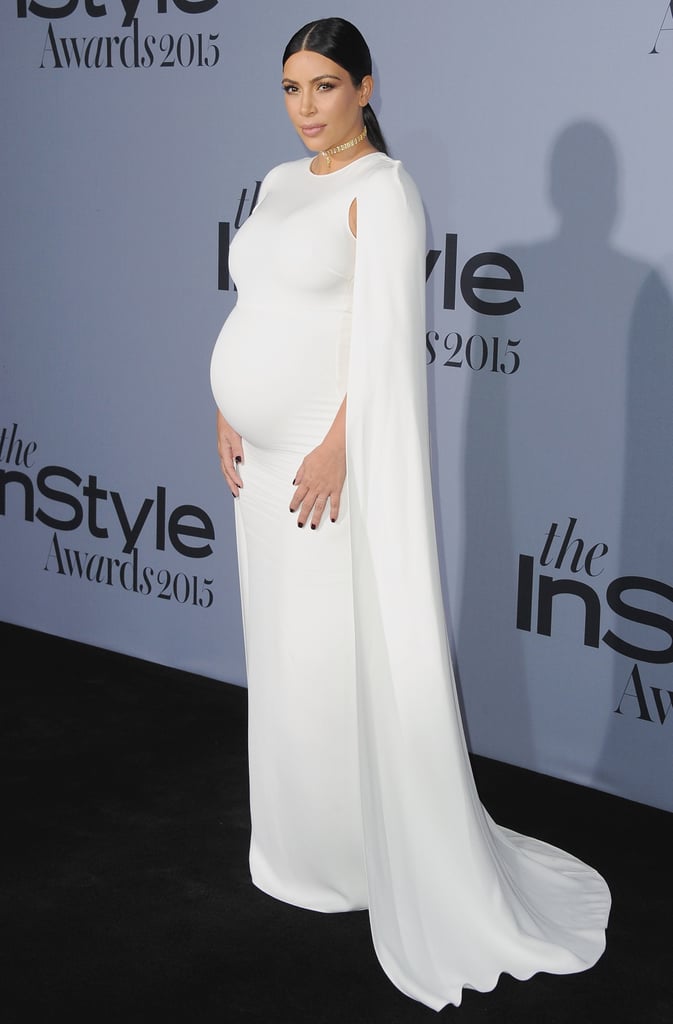 Kim wowed in a sleek, white Valentino caped gown while eight months pregnant at the InStyle Awards.
Anne Hathaway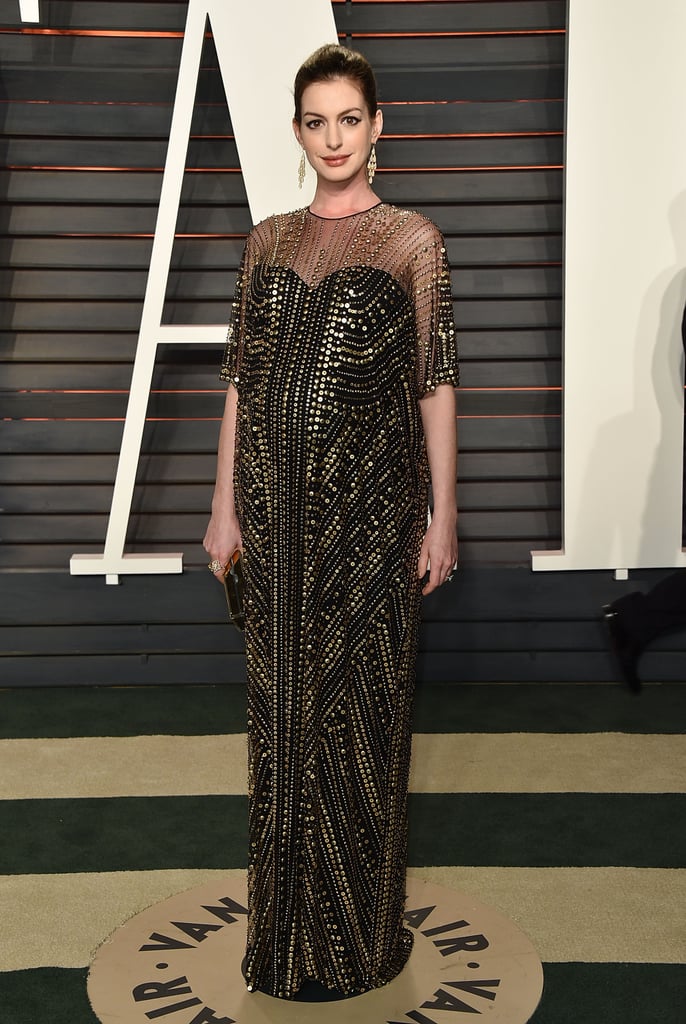 Anne Hathaway [5] dazzled at Vanity Fair's annual Oscars afterparty in a black gown with mixed metallic beaded accents that added an industrial feel to her already chic maternity style.
Kate Winslet
While promoting her film Labor Day, Kate Winslet [6] stunned in a red Jenny Packham gown.
Drew Barrymore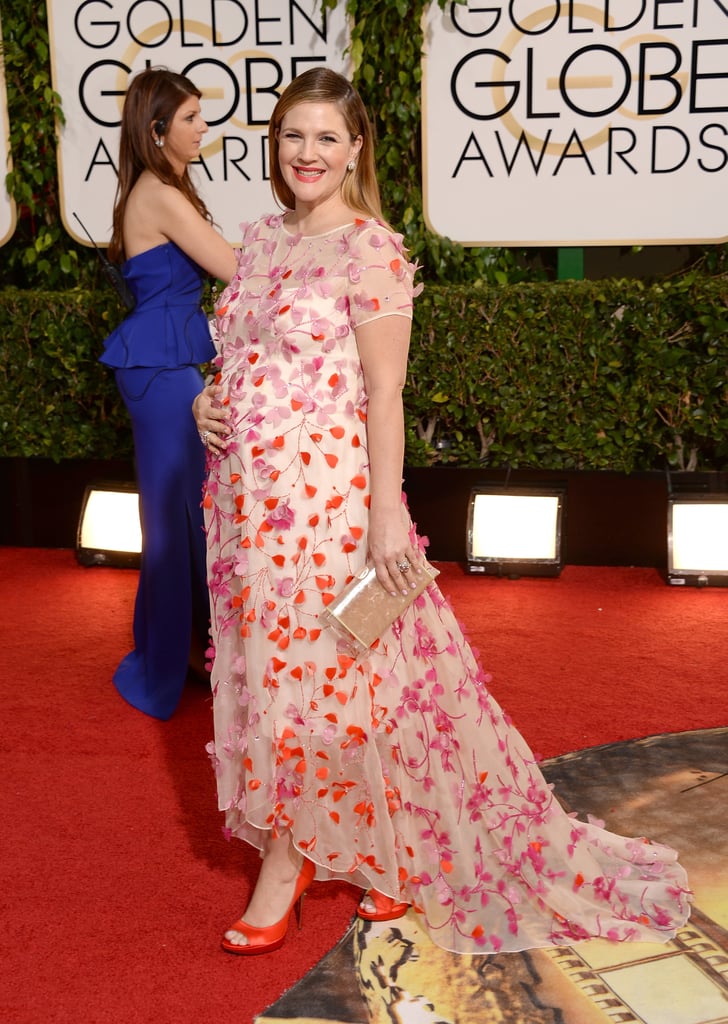 Drew embraced her baby bump in a floral Monique Lhuillier gown at the Golden Globe Awards.
Kerry Washington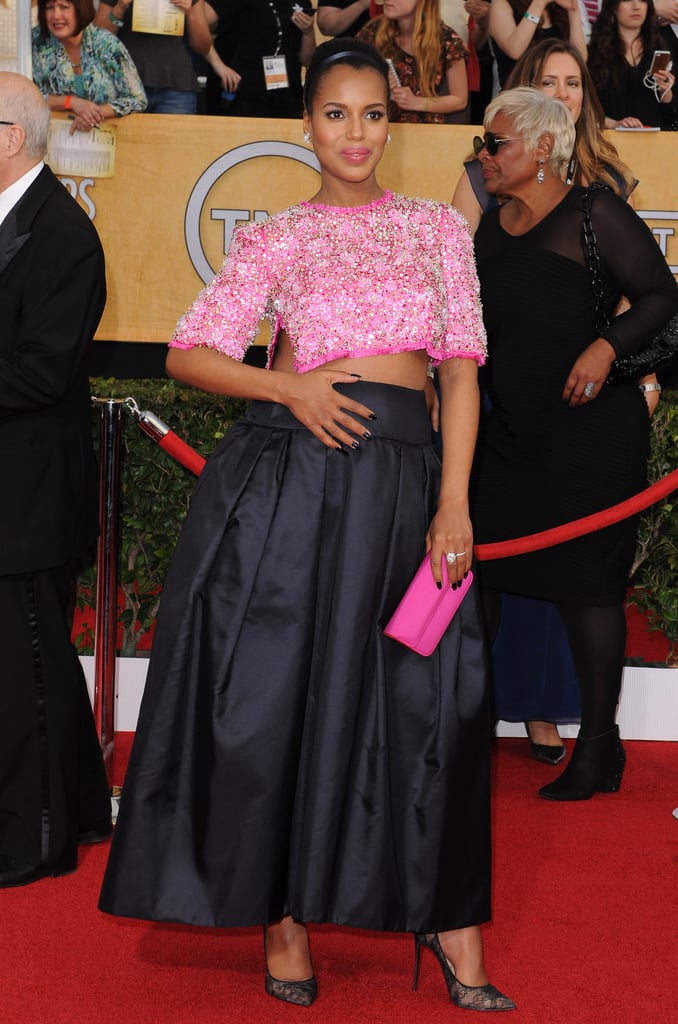 Kerry Washington went for a dramatic — and somewhat
controversial — look at the 2014 Screen Actors Guild Awards. Wearing an
embellished Prada [7]
crop top and high-waisted skirt, she said, "I really don't have anything
to hide anymore!"
Jessica Alba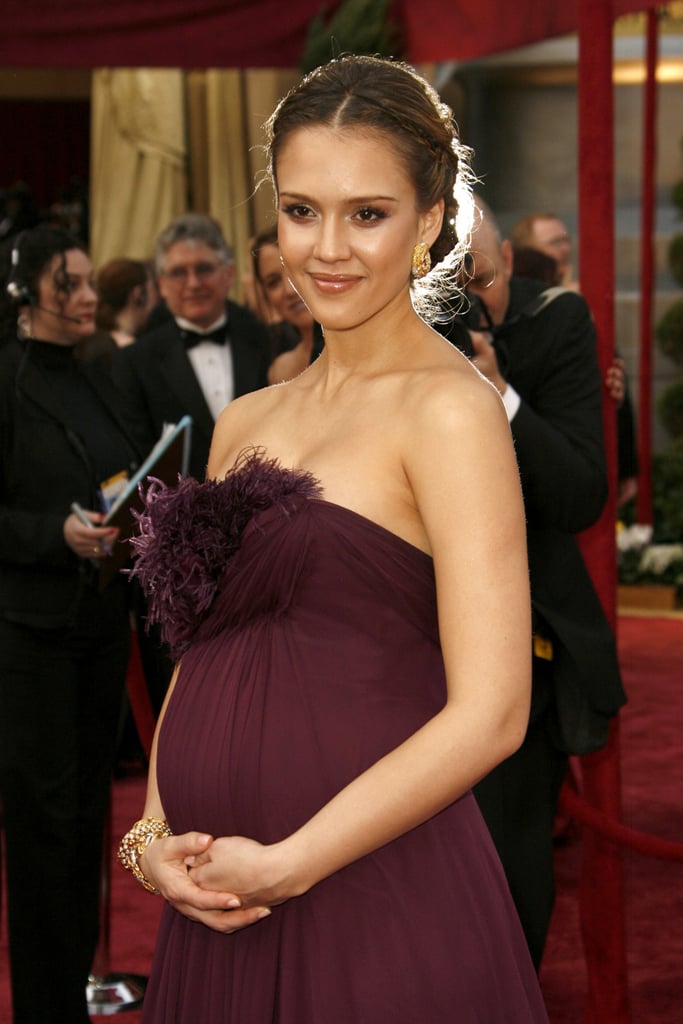 A baby bump (carrying Alba's first daughter, Honor) didn't stop Jessica Alba [8] from being one of the best dressed at the 2008 Oscars.
Olivia Wilde
Shiny and green, Olivia Wilde [9] left moms-to-be green with envy at the Golden Globes in 2014.
Kristen Bell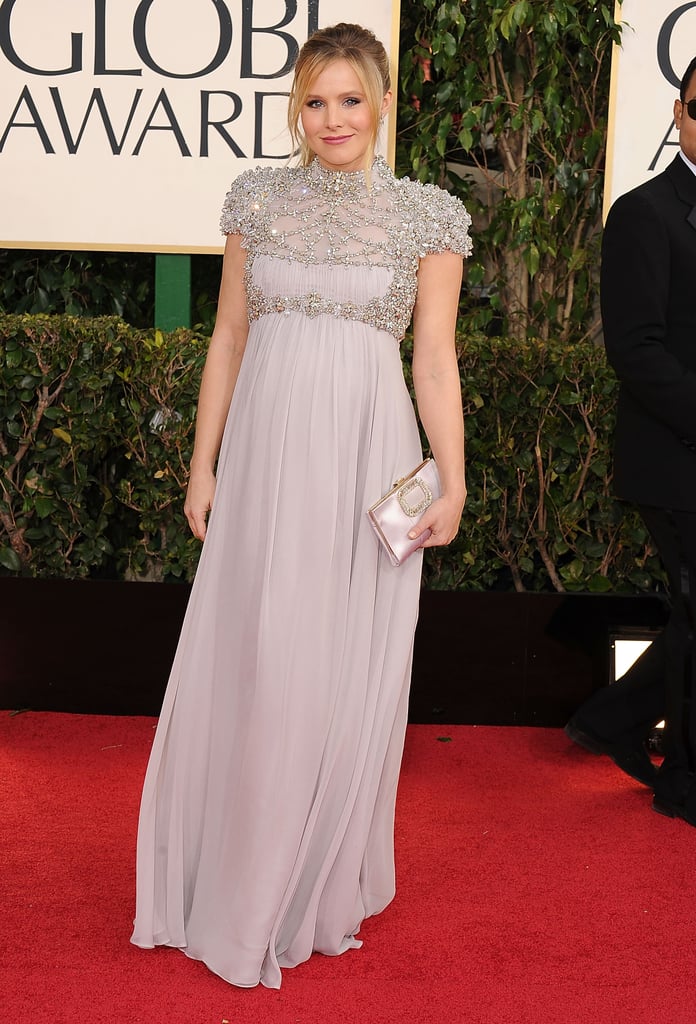 At the Golden Globes, Kristen wowed us in an embellished Grecian-goddess gown [10] designed by Jenny Packham. The ethereal lavender dress featured beautiful draping on the bottom and dazzling crystal-embellished details on the top. A matching satin clutch with rhinestone details completed the look.
Blake Lively
Blake Lively [11] made her pregnant red carpet debut just a week after announcing her pregnancy. She wore an ultrafeminine floral-embellished Michael Kors gown to a charity event in New York City.
Leighton Meester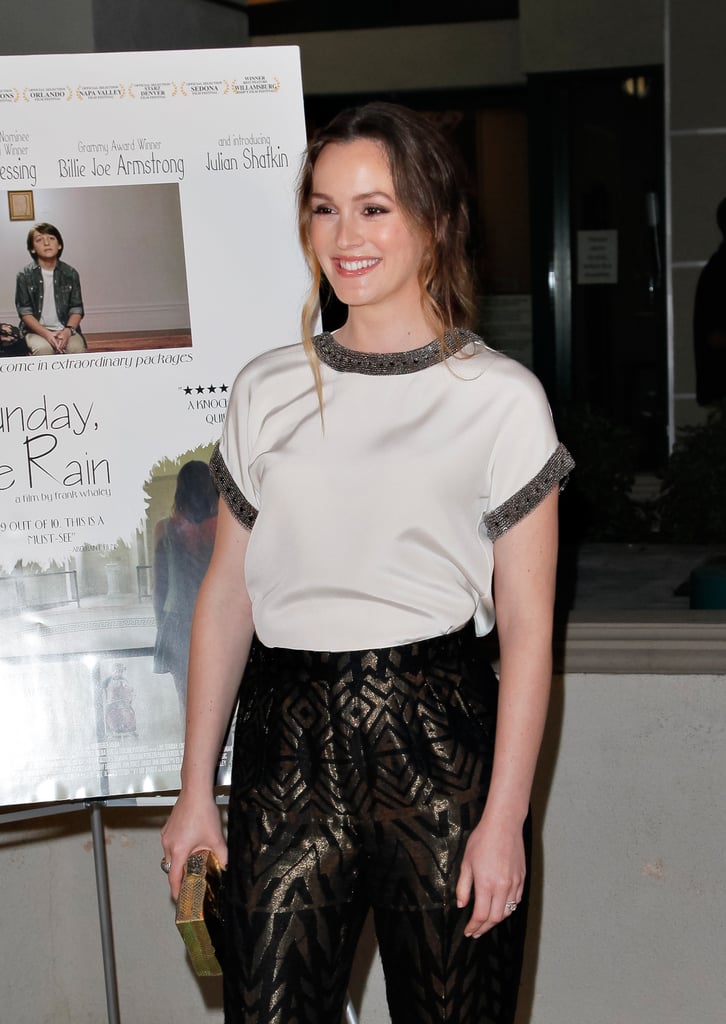 Although she kept under wraps for most of the nine months, Leighton Meester [12] looked sleek in brocade paints and an embellished blouse during the early stages of her pregnancy with her baby girl.
Emily Blunt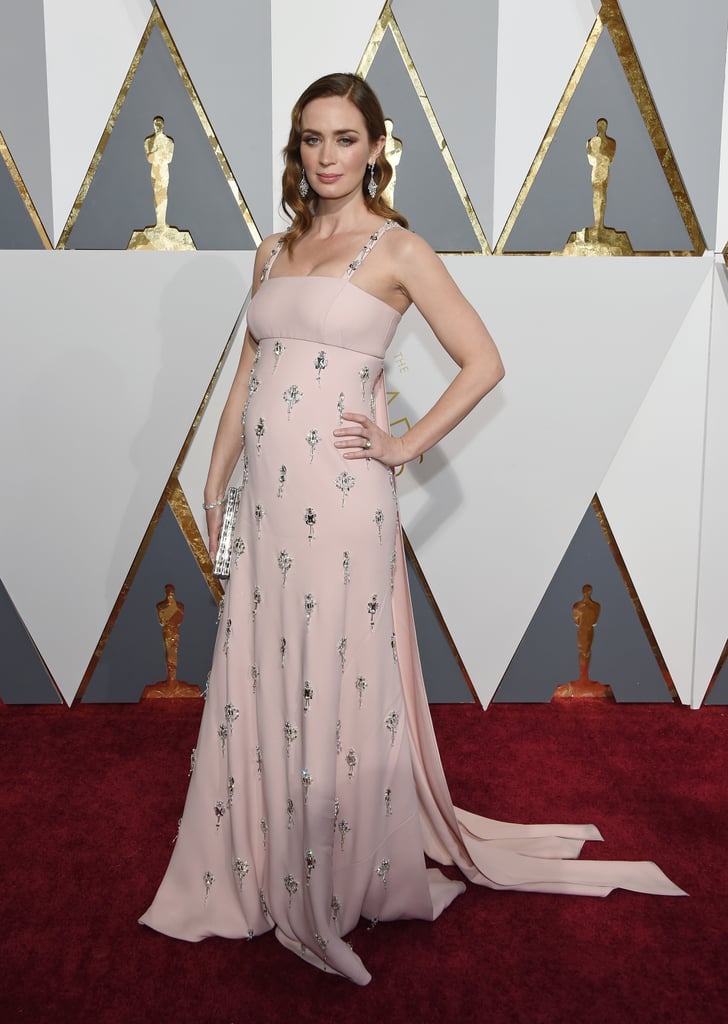 For a sophisticated look at the Oscars, Emily paired her growing belly with an elegant gown complete with silver beaded detailing and embellished straps.
Ivanka Trump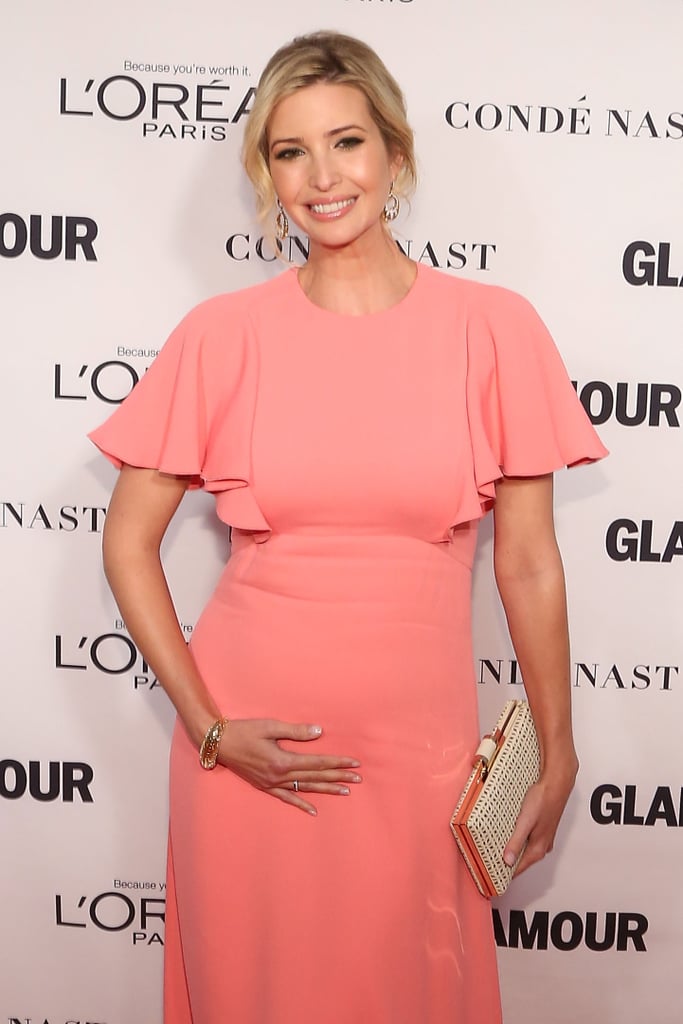 Ivanka showed off her budding bump in an elegant ombré coral dress while attending Glamour's 25th Anniversary Women of the Year Awards.
Nicky Hilton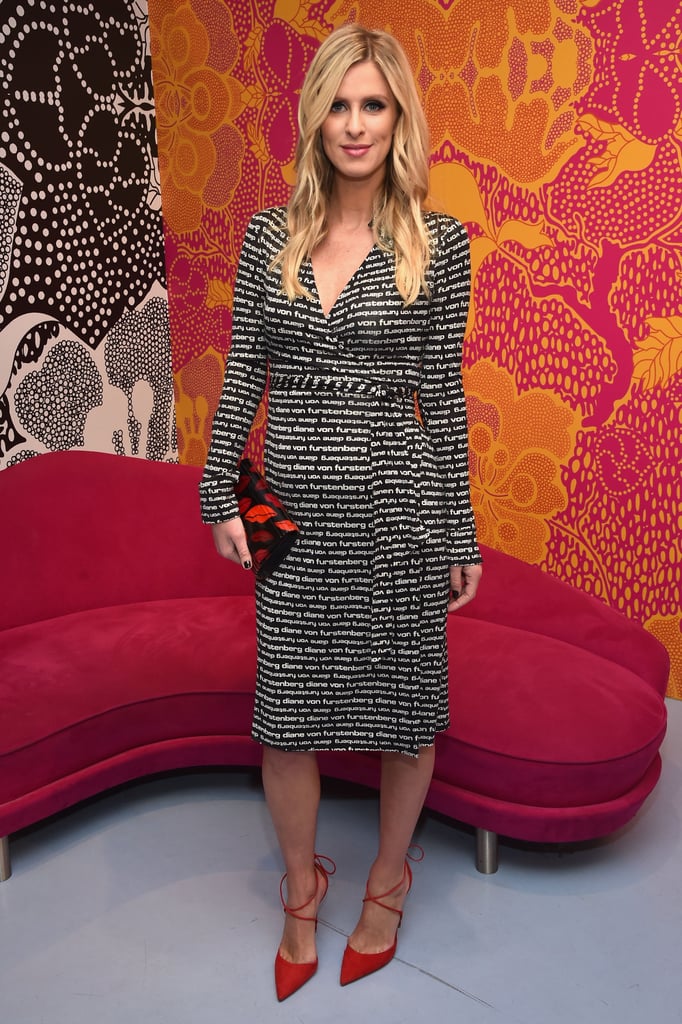 Pregnant or not, you can't go wrong with a wrap dress. Nicky showed a hint of her growing baby bump when she wore a Diane Von Furstenberg Fall 2016 dress during New York Fashion Week.
Ginnifer Goodwin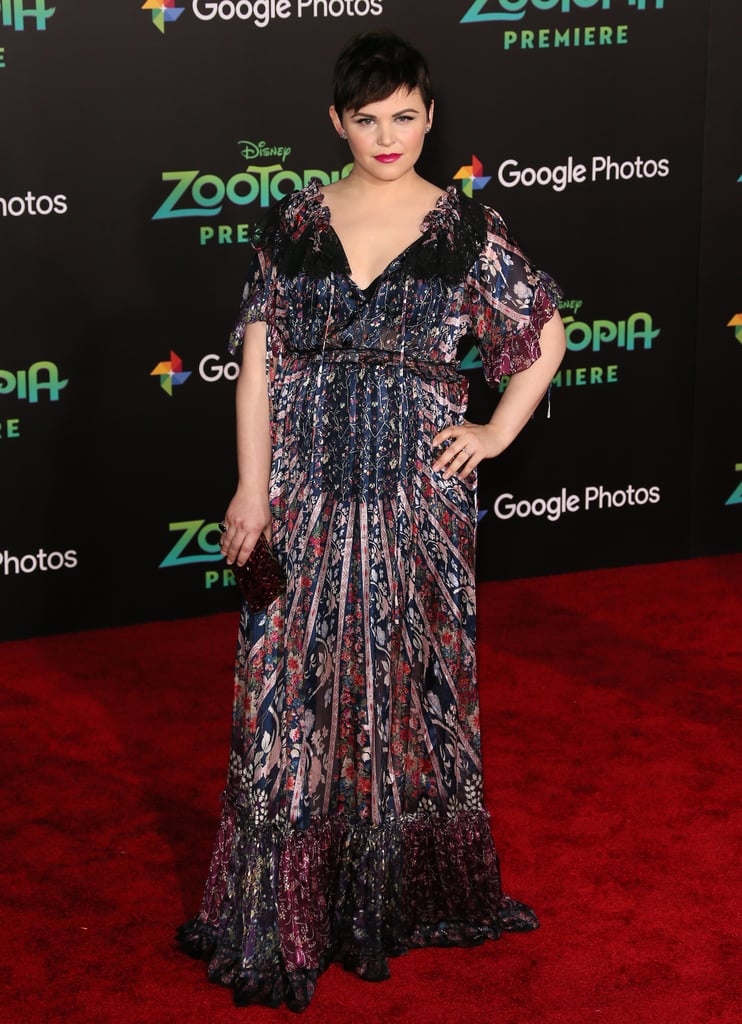 Ginnifer Goodwin [13] looked elegant in a boho-chic gown at the premiere of Zootopia.
Ciara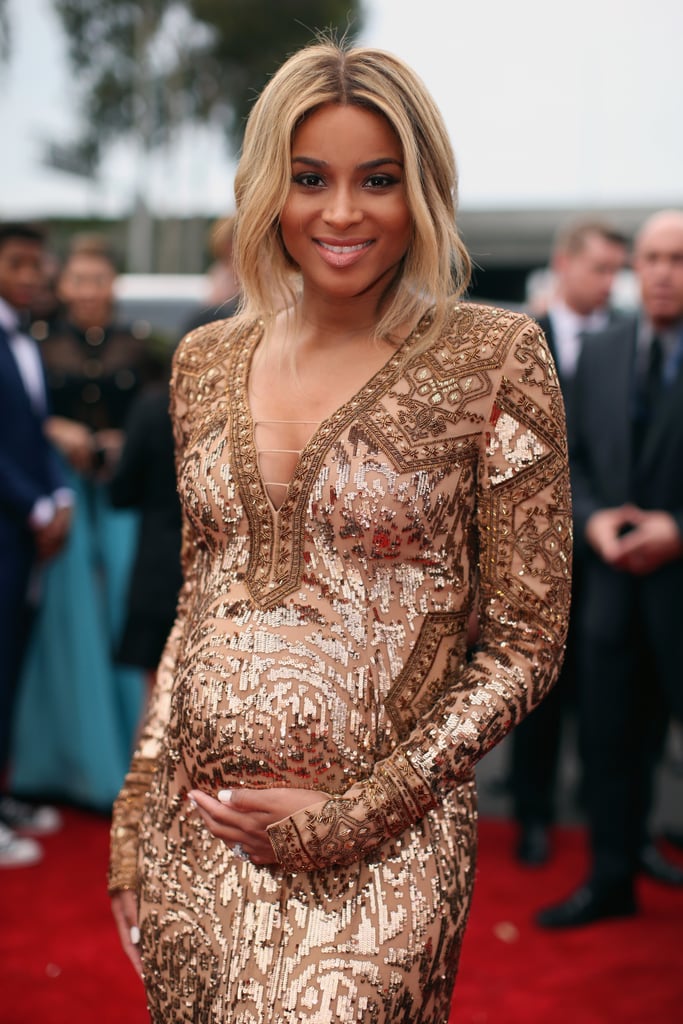 Ciara wore a gorgeous gold gown and showed off her baby bump on the red carpet at the 2014 Grammys in LA.
Keira Knightley
While pregnant with her daughter, Keira Knightley [14] attended the Screen Actors Guild Awards in a flowing purple lace Erdem empire-waist dress.
Liv Tyler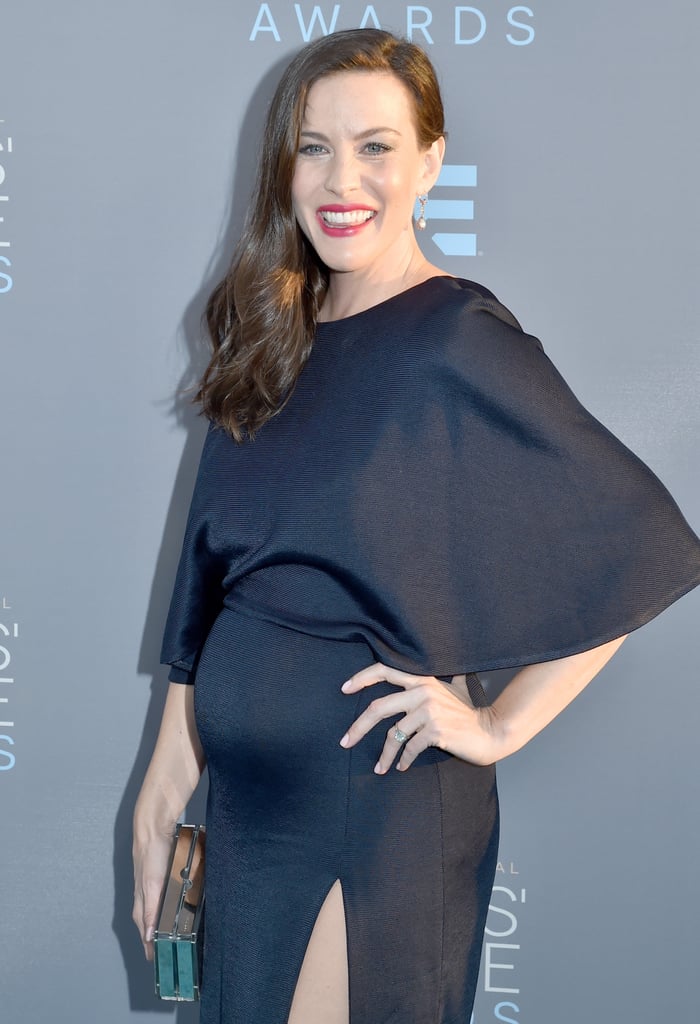 Liv Tyler [15] covered her baby bump in a modern black gown with a high slit and dramatic sleeves at the Critics' Choice Awards.
Amy Adams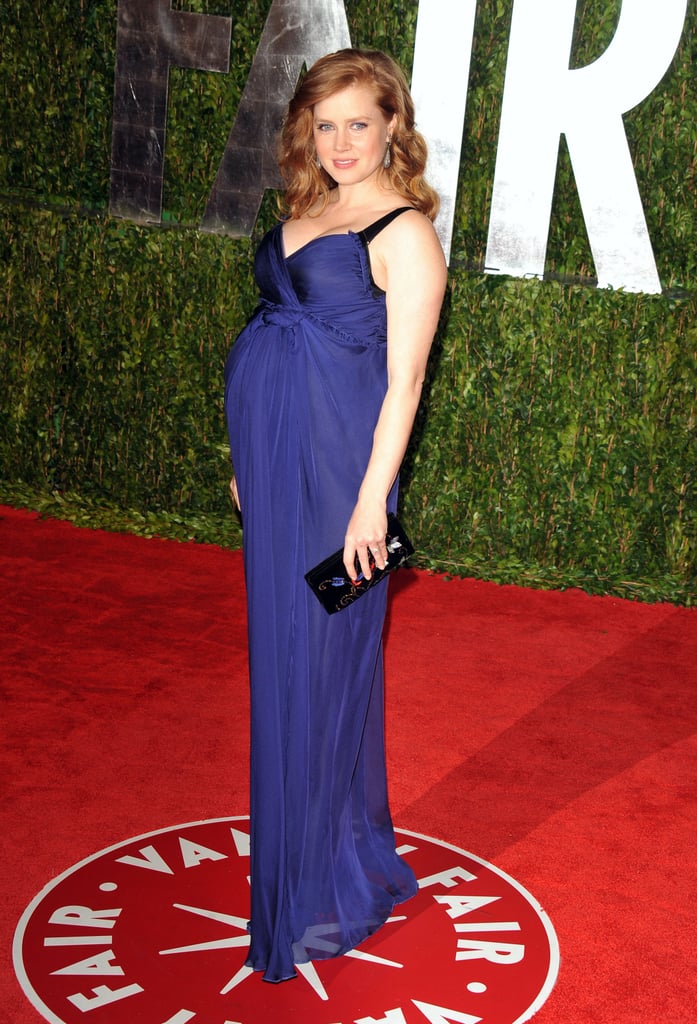 In 2010, a seven-months-pregnant Amy Adams [16] hit the Vanity Fair Oscars party wearing a bump-revealing, bright blue Philosophy di Alberta Ferretti gown. Her daughter, Aviana, was born May 15 of that year.
Lily Allen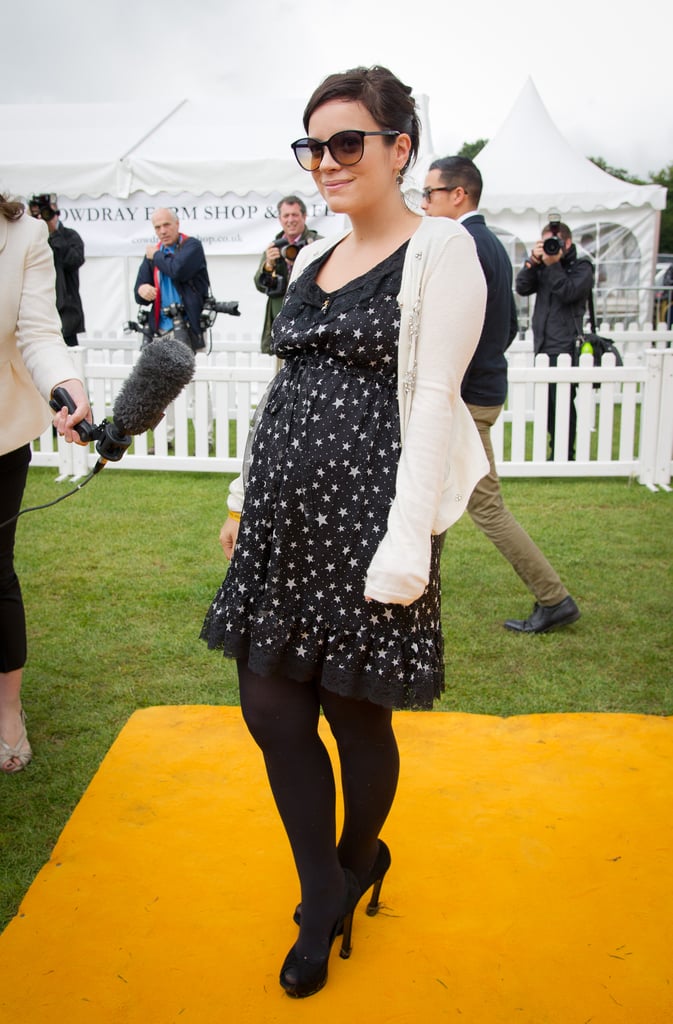 The British songstress announced her pregnancy at her wedding [17]; later she looked lovely in an empire-waist sundress and cream cardigan.
Ashlee Simpson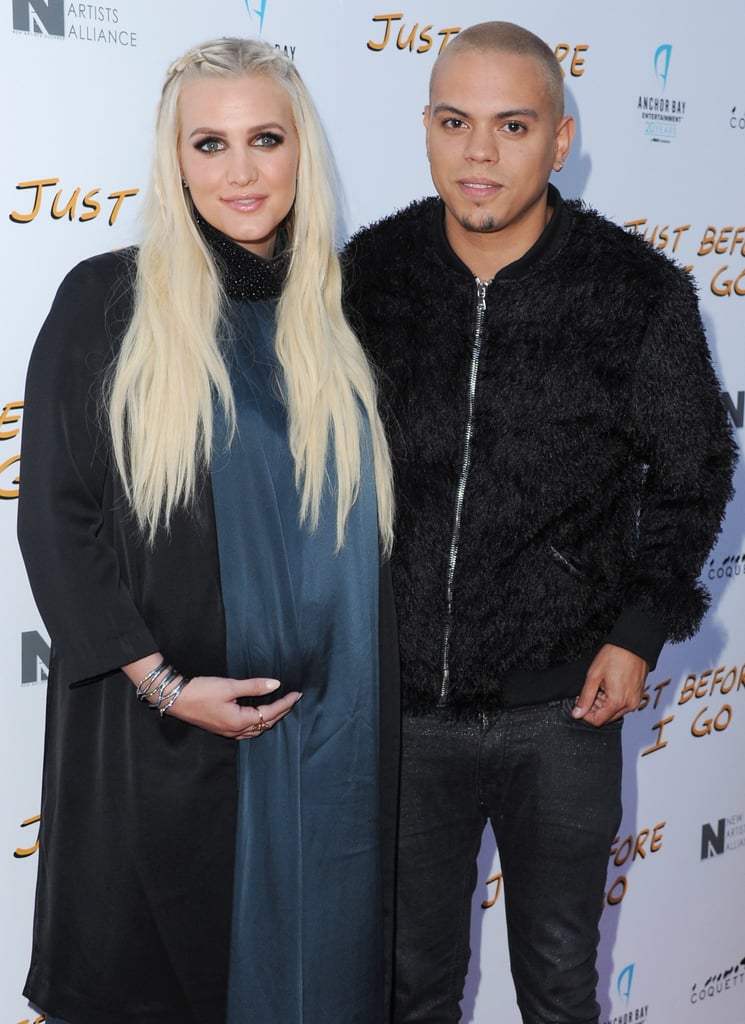 While pregnant with baby number two, Ashlee Simpson [18] flaunted her expanding form in an oversize teal dress with a long, black coat while out with her husband, Evan Ross.
Jessica Capshaw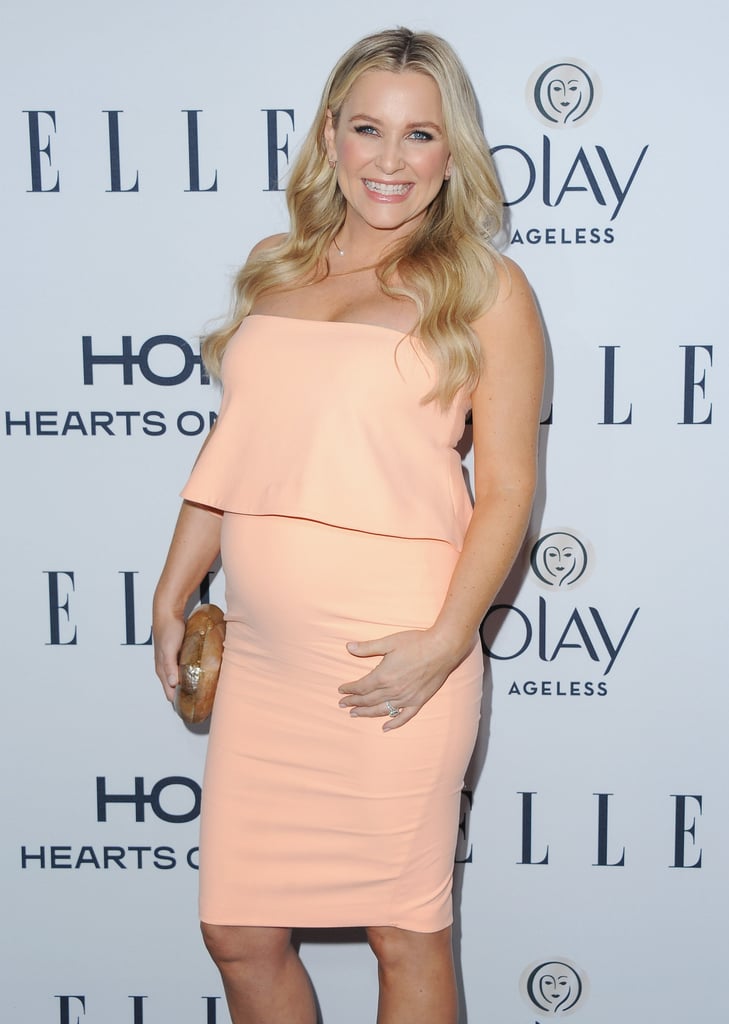 The Grey's Anatomy star glowed while showing off her baby bump in a soft peach dress with an empire waist and modern peplum.
Beyoncé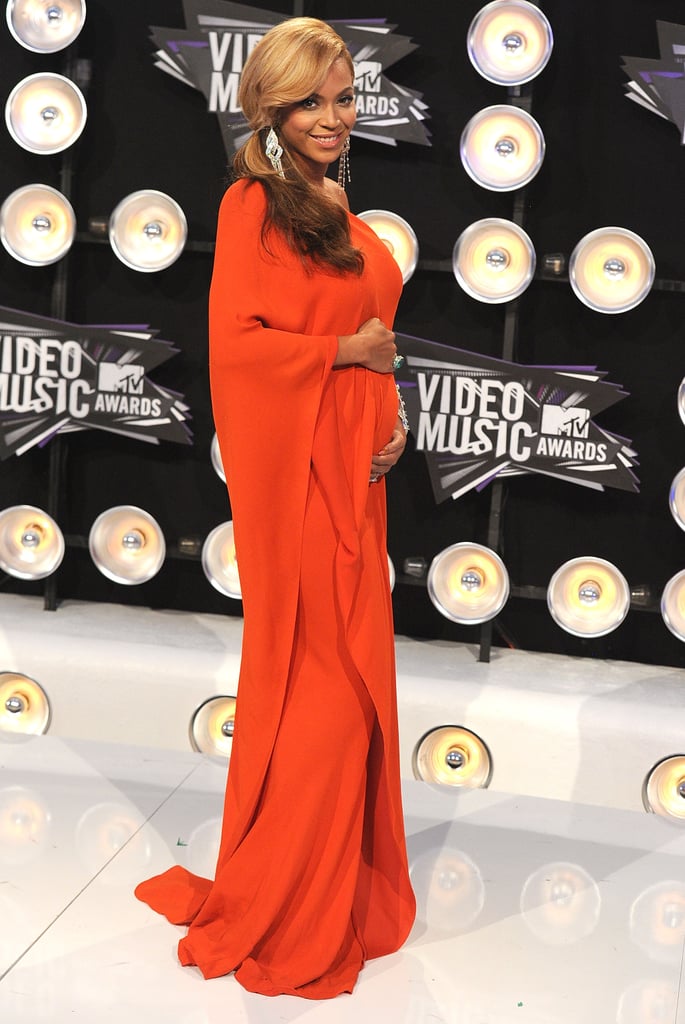 Beyoncé stepped out in a bright orange Lanvin gown on the Video Music Awards red carpet. She made her official pregnancy announcement that same night during a performance of her hit "Love on Top."
Hilary Duff
The mom to Luca [19] wore a sequin-embellished chartreuse dress that showed off her stunning curves at the Beauty Book For Brain Cancer launch.
Christina Aguilera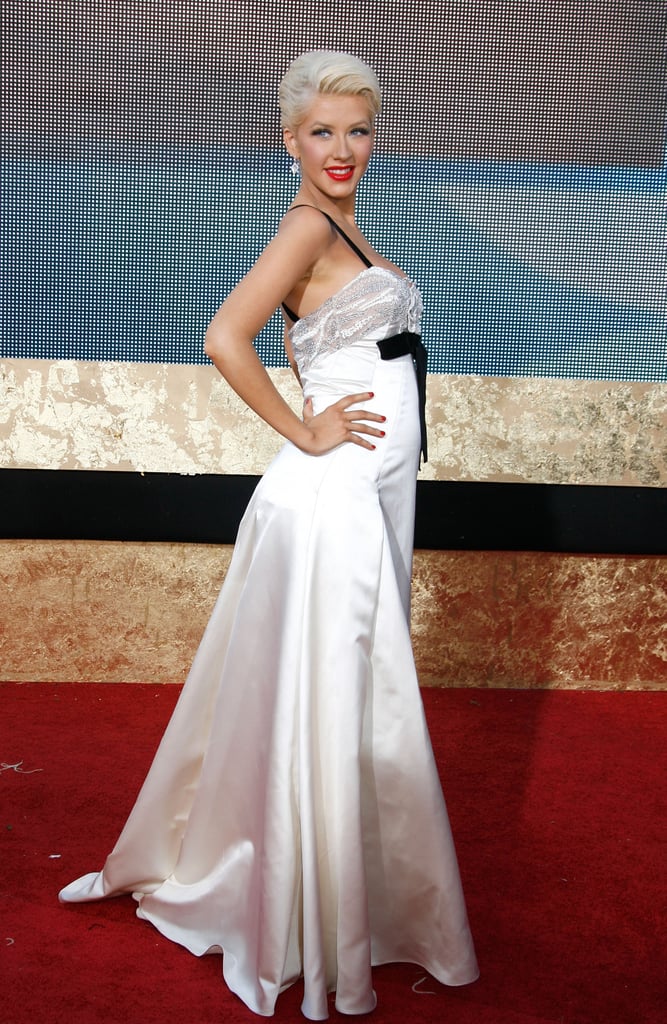 While pregnant with her son, Max, Christina Aguilera [20] channeled a classic and glamorous vibe at the Emmys in September 2007.
Katie Holmes
It's hard to remember a time when Katie was without Suri, but in 2006, at a screening of Mission: Impossible III, the stylish mama was anxiously awaiting her mini trendsetter's arrival.
Jaime King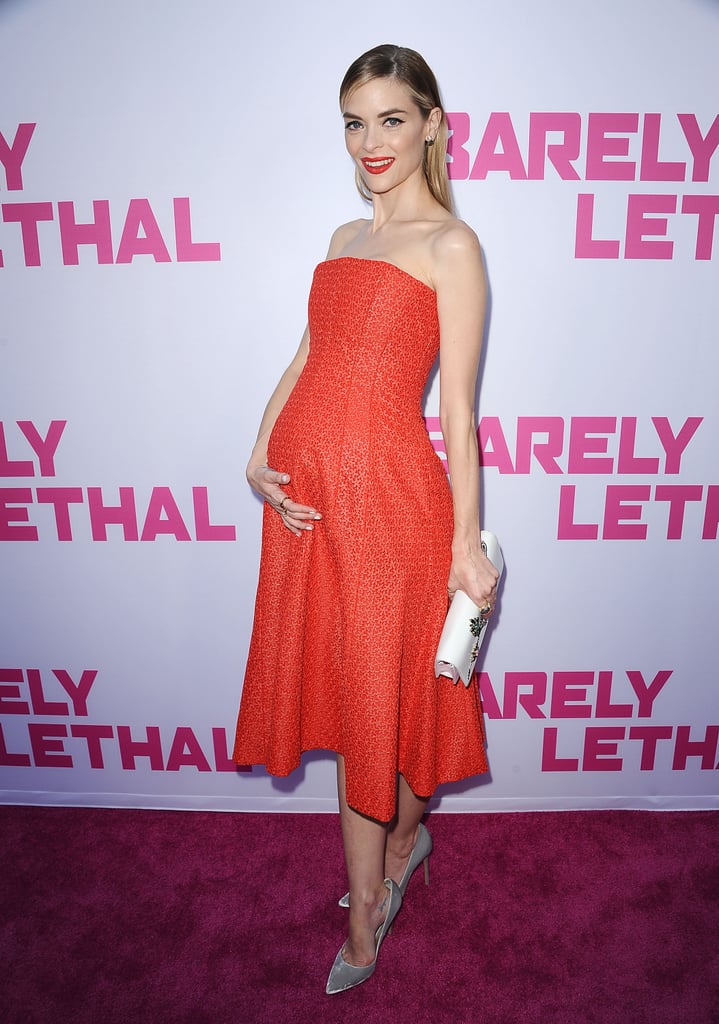 In 2015, Jaime kept her bump classy in a strapless rose dress with a floral-embossed print. We love the cheerful look and the white leather clutch.
Sienna Miller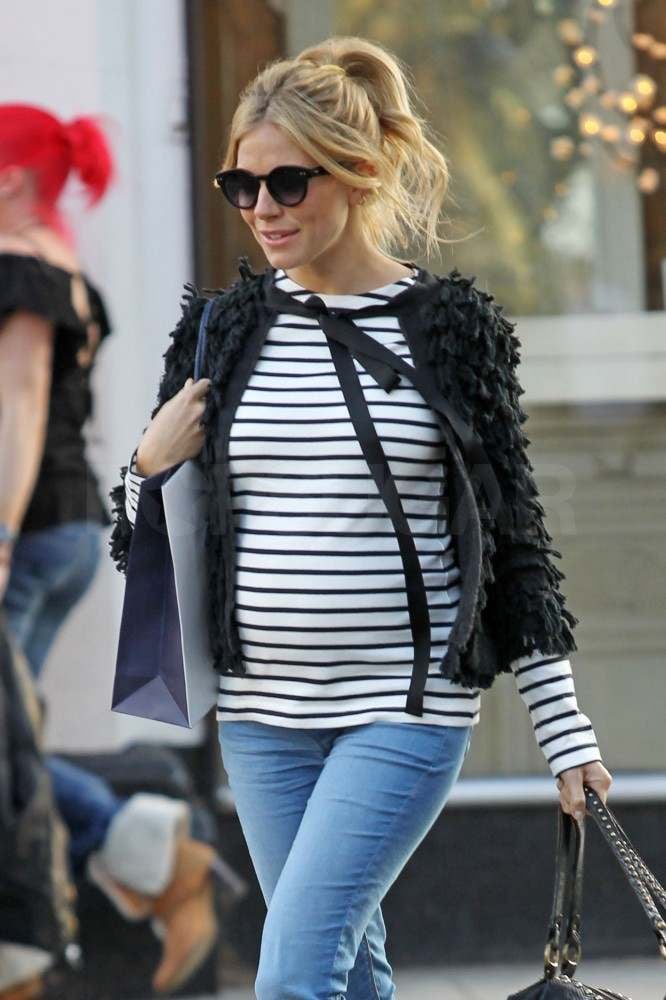 Sienna Miller [21] filmed a commercial for Amore Pacific skin care line on the streets of London while pregnant with her first child. Her striped shirt and ruffled sweater clearly emphasized her second-trimester bump.
Soleil Moon Frye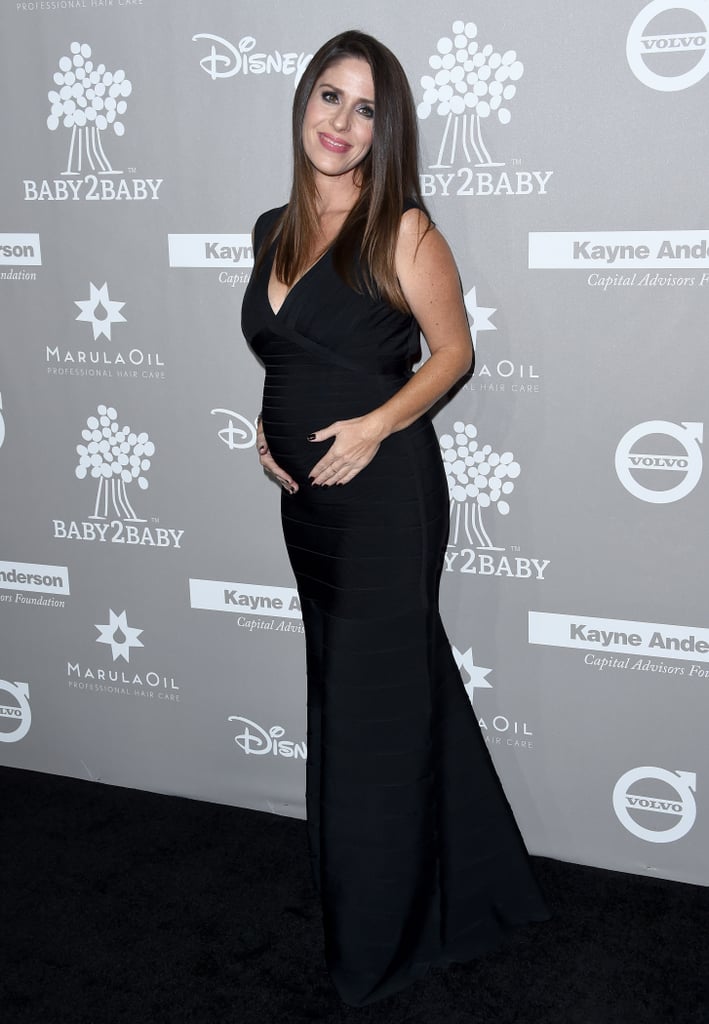 A timeless formfitting black gown accented the actress's curves at the Baby2Baby Gala.
Busy Phillips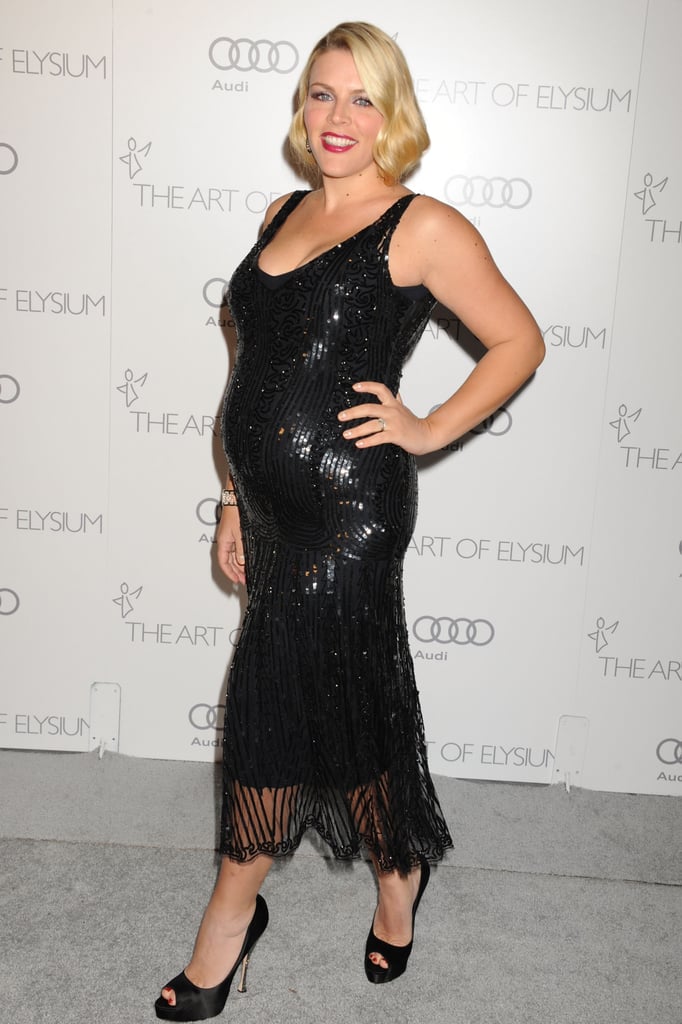 Busy knows how to rock a red carpet bump, and her Art of Elysium look was no exception. A beaded Alberta Ferretti dress, Brian Atwood heels, and a faux bob was one of her best looks ever, pregnant or not.
Tiffani Thiessen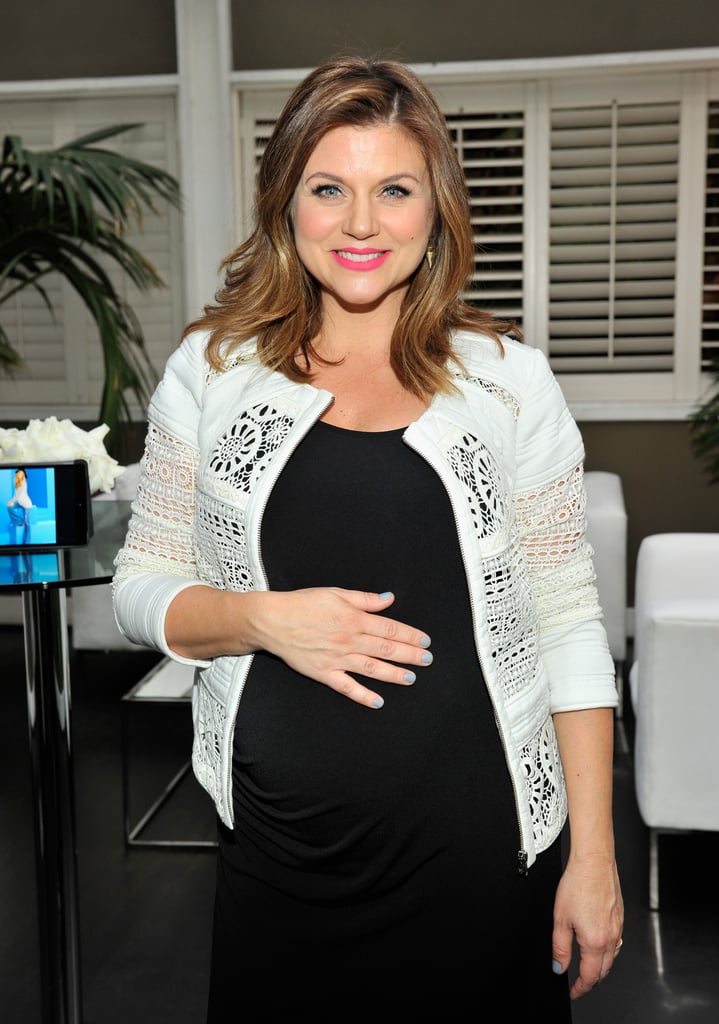 While expecting her second child, Tiffani Thiessen chose a simple, black, curve-hugging dress paired with a contrasting white jacket.
Jenna Fischer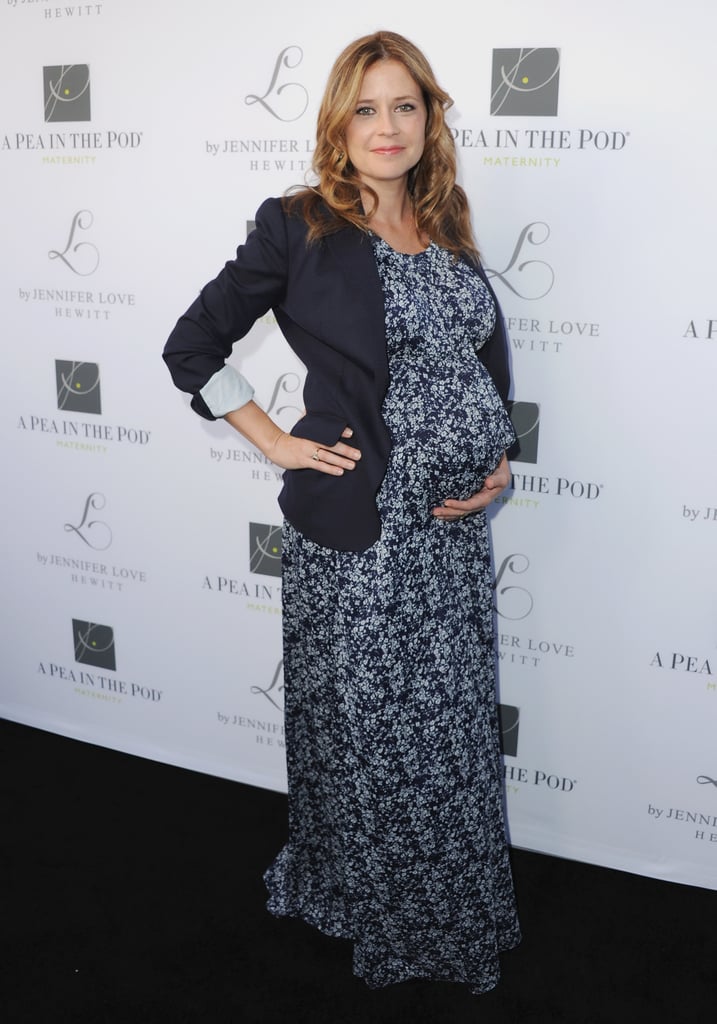 While attending a maternity fashion event, Jenna Fischer showed off her own stellar style in a long, floral gown covered with a navy blazer.
Christina Applegate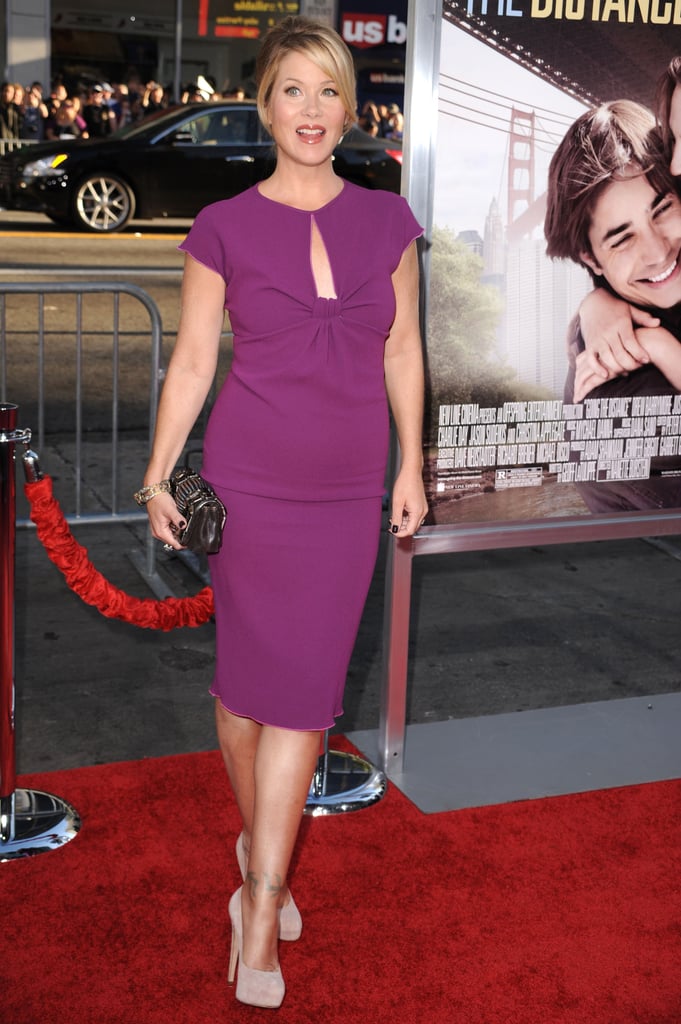 Christina opted for a nonmaternity, body-hugging Max Mara keyhole sheath for the premiere of Going the Distance. The purple dress highlighted the star's bustline and was snug around her belly.
Alyson Hannigan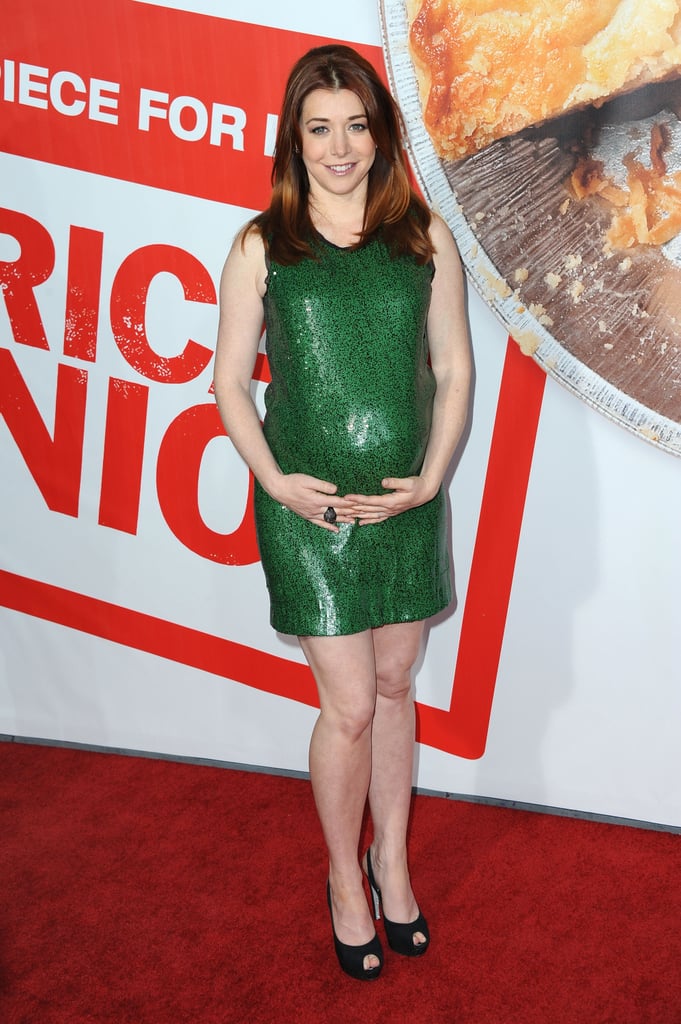 Alyson put her growing baby bump on display at the premiere of American Reunion in a textured emerald dress.
Gisele Bündchen
Being seven months pregnant with her second baby didn't slow Gisele down in the least! She joined Anna Wintour, Mario Testino, and Malcolm Rogers in an all-black ensemble that showed off her toned and tanned legs.
Adriana Lima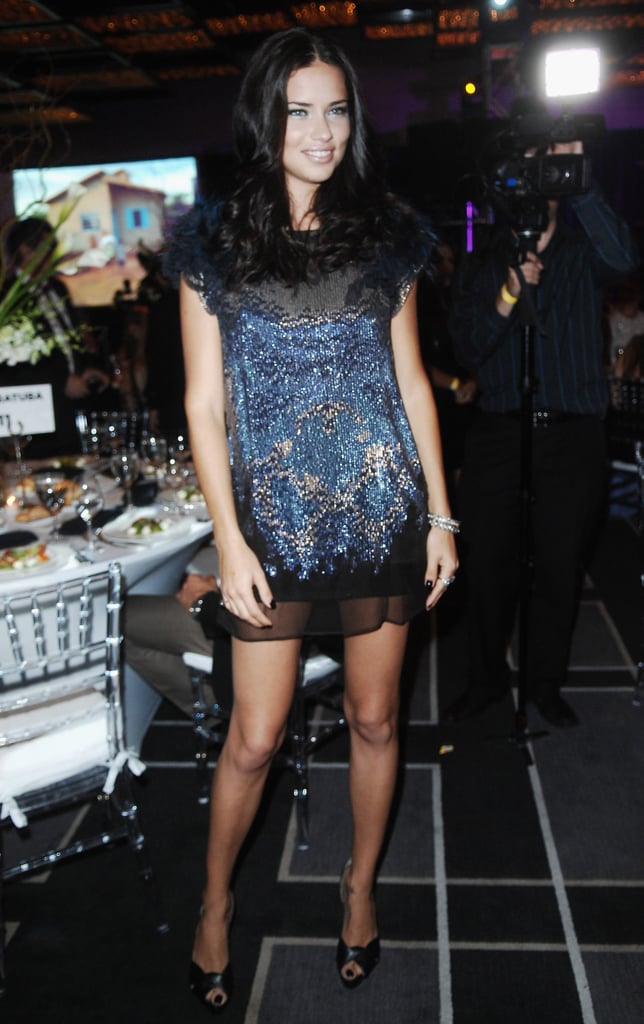 Victoria's Secret [22] star Adriana Lima announced she's expecting her second child shortly before appearing in a daring see-through and sparkly dress.
Alessandra Ambrosio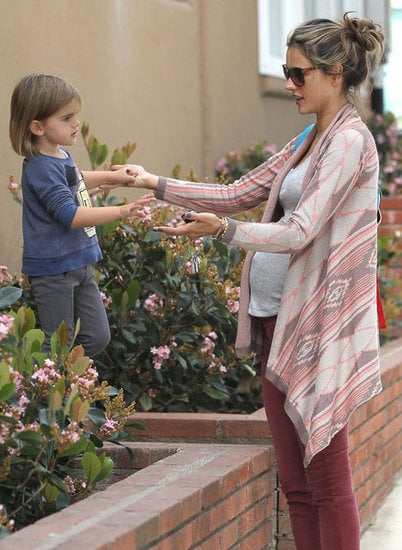 The Victoria's Secret mama was spotted looking casually chic in Santa Monica, CA, with her 2-year-old daughter, Anja.
Carla Bruni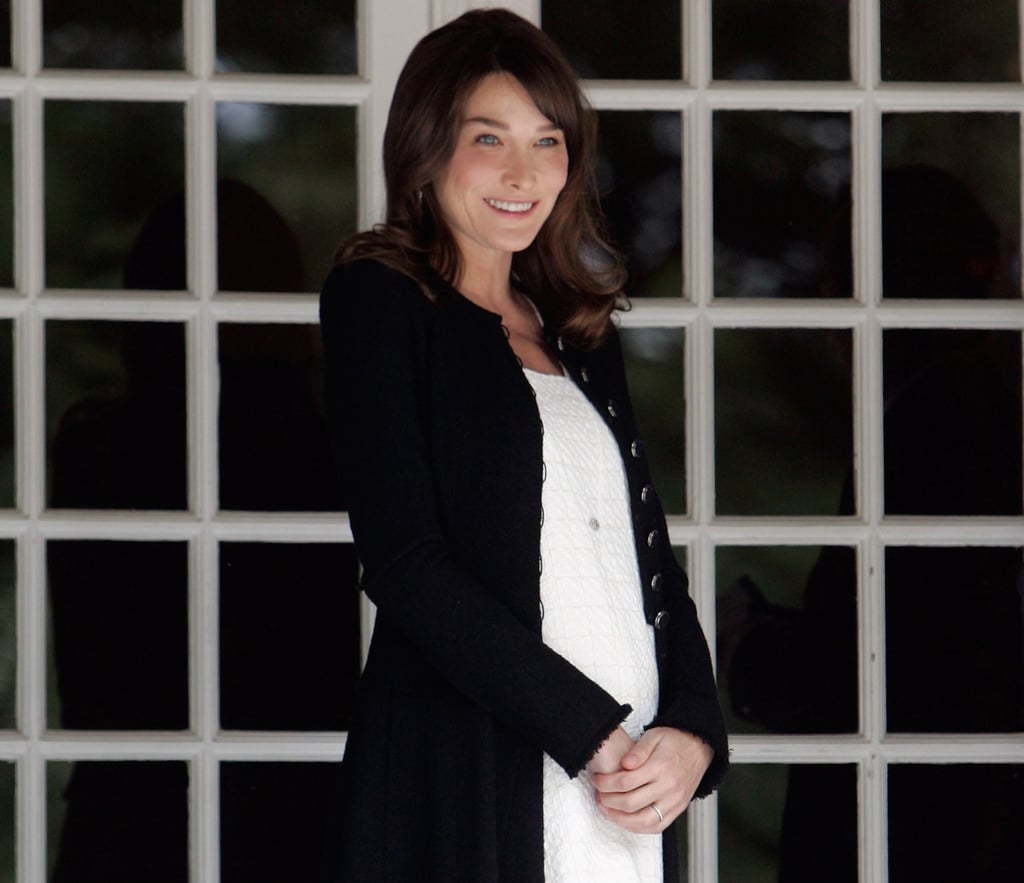 Carla Bruni hadn't officially announced her pregnancy when she wore a white smock dress and black coat that did little to hide her growing midriff.
Reese Witherspoon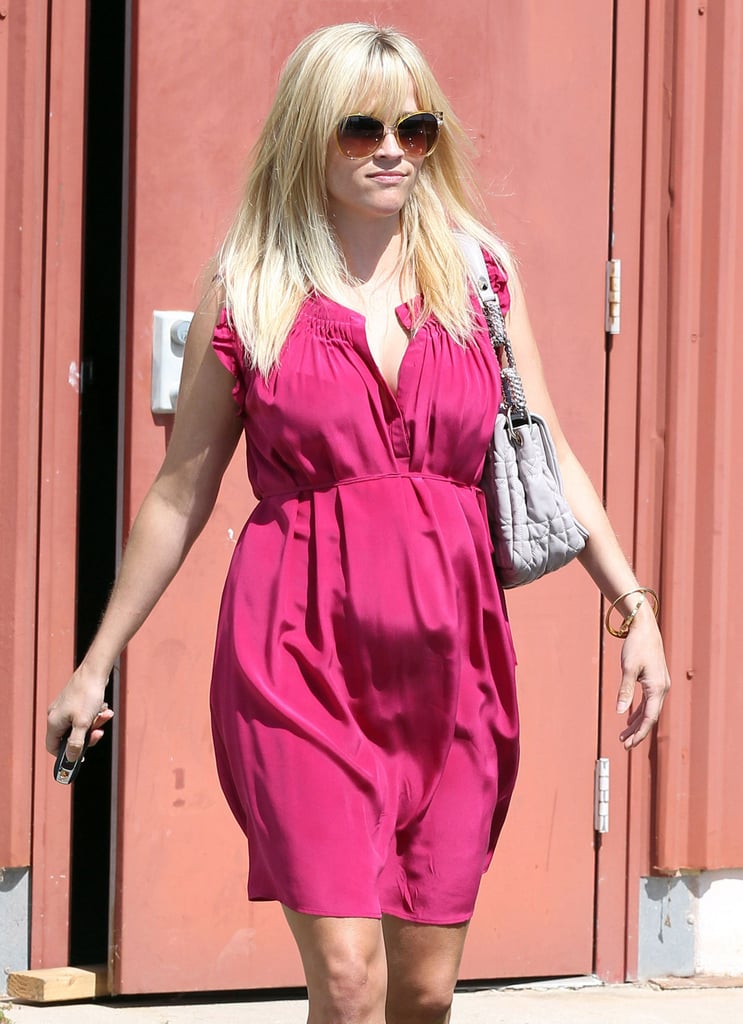 Though Reese Witherspoon [23] still hadn't officially announced her pregnancy with baby Tennessee, the star's bright pink Easter dress left little to the imagination.
Vanessa Lachey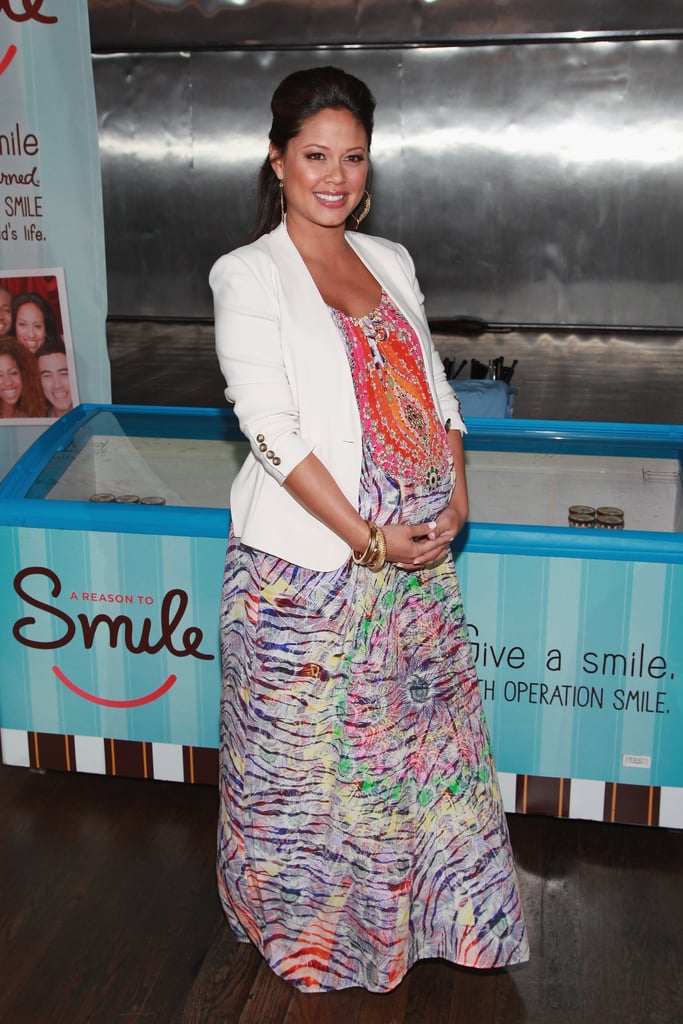 Vanessa Lachey attended an event in New York City wearing a colorful print dress and a white cardigan.
Camila Alves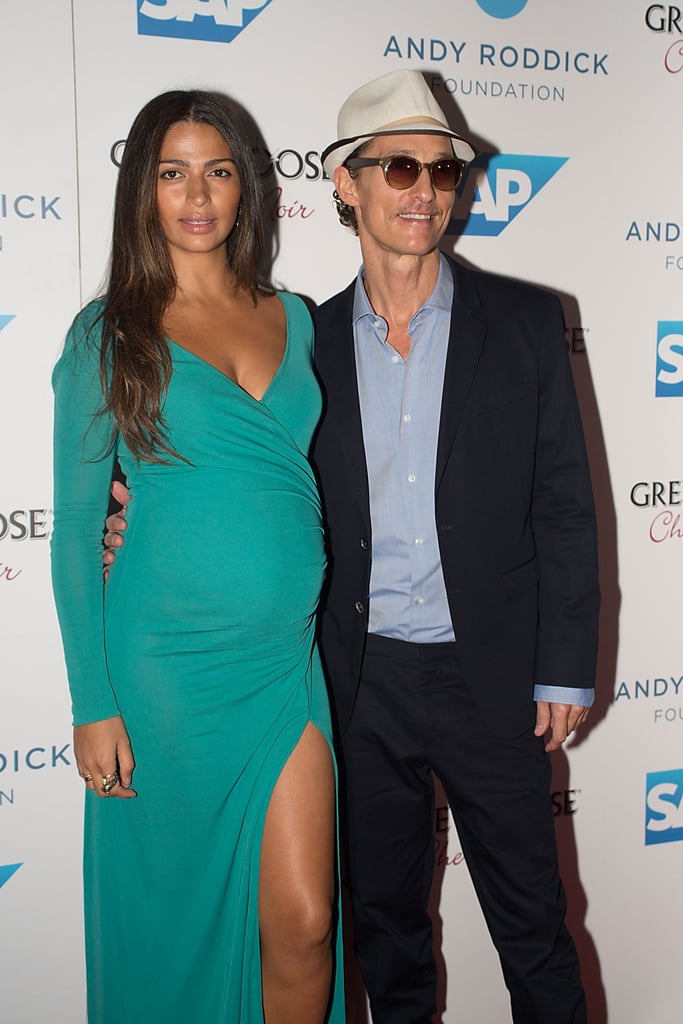 Camila cradled her baby bump alongside Matthew McConaughey [24] while decked out in a ruched, long-sleeved teal dress.
Natalie Portman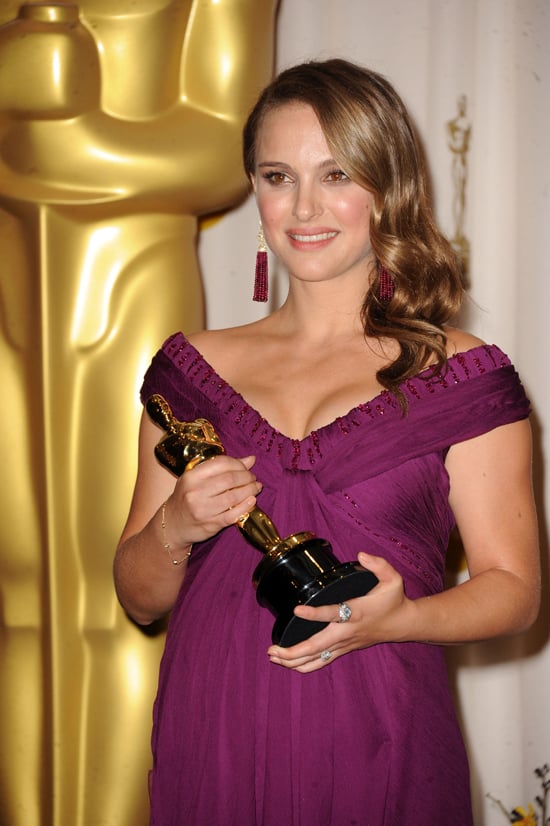 At the 2011 Oscars, the six-months-pregnant Portman wore a stunning purple gown by Rodarte, the design duo that created her dramatic costumes for Black Swan.
Jane Krakowski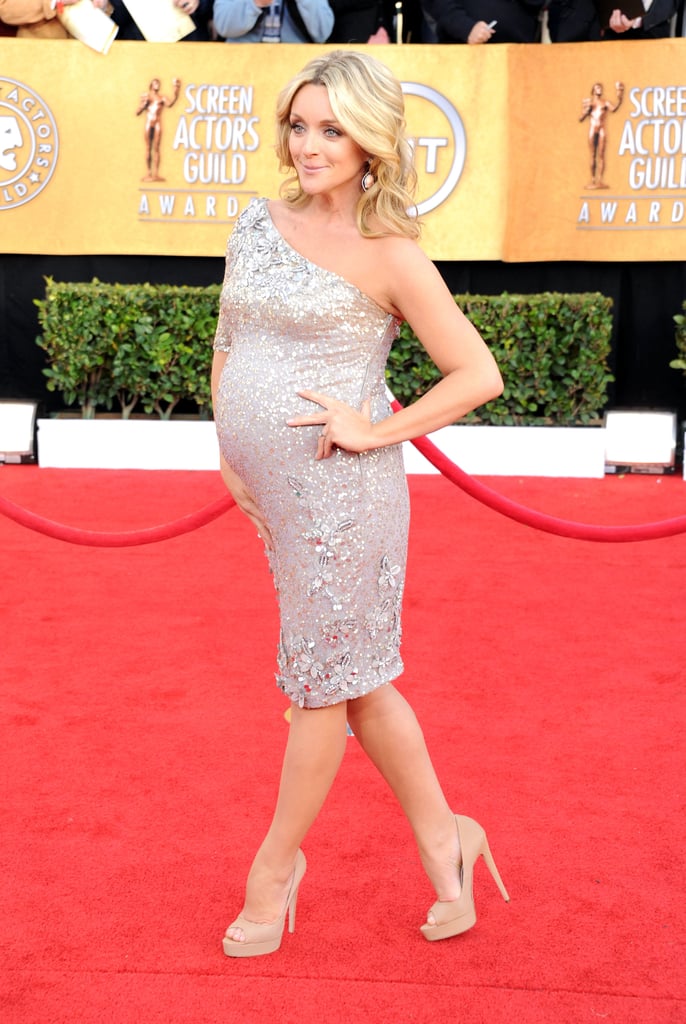 The 30 Rock star showed off her bump in a shimmering design at the SAG Awards in 2011.
Jennifer Lopez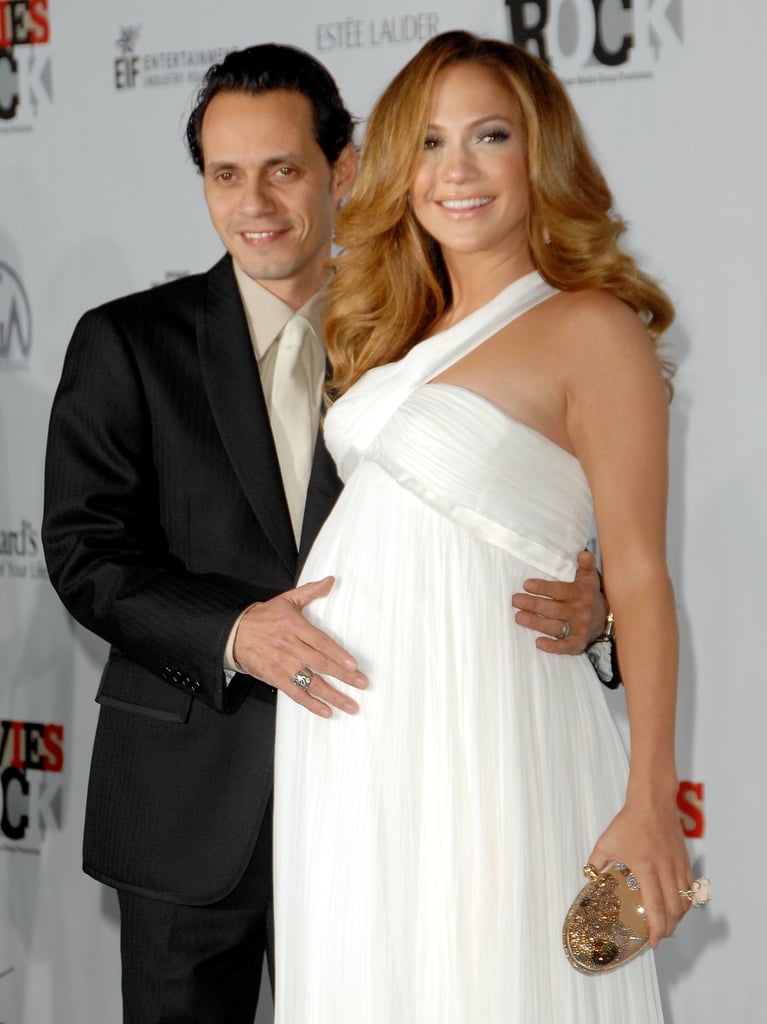 Jennifer Lopez [25] stunned in a white Versace Resort gown while attending the 2007 Movies Rock event with her then-husband, Marc Anthony [26].
Sarah Michelle Gellar
Sarah Michelle and Charlotte wore complementary pink and purple on the way to a playdate in LA last Summer.
Lily Aldridge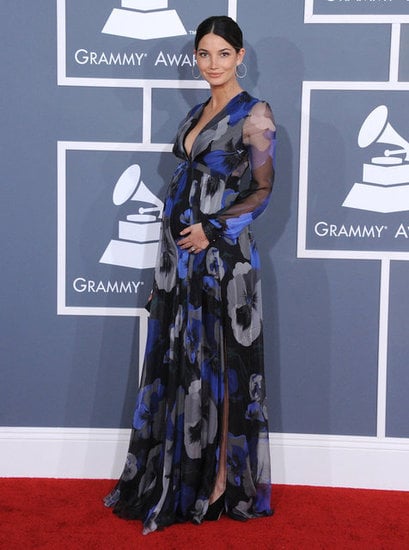 The gorgeous Victoria's Secret model showed off a subtle bump in a printed chiffon gown at the 54th annual Grammy Awards.
Molly Sims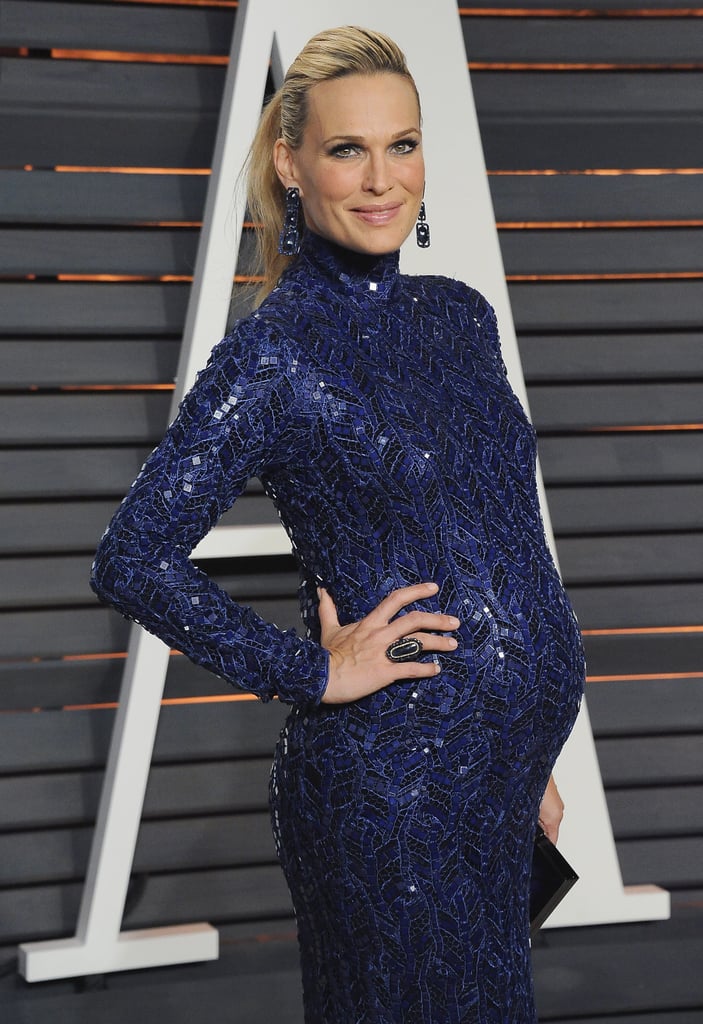 Molly wore a navy beaded gown for the Vanity Fair Oscars party before the birth of her second child.
Paula Patton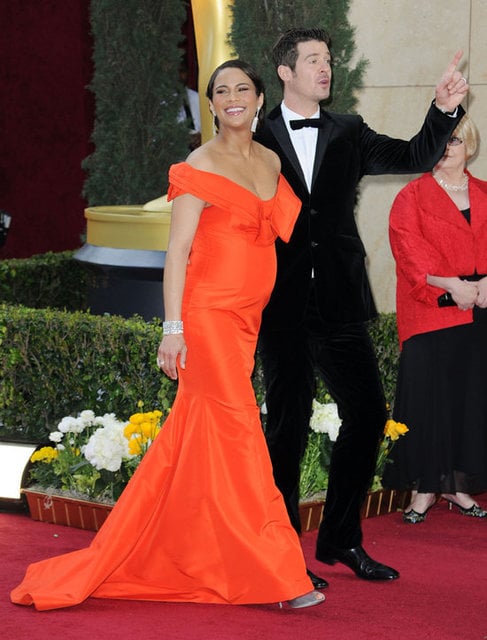 Walking the red carpet with then-husband Robin Thicke, Paula Patton was exquisite in an off-the-shoulder Carolina Herrera gown at the 2010 Vanity Fair Oscars party.
Gwen Stefani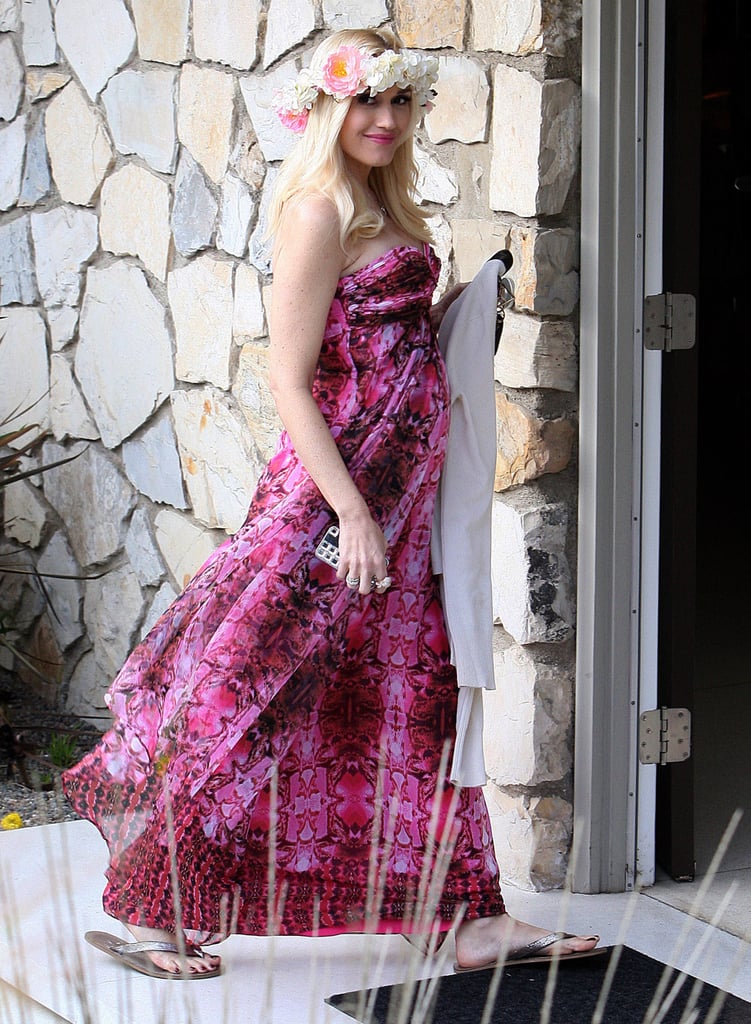 Gwen Stefani [27] was all smiles while arriving at a friend's baby shower in a flowing strapless maxi dress.
Kate Hudson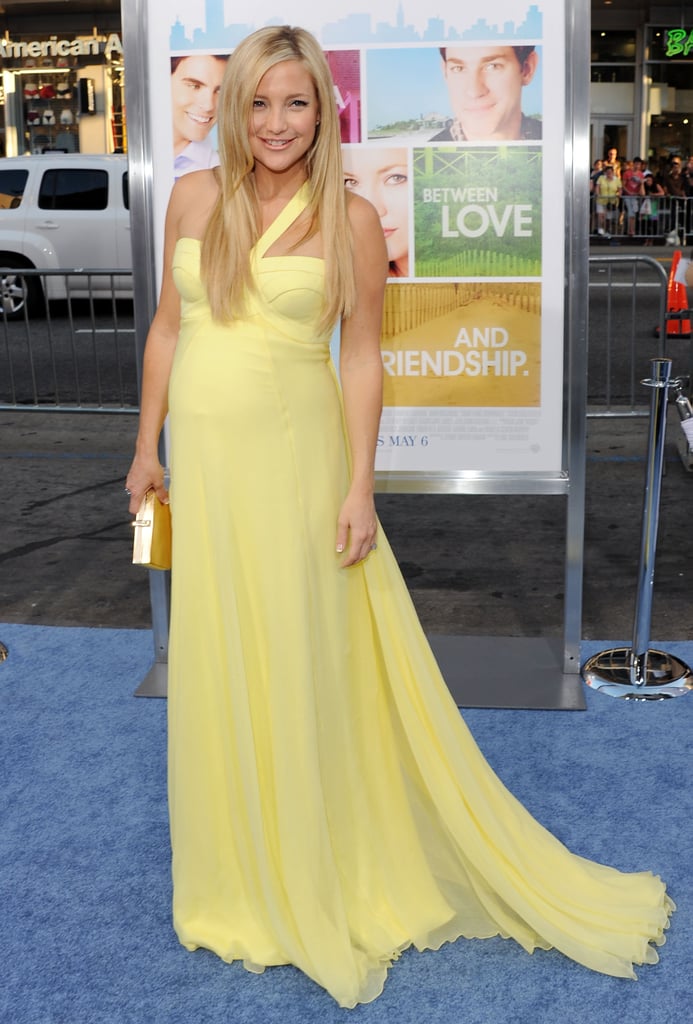 Channeling her How to Lose a Guy in 10 Days look, Kate Hudson [28] draped her baby belly in a bright yellow Versace gown for the premiere of Something Borrowed while pregnant with son Bingham.
Kourtney Kardashian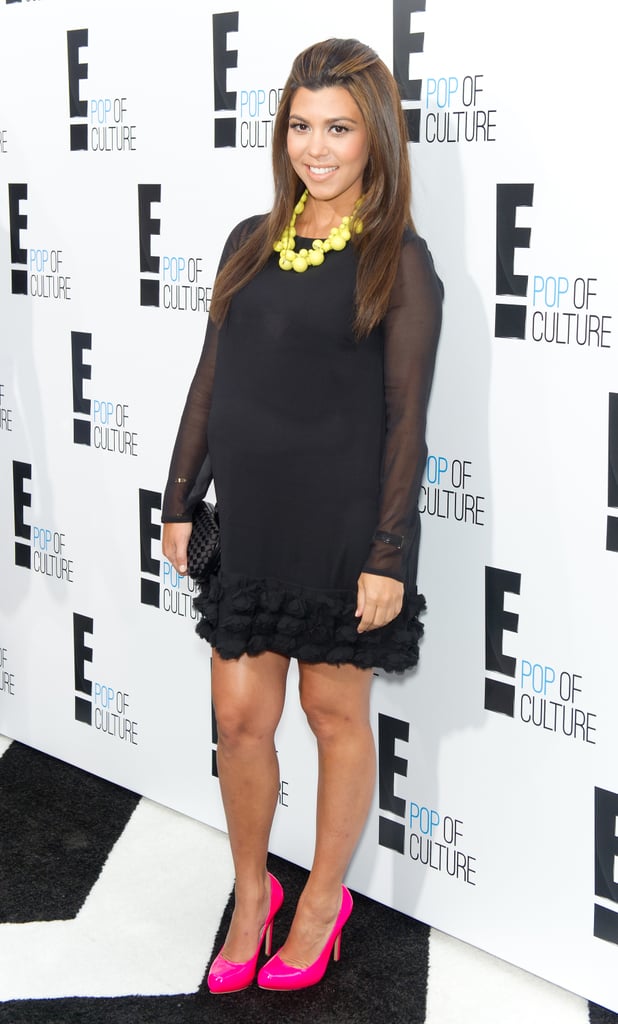 Kourtney Kardashian attended the E! Upfronts in New York City wearing a simple chic black Gomez-Gracia dress and neon accessories, including Alexander McQueen shoes and a DIY [29] necklace, while expecting baby Penelope.
Jessica Simpson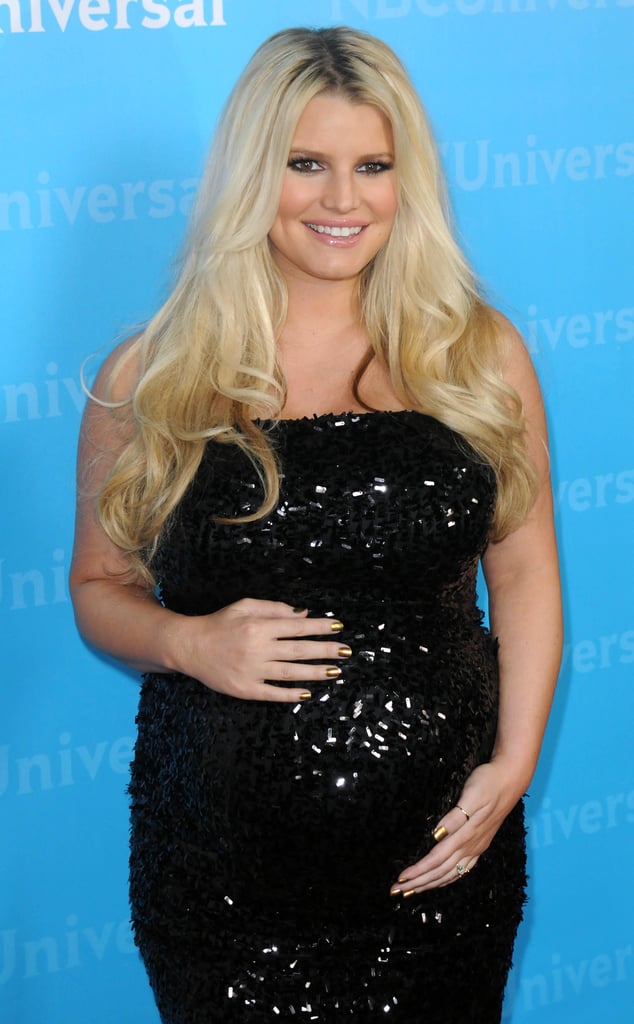 Jessica Simpson [30] glowed in an embellished black dress before the birth of her daughter, Maxwell.
Alicia Keys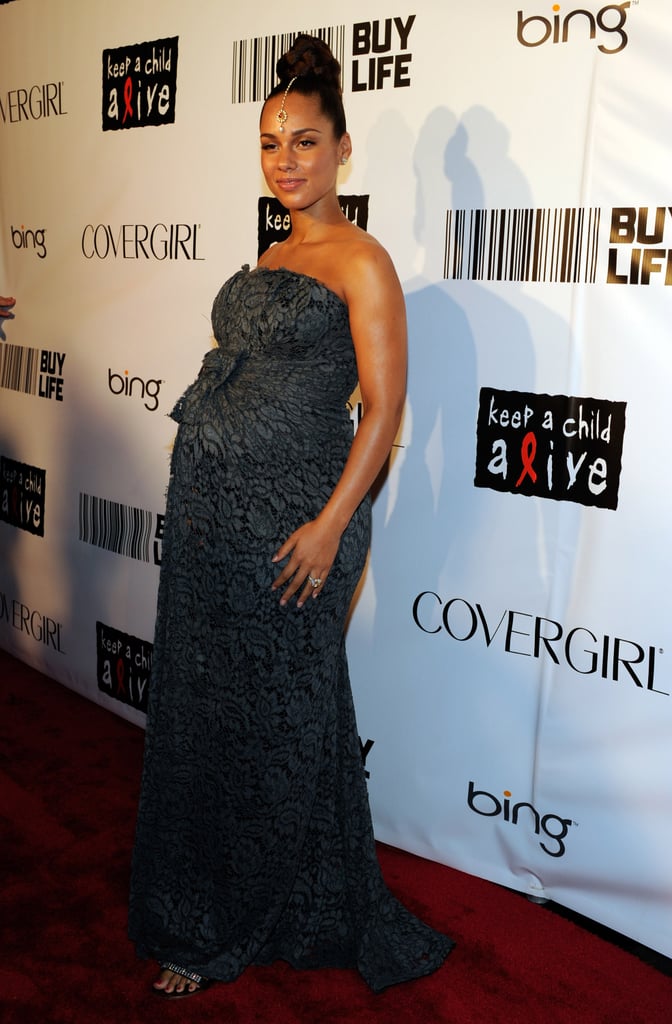 Alicia Keys [31] hit the red carpet while expecting her son Egypt, born in October 2010.
Rachel Weisz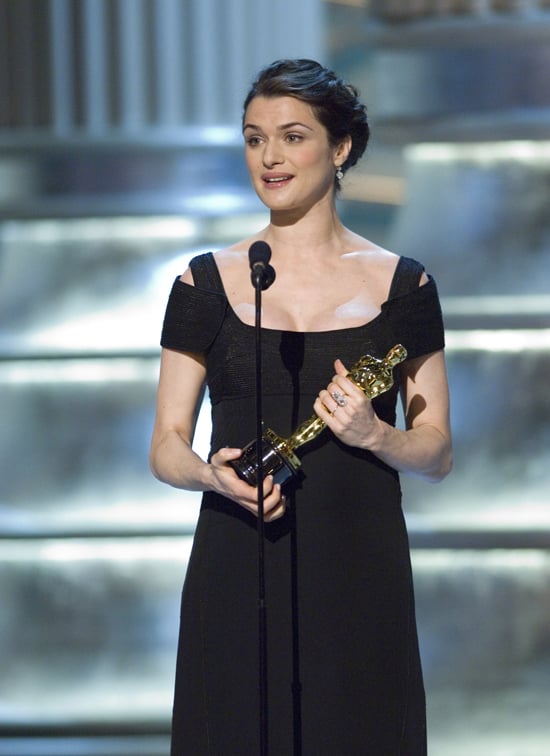 Rachel Weisz [32] was seven months pregnant at the 2006 Oscars, where she took home the trophy for best supporting actress for her performance in The Constant Gardener. Designer Narciso Rodriguez created three dresses for the actress to choose from. She chose a black off-the-shoulder gown the day of 
the ceremony. Son Henry was born in May 2006.
Bryce Dallas Howard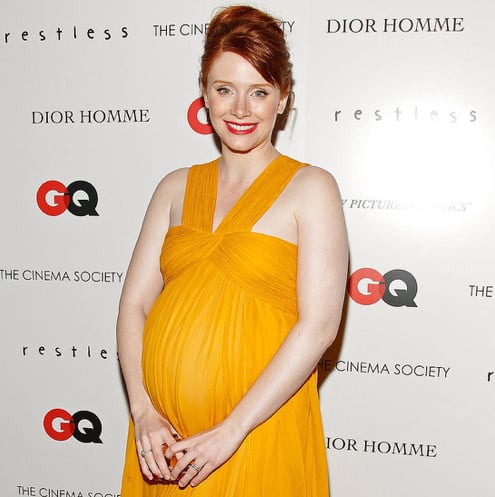 Bryce was radiant in bold yellow pleats during her pregnancy with baby number two.
Doutzen Kroes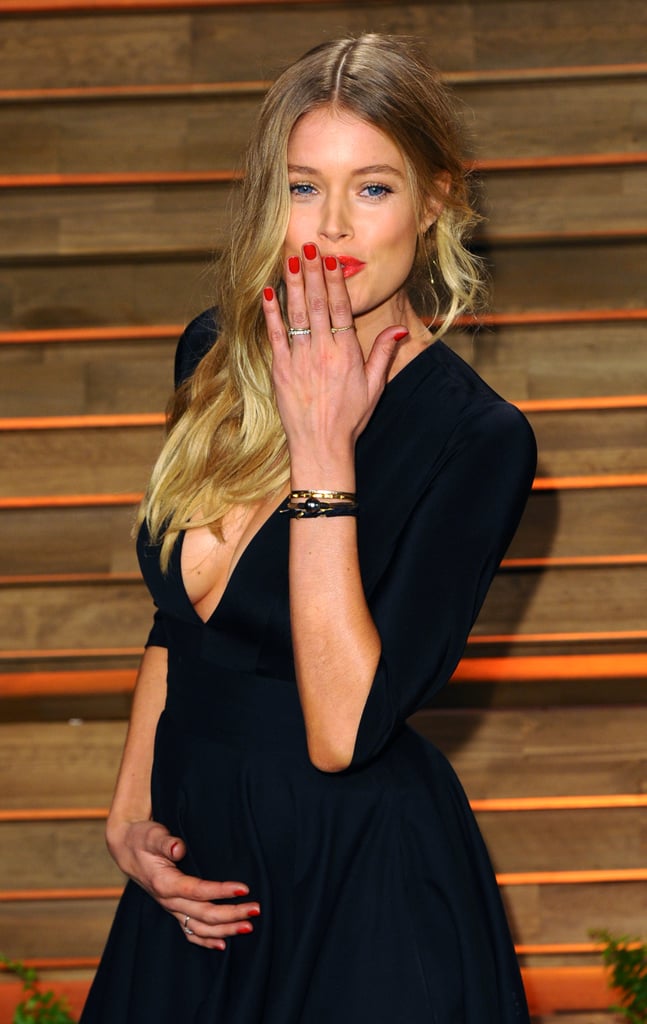 While pregnant with her second child in 2014, model Doutzen Kroes still stunned in a low-cut black gown.
Malin Akerman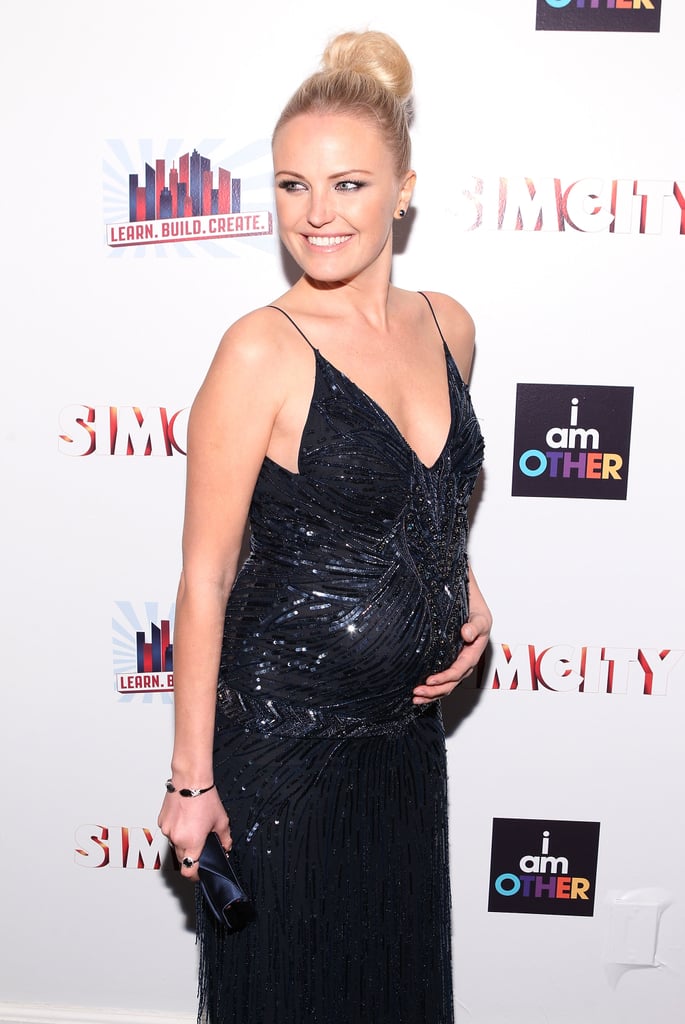 Last November, Malin Akerman hit the Hollywood Foreign Press Association and InStyle's Golden Globes soiree with bold menswear-inspired style. This sexy take on a tuxedo was a clever way to wardrobe the star's pregnant bod.
Claire Danes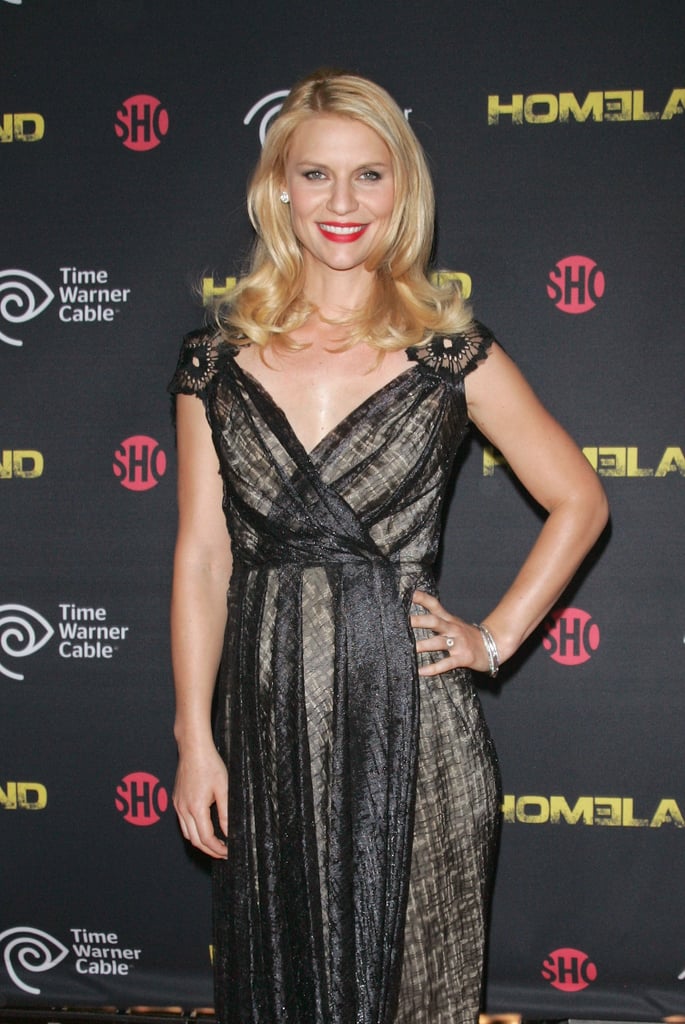 Claire was all smiles on the red carpet for the season two premiere of Homeland at the Intrepid Sea-Air-Space Museum in NYC in September 2012. She looked lovely in black-and-cream lace.
Fergie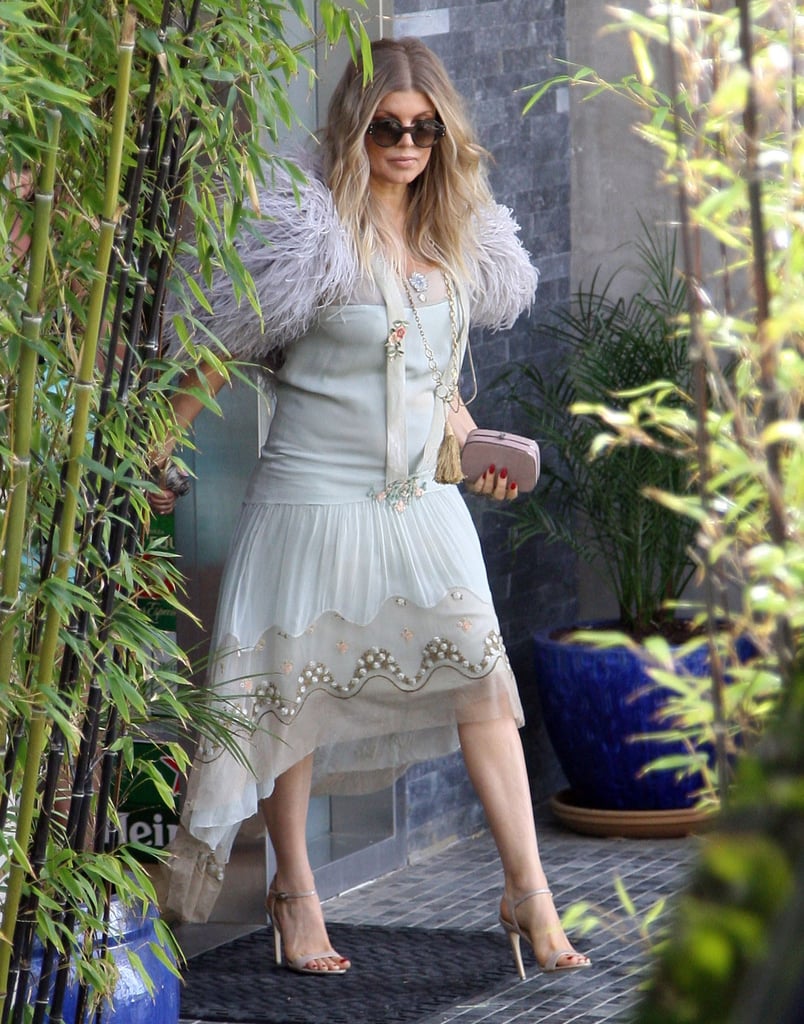 At a bridal shower honoring her younger sister, Dana, Fergie [33] dressed for the French garden-party theme in an embroidered tulle dress and feathered shrug.
Naomi Watts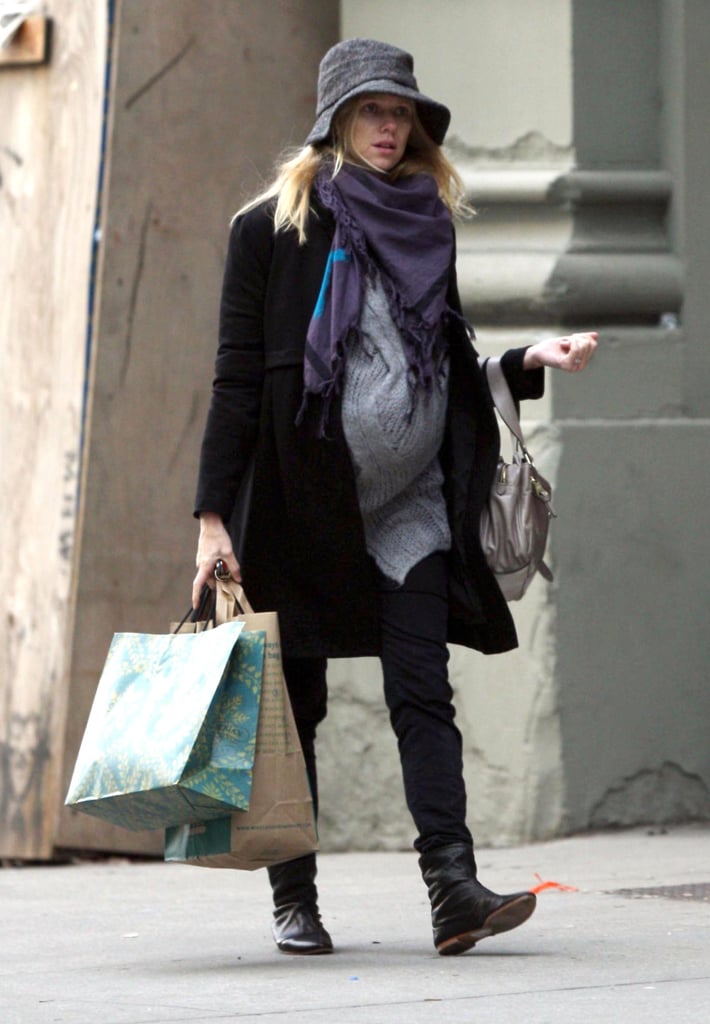 For a trip to the market, Naomi Watts [34] looked downtown chic in a warm sweater, boots, and a beautiful scarf.
Amanda Peet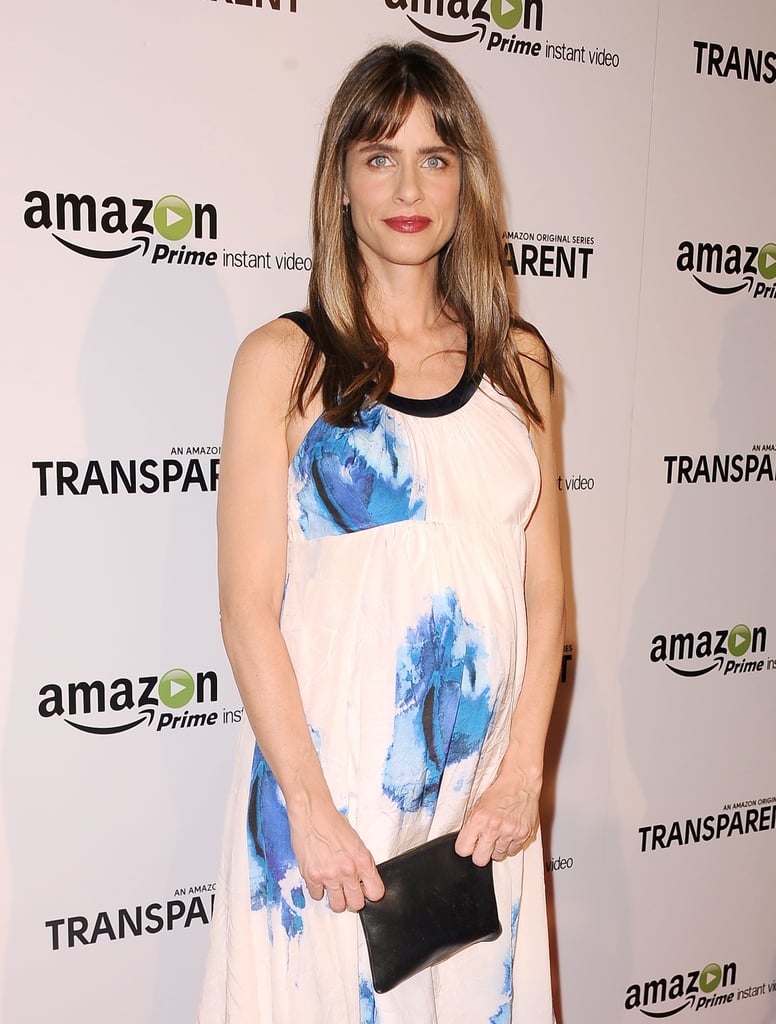 Graphic blue flowers popped against Amanda Peet [35]'s soft dress at the premiere of Transparent.
Catherine Zeta-Jones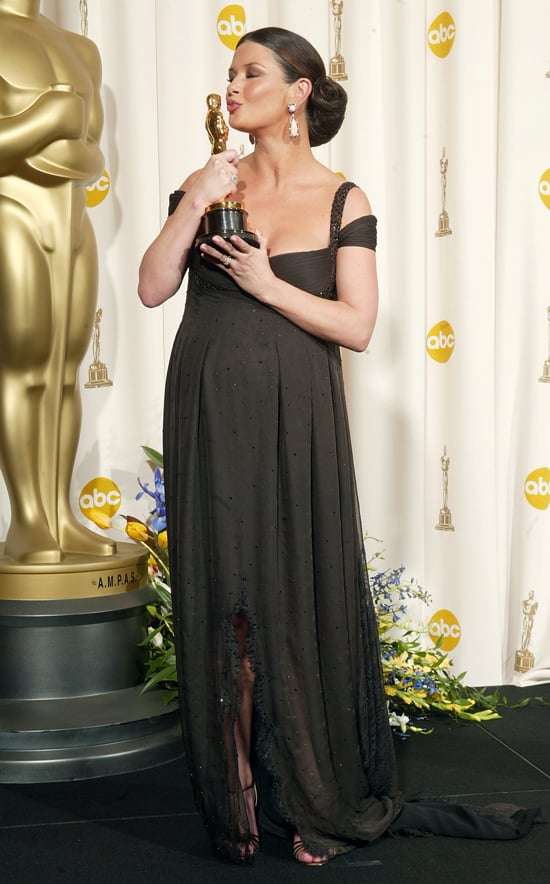 Catherine Zeta-Jones [36] won the best supporting actress trophy for her role in Chicago at the 2003 Oscars while eight months pregnant with daughter Carys. She accepted her award by saying, "My hormones are way too out of control to be dealing with this," but her look will go down in Academy Award history as one of the all-time most memorable.
Elsa Pataky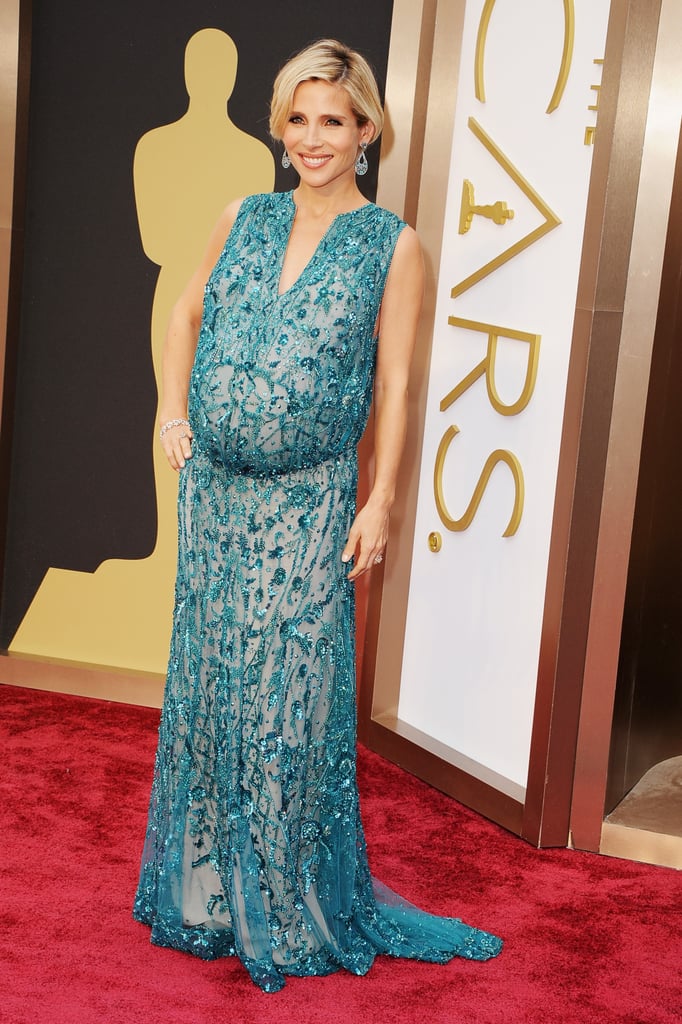 Chris Hemsworth's wife, Elsa Pataky, showed off her belly in a showstopping column gown with an intricately beaded overlay at the 86th annual Academy Awards.
Tina Fey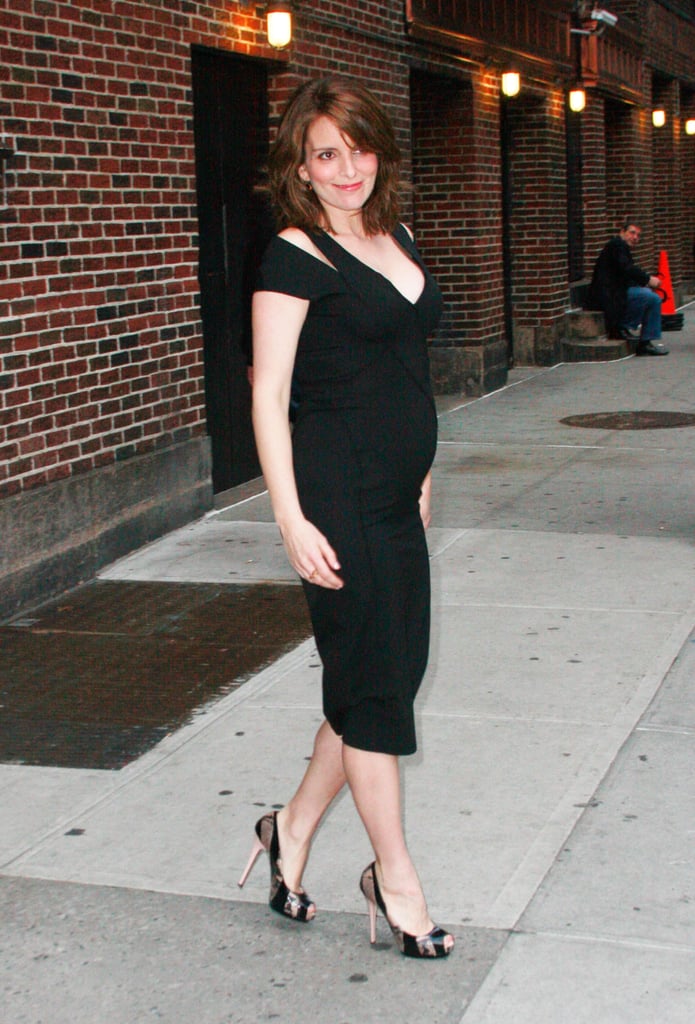 Fey appeared on Late Show With David Letterman while pregnant with her second daughter, Penelope. The comedian showed off her baby curves in a classic, formfitting black dress and heels.
Selma Blair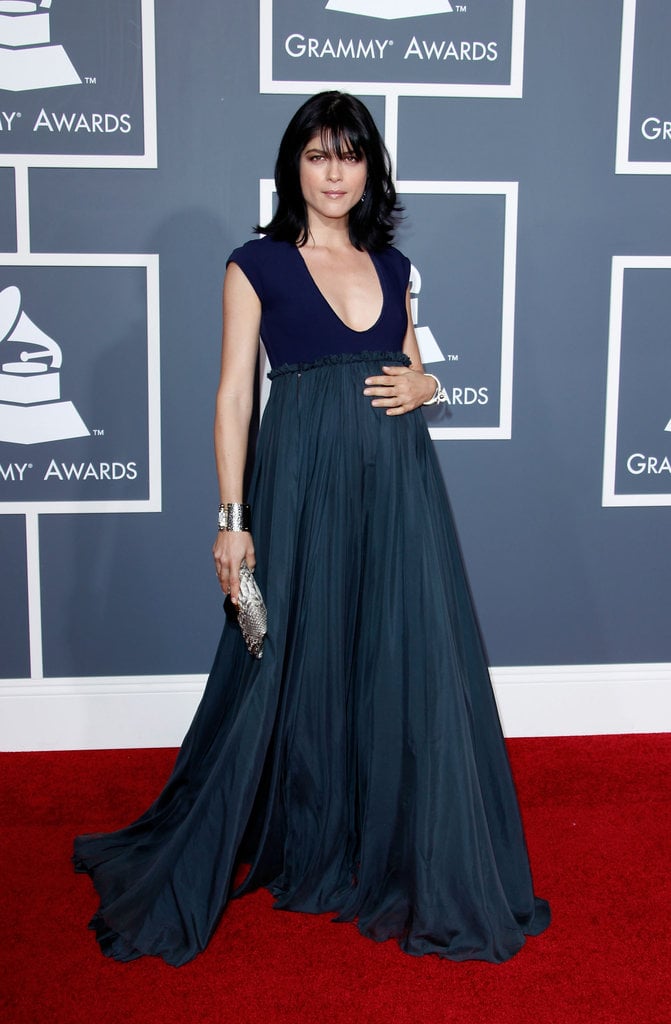 Selma rocked the red carpet at the 2011 Grammy Awards in a deep scoop-neck gown. She gave birth to baby Arthur Saint Bleick in late July.
January Jones
The antithesis of her Mad Men character [37], January was a cool mom-to-be in a white fringe dress while pregnant with baby Xander.
Anna Paquin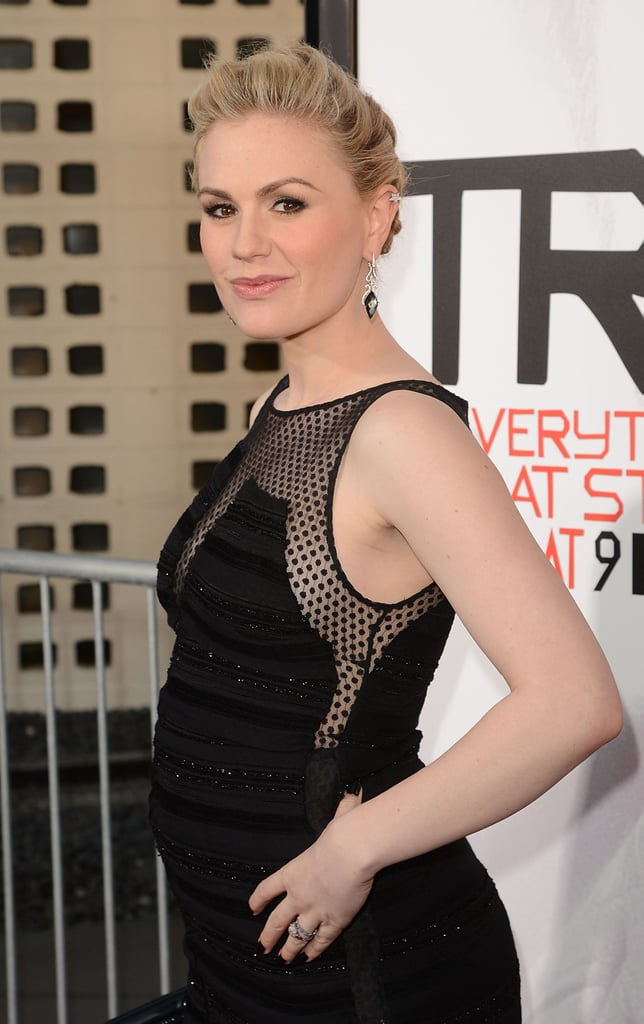 Anna Paquin [38] attended True Blood's fifth season premiere wearing a black, asymetrical dress while pregnant with her twins.
Kate Middleton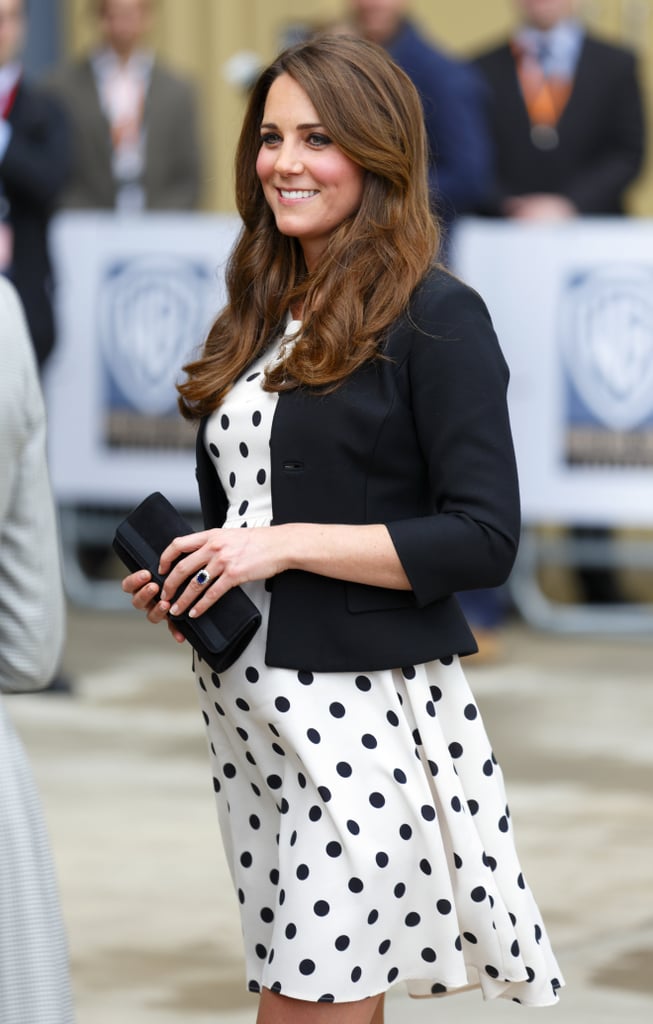 At the inauguration of the new Warner Bros. Studios in London in April 2013, Kate mixed high with low when she paired a polka-dot Topshop dress with a black Ralph Lauren jacket, proving you can be stylish on any budget.
Roselyn Sánchez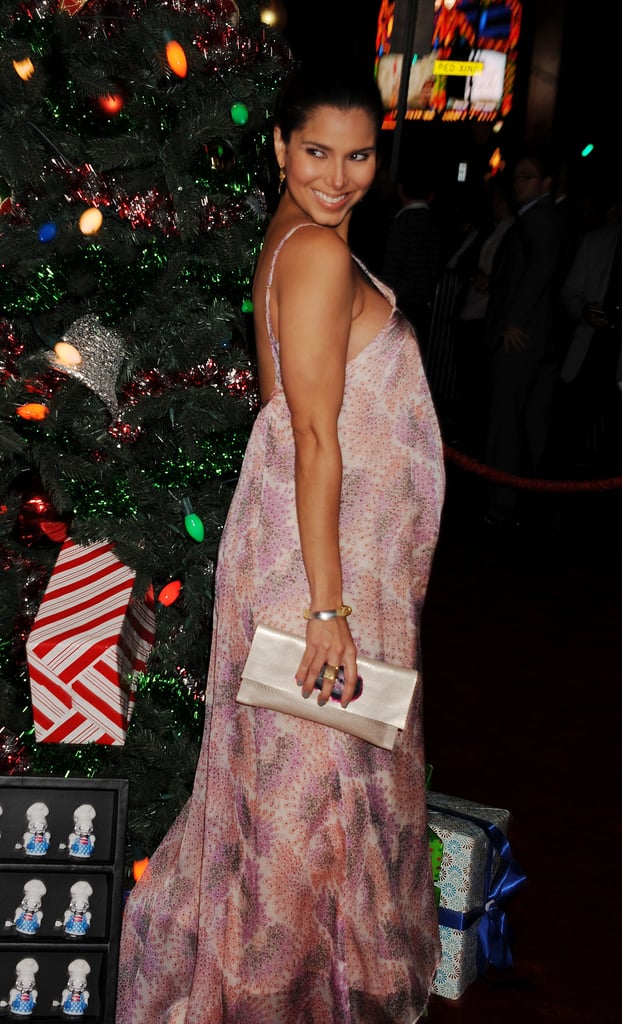 Roselyn showed off her bump last November, before welcoming daughter Sebella Rose Winter on Jan. 4, 2012.
Halle Berry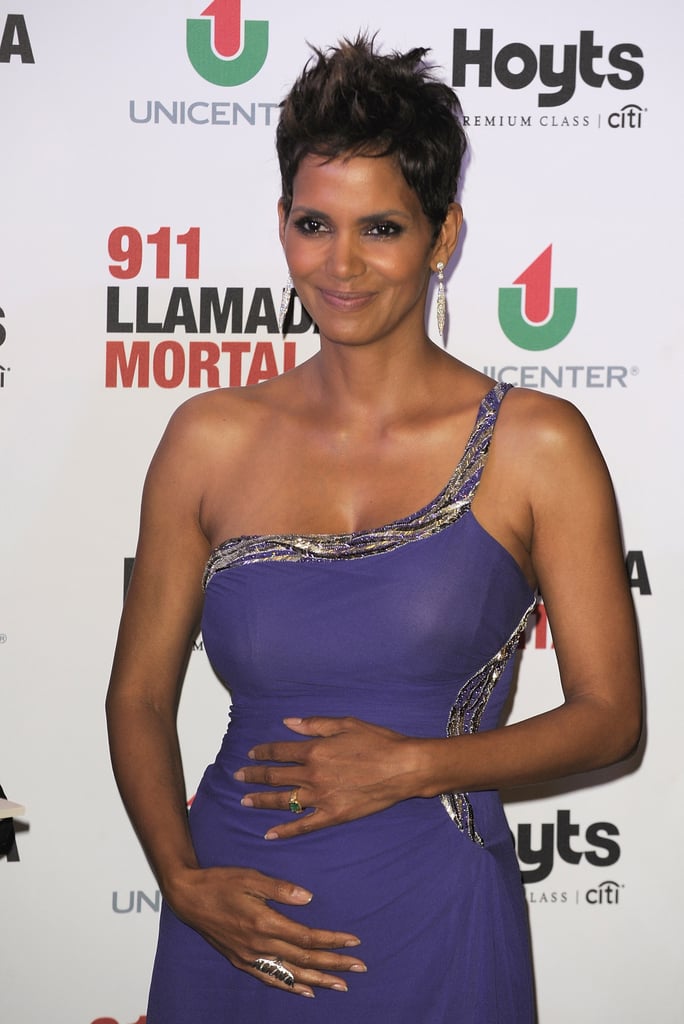 Expecting her second child, Halle Berry [39] showed off her growing bump in a formfitting purple dress at the Call premiere in Buenos Aires, Argentina, in April 2013.
Lake Bell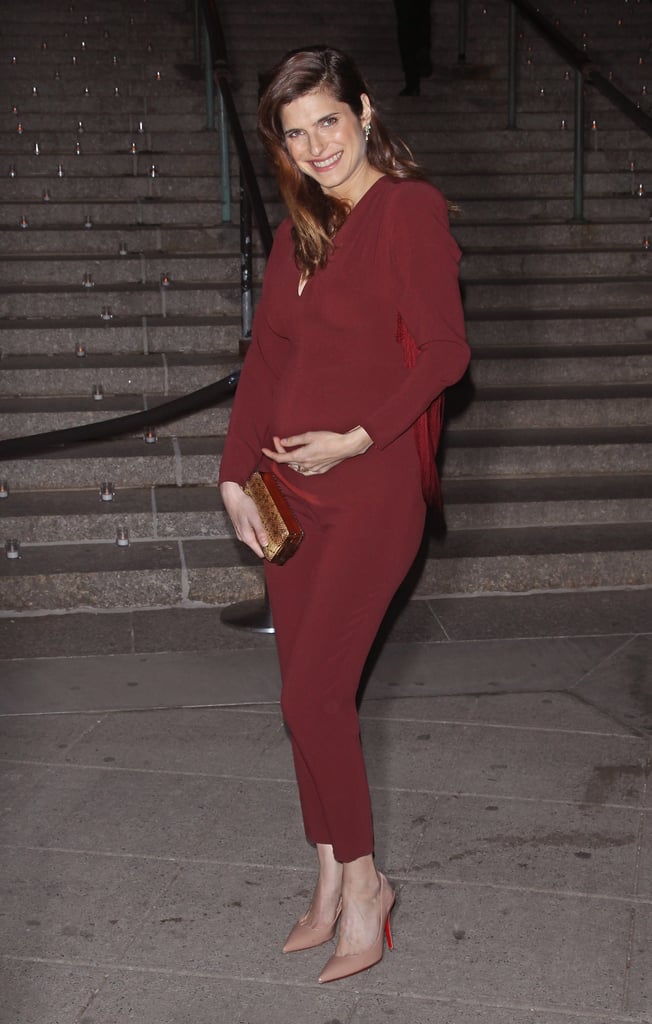 Lake Bell debuted her baby bump on the "red carpet" at the Tribeca Film Festival in NYC wearing a maroon jumpsuit.
Miranda Kerr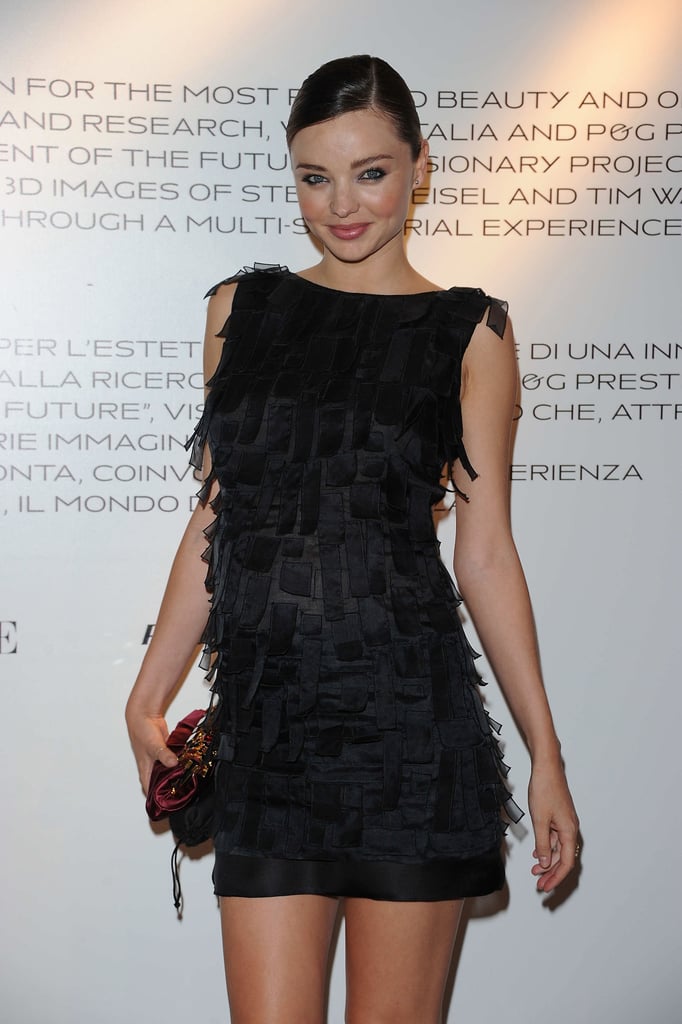 Aussie model Miranda Kerr [40] was five months pregnant, but that didn't stop her — and then-hubby Orlando Bloom [41] — from partying it up during Milan Fashion Week.
Nicole Richie
Nicole Richie [42] epitomized boho-chic style throughout both her pregnancies. While pregnant with Sparrow, she chose a casual look that showed off her little baby belly.
Tori Spelling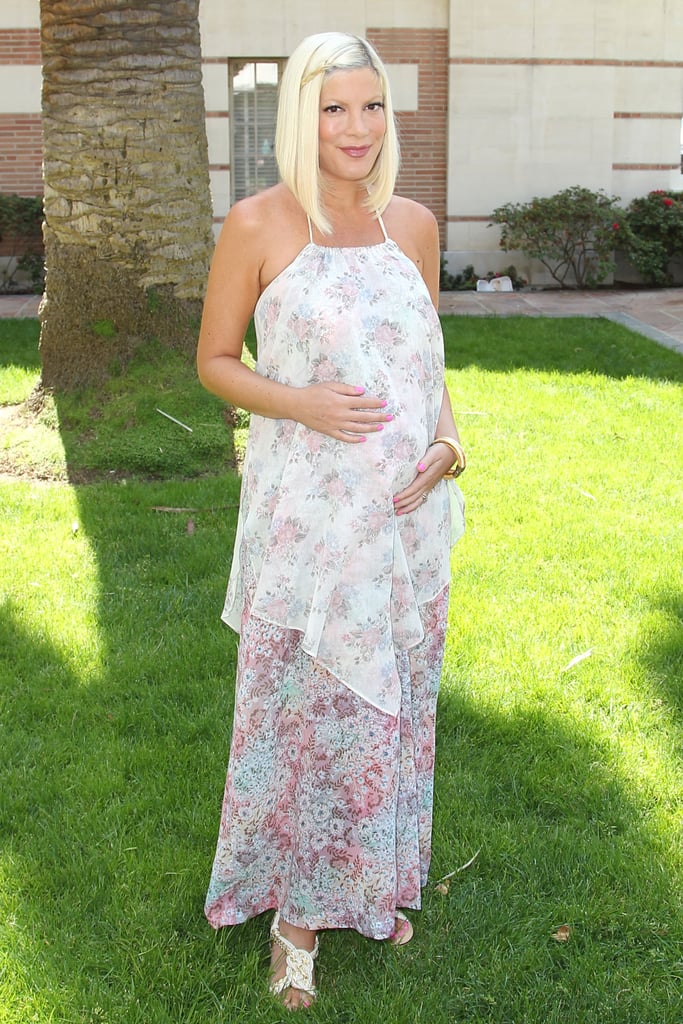 While pregnant with baby number four [43], Tori rocked a floral maxi dress with soft chiffon layers and boho-chic sandals.
Jennifer Garner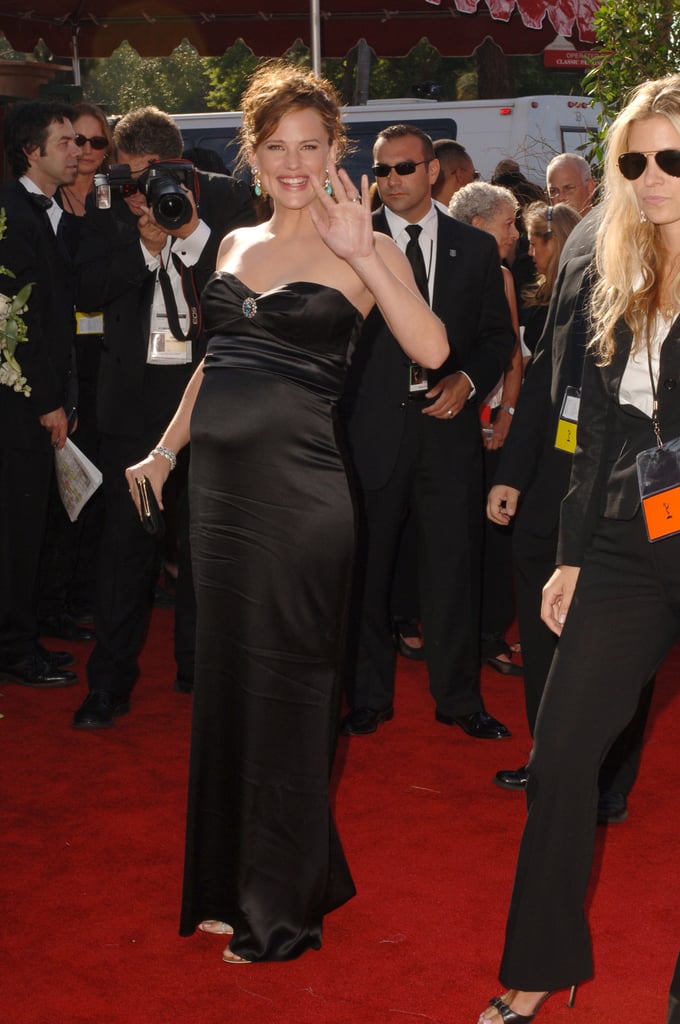 Jennifer Garner [44] chose a strapless, figure-hugging Badgley Mischka gown to attend the 2005 Emmy Awards while pregnant with Violet.
Jennifer Connelly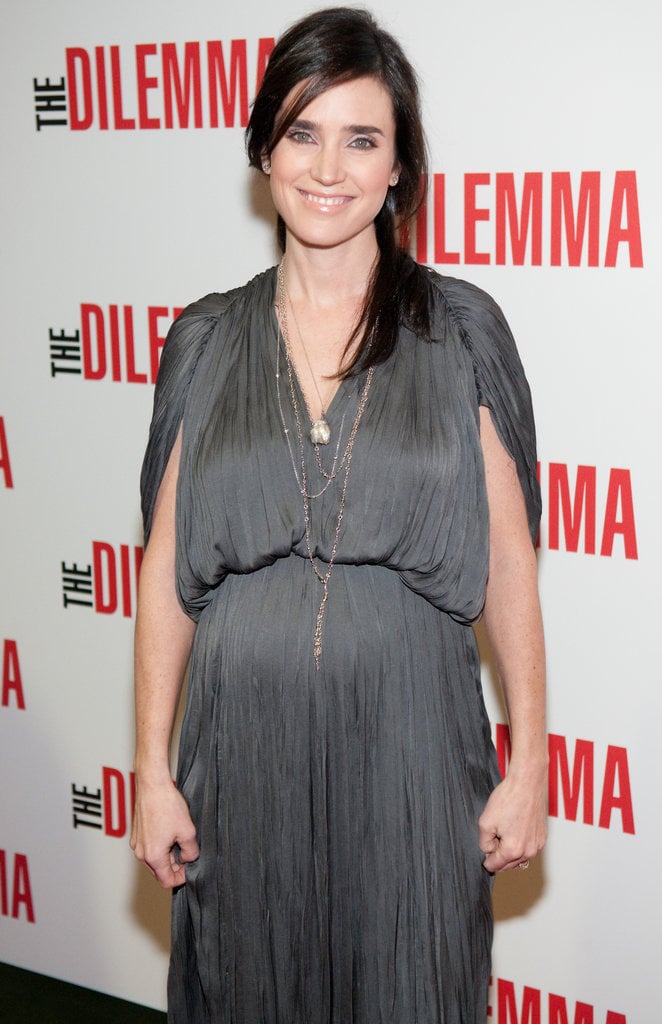 Jennifer was stunning in a gray, pleated gown at the premiere of The Dilemma while pregnant with baby Agnes, her second child with husband Paul Bettany [45].
Jenna Dewan Tatum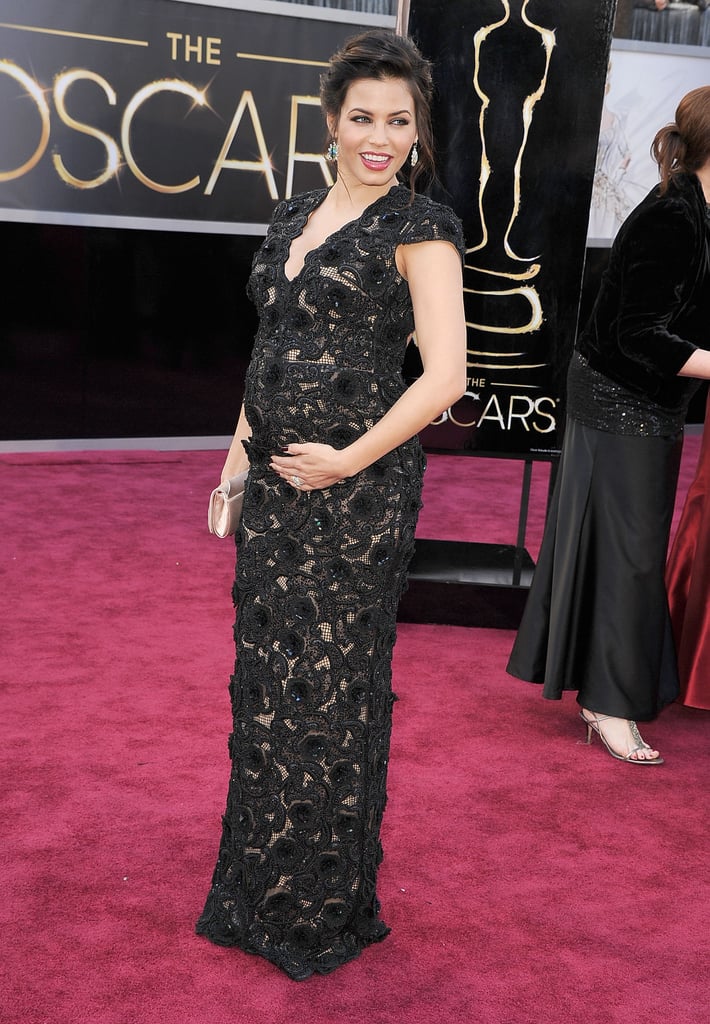 For the Oscars, Jenna wore a formfitting lace Rachel Roy dress that showed off her growing bump. A cutout back added some sex appeal.
Mariah Carey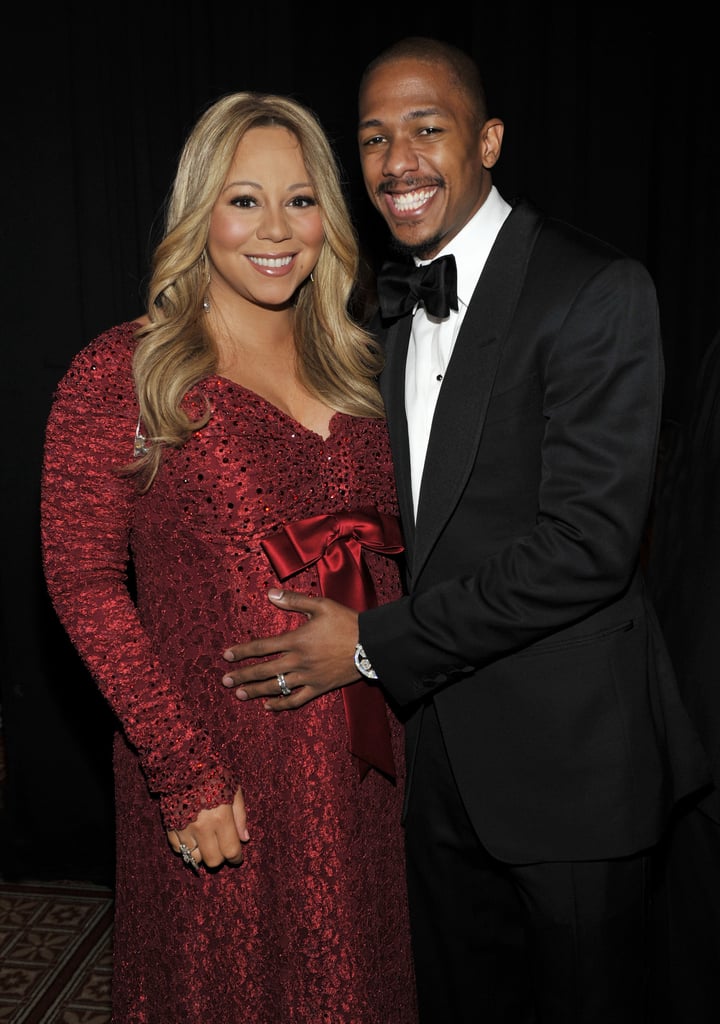 Mariah Carey [46] and Nick Cannon showed off the bump that would become Moroccan and Monroe.
Ali Landry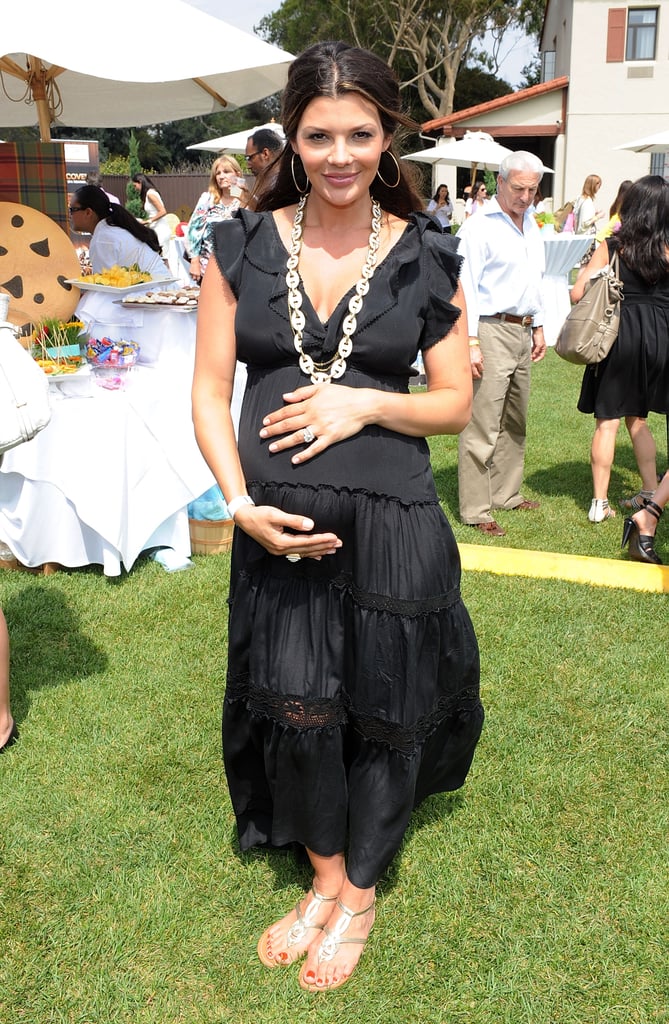 Actress Ali Landry at The Red CARpet Event from SpokesMoms on Sept. 10, 2011.
Morena Baccarin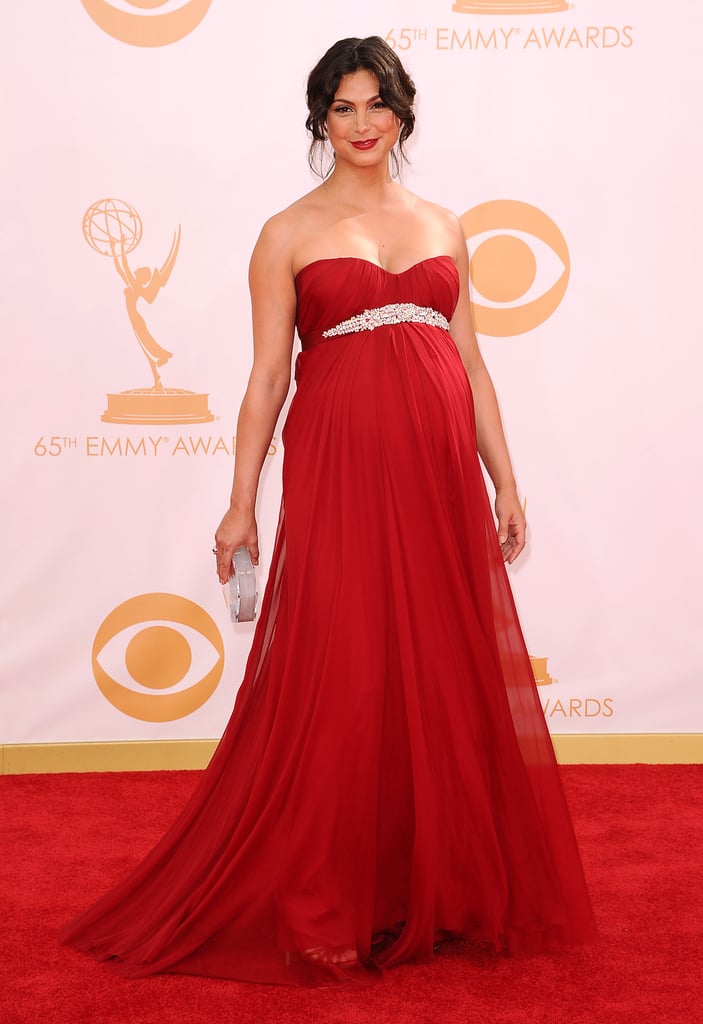 Homeland star Morena Baccarin was radiant on the red carpet for the 2013 Emmys on Sept. 23. The actress wore a gorgeous floor-length red gown with crystal embellishments at the bust.
Rosie Pope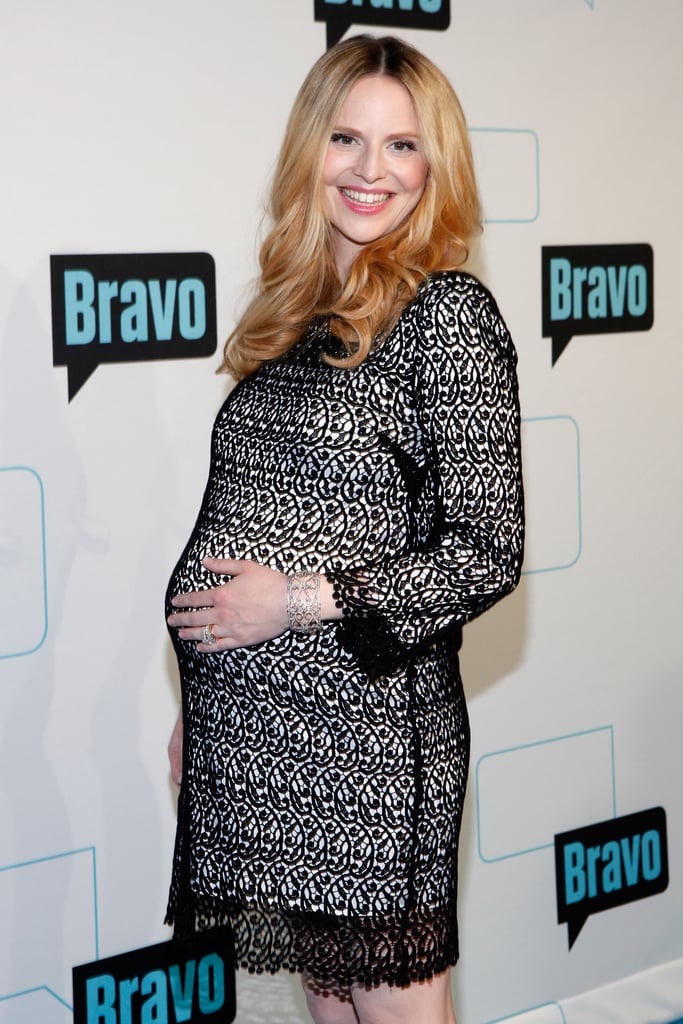 Rosie Pope [47], the star of Bravo's Pregnant in Heels, wore a lace number of her own design while expecting her third child.
Kristin Cavallari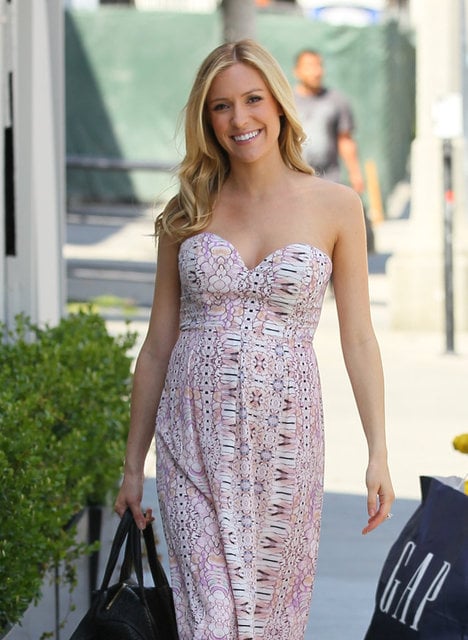 Kristin brunched at LA hot spot Bagatelle in a comfy jersey maxi dress with a flattering sweetheart neckline.
Keri Russell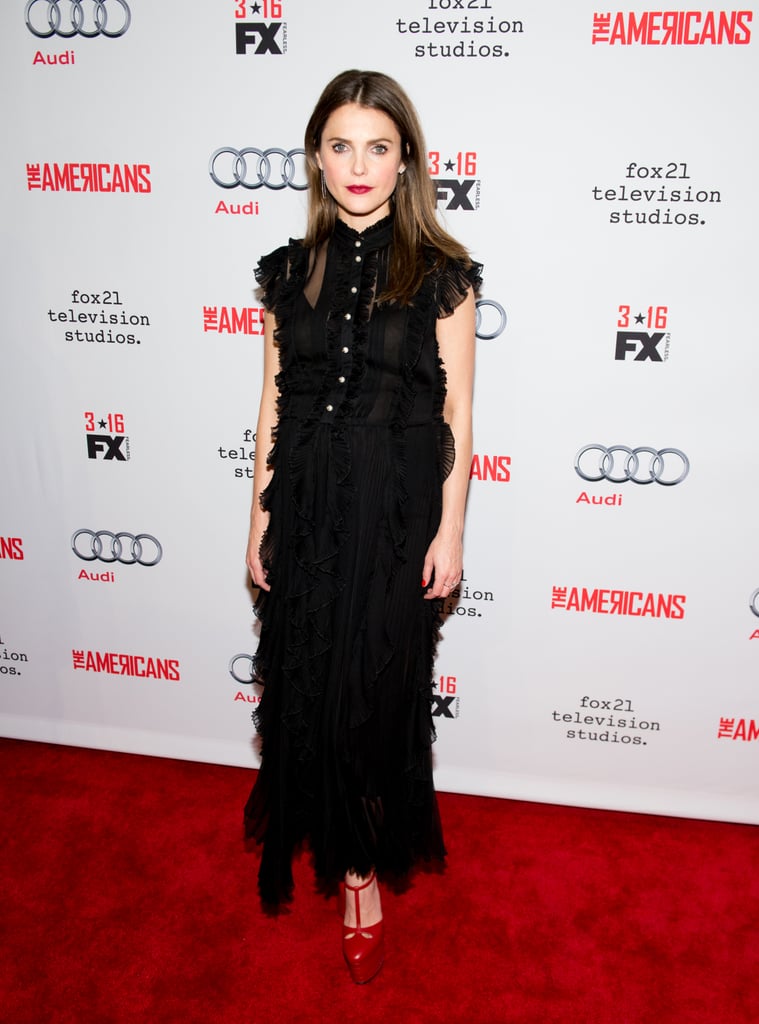 While pregnant with her third child, Keri got glam in a layered black dress with ruffled cap sleeves.
Evan Rachel Wood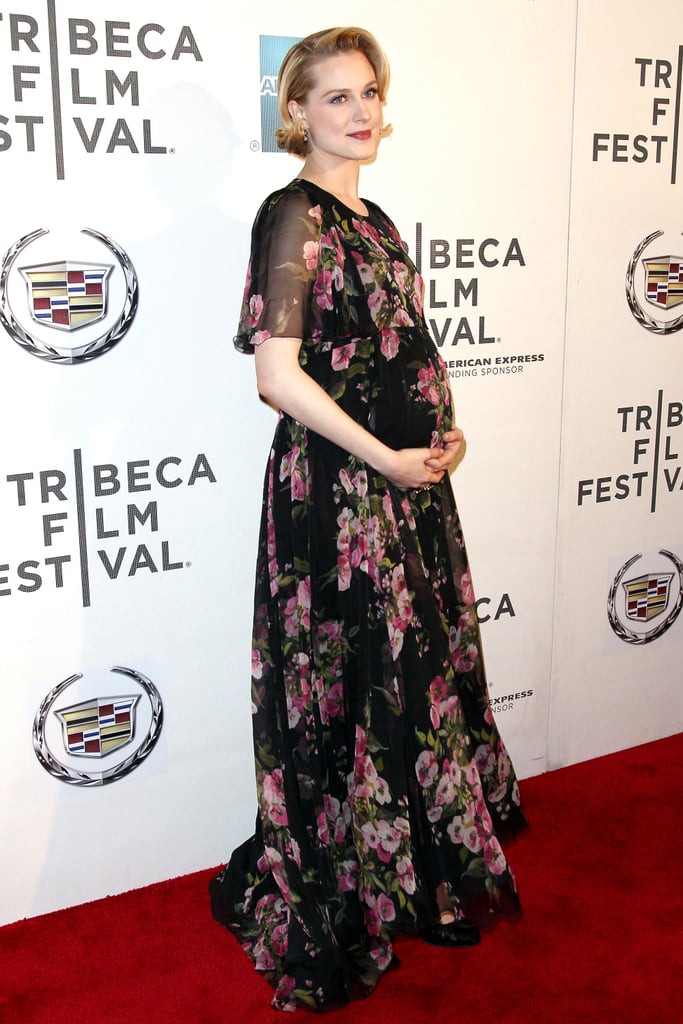 Mom-to-be Evan Rachel Wood attended a screening of her film A Case of You at the 2013 Tribeca Film Festival in April wearing a lovely, flowy floral dress.
Isla Fisher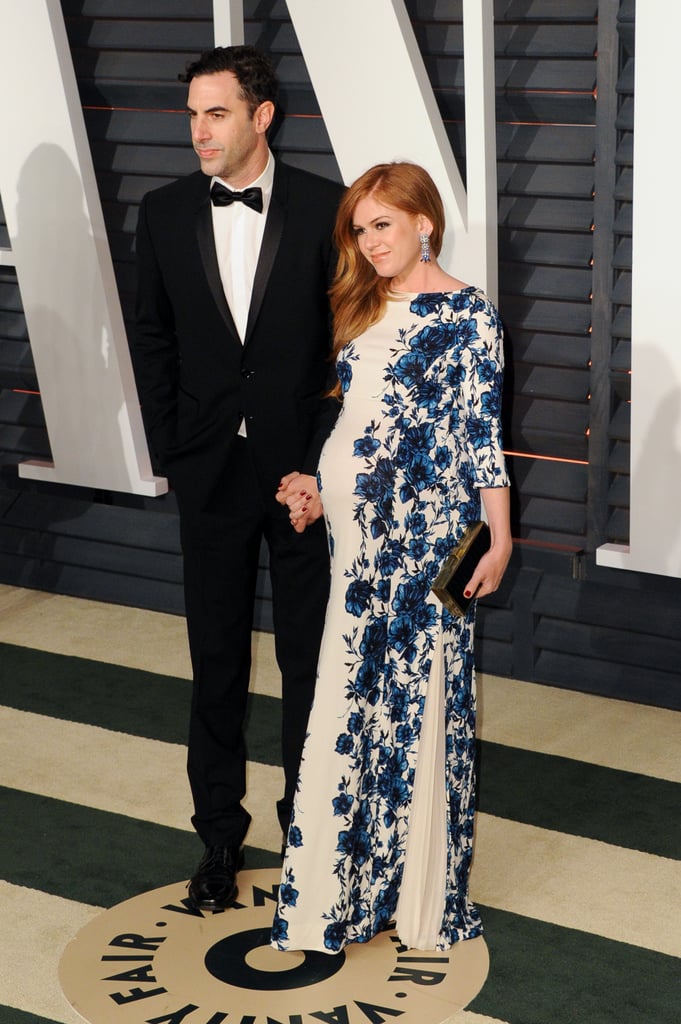 Isla Fisher [48] looked chic in navy and white floral gown during her third pregnancy.
Rachel Zoe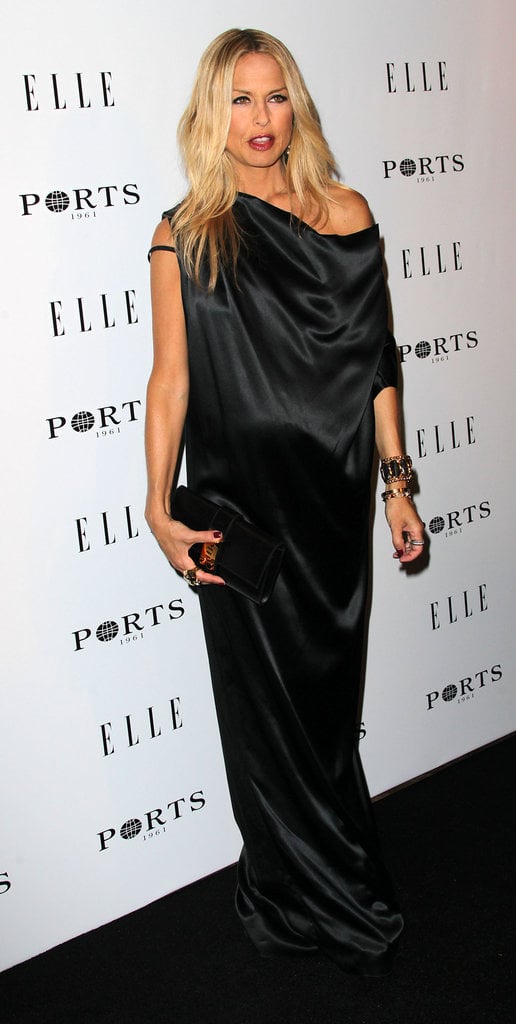 Stylish mom-to-be Rachel Zoe [49] was draped in chic black at Elle's inaugural Women in Television dinner in 2011.
Naomi Watts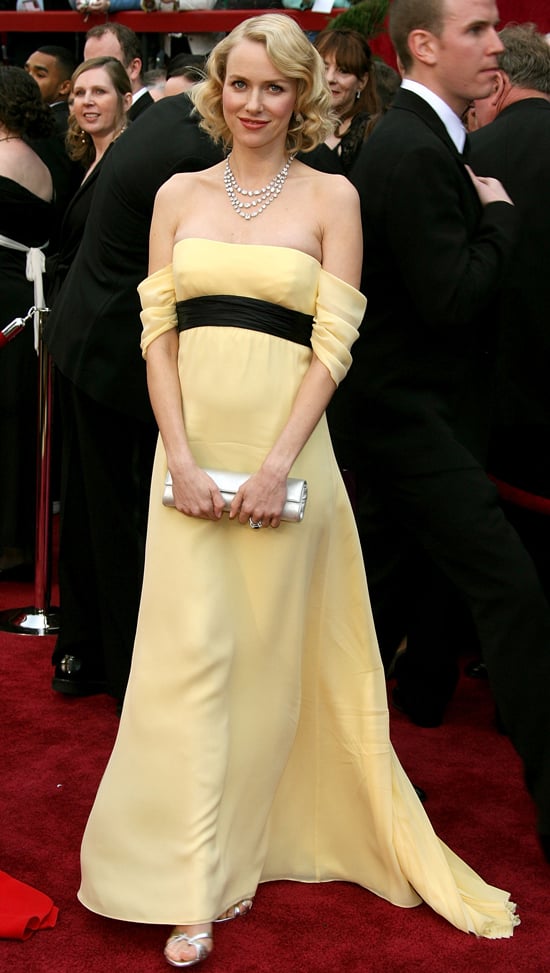 In 2007, Naomi Watts [50] hadn't yet announced she was expecting her first child with beau Liev Schreiber [51] when she hit the red carpet wearing a lemon-yellow gown from Escada. The couple's first son, Sasha, was born on July 25 of that year.