Cover it up! Try as they might, it is not easy for a mama-to-be to hide her pregnancy after the 20-week mark. Actresses may show off their bumps to much fanfare off screen, but on screen, it depends on the storyline. While some television shows lend themselves to pregnant characters, others rely on their writers to use creative means to hide their stars' growing midsections or joke about weight gain. Take a look back at how these and other shows have handled their characters' burgeoning bellies.
Jennifer Garner
Jennifer Garner's [1] pregnancy with daughter Violet [2] was worked into her Alias character Sydney Bristow's story line during the show's final season.
Marcia Cross
Marcia Cross's [3] pregnancy with twins Eden and Savannah was written into her Desperate Housewives [4] character's story as a pregnancy hoax.
Jane Leeves
Shortly after Daphne Moon's marriage to Niles Crane, Jane Leeves became pregnant. Not wanting to add a baby to the Frasier storyline, the writers had her experience significant weight gain due to stress and eventually sent her character off to a fat camp at the end of her real-life pregnancy.
Lisa Kudrow
Lisa Kudrow's real-life pregnancy was written into her Phoebe Buffay story line on Friends [5]. Rather than have her give birth to a baby of her own, the writers used the pregnancy to have her serve as a surrogate for her half-brother's triplets.
Source: The WB [6]
Courteney Cox
During the Friends [7] final season, Courteney Cox's [8] character, Monica Geller, went through the adoption process after finding herself unable to conceive naturally. At the same time, Cox became pregnant with daughter Coco, but the writers did not want change the story line, so they simply ignored her growing belly as the season wrapped up.
Source: The WB [9]
Kelly Rutherford
During Gossip Girl [10]'s second season, actress Kelly Rutherford [11] became pregnant with her second child. The show's writers did not deem it appropriate to work the pregnancy into Lily van der Woodsen's story so they tried to hide her midsection behind coats, designer handbags, and countertops.
Jill Scott
While filming the first season of the No. 1 Ladies' Detective Agency in excruciating African heat, Jill Scott found herself pregnant. The show's writers and producers did not want to veer too far off from the book's story line so the pregnancy was hidden beneath dresses.
Sarah Jessica Parker
Sex and the City [12] producers did not want to bring a baby into the picture for the show's main character so costume designers added some flowy dresses to Carrie Bradshaw's wardrobe and cut the season short until Sarah Jessica Parker [13] had given birth to son James Wilkie.
Lucille Ball
When Lucille Ball announced that she was expecting, she and Desi Arnaz worked the baby into I Love Lucy's script, never mentioning the word "pregnant" on air.
Jessica Capshaw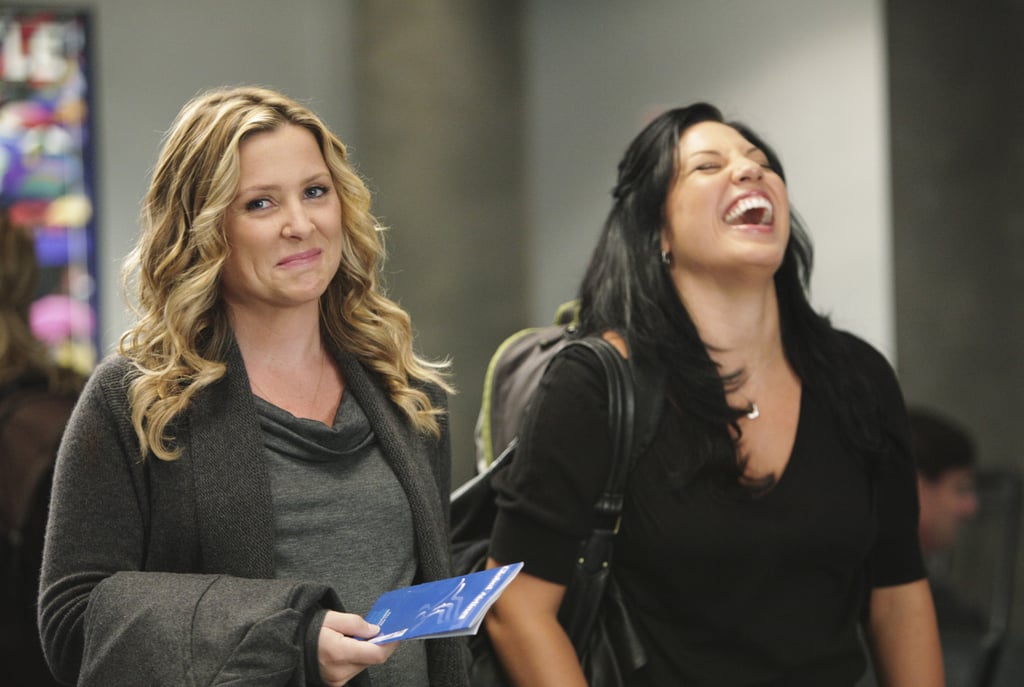 Jessica Capshaw's pregnancy didn't fall into Grey's Anatomy's Dr. Arizona Robbins's plotline, so the writers shipped her off to Africa for a few episodes earlier this year.
Ellen Pompeo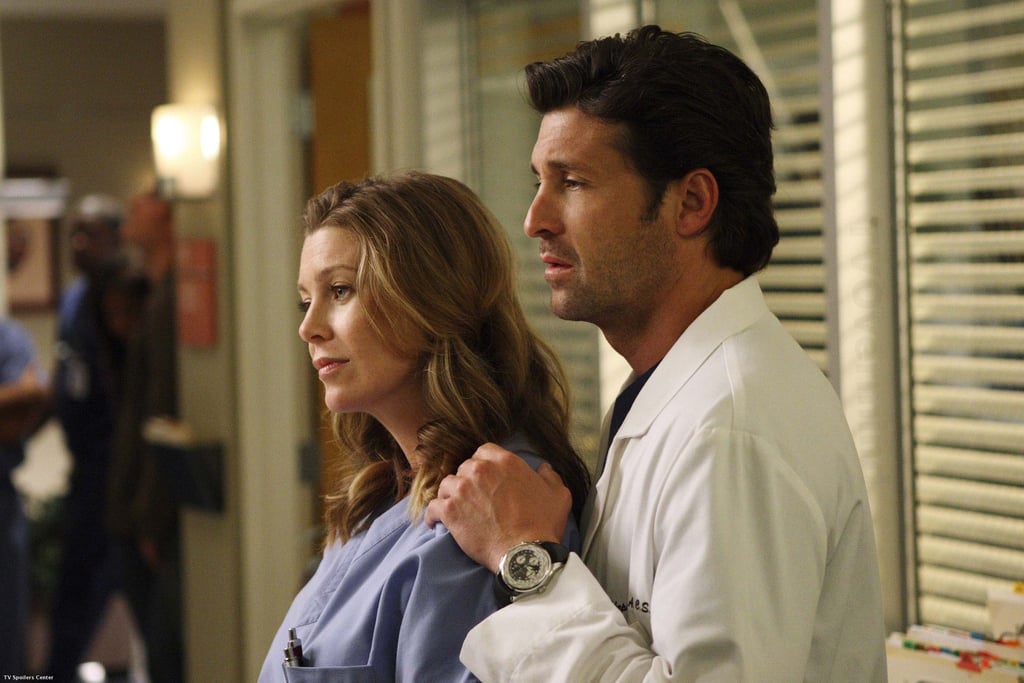 When Ellen Pompeo [14] was pregnant with Stella Luna, the Grey's Anatomy writers opted to cover up her bump with creative camera work and loose scrubs rather than writing them into the story line.
Parminder Nagra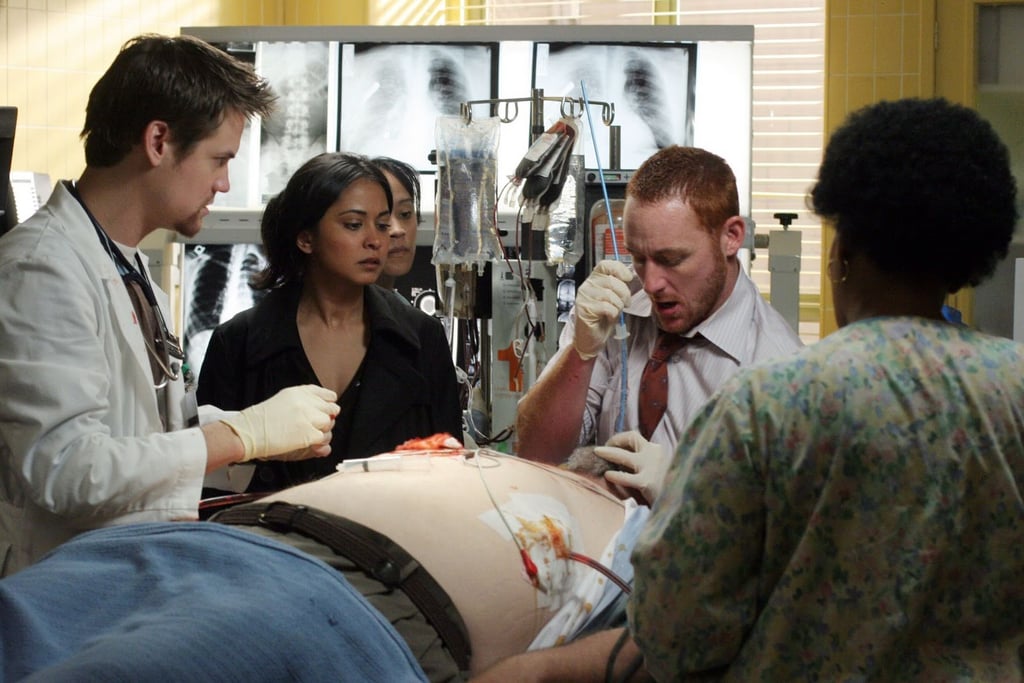 Parminder Nagra's pregnancy wasn't written into the final season of ER. Rather, the writers hid her behind hospital beds and custom-made maternity scrubs.
Amy Poehler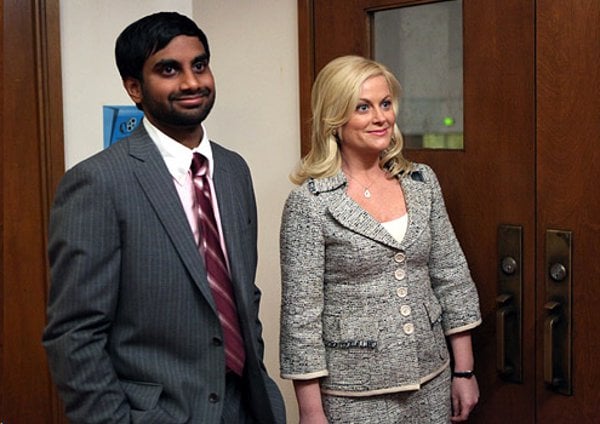 To accommodate Amy Poehler [15]'s second pregnancy, Parks and Recreation sped up their shooting schedule and simply ignored her growing belly.
Rachel Griffins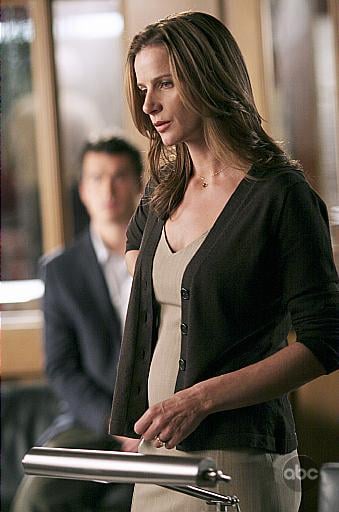 Pregnant with her third child, Rachel Griffin's pregnancy was ignored while filming Brothers and Sisters.
Jane Krakowski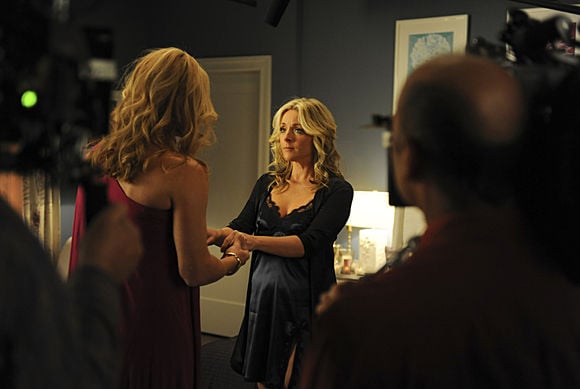 Jane Krakowski covered up her first pregnancy on screen during the fifth season of 30 Rock by trading her character Jenna's usually short and tight style for a flowing wardrobe and covering up her belly with props. Jane's pregnancy wasn't written into the script [16] because the producer said "no child should have Jenna Maroney for a mother."
Alyson Hannigan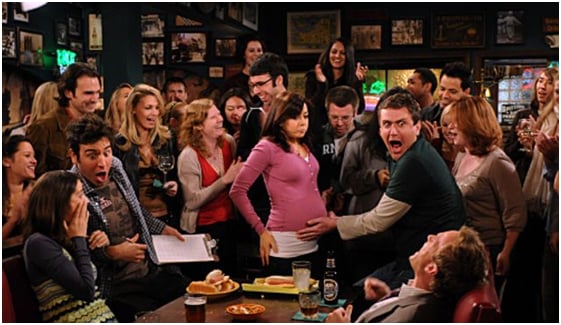 The writers behind How I Met Your Mother were not ready to make Lily into a mother, so Alyson Hannigan's first pregnancy was covered with loose fitting clothes, hidden behind racks of basketballs or explained as a bloated stomach resulting from a hot-dog eating contest.
Alyson Hannigan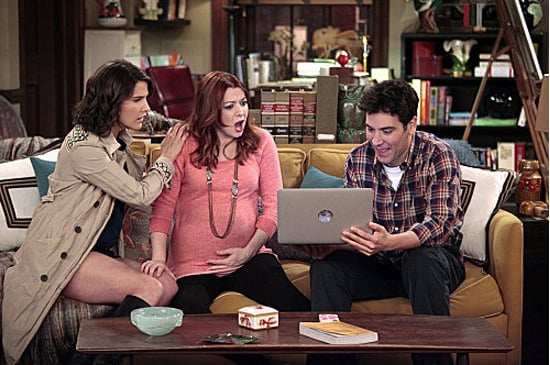 When Alyson Hannigan became pregnant with her second child, her How I Met Your Mother character was already expecting, so the show's writers didn't have to change anything, except for the fake bumps they had originally planned to have in the dressing room!
Caterina Scorsone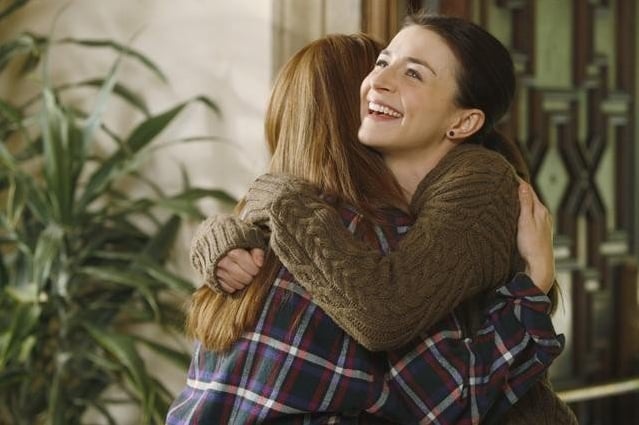 Private Practice star Caterina Scorsone was taken by surprise by her pregnancy, but her show's creator was thrilled with the news. Shonda Rhimes immediately wrote the pregnancy [17] into Dr. Amelia Shepherd's story line.
Angela Martin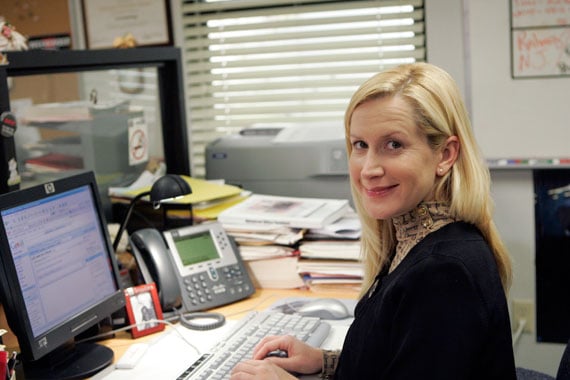 The Office's Angela Martin was pregnant during the show's fourth season, but her character wasn't ready to have a child, so she was often filmed sitting at a desk or behind a high cubicle wall.
Emily Deschanel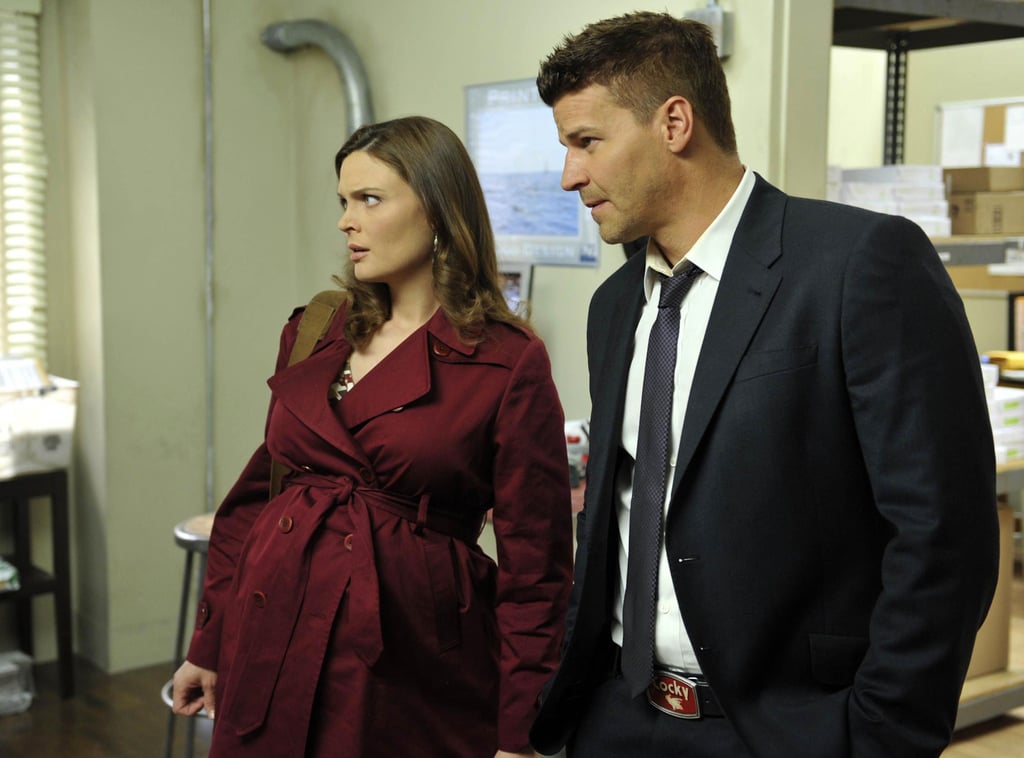 When Emily Deschanel told Bones' producers that she was pregnant, they were eager to work it into her character's story line. Throughout the 2011-2012 season, her pregnancy could be tracked on the weekly show.
Tina Fey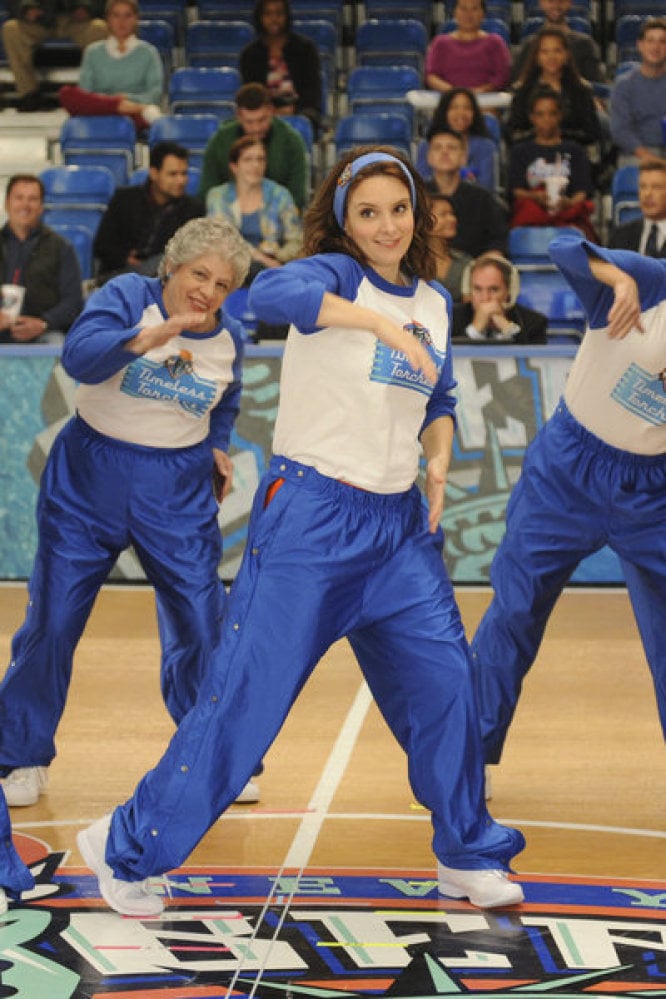 Tina Fey [18]'s second pregnancy was announced during the book tour for Bossypants, but the timing wasn't ideal for the sixth season of 30 Rock, so the show delayed the season premiere from September until January.
January Jones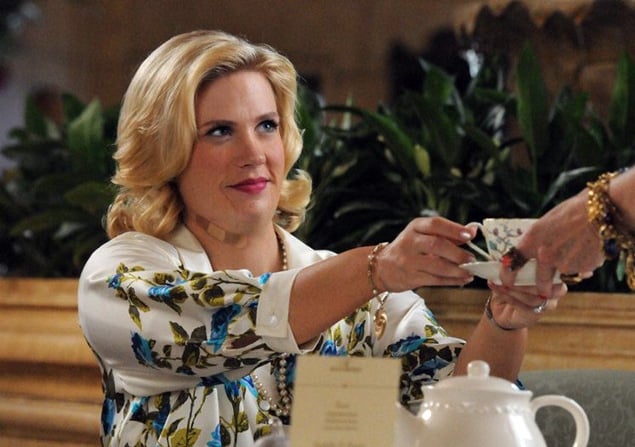 A new baby wasn't part of the plan for Betty Draper's character this season, so Mad Men writers went the "she's getting fat" route. They placed January Jones [19] in a fat suit that covered her baby bump and created a story line about a tumor on her thyroid. For a bathtub scene, they used a heavy stunt double to perpetuate the overweight story.
Kerry Washington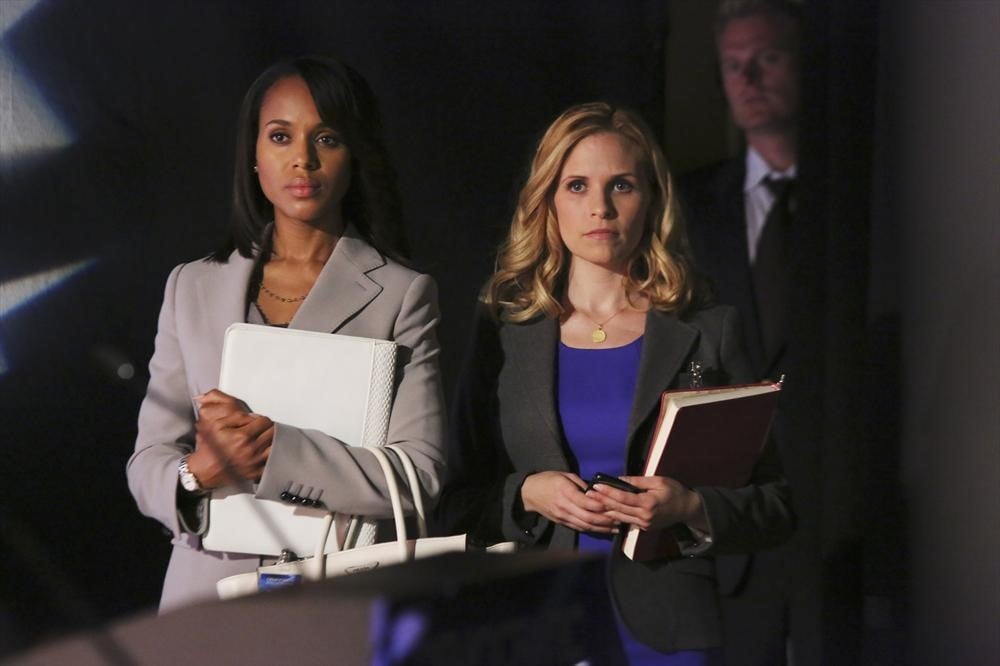 Kerry Washington's pregnancy had fashion lovers drooling at the bit as they anxiously awaited her maternity style. But Scandal had to get used to seeing the star hide behind folders, notebooks, trenchcoats, and tables as Shonda Rhimes wasn't interested in making the show's star pregnant.
Claire Danes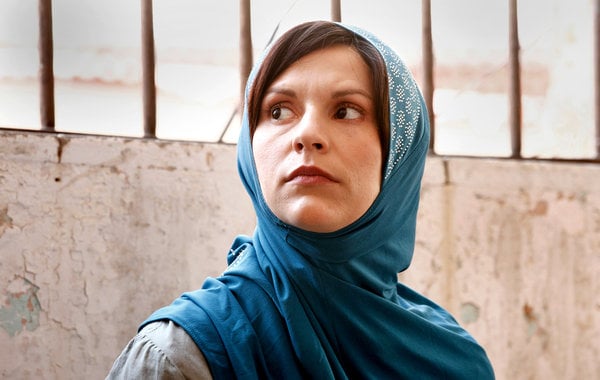 While Claire Danes [20] was determined to continue filming Homeland throughout her pregnancy, her growing belly eventually got in the way. The show hired a belly double [21] to step in as CIA agent Carrie Mathison towards the end of Danes's pregnancy.
Morena Baccarin
Homeland star Morena Baccarin, who plays Jessica Brody, learned that she was pregnant with her son Julius right before she began filming the show's third season. The show hid her pregnancy through the magic of post-production and strategic editing.
Hayden Panettiere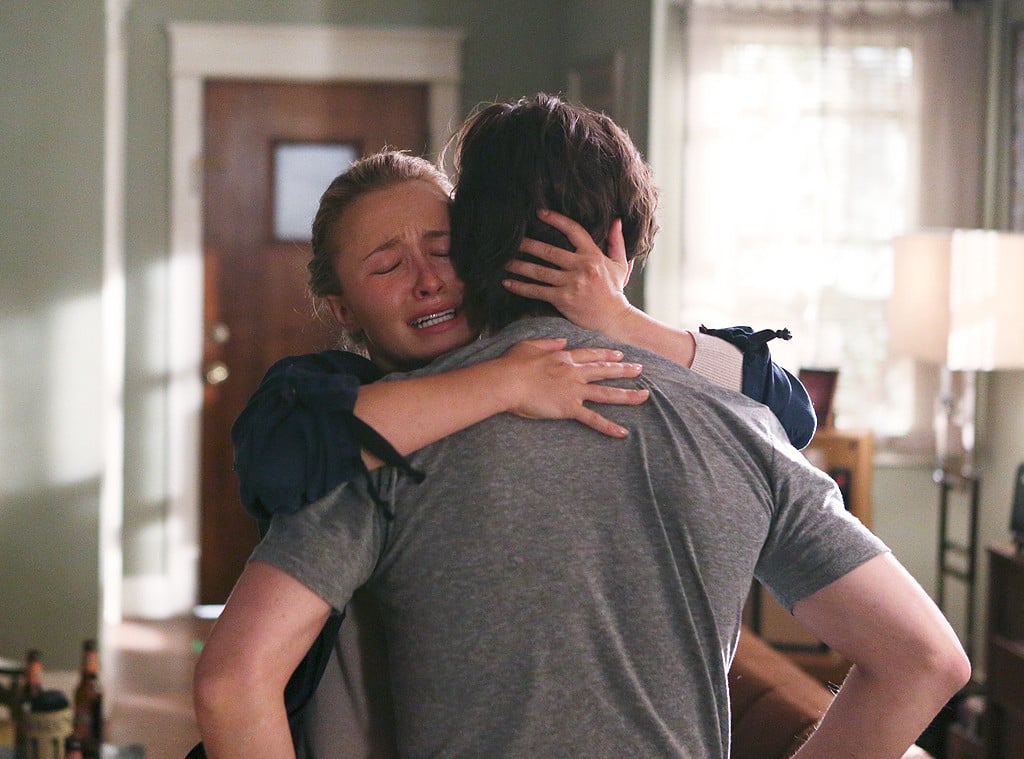 Hayden Panettiere [22] surprised Nashville's writers when she announced her pregnancy, but they were quick to work a baby into the storyline of the star's character, Juliette Barnes. When season three started, fans were quickly let in on the character's secret.
Rachel Bilson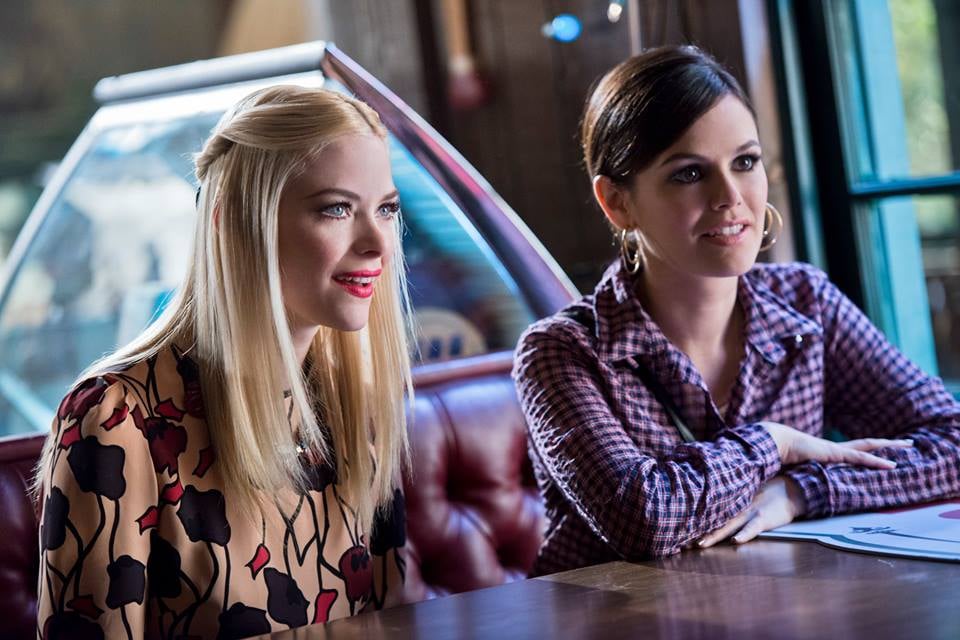 Hart of Dixie was quick to work Rachel Bilson [23]'s pregnancy into the storyline of her character, Zoe Hart. Expect to see season four focusing on the town's latest addition.
Zooey Deschanel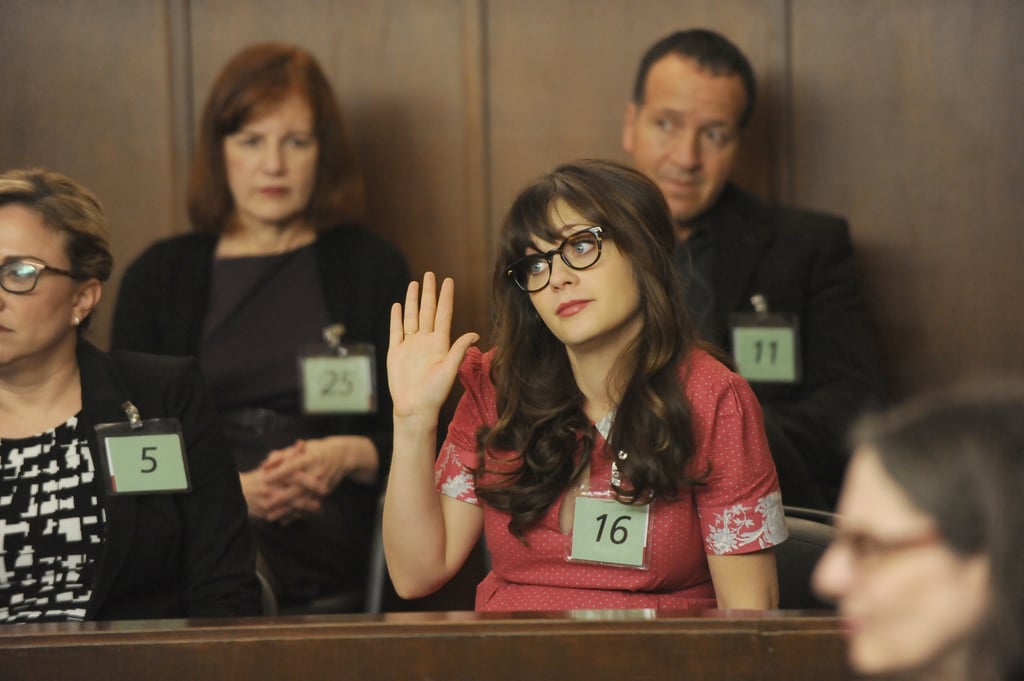 Zooey Deschanel [24]'s pregnancy won't be seen on the fifth season of New Girl. Rather than make Jess pregnant, the show's writers have had her stuck in bed (due to a fall down some stairs!) and sitting in a jury box. The show filmed four episodes of this season immediately following the end of season four in order to capture Zooey before her belly began to show. While Zooey's on maternity leave, Megan Fox will join the show [25] to "shake things up!"