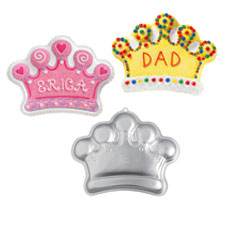 Now that the theme has been set and the
invitations have been sent out
, it's time to start stocking up on the necessary items for my 3-year-old princess's royal affair. First on the list is a regal style cake pan. In the past I've ordered the dessert from our grocer but this year I'm thinking of making it so she can help me with the decoration. It may turn out looking like a mess but at least we'll have fun doing it. Now I just have to decide which mold to go with:
tiara
, carriage, castle, or cupcakes with crowns on top.
Which one wins your vote?