Public Humiliation For Disciplining Children
Does Public Humiliation Stop Kids From Misbehaving?
Like us on Facebook
Here's a post from our partners at BabyCenter! Every week, we bring you the best parenting and lifestyle stories from the experts at BabyCenter, including this post from Stacie Lewis about handling children's misbehavior.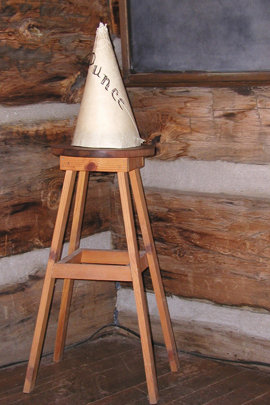 When Cameron Adkins acted out at school for the 100th time, his parents had had enough. They'd tried everything, even boot camp, to correct his behavior. This time, they knew they would have to try something radical if they were going to get their point across, and they went to the extreme: public humiliation.

MyFOXDetroit reported on the fourth grader's punishment on Thursday. After being sent home for talking back to his teacher, Cameron was sat, in his front yard, for the remainder of the day with a sign reading: "I don't want to behave at school."

Related: Five Breastfeeding Pet Peeves

"This is more [boring] than school," Cameron said.

But will it improve his behavior? His parents hope so. But his sister had other ideas. "Probably not," she said.

As a teacher myself, I applaud Cameron's parents. Time after time, I find that the children with the worst discipline issues are the ones where the parents at home dismiss the value of education or flout the rules of school. Cameron's parents took a stand after weeks, perhaps even months, of trying other methods.

Is it extreme? Yes. But it is hardly abuse.

What do you think? Will public humiliation stop kids from misbehaving?

More great reads from BabyCenter:
Can posting baby pictures on Facebook cost you your job?
The truth about your child's birthday
Fourteen knockout gender-neutral nurseries
Our top five infant strollers
EpiPen ad pulled after parents protest

Source: Flickr User cogdogblog