Families's schedules are crazier than ever. Having a family dinner — one where everyone sits down together to eat and talk about their days — may sound daunting when juggling so many schedules, but it isn't impossible.
To accomplish the family dinner, we turned to some of our favorite celebrity chefs and restaurateurs — all parents themselves — to sneak a peek at the 30-minute meals they prepare for their own families. With chefs like Everyday Foods' Sarah Carey, Weelicious's Catherine McCord, Jessica Seinfeld, Michael Chiarello, and more sharing everything from tacos and paninis to grilled shrimp and pretzel-crusted chicken, we've got more than a month of school-night dinners right at your fingertips. Take a look, and then tell us which work best for your family!
Spaghetti With Tuna, Lemon, and Breadcrumbs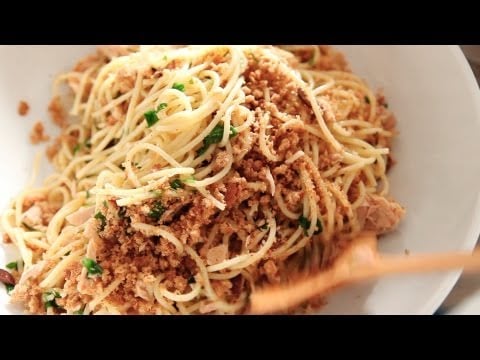 "This one is great because the pasta and tuna are both pantry staples," says Sarah Carey of Everyday Food. "Families will want to make this meal [1] because it's easy, delicious, and affordable. Parents can stock up on most of the ingredients when they are on sale."
Spicy Citrus Grilled Shrimp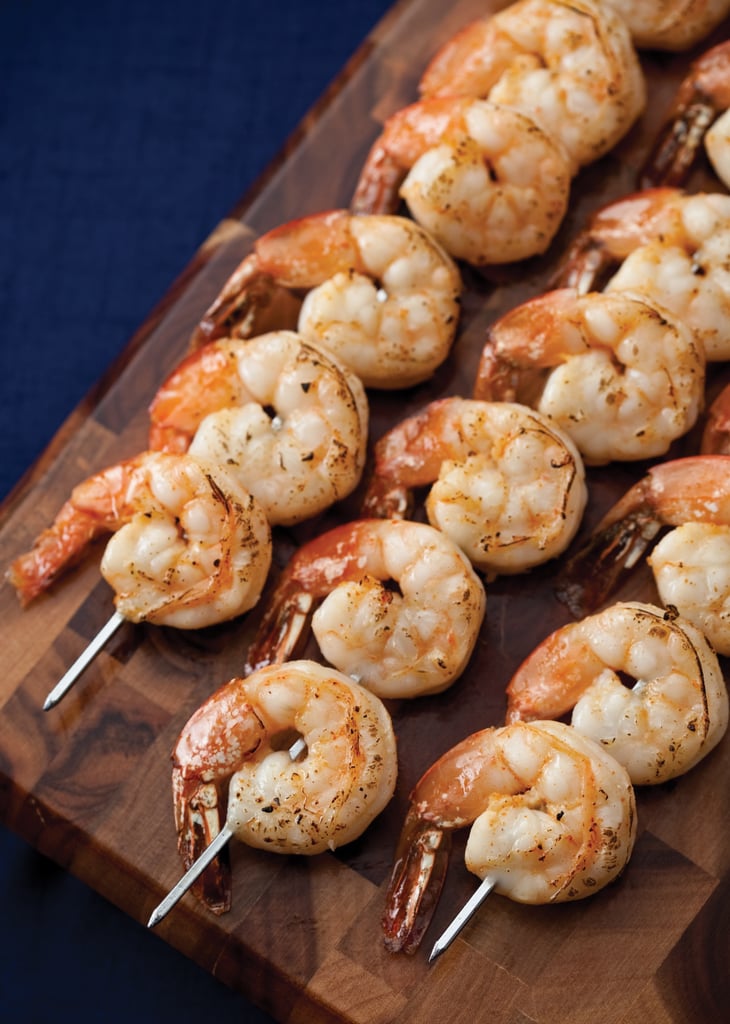 Kelsey Banfield's The Naptime Chef [2] specializes in quick and easy recipes that can be prepared in about as long as it takes a tot to nap. Her spicy citrus grilled shrimp [3] "can easily be prepared at any time during the day and grilled up in no time for dinner."
Mummy's Pot Noodles
Ramen noodles are a kiddie favorite because they're quick and tasty, but the prepackaged versions aren't exactly healthy with all of that sodium loaded into their spice packets. Annabel Karmel says, "It only takes a few minutes to make your own [4] and it's fun to serve them in a cup. You can add different vegetables or chicken to make this more hearty. It would also make a good snack after school."
Whole Wheat Pretzel Cutlets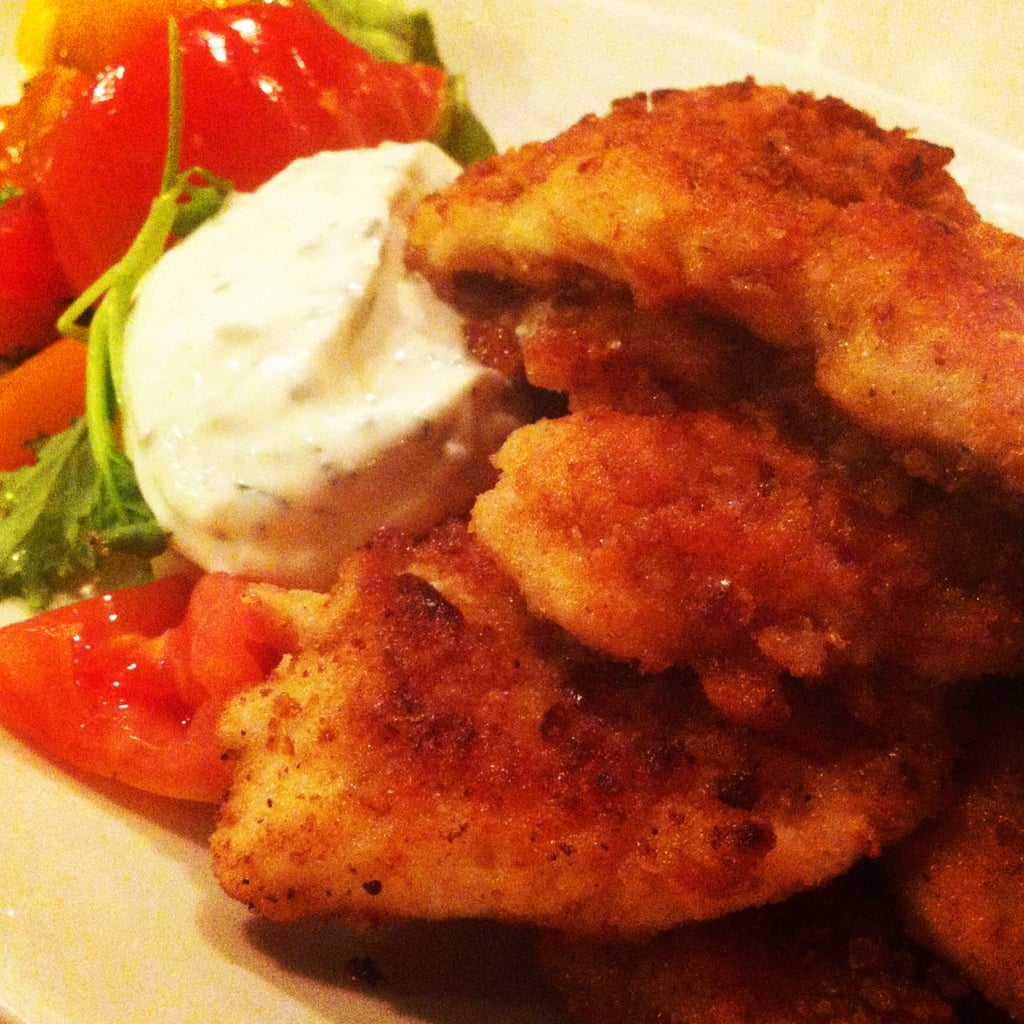 When Louisville-based chef Levon Wallace heads home to his two kids, he knows that his gourmet offerings from Proof on Main [5] take far too long to prepare for a weeknight dinner. His solution is a turkey cutlet [6] that uses one of the tots' favorite snacks and takes less than a half-hour to prepare. It's so tasty that his restaurant staff even ask for it!
Turkey Sliders With Baked Potato Wedges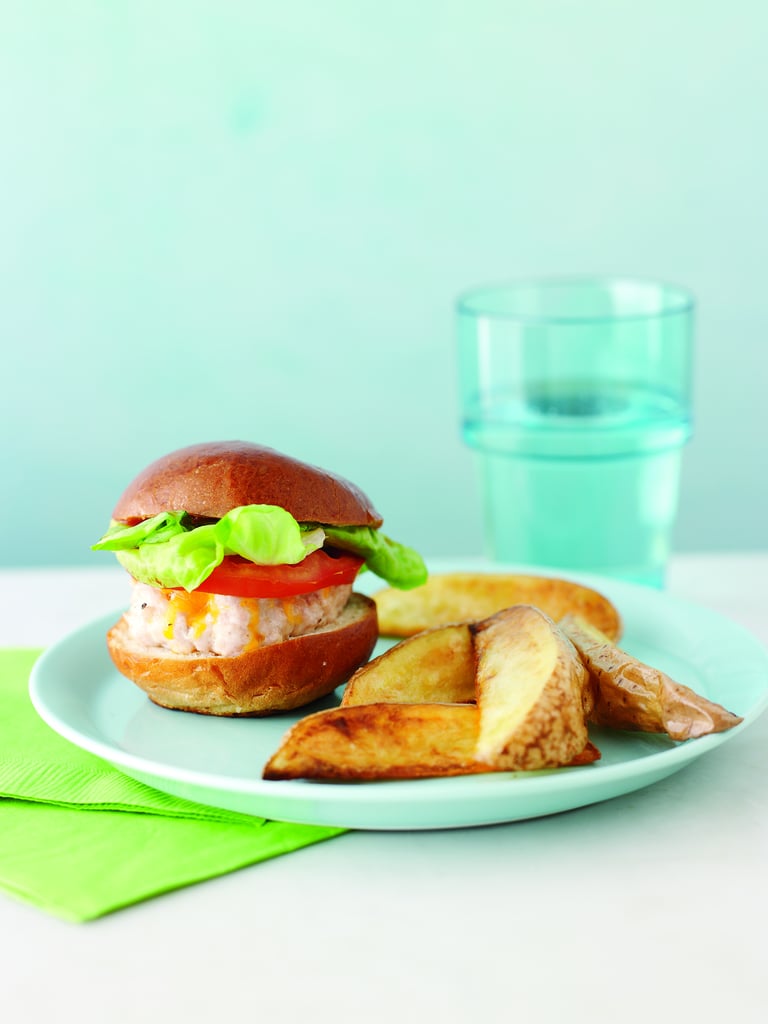 Dinnertime may be a rush, but it's a great time to bring kids into the kitchen. In this month's Everyday Food [7], Sarah Carey shares a recipe that kids can easily lend a hand in making. "Give burgers and 'fries' a healthier, more kid-friendly spin by baking them in the oven (no spattering grease!). Just make sure a grown-up handles the pans."
Mexican Skillet Casserole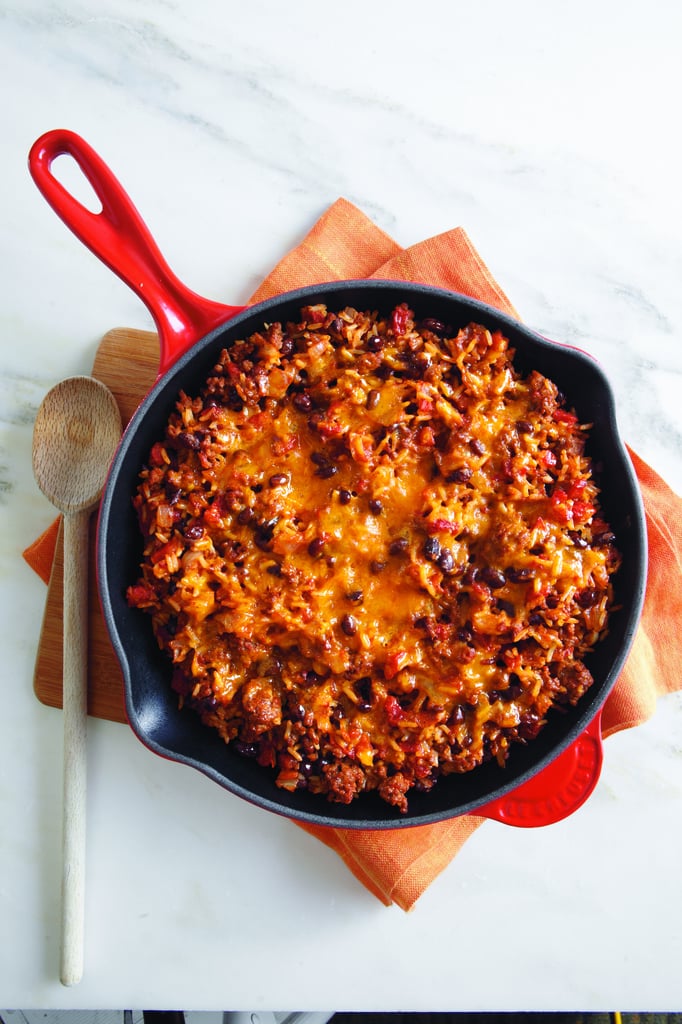 The most-requested recipe on Amanda Haas's site, this Mexican skillet casserole [8] is bound to become a family favorite. Filled with rice, cheese, and beans, it can easily be eaten on its own or rolled up in a burrito.
Rosemary Chicken Under a "Brick"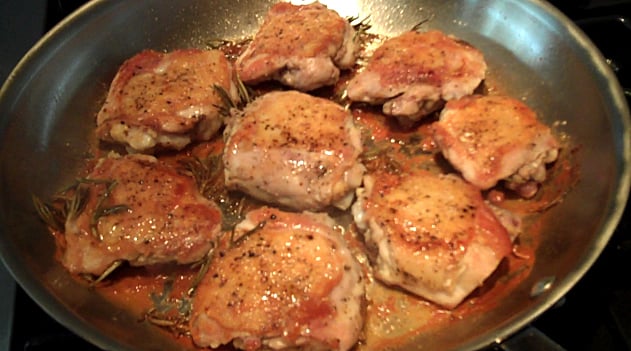 Skip the chicken nuggets and serve up some old-fashioned chicken thighs for dinner. Jessica Seinfeld says this rosemary chicken under a "brick" [9] is an all-time family favorite because it is "crispy on the outside, tender and juicy on the inside." We bet the kids will fall in love with the flavorful dish — Jessica says it's a mainstay in the Seinfeld household — and Mom and Dad will love that the whole dish only takes 25 minutes!
Seitan Tacos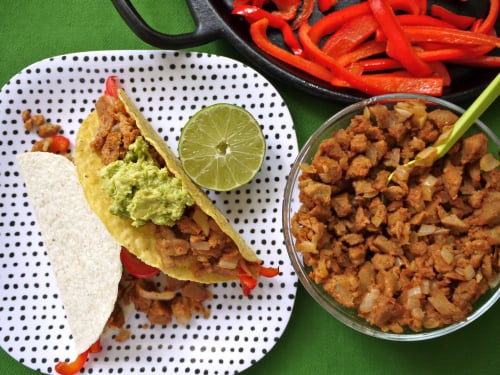 Whether you're a vegan family, it's meatless Monday in your home, or you're simply trying to get the kids to eat less meat, seitan is a great option. Made from wheat, it can be sauteed and crumbled up to look just like ground beef. Weelicious's Catherine McCord's seitan taco recipe [10] takes only 25 minutes to make, and "when mixed with spices it's pretty incredible — you may even fool some die hard meat eaters you know!"
Simply Super Salmon Teriyaki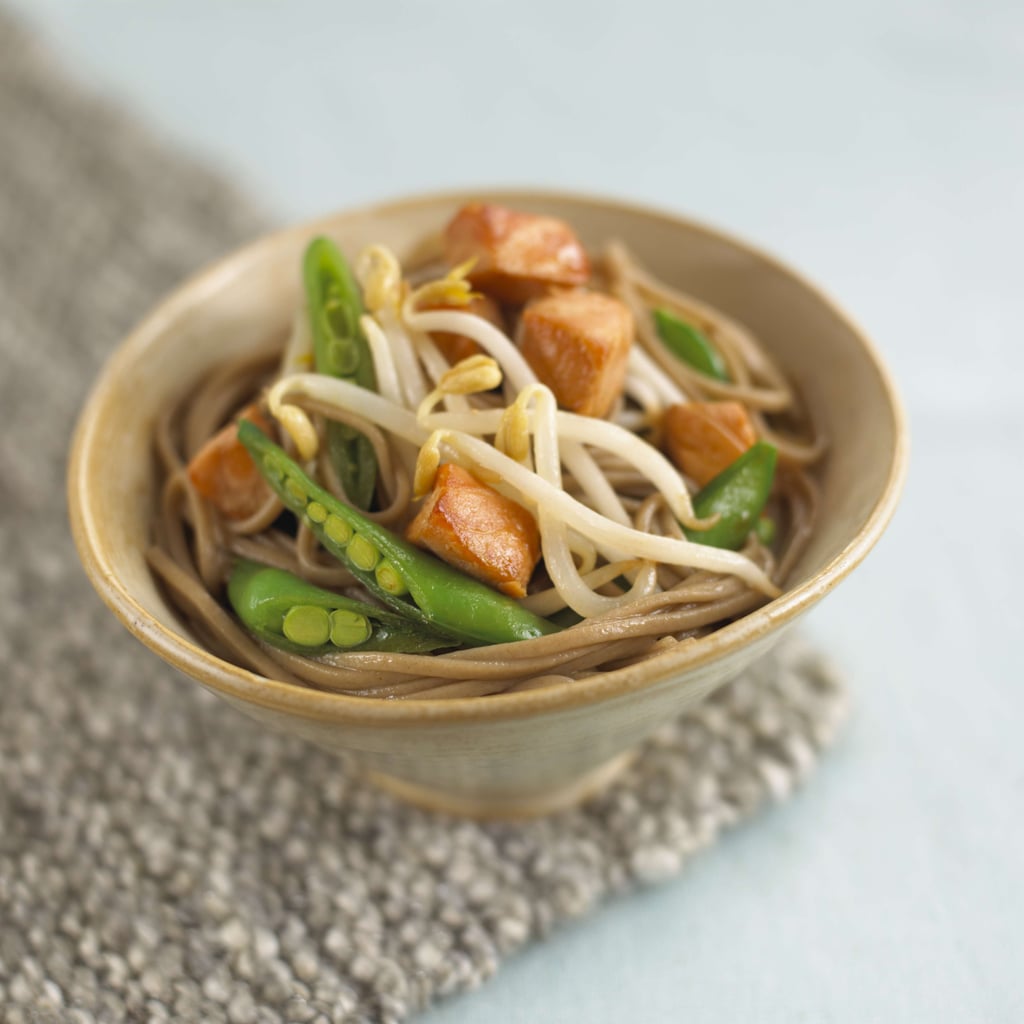 We can't stress the benefits of omega-3 fatty acids enough. The healthy fats — found in oily fish like salmon, trout, tuna, and mackerel — optimize messaging between nerve cells in the brain, keeping the brain functioning properly. Getting kids to eat the nutrient-rich foods isn't a fight when it is well seasoned. Annabel Karmel says, "My children and I all love Japanese food, and it is well worth investing in bottles of sake and mirin (sweet Japanese cooking wine), as you will want to make this salmon teriyaki [11] over and over again!"
Easy Chicken Nuggets
Chicken nuggets are a staple in many mamas' arsenals. They're easy, the kids like them, and they don't take much thinking — and that's a good thing, because you probably don't want to know what's in the store-bought version. Weelicious's Catherine McCord's easy chicken nugget recipe [12] only takes 15 minutes to prepare and 15 minutes to cook — and you know all of the ingredients. She says she likes to "make a huge batch and keep them in the freezer for future meals, so not only do they save on the expense of boxed nuggets but also the time it takes to go to the grocery to buy them."
Baked Chicken Nuggets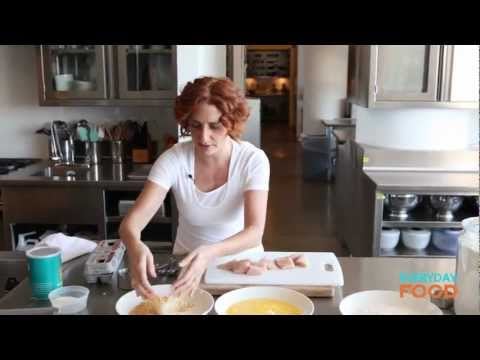 What kid doesn't like chicken nuggets? Skip the freezer versions and try Sarah Carey's baked version that appeared in the April issue of Everyday Food.
"Chicken nuggets are a classic kid meal, but adults love them, too," says Sarah. "These nuggets are baked [13], so you can enjoy them guilt-free. A three-step breading method — coating chicken pieces in flour, egg, and breadcrumbs — seals in moisture and gives a crisp crunch without a lot of added fat."
Marinated Beef With Vegetables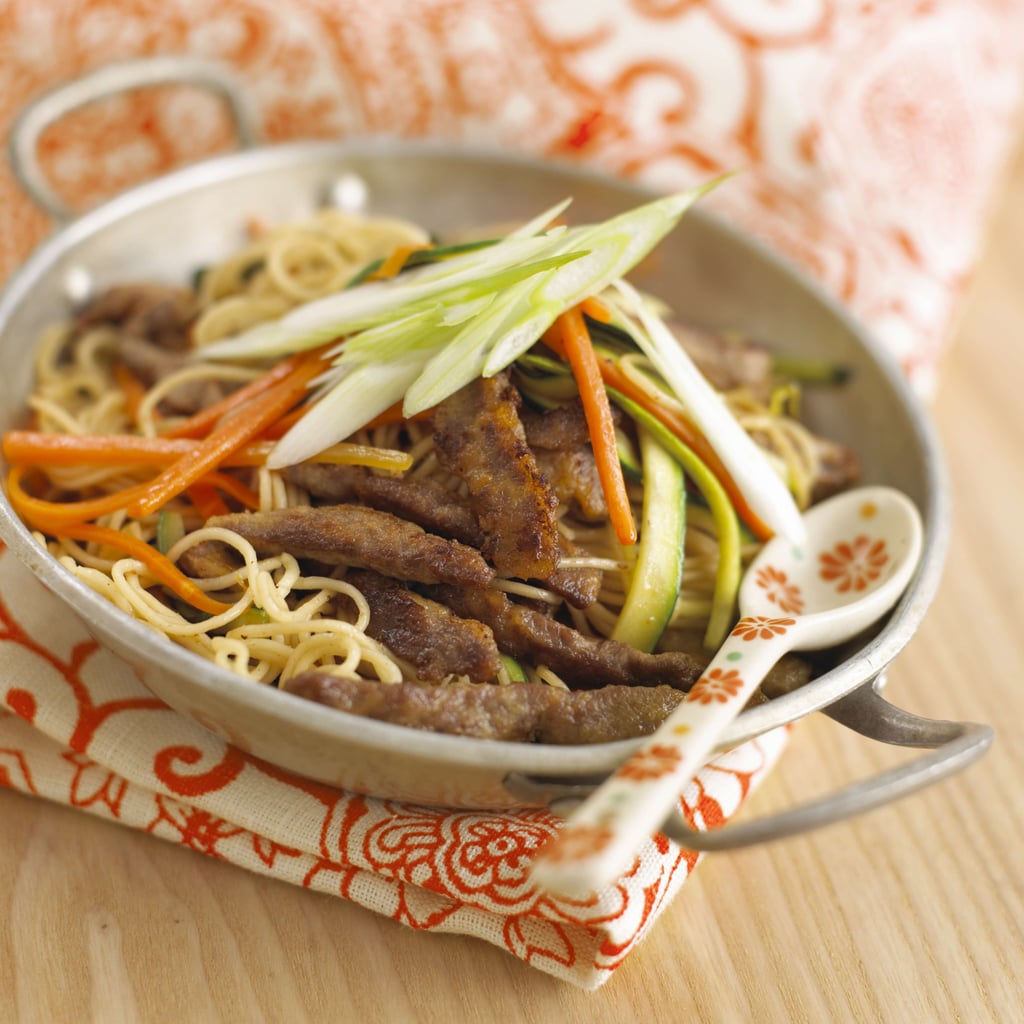 Beef doesn't have to be an all-day affair. Annabel Karmel says, "This delicious, quick, and easy-to-prepare beef stir-fry [14] is bound to become a family favorite. It makes a great all-in-one meal."
Pork and Mango Stir-Fry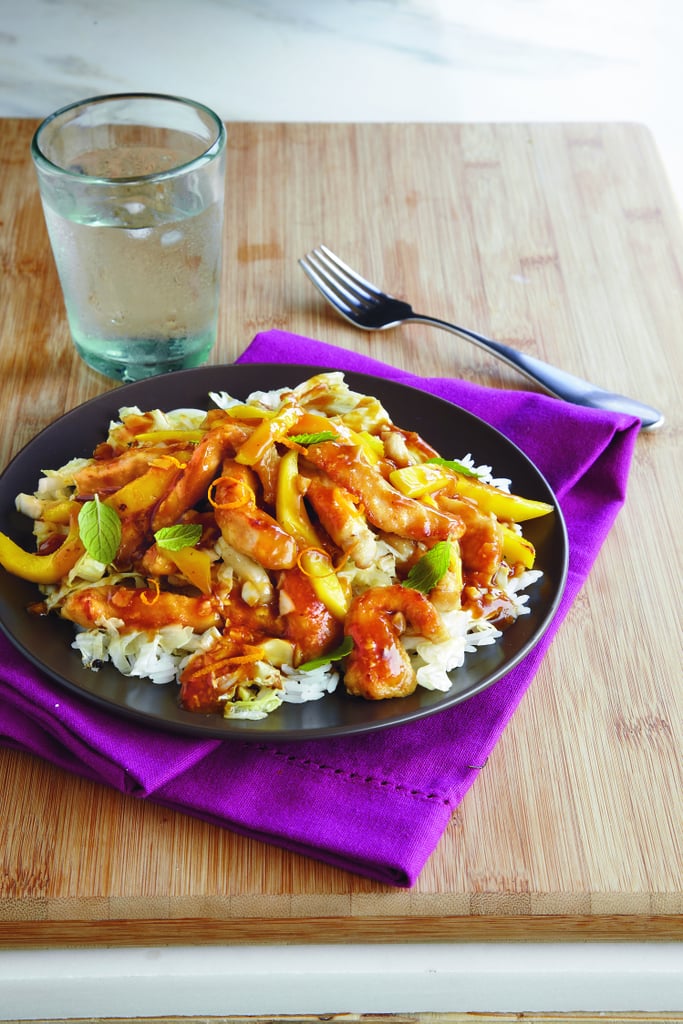 Meals that can be prepped in the morning and then quickly cooked at dinnertime are ideal for families juggling after-school activities. This pork and mango stir-fry [15] from Amanda Haas and Cooking Light — which can also be made with chicken breasts — can be prepped before everyone heads off for work and school in the morning and then cooked in just 10 minutes!
Cheesy Chicken Taquitos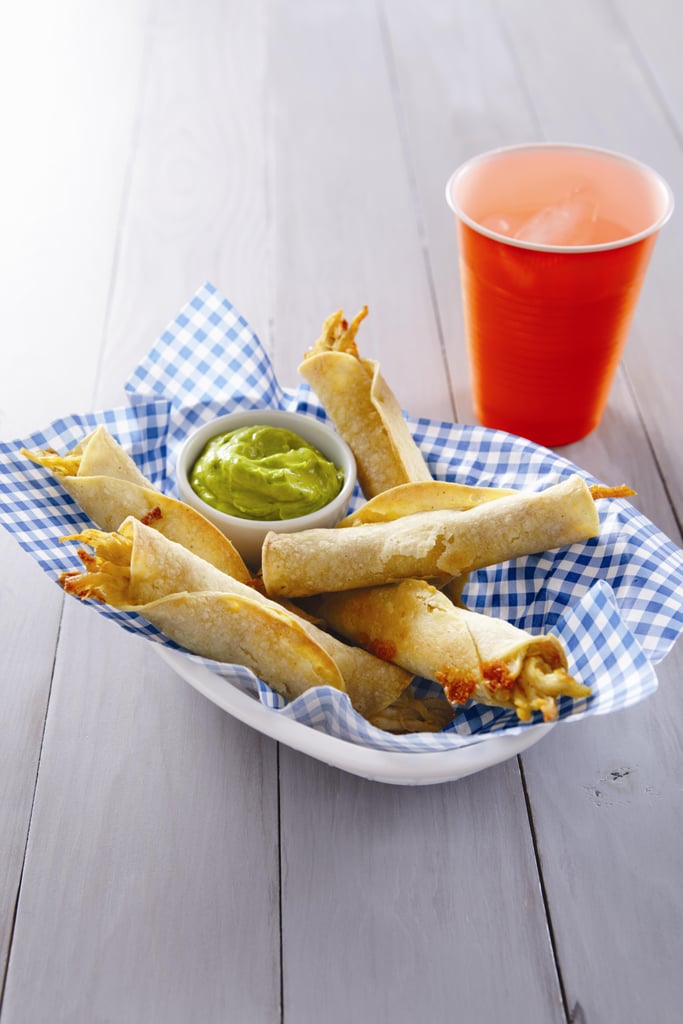 "I love taquitos, but most of the time when you find them, either at a fast food chain or your local Mexican restaurant, they're deep fried to make them extra crispy and give them that great fried flavor," Weelicious's Catherine McCord says. "They're delicious, but I was intent on making an equally appealing yet healthier version." And that she did. In her forthcoming Weelicious: One Family. One Meal [16] (currently available for preorder), Catherine shares her cheesy chicken taquito recipe [17], which, when served up with an avocado sauce for dipping, is a healthy (and tasty) alternative to the frozen and restaurant versions.
Mozzarella and Tomato Panini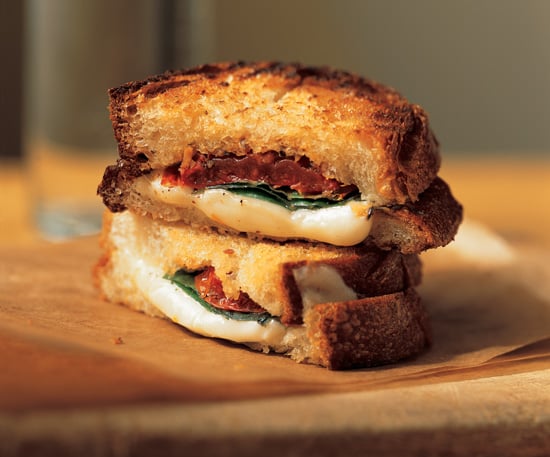 Michael Chiarello's daughter, Gianna, and her friends loved these golden brown grilled sandwiches [18] as kids. He would make them on Saturdays while they were swimming or playing and cut them into small triangles for easy eating.
No Work Chicken
OK, so this recipe technically takes an hour, but it is perfect for busy moms. No Work Chicken [19] involves very little work at all, and the results look delicious. (According to Weelicious's Catherine McCord, "not just another chicken recipe, this one immediately earned a distinguished place in our dinner rotation.") When the kids are getting ready for school, whip up the marinade and soak the chicken breasts all day. When everyone gets home, simply place the breasts in the oven and bake. That's all it takes!
Every-Week Roast Chicken
Roast chicken [20] sounds like a time-consuming meal, but as Sarah demonstrates on Everyday Food with Sarah Carey, it's easier and faster than you think.
"Every week, I make a roast chicken," says Sarah. "Five minutes of prep and an hour of twiddling my thumbs results in the most delicious dinner, plus plenty of leftovers (at least while my kids are still small) to use in soups, sandwiches, and more in the days that follow." When paired with Sarah's smashed potatoes [21], it's a winning weeknight recipe.
Egg Fried Rice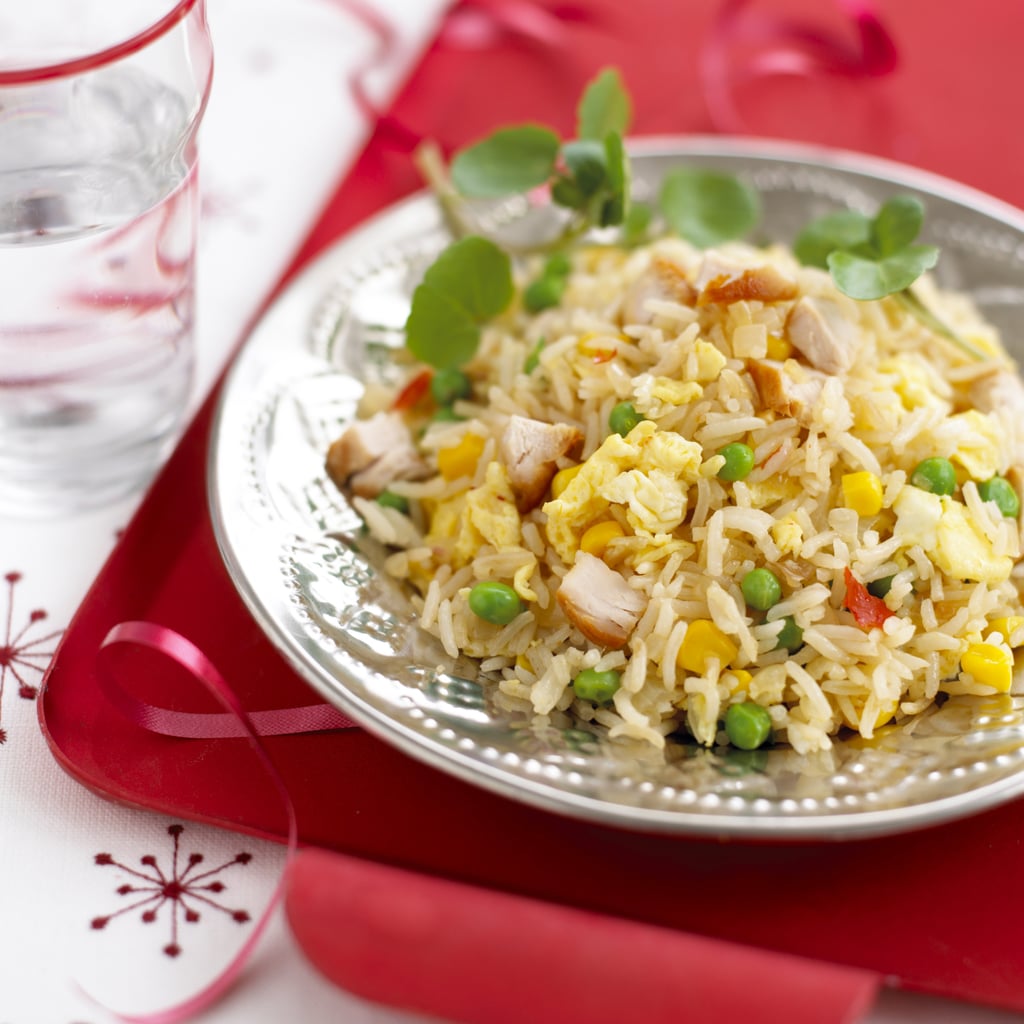 Leftover rice gets a fun and healthy upgrade with Annabel Karmel's egg fried rice [22]. She says adding chicken, prawns, and vegetables to it "makes a complete meal, and this is a great, quick supper to throw together for all the family — and a great one for using leftovers. It's fun to serve chicken rice in a bowl with some child-friendly chopsticks."
1970s Tacos
In the September issue of Everyday Food, Sarah Carey reminisces about her Aunt Colleen's tasty beef tacos [23]. Sarah says, "The secret is in the filling: Using a few bold flavors and zesty spices is just as easy as tossing in some store-bought seasoning packet and way more delicious! Now I make them for my kids on special occasions — like Monday-night dinner."
Pizza Balls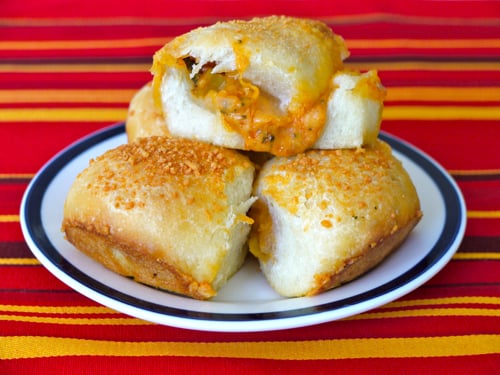 There are few families that don't love pizza night! Sitting around the table and chatting it up over a few slices is always fun, but sometimes it needs a lil shake-up. Weelicious's Catherine McCord's pizza balls [24] are the perfect way to incorporate veggies into the pizza night routine. She says, "When these pizza balls are piping hot, the little spheres pull apart to reveal gooey melted cheese and whatever toppings you can think of to put inside. They're great for dinner, to put in the lunchbox, or even for when you need an afternoon snack that will sate your kids without stuffing them before dinner."
Parmesan-Crusted Tilapia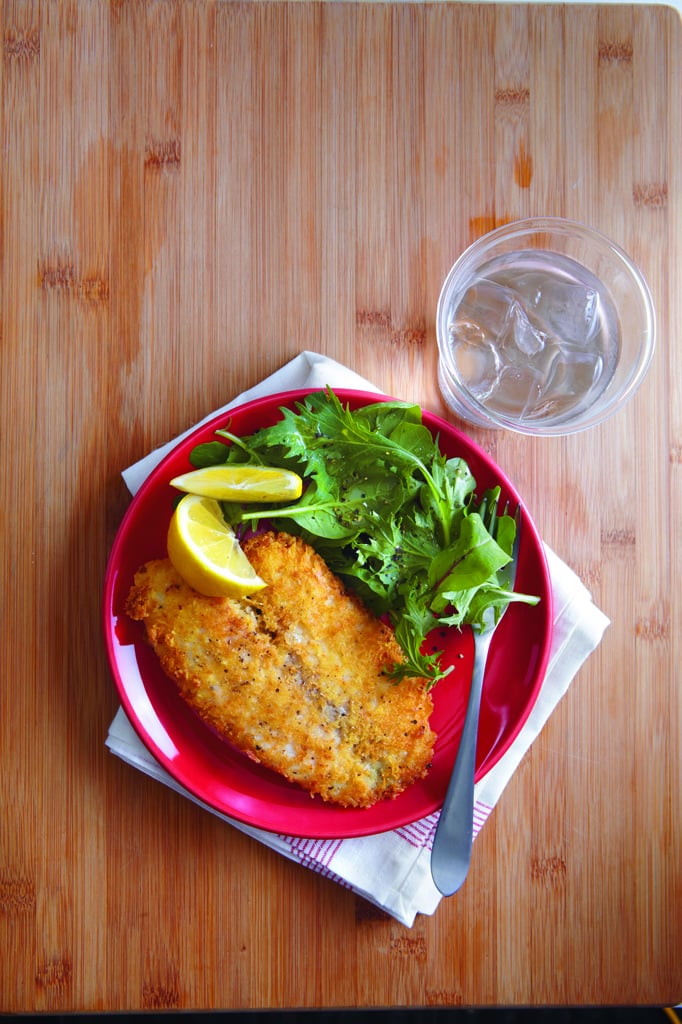 Getting kids to try fish can be tricky, but just read the ingredients in Amanda Haas and Cooking Light's parmesan-crusted tilapia [25] and you know it is something your kids will love. Amanda says it tastes great on its own or served in fish tacos for kids who love to build things!
Middle Eastern Chicken Burgers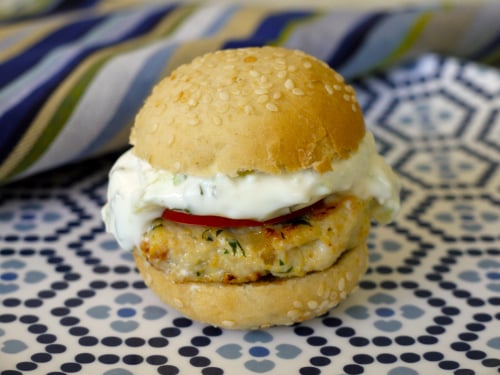 If your kids love hamburgers, it's time to introduce them to the burger's fun new cousin. Weelicious's Catherine McCord replaces the beef in the traditional patty with ground chicken and then jazzes it up with some fresh herbs from the garden to create Middle Eastern chicken burgers [26]. "By incorporating some curry, garlic powder, fresh parsley, and mint into the ground chicken and sauce, you give the ordinary burger a huge burst of unforgettable flavors." She says her family enjoys them off the bun as much as on!
Crisper Drawer Pasta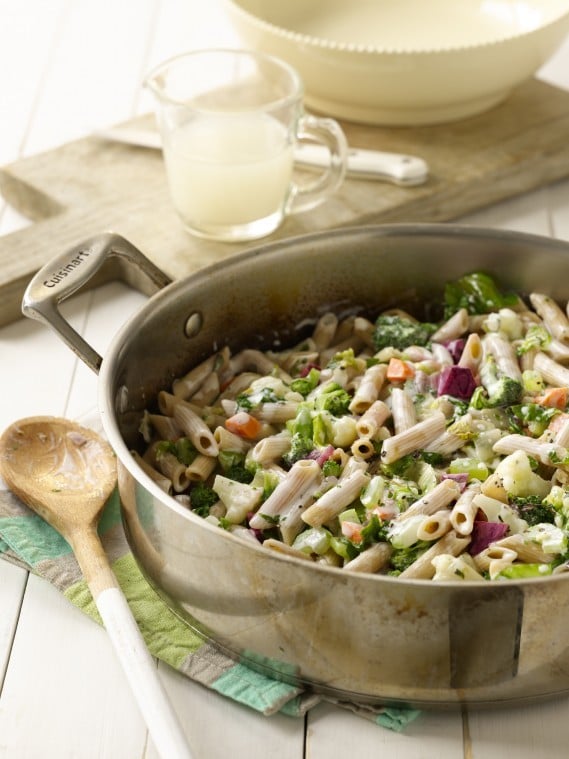 With four daughters running around her home, Melissa d'Arabian knows about the chaos that can occur at dinnertime. The Food Network host and author of Ten Dollar Dinners [27] also knows that busy moms can't always remember what's hiding in the corners of the refrigerator. That's how she came up with Crisper Drawer Pasta [28], a quick and productive weeknight meal — the whole recipe can be made in 30 minutes — that helps use up everything in the crisper drawer.
Couscous Salad With Chickpeas, Tomatoes, and Mint
On weekday nights, every minute counts, and if Mom and Dad don't need to turn on the stove, that's precious moments saved! Jessica Seinfeld's couscous salad with chickpeas, tomatoes, and mint [29] doesn't require any oven time, as it simply uses hot tap water for making the couscous. Packed with protein and flavor, Jessica says, "It's also perfect the next day for a brown-bag lunch."
Weeknight Cobb Salad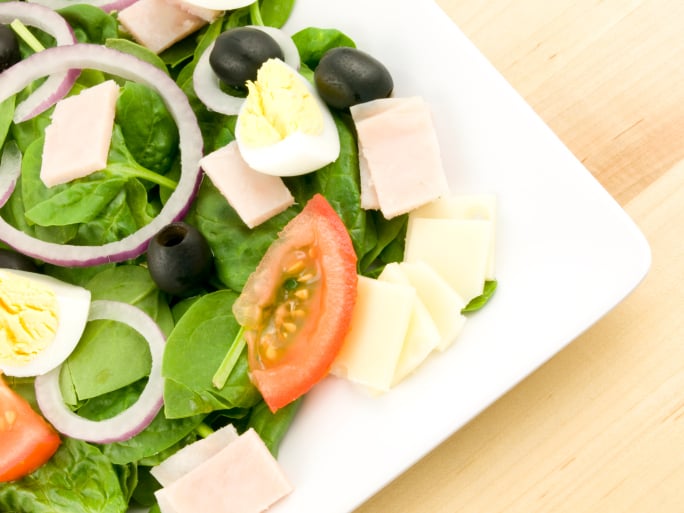 When it comes to creating a quick and healthy weeknight meal for his 4-year-old daughter, Lydia, Lachlan Mackinnon-Patterson turns to an all-American classic — the chef salad [30]. Not only is it quick, but it is also full of bright colors and various food groups. "This is something we make with Lydia once a week. [It's] quick to put together. She helps put it together and it's a complete meal full of all sorts of different textures."
Chocolate Panini
For dessert, Michael Chiarello says there's nothing better, or faster, than a fresh chocolate panini [31]. An indulgence for sure, this combination of thick-cut bread, bittersweet chocolate, and crème fraiche can easily become a family favorite — plus it's fun for the kids to make once dinner is done!
[32]