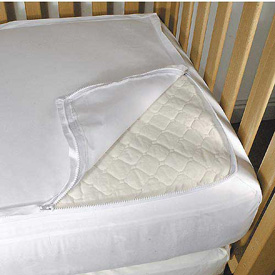 Mamas-to-be spend months choosing
crib ensembles
for their little bundles of joy.
Thirty percent of LilSugar readers
still buy
bumpers
to complete the look despite how controversial they've become. The crib sheet is a staple for even the bare bones parents who have stripped their kiddos' cribs down to just necessities. The coverlet provides an essential barrier between a wee one and their mattress. But because safe mattresses fit snug in crib frames, many moms find themselves wrestling the cushion when it's time to change the linens. The
Clouds and Stars' QuickZip Crib Sheet
($35) is one product that eliminates the amount of mompower the task takes. The sheet's base stays put on the mattress while the top zips off for easy cleaning.
Do you have any quick solutions for changing a crib sheet?