Whether it's pouring rain or an unexpected snowfall, the weather forecast can quickly leave kids feeling restless while stuck indoors. When it's too snowy, wet, or cold to go outside, you'll be hearing echoes of "Mommmm . . . I'm bored!" before you know it. If you're out of ideas after a few days cooped inside, you've come to the right place.
We've come up with 119 boredom-busting ways to stay entertained indoors. Challenge your little ones to do something different this afternoon and try out a craft, recipe, or game that wouldn't have otherwise interested them. Prove to your kids that being stuck inside isn't necessarily a bad thing — it can be an opportunity to learn something new!
Glow Stick Balloons
Set the tone for an epic dance party or hide-and-seek in the dark by first making glow stick balloons [1] that will keep shining bright for hours.
Make a Fruit Print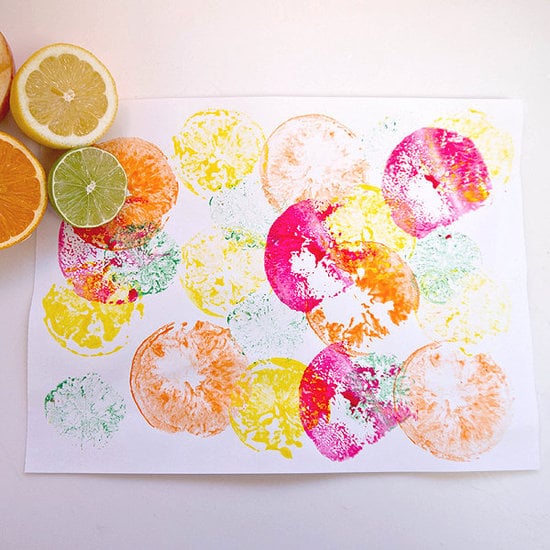 Fresh fruit doesn't have to be just for eating. Gather the kids, along with their favorite fruits, and enjoy an easy afternoon art activity [2].
Mini Painted Clay Pots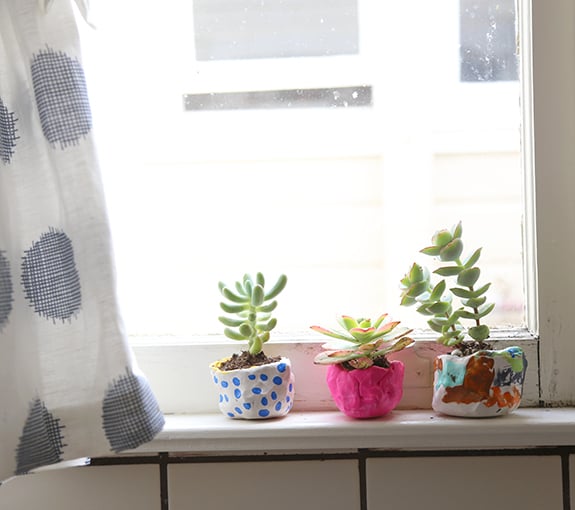 Bring the outdoors in by creating new homes for some special plants or herbs with your kiddo. These polymer pots [3] are just as fun (and easy!) to decorate as they are to make.
Make Lego Storage Jars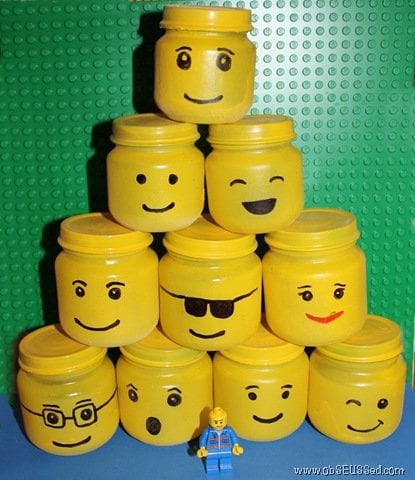 Recycle old baby food jars [4] by turning them into Lego storage jars.
Source: obSEUSSed [5]
Create Rock Crayons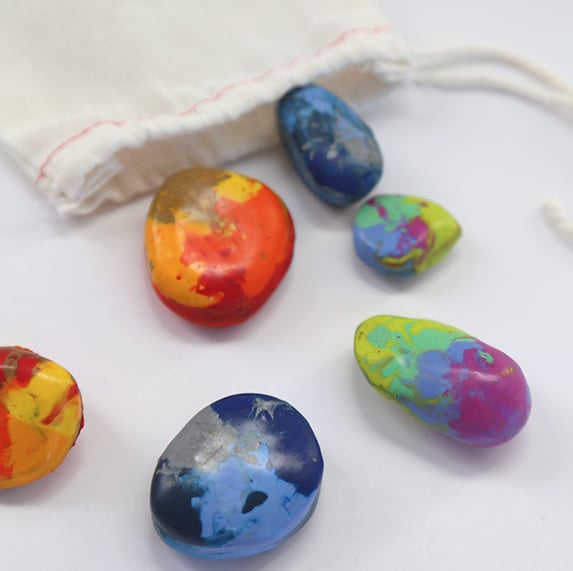 Rock crayons are the gift that keep on giving because once your child has enjoyed the fun of making these rainbow creations [6], they can enjoy coloring with them during future projects.
Create an Indoor Herb Garden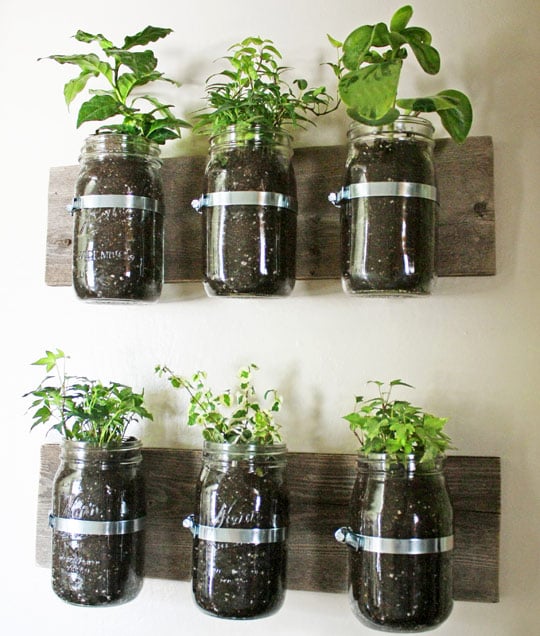 While you probably want to mount the herbs with the help of another adult, your kids will love getting their hands dirty to help you plant herbs in mason jars [7]. It's a great way to add fresh flavors to your family dishes all year round!
Source: Not Just a Housewife [8]
Create Milk Art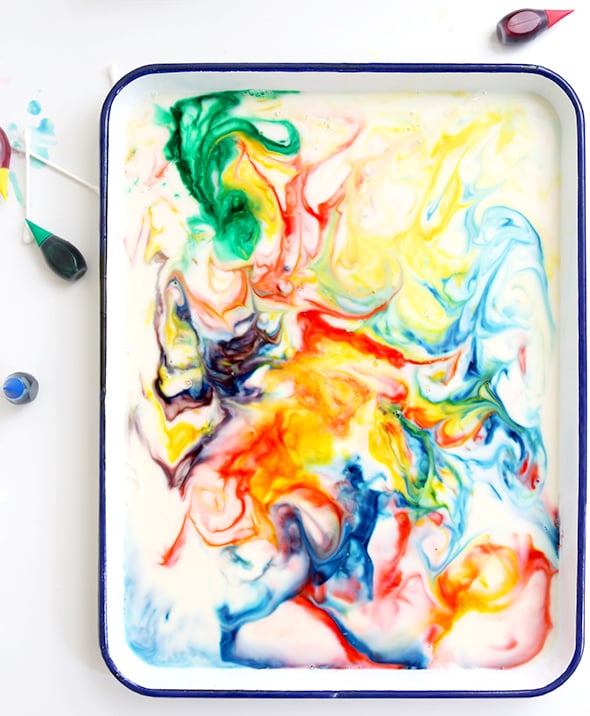 Not only will your kiddos love every second of this unique project [9] but you'll be thrilled with the frameable end result.
Button Jewelry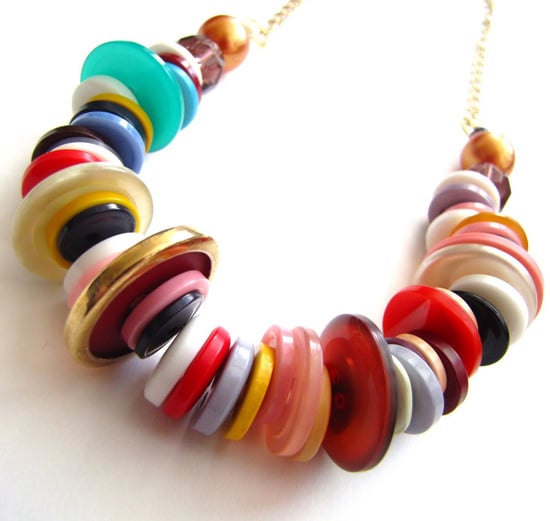 A button necklace or bracelet is easy to make, inexpensive and super fun! Have the tots help you sort, pick and thread the buttons.
Source: Yellow Blackbird [10]
Marshmallow Monsters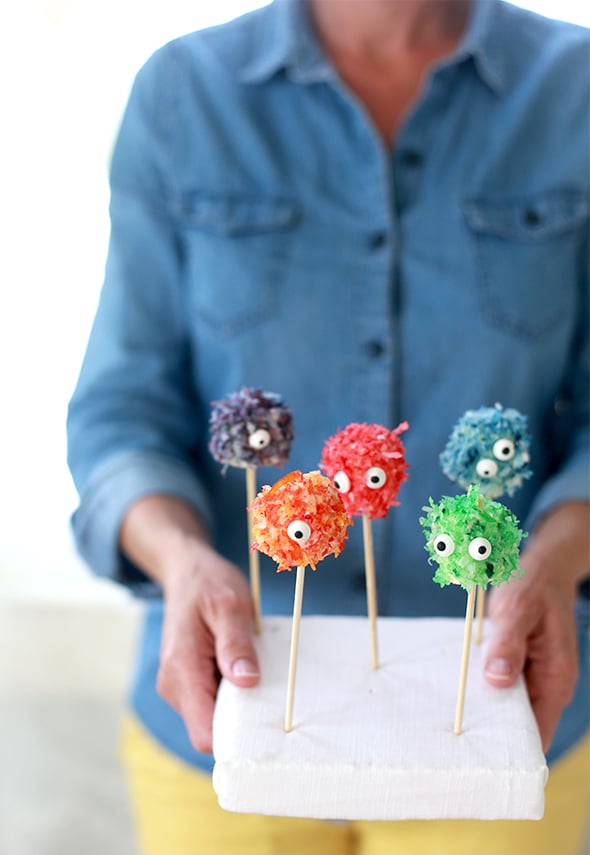 Inspired by Sesame Street monsters, this edible craft [11] lets kids use their imagination to make their own colorful characters.
DIY Spin Art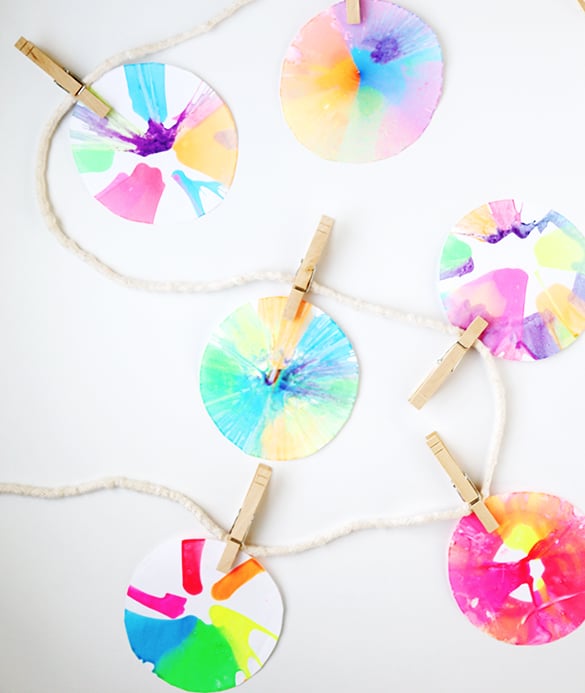 Put that old salad spinner to use for this fun activity [12] that every age group will enjoy.
Edible Flower Lollipops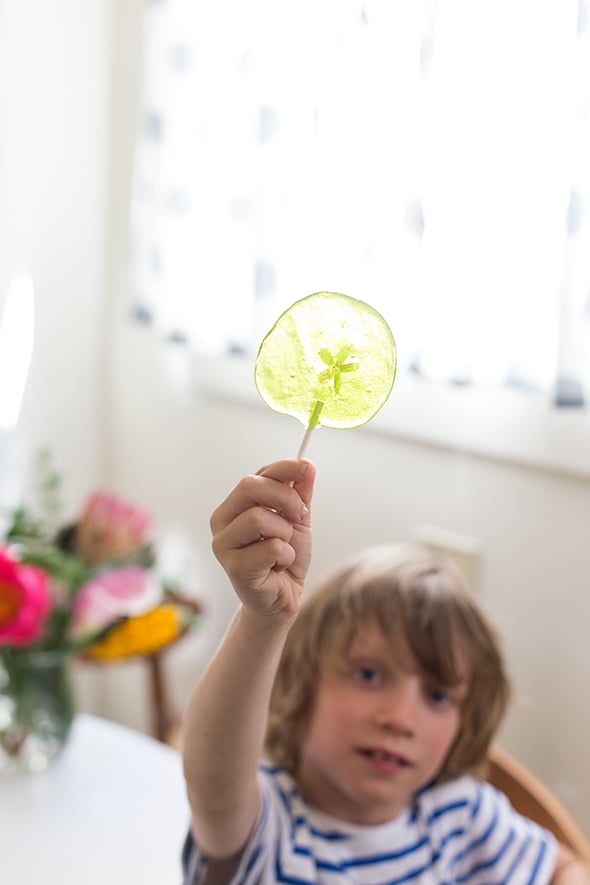 You don't need a candy thermometer to make these jasmine treats [13]. You'll be surprised that they turn out just as delicious as they are pretty!
Make Your Own Play Dough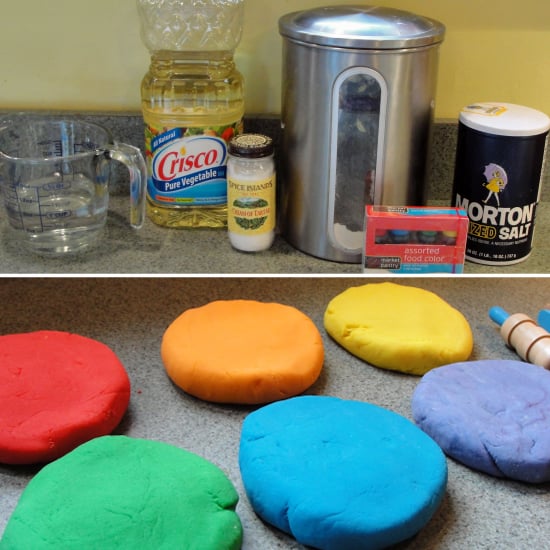 It's easy, requires only household ingredients, and takes just 10 minutes. Gather flour, water, cream of tartar, salt, vegetable oil, and food coloring (get the exact recipe here [14]), and in just a few minutes, you'll have long-lasting, nontoxic, homemade playdough!
Croon to Karaoke
If you have a karaoke machine or your cable provider offers a karaoke channel (it sounds silly, but many of them do — pay your "On Demand" section a visit and check), then unleash your inner rock stars and start singing!
Play Dress-Up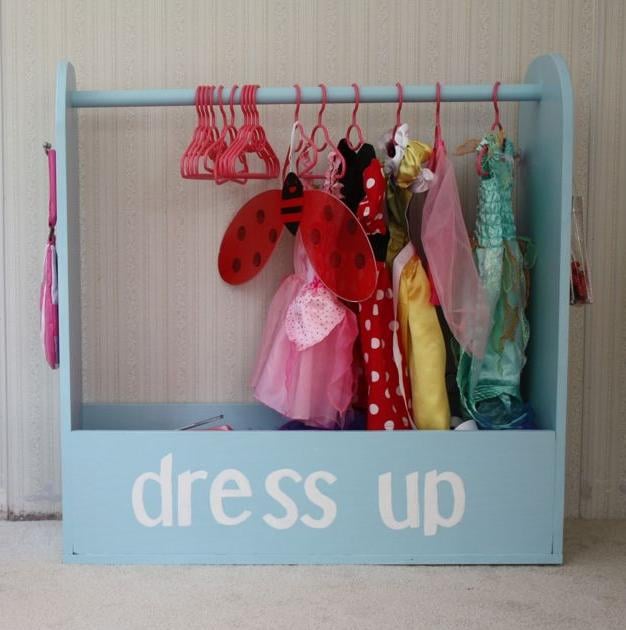 Pull out all the play clothes, along with some of Mom's high heels, Dad's old sporting equipment, and whatever else you can find, and let your kids create the craziest outfits they can imagine. And if you have a handyman or woman around on your rainy day, then dare them to build this adorable dress-up storage container [15].
Make Paper Rosettes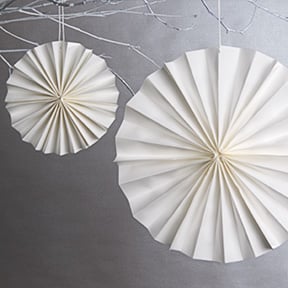 Make paper rosettes [16] to hang in your windows.
Crayon Bowl Craft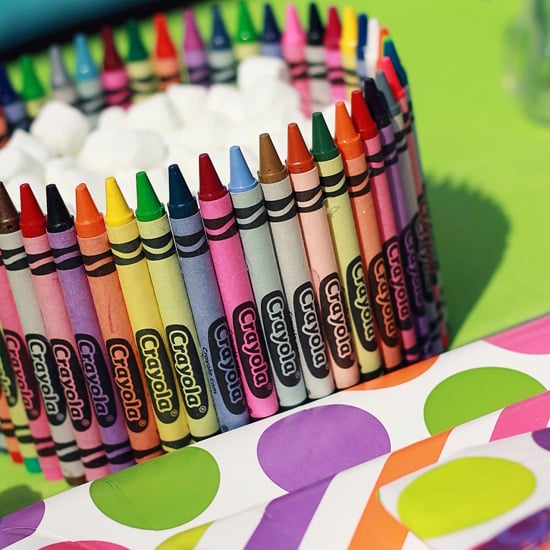 Turn a plain, inexpensive bowl into a colorful creation with this cool crayon craft [17]. All you need is a bowl, crayons and a glue gun.
Celebrate Christmas in July
Surprise the kids by taking out the Christmas decorations and celebrating the holiday . . . in July! Play Christmas music, bake cookies, and decorate your houseplants with ornaments. Just don't leave the decor on display for too long, or your friends and neighbors will think you've lost it!
Button Bouquet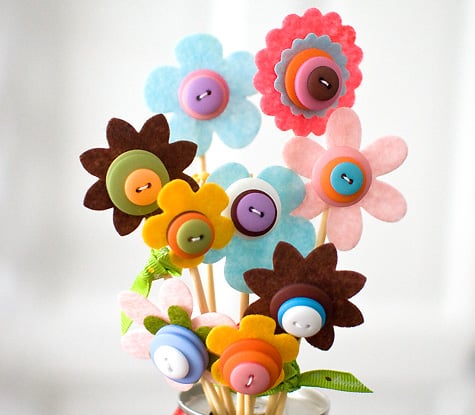 Break out your button stash and create a bouquet that blooms [18] all year long!
Play DJ
Hop on iTunes and encourage your little ones to create their own playlist. Come up with a theme of their favorite tunes, or introduce them to an entirely new genre, and rock out!
Play Library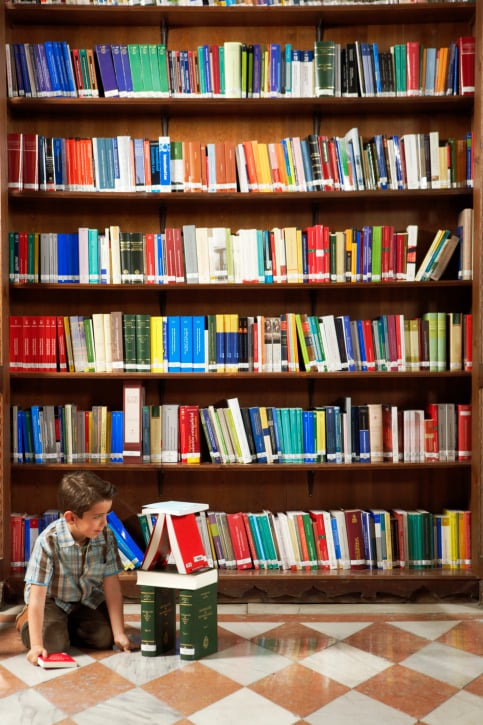 Check out your favorite books from your own collection; organize your library by book color, author, size, or subject; or just find a cozy corner and curl up to read.
Create Your Own Personalized Decoupage
This fun, original decoupage activity [19] is an easy way to bring all the kids together on one project! Simple and quick, it's an easy way for them to create some new decor while spending some quality time with you.
Write, Direct, and Produce a "TV Show"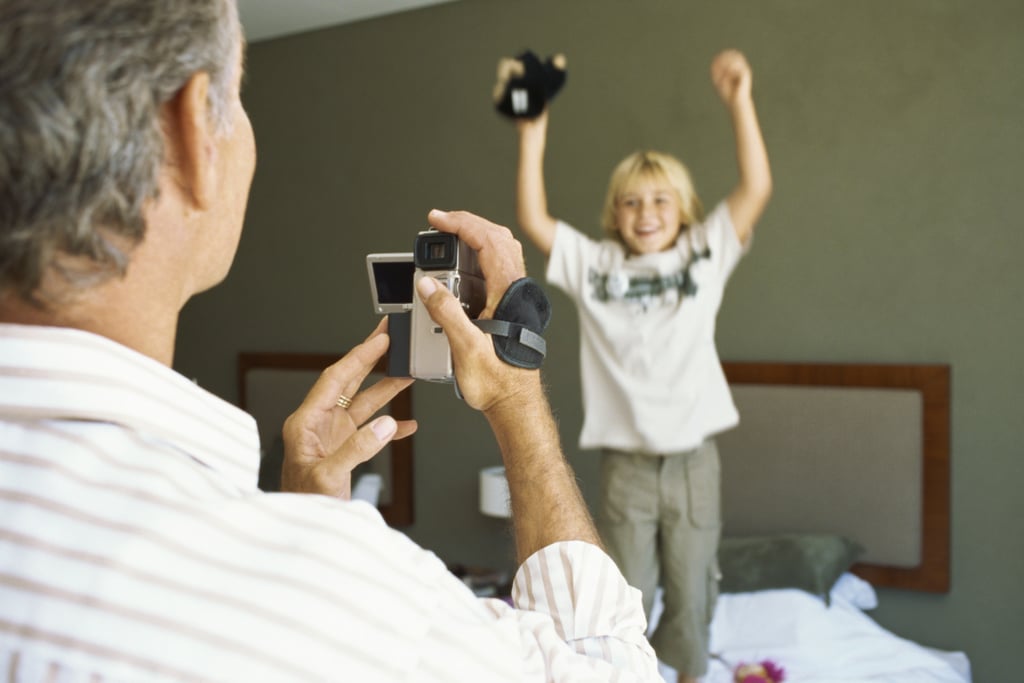 Encourage creativity by challenging the kiddos to create their own TV show or movie. If they're too young to do it on their own, then offer your assistance with the camera when it comes to "lights, camera, action" time. Whether or not their pilot gets picked up, the results are sure to entertain.
Create a Time Capsule
Create a "2012" time capsule. Have kids include a letter to their future selves with information like their grade in school, Summer plans, their best friends' names, hobbies they enjoy, favorite movies, songs, and more. Also include a few mementos and photos. Be sure to seal the whole thing in an airtight container (a tennis ball can or Tupperware would work well), and wait until a sunny day to bury it in the backyard. Just remember to make a note of where it is and when you want to open it!
Make Safari Cupcakes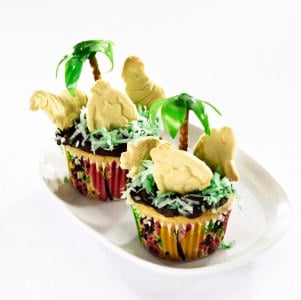 Get creative in the kitchen with this easy-to-follow recipe for safari cupcakes [20]. The trees are made from fruit leather, and the animals are ordinary animal crackers!
Button Embroidery Hoop Art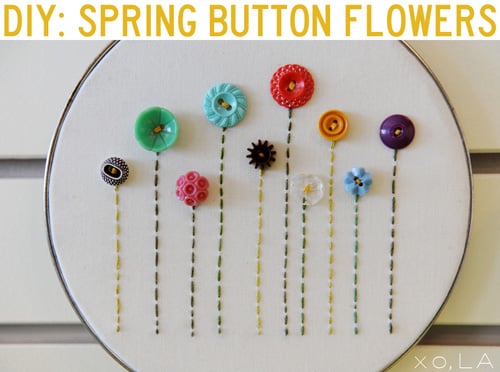 Embroidery hoop art is all the rage in nursery decorating. A simple project like this one would make a great handmade addition to your nursery decor [21].
Play Grocery Store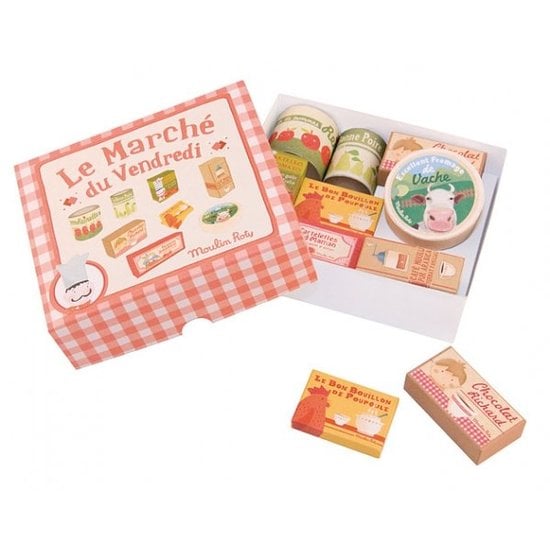 Whether they have a fancy grocery playset [22] or you rummage through the kitchen for food and products that can do double-duty as toys, setting up a "grocery store" can be a fun — and even educational — way to spend the afternoon.
Combine Science and Crafting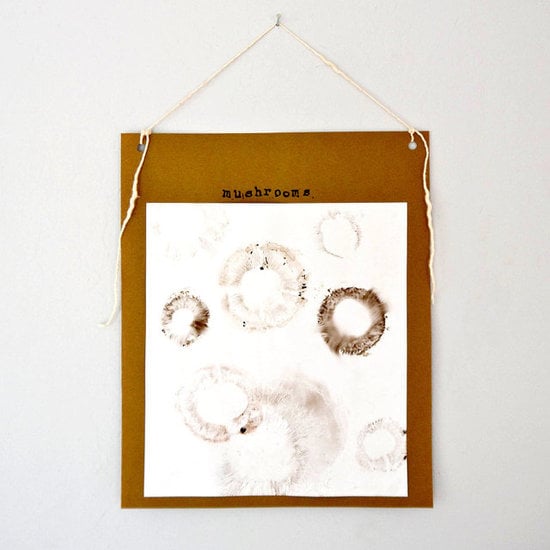 Here's a project that's perfect for your lil science geek. Even if your child doesn't care for the flavor of mushrooms, he'll totally be a fan of this fungi after Cake pops [23] can seem intimidating, but they're actually quite easy (get our instructions here [24]) — and delicious. Celebrate one good thing about being indoors on a Summer day (avoiding bees!) with these delicious bee cake pops, made from vanilla cake, dipped in yellow candy melt, and decorated with black fondant and white chocolate wafers for the wings.
Write Letters to People You Admire
Brainstorm favorite politicians, athletes, or any other role models that your kids might have, and embark upon a letter-writing project. Who knows? It could end with your kiddos scoring an invitation to the White House!
Vacation Memory Jars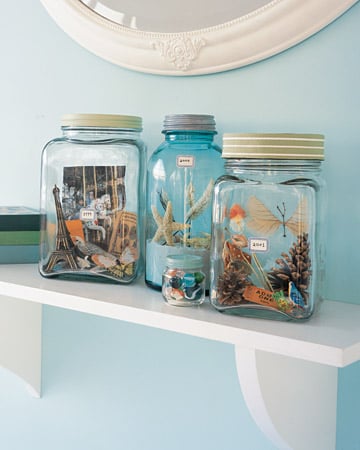 Nobody likes to say goodbye to their vacation, but there's an easy way to extend the joy of the trip. Whether created on a rainy day during the trip or once you're home, these vacation memory jars [25] help lil ones retain their favorite artifacts from their time away from home. Best of all, they can easily be transported to school for the obligatory "what did you do on Summer vacation?" discussion.
Dig Up Some Old Socks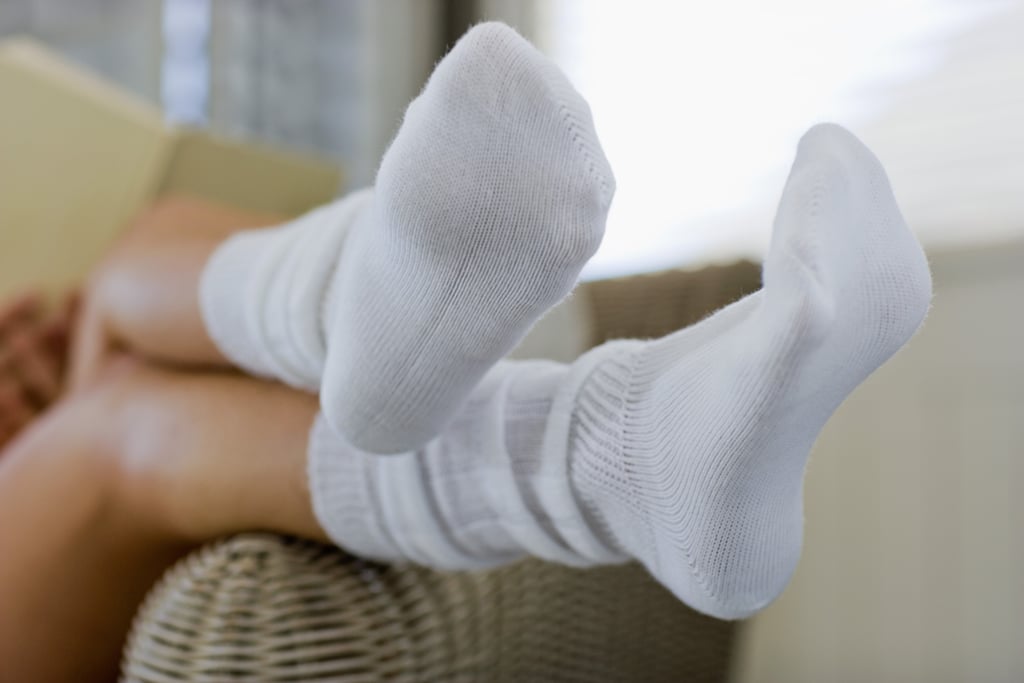 Create sock puppets, fill them with sand, or decorate them into door stoppers. A clean pair of socks has endless potential [26].
Put on a Fashion Show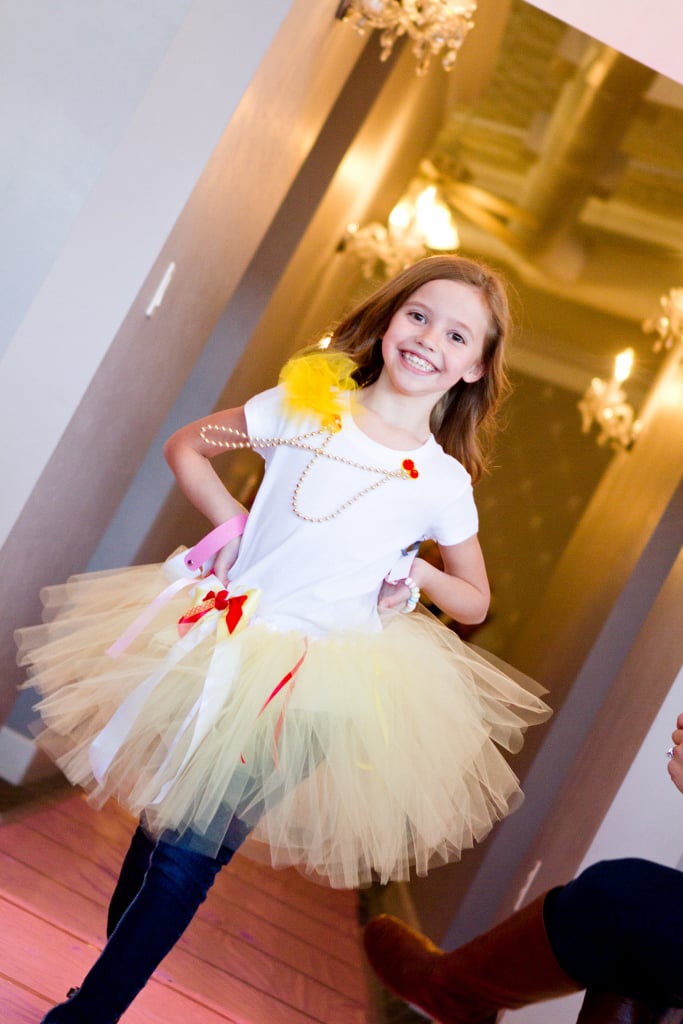 Let your little ones (boys and girls are both invited!) strut their stuff. Make a runway out of kraft paper or a rug runner and get the music pumping. Give points for the best runway walk and the most creative outfits!
Make Fresh Fruit Pops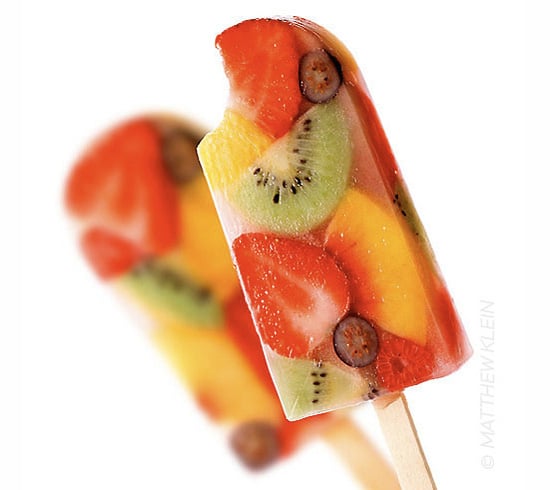 Pretend it's a sunny Summer day by making fresh fruit ice pops [27].
Make Paper Bag Puppets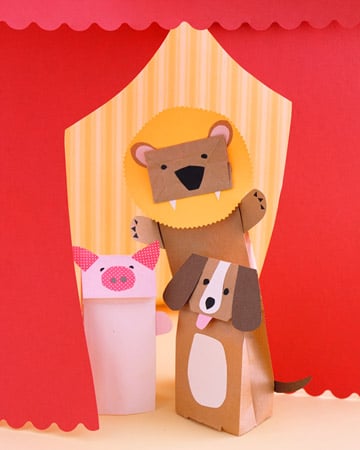 These can be as complicated or as simple as you want them to be, and the beauty of paper bag puppets is that you really don't need any fancy supplies other than staples. Check out Martha Stewart's tutorial on how to make these adorable animal puppets [28].
Sing Camp Songs!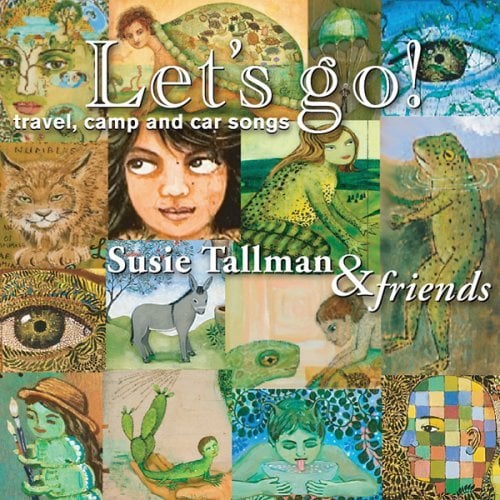 A sing-a-long is always fun, and even if your little ones haven't spent a day at camp, they're sure to love classic songs like "Going on a Bear Hunt," "Boom Chicka Boom," "Throw It Out the Window." If you haven't heard those camp songs, then check them — and almost two dozen others — on Susie Tallman & Friends' Let's Go [29] ($14)!
Make Life-Size Paper Dolls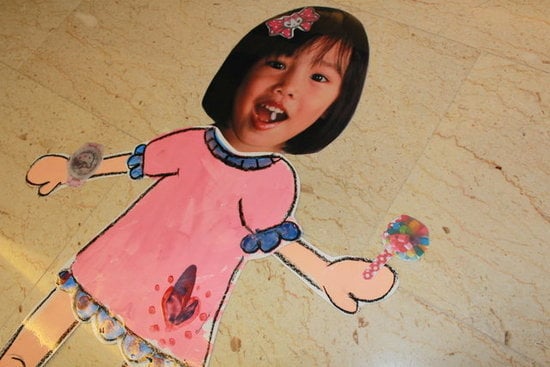 Forget little dress up paper dolls that can easily be lost after use, go big with life-sized versions [30] that your tot can play with day-after-day.
Tear Up Some Paper, And Then Do Something With It
If you've got a tot who's not thrilled about getting crafty, this torn paper collage craft [31] will have his fingers excited about creating.
Cardboard Play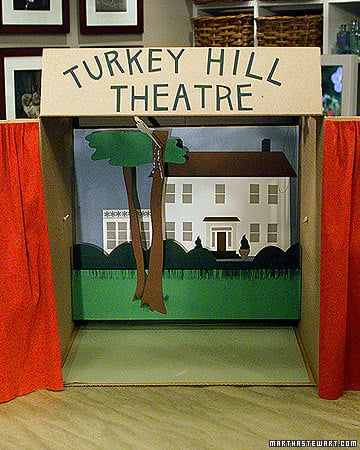 Don't throw away those Diapers.com boxes that arrive throughout the year. Save them for a rainy day and transform them into something unique. With a few snips along the boxes' edges and some scraps of fabric from around the house, they can be converted into puppet theaters [32] for an afternoon showing of your lil ones' favorite show.
Make Your Own Ice Cream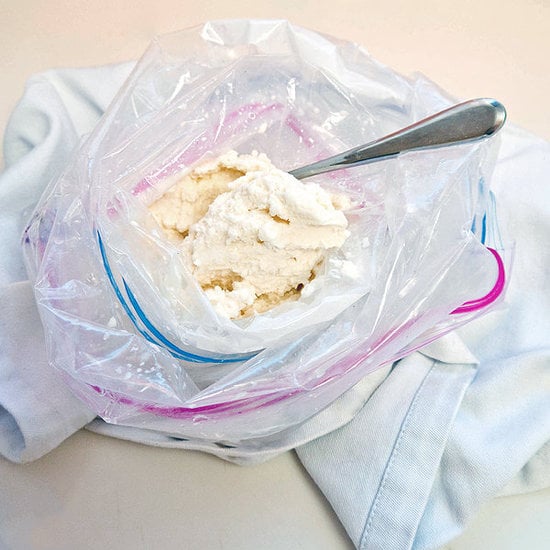 The kids will all be screaming for ice cream with this easy recipe [33] — best of all, no ice cream machine is required, just a few active hands!
Create an Art Gallery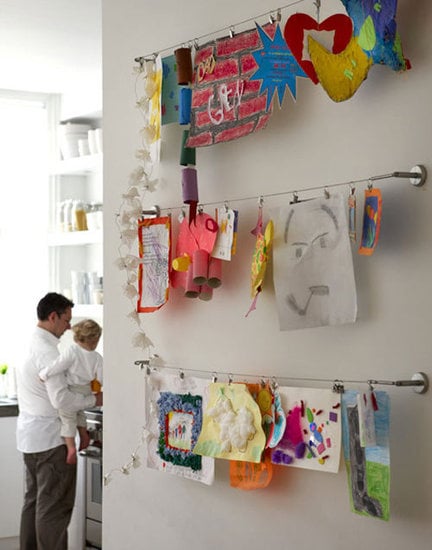 Take a cue from The Style Files [34], and put the kids' original artwork on display. If you have an excessive amount of old paintings and drawings, then use this as an opportunity to have them sort through and organize the keepers vs. those that they (and you!) can do without.
Make a Fingerprint Family Tree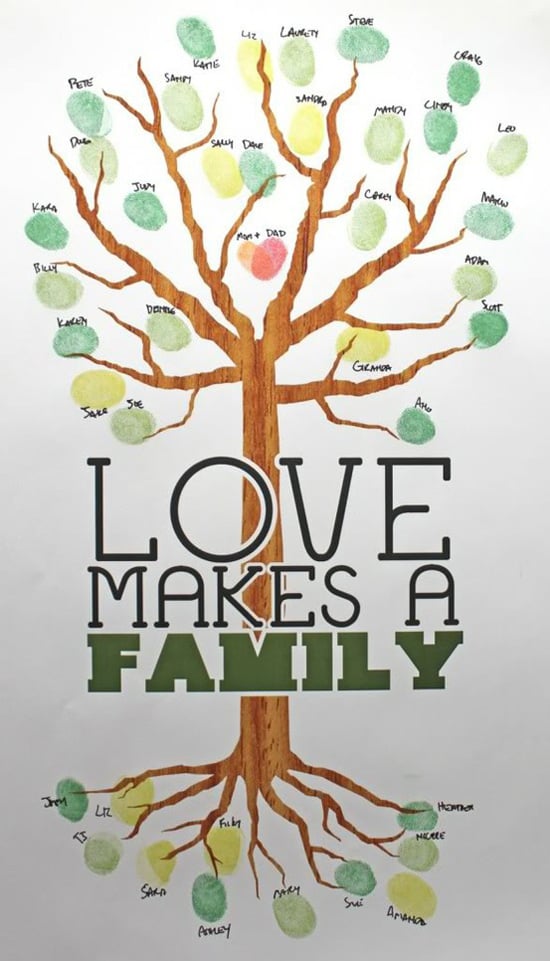 Use an ink pad and kiddie thumbs to create a fingerprint family tree [35]. It's a great way to teach your lil ones about their family history.
Have a Rock-Painting Party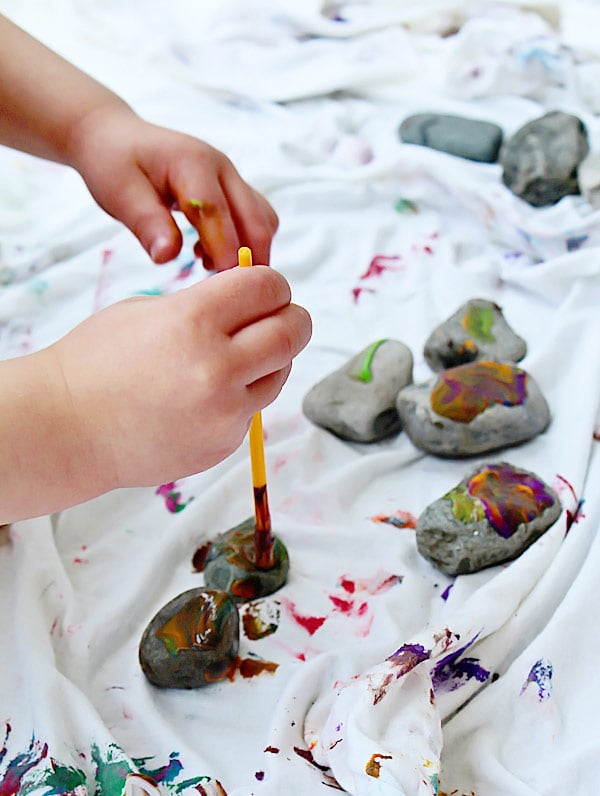 If you can brave the rain for a few minutes to gather some rocks and have some paint and brushes on hand, then you have everything you need for a rock-painting party [36]. Let your kids get creative by mixing colors, and give toddlers smaller brushes to work on fine motor skills!
Make a Ruffle Cake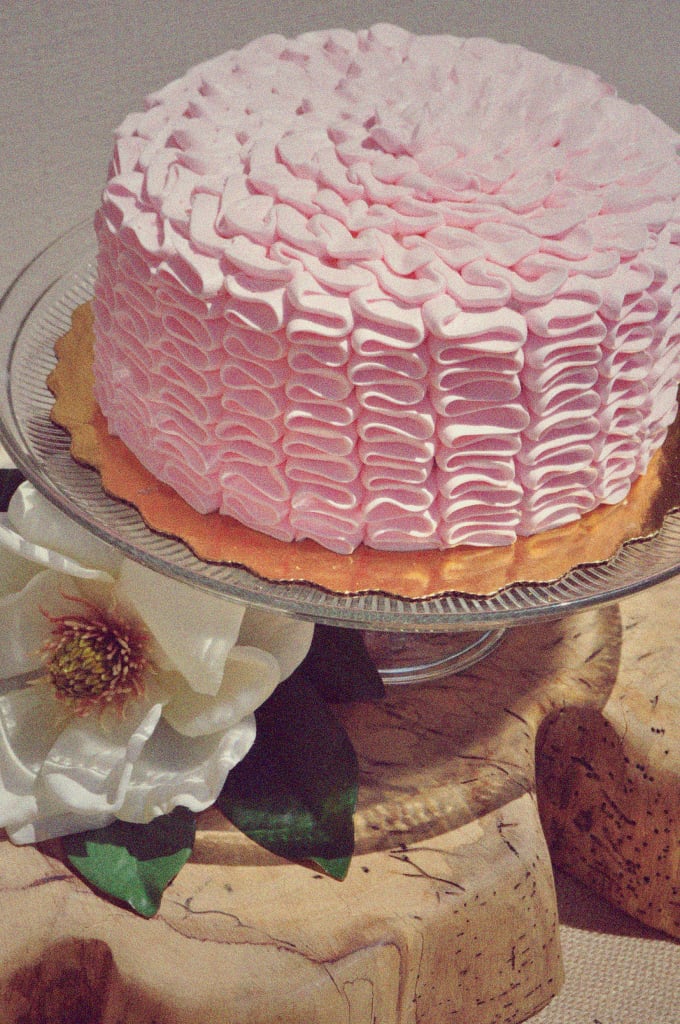 Ruffle cakes are not only extremely beautiful, but they're also surprisingly easy to make. Watch a tutorial here [37], and then let older kids practice their cake-decorating skills!
Give Play Dough a Makeover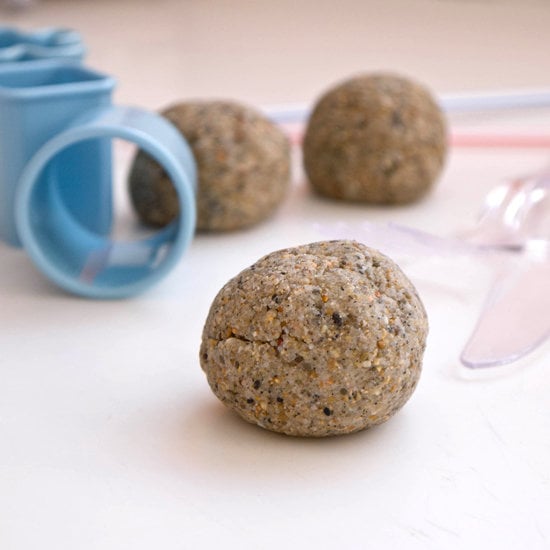 Who needs plain old play dough, when you can make your own Sand Dough [38]. The easy to make recipe is made for lil helping hands!
Build a Fort or Tent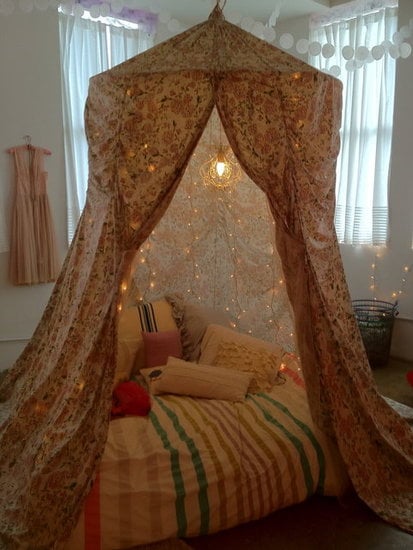 For some good, old-fashioned fun, hit the linen closet and construct a fort or tent with sheets and pillows. The process of creating the hideaway is only the beginning; as once they're done with the hard work, playtime can begin!
Sort Through Old Toys and Plan a Garage Sale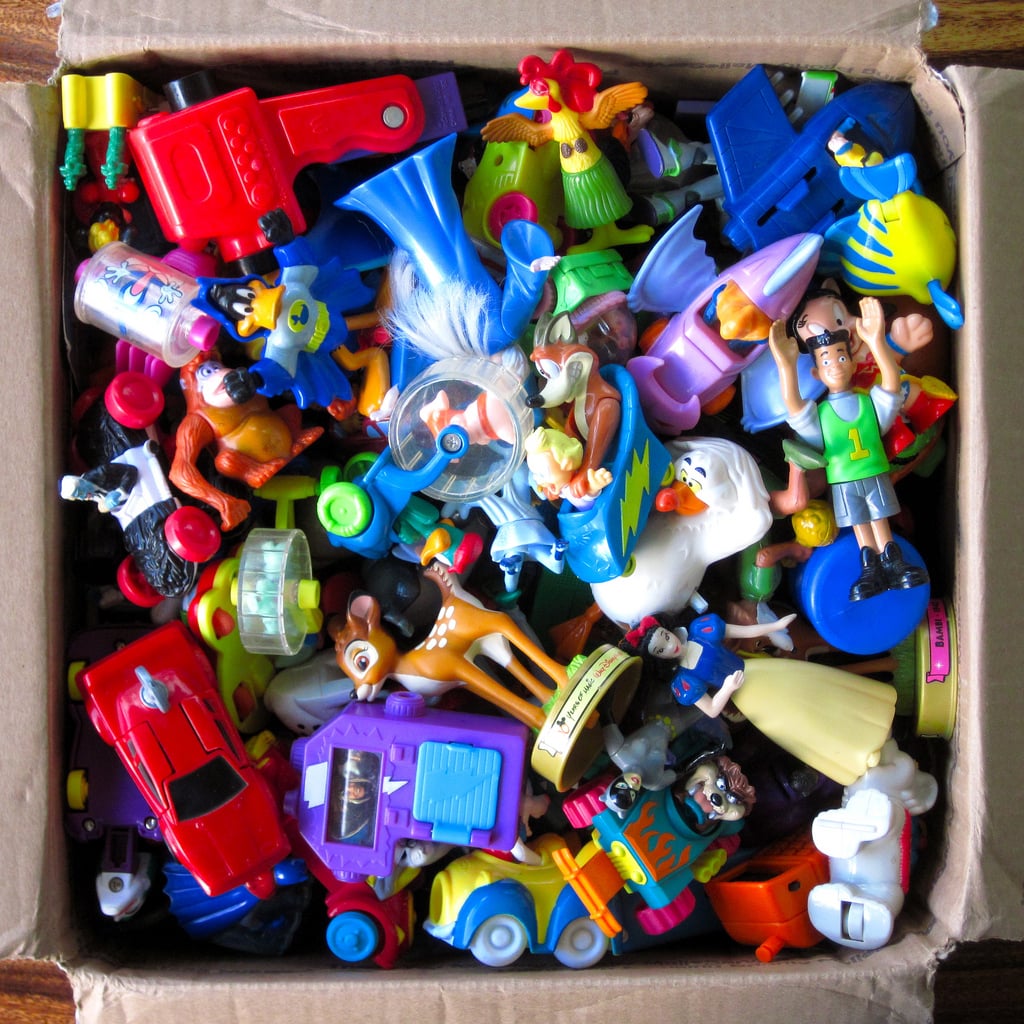 Use the promise of an upcoming garage sale as motivation to get the kids to sort through their old toys. Have them propose prices for each of the items they're giving up, and discuss what you'll do with the (eventual) profits. You may want to consider making a donation to a charity of the kids' choice to make the project especially meaningful.
Have Fun With Pancakes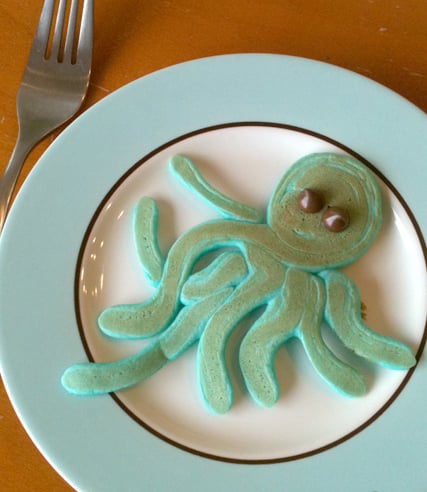 We're big fans of getting creative with pancakes [39], so whip up some batter, grab some food coloring, and let your kids go crazy (with some adult oven supervision, of course).
Pull Out the Puzzles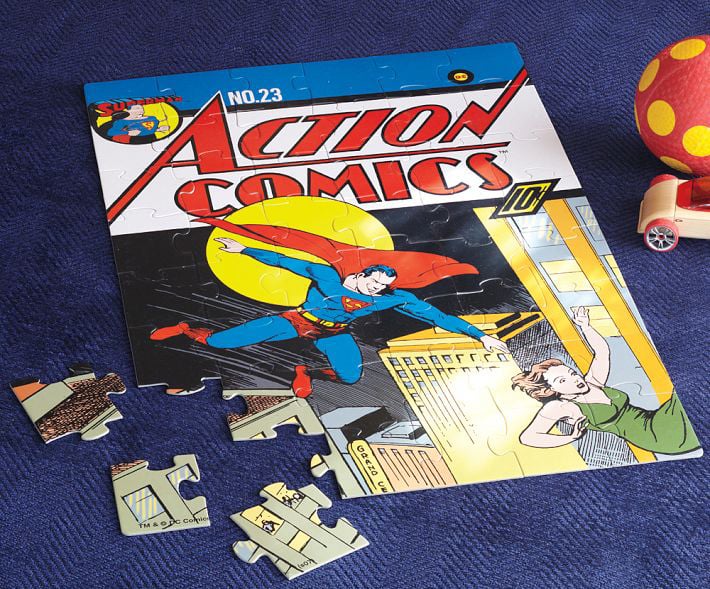 Puzzles are great for brain development, but be sure to pick one that's age-appropriate. This vintage Superman option [40] ($19) from Pottery Barn Kids should appeal to kids ages 3 and up.
Create Art For Grandparents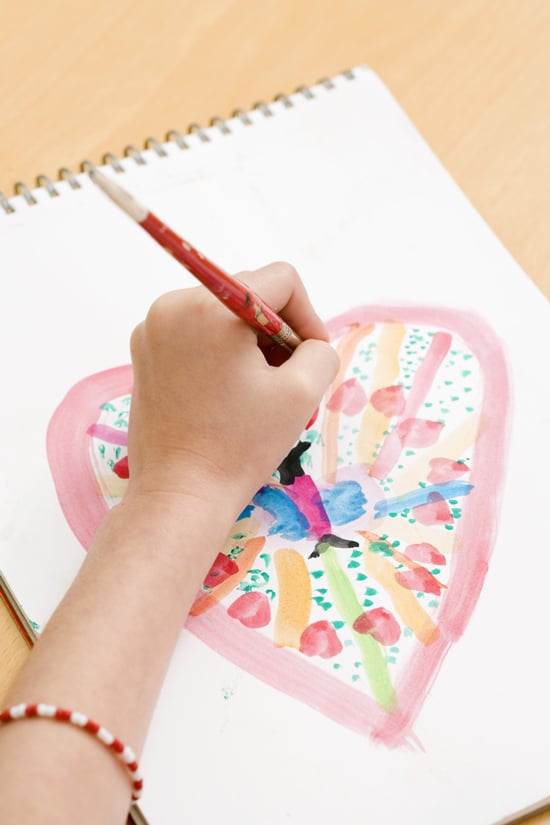 Nothing will make Grandma and Grandpa happier than receiving a package with your child's original artwork! Ship paper pieces (signed by the artist, of course) in mailing tubes. Or work that technology again and transfer a piece to a postcard, magnet, notecard, or mug. These days, the art-sharing and gift-giving possibilities are endless!
Spa Day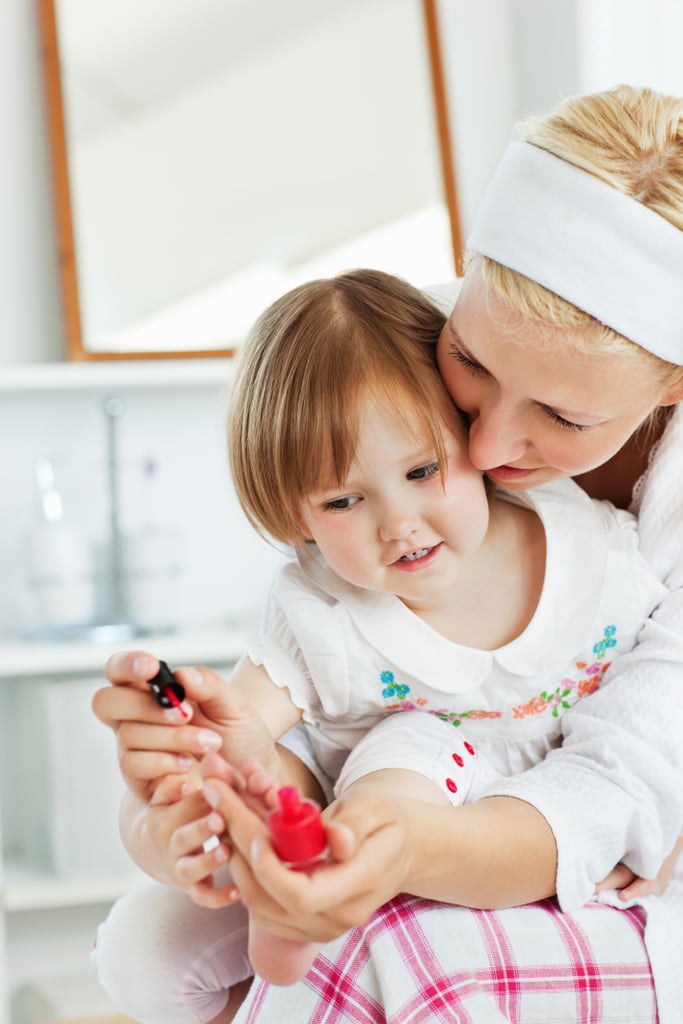 Break out the nail polish for at-home mani/pedis. To create an extra-authentic spa environment, have everyone wear bathrobes, cut up some cucumbers to soothe the "clients'" weary eyes, and turn on some New Age tunes.
Make Indoor S'mores
Take indoor camping to new levels with s'mores for dessert! If lighting up the fireplace in the middle of the Summer seems like a bit much, then use the flames from your stove.
Make Flavored Popcorn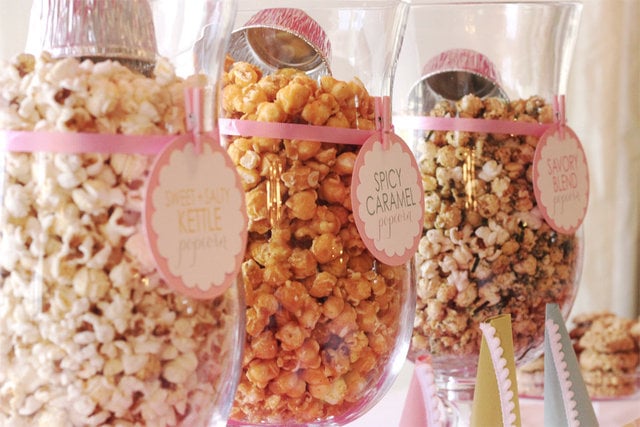 Make flavored popcorn and set up a popcorn bar [41] — perfect for movie viewing.
Have a Camp Movie Marathon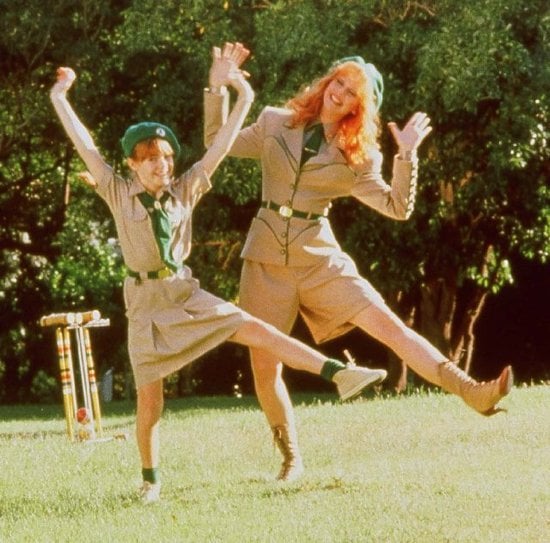 If they're headed off to camp later this Summer, then get them in gear with a camp movie marathon. Here are a few suggestions for appropriate flicks [42]. Get everyone in the spirit by watching from a play tent or fort [43].
Make Fortune Tellers
Make fortune tellers (otherwise known as cootie catchers) like these ones by 5 Orange Potatoes [44].
Bake a Rainbow Cake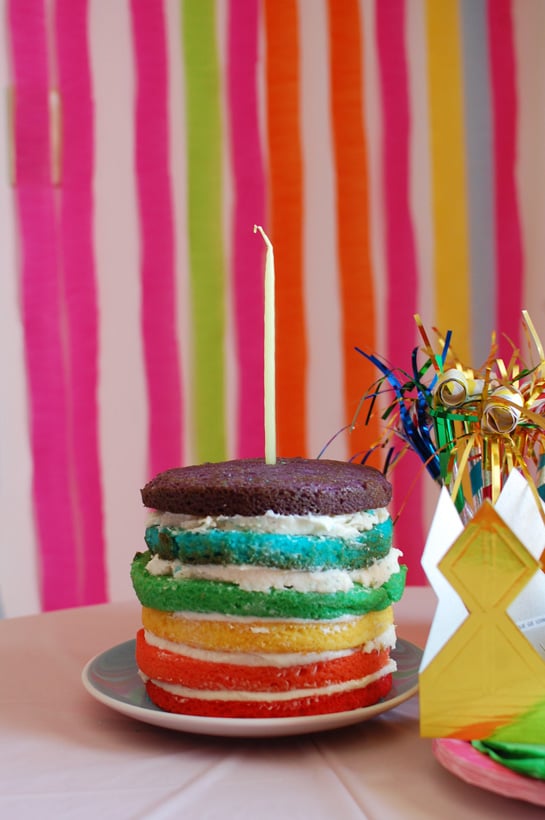 With a little effort and a lot of food coloring, whip up a masterpiece worthy of Betty Crocker.
Hanging Crayon Hearts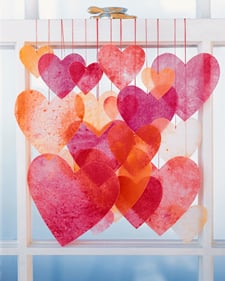 These translucent hanging crayon hearts [45], made from waxed paper and crayon shavings, can cheer up a room in your home.
Unleash Their Inner Author
Writing a book takes most authors years to do, so hopefully it'll be a way to occupy at least a portion of your rainy afternoon. Work with the kids to "storyboard" their ideas first, then develop a great title, illustrations, and plot.
Get Active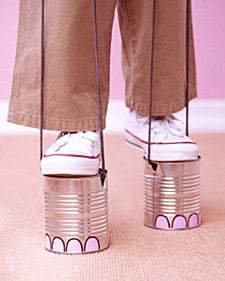 Crafting isn't only sedentary. Pull out those empty cans and create something that gets kids moving like these elephant feet [46]. If you have several cans stored up, get multiple kids on their feet and have elephant races across the room!
Make Some Goop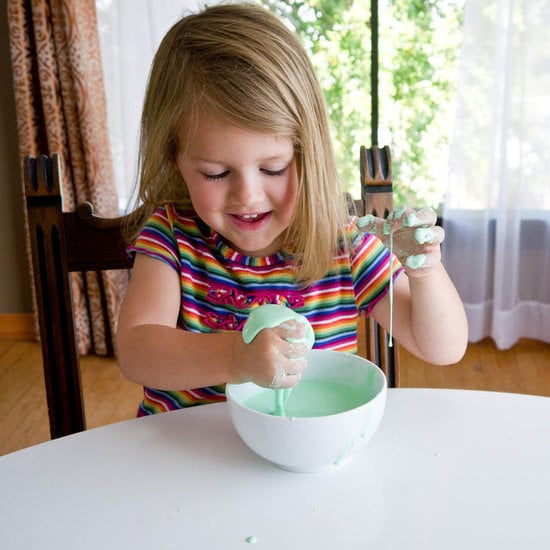 No, we're not talking about Gwyneth Paltrow [47]'s site, but some slimy, silly concoction that only requires three ingredients [48].
Build Your Own Terrarium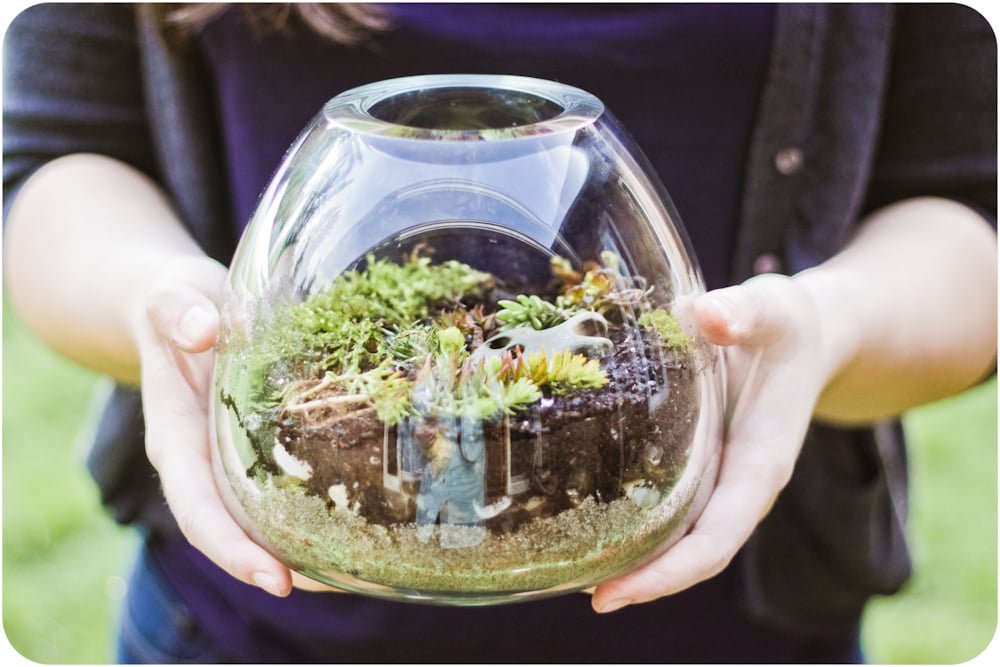 A glass vessel, some sand, some dirt, and a few plants make a fun rainy-day project that will last long after the sun comes out. For simple, step-by-step instructions, click here [49].
Plan a Family Vacation
Whether you've already got a trip in the works or are just dreaming up fun destinations for the future, getting the kids involved in planning a family vacation is a great way to spend a rainy day. Get out a map, a computer, and some pens and paper, and get them thinking about where they want to go, why they want to go there, how you'll get there, where you'll stay, what you'll eat, and what you'll see and do in their chosen destinations.
Source: Tom Robinson [50] and Thinkstock [51]
Make No-Bake Cookies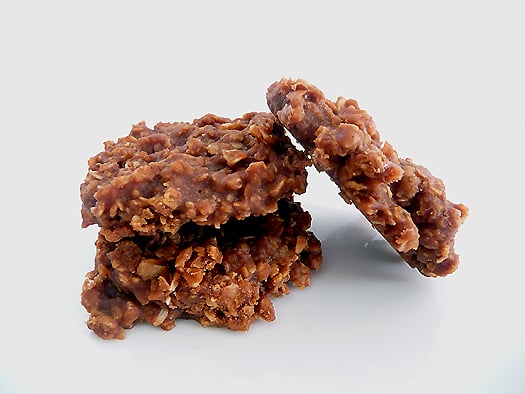 "Baking" doesn't get easier or faster than no-bake cookies, and these chocolate, peanut butter, and oatmeal versions from Brown Eyed Baker [52] look simply divine. The only ingredients are butter, sugar, milk, cocoa powder, peanut butter, vanilla extract, and quick-cooking oats. Thirty minutes from start to the in-your-mouth finish!
Source: Brown Eyed Baker [53]
Create Kid-Friendly Pizza Bagels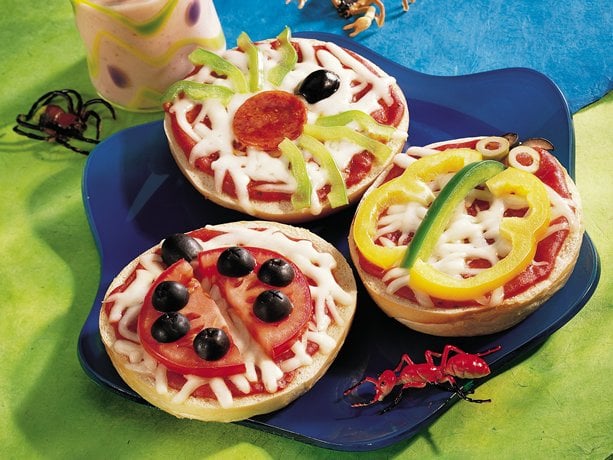 Making your own dough can be daunting, but grab a couple bagels, slice them up, and let your kids add their own toppings. If you want to get really creative, then make these adorable pepper, tomato, olive, and pepperoni critters from Betty Crocker [54]! Who knew eating pizza could be even more fun?
Source: Betty Crocker [55]
Reuse the Collander
It may be used to drain pasta or clean off their favorite fruit, but the colander is much more than a cooking tool in the eyes of tots. From a robot's helmet to a sieve for finding treasures in backyard dirt, the colander is the wonder toy in the kitchen. (Just be sure to wash it before putting it back in the cupboard.)
Make a Tissue Paper Window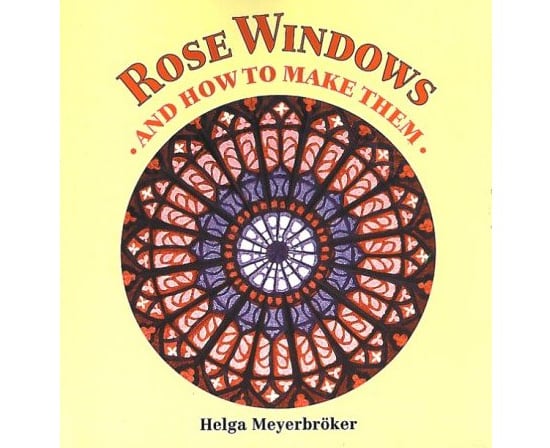 Prepare for sunny days by creating a pretty window out of colorful tissue paper. Check out Rose Windows and How to Make Them [56] ($14) for inspiration.
Make No-Bake Granola Bars
Kids can help stir, measure, mix, and press these no-bake granola bars [57] into shape. Just pop the yummy, chewy bars — full of toasted oats, nuts, coconut, raisins, cinnamon, and molasses — into the fridge for a bit to let them set, and you'll be snacking healthfully in no time.
Source: Kitchen Simplicity [58]
Encourage Budding Poets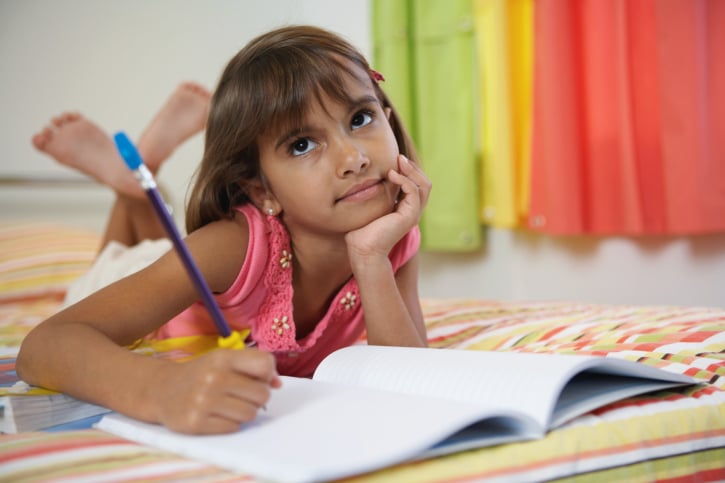 Take advantage of the peace and quiet, and encourage children who have a way with words to try their hand at poetry. Visit the Poetry Foundation's children's section [59] to teach them some basics and learn the terminology; it's a great resource.
Record a Song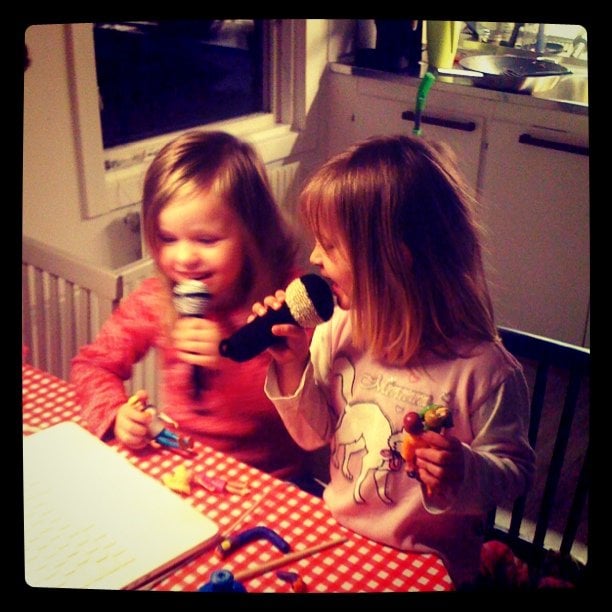 Have them write and record an original tune on the computer . . . instant entertainment for all!
Source: Flickr user [kajsa] [60]
Sing in the Rain!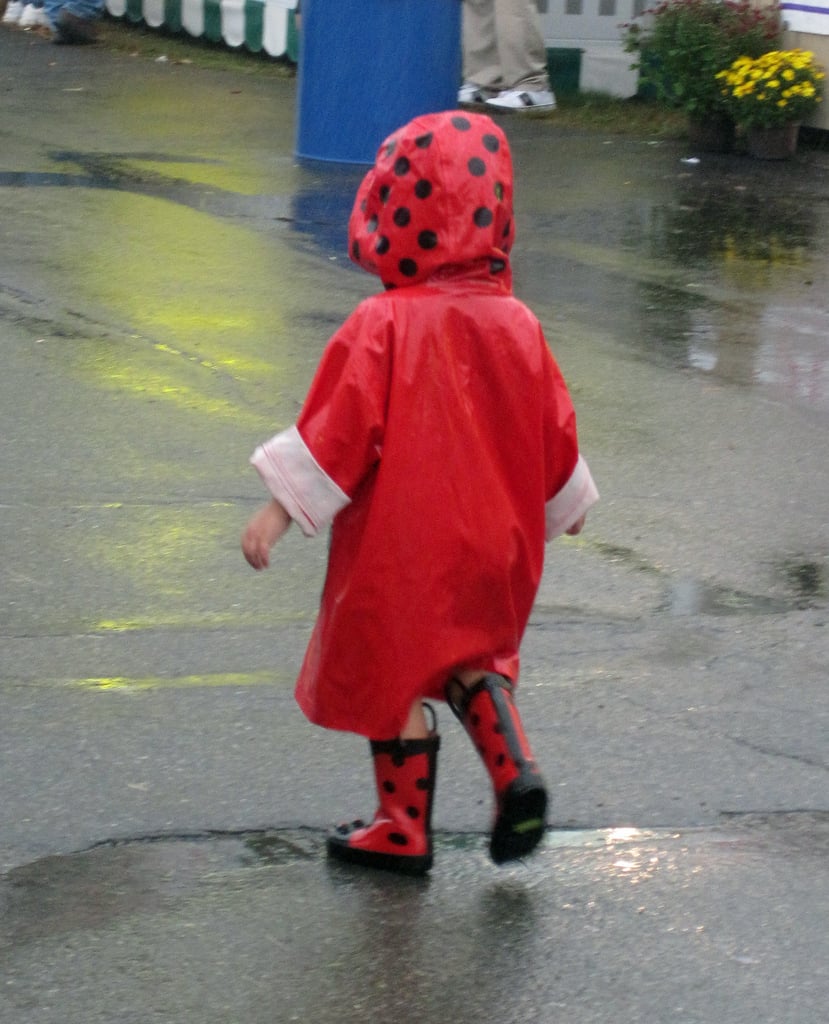 If cabin fever has everyone feeling a little antsy, then suit up in your best rain gear and get outside! A rainy walk or some puddle-splashing fun will use up excess energy, and afterward, a warm bath and cozy PJs will feel just great.
Source: Flickr user Beckwith-Zink (Diane) [61]
Create a Piece of Sand Art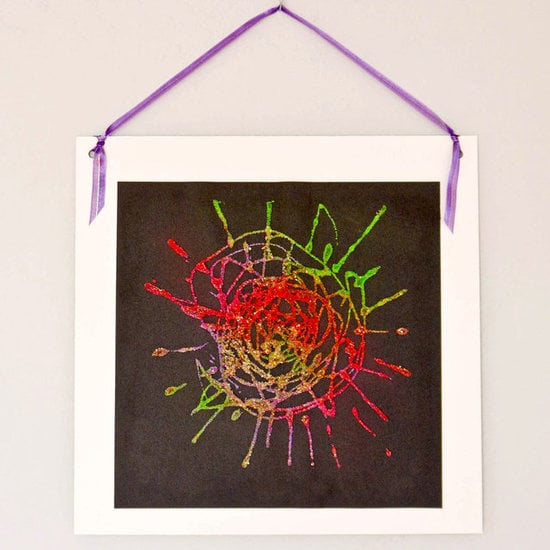 Turn a glue bottle into a drawing tool with this fun sand painting craft [62]. Between squeezing the glue and focusing on pinching and sprinkling the sand, this art activity is perfect for honing fine motor skills and boosting hand-eye coordination in kids!
Who Needs a Pool to Go Swimming?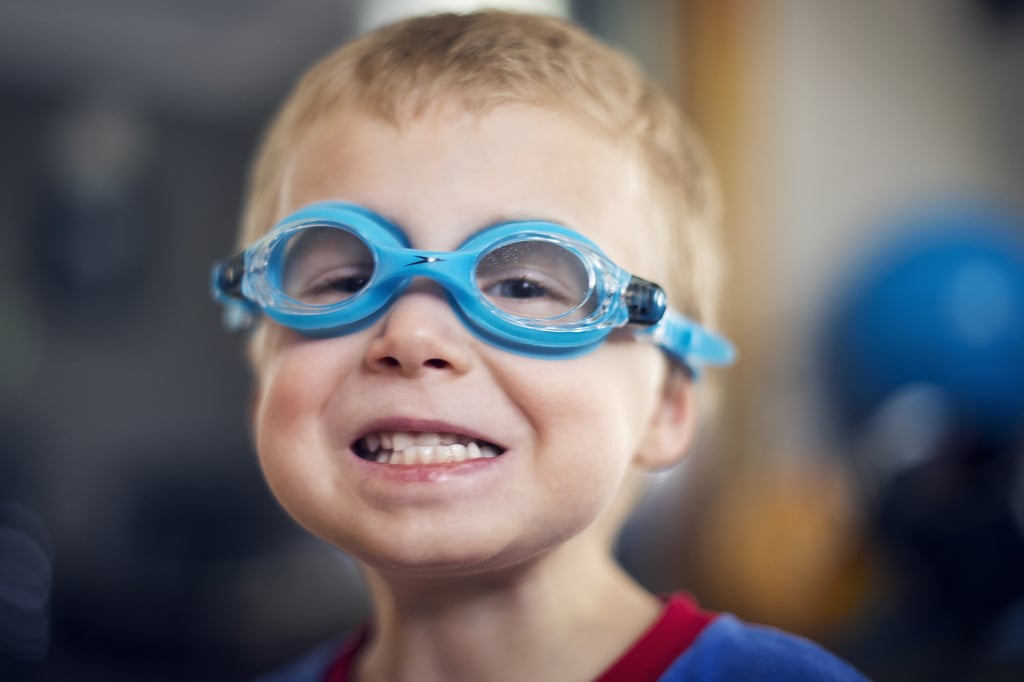 Gear the kids up in goggles and a swimsuit for some splish-splash time in the tub. Not only is it a fun activity, but also, the kids will be squeaky clean afterward!
Source: Flickr user bengrey [63]
Make DIY Pillowcases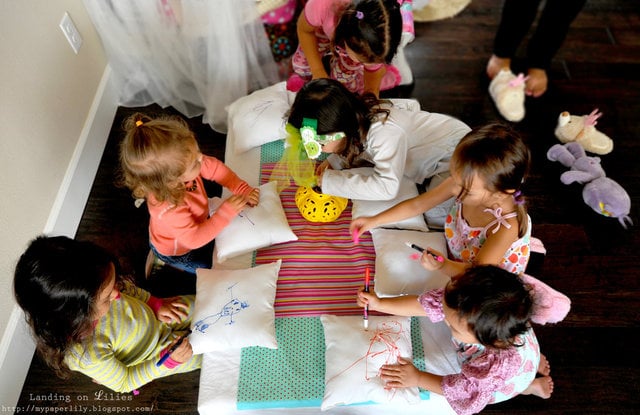 If you have some old bed linens that you're willing to sacrifice, then have your kids decorate their own pillowcases. If the final results are worthy, then give the linens a special spot on their beds.
Source: My Paper Lily [64]
Rearrange the Kids' Rooms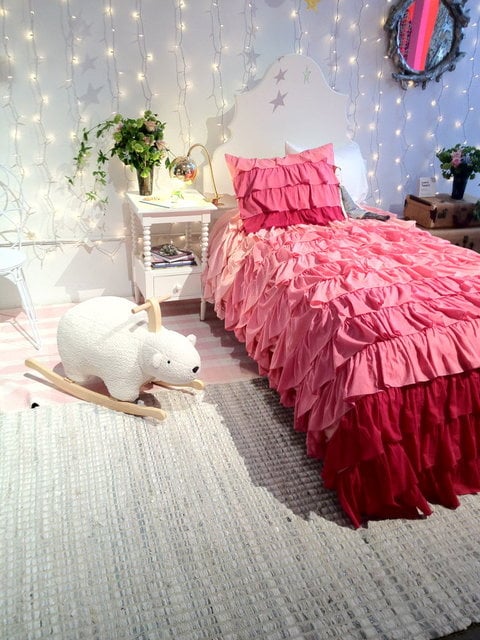 Channel your inner interior designer, and get the whole family involved in "Project Room Makeover." Tackle a DIY [65] design project, spruce things up with updated bedding or some fun new accent pieces, or reconfigure the room's layout for an updated look. This satisfying endeavor will continue to give you a sense of accomplishment all Summer long!
Create a Race Car Track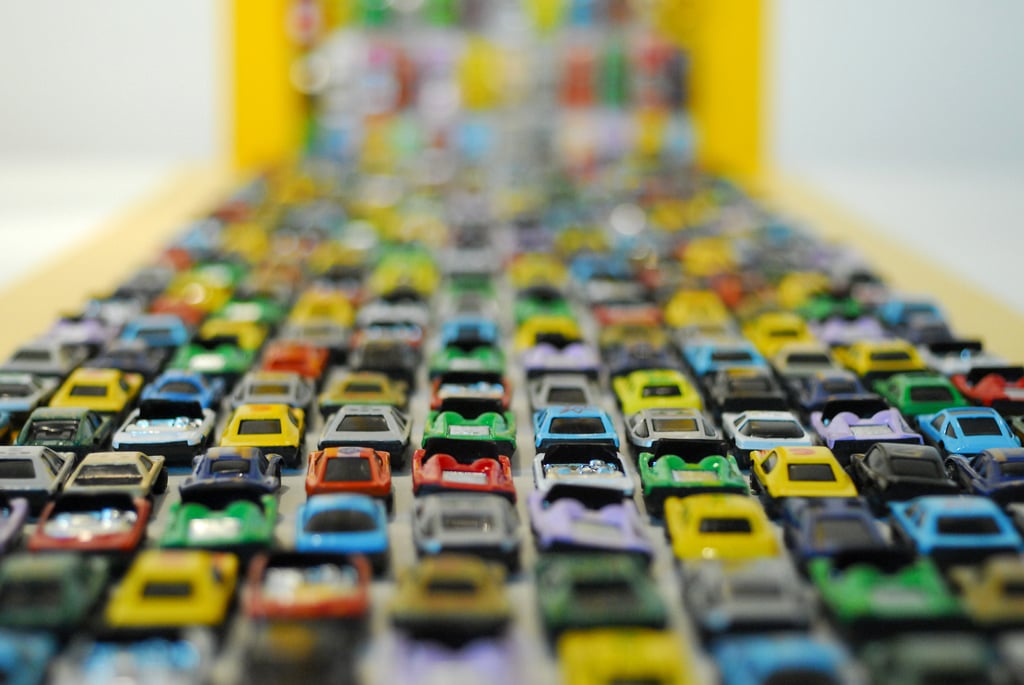 Using masking tape, create a "race track" for kiddie cars to zoom throughout the house. Be imaginative with walls, rugs, and obstacles — just be careful around delicate wallpaper and painted walls.
Source: Flickr user roxannejomitchell [66]
Create a Cool Piece of Crayon Art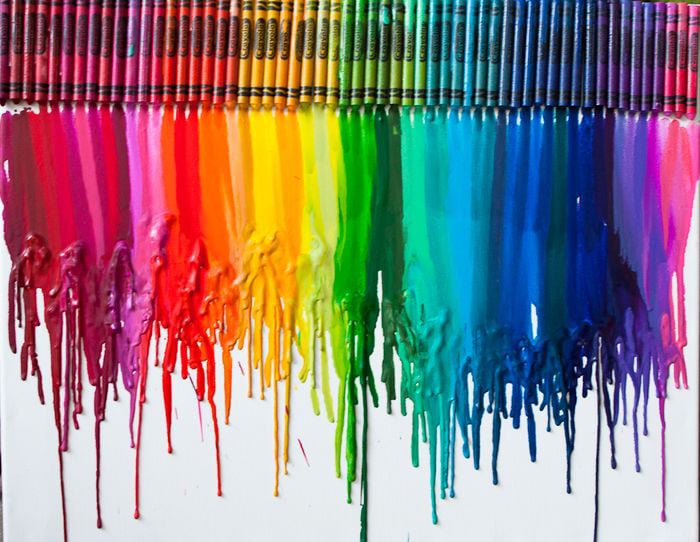 This artwork might look complicated, but it really just involves a canvas, some hot-glued crayons, and a hair dryer. Get the full how-to here [67], but trust us, it's easy, quick, and pretty mess-free — though we'd avoid carpeted rooms.
Source: Whatever [68]
Have an Indoor Picnic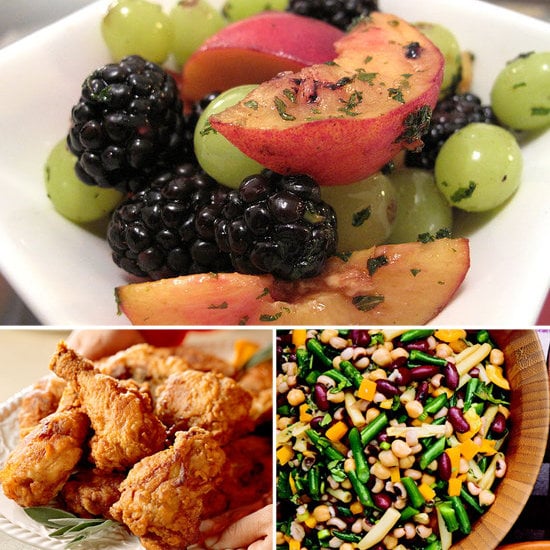 Take all the elements of an old-fashioned picnic [69], and bring them indoors for a memorable meal.
Have a Dance Party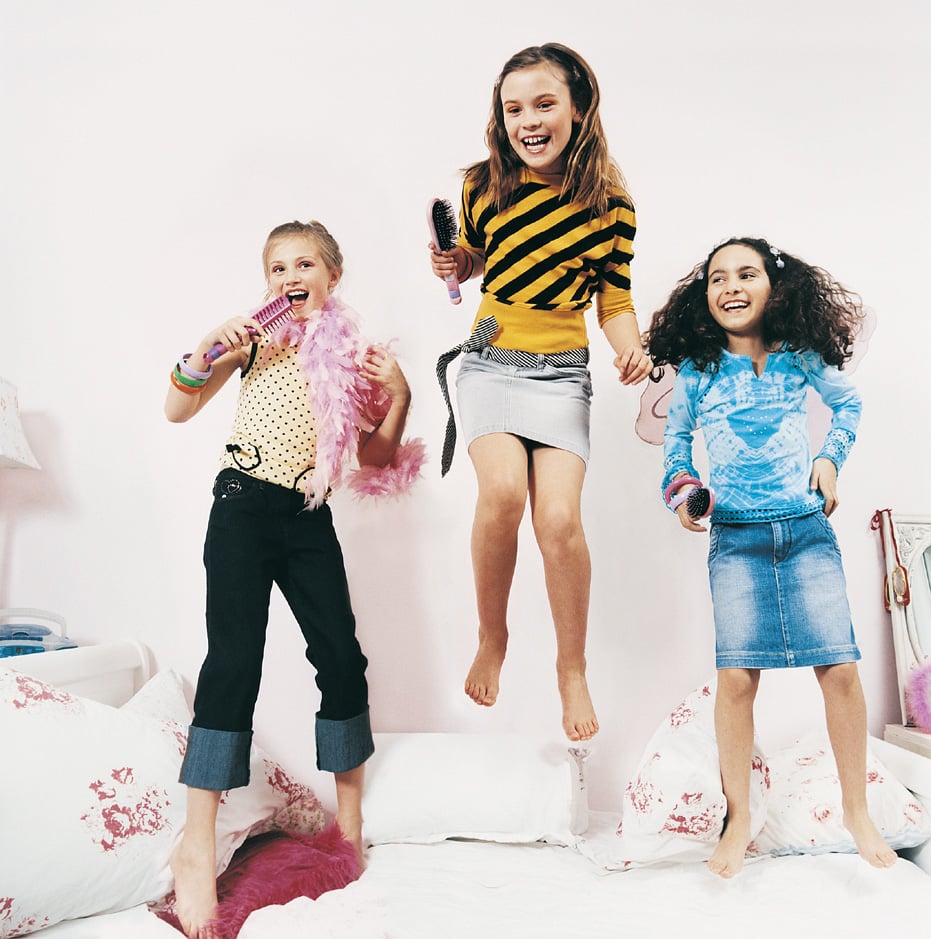 Pull out those hairbrush microphones and blast your favorite tunes for a family dance party! Let each child play DJ for a few songs so there's no battling over music choices, and give prizes for inventive dance moves. Can your little ones do the worm?
Button Monogram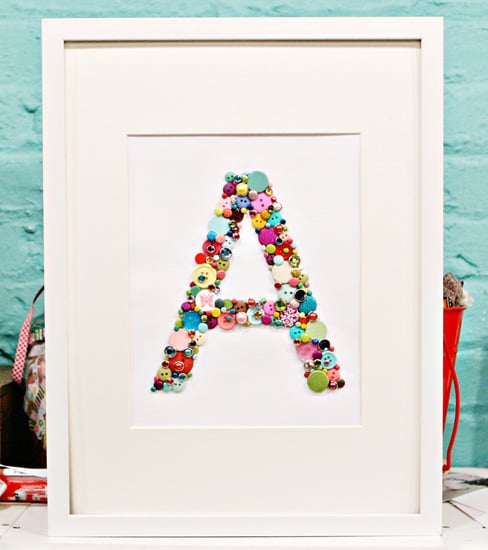 We love monograms [70] and we know you do too! A framed button monogram makes a fun personalized home decor accessory that gives any room a jolt of whimsy.
Source: American Crafts [71]
Play With Wall Decals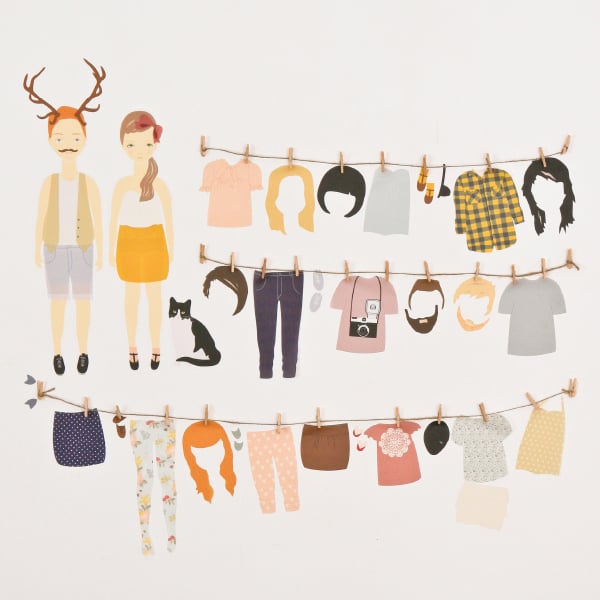 Not all wall decals are designed to stick and stay. We are digging Love Mae's Dress-Up Boy and Girl decals [72] ($63, originally $105), made of adhesive fabric that's designed to be reused forever. Let your kids go crazy building their own little hipster couple.
Source: Love Mae [73]
Create a Collage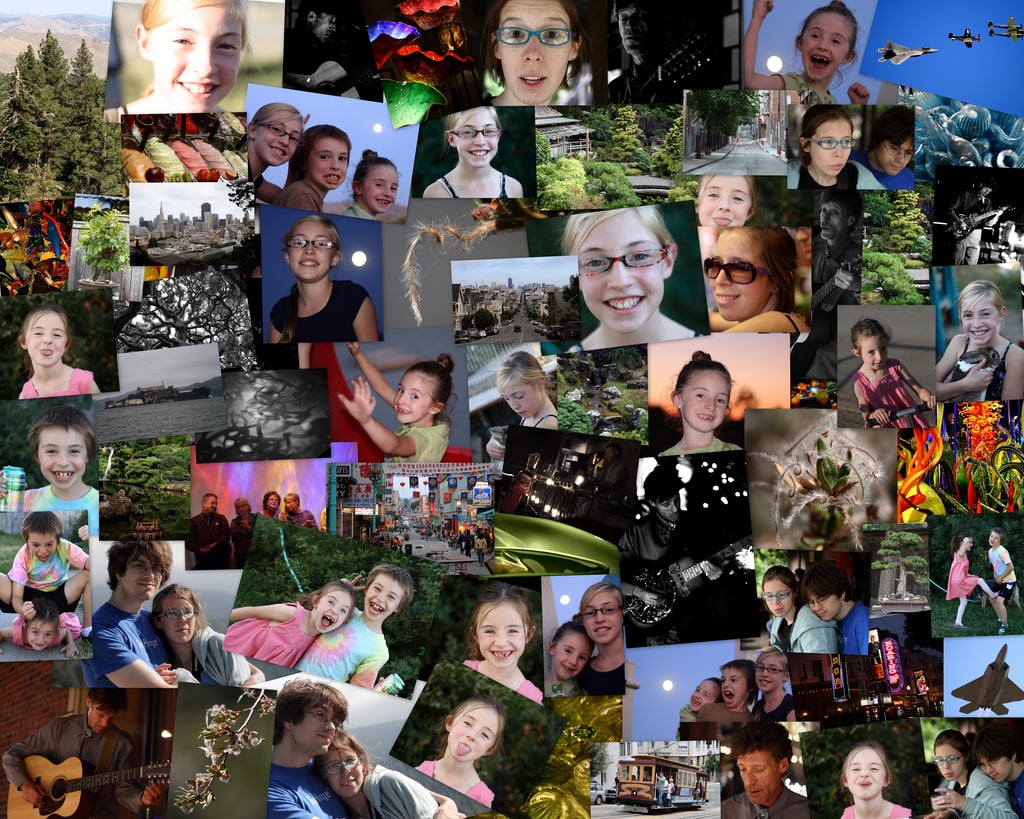 Get out the glue, scissors, old magazines, and photos, and get collaging! Help the kids by brainstorming themes. You could stick to a favorite color or genre or make a scrapbook page from a great trip or other memory.
Source: Flickr user ragesoss [74]
Button Clock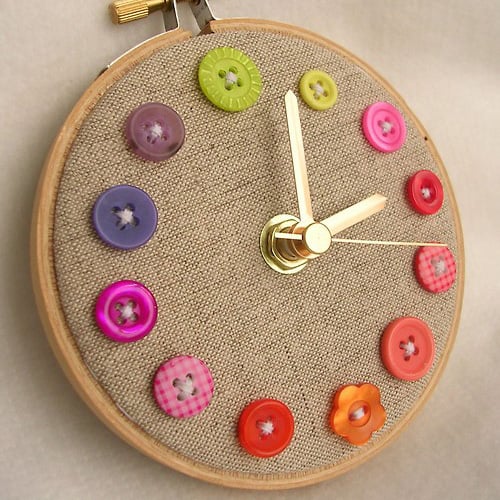 Make one for yourself or one for a gift — we're pretty sure no one can resist the charm of a handmade button clock. You probably already have 12 buttons lying around the house to get you started!
Source: LAM Designs [75]
Put on a Play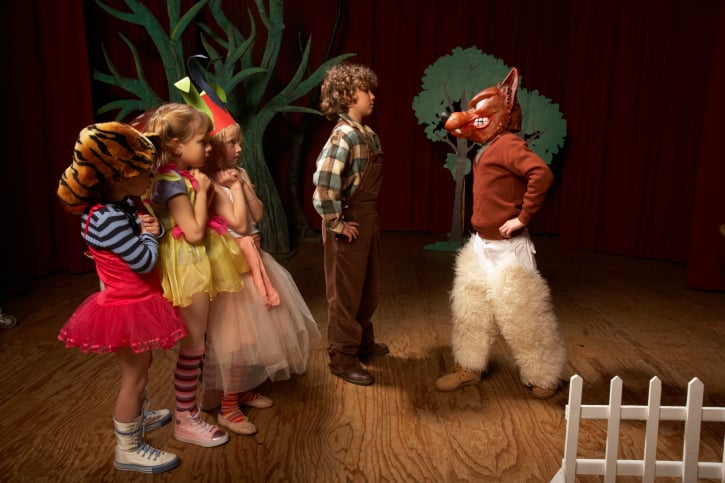 Get out the dress-up clothes, make a stage area (paper trees are optional), and have your kids put on their own play. A script is great, but improv works too!
Put On a Puppet Show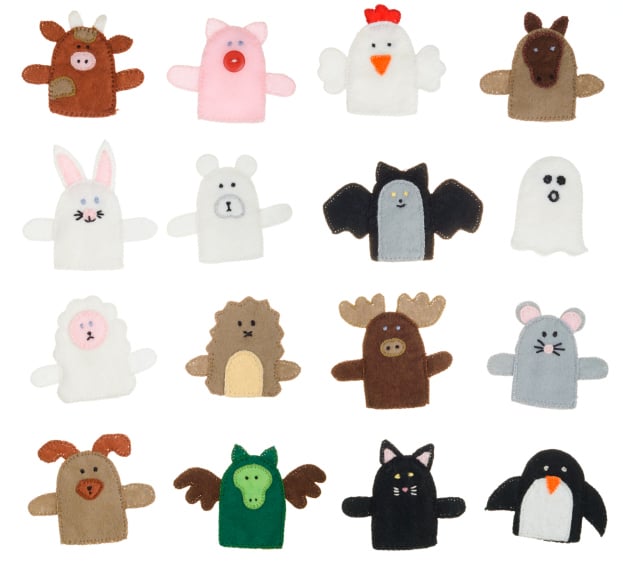 Whether you're using finger puppets, stuffed animals, or old-school puppets (hey, painted hands work too), a puppet show is fun for the whole family!
Whip Out the Swiffer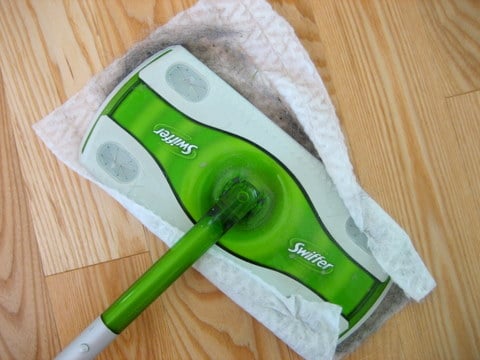 Regardless of how involved my kids are with an activity, they drop everything when I pull out the Swiffer. They fight over who gets to push it first, and they like to compare how much dirt they've collected along the way. After a long day, there's no harm in having them help with the dusting — especially if they're having fun with it!
Make Your Own Canvas Checkerboard
Leave it to Martha Stewart [76] to create the cutest DIY [77] checkerboard out of canvas, an eraser stamp, and bottle caps. Collect bottle caps in two colors (you'll need 12 for each side), or paint the tops of mismatched caps to create playing pieces. Get the full instructions here [78] .
Source: Martha Stewart [79]
Have a Summer Movie Marathon
Cue up the DVD player, make some seasonal Summer snacks [80], and bring out the beach blanket for a mini movie marathon. Here are a few suggestions . . .
Surf's Up
The Bad News Bears
The Little Mermaid
Finding Nemo
Cheaper by the Dozen 2
Source: Dreamworks [81]
Make Your Own Chalkboard Paint  – And Use It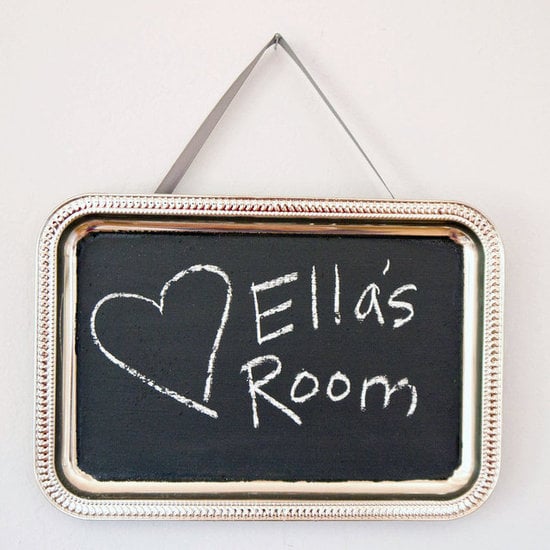 Chalkboard paint's expensive, but this easy recipe for homemade chalkboard paint [82] and fun craft to do with it, is the perfect indoor activity.
Go Camping . . . Without Leaving the House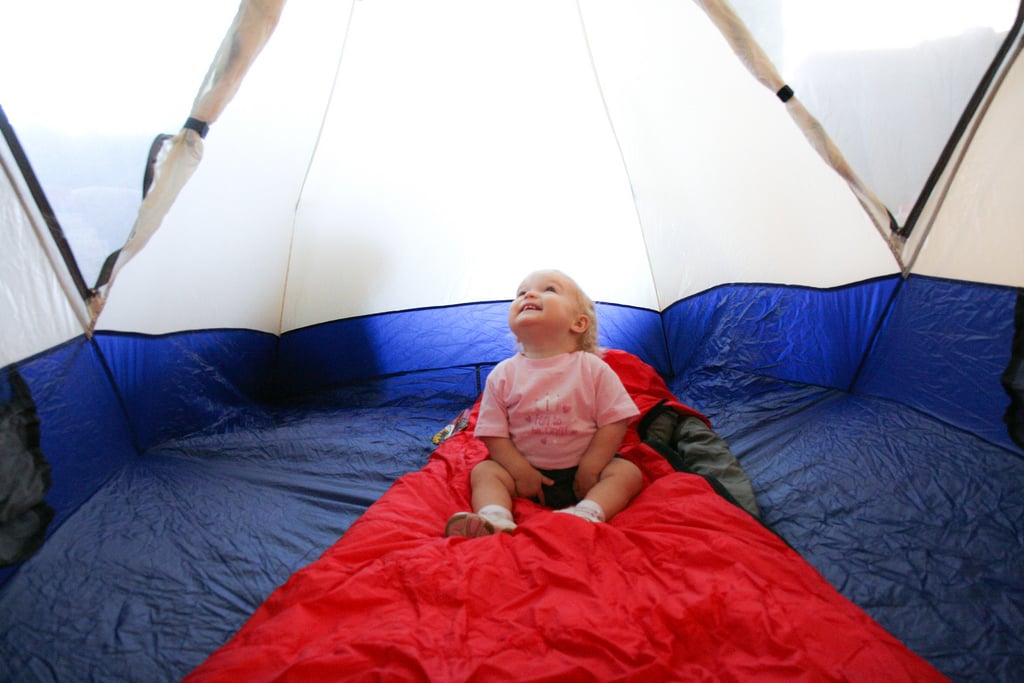 Pitch a tent or two in the middle of the house, and re-create an authentic camping experience — minus the uncontrollable element of weather.
Source: Flickr user Matt Freed [83]
Turn On the Flashlight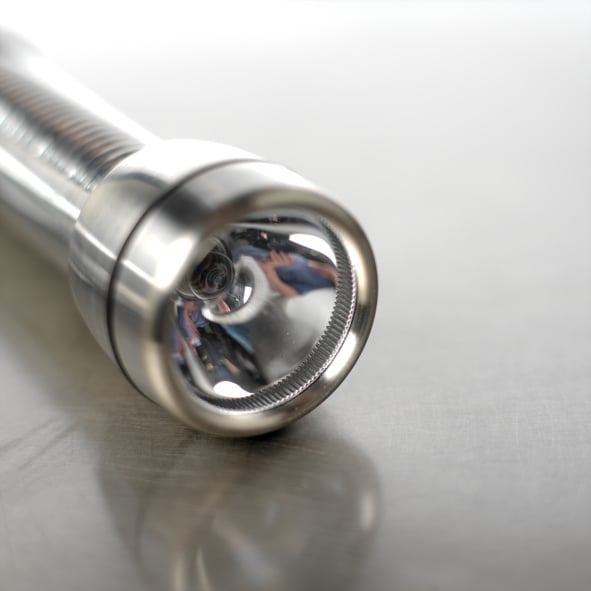 Adult-sized flashlights are not only search lights for lil ones looking for lost toys under their beds, but they're also spotlights for an afternoon puppet show, pointers for kids playing "school," and torches for those hunting down monsters in the land of make-believe.
Have a Tea Party
Every little girl loves a tea party, so gather up the stuffed-animal guests and start brewing. The addition of cakes, tea sandwiches, and British accents is optional but recommended.
Tie Dye T-Shirts
Get creative, dude! Tie dye is a foolproof at-home activity, so long as you keep the action reserved to the bathroom and don't spill the dye. Take suggestions from a Tie Dye Kit [84] ($11), or purchase gloves, fabric or t-shirts, squeeze bottles, ties, and dye and refer to online instructions [85].
Turn Snack Time Into a Work of Art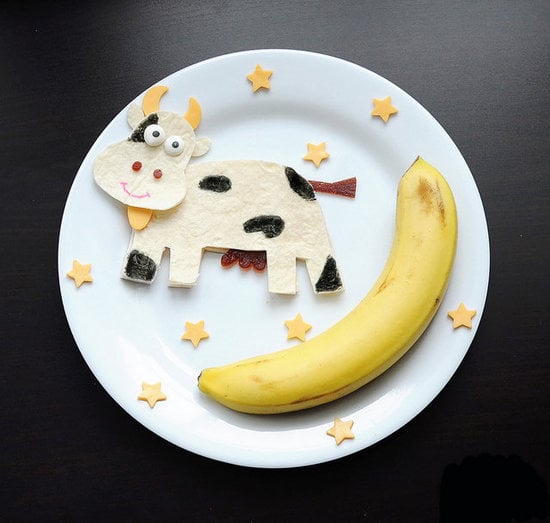 Get inspired with these 40 fun food ideas [86], and make something that looks (almost) too good to eat!
Source: Meet the Dubiens [87]
Recycled Crafts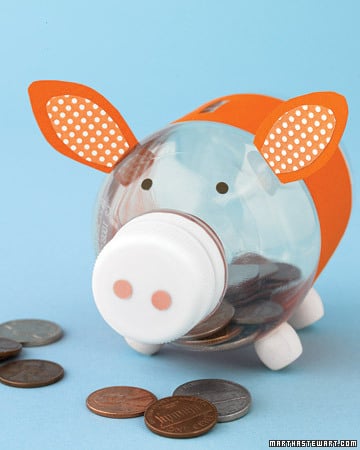 Empty containers can make a pit stop on their way to the recycle bin. Rather than throw them out right away, keep a few on hand for rainy-day activities. A finished and cleaned-out bleach bottle can be transformed into a piggy bottle bank [88] while toilet paper tubes can be turned into rocket ships [89]. All it takes is a little imagination and some supplies stocked under the sink.
Photo by Aaron Dyer. Courtesy of Martha Stewart Living [90]
Have a Classic Game Marathon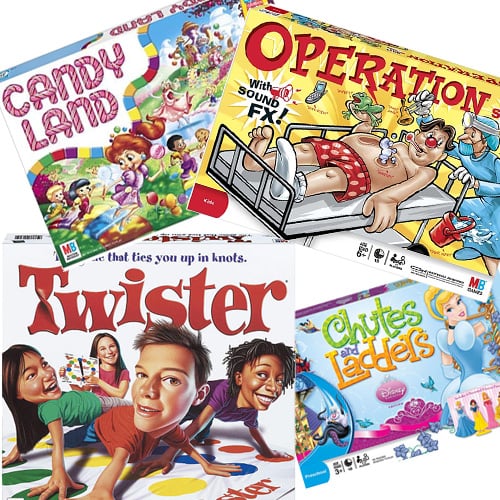 Put away the video-game controllers and go old-school with classic kids' games [91] like Candy Land, Twister, Chutes and Ladders, and Operation. They might not be as high tech as the PlayStation or Wii, but there's a reason companies have been making them for decades.
Source: Toys R Us [92]
Play Hide and Seek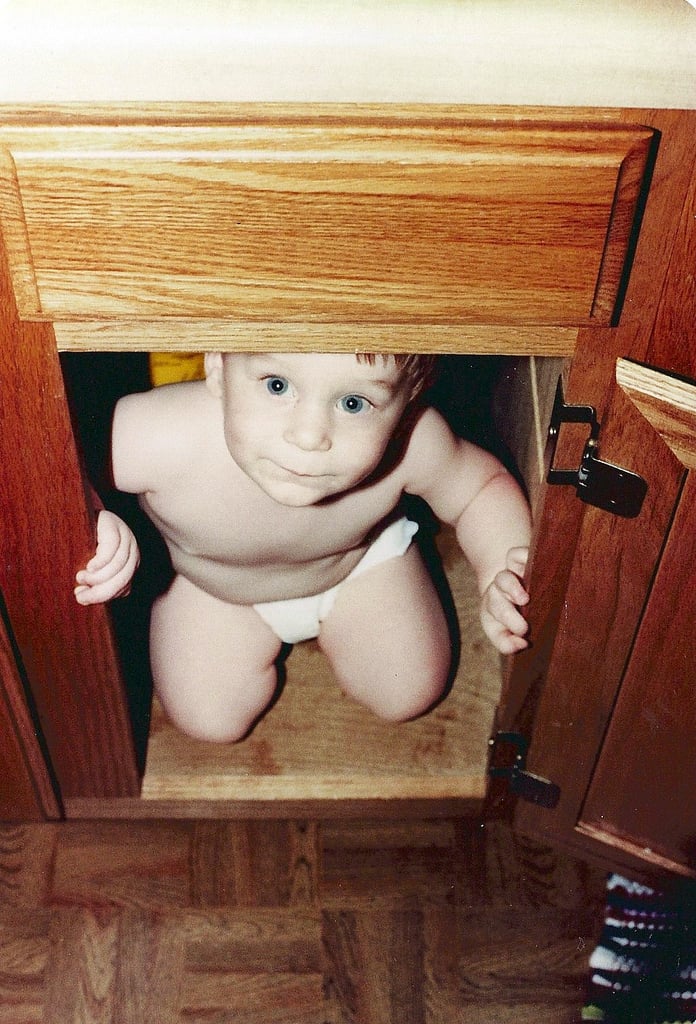 There's nothing more classic than a game of hide and seek, but playing in the great indoors is much less stressful on Mom and Dad (fewer places to hide!). It also helps young tots learn the concept of object permanence. We recommend getting in on the action and hiding yourself. You'll love seeing the smile on your kids' faces when they find you!
Source: Flickr user ian munroe [93]
Blast Off!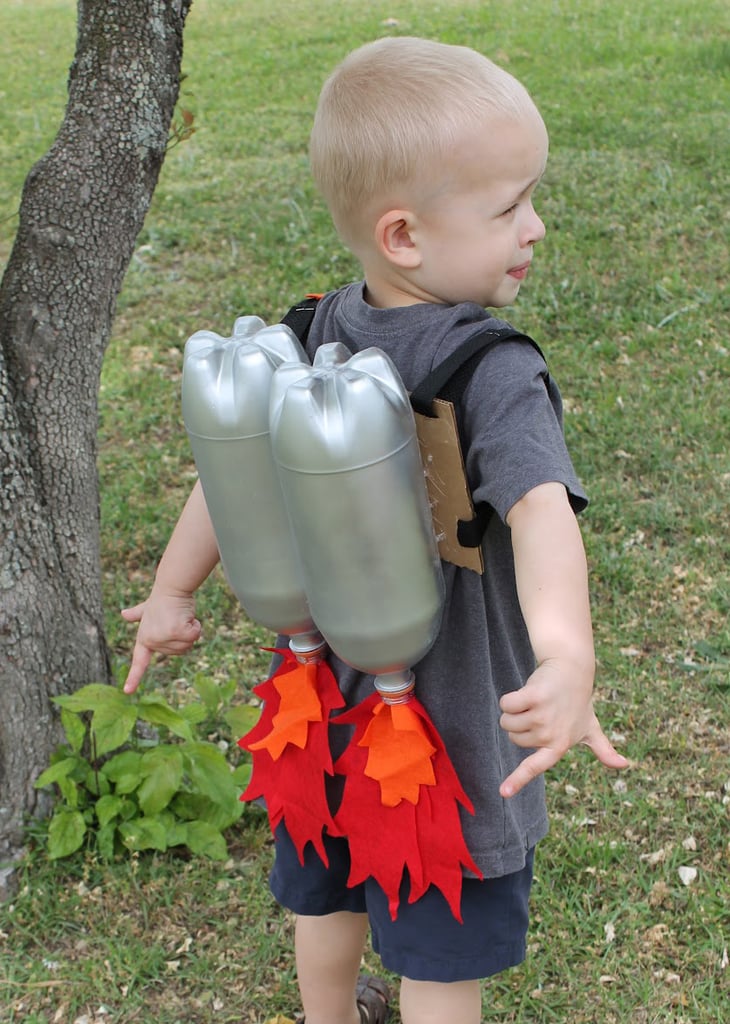 Let your little one's inner moon man come out by building a DIY rocket-fueled jet pack [94] from cardboard, two-liter bottles, felt, and straps! Practice for takeoff with some indoor flying until sunny skies return.
Source: Doodle Craft [95]
Write Letters to Relatives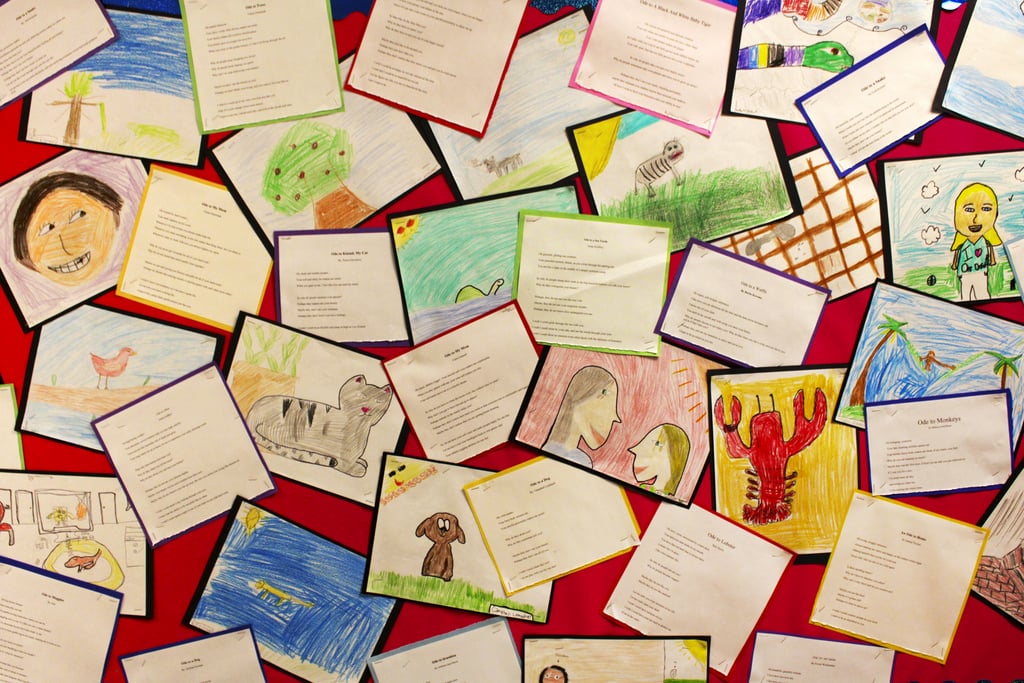 Whether they're states away or right down the block, what relative doesn't appreciate a letter from their favorite little one? Set them up to practice the lost art of letter writing with stationary or construction paper and crayons.
Source: Flickr user woodleywonderworks [96]
Crayon Monogram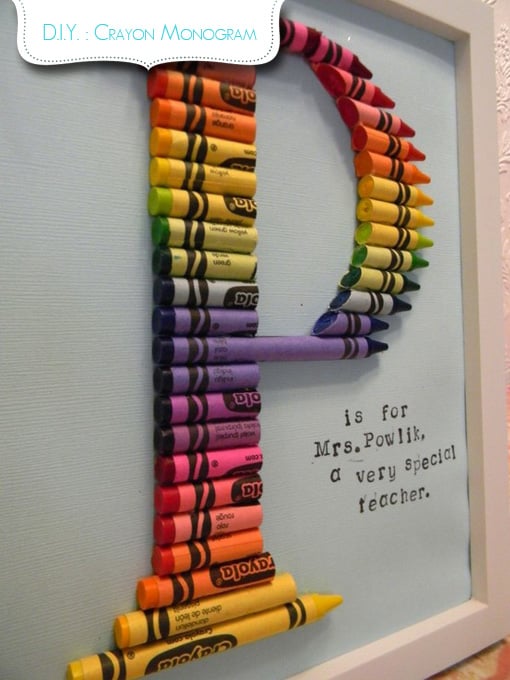 This crayon monogram project [97] makes a great gift for a teacher or a child. It also makes a thoughtful handmade addition to your child's nursery or bedroom decor.
Source: Chic & Cheap Nursery [98]
Pretend Gardening For Tots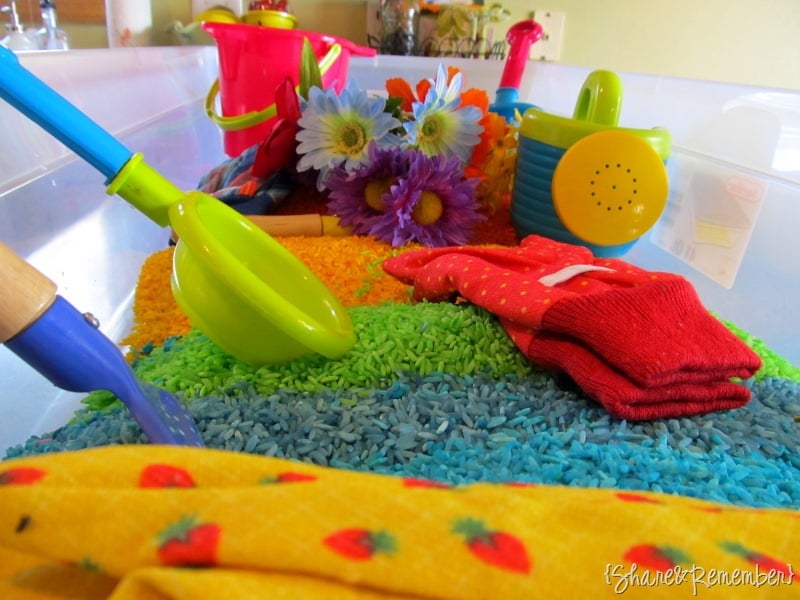 There's not a lot of gardening to be done on a rainy day, but start laying the groundwork by helping your tot make an indoor garden. Dye rice in different colors and create an "indoor sandbox" of sorts for your kiddo to play with.
<Source: Share & Remember [99]
Create a Bubble Wrap Print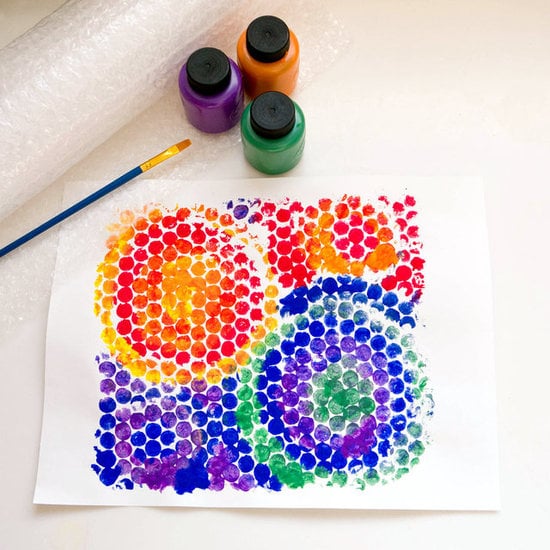 The next time you get a Bubble-wrapped item in the mail, don't toss that wrapper. Along with being a fun way to encourage fine motor skills by popping those itty-bitty plastic bubbles, your lil one can use it for creating a really cool painting [100].
Search For Buried Treasure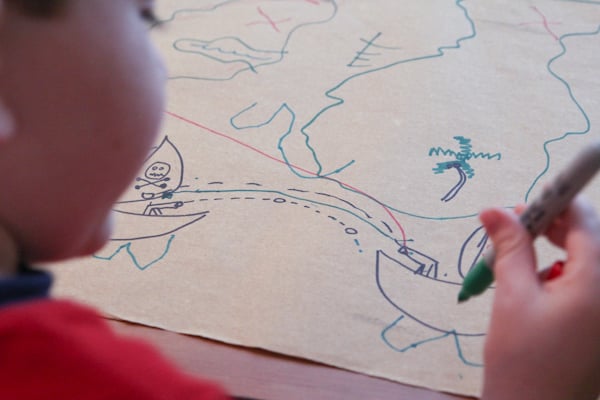 Create a treasure map, and hide some special prizes around the house — scavenger-hunt style. Spray paint spare change to make it look like gold coins, or use candy prizes.
Source: Flickr user Unskinny Boppy [101]
Finger Paint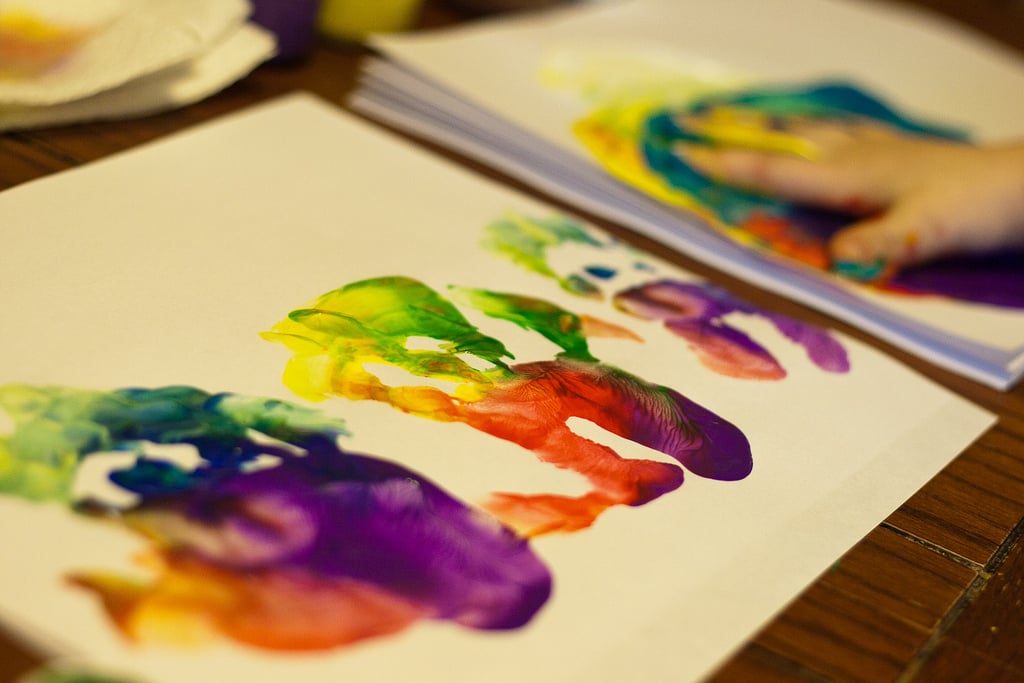 Get messy with finger paint — no explanation required!
Source: Flickr user aarongilson [102]
Make Wooden Block Prints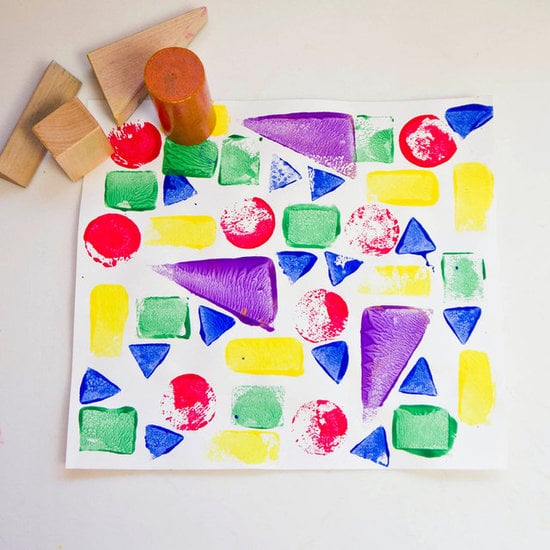 Try a new use for all of the blocks in your home with this wooden block print [103] that's as simple as collecting a few of your toddler's wooden blocks and adding some paint.
Make Glow-in-the-Dark Drinks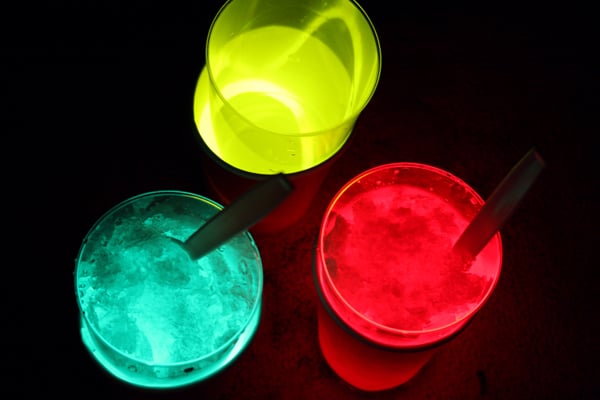 If you still have some glow sticks hanging around from Halloween [104], then pull them out, along with a few paper and clear plastic cups, and in no time, you'll have glow-in-the-dark drinks (get a full tutorial here [105]), best consumed with the shades drawn and lights out!
Source: Giver's Log [106]
Newpaper Forts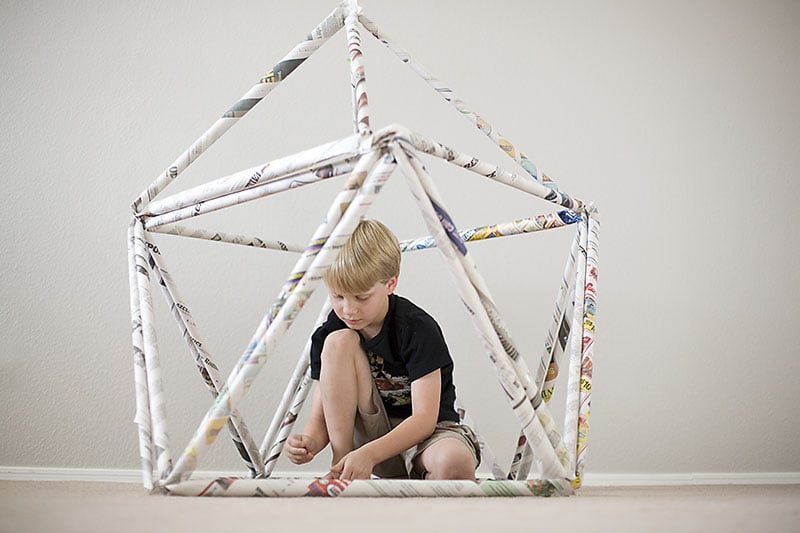 Forget the traditional blanket and pillow fort and follow All For the Boys [107] instructions for these fun and eco-friendly hideaways.
Source: All For the Boys [108]
Style Up Your Sunnies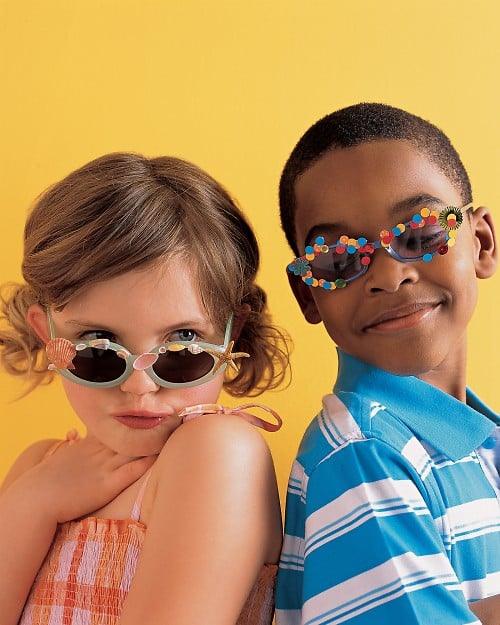 It might be rainy outside, but you'll be ready for sunny days ahead when you update your shades! Update plain sunglasses with sequins, seashells, or colorful paper using craft glue. The rainy day will give your sunglasses plenty of time to dry before you make a pose like your favorite movie star.
Source: Martha Stewart [109]
A Fashion Basket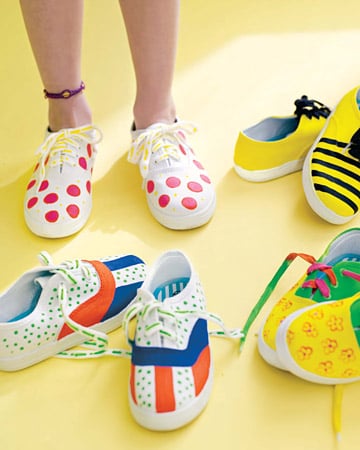 Another basket to keep at the ready: a fashion basket. Start stockpiling all of those extra buttons that come with new clothes, ribbons from gifts, silk flowers, and more in a basket under the sink. On a rainy day, pull it out along with some fabric paint and glue and get the creative juices flowing. From rejuvenated sneakers [110] to bracelets made out of buttons [111], the possibilities are endless!
Photo courtesy of The Martha Stewart Show [112]
Have Fun With a Cardboard Box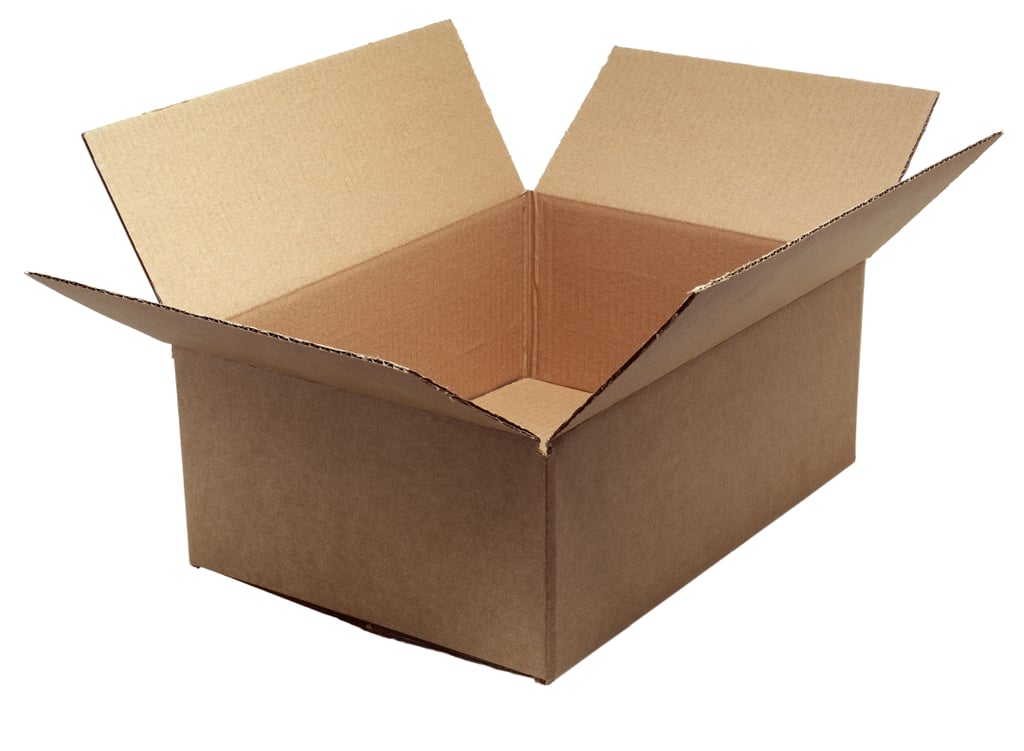 They say tots love the box a toy comes in more than the toy itself. Pull one out on a rainy day and watch a child's imagination come alive. Convert the box into a costume [113], transform it into a vehicle [114], or use it as a fort for some great indoor play.
Play Restaurant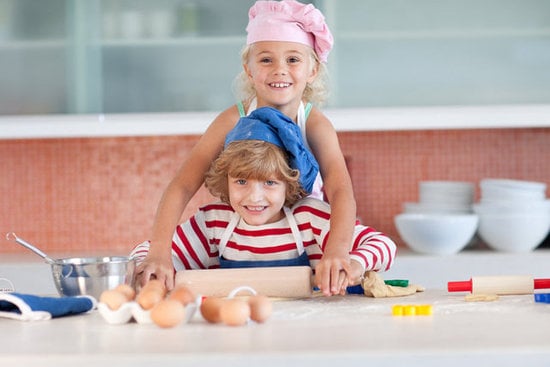 Have the kids start their own "restaurant" at home. Depending on their ages (and how much you trust them alone in the kitchen), Mom and Dad can help out as much or as little as is necessary. Turn it into an all-day activity: start by coming up with a name, decor, and a menu, getting busy in the kitchen, and, eventually, serving their "customers." This is also a great activity to do when friends are over, since there's plenty of responsibility to be divided.
Make an Origami Sailboat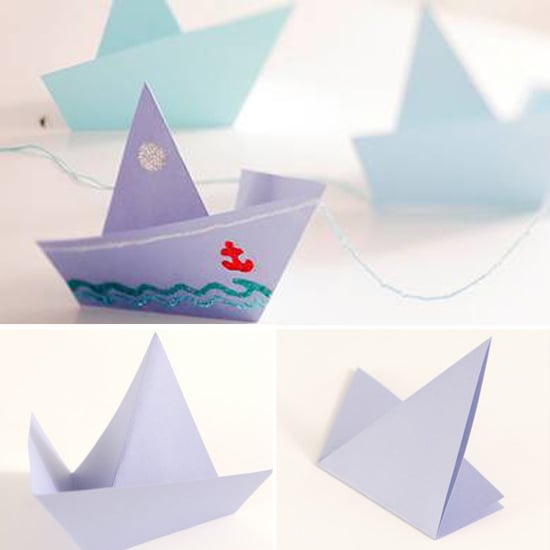 You may be trapped indoors, but that doesn't mean you shouldn't still be celebrating Summer. We love this nautical-themed craft from Krystin Marsh [115], photo stylist for flash-sale site The Foundary. Here's how:
Begin with a square piece of paper, any size.
To make a square, fold paper diagonally and cut off the excess paper.
To make the boat, begin by folding one of the folded points inward toward the other side at a slight angle. The tip of the point you are folding will be the top of the boat.
Open the square back up and do a 'reverse' fold to create the sides of the boat. Your ship is set to sail!
Source: Kristin Marsh/The Foundary
Frozen Toys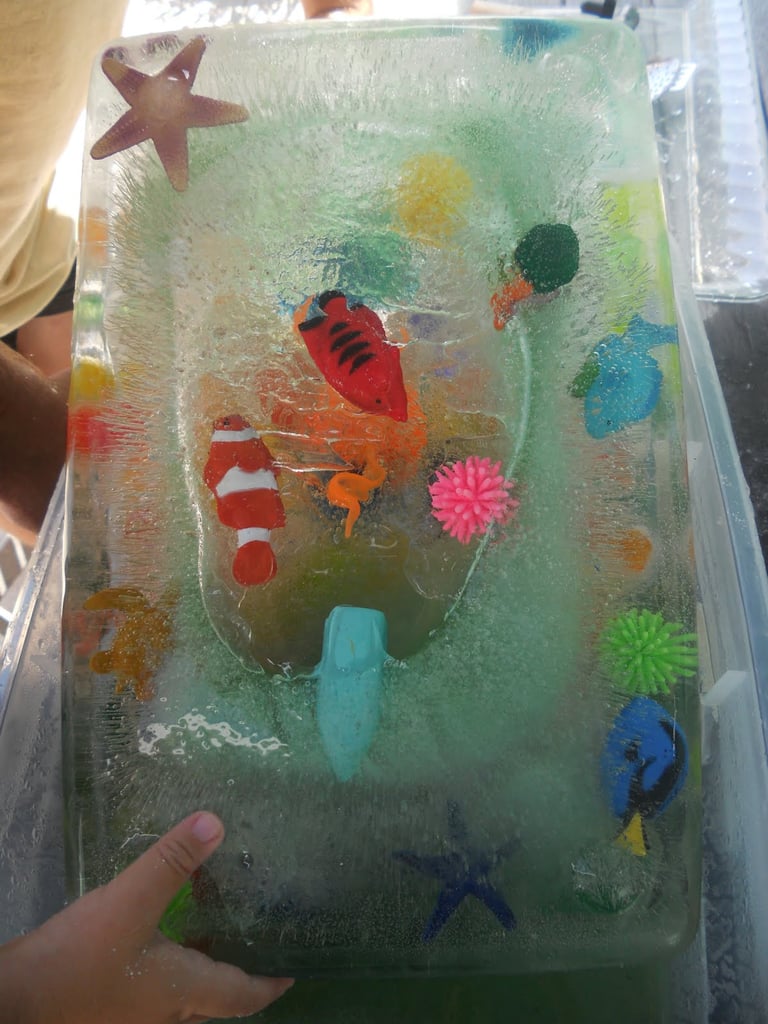 You'll keep tots busy for hours by freezing some of their smaller toys in a block of ice! Just place the block in the bathtub and let them start excavating!
Source: Counting Coconuts [116]
Scrapbook
Whether you have a special stash of scrapbooking supplies or you have to improvise (get creative with wrapping paper, old magazines, family photos, bits of ribbon and stickers, etc.), creating a memory book or individual pages is an activity that crafty kids will love to do.
Source: Flickr user shimelle [117]
Upcycle Household Objects Into Toys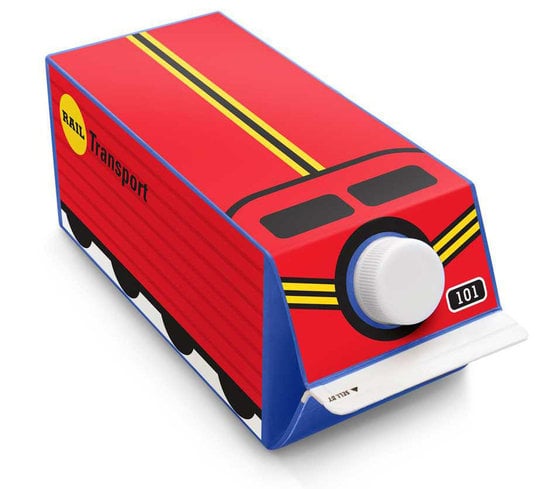 Transform old boxes and containers into toys [118], like this reused milk carton.
Have a Classic Disney Movie Marathon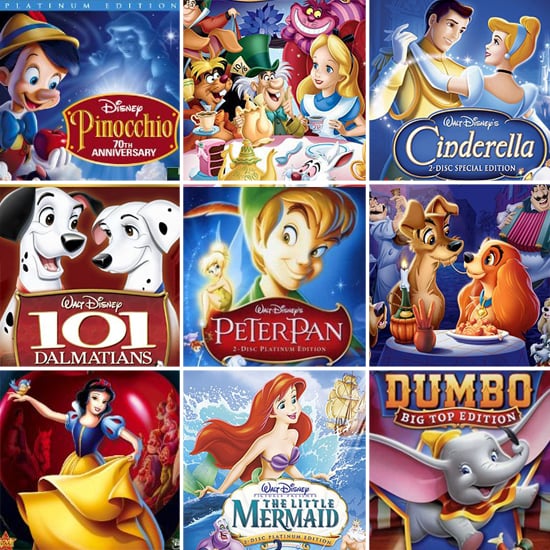 So maybe you shouldn't watch all nine of the Disney movies shown to the left in one sitting, but a couple in a row on a rainy day can't hurt, right? From "Under the Sea" to flying elephants, Disney never disappoints. A side of popcorn and M&M's would only makes things better.
Make a Sticker Paint Creation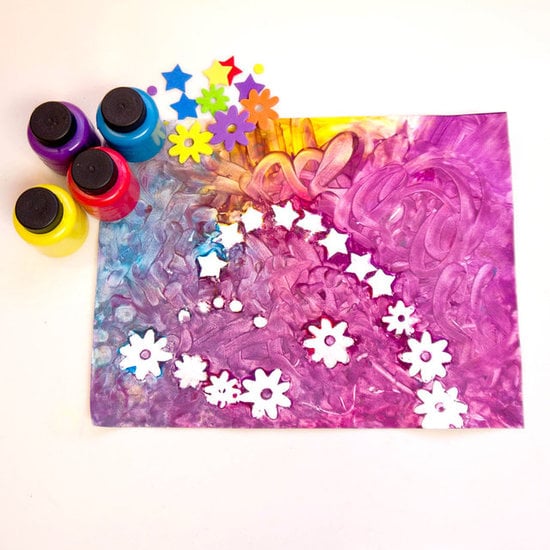 Finger painting is tons of fun for lil ones, so take things to the next level with the help of a few puffy stickers [119].
Make Noodle Necklaces
Create a dye solution with food coloring and rubbing alcohol, and then transform ordinary pasta into a rainbow of shades. String the noodles on a piece of yarn or ribbon to create a one-of-a-kind necklace or bracelet.
Source: Flickr user moonlightbulb [120]
Make Your Own Pompoms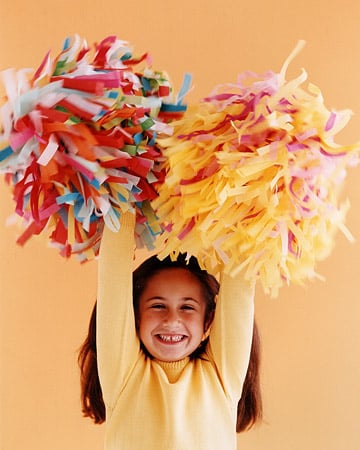 If you have a budding cheerleader on your hands, then use layers of tissue paper wrapped around dowels to create your very own rah rah-ready poms [121]!
Source: Martha Stewart [122]
Make a Baking Soda and Vinegar Volcano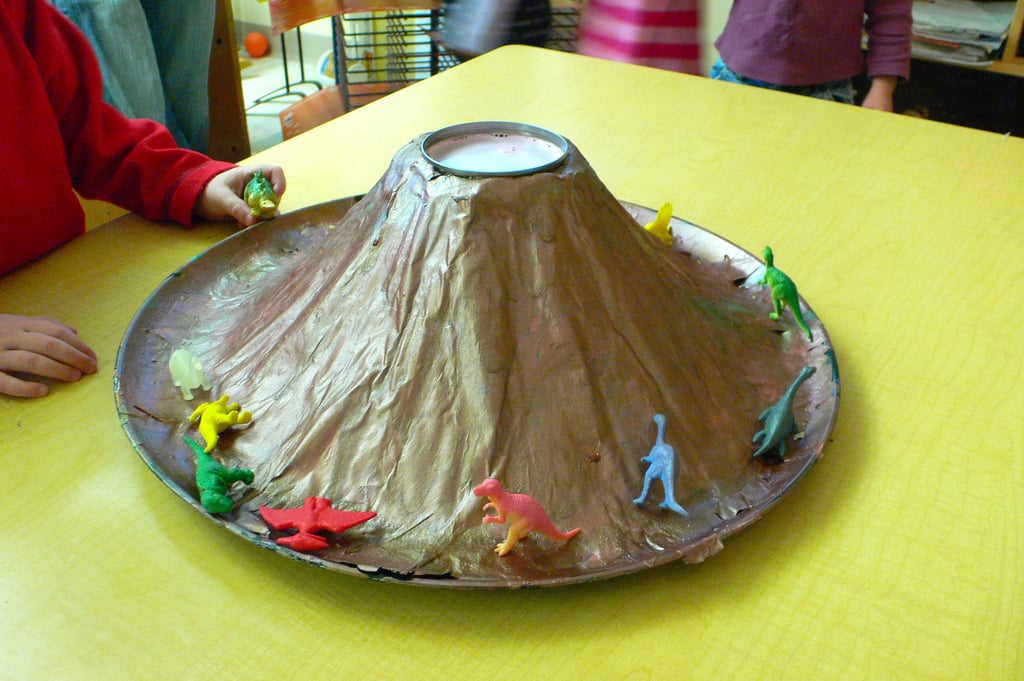 Make a baking soda and vinegar volcano [123] in the kitchen!
Source: Flickr user hfb [124]
Marble Racetrack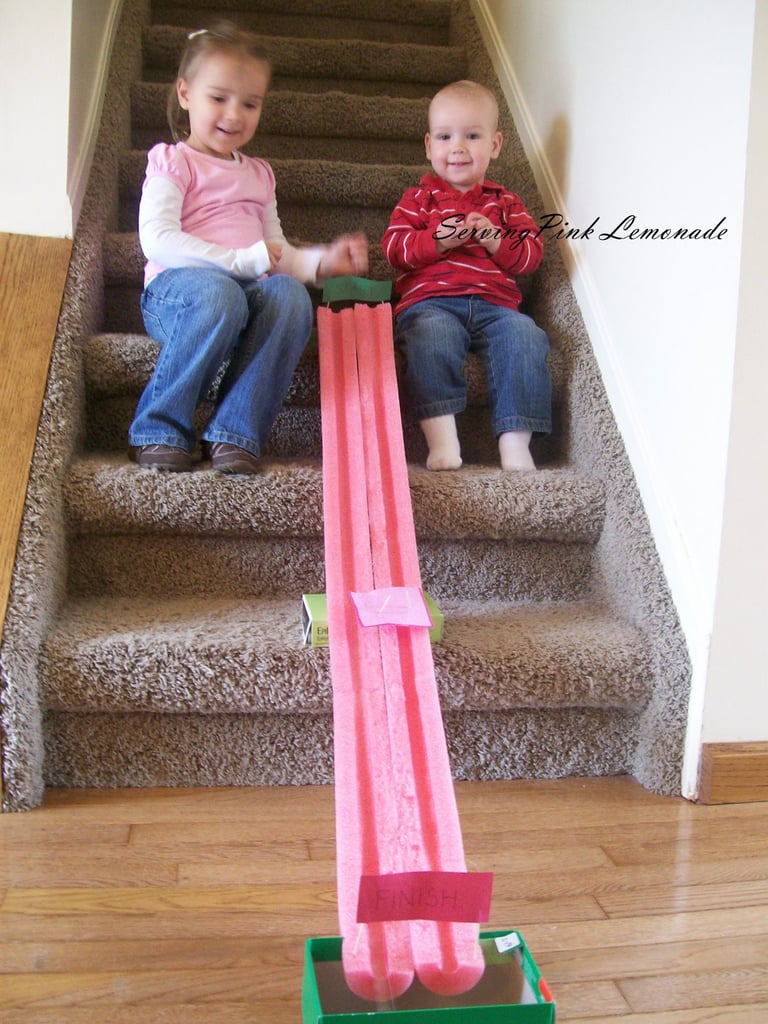 It's one thing to race cars around the house, but it's another to race marbles. This fun activity involves little more than a cut pool noodle (follow My HomeSpun Threads's [125] instructions and a marble!
Source: My HomeSpun Threads [126]