Just in case your kids needed an excuse to eat more grilled cheese . . . did you know that we're in the midst of an entire month dedicated to the delicious, savory sandwich? In the interest of avoiding grilled cheese burnout (is there such a thing?), we've rounded up 17 varied and versatile takes on the classic. There's something to appease most every palate, so click through, and eat up!
Grilled Cheese Eggs
Who says grilled cheese has to be on toast? These tasty grilled cheese eggs are so much fun and seriously tasty. From Family Chic, this recipe [1] is so easy and absolutely inventive. Serve the cheesy eggs with a salad or as an appetizer.
Source: Family Chic [2]
Thomas Keller's Ultimate Grilled Cheese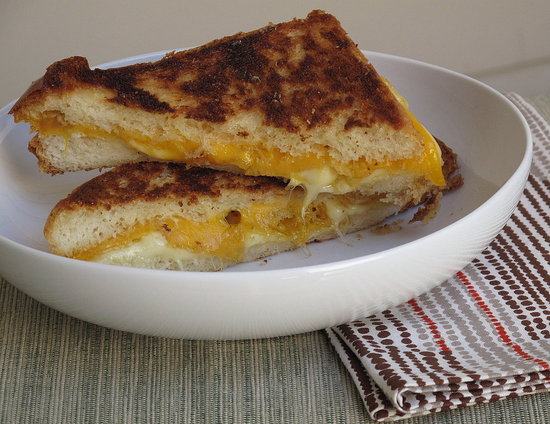 Who better to create the ultimate grilled cheese than culinary yoda Thomas Keller [3]? His froufrou-free version includes a layer of potato chips [4] — what child doesn't love that?!
Source: Thomas Keller [5]
Grilled Cheese Casserole
Take the stress out of making stacks of grilled cheese sandwiches to feed your crowd with this casserole [6] from Silvana's Kitchen. Gluten-free? No problem! Just swap the traditional white bread with your favorite gluten-free brand, just like Silvana did!
Source: Silvana's Kitchen [7]
Grape Goat Cheese and Walnut Grilled Cheese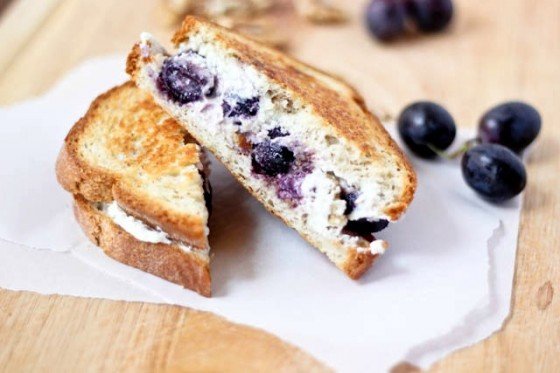 Sweeten up the classic with this creamy grilled cheese recipe [8] from Bake Your Day. Seriously delicious, this decadent sandwich is a real treat. And it's also gluten-free! Not sure about using goat cheese? Swap with ricotta or cream cheese.
Source: Bake Your Day [9]
Matzo Grilled Cheese
There's something so wonderfully tasty about crisp crackers and melty cheese. POPSUGAR Food shares this simple [10] recipe using matzo and herbs that will have your family asking for more.
Source: The Melt [11]
Hearty Roasted Tomato Soup
We know grilled cheese and tomato soup is just about the best food pairing ever, so why not put them together in the same dish? Amy's Cooking Adventures shares a hearty and healthy recipe [12] that will leave your family with empty bowls.
Source: Amy's Cooking Adventures [13]
The Counter's Kicker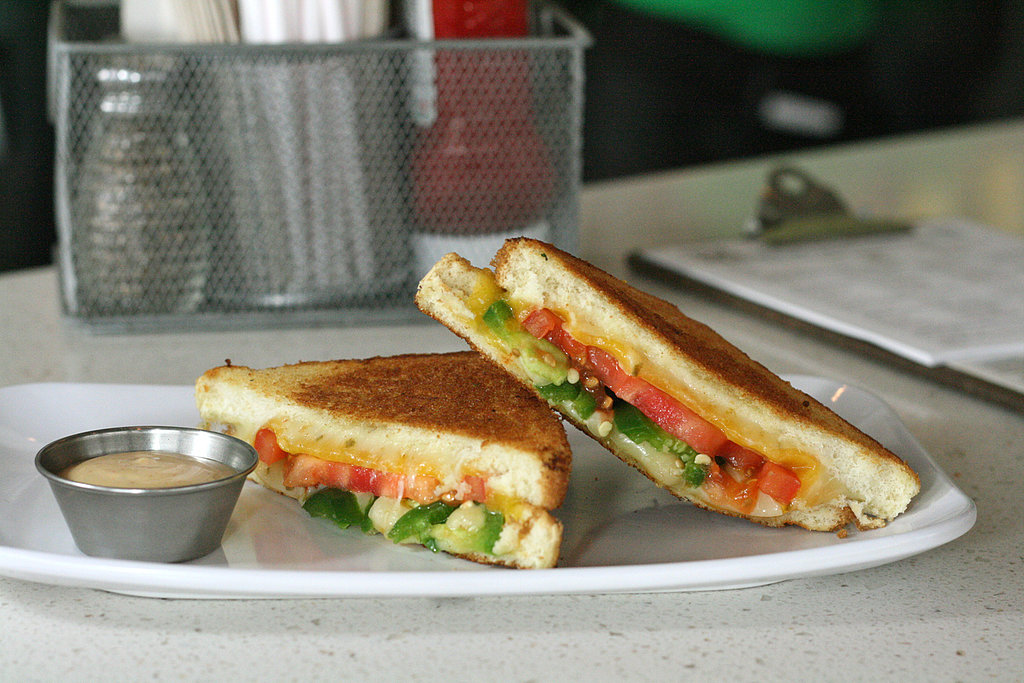 The Counter [14], a burger joint with locations across the country (and the world), shared their spicy and delicious recipe for The Kicker [15] with us.
Source: The Counter [16]
Turkey Cheese Waffles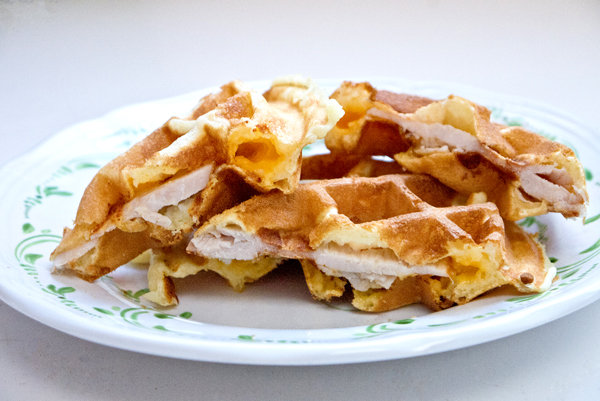 Grilled cheese waffles? Why not? Turn the basic waffle into grilled cheese goodness with this recipe [17] from So Says Sarah. Perfect any time of day, this twist on the basic grilled cheese is sure to become your tot's favorite!
Source: So Says Sarah [18]
Chocolate and Brie Panini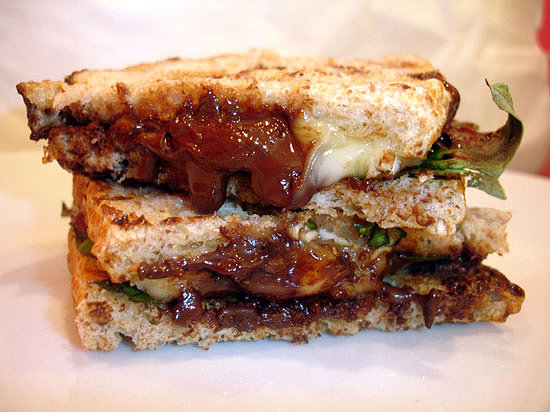 Our friends over at POPSUGAR Food shared this decadent dessert take on the grilled cheese that puts chocolate and brie [19] in the spotlight.
Source: Giada DeLaurentiis [20]
Stuffed Cheese Bread With Herbs
Make a big grilled cheese perfect for taking to a BBQ or feeding the whole family with this ooey-goey recipe [21] from Stacey Snacks. Serve with a fresh salad or roasted chicken, and dinner is ready! If you can't find arugula at your grocery store, then swap with spinach.
Source: Stacey Snacks [22]
Patty Melt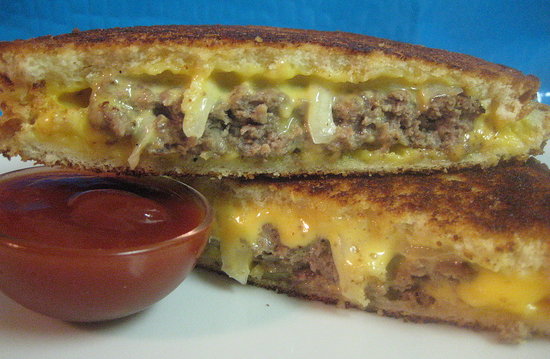 Is it a burger? Is it a grilled cheese? Who cares! This patty melt [23] is overflowing with indulgent American cheese.
Source: Katie Lee Joel [24]
Grilled Cheese Panzanella Salad
Toss things up with this grilled cheese salad [25] from Panini Happy that is both healthy and tasty. And your kids can get in the kitchen and help make this easy salad, which is perfect as a light vegetarian dinner or lunch.
Source: Panini Happy [26]
Prosciutto and Mango Panini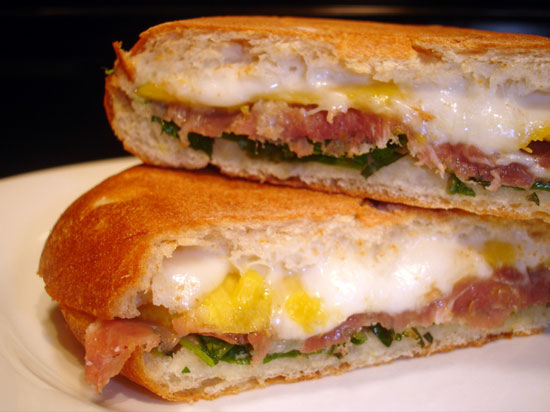 Take advantage of the season's peak mangoes [27] in a sweet and savory panini [28] with prosciutto, mozzarella, and mint.
Source: POPSUGAR Food [29]
Upgrade to a Honey-Basil Grilled Cheese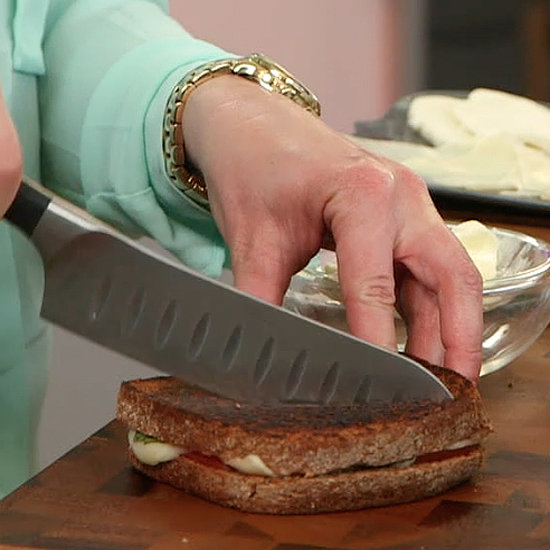 This sweet, savory, and unexpected honey-basil grilled cheese [30] combines slightly sweet wheat bread, a drizzle of honey, fresh herbs, and sliced tomato with a one-two cheese punch of fontina and mozzarella. Watch and learn how to make this serious contender for your new favorite cheesy sandwich.
Grilled Apple and Cheese Sandwich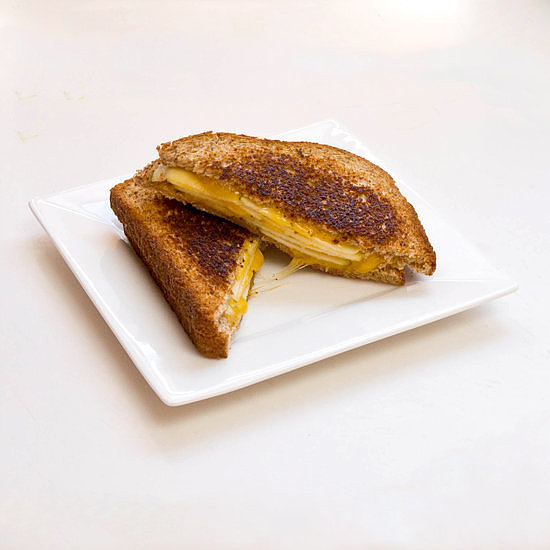 There's nothing like an ooey-gooey grilled cheese sandwich. Toasted bread and melted cheese make quite the combination, and this simple sandwich is a serious kid favorite. Take this basic to a new level with the help of thinly sliced apple and just a touch of grainy mustard [31]. The concoction creates a wonderfully sweet and savory sandwich that's perfect for lunch or an afternoon snack.
Source: Sarah Lipoff
Fried Chicken and Waffle Grilled Cheese
If you thought fried chicken and waffles is a novel concept, then the idea of turning that combo into a cheddar grilled cheese [32] is sure to blow your mind.
Source: Sarah J. Gim for Tastespotting [33]
Pepperoni Pizza Grilled Cheese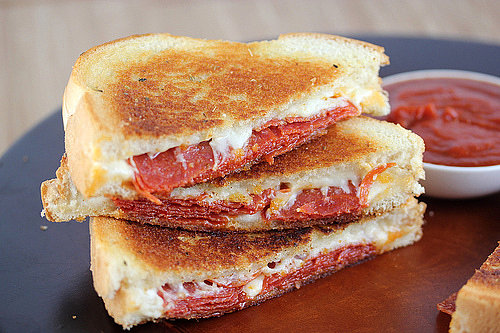 Dip a pepperoni and mozzarella grilled cheese [34] into marinara sauce for a quick pizza fix.
Source: Blog Chef [35]