There are nurseries that get the job done with minimal effort, others that involve a bit of thought and creativity on mom's part, and those that cause jaws to drop. Restoration Hardware Baby & Child-designed spaces pretty much always fall into that third category, and the brand's latest Spring collection is no exception. Here, 10 standout stunners perfect for babies lucky enough to be living the good life.
Source: Courtesy of RH Baby & Child [1]
A Soft, Glamorous Nursery For a Baby Girl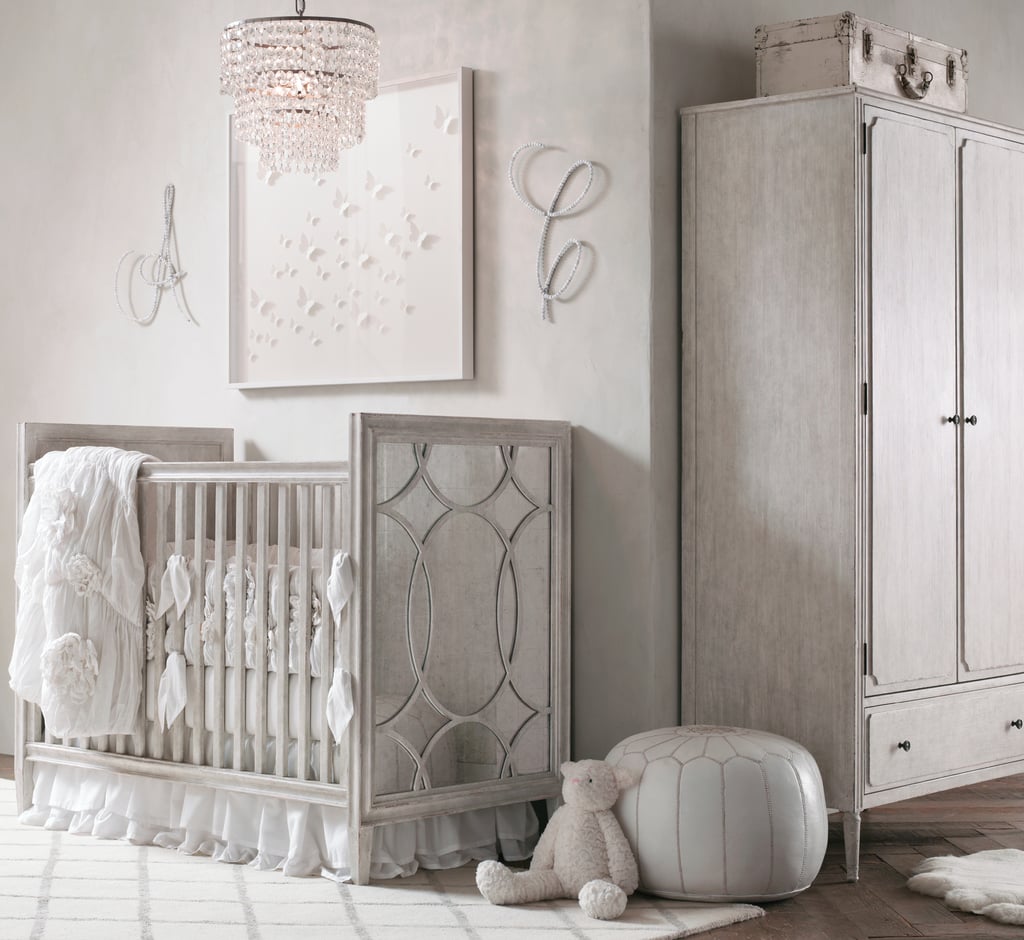 Standout pieces in this elegant space include the Vienne Crib [2] ($949-$1,249), with its glam mirrored sides, and the light-catching Soho Crystal Chandlier [3] ($399).
A Chic Parisienne Nursery For a Lucky Bébé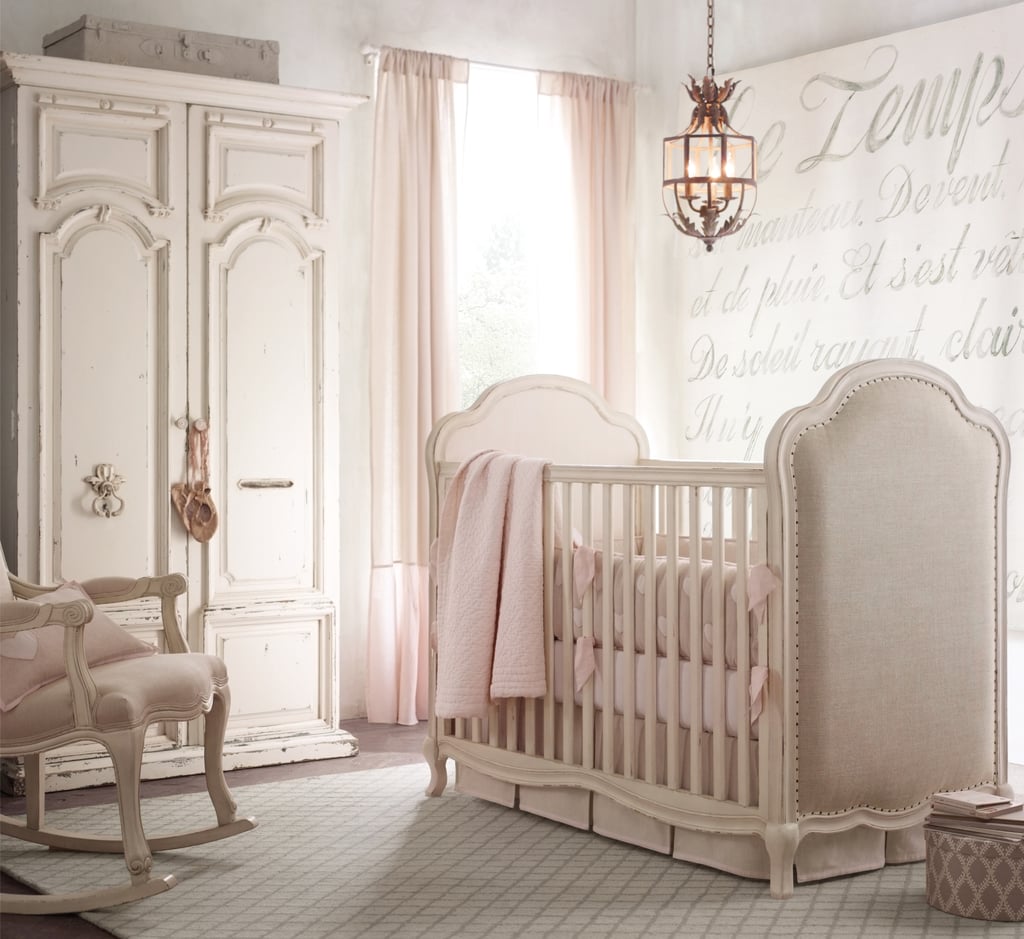 RH Baby & Child's French Script Grand Wall Canvas Tapestry [4] ($599) is at once eye-catching and eclectic.
Up, Up, and Away in This Whitewashed Nursery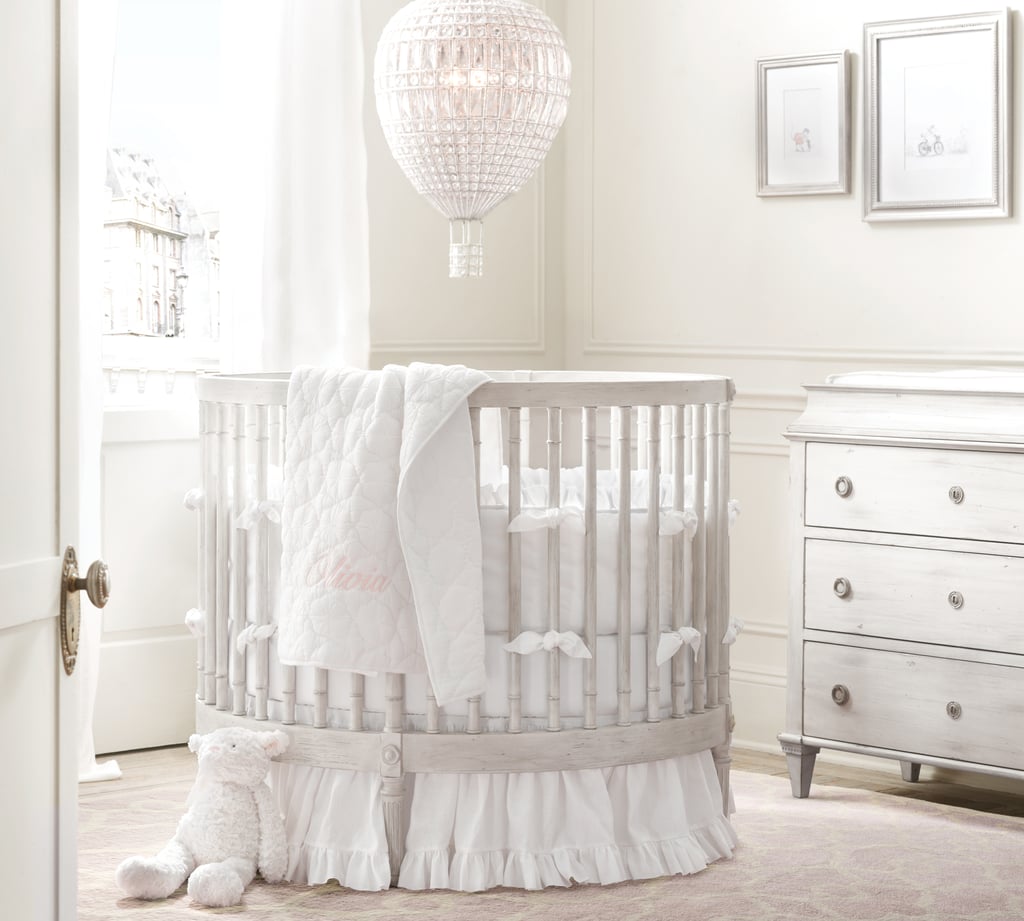 It's impossible not to be drawn to the Hot Air Balloon Crystal Pendant [5] ($799), which makes this soft white space soar to new heights.
A Room Fit For Royalty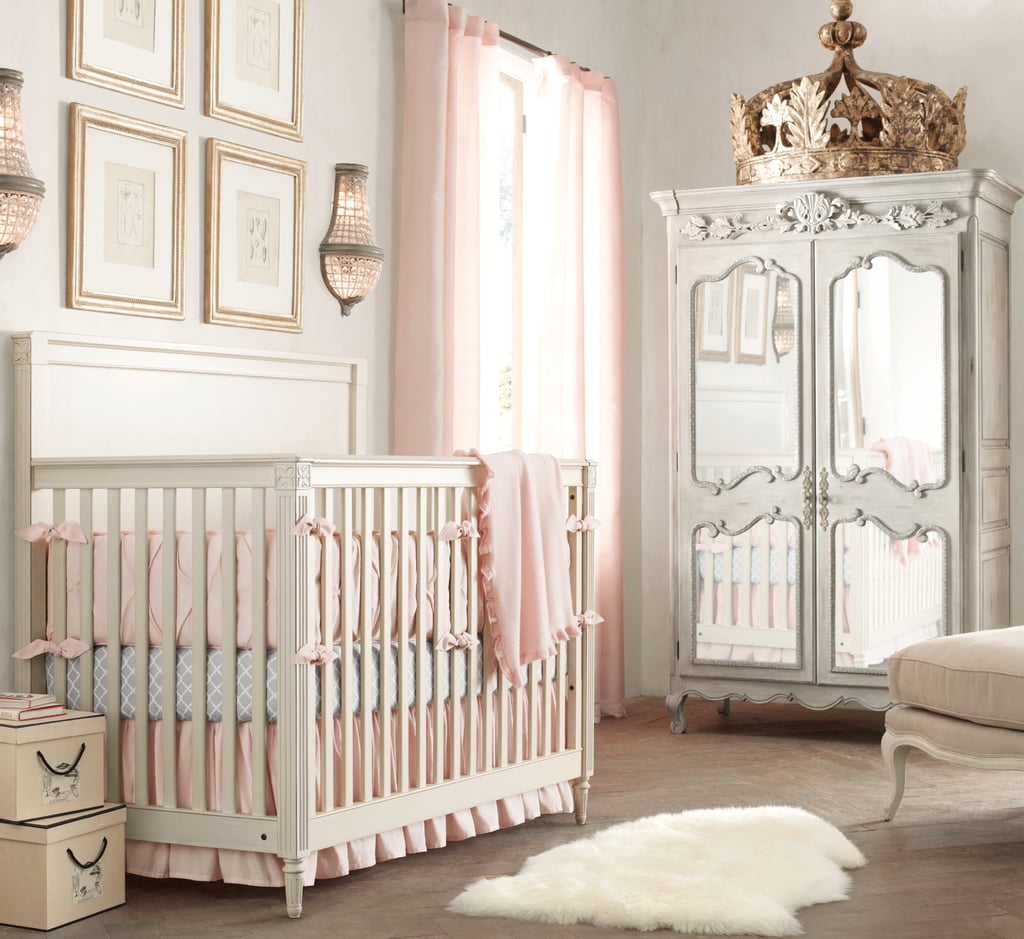 Give her highness a special space to call her own with the new Gilt Canopy Bed Crown [6] ($725) and exquisite Adelaide Armoire [7] ($1,799).
A Sophisticated, Old-World Space For a Boy or Girl
Up the aesthetic ante on your baby's first ride-on toy with the Vintage Wooden Carousel Horse [8] ($269). A set of 18th-century English sheet music [9] ($1,195) may be the last thing you'd expect in a nursery, but it adds an element of maturity and sophistication.
A Posh, Neutral Nursery
The upholstered Colette Crib [10] ($879, originally $1,099) is inspired by a Louis XV antique and could serve as a sumptuous first bed for a baby boy or girl.
A Temptingly Traditional Gender-Neutral Nursery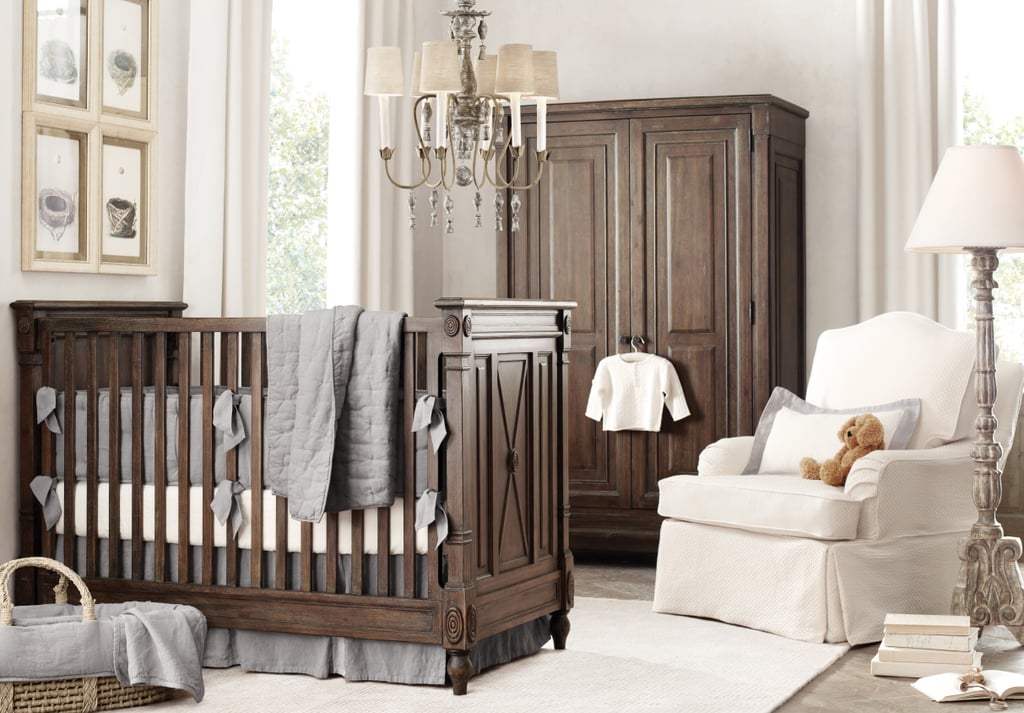 Designed in the French Directoire style, the wonderfully ornamented Jourdan Crib [11] ($799, originally $999) and its coordinating Armoire [12] ($1,349-$1,699) give structure and depth to an otherwise soft space.
It's a (Gentle!) Jungle in Here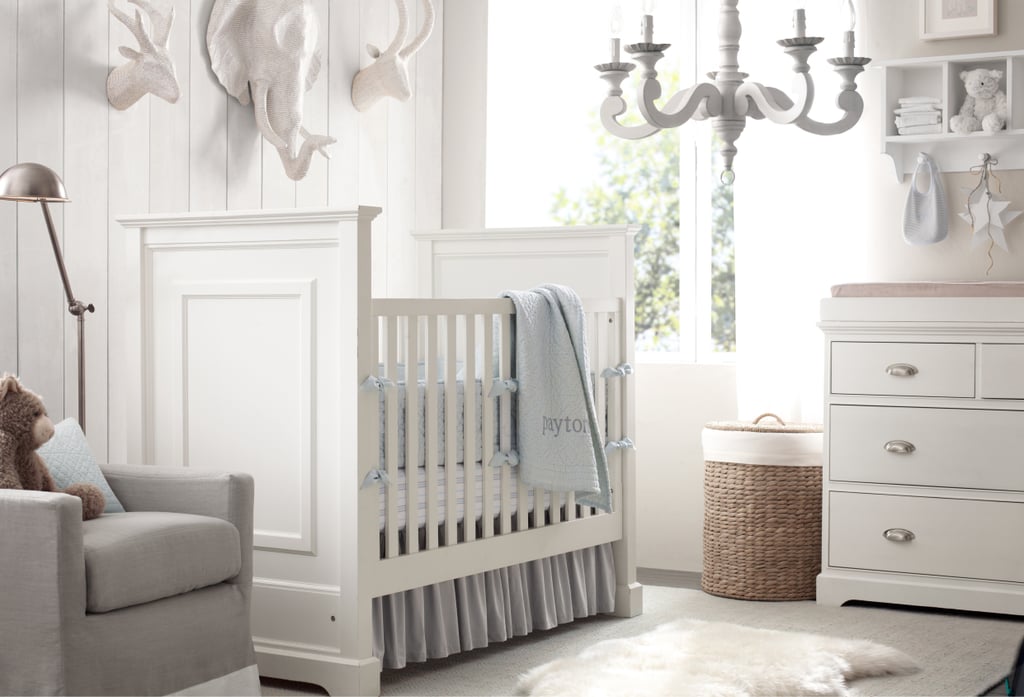 RH Baby & Child's Papier-Mâché Animal Heads [13] ($99-$179) are an artistic take on the nursery taxidermy trend. The distressed wood Etienne Chandelier [14] ($249) offers just the right balance between chic and child-friendly for baby's bedroom.
A Whale's Tale
Sometimes all it takes is one piece of statement-making artwork to define a room. In this case, it's the Scientific Whale Tapestry [15] ($169), which pairs nicely with the curves of the Roll Arm Rocker [16] ($879-$1,279, originally $1,099-$1,599)
A Star Is Born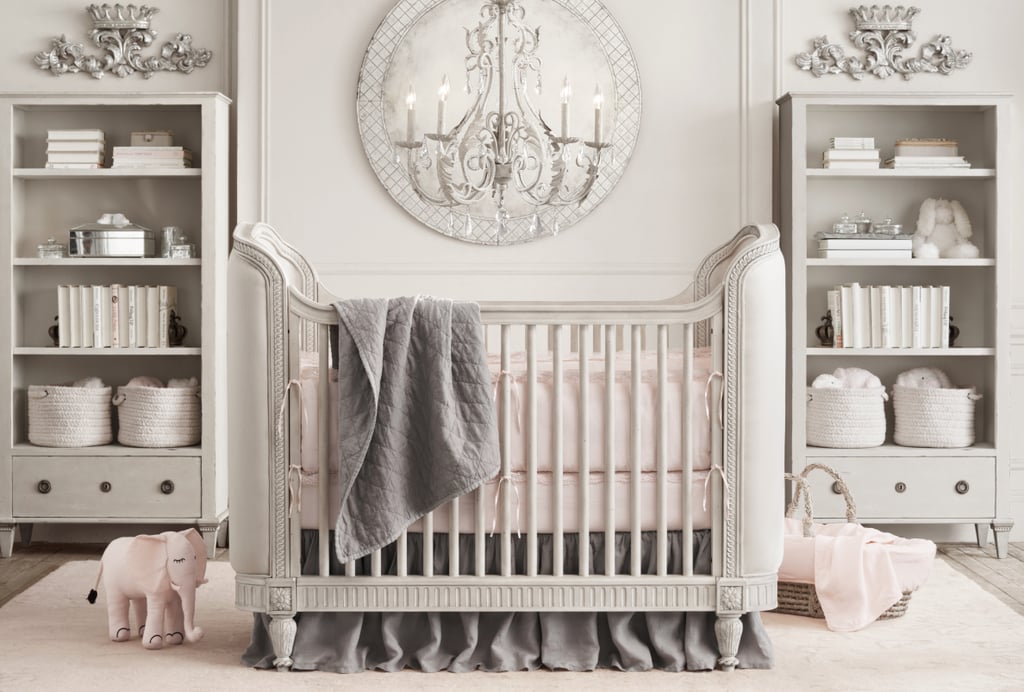 The luxurious pairing of the Belle Upholstered Crib [17] ($1,029, originally $1,299) in Antique Grey Mist and an 18th-century Venetian Cut-Glass Mirror [18] ($749) channel a toned-down variation of Old Hollywood.