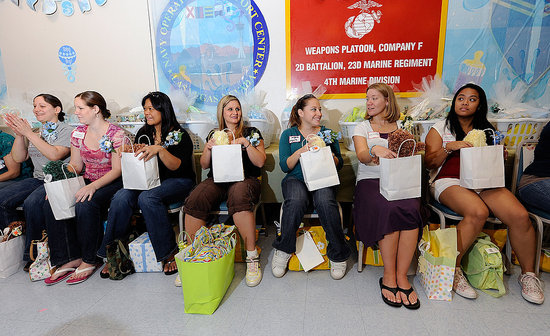 Every mother needs a helping hand every now and then. As a woman with two healthy children, a doting husband, a
nanny
and a gaggle of girlfriends to support me, it's tough to complain about the overwhelming demands of motherhood, but still, I do. Try being an expectant military wife whose husband is deployed. While some ladies sit at home fretting about the
nursery decor
, she sits up at night praying for his safe return. For many, the dilemma of the day is, "
Which stroller should I buy
?" Somewhere on a military base, the soldier's wife debates on who will help her through labor as her beloved flies a fighter jet continents away.
Thankfully, there are groups of generous people who take the time to honor the wives of soldiers (or the enlisted ladies themselves) and their impending arrival into motherhood. A project of nonprofit Soldiers' Angels, Operation Top Knot threw a baby shower for 32 pregnant military ladies in Las Vegas. They received handmade baby gifts of blankets, hats, and booties and celebrated the special occasion with cake, chocolate, games and of course, each other. If you want to volunteer for the cause, click here.