Now that Fall has arrived, we're craving comforting, warming soups. As a time-saving bonus, there's no better food to ensure that you get the most bang for your buck than soup. A big pot will serve your family for a few nights, and if you make a double batch, it freezes beautifully. All of these recipes are customizable to suit your kid's tastes and can be served on their own or turned into a heartier meal with the addition of a sandwich or salad. Bon appetit!
Cheeseburger Soup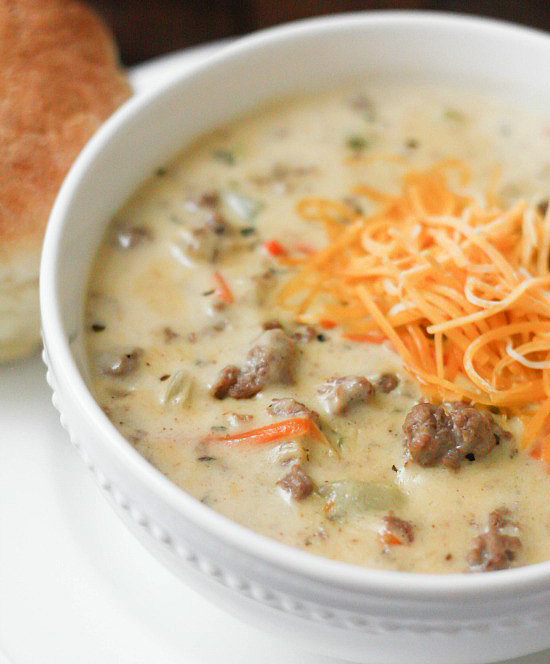 The Recipe Critic's cheeseburger soup [1] has kid favorite written all over it. The addition of lots of fresh veggies make it a cheeseburger you'll feel about giving your kids over and over again.
Source: The Recipe Critic [2]
Gluten-Free Tomato Soup With Grilled Cheese Croutons
Low carb and gluten free, All Day I Dream About Food's simple tomato soup with grilled cheese croutons [3] is comfort food without the guilt.
Macaroni and Cheese Soup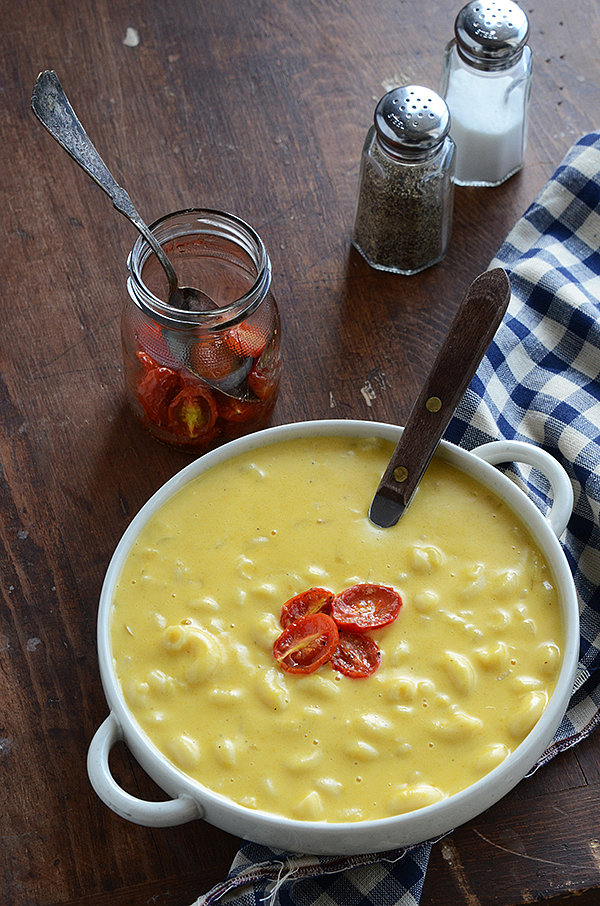 What could be more kid-friendly than macaroni and cheese soup [4]? Add some roasted tomatoes on top if you want to up the gourmet factor. The best part about this soup: it's even better when reheated!
Source: Culinary Covers [5]
Chicken Pot Pie Soup
Shugary Sweets' chicken pot pie soup [6] combines the flavors of two comforting favorites: chicken pot pie and broccoli cheddar soup. While the soup only takes about 30 minutes to make, it tastes like you've been cooking all day!
Source: Shugary Sweets [7]
Slow-Cooker Chicken Enchilada Soup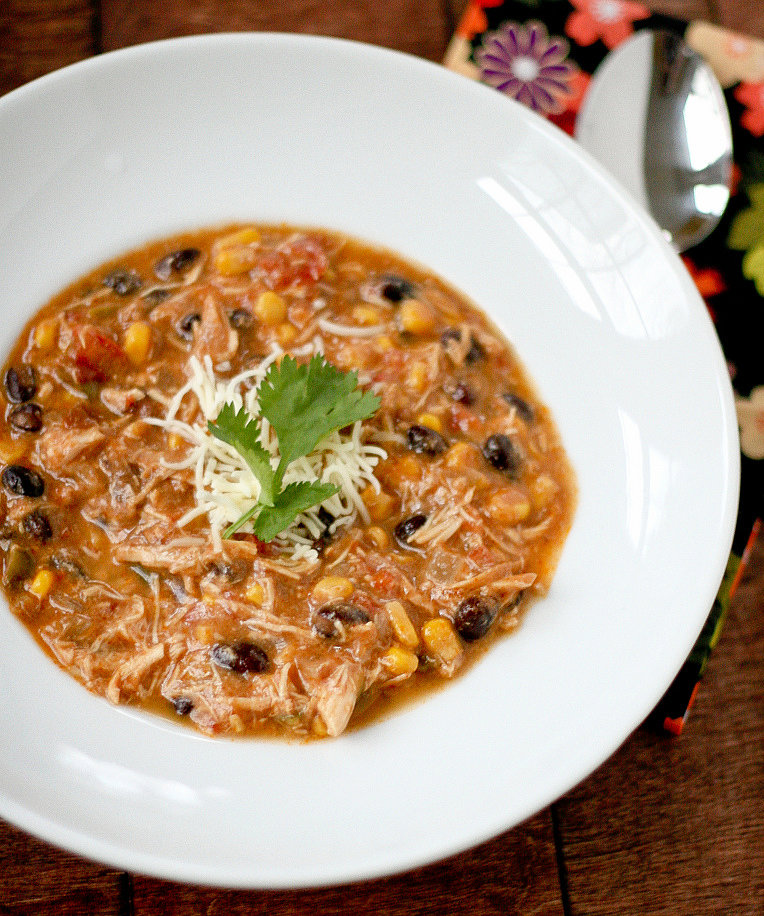 Throw all the ingredients for Dainty Chef's chicken enchilada soup [8] in your slow cooker in the morning, and you'll come home to a delicious, filling meal.
Source: Dainty Chef [9]
Broccoli Cheese Soup
One easy way to get your kids to eat broccoli (and carrots and celery)? Put the veggies in this yummy broccoli cheese soup [10] from Center Cut Cook.
Source: Center Cut Cook [11]
Cheesy Turkey Chili Mac
Cheesy turkey chili mac [12] from Lauren's Latest is loaded with healthy turkey, carrots, corn, zucchini, and kids will love the addition of curly pasta and lots of cheese.
Source: Lauren's Latest [13]
Loaded Baked Potato Soup
Topped with crispy bacon, sour cream, and cheddar cheese, Just a Taste's easy loaded baked potato soup [14] is a creamy, smooth version of the classic.
Source: Just a Taste [15]
Creamy Cheesy Tortilla Soup
Produce on Parade's creamy cheesy tortilla soup [16] is actually a vegan dish, but we won't tell if you throw some dairy in.
Source: Produce on Parade [17]
Corn and Butternut Squash Chowder
Martha Stewart [18]'s corn and butternut squash chowder [19] take just 15 minutes to prep, and the addition of fresh and frozen veggies makes this recipe something you can feel good about feeding your kids.
Source: Martha Stewart [20]
Vegetable Barley Soup
The addition of beans and barley means you won't miss the meat in this vegetable barley soup [21].
Source: Flickr User simplefoodrecipes [22]
Vegan Vegetable Soup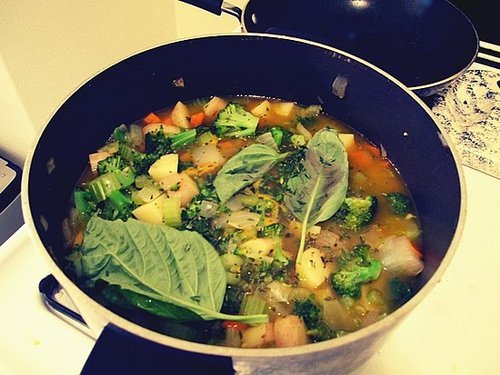 A delicious, satisfying way to use up your leftover veggies, vegan vegetable soup [23] is a flexible recipe that you can adjust to suit your family's tastes (and what's in the fridge!).
Turkey Chili
Nothing says wintertime like a big bowl of turkey chili [24] with cornbread.
Source: Flickr User Nathan Y [25]
Next Day Turkey Soup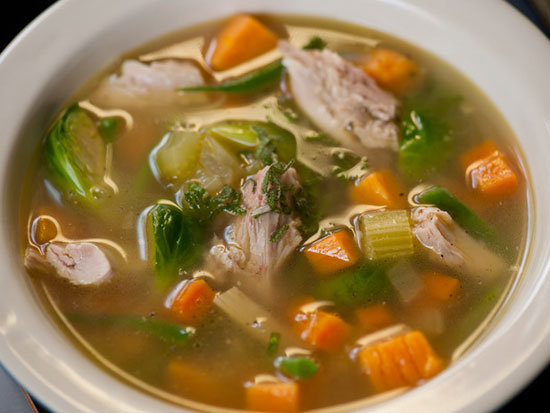 Because Thanksgiving shouldn't be the only time we eat turkey, next day turkey soup [26] utilizes leftovers to create a healthy, broth-based soup.
Black Bean Soup
Protein-rich black bean soup [27] is satisfying on its own or can be made into a more complete meal when served with quesadillas or chips and salsa.
Lasagna Soup
This rich, hearty recipe for lasagna soup [28] rethinks the Italian classic.
Source: A Farm Girl Dabbles [29]
Roasted Tomato Soup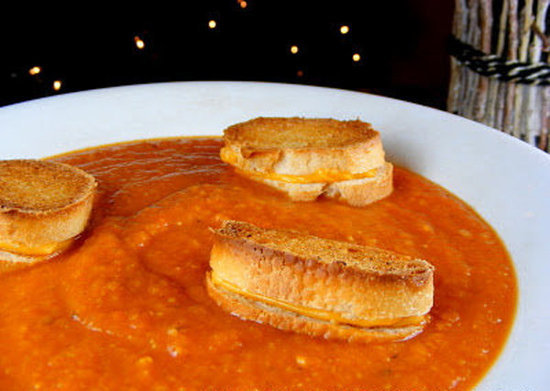 The addition of grilled-cheese croutons will make this roasted tomato soup [30] an instant family favorite!
Source: Amy's Cooking Adventure [31]
Michelle Obama's Broccoli Soup
If it's good enough for the White House, it's good enough for your house! Give Michelle Obama's nutrient-packed broccoli soup [32] a try.
Curried Pumpkin Soup
A savory pot of curried pumpkin soup [33] is the perfect pre-trick or treating dinner.
Curried Carrot Bisque
Don't be afraid to serve your kids curry — this carrot bisque [34] is colorful, light, and healthy.
Corn and Potato Chowder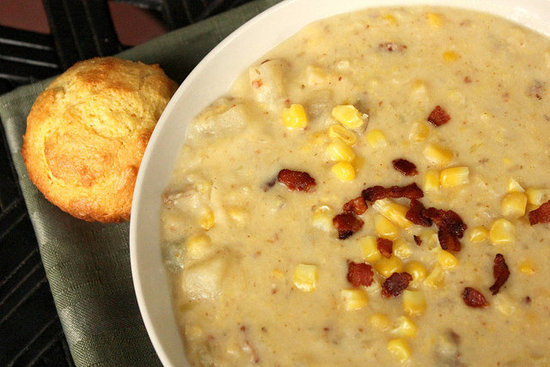 Satisfying and hearty, corn and potato chowder [35] is delicious with a big green salad and some crusty bread.
Source: Mama Loves Food [36]
Cheddar Cheese Soup
Cheddar cheese soup [37] is the very definition of comfort food.
Baked Potato Soup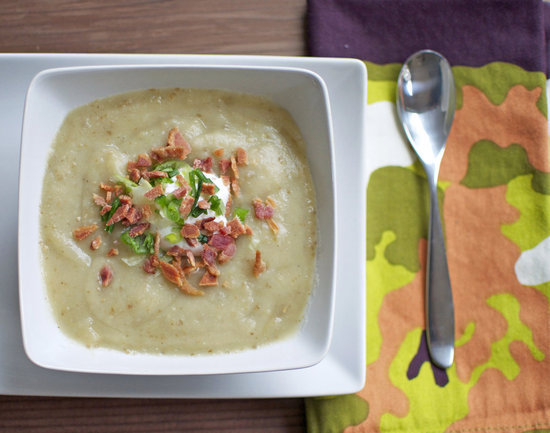 If your kids are fans of loaded baked potatoes, they're sure to love this hearty baked potato soup [38].
Turkey and Rice Soup
There's no better way to satisfy a kid with a cold than with a steaming bowl of broth-based turkey and rice soup [39].