Caffeine gets a lot of parents through the day. Some moms and dads only begin to function once they've had their liquid fix. But with the costs of raising a family, many couples have kicked off 2011 with a resolution to budget better. It's hard to give up anything — especially part of your daily routine — cold turkey so I tapped a former barista to give me the inside scoop for saving money and still getting your drink on. From recipes you can make at home to tips for getting more bang for your in-store buck, here's how to cut expenses!
Green Tea Latte
The key ingredients in a green tea latte are one teaspoon of green tea Matcha powder and three pumps of Torani classic syrup.
How to Make "Steamed Milk"
There's nothing like warm milk! Heat yours in the microwave for one minute and 30 seconds, then put it into something like the Magic Bullet with a flat blade.  Let it mix for a few seconds.  Be careful when opening.  You will have milk with foam! Or you can purchase an inexpensive milk frother from IKEA.
Cut Espresso Costs
Skip standing in line to get your shot of espresso and invest in an inexpensive Bialetti stovetop espresso maker that is popular with the Europeans.
In-Store Tips For Saving Cash
Ask for "no water" when ordering iced tea or buy the Tazo tea at the store and shake it up at home using Torani classic syrup to sweeten.
Ask for your iced coffee without ice (it's already refrigerated and is normally filled with two-thirds of ice.)
Ask for no foam with your lattes if you don't care about foam. (If a barista forgets to steam enough milk, they may add more foam and you pay for air.)
You can usually ask for a short (8 oz.) coffee or drink. It's just not on the menu.
Caramel Macchiato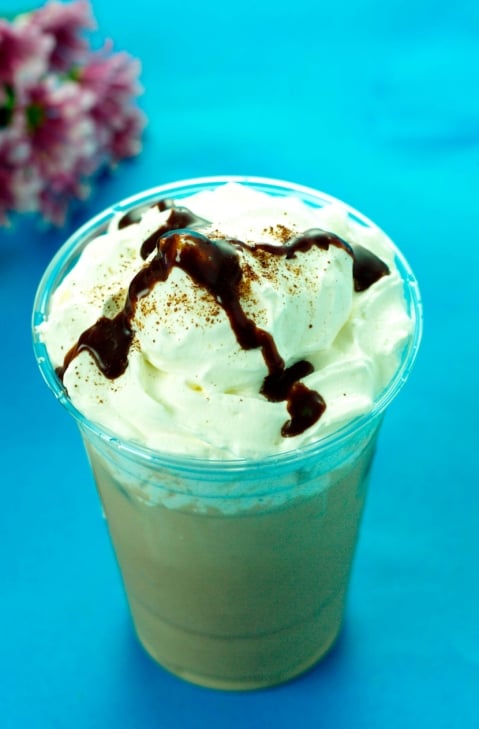 Whip up this sweet sipper by using Hershey's Caramel Topping to cover the bottom of the cup and then go around the sides. Add three pumps of Torani vanilla syrup to strong coffee or espresso and then blend in milk.
Drizzle more caramel on top.