Rack 'em up! Books can educate, inspire, and more, but they can also clutter up a room if there's no proper place to store them. Rather than fill a traditional bookcase with your lil one's tomes, consider some unique ways to show off your tot's favorite stories. From inspirational gallery displays to home-built furniture, we've rounded up 19 ways to declutter the book corner in your kids' rooms. Check them out!
DIY Book Ledges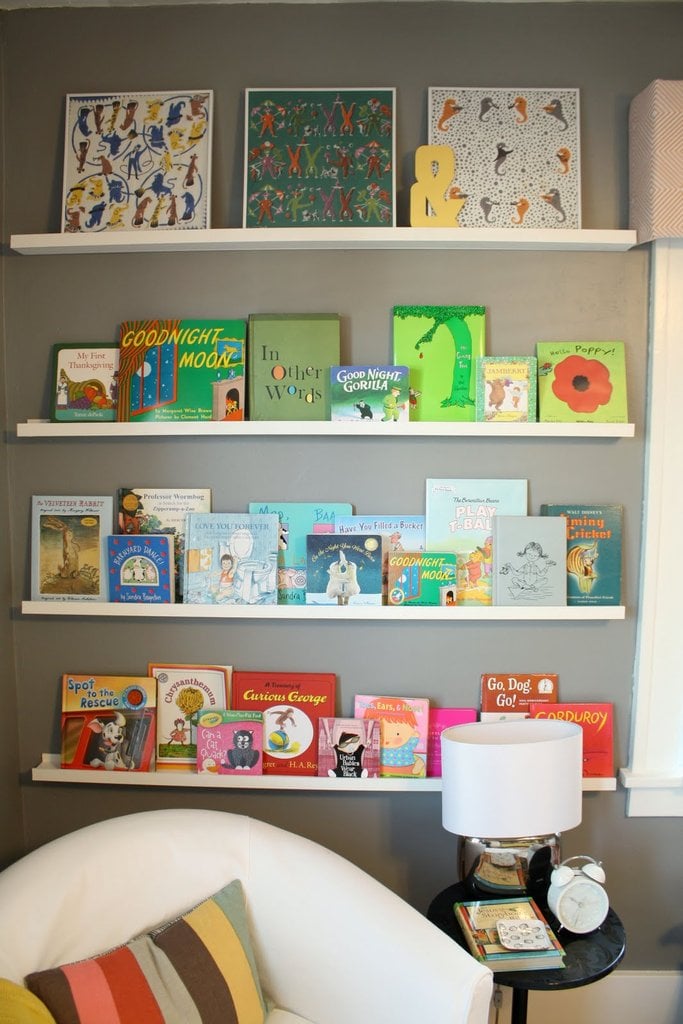 This mod nursery's [1] book ledges, which display a selection of baby books and art created from framed vintage scarves, were built by the little inhabitant's dad and grandpa.
Source: Project Nursery [2]
The Land of Nod Good Read Book Caddy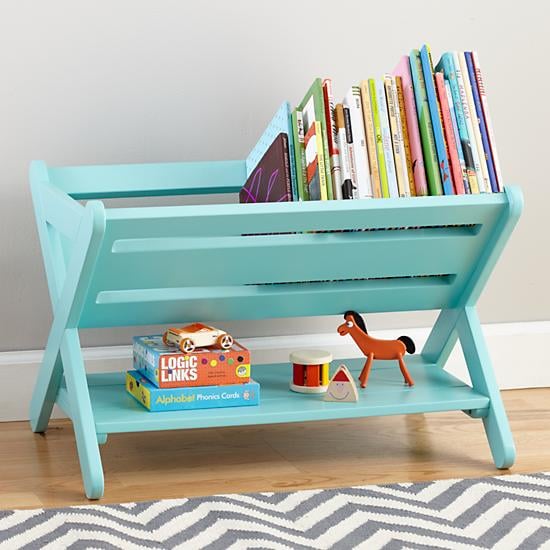 If your kids are the throw-and-go type, The Land of Nod's Good Read Book Caddy [3] ($149) is an easy book-storage option, allowing kids easy access to their books — and making it easy for them to reshelve when they're done reading. Available in five colors to match any room.
Cable Spool Book Table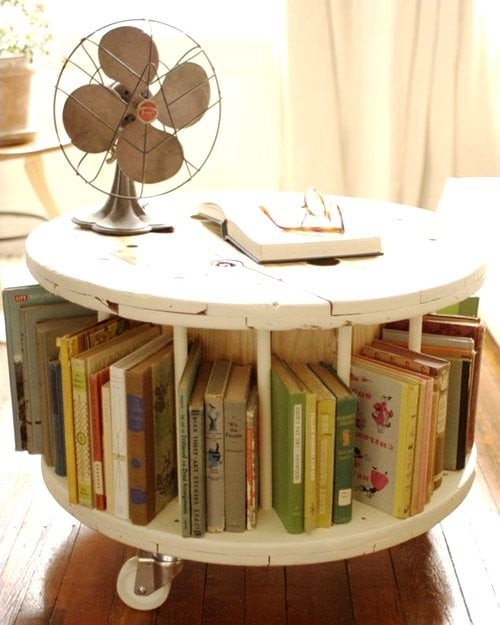 The book lovers at Reading is Fashionable have step-by-step directions on how to build this bookmobile [4] from an old cable spool. It takes a little of work, but the payoff is major!
Source: Reading is Fashionable [5]
Nursery Works Tree Bookcase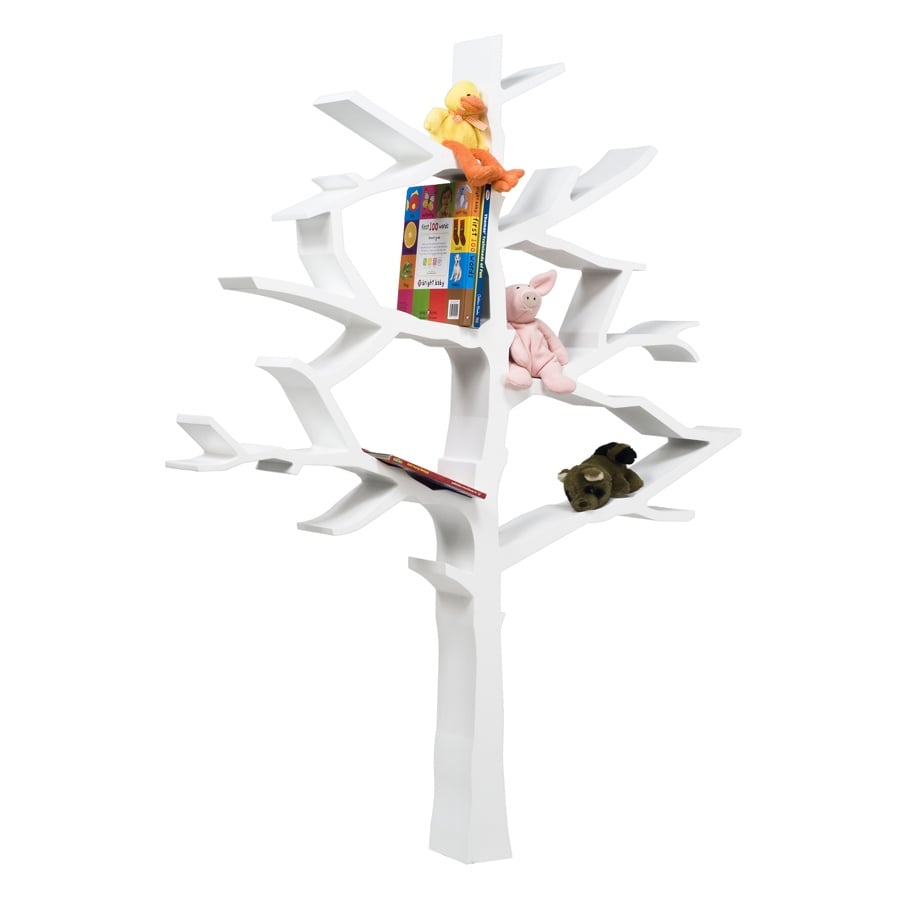 A bookshelf does not need to be a case-like structure. Take, for instance, Nursery Works' Tree Bookcase [6] ($900). Designed to inspire lil ones to read, the bookshelf is a cross between wall art and storage facility. Fill it with your tot's favorite, or other tree-inspired works like A Tree Grows in Brooklyn and The Giving Tree.
Color-Coded Bookshelf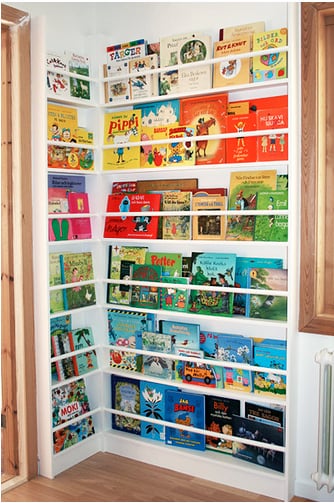 Flickr user Craft & Creativity [7] built this ceiling-to-floor display shelf out of pine board and painted it white. Sorting the books by color makes it stand out from more traditional bookshelves.
Source: Flickr user Craft & Creativity [8]
Oeuf Mini Library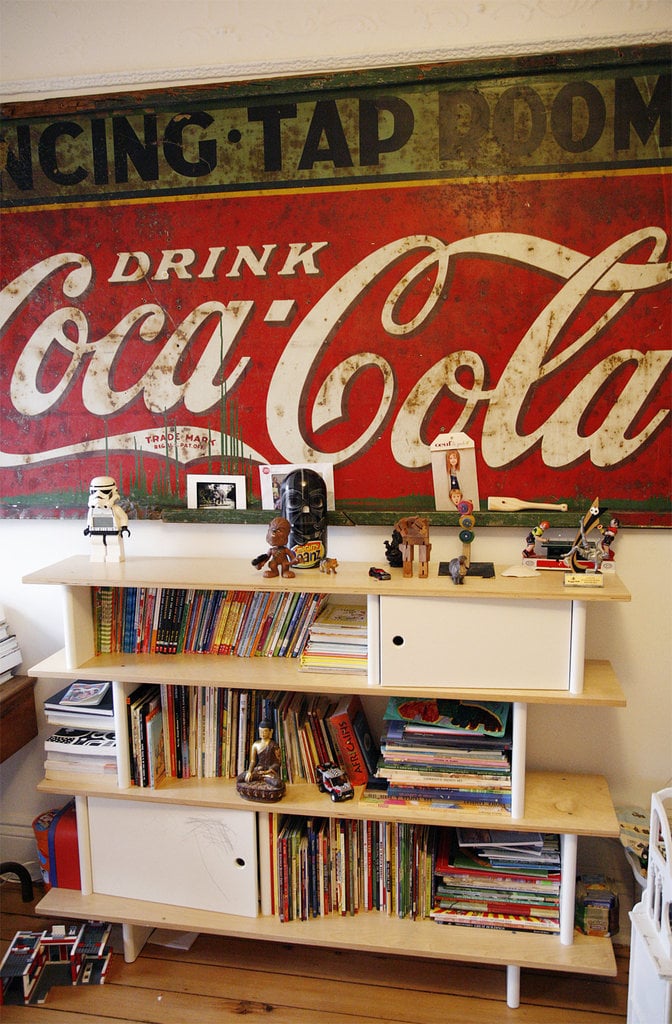 In the kid-friendly home owned by the founders of Oeuf [9], you'll find at least one piece of Oeuf furniture in every room. One of our favorites, however, is the popular Mini Library [10] ($678), which manages to look chic while being a workhorse, holding a ton of books, toys, and knickknacks.
Source: Project Nursery [11]
Koichiro Hoshino Casaurus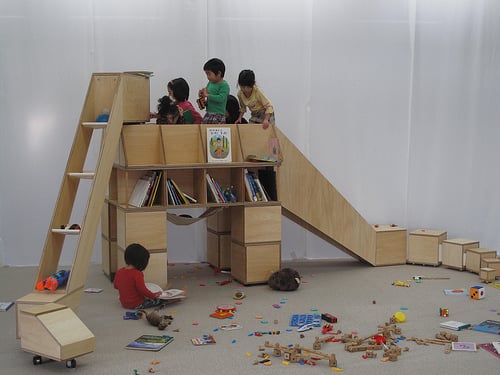 Design student Koichiro Hoshino's project may be the ultimate playroom furniture for tots. The Casaurus, a combination bookshelf, slide, and storage unit provides plenty of storage space for lil one's books in addition to being a great plaything. Though the designer isn't currently making or selling the unit, it can provide inspiration for mamas with an eye (and hand) for creativity!
Source: Spoon & Tamago [12]
Nursery Works Storytime Bookcase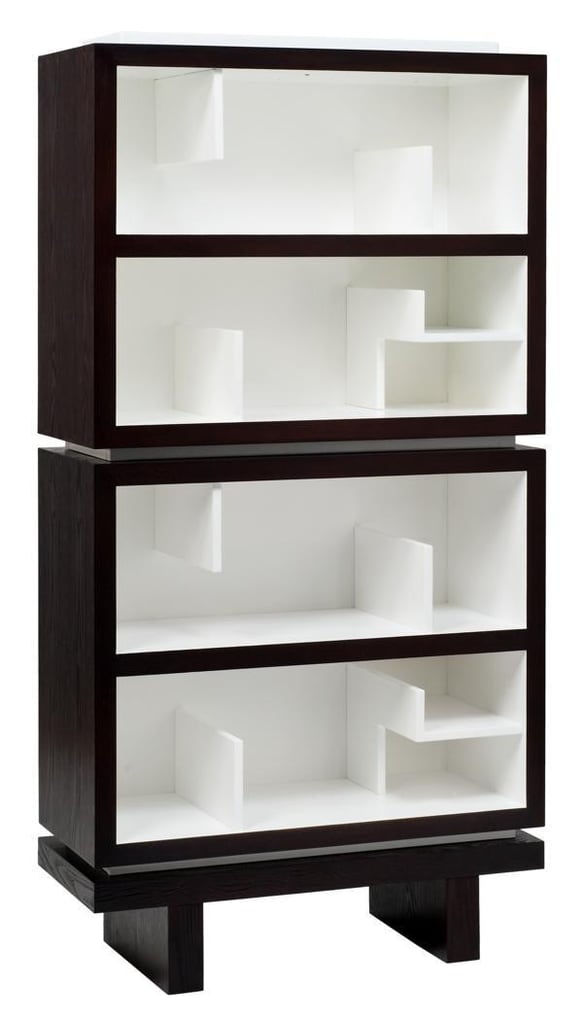 Nursery Works' Storytime Double Bookcase [13] ($699) creatively organizes books and toys with fixed interior dividers.
House Bookshelf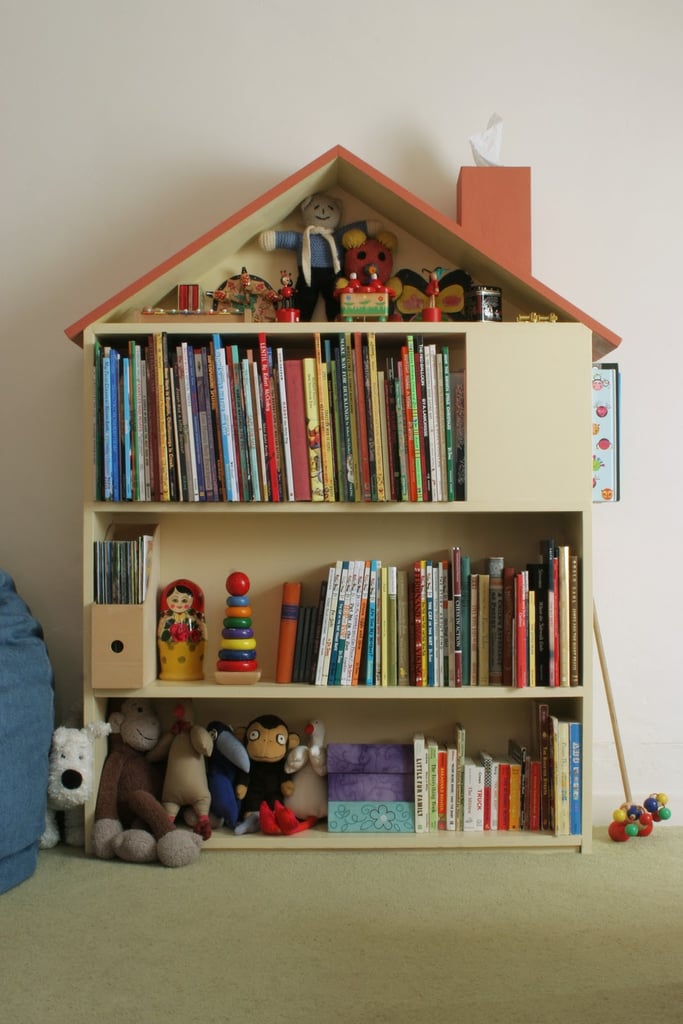 Maiz Connolly, a portrait photographer in Los Angeles, created this beautiful home-like fixture [14] for her family's picture books. Using plywood, they created space for both short and tall books, even making a tissue box holder out of the home's chimney.
Source: The Brooding Hen [15]
Babyletto Spruce Tree Bookshelf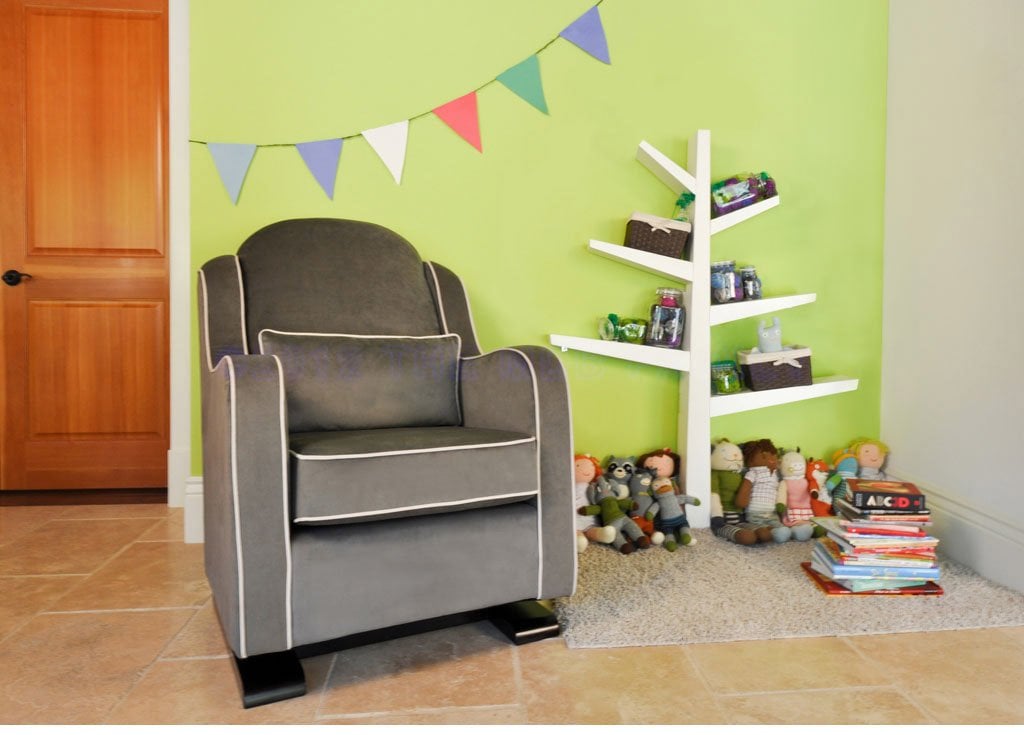 Babyletto's Spruce Tree Bookshelf [16] ($169) is a clever way to display about 15 of your child's favorite book — or make a forest with multiple shelves and display them all.
Media Display Wall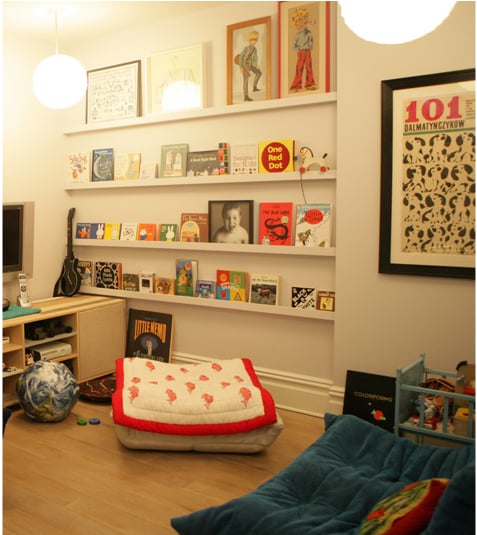 Interior decorator Jan Eleni Lemonedes [17] converted a playroom wall into a display area for books, photos, toys, and more. By adding narrow shelves to the length of the wall, she created the perfect space for lil one's to review and grab books that interest them. The big floor pillows situated right under the shelves transform the corner into a snugly reading nook too.
Source: Jan Eleni Lemonedes [18]
Vintage Toys as Storage
Designer Nancy Twomey of Finnian's Moon Interiors turned an antique wagon into a chic book display at the 2012 DC Design House [19].
Ikea Spice Racks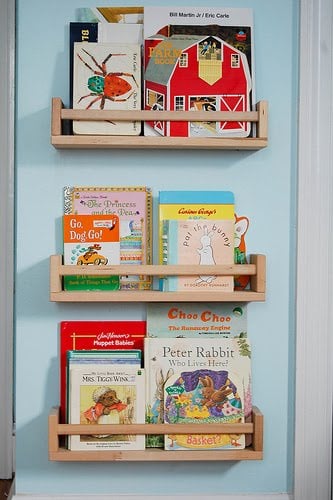 It doesn't take much to turn Ikea's spice racks into a cute book display [20]. Just screw the racks in on the wall, and fill with your tot's favorite books.
Source: Ikea Hackers [21]
Reading Corner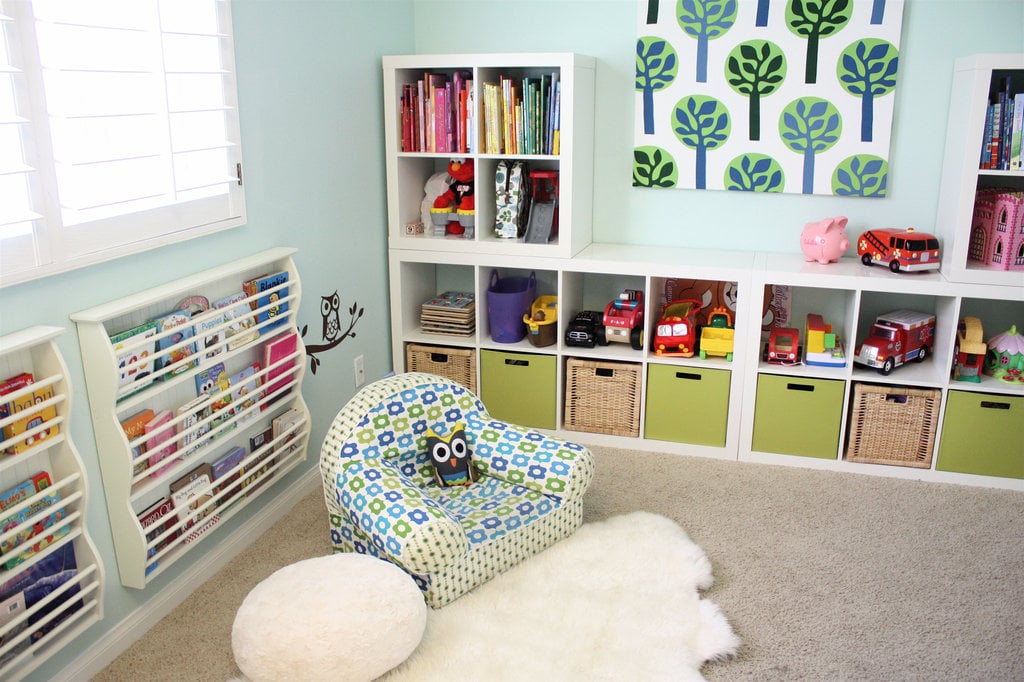 In one corner of this cool playroom [22], a Land of Nod chair [23], Pier One pouf, and a hide rug found at Costco invite kids to curl up with a book. Ikea Expedit bookshelves hold standard paperback and hardcover books up high where they can't be torn, while wall-mounted book racks keep sturdy board books at kid level.
Source: Adella & Co [24]
The Land of Nod Local Branch Library Cart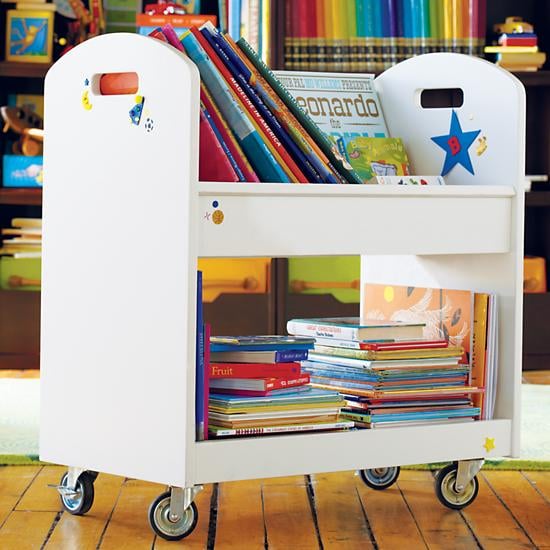 If your kids (like mine) tend to drag their books all over the house, The Land of Nod's Local Branch Library Cart [25] ($199) is a necessary vehicle to get them back to the right room — or to look nicely stacked and organized in the wrong one.
Batman: Arkham Asylum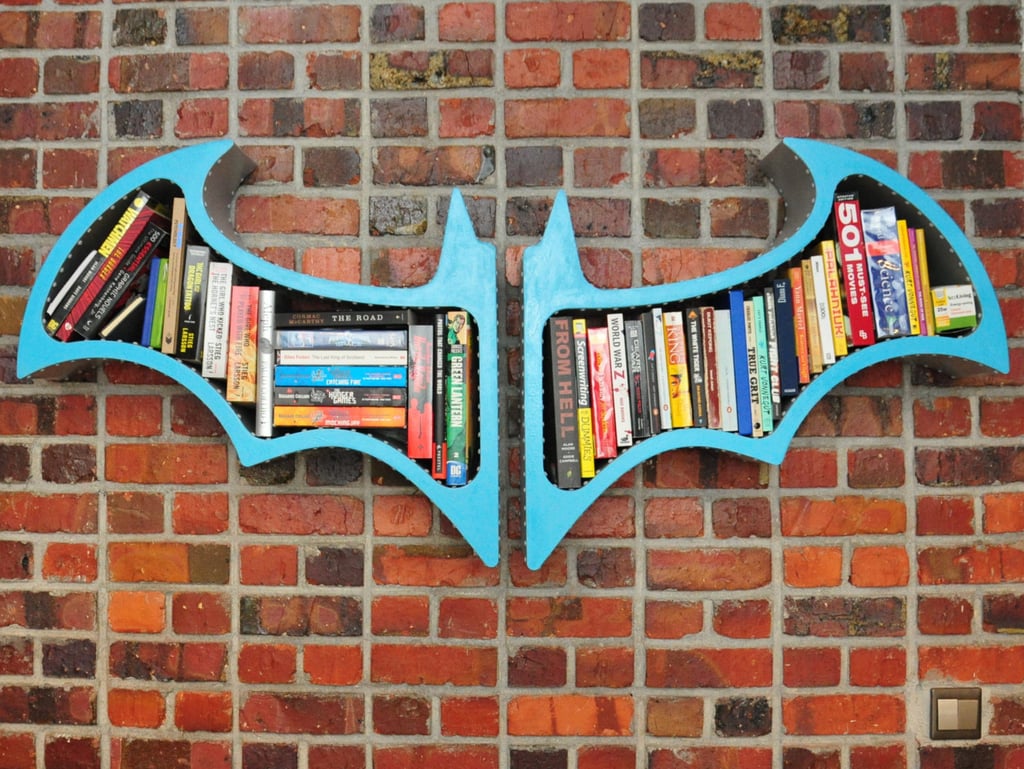 For the ultimate Batman fan, this aluminum and MDF Batman bookshelf [26] ($278) is the way to go! If nothing else, it's a great place to store your comic books!
Knowledge Tree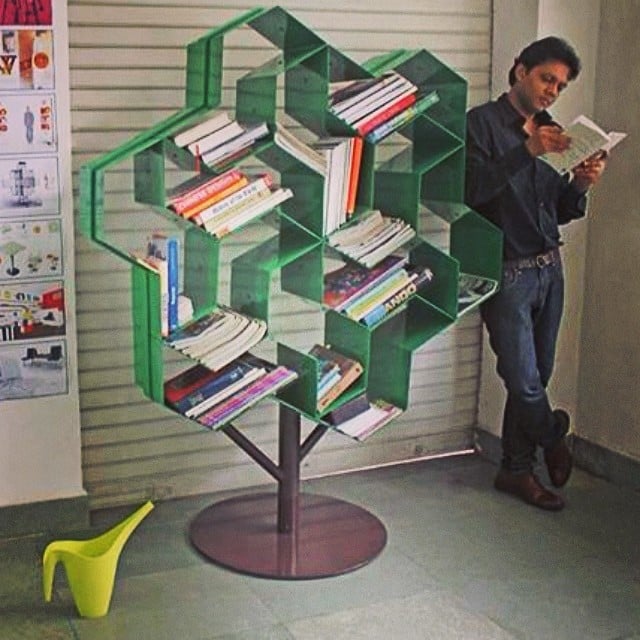 This award-winning Knowledge Tree [27] bookshelf is a modern take on some of the more traditional trees we've seen.
Source: Instagram user design_gandhi [28]
Abstract Shelf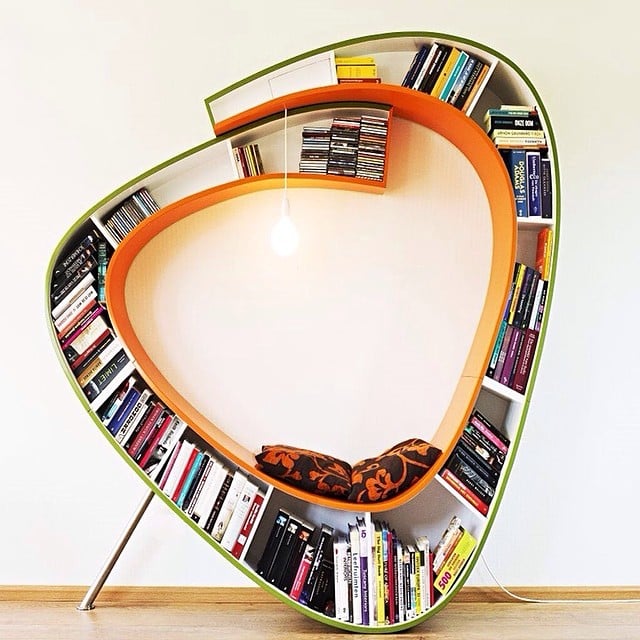 This abstract bookshelf [29] not only provides a place to store books, but it also has a great spot to read them too.
Source: Instagram user candypaws_soccer [30]
Cave Bookcase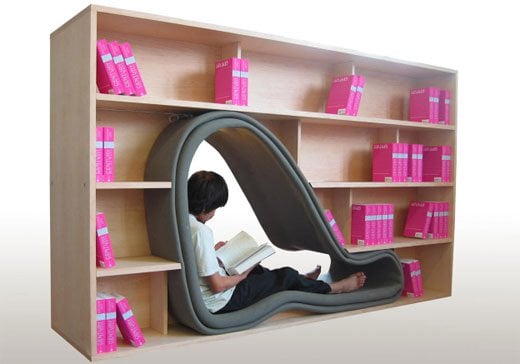 A perfect reading nook for kids, the Cave Bookcase [31] provides plenty of storage space in addition to its cushioned seat.