Crockpots are a cold-weather essential, but if you're accustomed to putting your slow cooker away from April to September, you may want to reconsider. These 20 recipes do what the grill cannot, allowing your dinner to cook itself while you head off to work, Summer camp carpool duty, or whatever else the day has in store. From pulled pork to vegetarian lasagna that lets you put all of that seasonal squash and zucchini to use, you're guaranteed to find a few great meal ideas to get your family through the second half of Summer.
Italian Chicken
A lighter take on chicken parmesan, this easy Italian chicken [1] pairs perfectly with a side of pasta or roasted veggies.
Source: Flickr user richardgaywood [2]
Slow-Cooker Lemon Poppy-Seed Cake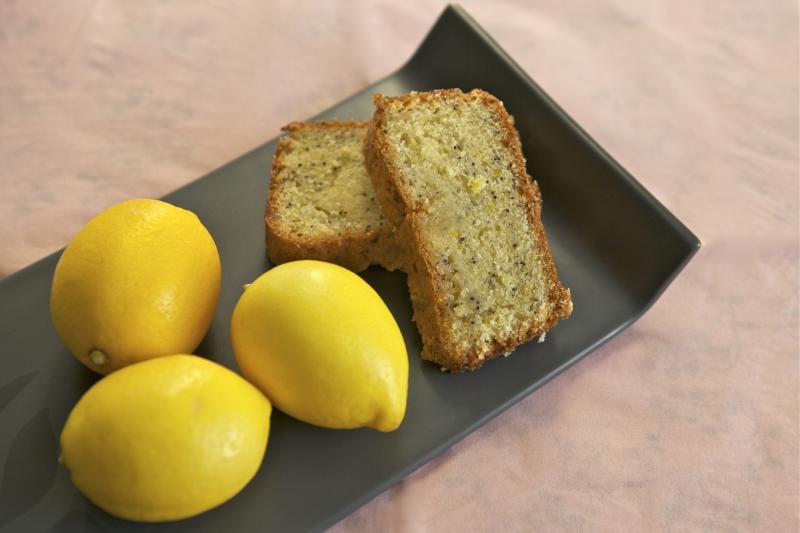 Kids and parents alike will delight in this light and lovely lemon poppy-seed cake [3] from Real Simple — no oven required!
Source: Flickr user pathlost [4]
BBQ Shredded Pork
A cookout-ready meal (without having to turn on the grill), these shredded pork sandwiches [5] will appease a crowd.
Source: Flickr user julishannon [6]
Jamaican-Spiced Chicken Stew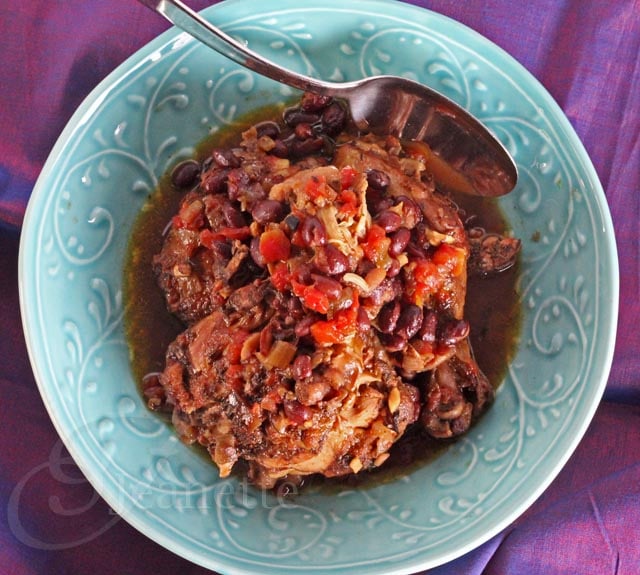 Try something new with this Caribbean-inspired chicken stew [7] from Jeanette's Healthy Living.
Source: Jeanette's Healthy Living [8]
Taco Skillet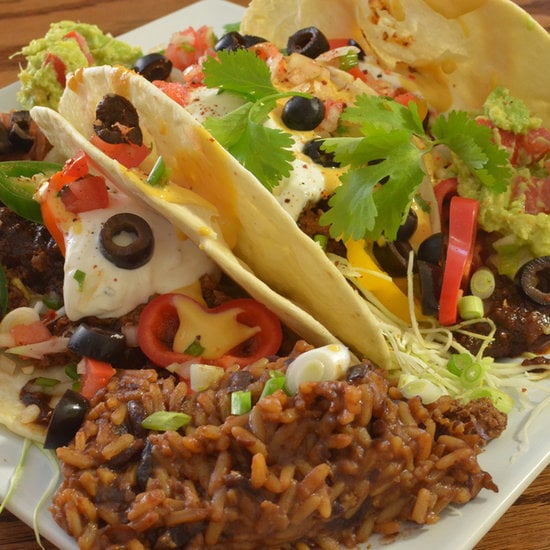 If your family's a fan of Mexican food, consider prepping the ground beef (or turkey) for this yummy taco skillet [9] in your slow cooker for extra flavor.
Source: Desiree Hartkopf [10]
White Bean Soup With Andouille and Collards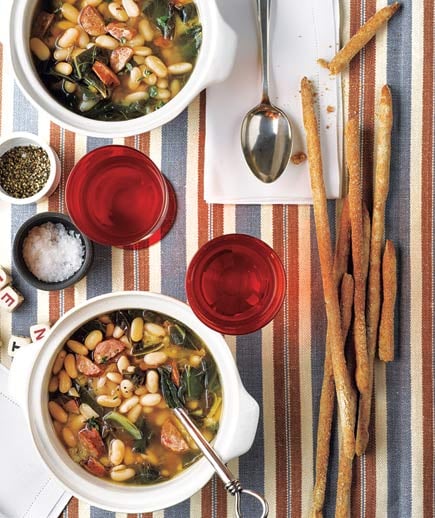 Take your family's taste buds on a ragin' Cajun adventure with this flavorful and delicious white bean soup with andouille and collards [11].
Source: José Picayo For Real Simple [12]
Crockpot Balsamic Pork Roast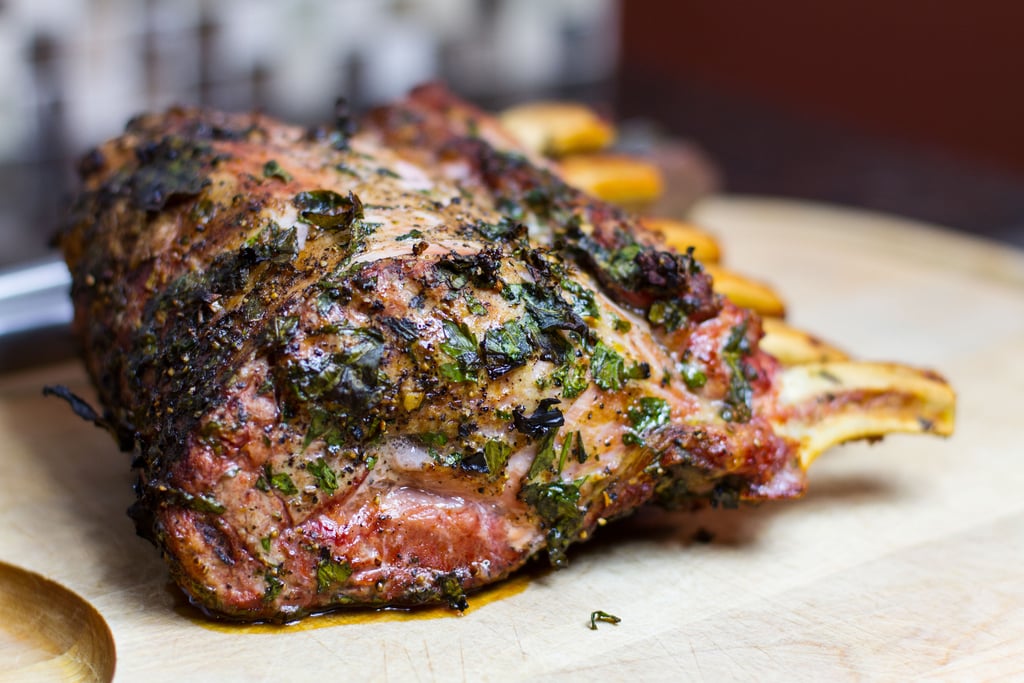 This easy balsamic pork roast [13] is worthy of a dinner party but easy enough to make for your family's weeknight supper.
Source: Flickr user anotherpintplease [14]
Two-Ingredient Slow-Cooker Salsa Chicken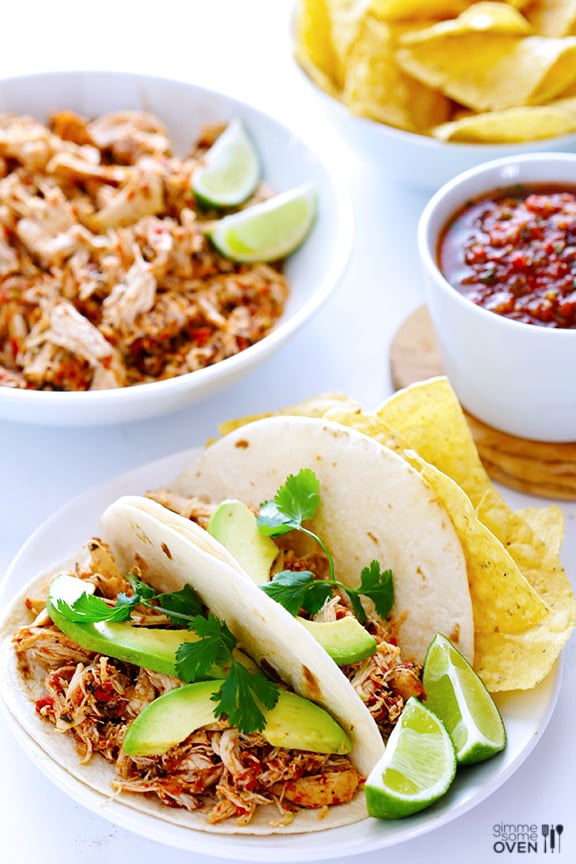 Seriously, there are two ingredients in this salsa chicken [15]. Serve it on its own or turn it into tacos. Yum!
Source: Gimme Some Oven [16]
Crockpot Avocado Soup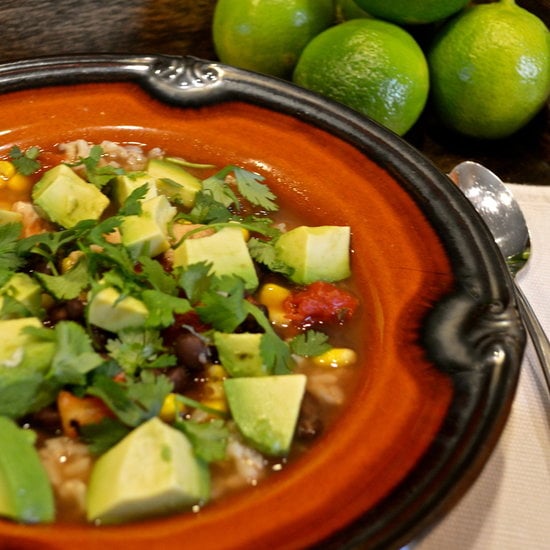 Mexican meals can be satisfying without being too heavy. Case in point: this chicken avocado soup [17], which is brightened up with the addition of fresh lime juice, creamy avocado, and refreshing cilantro.
Source: The Intentional Mom [18]
Honey Sesame Chicken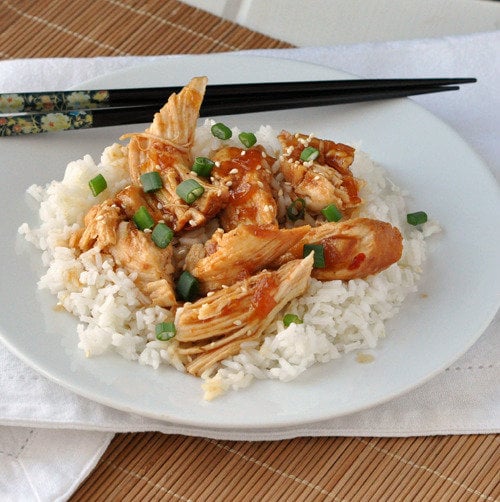 Yum! This honey sesame chicken [19] makes a bright addition to the dinner table.
Source: The Way to His Heart [20]
Cheesy Jalapeño Chicken Sandwich
If your kids like a little kick in their dinner, whip up Food Fanatic's jalapeño popper chicken sandwich [21].
Source: Food Fanatic [22]
Chicken and Pasta Soup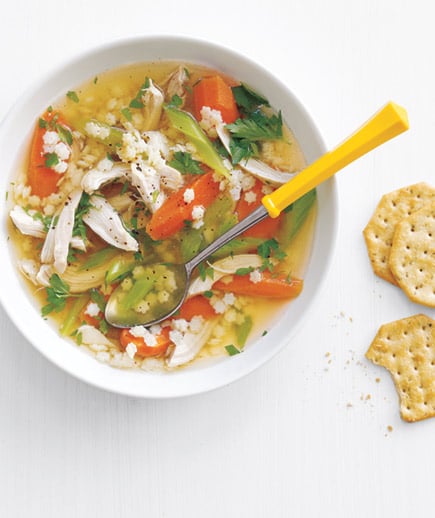 Nothing beats the simplicity and comfort of chicken and pasta soup [23]. With its soothing, veggie-filled broth, it's just the thing for warding off Summer colds.
Source: Romulo Yanes For Real Simple [24]
Pulled Pork Sandwiches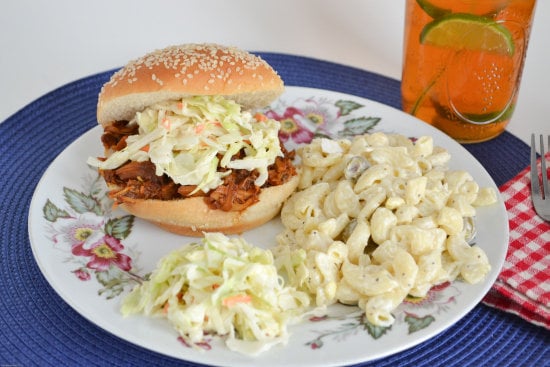 In a fraction of the time that it would take to make on the grill, this slow-cooker pulled pork [25] is delicious on a bun with a green salad or coleslaw.
Source: Flour On My Face [26]
Tangy Sloppy Joes
With only a few ingredients, these flavorful sloppy joes [27] are on the table and ready for noshing after a day of cooking slow and low thanks to your crockpot. You can even heat up leftovers for lunch the next day.
Source: Budget Gourmet Mom [28]
Egyptian Lentils and Rice
This recipe for Egyptian lentils and rice [29] from The Pretty Bee is a great vegetarian solution for nights when the kitchen cupboards are looking sparse. Enjoy it on its own, or enhance it with additional protein or veggies.
Source: Flickr user coldphage [30]
Kalua Pork With Cabbage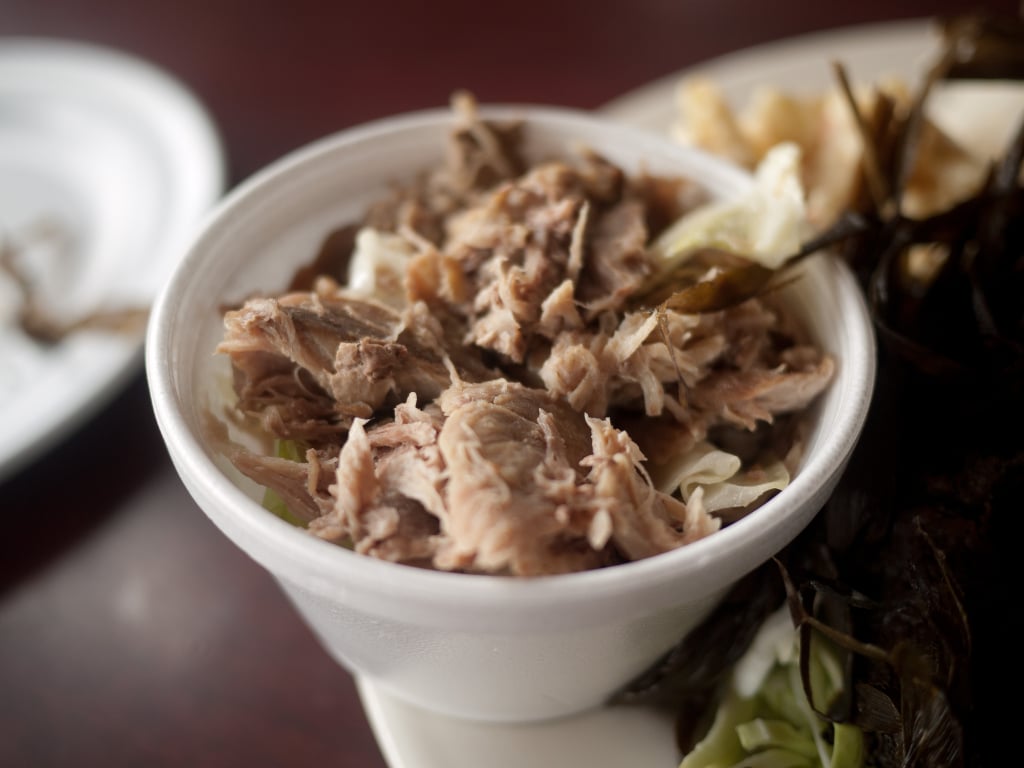 So maybe a family getaway to Hawaii isn't in the cards this Summer. Instead, bring a taste of the islands to your family's table with Defining Tabitha's Kalua pork [31].
Source: Flickr user rfung8 [32]
White Chicken Chili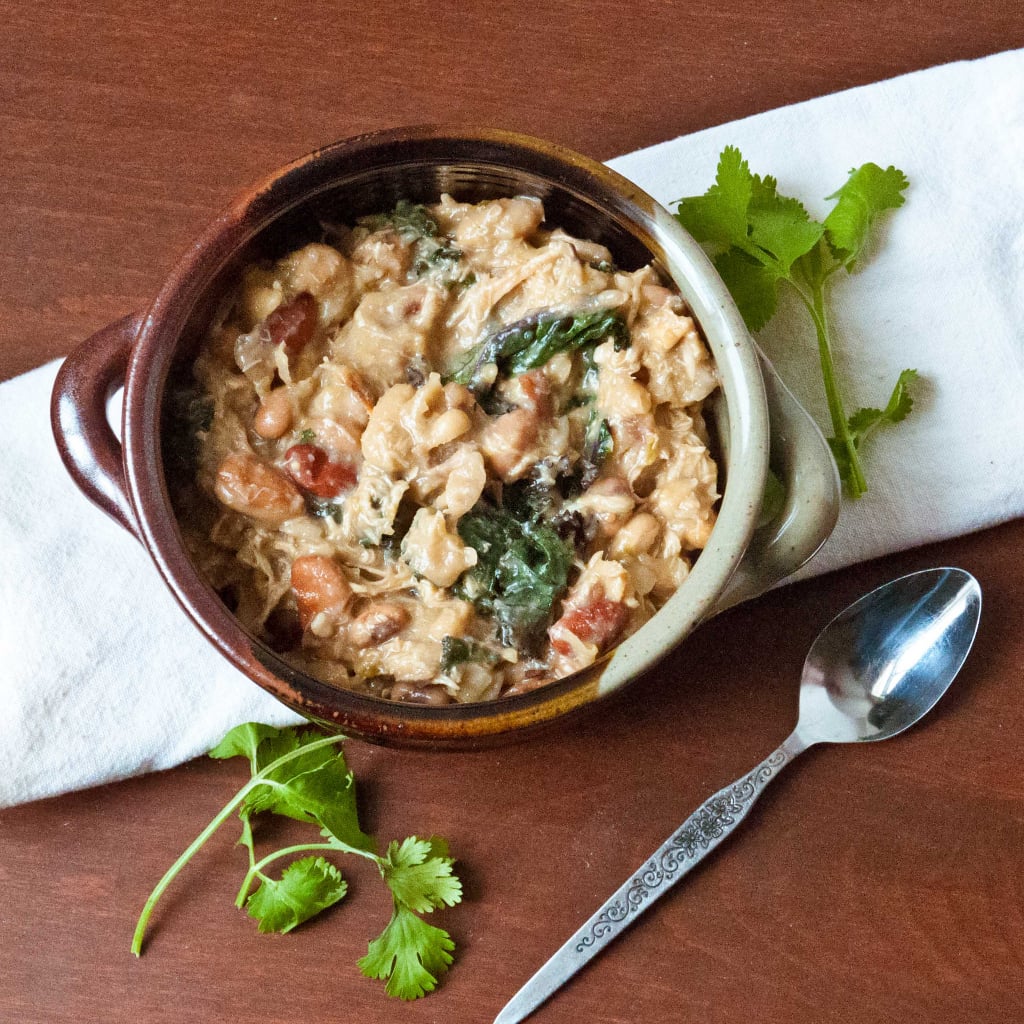 It takes just 10 minutes to throw this white chicken chili [33] together. Serve with margaritas for mom and dad and chips and salsa for the kiddos.
Source: Flickr user peachyogurt [34]
Asian Pork With Veggies and Soba Noodles
Buckwheat-based soba noodles are a healthy alternative to white flour pasta, and this Asian pork [35] is sure to please a crowd.
Source: José Picayo For Real Simple [36]
Slow-Cooker Squash Lasagna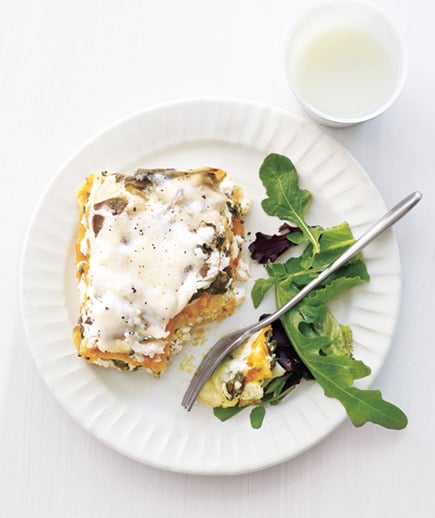 Skip the ground meat and use squash or zucchini (whatever's fresh where you live) to whip up this slow-cooker squash lasagna [37]. It's a great meal to freeze, so you're guaranteed to have leftovers for days!
Source: Romulo Yanes For Real Simple [38]
Orange Chicken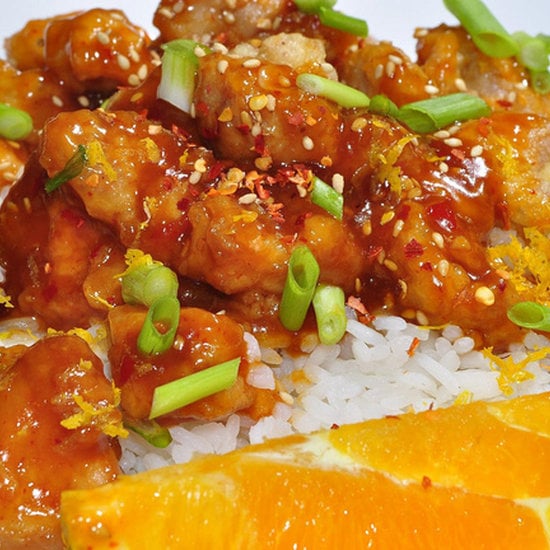 Skip the Chinese takeout. This orange chicken [39] is super easy to make and adds a bright, tangy option to your crockpot repertoire.
Source: Chelsee Bendtsen [40]