Tips For Designing Kids Rooms
Space-Saving Decor Tips For Kids' Rooms From Design Expert Kelly Edwards
Like us on Facebook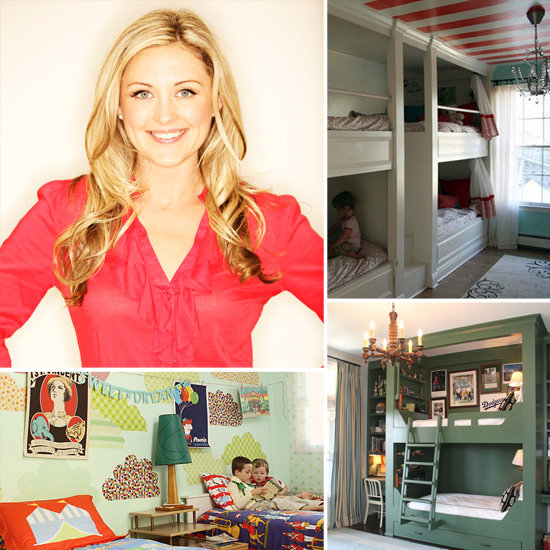 We recently caught up with design expert Kelly Edwards, who has been featured on HGTV's Design on a Dime and Style Network's Tacky House for her scrappy style and ability to transform ordinary rooms into incredible spaces, even on a budget. Kelly's decorating and design expertise apply to any room in the house, but we were eager to hear her ideas specifically for lil ones, and she didn't disappoint! Read on for five of Kelly's best tips for making your kids' rooms organized, creative, and playful spaces that can grow along with them.

Kelly Edwards's 5 Pieces of Design Advice That Every Mom Can Put to Use
On Space Saving and Storage: Look for furniture pieces that your kids are going to grow into. Stay away from the typical bins and baskets, and instead opt for some really cool furniture for a more put-together look. Whether it's a midcentury modern credenza that's been in your family for years or a thrift-shop find, not all furniture has to scream "kids!"
On Coordinating With the Rest of Your Home: Your kids' rooms are where you can really have some fun. Visitors will judge your home on your kitchen and your bathroom. They're not the ones spending time in the bedrooms, you and your children are. Turn their rooms into places for creativity, and don't be afraid to try out that fun paint color.
On Trends: Remember, it's just $20 or so for a can of paint, so wall colors are a great place to try out a trend like neon. If that scares you, get a giant canvas, and paint that instead of the wall. Tack their artwork up on it. It'll add a splash of color to the room without your having to worry about repainting.
On Making the Most of Small Spaces: Look for ottomans with removable tops — you can stash everything in there! In a nursery that doubles as a guest room, put a twin bed in there along with your crib, but be sure to buy an upholstered box spring with drawers built in, so that you have extra storage without the boxes and bins showing.
On DIY With Kids: A fun DIY project that your kids can partake in is to find an old TV armoire and paint it with chalkboard paint, which you can either buy at the store or make yourself by mixing a cup of latex paint with two tablespoons of unsanded tile grout. The armoire becomes a great storage piece, and the chalkboard paint turns it into a piece of furniture that they can really have fun with.