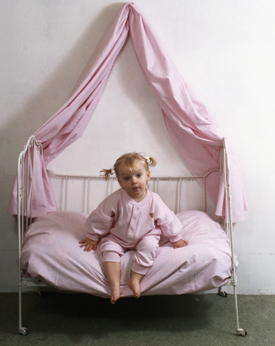 A couple sits down to a nice dinner after their toddler is safe in his crib, when — BAM — their supposed-to-be-sleeping toddler bursts into the kitchen, proud that he has managed to outsmart his parents once again. Tots have a not-so-subtle way of communicating when they're ready for the next phase, in this case, the transition from crib to a
toddler bed
, or a regular-sized bed. Just as there are important ways to keep lil ones
safe when sleeping in a crib
, the transition to toddler bed brings with it an entirely new set of safety concerns.
Take the following quiz to test your preparedness for the inevitable transition to big-kid bed.
Is Your Toddler Safe in Bed?
The upper edge of the guardrail should be ________ inches above the toddler bed's mattress?