The toddler years are the golden phase of a mom's party-planning career. The little guest of honor is developing a real personality and interests of his or her own, but classroom guest-list politics aren't yet in play. Make your 2-to-4-year-old's big day one to remember by drawing inspiration from one of these varied and clever themes for boys and girls alike. Happy birthday, kiddo!
A Vintage Racer Party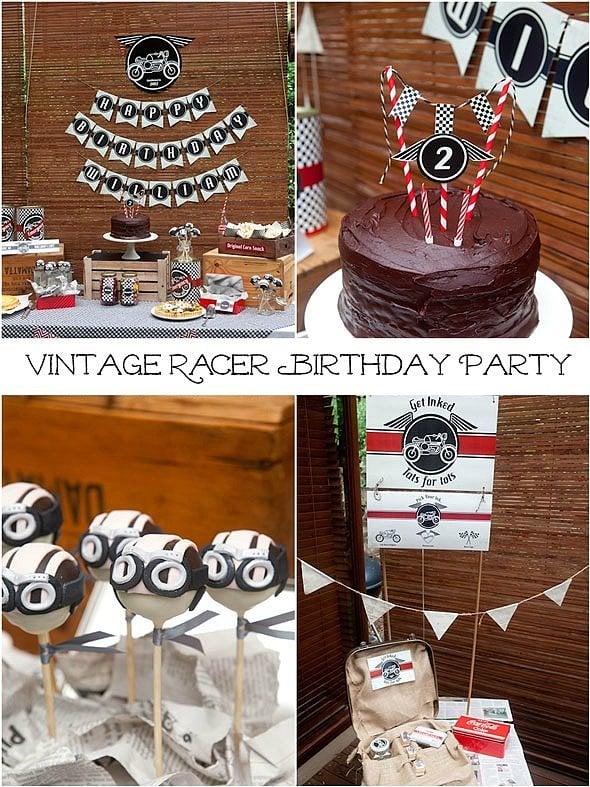 For William's second birthday, mom knew that he loved all things wheels and incorporated his obsession into his party. Colors for the event were the classic red, black and white and the celebration even had a "tats for tots" stand, which gave out temporary tattoos to all the guests. Keep reading to see how the bash came together [1] and see what the guests dined on.
My Little Pony Party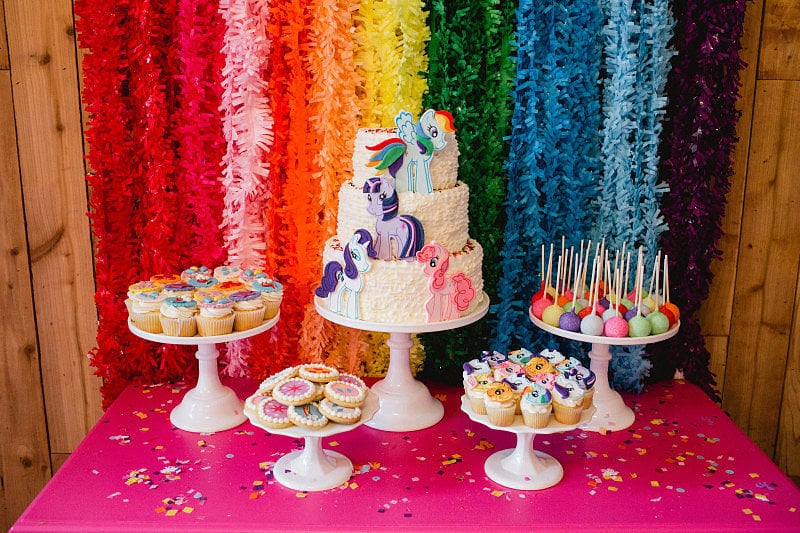 For Ally's 9th birthday, she wanted a My Little Pony Party and her mother threw together one colorful bash for the little girl. One of the most eye catching parts was a fabulous printed balloon invitation that had all guests excited for the upcoming festivities. The party also had an assortment of rainbow cupcakes, cake pops and cookies. Keep reading to see how this mother created all the magical DIY moments [2], right down to the props in the photo shoot.
Baseball Birthday Bash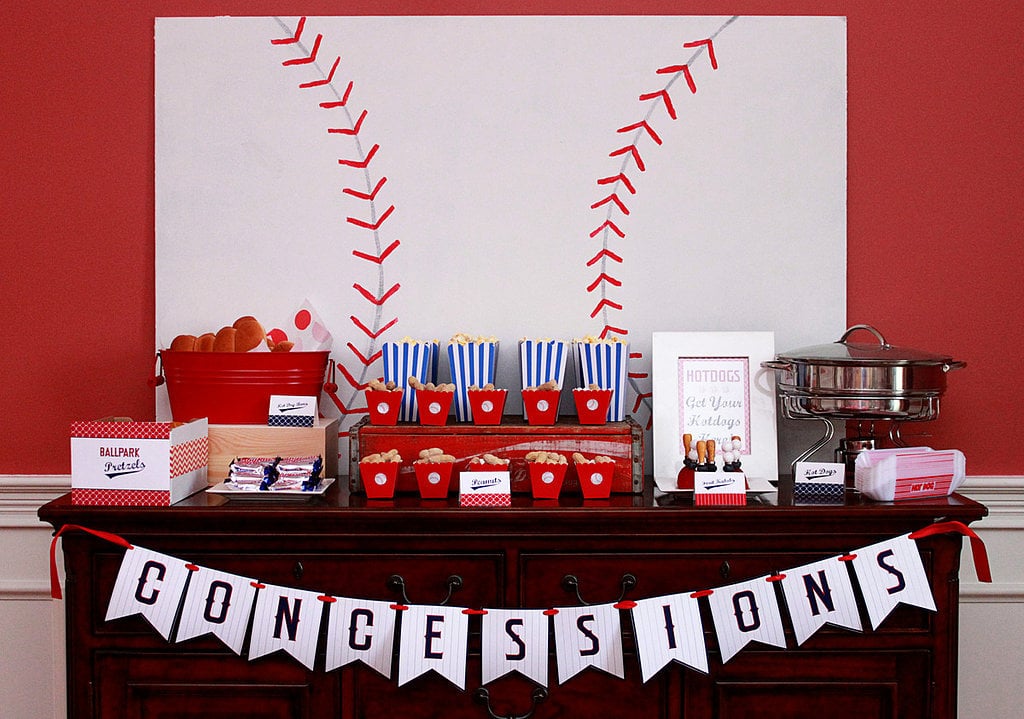 Deanna Talwalker didn't just pick up some baseball-shaped plates or team banners for her sons sporty 7th birthday. The party planner put on her DIY [3] hat and created a bunch of backdrops and decor that brought the classic theme into the 20th century [4]. "Even though we live in Kentucky, his favorite team is the Los Angeles Angels," Deanna shares. "One of our friends, Scott Downs, was a pitcher with the Angels, so my son loves them." The baseball party had plenty of tasty baseball-themed treats such as popcorn and peanuts balanced with fruit kebabs using bat-and-ball skewers.
A Frozen Birthday Bash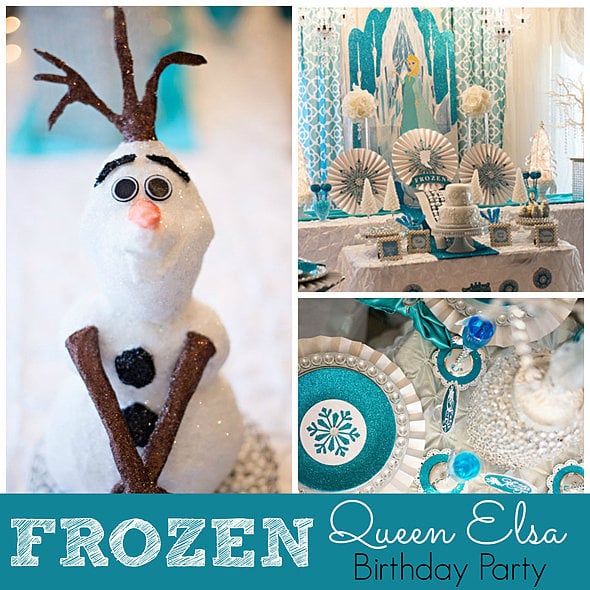 There are many Frozen themed parties, but this one took the cake. Storybook Bliss wanted to create a unique and elegant environment without spending a lot of money and sacrificing style. The team pulled it off with plenty of pin-worthy DIY [5] projects, tricks, and trips to Michaels craft store. To see how the designs came together, scroll through for more amazing photos and one very cute Olaf cupcake [6].
A Peppa Pig-Themed Birthday Party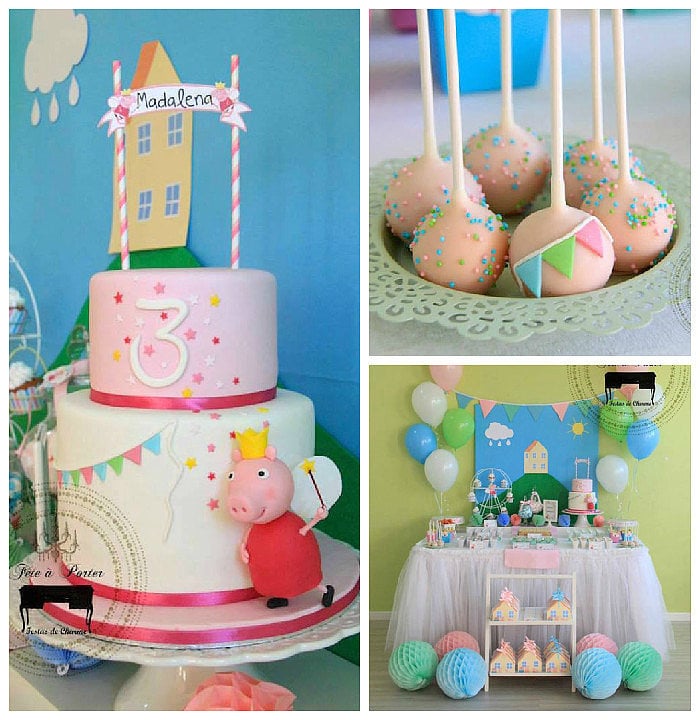 For a lighthearted and delightful birthday party, a Peppa Pig-themed bash is perfect. Andreia Lopes of Fête à Porter — Festas de Charme [7] took this whimsical animal theme and turned it into one fabulous celebration. Check out all the unique elements from this sweet festivity [8] for inspiration of your own.
Star Wars Sixth Birthday Party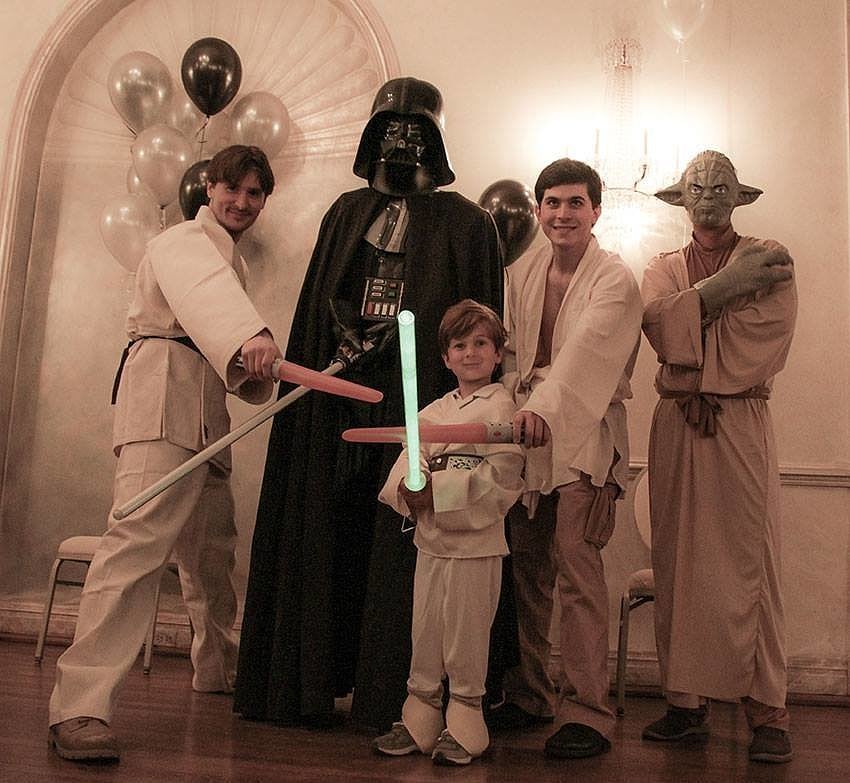 For any little boy (or girl) who is obsessed with Star Wars, this movie-themed sixth birthday party hits the mark. Event designer Keren Precel said, "The challenge was to create a design language that would be cute enough for 6-year-olds, but still feature the Star Wars elements that they all love so much." The team, however, managed to pull it off successfully. Just check out these mini-burgers with Luke Skywalker and Princess Leia printables [9] and lifelikeStar Wars props.
A Lorax-Inspired Birthday Party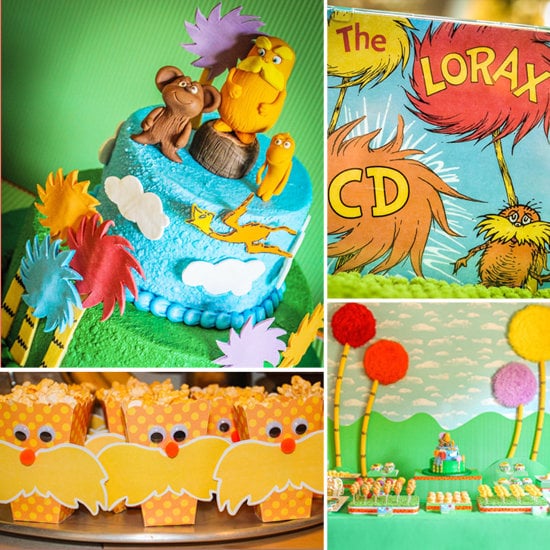 Dr.Seuss can do no wrong, so when it's time for a Lorax-themed party, everyone (including parents) are in the mood. Bogger Smita of The Party Wall, loved The Lorax so much she dreamed up an imaginative, intricate, and fanciful party inspired by the book and film for her son's fifth birthday party. Full of characters and imagery from the book and upcycled decor, this party had an almost overwhelming amount of detail, check it all out now [10].
An Olivia-Themed First Birthday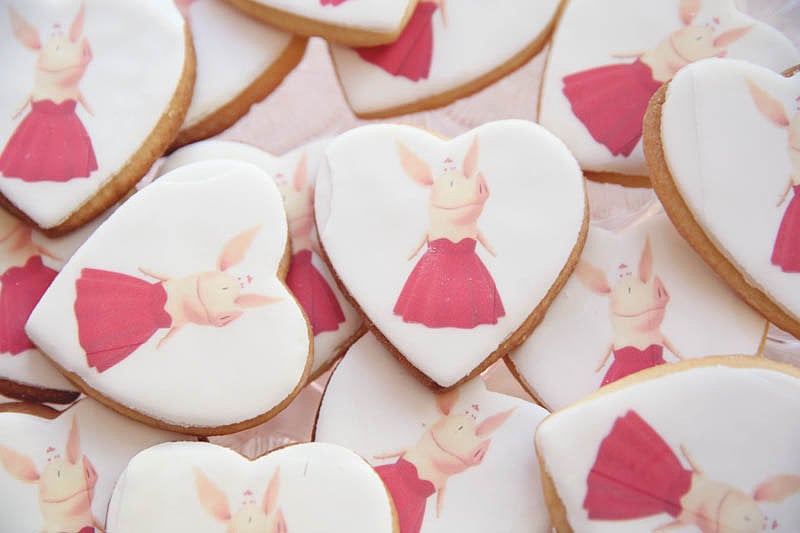 Tots no matter what age will fall in love with Olivia the fictional piglet. Who can resist a fashionable cartoon pig who doles out valuable life advice? Photographer Melody Melikian captured a party centered around this sweet theme and the result is beautiful to impress adults but cartoon enough to please the little ones. If you are not sure what to do for your child's next birthday, check out these pretty Olivia decoration ideas [11].
A Fabulous Frozen Fourth Birthday Party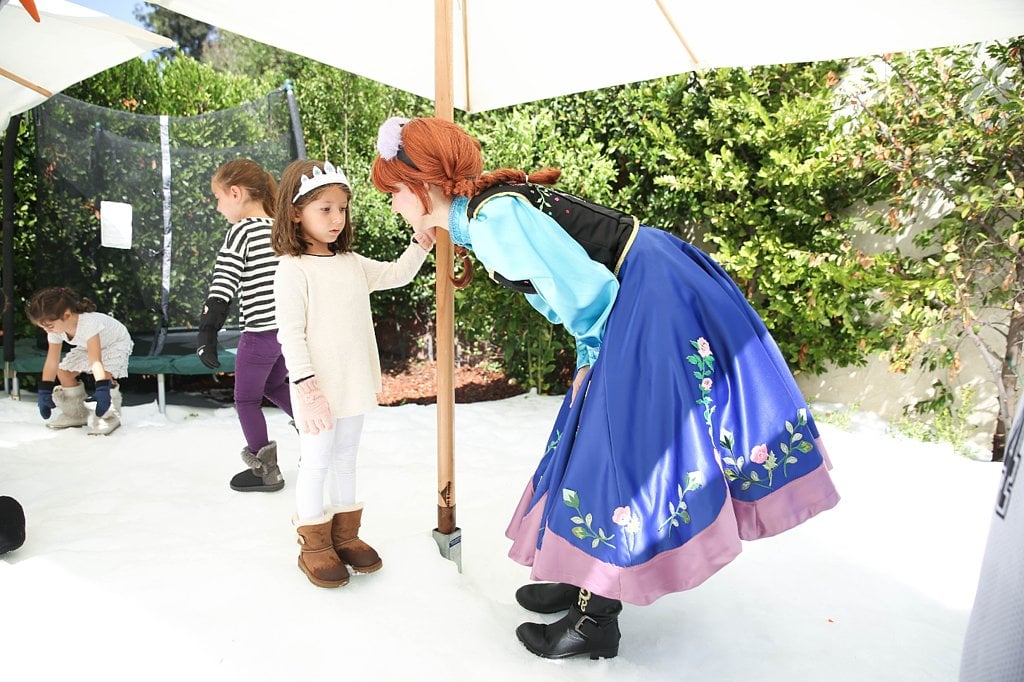 This Frozen themed birthday was unlike any Winter-wonderland celebration because it was held in Southern California. Christine Zohrabians brought in real snow for her little girl's party and the results were amazing. Christine explained, "The most memorable part of the birthday party was watching Sophia and her guests singing and dancing with the Frozen characters in the snow." From the snowflake invitation to frozen-themed cake, this was one party everyone was sad to let go of in the end. See all the pretty photos here [12].
Mary Poppins Birthday Party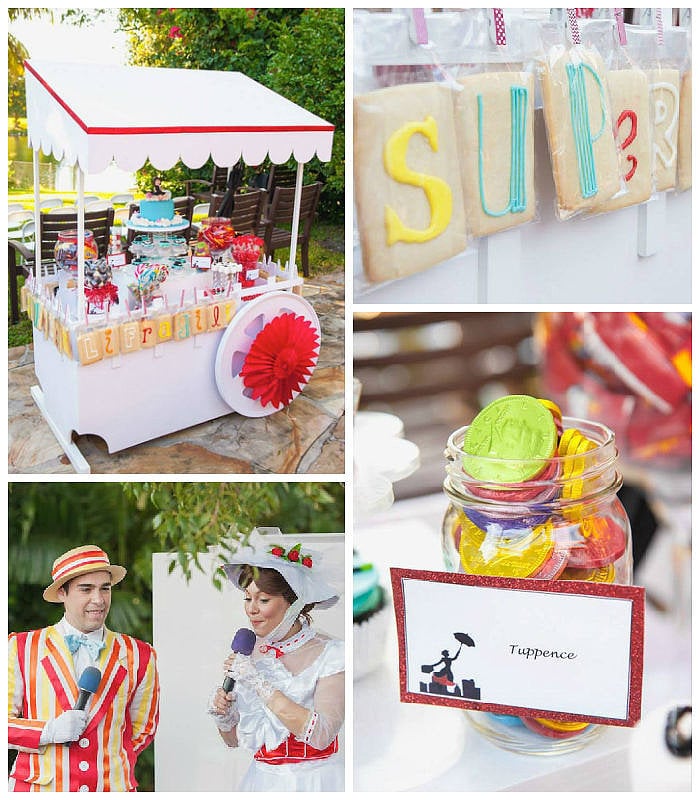 From the cute top hat, umbrella, and penguin cupcake toppers to the fabulous "Supercalifragilisticexpialidocious" cookies, this Mary Poppins birthday party [13] incorporates every wonderful element of the movie. The "Supercalifragilisticexpialidocious" sugar cookies and the newspaper favor cones were only some of the most adorable treats at the party.
A Sweet, Sprinkles-Inspired Party
Two-year-old Piper Jane has a notorious love of sweets, so her mom — Kirstin Gentry of Kojo Designs [14] — wasn't surprised when she requested "sprinkles" as the theme of her birthday party. "Her sweet tooth is renowned in these parts (second only to her mama's), so a sprinkle party is perfectly suited for her second birthday celebration," Kirstin says. What could have turned into a pretty straightforward party became supercreative in Kirstin's hands. "Sprinkled" accessories, sweet signage, fun and easy activities, and some awesome decor (confetti-filled balloons and yarn pom-pom garlands) are among all the gorgeous details. Click here [15] to see them all.
Source: Kojo Designs [16]
An Old-Fashioned Birthday Bash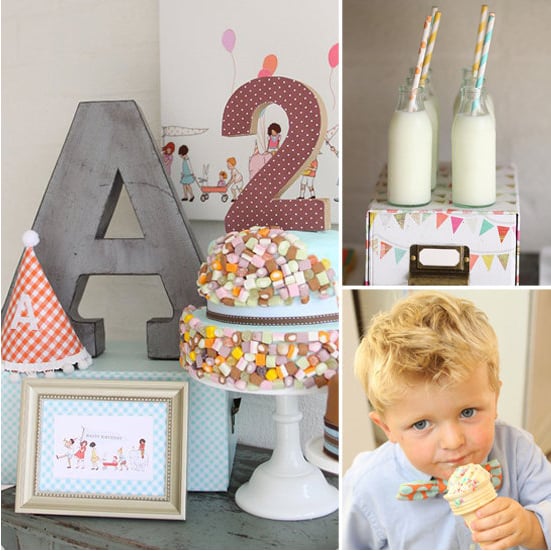 Vintage fabrics and illustrations are the inspiration for this simply charming party [17]. A licorice-embellished cake, fabric pennants, and charming pom-pom details make this party one of a kind.
Source: Graeme Sharkey [18]
A Muppet Party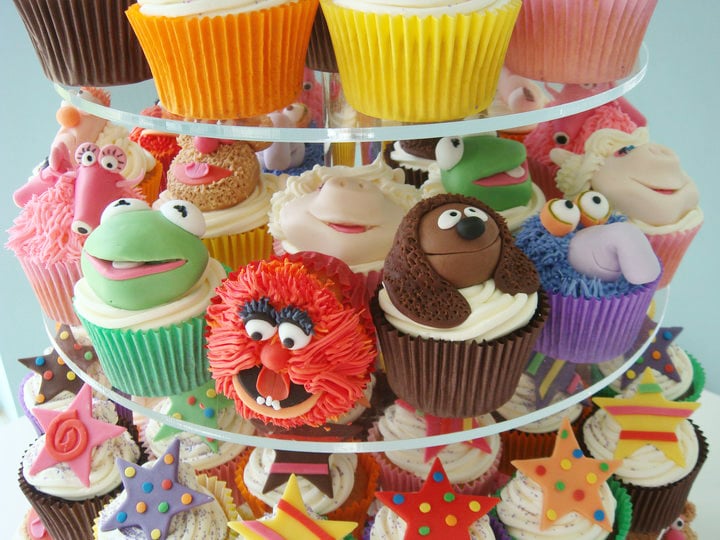 A new generation of little Muppets fans is born, and in no time flat, they'll be asking for a Kermit or Gonzo-themed bash [19]. Celebrate your toddler's birthday with a Muppets extravaganza!
Source: Cupcake Occasions [20]
A Dr. Seuss-Themed Birthday Party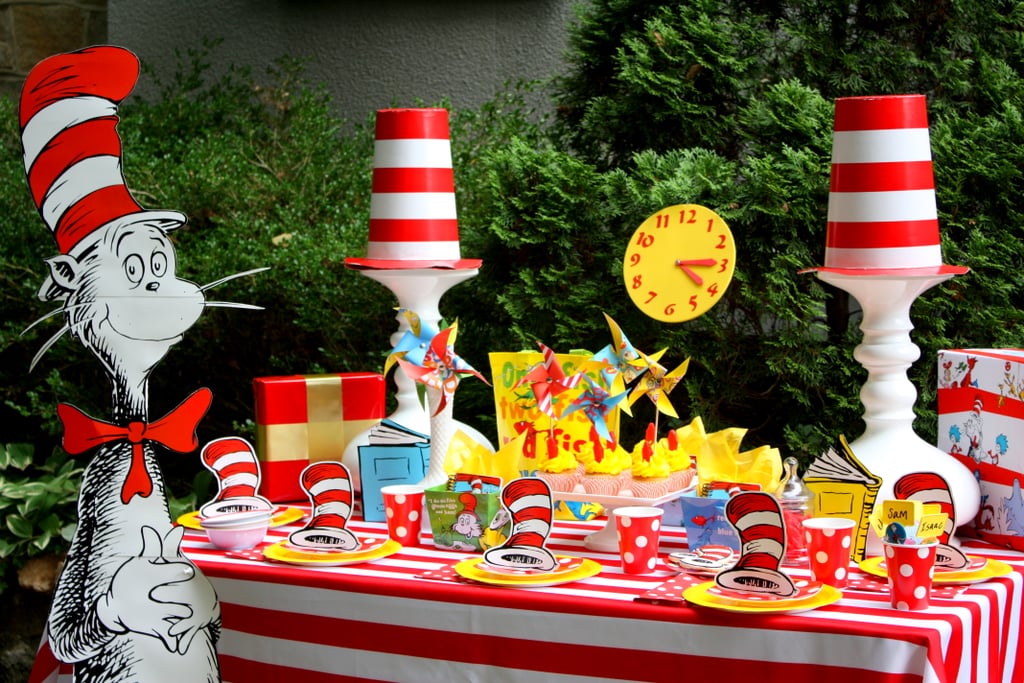 For a bright and whimsical birthday theme, there's no need to look any further than the bookshelf. Dr. Seuss classics — like The Cat in the Hat and One Fish, Two Fish, Red Fish, Blue Fish! — are filled with colorful characters that can be used to decorate a very special Dr. Seuss-themed party [21] for your little one's next birthday.
Source: Phronsie + Courtney Dial for Pizzazzerie [22]
A Nautical Mickey Mouse Party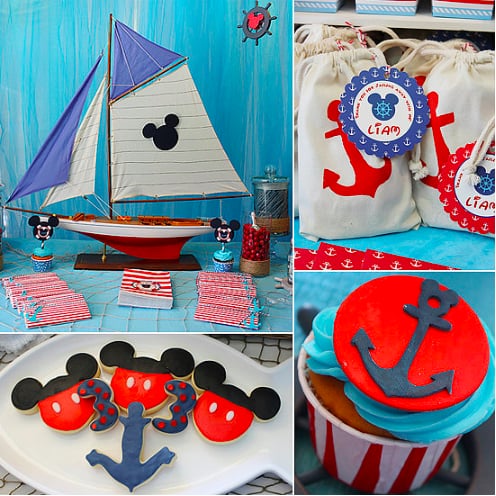 Party planner and mom Michelle Stewart of Michelle's Party Plan-It [23] knows how to create a standout event, and when it came time to plan her son Liam's third birthday party, she decided to take to the high seas . . . and bring Mickey Mouse on board! "My son's love of Mickey Mouse and anything water-related, but especially boats, inspired the theme," Michelle says of the event, which she crafted in shades of red, blue, and aqua. "With the nautical theme being trendy right now, it was easy to find decorative items to coordinate." Nautical decor including seagulls, lobsters, and boats, Mickey-themed desserts, and DIY [24] sailor hats are just some of this party's awesome elements, but keep clicking to see them all [25]!
Source: Michelle's Party Plan-It [26]
A Hip Pirate Party
Jenni Kayne is not only a successful fashion designer and one of the founders of chic kid street style site Ladys & Gents [27], she's also a mom to two little ones, including birthday boy Tanner.
"For Tanner's fourth birthday, all he wanted was a pirate party," Jenni says. "We all channeled our inner pirate, which made the party that much more festive! I loved seeing all the kids in their adorable costumes." Check out all the highlights (tons of pirate-inspired decor, a face painter, and even the "real" Jack Sparrow) by clicking here [28].
Source: Rip + Tan [29]
A Neon Birthday Party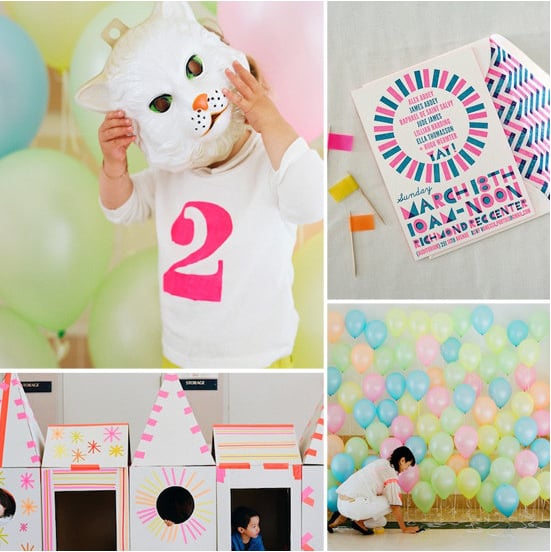 Using on-trend neon as a theme [30], this bash was as beautiful as it was a blast.
Source: Modern Kids for Hello! Lucky [31]
A Fossil Hunter Birthday Bash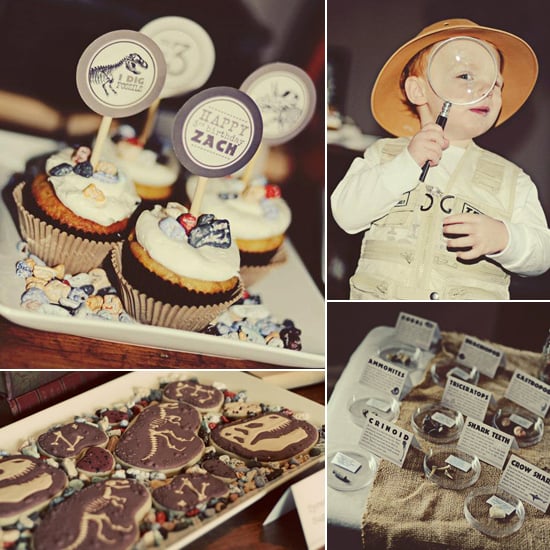 "For my little guy's birthday, there was never any question about the theme: fossils!" says Gretchen Brittain, mom of three and the creator of adorable party printables shop Three Little Monkeys [32]. "Zach is obsessed with dinosaurs. Obsessed. But not the cartoon variety. He digs real fossils."
Gretchen used Zach's love of fossils and her own addiction to all things vintage to create one of the coolest little-boy parties ever, styled to feel like an old fossil excavation site with a vintage map backdrop, replica fossils, and old books, trunks, and camping gear. Click here [33] for all the dino details.
Source: Three Little Monkeys Studio [34]
A Vintage Girlie Superhero Party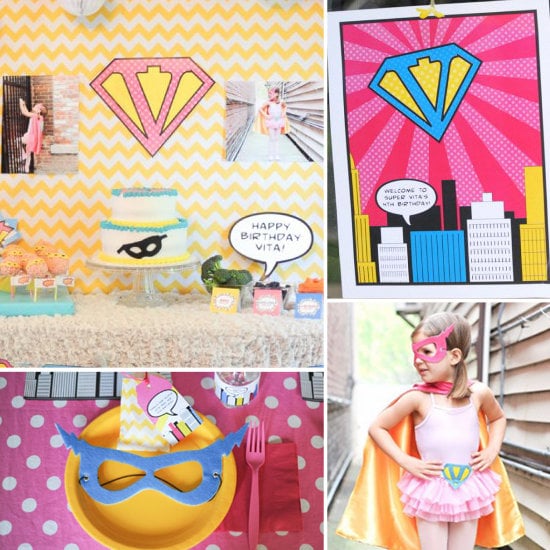 While we've never met Vita, the birthday girl who wanted to be a superhero for her party, we kind of love her. Not only does she rock a cape and mask with serious style, but she inspired this amazing vintage-girlie superhero party [35]. Keep clicking for all the details, including amazing printables from Anders Ruff, a cape from Annie of Kid Kapers [36] (the birthday girl's aunt), and amazing photography from Molly B [37], Vita's mom. Vita, can we come to your next party?!
Source: Anders Ruff [38]
A Bold, Brit-Inspired Birthday Party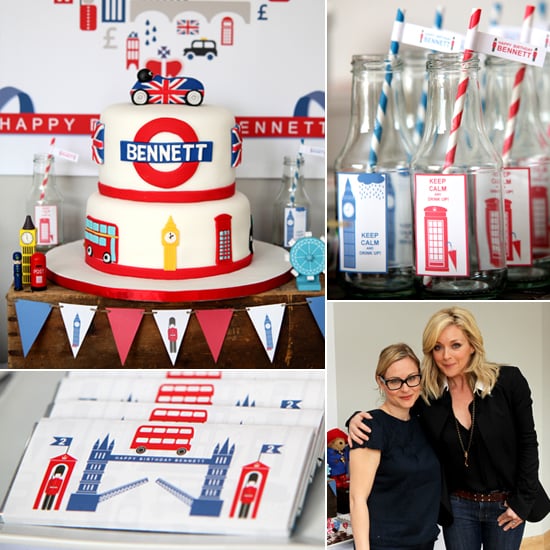 We've been smitten with New York-based party company Keren Precel Events [39] for some time, but this British-inspired birthday party has taken our love to a new level. Keren was inspired to create an ode to England by her 2-year-old client Bennett's room.
"Bennett's wallpaper was white and filled with British icons," Keren says. "It was youthful, but not babyish or childish, and I decided the whole look of the party would be something similar that would appeal to both children and adults." Not only does this party feature one of the coolest cakes we've ever seen, but also, it's stocked full of savory treats that appeal to kids of all ages, on both sides of the pond. Click here [40] to see how to do a birthday, Brit style!
Source: Keren Precel Events [41]
A Safari Birthday Party For an Animal-Lovin' Little Lady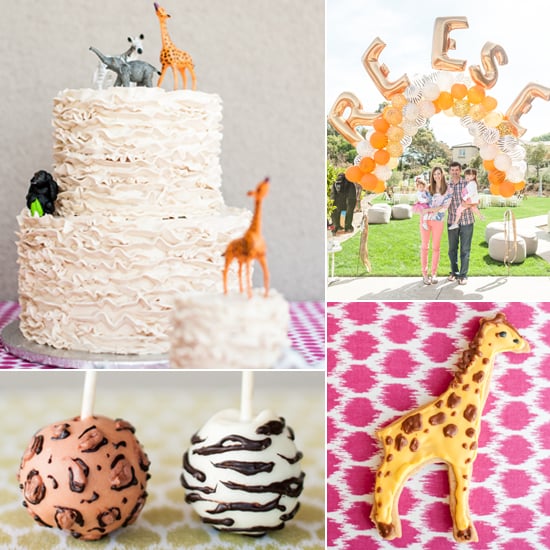 We see a lot of adventurous birthday party themes for little boys, but who says girls can't also get in on the action? For little Reese's birthday bash, her parents decided a safari theme was the only way to go.
"Reese loves animals," says Kelly McLeskey-Dolata of A Little Savvy Event [42], the party planners hired to execute the kiddie event. "The greatest activity of the day had to be the live safari animals. Reese loved seeing the snakes and baby alligators, and it added an unexpected and lively aspect to the day." Click here [43] to see all the sweet safari details!
Source: A Little Savvy Event [44]
A Supersweet Up-Inspired Party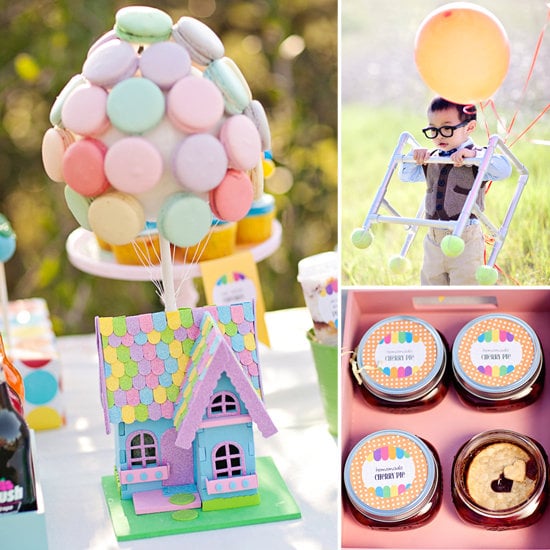 Majell del Castillo [45] designs absolutely beautiful events, but we were blown away (up, up, and away, that is) when we spotted the Up-inspired birthday bash [46] she created. "We were mostly inspired by vintage details from the first 15 minutes of the movie," Majell says. "The props were mostly DIY [47] projects that were on the vintage side, from globes to grape soda and 'Ellie badges." But our favorite details have to be the balloon-themed sweets, including an awesome house with macaron balloons and the cutest cupcakes around.
Source: Hostess with the Mostess [48]
A Girlie Elmo Birthday Party
Finding a tot who doesn't love Elmo is like finding a needle in a haystack, and this girlie Elmo soiree [49] takes the Sesame Street party to a whole 'nother level!
Source: Hostess with the Mostess [50]
A Vintage Race Car Birthday Party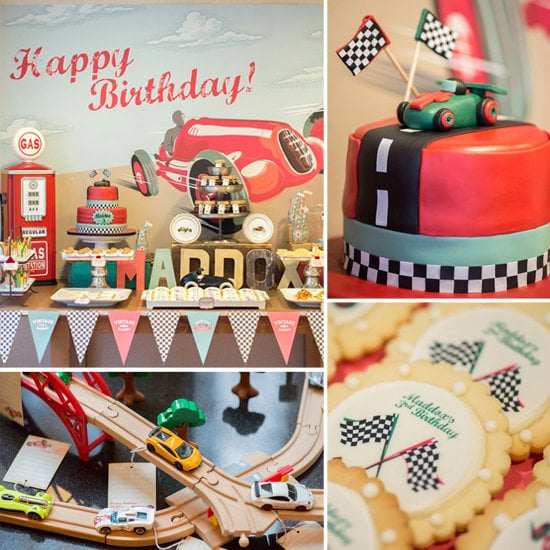 "Once in a while there is a party, with a capital 'P,' where every little piece just falls into place," New York event planner Keren Precel [51] says. "This 3-year-old's race car birthday party was one of those." The totally eco-friendly party was divided into four sections: the "pit stop," where the kids got to decorate their own Melissa & Doug race cars; the "race track," where little guests could attach birthday wishes to tiny toy cars; the "gas station" food table; and the "trophy section" favor table. You have to check out every detail [52] of this party to truly appreciate how special it is.
Source: Keren Precel Events [53]
A Girlie Lorax Party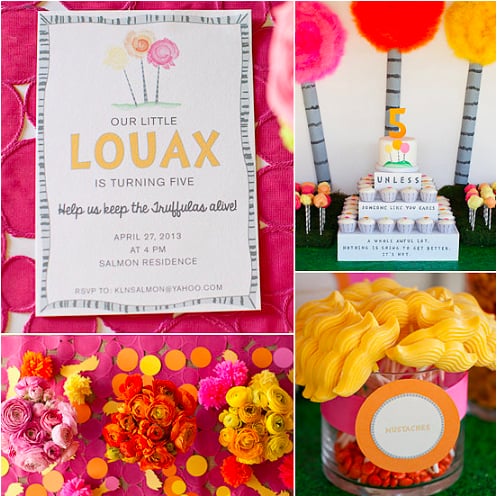 This isn't the first Lorax-inspired party [54] we've seen, but we love Krista's girlie, modern take on the theme. Truffula Tree cotton candy, the coolest cake, beautiful blooms, and mustache pops are just a few of the lovely details at this party, beautifully photographed by Ryann Colleen [55]. Keep clicking to check out all the details at little Lou's Lorax party [56]!
Source: Kiki's List [57]
A Cool Construction Birthday Party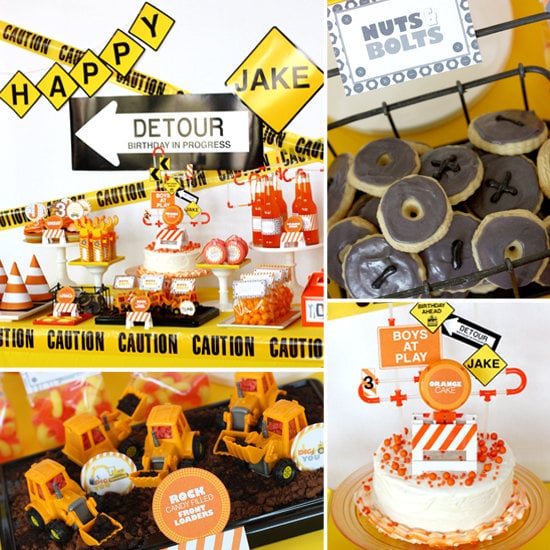 We have a serious party crush on Debbie of Wants and Wishes Design [58], the mastermind behind this construction-themed birthday party [59]. Moms of boys know it can be hard to translate their guys' greatest obsessions into adorable parties, but this soiree managed to make construction cute. Wants and Wishes even offers awesome printables [60] that you can download to re-create the party yourself. Can you dig it?
Source: Wants and Wishes Design [61]
A Little Chef Cooking Birthday Party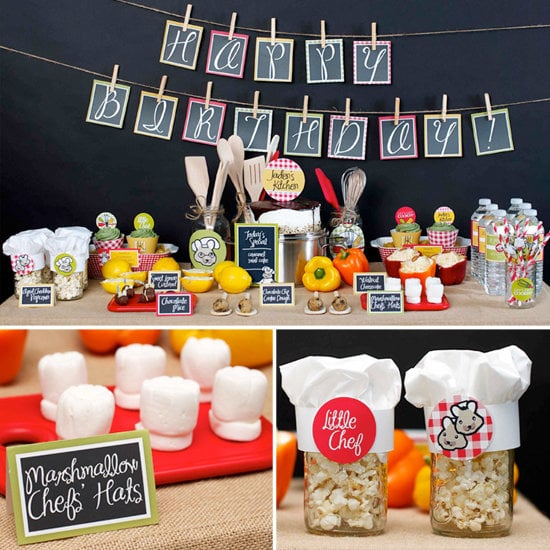 Stephanie Keeping of the amazing party site Spaceships and Laser Beams [62] designs creative events just for little guys — if you're a mom to boys, you have to check them out — but we're betting both sexes would be equally smitten with this "Little Chef"-inspired birthday party, which would definitely appeal to a Ratatouille fan.
Source: Spaceships & Laserbeams [63]
A Shabby-Chic Party Fit For a Princess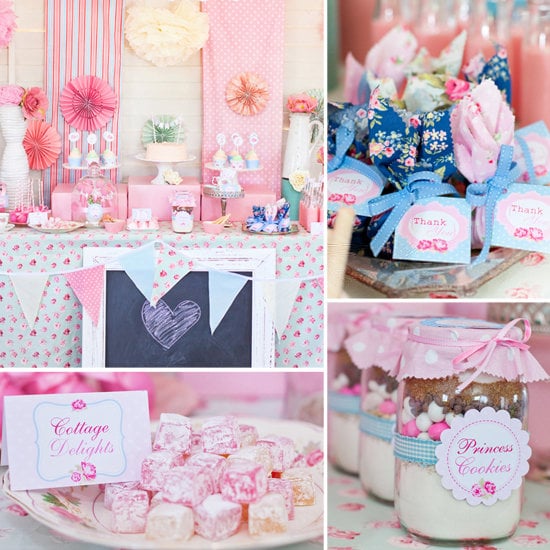 "Every little girl wants a princess party at some stage of their childhood, so we decided to put a twist to the traditional castle and crowns," says Louise Sanders of Sunshine Parties [64]. "We added a fresh take on a princess party by combining it with a vintage look." With florals, polka dots, stripes, frills, and lots of sweets, this shabby-chic birthday party [65] is fit for even the pickiest princess, and, best of all, it's supereasy to re-create. "It was important to us that anyone could replicate this party," Louise says of the printable party collection [66]. "You just need to give yourself a little time to cut out labels and other elements as well as to make the pom-poms and paper fans. Otherwise, it's a piece of cake!"
Source: Sunshine Parties [67]
A (Lovely) Small World First Birthday Party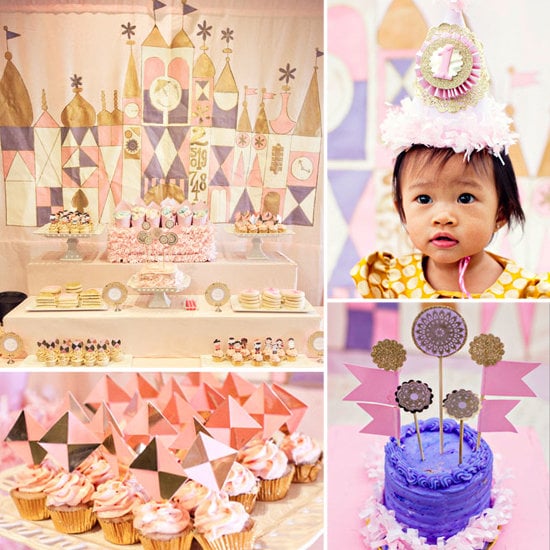 Created by Linsey Latimer's Lux Events & Design [68] for the first birthday party of photographer Kristine Atienza's [69] daughter Eva, this It's a Small World party [70] is full of pink, purple, and gold global details. "Kristine choose It's a Small World as the theme because it was the birthday girl's first-ever ride at Disneyland and because the family loves to travel," Linsey says. "I took all of my inspiration for this party from the Small World castle. I just love how all the elements played off of the building!"
Source: Kristine Atienza [71]
Goldilocks and the Three Bears-Themed Birthday Party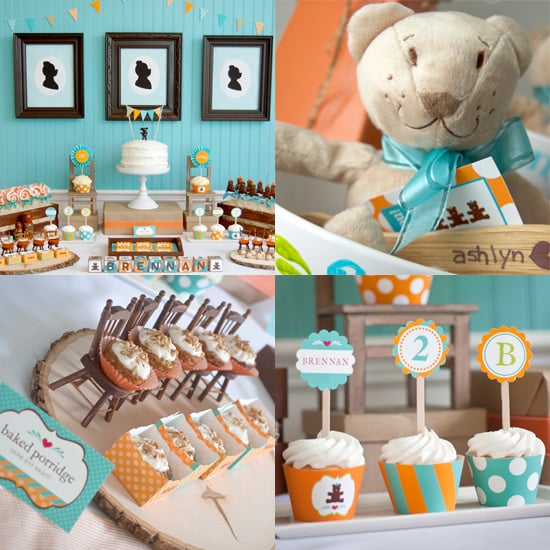 Who's been sleeping in my bed? Storybook-themed birthday parties can be so sweet — but none more so than this Goldilocks and the Three Bears-themed birthday party [72]. Whimsical themed details — like lots of little chairs, a bed, balloons, bunting, and handmade desserts — make little guests feel right at home at the bear family house.
Source: Frog Prince Paperie [73]
A Very Hungry Caterpillar Birthday Party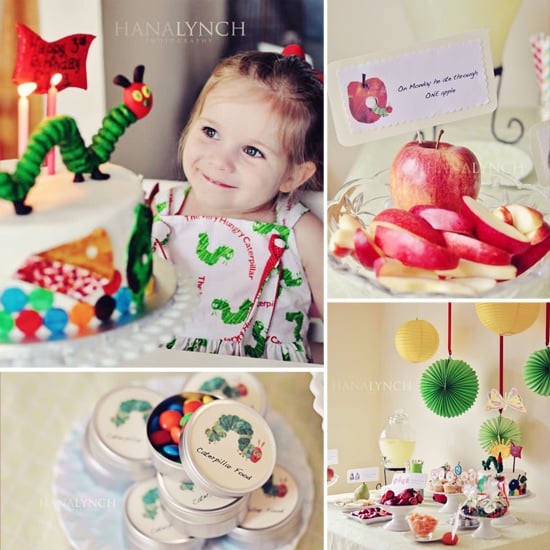 He ate through five oranges — but he was still hungry! Eric Carle's The Very Hungry Caterpillar is a true children's classic, so it's no surprise that mamas and tots alike love the idea of a Very Hungry Caterpillar-themed birthday [74]. Fruit snacks and a themed cake are just the tip of the iceberg for a themed caterpillar bash!
Source: The Mom Tog Diaries [75]
A Strawberry Shortcake Birthday Party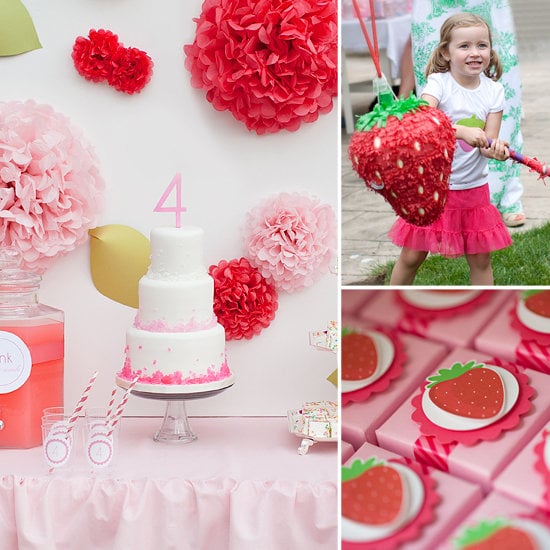 For her daughter Lou's fourth birthday party, Krista Salmon of popular design blog Kiki's List [76] was faced with a challenge: how to make Lou's requested theme — Strawberry Shortcake — appeal to both the birthday girl and her own superchic design sense. "I tried to incorporate as many tasteful strawberries as possible, but the overall theme tying everything together was pink. Perfect for a party full of 4-year-old girls," Krista says. Click here [77] for the adorable details!
Source: Kiki's List [78]
A Snow White Birthday Party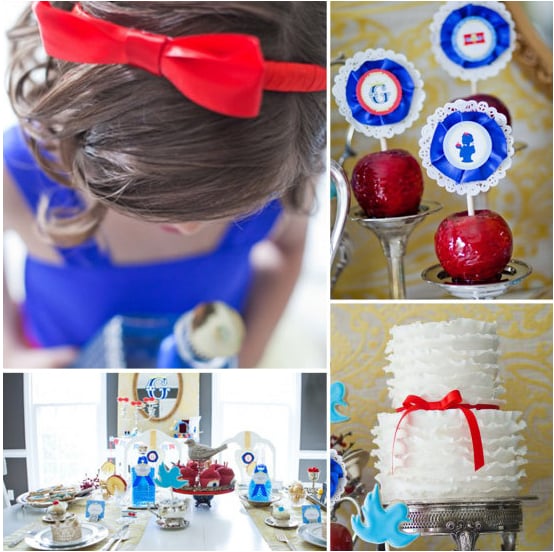 With "poisonous" candy apples, fairy-tale bluebird cookies, candy-gem-embellished cupcakes, a white ruffle cake, and make-your-own bejeweled mirrors, this royal Snow White birthday affair [79] is fairy-tale perfection.


Source: Becca Bond for Anders Ruff [80]
An Elegant Princess-Themed Party
Hear ye, hear ye! A princess-themed birthday party [81] can be a simple and beautiful affair without having to be over-the-top lavish.
Source: Branco Prata [82]
A DIY Numbers-and-Letters-Themed Birthday Party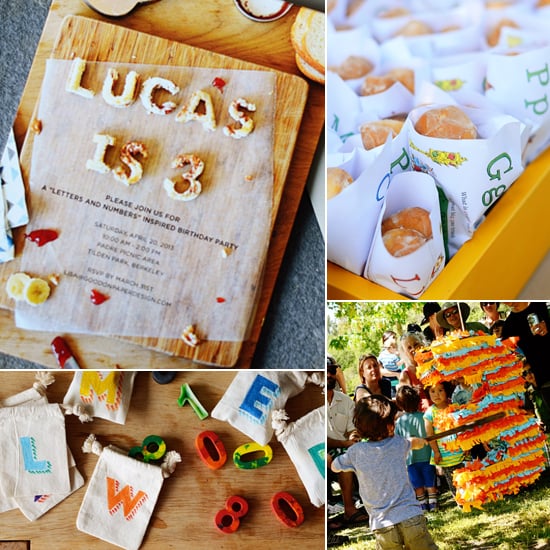 Stationery designer and mom Lisa Wong Jackson of Good on Paper Design [83] didn't have to look far for a party theme for her son's third birthday bash [84]. "Lucas has really been into reading letters and numbers on everything from books to license plates, so I thought the perfect theme for his party would be letters and numbers," Lisa says.
Lisa took what could have been a simple idea and ran with it, creating an imaginative, kid-focused event that was full of fun activities, including parachute play, a DIY [85] piñata, and a live band led by Lucas's preschool teacher. Click here [86] to see all of the party fun, including Lisa's incredible invitations and homemade crayon favors!
Source: 100 Layer Cakelet [87]
A Doc McStuffins Party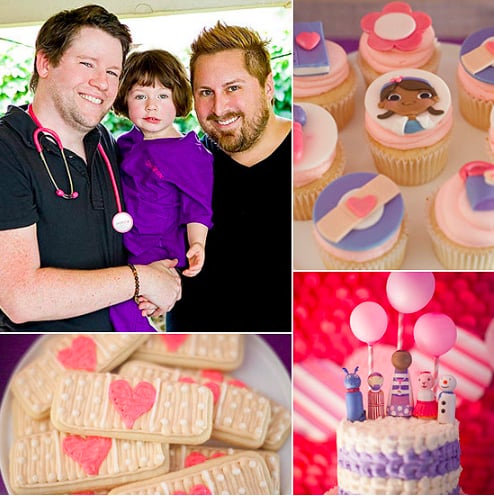 When Bill Horn and Scout Masterson (aka. "the Guncles,") started working with Jenny Cookies [88] to plan their daughter Simone's birthday party around her favorite animated character, Jenny knew they could do it in a sophisticated way. "For [Simone's] third birthday, Bill and Scout chose a Doc Simone party theme based around Disney's hit show Doc McStuffins," Jenny said. "I'm normally not a huge fan of licensed character parties, but I knew we could pull this one off without too much of the cheesy character look. Doc and her gang are actually pretty adorable characters."
With a make-your-own-ID-tag crafting station and a fill-your-own candy prescription counter, not to mention a menu packed with items inspired by the show's characters, you have to see all the sweet details Jenny, Bill, and Scout worked into this beautiful party [89]!
Source: Jenny Cookies [90]
A Pretty Pony Party
How do you turn a pony party into a girlie affair? Add lots of pink, lace, and satin, and voilà! "With so many pony parties [91] out there, I wanted to create something different," says Miranda Konieczny of Whimsically Detailed [92], who created the party to celebrate her daughter Mykayla's fourth birthday. "I wanted 'shabby chic' with lace, burlap, and satin in pink and turquoise. I knew that I wanted straw all over the floor with crates, mixed with all the pretty shabby decor." Add in pinwheels, a pink chandelier, lots of lovely pastel desserts, and some real ponies who stopped by to take the kid guests for a ride, and you have one pretty pony party! Keep clicking for all the details [93]!
Source: Whimsically Detailed [94]
A Cowgirl-Chic Birthday Party
This cowgirl-chic birthday party [95] has it all — a stitched-burlap invitation, a gorgeous ruffle cake, clever treats, and a petting zoo. So get ready to meet your inner cowgirl, 'cuz this party is going to bring her out! Hee haw!
Source: Peas & Thank Yous [96]
A Jackson Pollock Party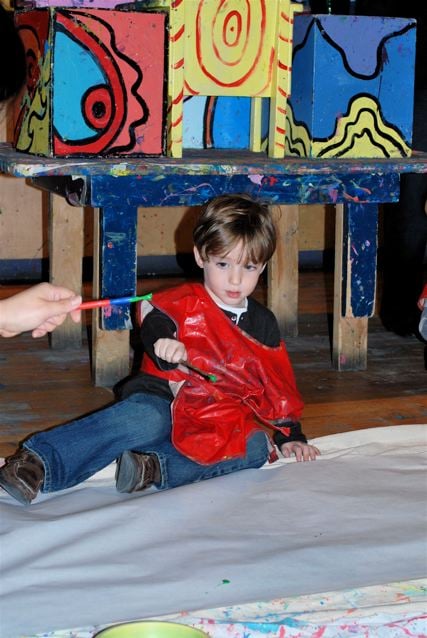 Kids love to get messy with arts and crafts projects, but most mommas temper the fun in order to avoid a mess. At a Jackson Pollock party [97], mom can encourage tots to get down and dirty for the afternoon.
Source: Rebecca Gruber [98]
A Sesame Street-Themed Party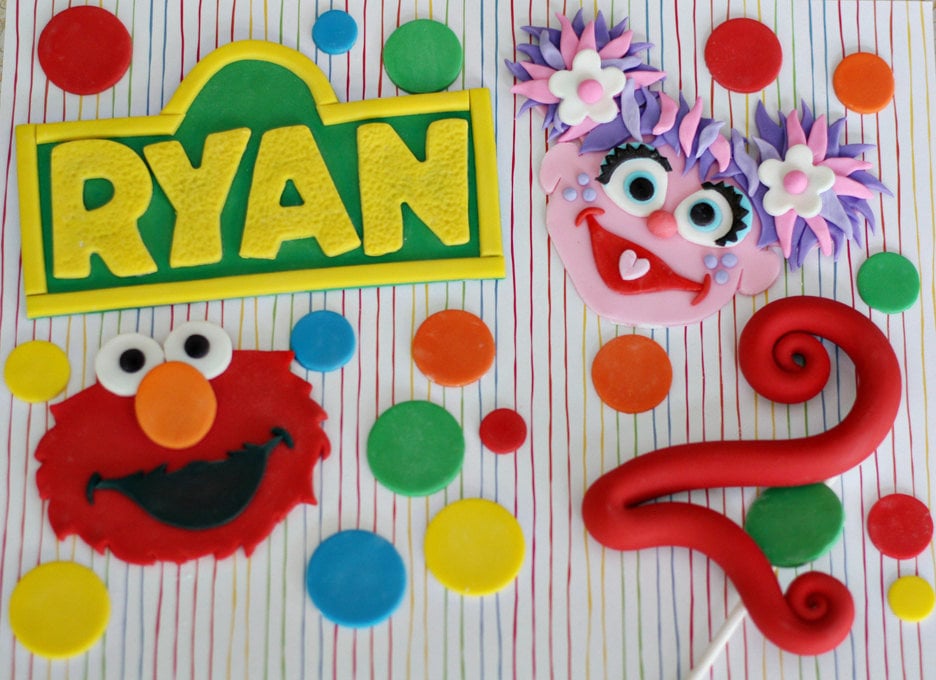 For over more than four decades, Sesame Street has been providing children with education through entertainment and humor. So if your little one is part of a new generation of fans, a Sesame Street-themed party [99] is a great idea for your tot's next birthday.
Source: Etsy seller Parker's Flour Patch [100]
A (Lovely) Small World Birthday Party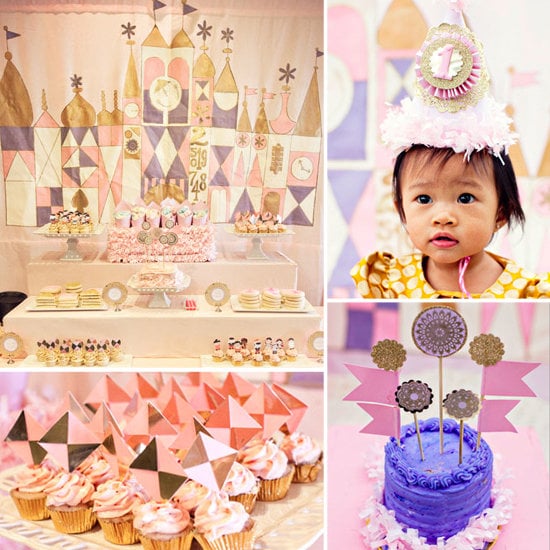 Created by Linsey Latimer's Lux Events & Design [101] for the first birthday party of photographer Kristine Atienza's [102] daughter Eva, this It's a Small World party [103] is full of pink, purple, and gold global details. "Kristine choose It's a Small World as the theme because it was the birthday girl's first-ever ride at Disneyland and because the family loves to travel," Linsey says "I took all of my inspiration for this party from the Small World castle. I just love how all the elements played off of the building!"
Source: Candid Gems [104]
A Too-Too Cute Tutus and Teacups Birthday Party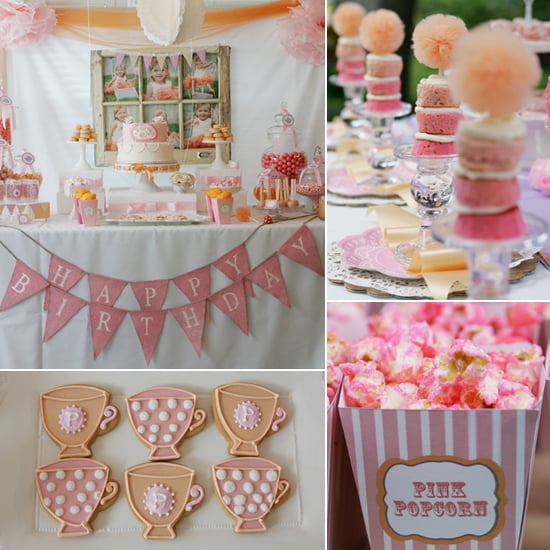 "I am a planner by nature and knew the day after my daughter's first birthday that I wanted to do a teacups and tutu theme using soft pinks and oranges for her second," says Johanna Saucier, mom to 2-year-old Presley.
"I incorporated teacups in the cake balls and printables and in real teacups purchased from flea market and used for floral arrangements," she continues. "I also wanted subtle and sweet touches of tulle, including the pom garland, tutus for each little girl, and tulle wands." But the details don't stop there. From a DIY [105] dress-up closet and shabby-chic doily accents to a framed photo dessert table backdrop, there are so many ideas we want to steal from this party. Our favorite, though, has to be the tulle-topped ombré cakes that lined the party table. Simply "tutu" chic! Click here [106] to check out all the details of this inspired party.
Source: CN Photography [107]
A Floral Party
This flower-filled birthday party [108] is full of beautiful details like fabric rosettes, hints of burlap, and two beautiful food stations — one for brunch, one for desserts!
Source: Courtney Vickers for Party & Pigtails [109]
A Rainbow Birthday Party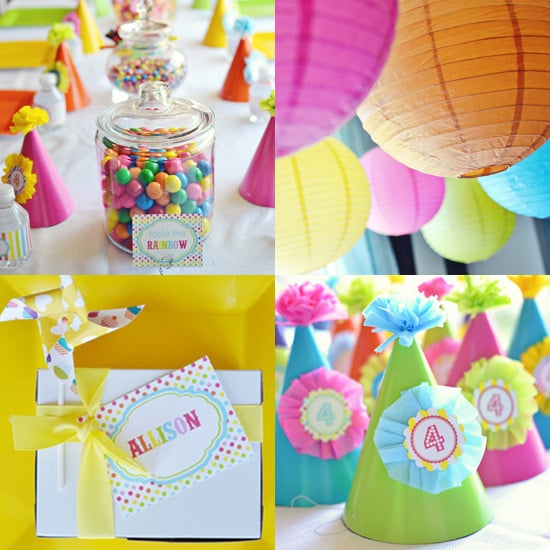 Perfect for a girl or a boy, a rainbow birthday party [110] is easy to plan and execute! Colorful decorative items — like paper lanterns and polka-dot pinwheels — and one-of-a-kind party hats make this party extra cheerful.
Source: Belva June [111]
A Modern Hello Kitty Birthday Party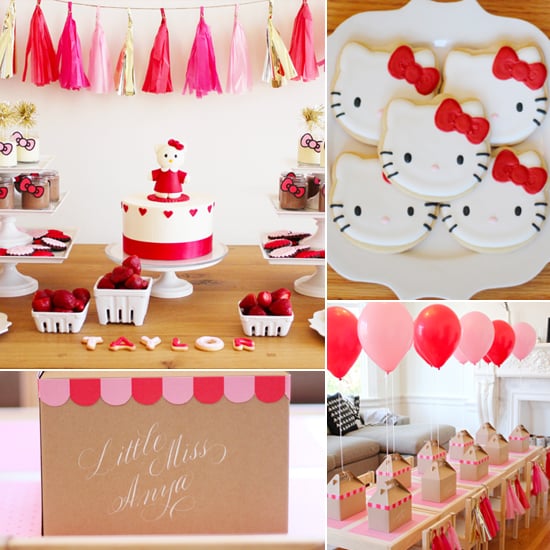 Regardless of whether you're a Hello Kitty fan or not, we're betting you're going to love this birthday party, thrown by wedding [112] and event planner Gloria Wong [113] for her daughter Taylor's second birthday.
Although the famed cat features heavily in this party on top of the cake, on cookies, and through the use of her iconic bows (guests were each given one to wear as a headband or bow tie; can you say "adorable?"), Gloria's stylish take on the theme feels totally modern — think of it as kiddie minimalism. Click here [114] for more sweet details.
Source: Gloria Wong Design [115]
A Yo Gabba Gabba! Party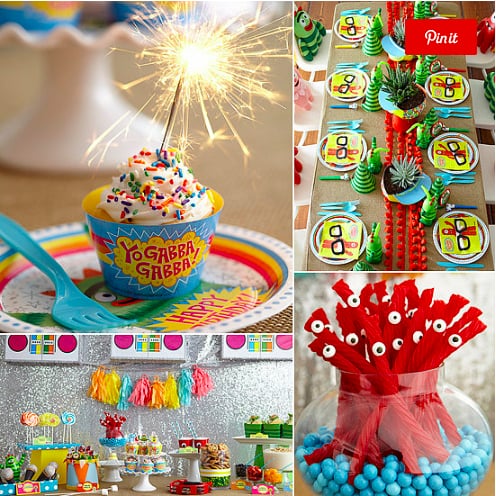 When your little one is obsessed with a cartoon character, but you just can't bring yourself to populate your party with them, there are other options. Jesi Hack incorporated bright colors, modern decor like burlap table linens, pom-pom runners, succulent centerpieces, and clever sweets to fashion a party that almost has us wishing our child would ask for a Yo Gabba Gabba! bash. (Luckily, this one is supereasy to re-create!) Keep clicking for all the details [116].
Source: Birthday Express [117]
A Puppy-Themed Party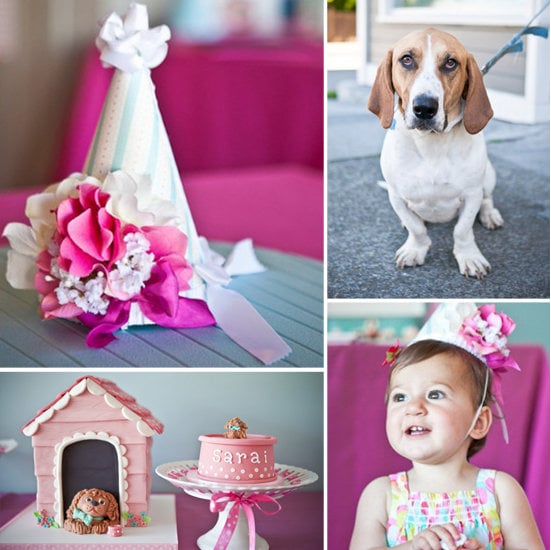 You don't have to have a pet dog at home to love them — but it certainly helps for the pictures. This puppy-themed birthday party [118] proves that four-legged friendships are here to stay!
Source: Allyson Wiley for A Little Savvy Event [119]
A Supergirlie (and Pink!) Birthday Party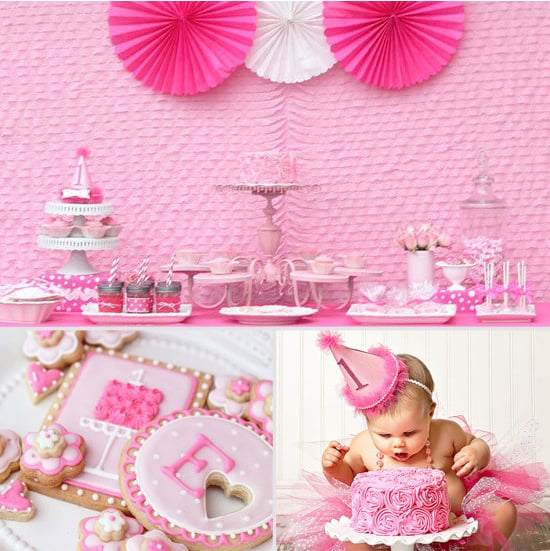 This beautiful birthday party is as girlie as it gets [120], with a sweet dessert table, the prettiest rose-covered cake, and one seriously adorable birthday girl.
Source: I Heart Nap Time [121]
A Country Fair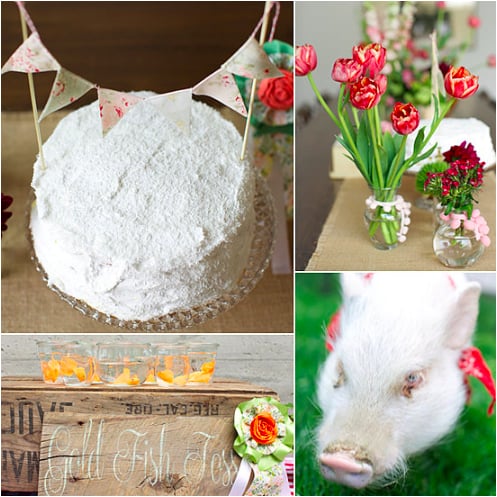 "Ripley absolutely loves pigs and bunnies, so a country fair for the ladies felt like the perfect theme," designer Jenni Kayne says of her daughter's second birthday party theme. "Not knowing exactly what my version of a country fair looked like, I was inspired by the different parties that I found on Pinterest and ran with it." Wildflower arrangements, homemade pies and cakes, fair games like a ringtoss and sack races, and, of course, Ripley's much-adored farm animals all made an appearance at this old-fashioned party. Keep reading to check out the most stylish county fair around [122]!
Source: Rip + Tan [123]
A Vintage Transportation Party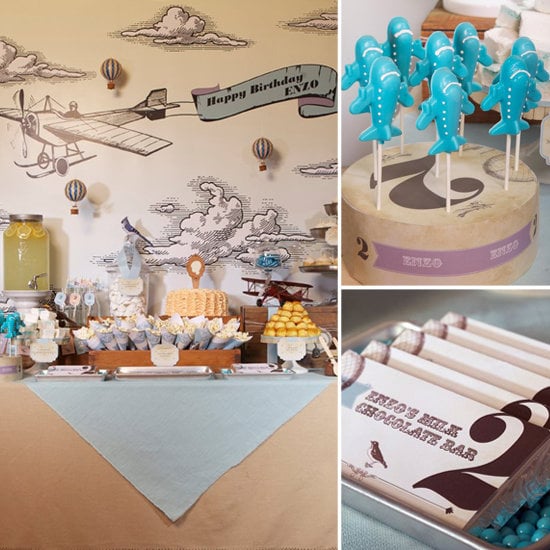 Birthday boy Enzo loves airplanes, but for a party celebrating his second birthday, event planner Keren Precel knew she needed to take that inspiration to the next level. "Being a professional graphic designer as well as an event planner allowed me to create a custom-made, one-of-a-kind party package," Keren says. The vintage transportation-themed bash she designed is simply dreamy, full of personalized paper products, a beautiful backdrop, and a dessert table that would satisfy even the biggest sweet tooth. Click here [124] to check out all the beautiful details.
Source: Keren Precel Events [125]
A Lovely, Whimsical Pink Circus Birthday Party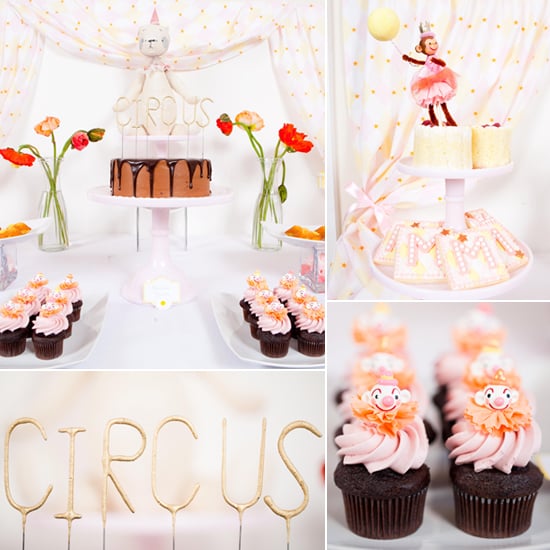 "The pink circus came to town for my daughter Marguerite's second birthday!" says Anne Ligeard Murat of New York-based children's party, paper, and gift site Clafoutis [126]. "My daughter is very mischievous. She is full of energy and always trying bold acrobatics at the playground. In French we use the expression 'Marguerite fait le cirque,' meaning she is creating her own circus. She also loves pink, so voilà — we had our theme!"
While undoubtedly a kiddie affair, Anne put her stylish, sophisticated spin on the party, incorporating designer fabrics, a custom artwork, a beautiful cake topper, and vintage-y tutus. Click here [127] to see all the chic circus details.
Source: Clafoutis [128]
A Candyland Party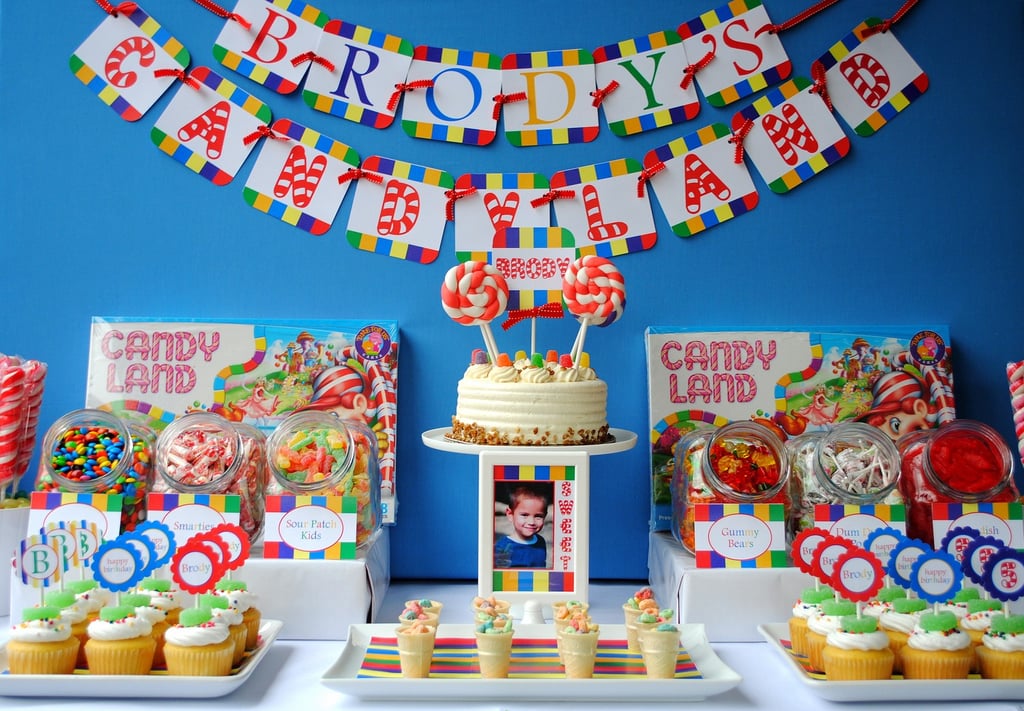 The classic board game Candyland has been a kid favorite since its debut in the 1940s. If your little one can't get enough of Candy Cane Forest or Gum Drop Mountain, a Candyland-inspired birthday party [129] is easy to put together and fun to attend!
Source: sweetmetelmoments [130]
A Sweet Barnyard Birthday Party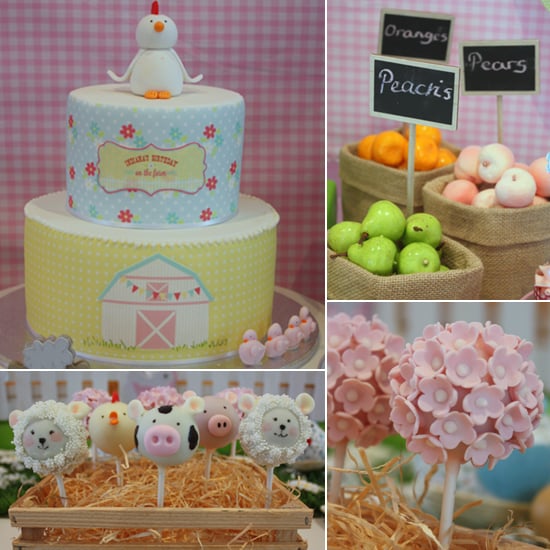 Kate Brown and Yolanda Cerra, the creative minds behind Aussie event company Kiss Me Kate [131], never cease to amaze us with their gorgeous parties, and this barnyard-inspired birthday bash for 2-year-old Indiana is no exception.
"Our client Megan approached us to design a dessert table," Yolanda says. "The brief was simple: a farmyard theme with a girlie bent. We achieved this look by incorporating sweet cottage flower prints and a pastel color palette throughout. The party was scheduled in the first week of Spring, so we drew inspiration from flowers, fabrics, and, of course, assorted farm animals." Click here [132] to head down to the farm!
Source: Kiss Me Kate [133]
Disney Cars Party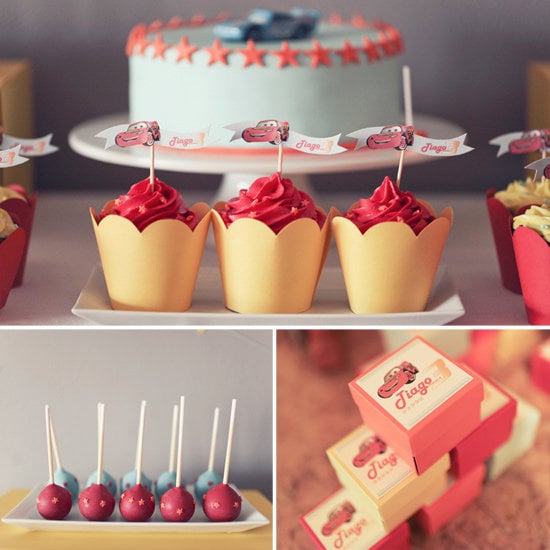 Start your engines! Boys, both big and small, love cars — and it's almost certain that your little man also loves the movie Cars. Throw him a "wheelie" cool party [134] for his next birthday, inspired by the movie.
Source: Branco Prata [135]
A Rainbow-Heart Party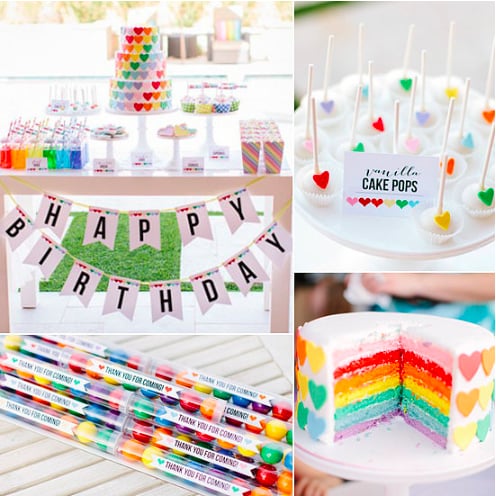 Kim Stoegbauer of The TomKat Studio [136] has thrown some of our favorite kid parties ever. For her daughter Kate's big day, she celebrated the milestone with a party that was all about the tot's two favorite things: rainbows and hearts!
Kim incorporated the theme throughout the outdoor party with sweet treats, including an amazing cake featuring rainbows inside and out, balloons, clever rainbow-colored drinks, and pool-perfect decor. Keep reading for all the fun details [137].
Source: The TomKat Studio [138]
A Surf Shack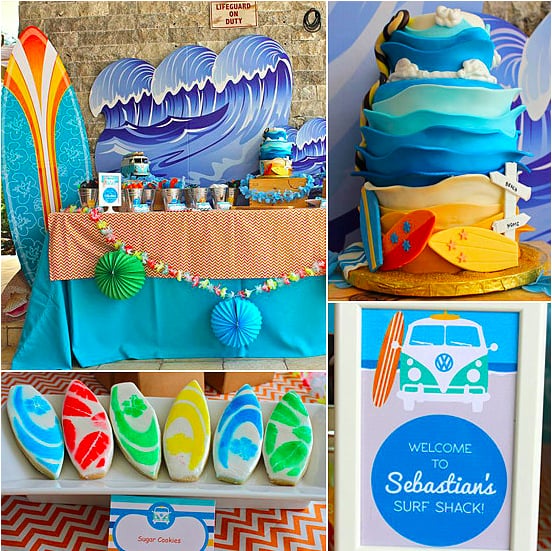 This awesome surf shack party — inspired by Disney's Teen Beach Movie — is just too cute to pass up. Thrown by Carol Rivera of Once Upon a Party [139], the birthday bash has some simply incredible elements, including a cool surf-inspired cake, surfboard cookies, shark fin cupcakes, and even a vintage VW surf van! While your next trip to the beach might seem far away, this party will remind you one more time why we all love Summer (minus the sharks) so much! Keep clicking for all the details [140].
Source: Once Upon a Party [141]
A Cool Airplane Birthday Party
Suzie Boluarte of Project: Party Perfect [142] knew just what the theme for her son Caiden's second birthday should be. "We live near a small airport, and he loves going to the observation deck," Suzie says. "It's on the tarmac, and he gets an up-close experience seeing small planes and private jets take off and land." Suzie took that love of planes and created an inventive party full of high-flying clouds, DIY [143] crafts, and cute treats. Click here [144] for all the details.
Source: Project: Party Perfect [145]
A Minnie Mouse Party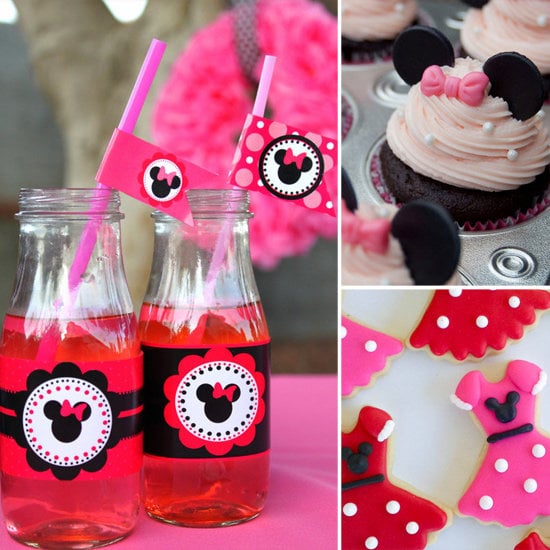 If mama's little girl is turning a year older and all she wants is a Minnie Mouse-themed birthday bash [146], then that's exactly what she'll get — and we've got some great party-planning ideas to get you started!
A Peter Pan Party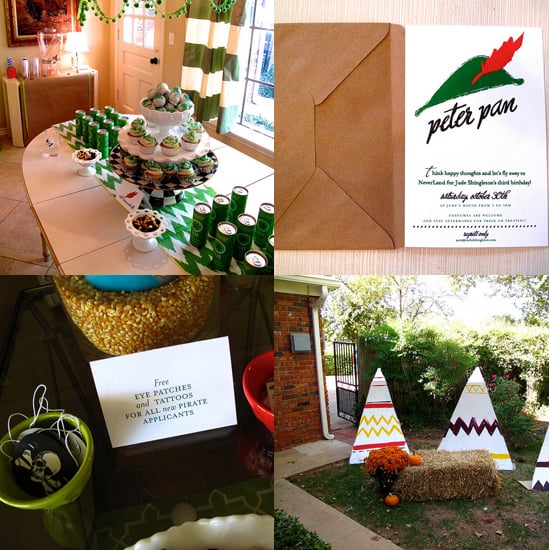 When Rachel Shingleton's son turned 3, she transformed her home into Never Never Land [147], complete with eye patches, tattoos, pixie dust, and tepee photo stations for the lost boys attending in their best Peter Pan costumes.
Source: Pencil Shavings [148]
A Supergirlie First Birthday Party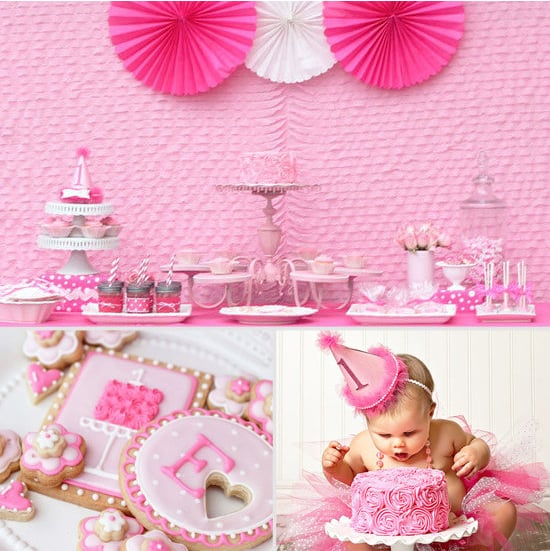 This beautiful birthday party is as girlie as it gets [149], with a sweet dessert table, the prettiest rose-covered cake, and one seriously adorable birthday girl.
Source: I Heart Nap Time [150]
Abracadabra! A Marvelous Magic Birthday Party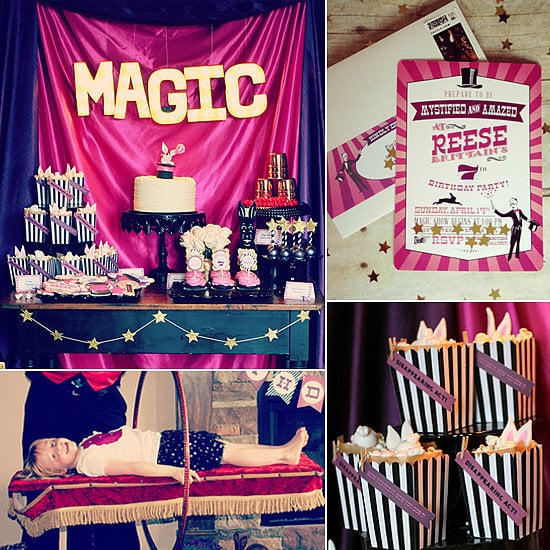 Gretchen Brittain, mom of three and the creator of adorable party printables shop Three Little Monkeys, is all about turning her kids' greatest loves into awesome birthday party themes (remember her son's amazing fossil hunter birthday party?). So when her daughter Reese decided she wanted to become a magician, a magic-themed birthday party was definitely in order!
An Animal- Themed Birthday
When you're Martha Stewart [151]'s first grandaughter, you can bet your first birthday will be amazing. For little Jude Stewart, turning one meant a more sophisticated route and Grandma put a special spin on the animal-themed party. It was held at one of the family's favorite NYC restaurants, Perry Street, and guests received sweet treats like these animal sugar cookies before they left.
Ringling Bros. and Barnum & Bailey Circus Party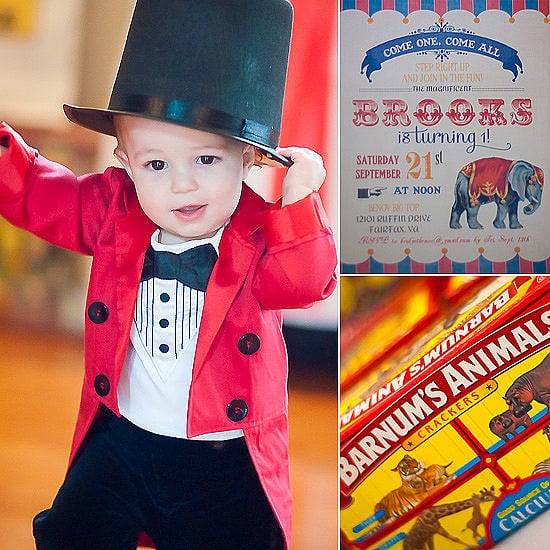 While there weren't roaring lions, skilled tightrope walkers, or dancing dogs in sight, birthday boy Brooks was dressed as a ringmaster, his big sister was dressed as a circus performer, and a face painter named Mollie the Clown transformed guests into circus-goers.
A Supercool Race Car Party
Inspired by the birthday boy's dad's love of race cars and the parent's actual race to the hospital, Hilary came up with a speedy theme. Her vision included a "pit crew" play area, a race car decorating station, a license plate welcome sign, and even a "parking area for strollers." See how she pulled off this celebratory first birthday without any bumps in the road.
A Whimsical Woodland-Themed Party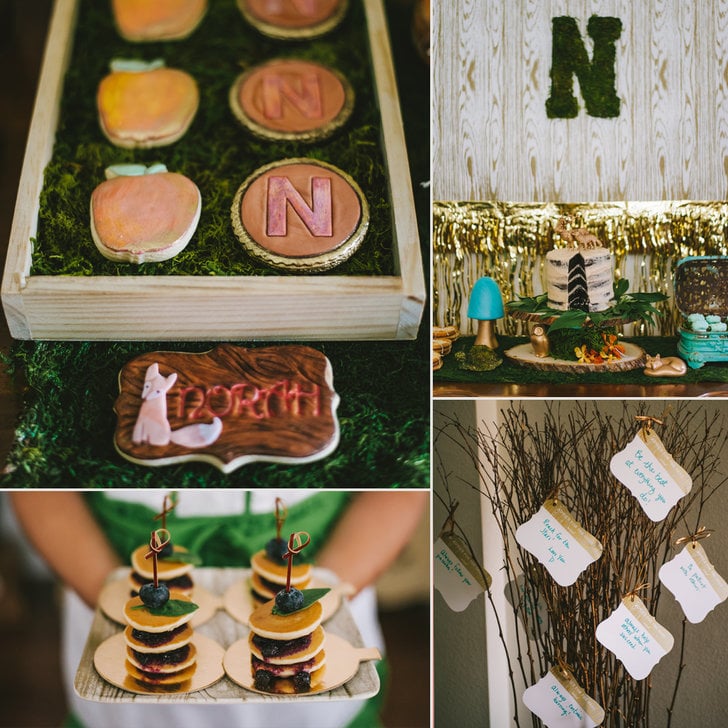 Norah's party featured gorgeous bite-size nibbles — like mini chicken and waffles, tiny pancake stacks — and the fanciest cheese wedges on crackers that we've ever seen. There were also faux-bois-inspired cookies with her name embossed across them and a beautiful "naked" cake topped with gold woodland animals, which had a rustic feel perched atop a cake stand surrounded by luscious green moss and leaves.
A Magical Cinderella Birthday Party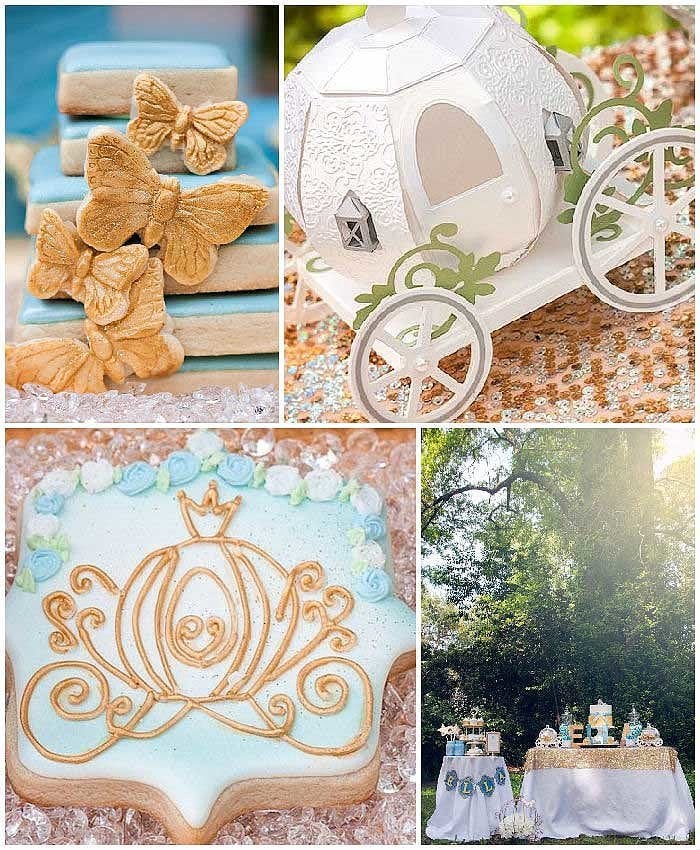 Oh my goodness this party is positively stunning! The outdoor venue set amongst the trees is just gorgeous and the gold glimmering details in it truly make it magical! Plus you will die over all of the darling desserts and sweets! This party is sure to be cherished and adored!
An Under-the-Sea Party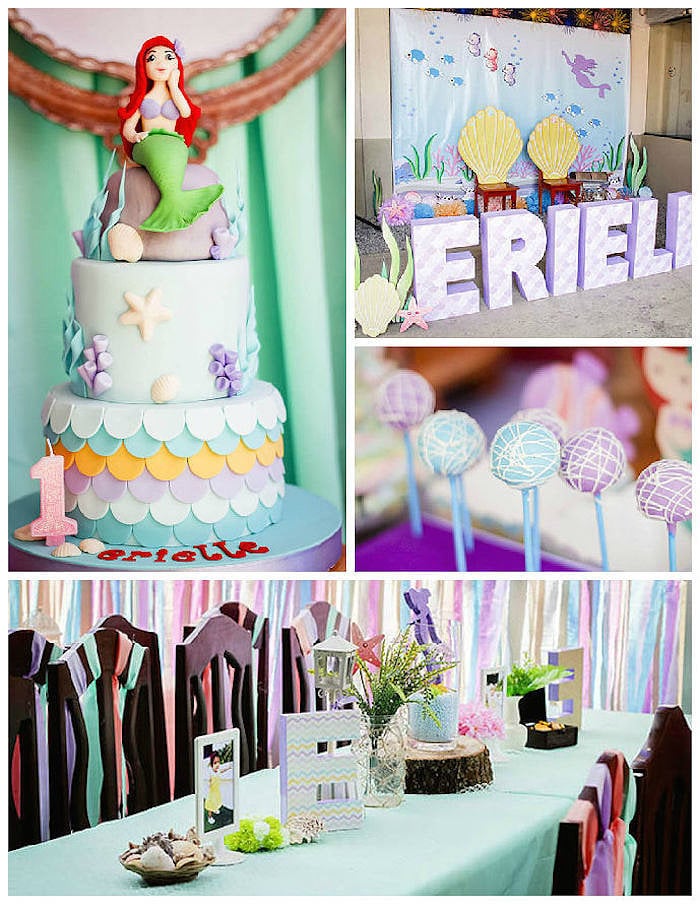 This party theme is always so cute for a little girl! I love cake and darling table centerpieces used in this particular party! I also love all of the many ribbon tassels throughout! This party will definitely inspire and impress!
Hot-Air Balloon-Themed Party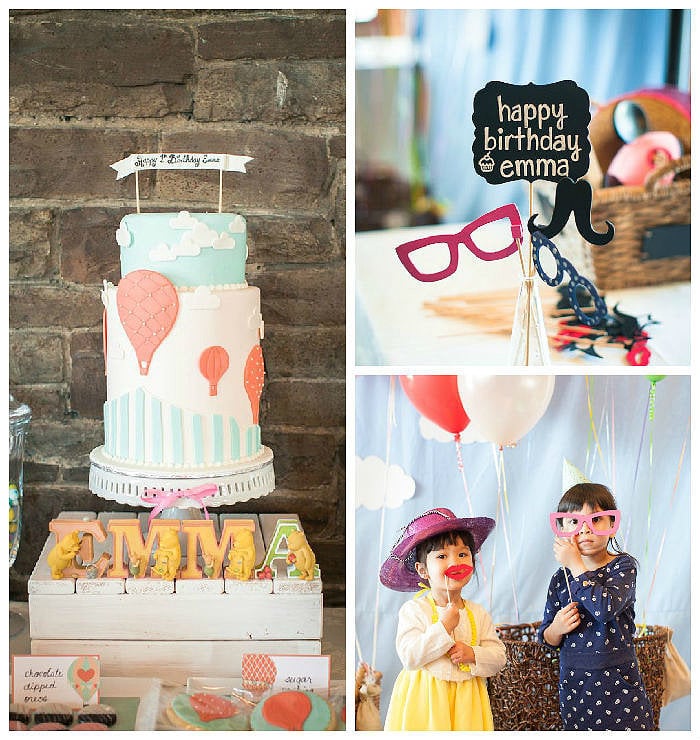 Up, up, and away! This hot air balloon party is just precious! From the darling cake to the the cute stationery, this party is sure to impress!