Too good to be true? Walk the aisles of a baby emporium and you're sure to see products that claim to cure kids of every ill — many of them looking and sounding more than slightly outlandish (and some sounding just truly bizarre [1]!). But leave it to real moms to put them to the test and determine which are really worthy of some space on the changing table. See which ones make the cut!
Nosefrida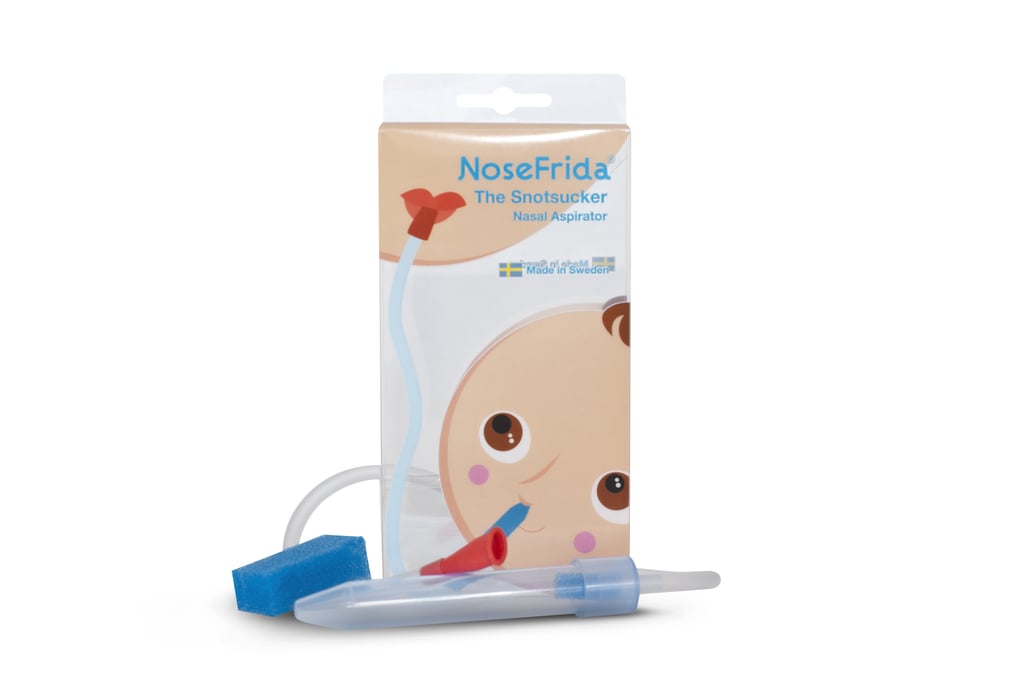 Say goodbye to the ubiquitous bulb aspirator and hello to the Nosefrida [2] ($15) — the Swedish-designed tube and hose that allows mama to literally suck the snot out of her lil one's stuffed nose. It may sound gross, but filters prevent the mucus from ever entering mom's mouth and it actually works.
Puj Baby Portable Bathtub
Infant tubs are large and cumbersome. And while the Puj Baby Portable Bathtub [3] ($40) looks like little more than a large piece of foam, it easily replaces the big plastic tub while still keeping baby safe and comfortable. Made from soft foam that folds to fit all standard bathroom sinks, the Puj creates a snug environment for your baby. Both anti-fungal and anti-bacterial, it opens up to hang flat against a wall, alleviating the need to find a drying spot when bathtime is over.
Boon Squirt Baby Food Dispensing Spoon
Feeding baby is messy, there's no doubt about it. Boon's Squirt Baby Food Dispensing Spoon [4] ($12) really does make it easier, and faster to help feed a hungry tot, storing all of the puree in its body. Just squeeze and feed!
Windi
What the Nosefrida did for stuffed baby noses, the Windi [5] ($16) does for gas. Though it looks eerily like a tampon, the people that brought us the snot-sucking Nosefrida returned with a product designed to relieve lil ones of uncomfortable gas.
Belly Bandit
So this one is actually for mama, immediately after baby, rather than the lil one himself. The idea of literally shrinking the postpartum belly back to its pre-baby size sounds crazy. But the Belly Bandit [6] does just that. The postpartum compression wrap is worn for six weeks after baby's arrival (day and night) and helps retrain the muscles and shrink the belly back into place. It doesn't sound possible, but as several of us here can attest — it works!
The Woombie
It might look like something straight out of an insane asylum, but the Woombie [7] ($25) is more like a miracle for new parents whose lil ones can't sleep. The cocoon-like sack with a zipper up its front will not unravel over the course of the night like a typical swaddle. Made with a cotton and Lycra blend, the peanut-shaped sack is snug enough to give babies the comfort of a traditional swaddle, but stretchy enough to allow babies to stretch their arms and legs and wiggle their way to comfort. As someone who was reluctant to try it and then gave it a go, I can tell you it was a lifesaver in our home.