An ultrasound provides an exciting glimpse of your growing baby and while some parents-to-be stow the image away for safekeeping, others opt to do something a little more creative with their baby's first picture. If you're ready to go beyond the classic frame route [1], check out a few unusual and modern gifts and ideas for showing off your ultrasound.
Belly Tee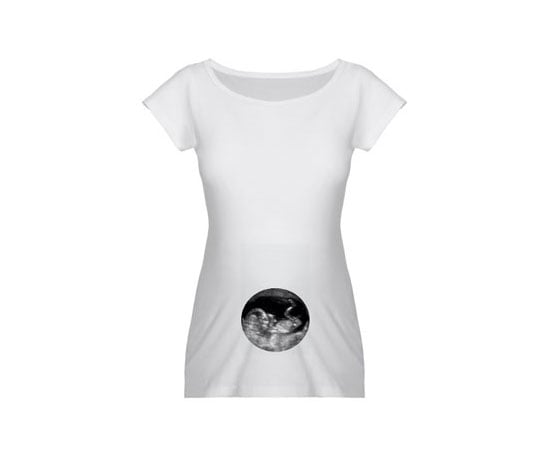 Anxious mamas can start showing off their baby-to-be before they actually start showing. This ultrasound t-shirt [2] ($25), takes maternity clothes to the next level.
Stamp it
Creating your own stamps brings new meaning to the term "special delivery." Just upload your sonogram image to stamps.com [3] ($19 for 20 stamps) and personalize as many stamps as you'd like.
Ultrasounds as Cupcake Toppers
Baby Showers are full of unique ideas, and few are as unusual as these! ultrasound cupcake toppers [4] ($8) will show off the baby-to-be to everyone that's come to celebrate the expectant mama.
Ultrasounds as Art
Put your baby's first picture on display. My First Silhouette [5] will take your ultrasound and turn it into a piece of art ($50-$225).
Scratch It
New moms may feel like they've hit the jackpot after finding out they're pregnant, and now they can let everyone join in on the fun. These Sonogram Pregnancy Announcement Scratch Off Cards [6] ($4 for 10) are a unique way to announce the news.