Arts and crafts [1] with toddlers can get a bit messy — but it's always lots of fun, especially when there's some kind of theme present. Valentine's Day [2] is a perfect occasion to create pink and red heart-shaped projects with your little one, so break out the construction paper, glitter, paint, and glue, and get creative with these 22 Valentine's Day crafts for tots.



Valentine Heart Stamps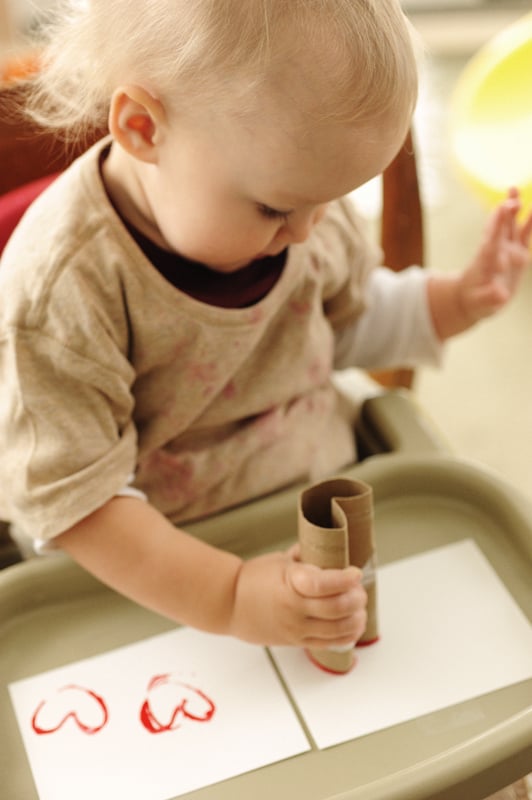 Work with what you've got! Paint and an empty roll of toilet paper are all you need for some stampin' valentine [3] fun with your lil one.
Valentine Bingo in a Jar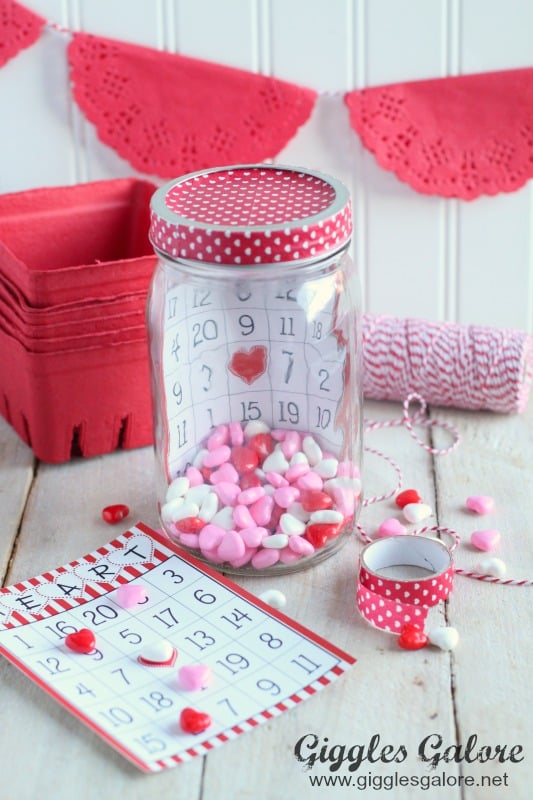 Make a Valentine's Day craft that can be used all year long! These Bingo jars [4] are an awesome snow day activity or can be traveled with thanks to the cute jar!
Confetti Paper Hearts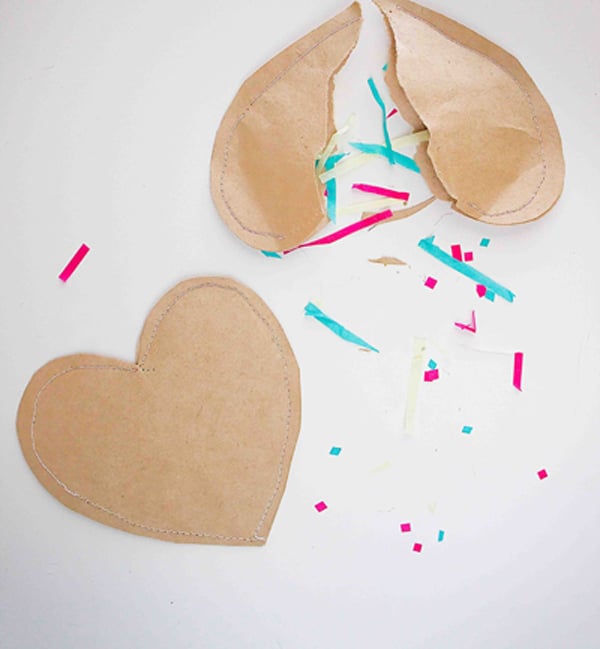 Shower them with love — literally! Sweet C's Designs' paper-filled hearts [5] are a great craft that can later be used as a classroom party favor.
Valentine Tic-Tac-Toe Heart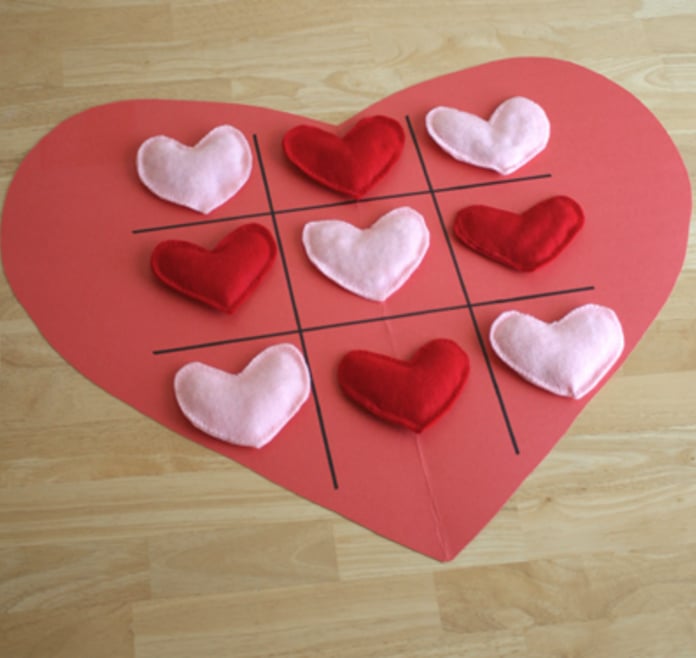 A large-scale valentine version of the classic tic-tac-toe game [6] is a fun way to pass the time — and it's super easy to make!
Crayon Hearts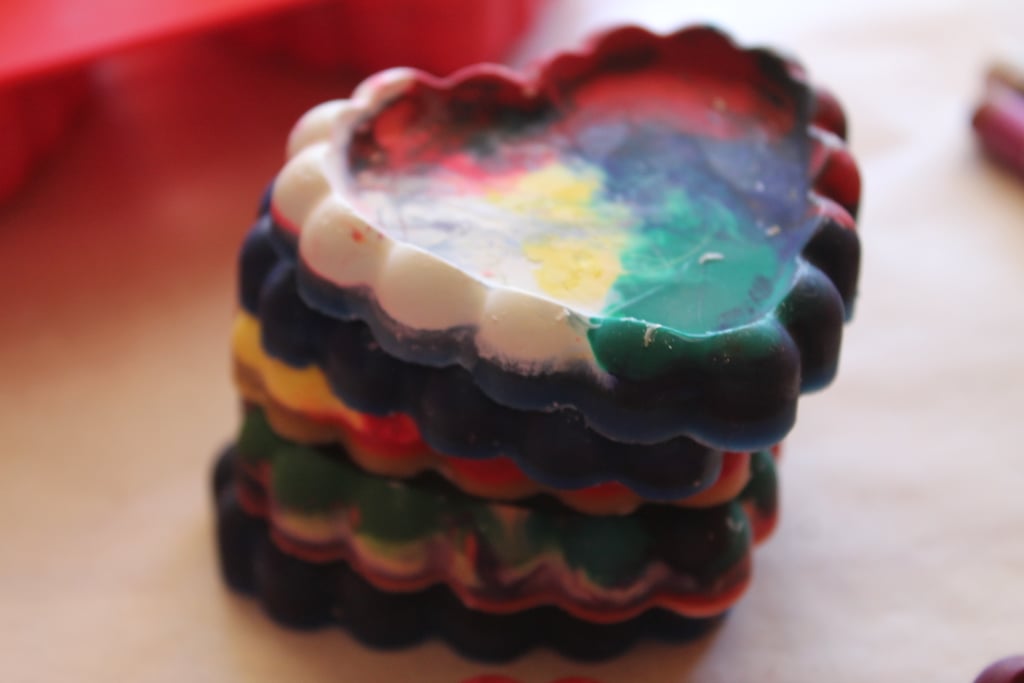 Is your craft drawer filled with broken crayons? Take a note from Mom Luck and turn them into festive drawing utensils [7].
Funny Face Felt Valentines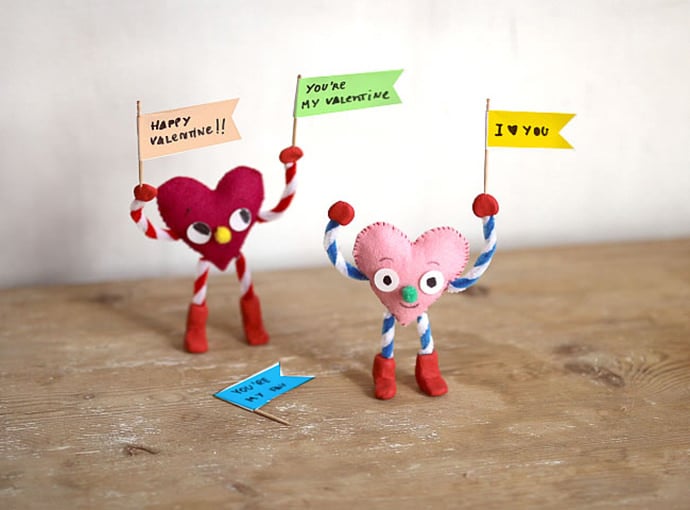 Help your kiddos make funny felt hearts [8] for their silly valentines using felt, pipe cleaners, and cotton ball stuffing!
Valentine's Day Potato Heart Stamps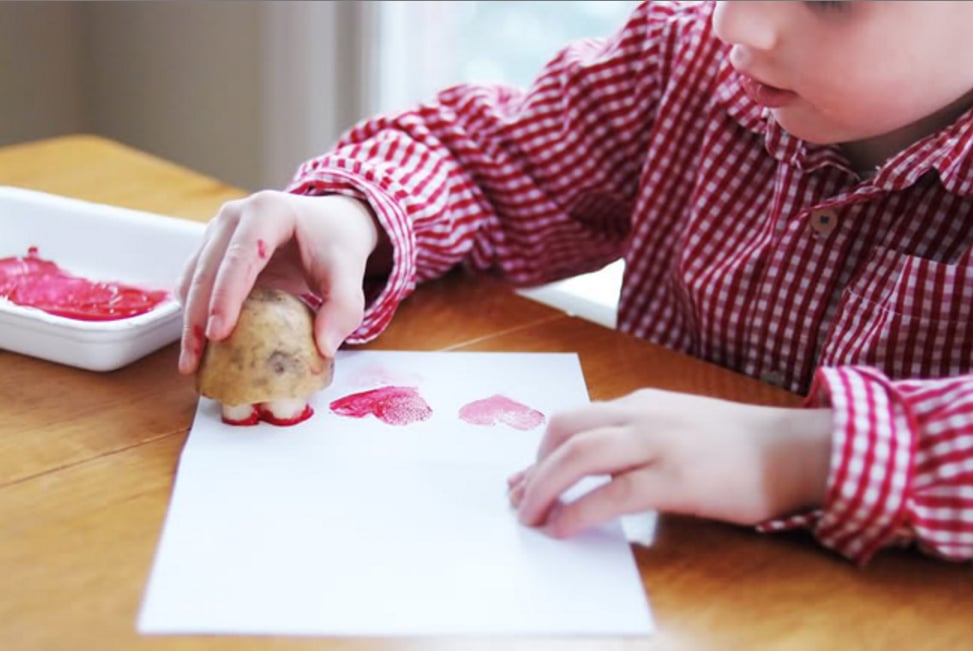 Stamp it up! Kids love stamps, so make your own heart-shaped stamps [9] with a potato and some paint. Your kiddo can create art for the refrigerator or some valentines for a few special friends!
DIY Stamped Conversation Hearts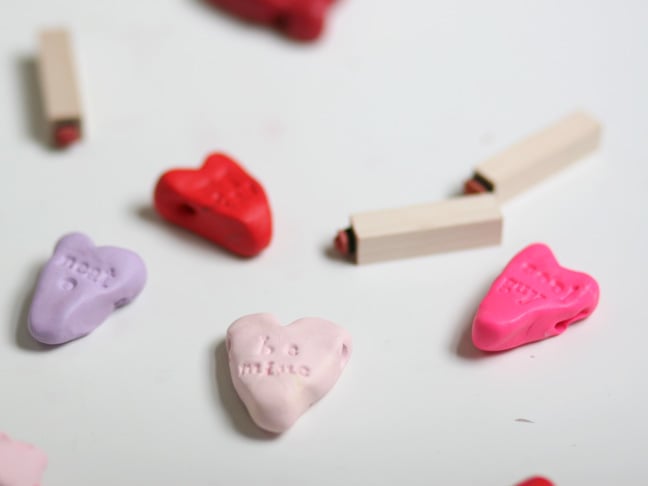 These fun, tactile clay conversation hearts [10] can be stamped to your toddler's heart's content then baked to harden into a giftable valentine.
Cut Paper Valentine's Day Rosettes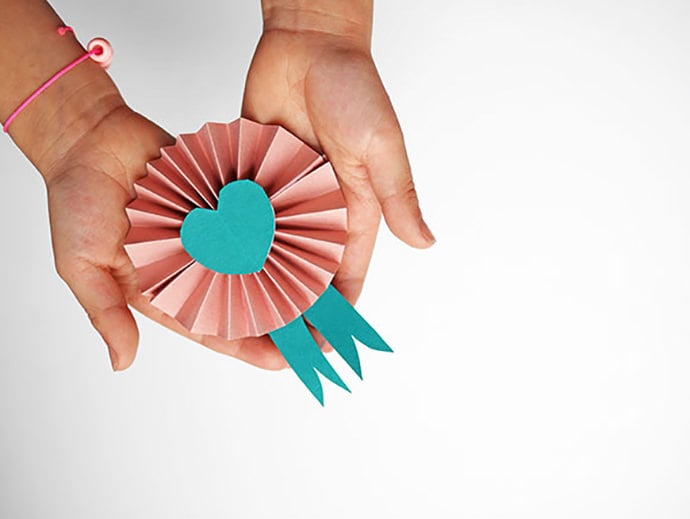 These adorable rosettes [11] can be sent in lieu of cards, hung around the house as a decoration, or given as a handmade gift.
Stitched Heart Bookmarks
Felt hearts, white embroidery thread, paper clips, and a printable card [12] make for one adorable Valentine's Day gift.
Valentine's Handprint Craft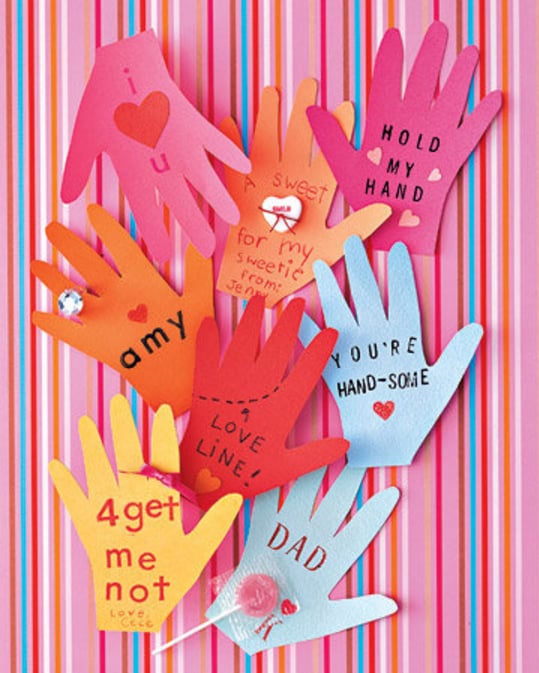 Give your little one a hand! These creative valentines [13] are a breeze to make — just trace and cut from construction paper and then decorate. These make fun valentines for classmates!
Snow Globe Valentine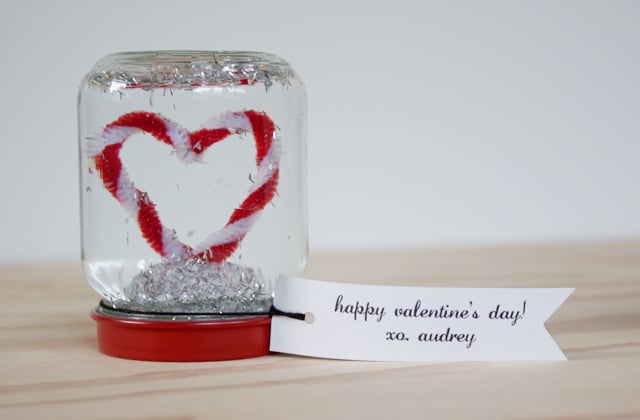 Make a valentine that they'll treasure forever. While Dandee Designs' snow globes [14] may seem complicated, they only require a few supplies that you can find around the house.
DIY Cupcake Liner Garland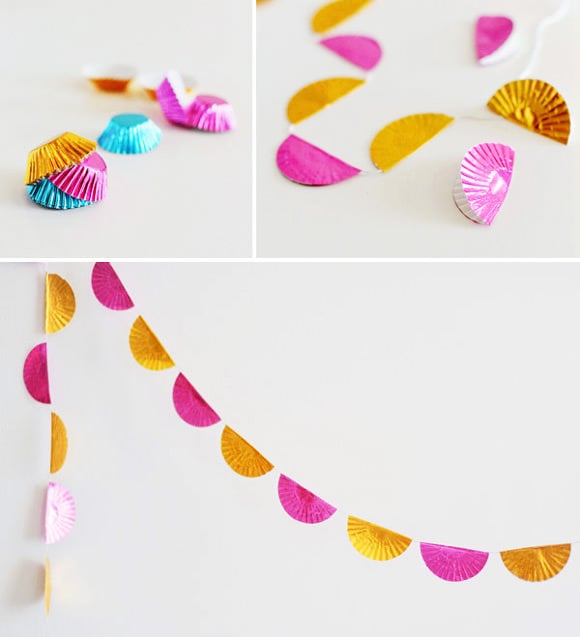 Handmade Charlotte shared a series of cupcake liner crafts, including this easy garland [15], which a toddler could definitely help to put together.
Heart Punch Collage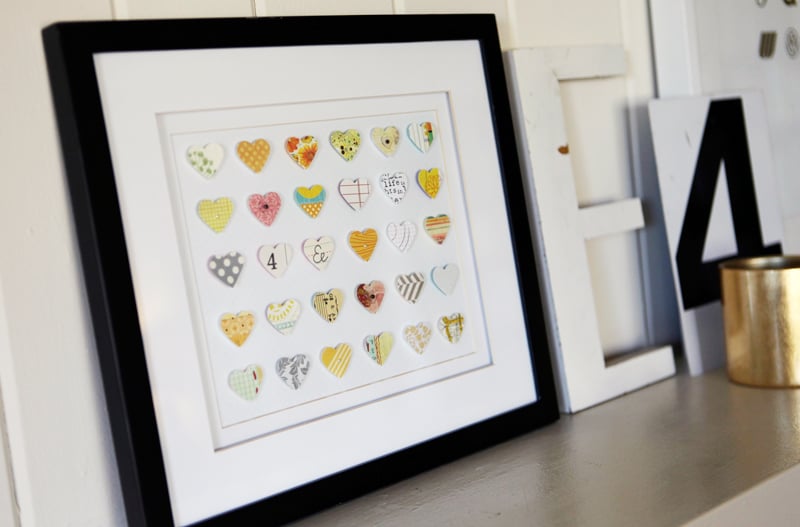 Buy a heart punch [16]; gather up some magazines, old greeting cards, or craft paper; and punch away. You can glue your hearts directly onto a piece of card stock, but they look especially cool, almost like they're floating, when you first attach them to a small piece of foam.
Conversation Heart Art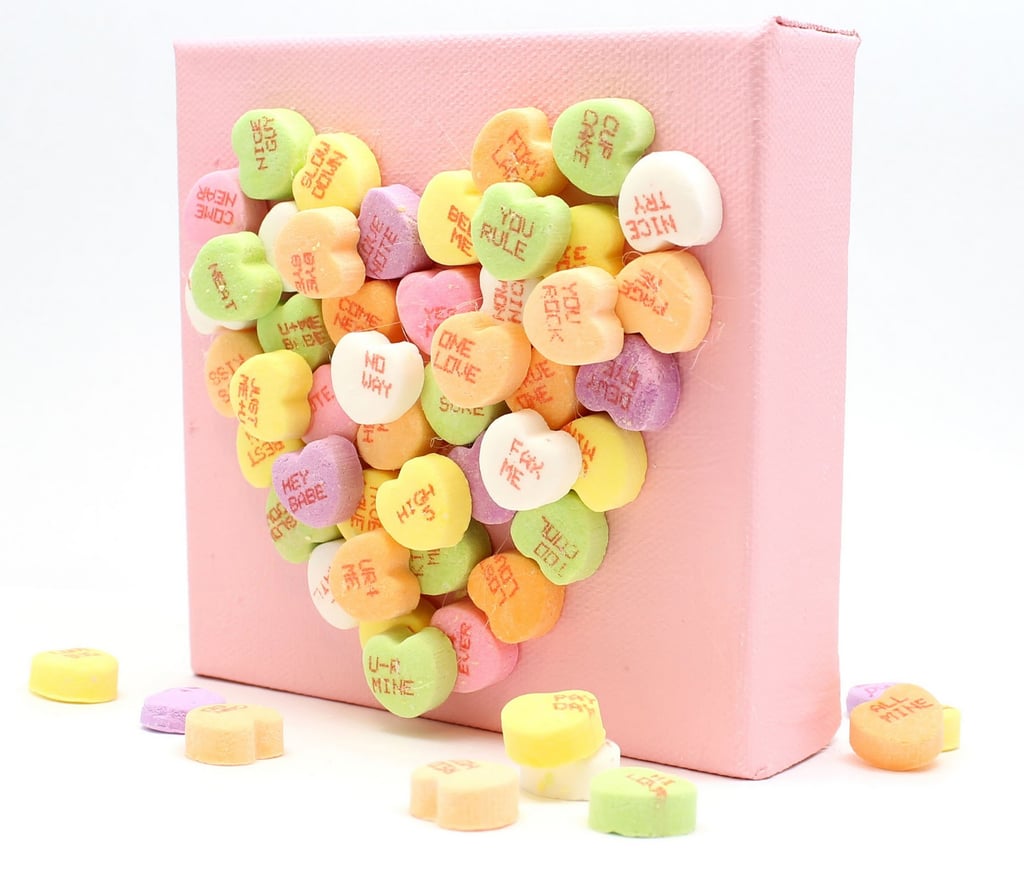 The crafty minds at The Decorated Cookie came up with the idea of gluing a pile of candy hearts to a painted-pink canvas to make a totally sweet piece of art [17].
Heart Garland
Spread the love to every room in your home. Saved by Love Creations made an adorable garland [18] using colored paper, doilies, and some string.
Valentine's Monster Boxes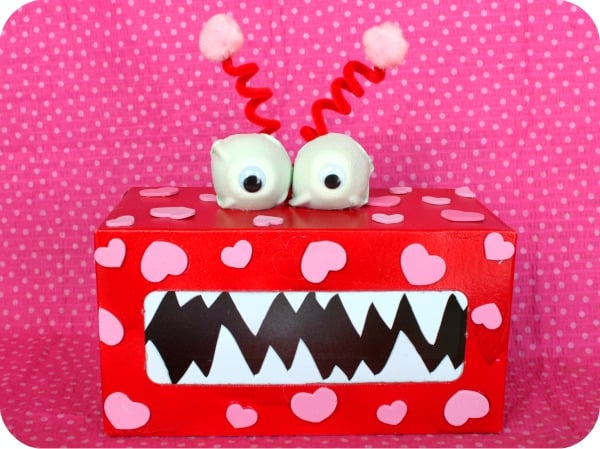 What little kid wouldn't get a kick out of decorating one of these adorable monster boxes [19] as a receptacle for all of that Feb. 14 classroom love?
Invisible Ink Message in a Bottle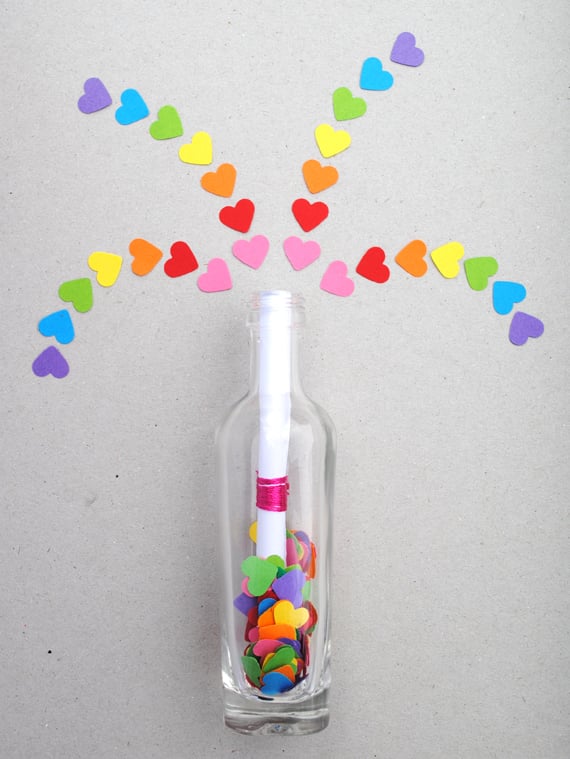 Minieco's cool valentine involves some a secret message [20] written in lemon-juice invisible ink (heat it up to see what it says), paper hearts, and a tiny bottle. Lots of fun for the craft maker and the recipient!
Footprint Heart Valentine's Day Keepsake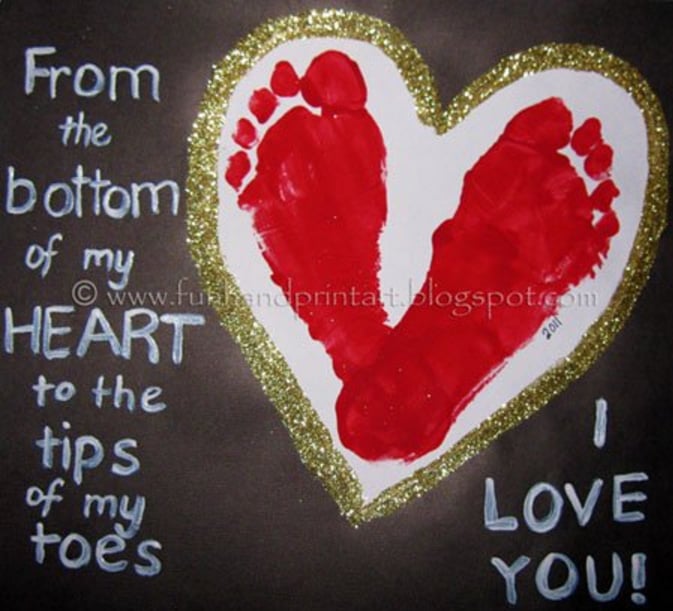 Little feet can be so sweet! Even if your little one is too small to actively participate in making a valentine card, they can still help mama make a special Valentine's Day memory. Create a keepsake valentine by imprinting your baby's feet [21] into a heart!
Button-Covered Heart Valentine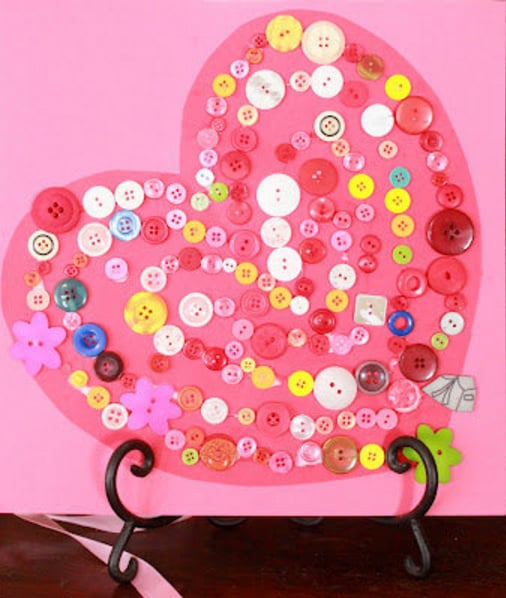 No one ever knows what to do with all of those leftover buttons, but you can put them to good use by making this adorable valentine heart. Just sort some buttons in the colors of your choice, swirl some glue on a craft paper heart [22], and start sticking!
3D Paper Hearts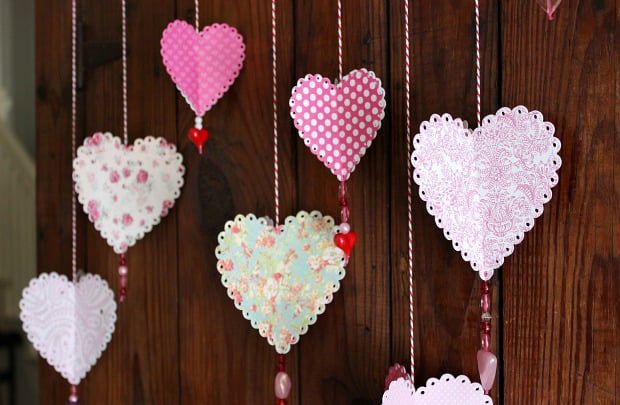 For a Valentine's Day craft that doubles as a decoration, make some of Hossier Homemade's 3D hearts [23] to hang around the house.
Sun Catchers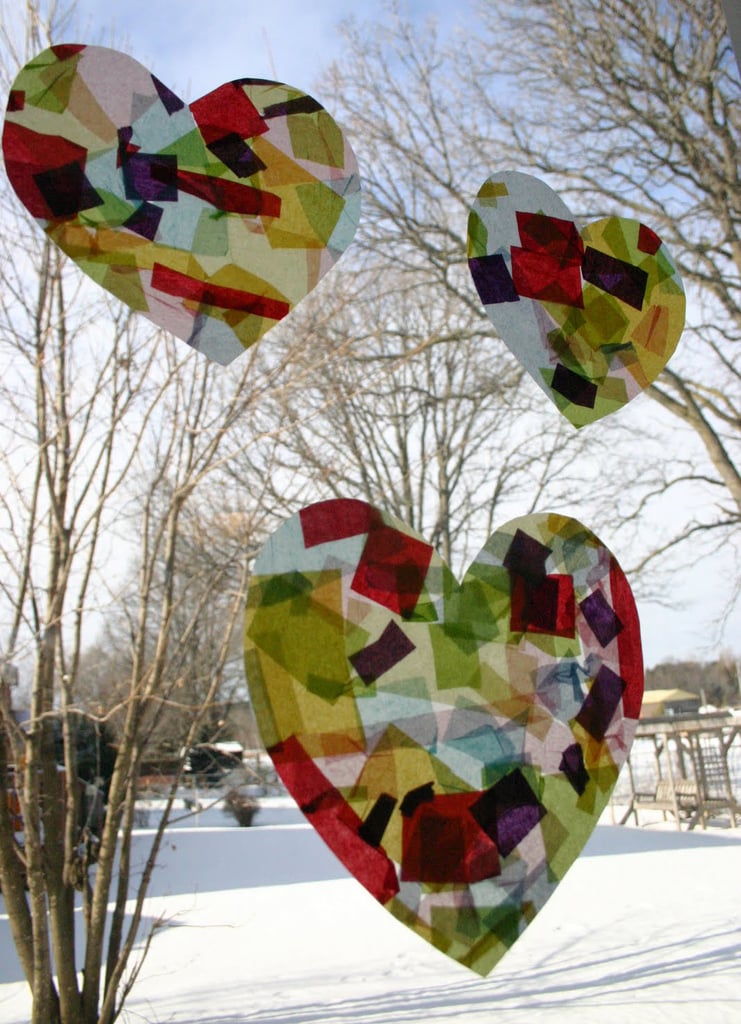 Lighten up your house with love. Mom vs. The Boys created these heart-shaped sun catchers [24] that you can keep up all year long.