It's the most popular tourist attraction in our nation's capital, and now, after a three-year closure due to renovations to repair damage caused by a 2011 earthquake, the Washington Monument is finally open again. More than 625,000 people visit the 555-foot, 5.125-inch structure each year, including plenty of families whose kids can't wait to ascend the "giant pencil," as they affectionately refer to it.
But before you head to Washington DC, there are a few things you need to know about taking your kids to visit the monument. Read on for all the details.
Source: Flickr user terren in Virginia [1]
Getting Tickets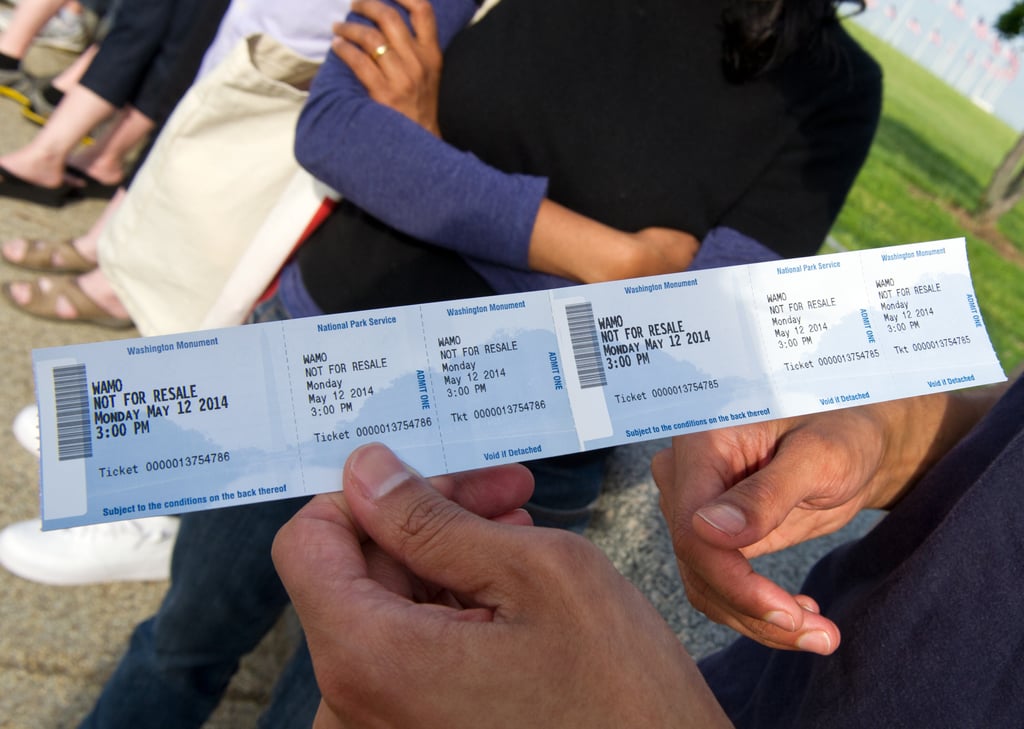 Yes, visiting the Washington Monument is free, but you'll need tickets to get in if you're 2 years old or older. The monument is open seven days a week all year — except for July 4 and Dec. 25 — and the hours vary based on the time of year. Summer hours are 9 a.m. to 10 p.m. daily, and Winter hours are 9 a.m. to 5 p.m. daily.
Day-Of Tickets: The Washington Monument Lodge, located along 15th Street, distributes free, same-day, timed tickets on a first-come, first-served basis. Distribution begins at 8:30 a.m., and one person can obtain up to six tickets at a time. These tickets are often distributed within the first hour of the lodge's opening.
Advance Tickets: Don't want to get up early to get tickets? No problem. Advance tickets are sold online [2] and can be picked up at the Will Call window in the Washington Monument Lodge, but there's a $1.50 service charge for each ticket.
Leave the Stroller in the Hotel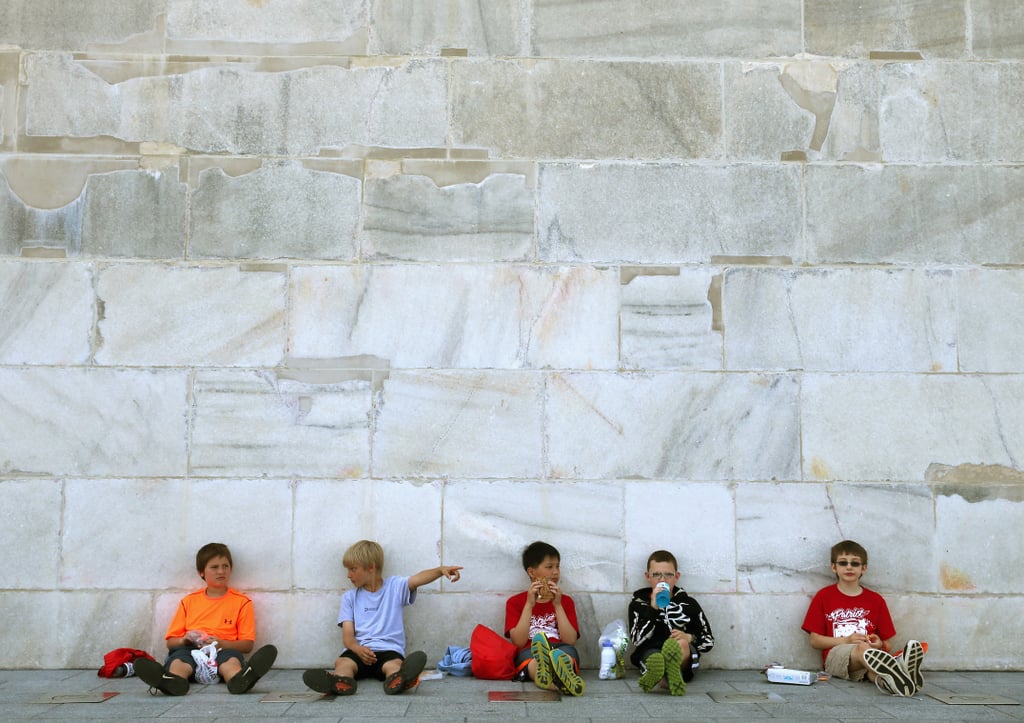 While Washington DC is a walking city that's easily accessible with a stroller, all buggies (including fold-up umbrella strollers) are prohibited from entering the Washington Monument — and there's no place to store them while you're there. So you'll want to leave the stroller in the hotel or with someone who's not planning on going inside the monument while you're there.
While you're at it, park rules also prohibit food, drink (except bottled water or baby formula in clear plastic containers), and large backpacks from entering the monument, so you'll want to leave those things behind as well.
Prepare to Be Lifting Your Kids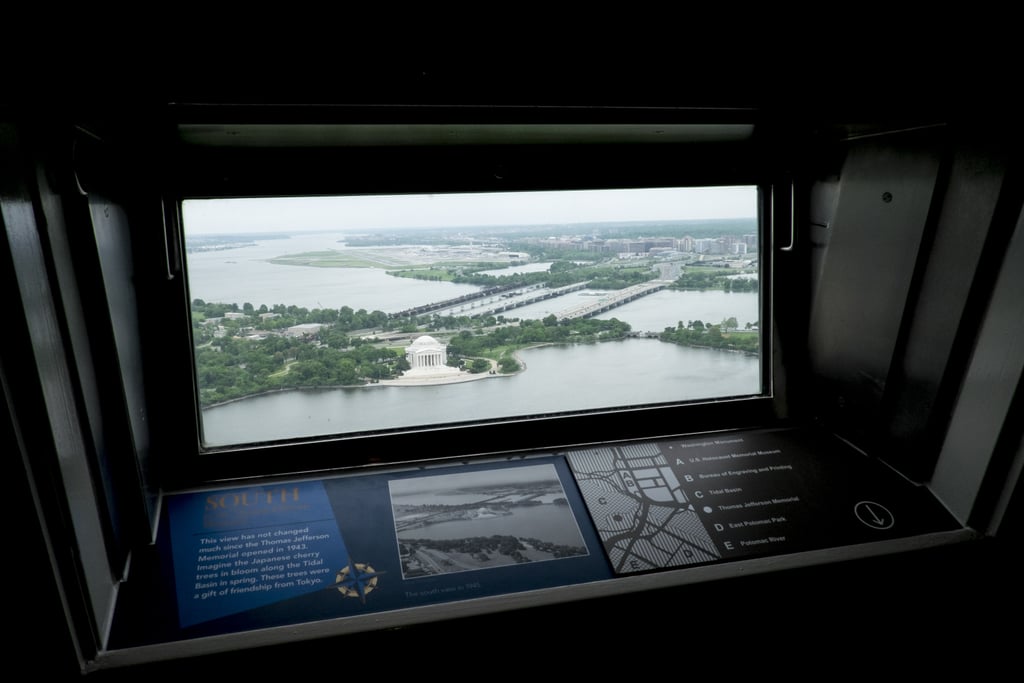 See this small window pictured above? That's the size of the windows you'll be looking through from the top of the monument (500 feet above ground). They're small, and they're pretty high, so smaller kids will need to be lifted to see out of them. The good news is they provide a beautiful view of our nation's capital, and you can wander around this observation deck level at your leisure.
Prepare to Wait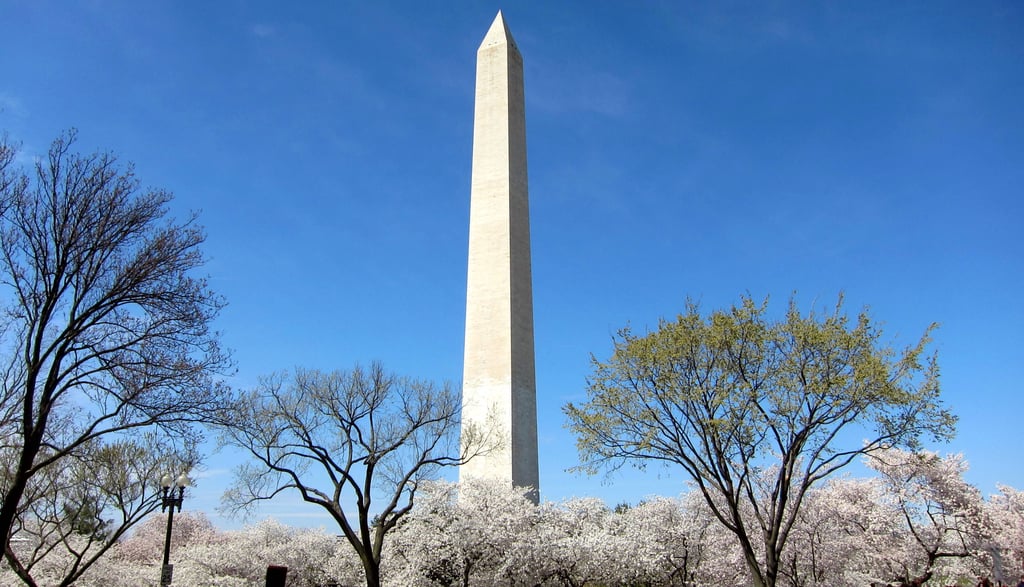 Yes, you have a ticket, but so do a whole lot of other people, and if you look at the size of the actual monument, you can see that there isn't that much room inside of it. So if your kids are fidgety, be prepared with some games you can play while waiting in line.
Source: Flickr user NCinDC [3]