When your little one is ready for a more grown-up room, turn to wall art to make a statement. Transform a space, without tons of effort, with the help of a photo or stretched canvas that will add a touch of maturity to your big boy's room. These pieces are colorful and cool, easily blending in with any decor, and capable of growing up with your son. Pick one to create a big impact or a few for fun accents. Click through for a collection of wall art that is sure to please your maturing tot.
Admit One Wall Art ($129)
With retro design and tons of sporty coolness, this printed canvas artwork [1] by Roger Groth is the hottest ticket around.
Helicopter ($102)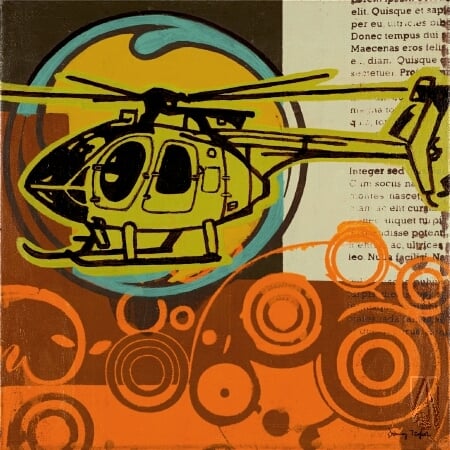 By graphic artist Johnny Taylor, this print [2] has tons of color and swirling lines around a bold helicopter. Stick with this cool helicopter or pick another from the series [3].
Cute Robot Smiling ($25)
Your little one won't be able to resist smiling when looking at this poster [4]. With a pop of red, this print would make a statement on its own or work well with another [5] to create a set.
Tractor Print ($20)
Digitally drawn and then printed on archival matte paper, this print [6] from Etsy seller Pitter Patter Press is a cool way to transform your little one's nursery into a big boy room.
Personalized Race Car Art by Alexander & Co ($199)
Really make a statement with this cool retro, original artwork [7]. Beautifully framed, your big boy will love seeing his name front and center in this artwork.
Modern Bug 2 ($155)
Here's a vibrant stretched canvas artwork [8] that features a big orange bug, perfect for little insect lovers. With modern touches, and letters poking through, this wall art is truly unique.
Rauri the Lion ($49)
If you've got a big boy that loves adventure then this sweet canvas reproduction print [9] is perfect for displaying on a favorite wall of your tot's room. And part of the profits from the sale of this print is donated to children's charities.
Peek-a-Boo Heroes ($10)
For the budding astronauts — this colorful poster [10] will update any big boy's room.