If you're braving a bevy of little ones at your wedding [1], it's probably a good idea to also come up with a kid-friendly menu to please their palates. While we've been to many weddings where the kids' meal involved a whopping plate of chicken fingers and fries, we encourage you to think outside that box (or should we say bucket?) to create a modern menu that is sure to delight your little guests and might just leave your big ones a little jealous. Keep clicking for 20 petite (and fun!) food options — from heart-shaped panini pops to an old-fashioned popcorn bar — that aren't short on style.
French Fry Cones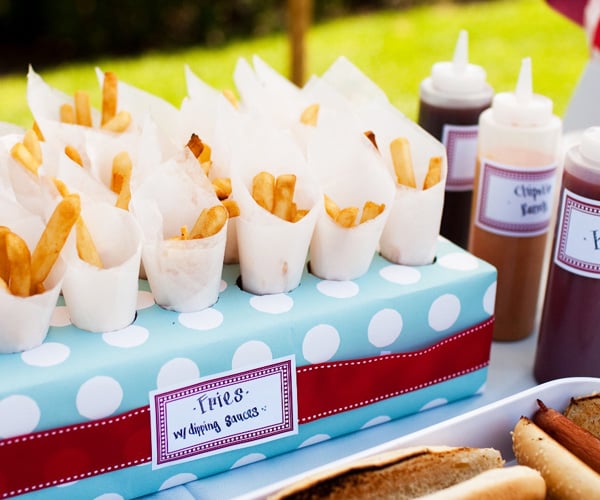 French fries with various dipping sauces are interactive and delicious.
Source: Hostess With the Mostess [2]
Waffle Cone Fruit Cup With Vanilla Cream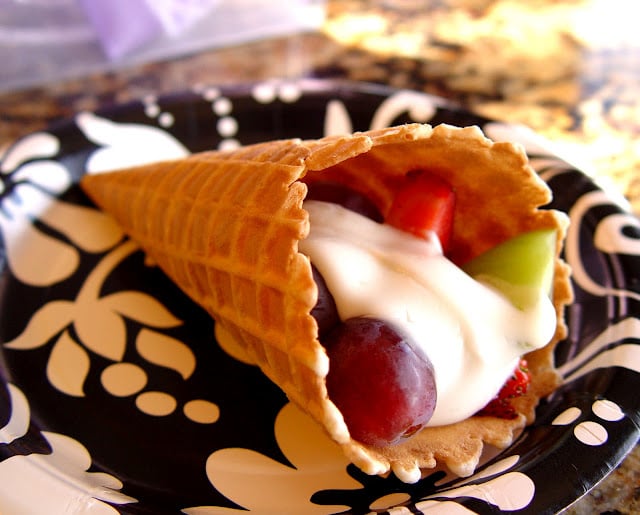 Jamie Cooks It Up [3] made these beautiful waffle cone fruit cups with vanilla cream.
Source: Jamie Cooks it Up [4]
Mini Hot Dogs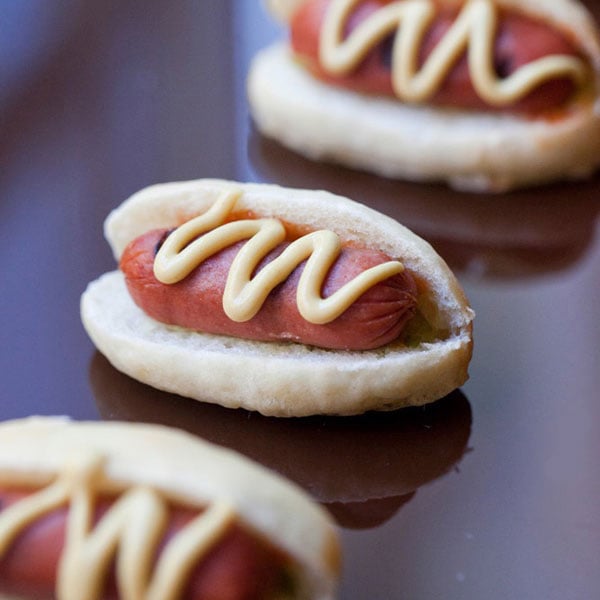 Mini hot dogs from Peter Callahan's cookbook, Bite by Bite: 100 Stylish Little Plates You Can Make For Any Party [5].
Source: Mel Barlow for Bridal Guide [6]
Mini Turkey Burgers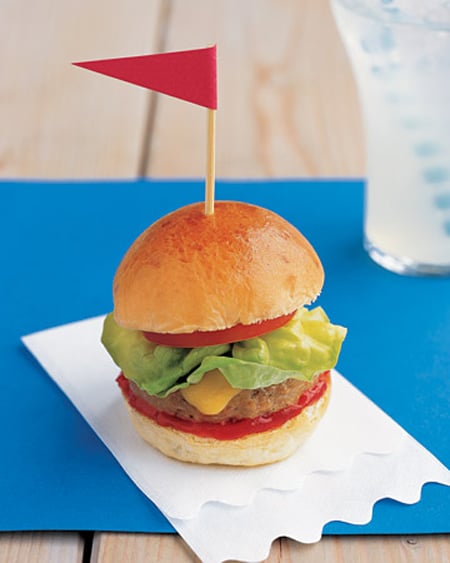 Turkey burgers made for tiny mouths.
Source: Martha Stewart [7]
Fruits and Veggies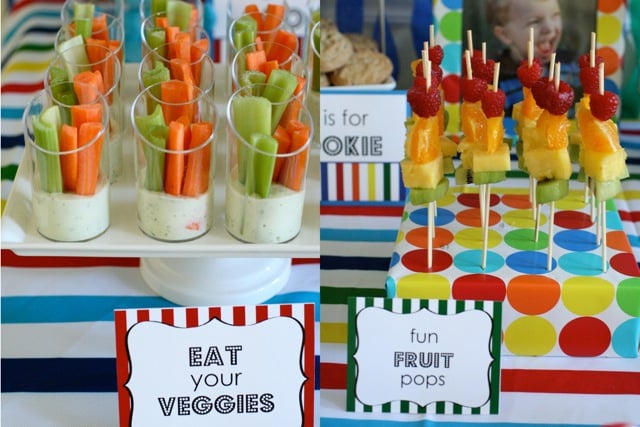 Veggie sticks and fruit look much more appealing when served in minicups with dip and on skewers.
Source: Annie's Eats [8]
Spaghetti and Meatballs
Minimeatballs topped with spaghetti and tomato sauce from Peter Callahan's cookbook, Bite by Bite: 100 Stylish Little Plates You Can Make For Any Party [9].
Source: Mel Barlow for Bridal Guide [10]
S'More Pops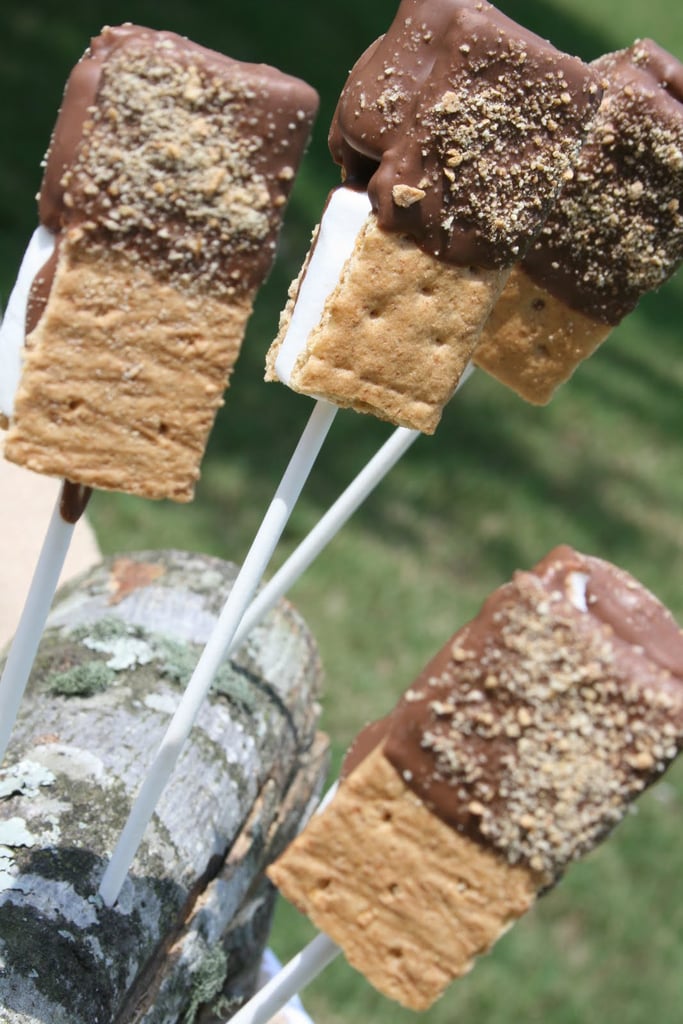 Kate of And Everything Sweet [11] created these s'more pops for a camping party, but they would work equally well for an outdoor wedding [12].
Source: And Everything Sweet [13]
Mini Mac and Cheese Pies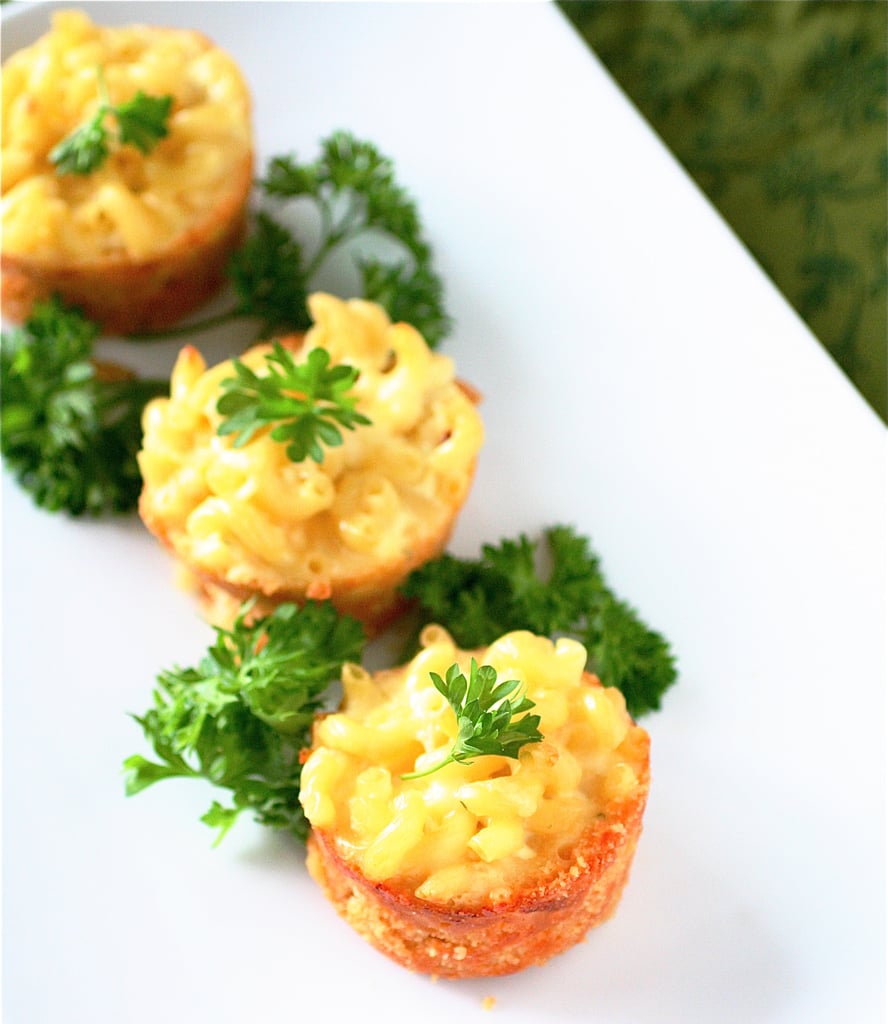 Mac and cheese is always a kid crowd-pleaser!
Source: The Curvy Carrot [14]
Milk and Cookies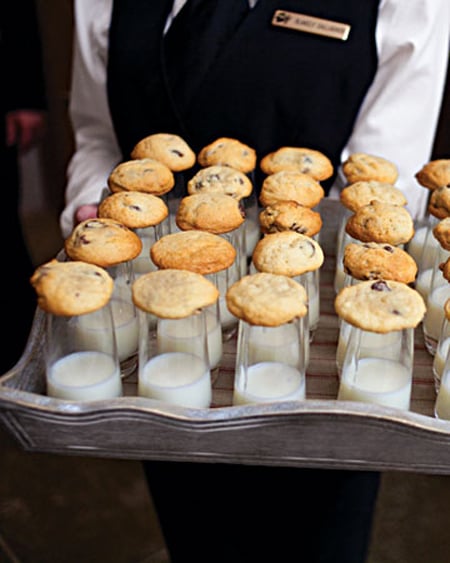 Individual milk and cookies are made for kids of all ages.
Source: Martha Stewart Weddings [15]
Panini Pops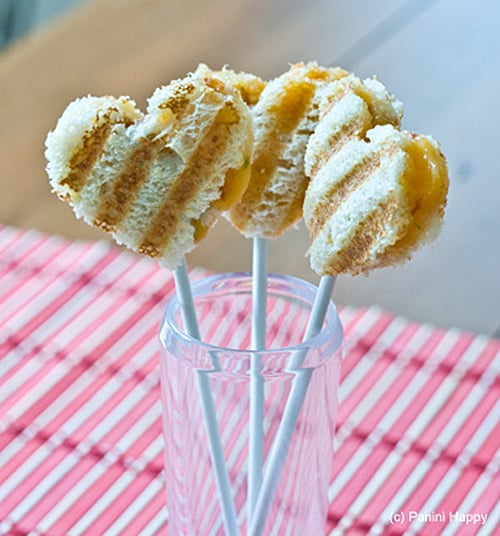 Heart-shaped grilled cheese panini pops are perfect for a wedding [16] kids' table.
Source: Panini Happy [17]
PB&J Sushi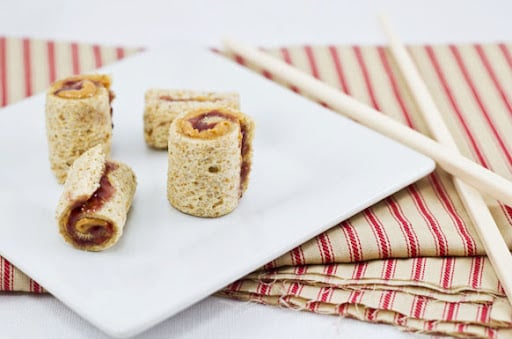 Cait Jensen of A Bicycle Built For 2 created easy, but adorable peanut butter and jelly sushi [18].
Source: A Bicycle Built for 2 [19]
Old-Fashioned Popcorn Bar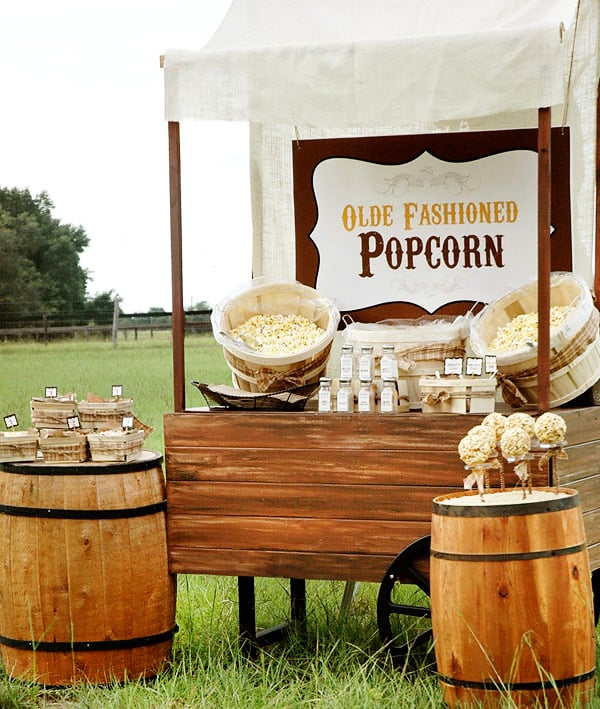 Seasonings, candy, peanuts, pretzels, and more make for an interactive popcorn experience.
Source: Hostess With the Mostess [20]
Fluffernutter Sundae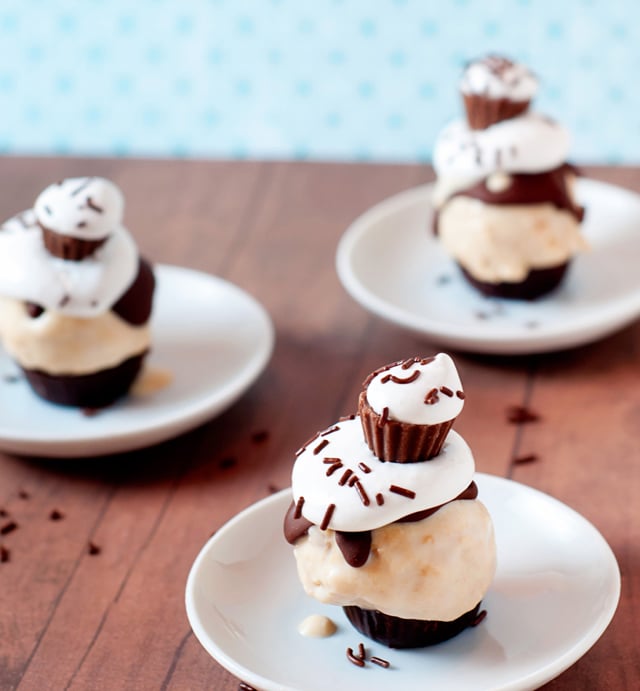 This Fluffernutter sundae [21] "starts out with a sweet marshmallow-filled chocolate candy, then I top it with a tiny scoop of creamy peanut butter ice cream, hot fudge, and marshmallow cream with a mini Reese's cup on top. In a word: yum," says Darla of Bakingdom.
Source: Bakingdom [22]
French Fry Bar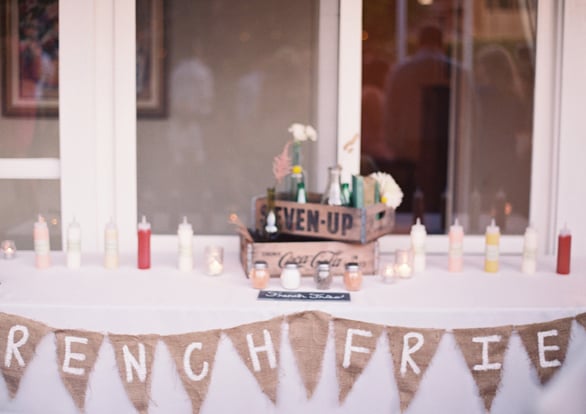 French fries get the high-class treatment with a sauce-filled bar.
Source: Jill Thomas Photography [23]
Takeout — to Stay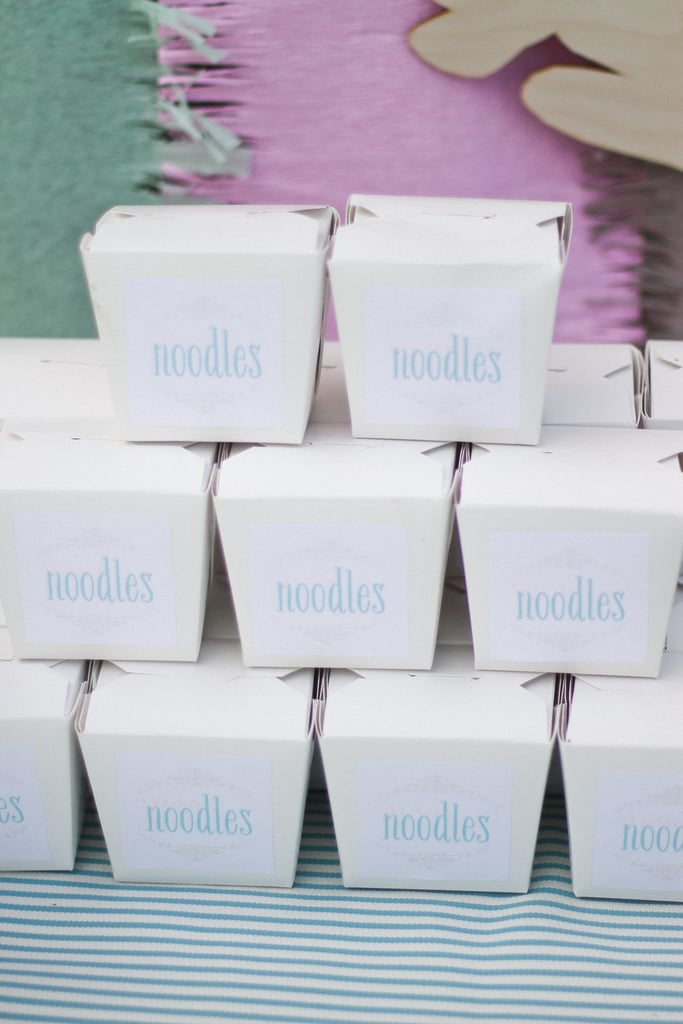 Snacking out of a Chinese food container?! What kid wouldn't love that?
Source: Wiley Valentine [24]
A Lightened-Up Potato Bar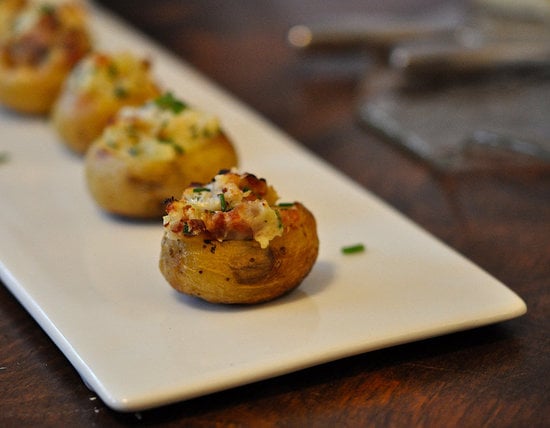 Mini potato skins [25] are perfect savory nibbles for little hands.
Source: Lauren Hendrickson
Pop!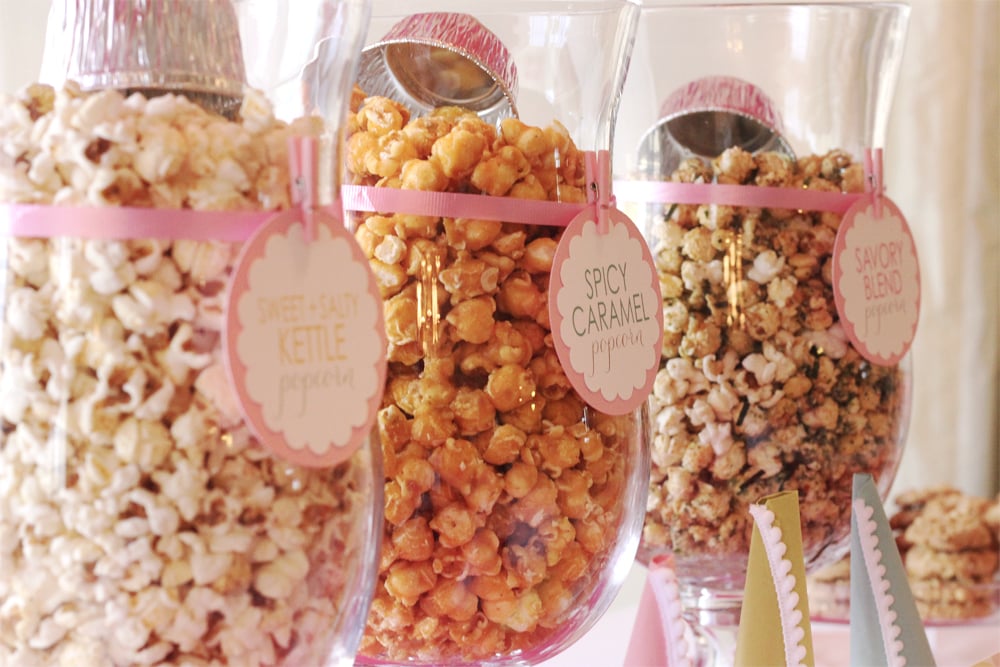 A popcorn bar [26] makes for fun grab-and-go party food.
Source: Le Partie Sugar [27]
Make Fruit Fun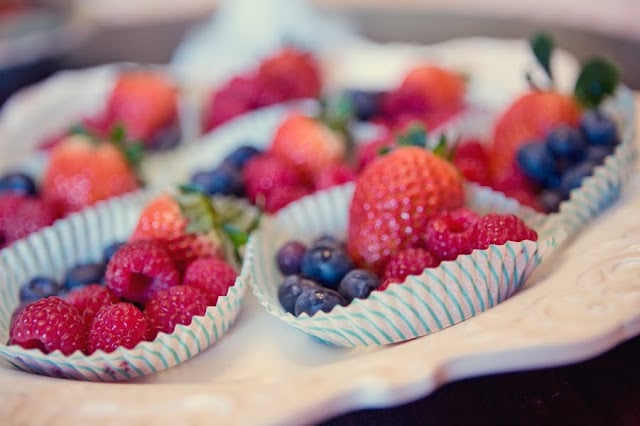 Muffin- or cupcake-tin liners can accommodate more than just sweet treats. Fill them with fruit for a healthy, kid-friendly snack [28].
Source: Sara Westbrook Photography [29]
Everything's Better on a Stick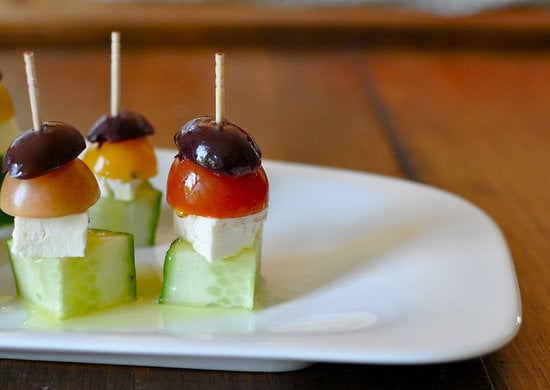 Put your toothpicks to the test [30] and see how many apps, salads, and sweets you can turn into finger food!
Source: Lauren Hendrickson
Filling, Fun Flatbreads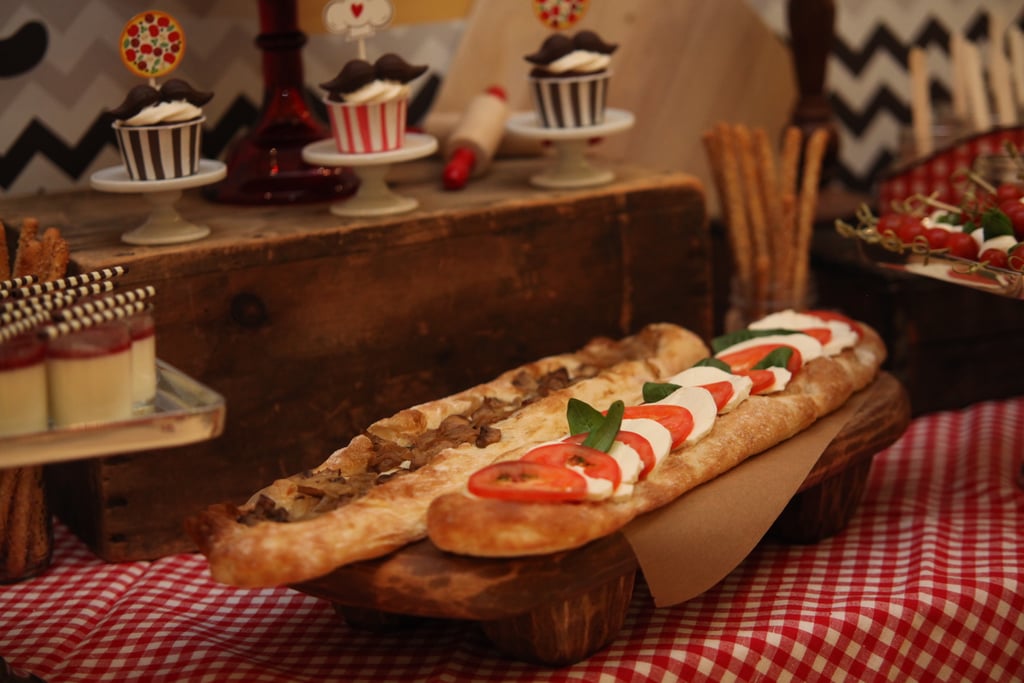 A sophisticated take on pizza, flatbreads are sure to be a hit with the kiddie crowd and can easily be customized to complement the adult offerings.
Source: Keren Precel Events [31]