What Goes in a Diaper Bag
Your Diaper Bag Must Haves
Like us on Facebook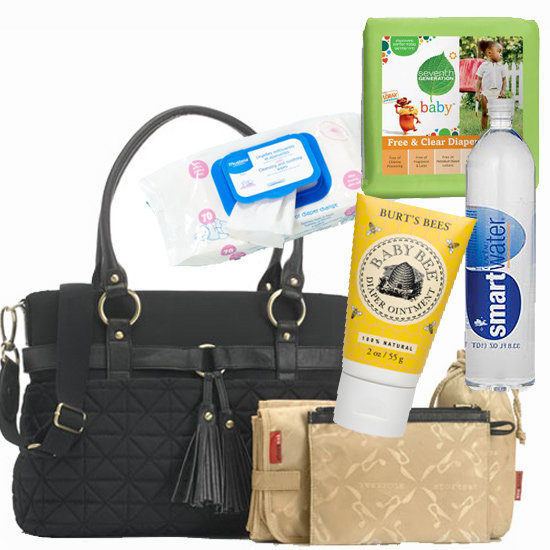 You've got the baby, the stroller, now you need the goods for your diaper bag. What to stash may seem like a daunting task, so we've streamlined the process for you. The below necessities are all you really need, and it's a good idea not to overstuff your bag to the point of it becoming a backbreaker (remember, you've also got a little person to tote around). As for the extras, pick and choose what's important for you.

The Necessities
Diapers: Follow the rule of always bringing a few more than you think you'll need.
Wipes: Stock up on travel-sized packages so that you'll always have some ready to go.
Diaper Cream: Save any sample-size tubes that you get from the pediatrician or baby store, and keep them in your bag.
Changing Pad: Most diaper bags come with them, so only purchase an extra if it's necessary.
Change of Clothes: You never know when a diaper's going to explode or spit-up's going to become a mess.
Sealable Plastic Bags: These become trash bags in a pinch.
Bottle, Formula, or Snacks: Pack accordingly, depending on the length (or potential length) of your outing.
The Extras
Bottled Water: For you to drink, to use with powdered formula, or to rinse off any other surprises that may come your way.
First Aid Kit: It can never hurt to be prepared . . .
Toys and Other Distractions: You know your baby best! If there's a go-to stuffed animal or "lovey" that he or she can't live without, bump this up to the "necessities" category.
Sling or Wrap: If your baby prefers to be carried, this may save tears when you arrive at your destination.
Blanket: To serve as a shade, nursing cover, changing pad, or burp cloth in a pinch.
Hand Sanitizer: If you're looking to streamline, wipes can do double-duty here. Otherwise, a little bottle doesn't take up much room.
Diaper Bag Pictured Above: StorkSak Isabella Nylon in Black ($235)