The American Pet Population Is Getting Smaller
We're happy to present this interesting story from our partner site Yahoo! Shine:
The American Veterinary Medical Association has found that Americans own fewer cats and dogs than they did in 2006 – 2 million fewer dogs, and 7.6 million fewer cats, to be exact. It's not a huge decline in pet-owning households percentage-wise – 2.4 percent – but it's the first such decrease since 1991.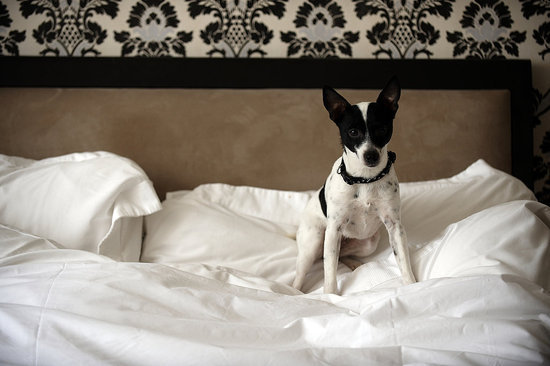 Karen Felsted of Felsted Veterinary Consultants in Richardson, TX presented the numbers at the AVMA's annual meeting in San Diego, and said the dip in pet ownership is "clearly" thanks to the bad economy, and called the dwindling "significant." Ownership of pets of all species had shown steady growth since 1986, when the AVMA began conducting the survey (it's performed every five years and surveys fifty thousand households). Between 2006 and 2011, though, the trend reversed itself. The AVMA's CEO, Ron DeHaven, theorized that people are less likely in the last few years to replace older pets who have died – because they may not be able to afford a new one. Keep reading for the rest of this story.

Related: British Olympian's Dog Watches Her Compete

Another reason given for the decrease: fewer Americans are living in families, and families are more likely to keep pets. Stephen Zawistowski, science adviser to the New York ASPCA, told USA Today that pet ownership is more common in families with two parents and children; those families are more likely than singles, child-free couples, and older people to keep pets.

Other interesting numbers:

In 2011, 56 percent of U.S. households owned a pet – that's the number that's down 2.4 percent from '06. Among the pet households, 62.2 percent were multiple-pet households.

Dogs are the more popular pet – in 36.5 percent of households, to the cats' 30.4 percent — but cats are more numerous (74.1 million to dogs' 70 million), indicating that they're more likely to live in those multiple-pet households. Cat ownership showed the larger decrease, however; the percentage of households owning a dog shrank 1.9 percent, but the drop in cat households was 6.2 percent.

Other pets had even more marked declines in ownership, with bird-owning households down a whopping 20.5 percent. Perhaps more understandably given their size and the expenses involved, the pet horse population dropped even more significantly – 32.9 percent — and only 1.5 percent of the population had horses they considered pets.

Ownership of "exotic or specialty pets," including fish, ferrets, hamsters and other rodents, snakes, reptiles, and livestock (hens, for instance) kept as pets, accounted for 10.6 percent of households, and dropped a more modest 16.5 percent.

These numbers and more are in the 2012 U.S. Pet Ownership and Demographics Sourcebook, due out this fall.

Are you surprised by the decline in pet ownership? Do you have fewer pets than you did five years ago? Crunch the numbers with us in the comments.

— Sara D. Bunting
Copyright © 2012 Yahoo Inc.

Elsewhere on Shine Pets:
Ditch the Stress and Move Safely With Pets
House Cats Are Deadlier Than We Thought
Dog Theft on the Rise