Some of us wear our hearts on our sleeves, some of us wear them around our necks, and some of us keep them covered up. In honor of Feb. 14 and all things sweet and filled with love, we've collected snapshots of adorable creatures who wear their hearts proudly on their coats. Treat yourself to a guilt free Valentine's Day delight!
Norman's Third Eye Is a Second Heart
This rescued cow named Norman has a home at the Northern California Farm Sanctuary [1]. He also has a heart between his ears.
Source: Farm Sanctuary [2]
What a Lovely Chihuahua Coat!
Have you met Heart-kun [3]? He scampered his way to fame in 2007 and has been ogled by more than a 200K fans on YouTube [4].
Look Up, Love!
Love is in the air, right?
Source: Instagram user lizzykoury [5]
Who Doesn't Love Coffee?
This one's dedicated to my valentine, favorite human, and favorite coffee buddy on the planet.
Source: Instagram user damnitshannon [6]
She's Got Her Heart on the Shelf . . .
. . . and her head in the clouds.
Source: Instagram user daniii_ellle [7]
I Heart You Back!
Need I say more?
Source: Instagram user makeithappenbabee [8]
Smug Love
Real talk: when you're as adorable as this kitty cat, you can be a little smug and no one cares.
Source: Instagram user gennahdavila [9]
Fluffy Love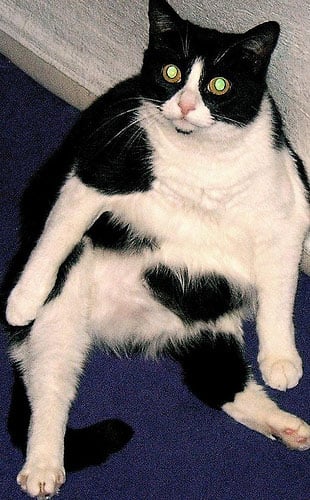 Fluffington's not shy about showing off a heart shape on his belly. Why should he be?
Source: Flickr user fluffscupcakes [10]
I See You, Love!
With all those spots, you'd expect a Dalmatian to have a heart-shaped one every so often. This pup's little heart over his eye pops right out!
Wear Your Heart Like a Halo
This Friesian calf named "Ha-chan" was born in Japan and made news all over the world for his heart-shaped head marking.
Don't Miss the Hidden Heart
This Bengal cat has a magnificent heart nearly hidden on its coat.
Source: Instagram user juliacrotty [11]
Cupid Knew What He Was Doing
Also a resident at Farm Sanctuary, this cow is fittingly named Cupid.
Source: Farm Sanctuary [12]
One-Heart Blood Parrot Fish
This One-Heart Blood Parrot Fish (also known as cichlasoma var) was displayed at Taipei Sea World in 2004. His whole body's shaped like a heart — and bright red to boot.
Open Your Heart!
Enzo's was up for adoption from the Animal Friends Rescue Project [13]. Who wouldn't find room in their home and heart for the cat with a heart on his chest?
Source: Animal Friend Rescue [14]
White-Spotted Sawyer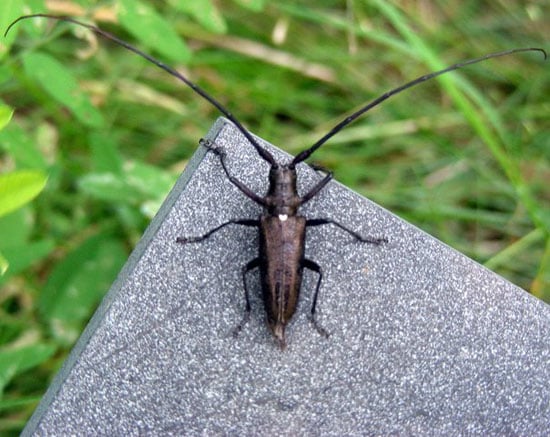 Put on your spectacles: This bug has a perfect little white heart shaped on his back!
Source: Hasty Brook [15]
You Could Hold This Heart in Your Hand
How cute is little Carlie?
Source: Instagram user 47carissazz [16]
Tiny Kitty Spots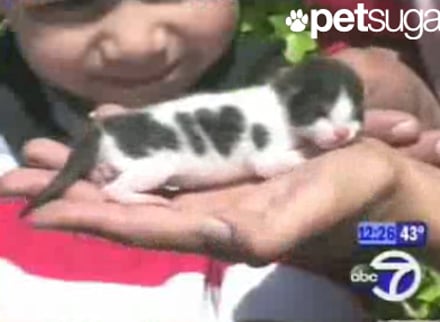 This mini kitten was born after Valentine's Day in 2008 [17] in Sacramento, CA.
Be My Valentino?
Turns out these hearts are fairly common for Holstein and Jersey breeds of cattle. This steer's named Valentino and is another lucky cow saved from abuse and neglect . . . and finding a forever home at Farm Sanctuary.
Source: Farm Sanctuary [18]
Ready For a Heart-y Run!
Some romantics are made, and some are born.
Source: Instagram user cooke_emilyanne [19]
I'm a Shy Lover!
Source: Instagram user sheyris_castro [20]
You Know You Love Me, XOXO Gossip Cat
Source: Instagram user daniii_elle [21]