We're just days away from Christmas, and time is running out to get giving! As usual, we've got you covered with our collection of 2013 gift guides, including incredible ideas on what to pick up for your mom, your beauty-obsessed pal, and the gym-lover in your life.
We'll help you cross off the names on your gift list from now through next week with our best picks in tech, fashion, fitness, and more. Also, see all of our holiday planning, tips, tricks, and inspiration [1] as we enjoy the most festive time of the year!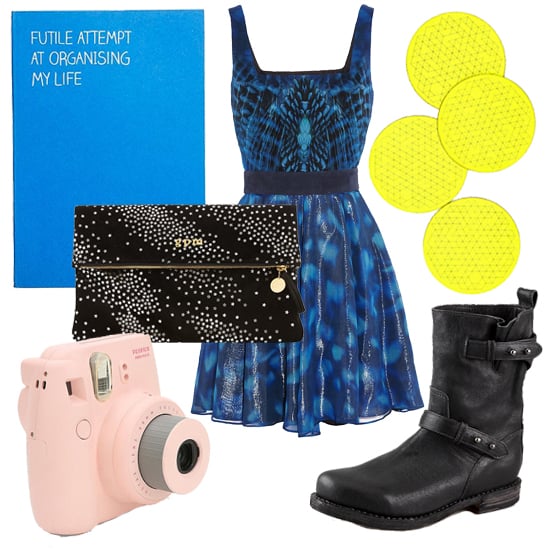 The Celebrity & News editors have rounded up some of their favorite items [2] to help you pick the perfect present for that special friend, family member, or co-worker. We've got 100 great ideas to make the giving even easier this year.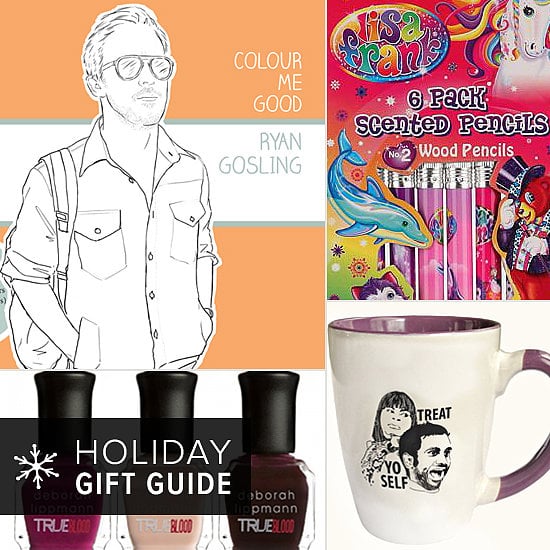 POPSUGAR Entertainment has picked out trinkets [3] for one of the most fun parts of Christmas morning: stockings! These particular stocking stuffers are pop culture-inspired, so the TV and movie buffs in the house will love digging into these cute, inexpensive gifts this season.
The Best Holiday Gifts Under $100!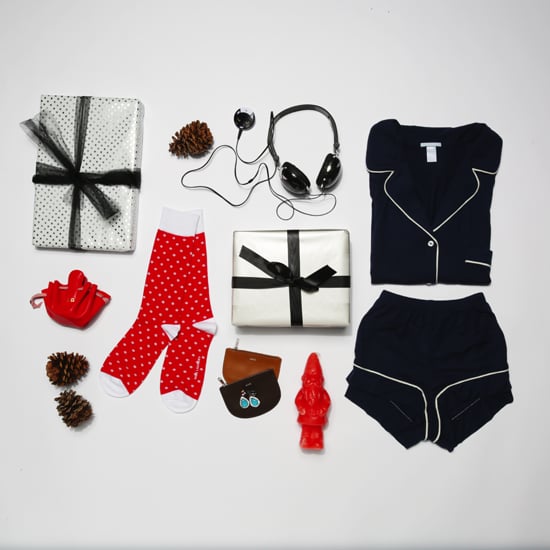 Find something for everyone on your list this season, under $100! In this gift guide, we're showcasing POPSUGAR TV's top picks this holiday season. The best part? You might even have a little left to get something for yourself too.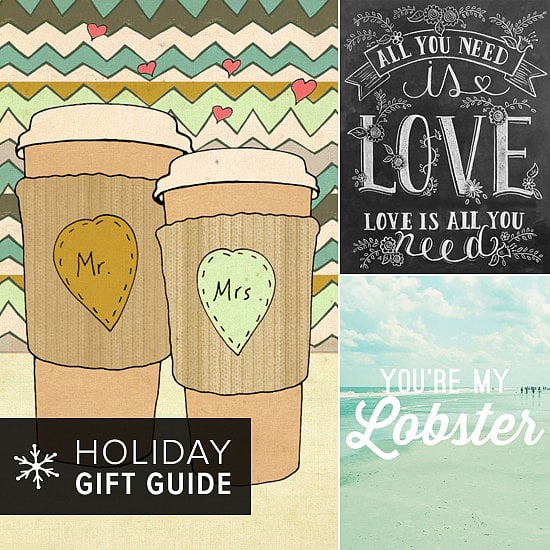 The Winter months are both proposal and cuffing season (don't ask), sure, but we also tend to feel the love around the holidays for our friends and family. To celebrate these warm feelings of goodwill, POPSUGAR Love scoured Etsy for the sweetest love-filled prints [4] and posters to give your significant other, a newlywed couple, or for a friend's housewarming.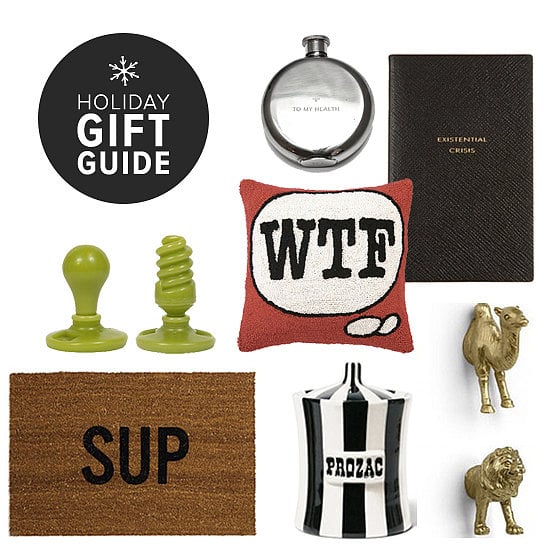 Ask a design lover to bring a white elephant gift, and you should expect the wacky but not the tacky. At this popular holiday party of sorts, guests draw numbers to determine a random exchange of tchotchke gifts. Since POPSUGAR Home knows you're a high-style lover with a sense of humor, these tongue-in-cheek gifts [5] should be right up your alley. Let the games begin!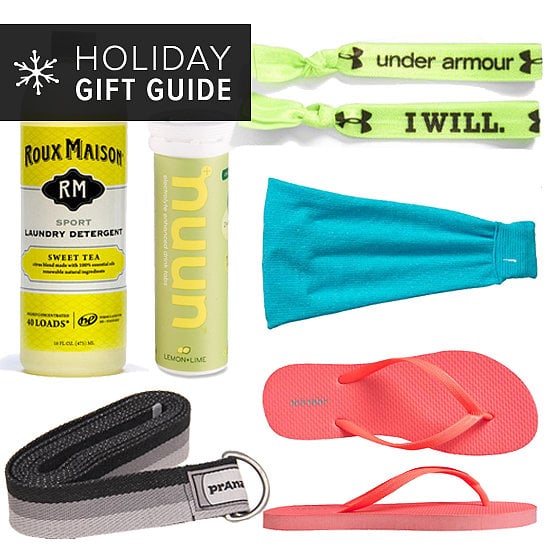 If you've got a fitness fan in your life, chances are she's got a long list of dream gifts to help keep her in shape — a treadmill for the basement, her own yoga studio, or a personal trainer for life. But even you can't spring for her wish-list items, there are plenty of practical gifts [6] that can keep her on a healthy road. Here are 10 practical stocking stuffers for the fitness fan in your life!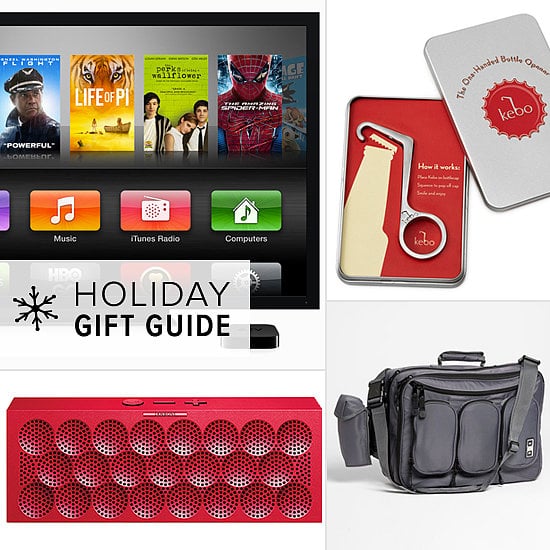 Moms tend to have most of the fun when it comes to baby gifts, so get dad in on the action [7] this season with a dad-friendly gift designed to please. From one-handed bottle openers (that's a beer bottle, FYI) to daddy-and-me tees, from the latest tech toys to a manly diaper bag, these gifts will make his new-dad life easier, more stylish, and more fun!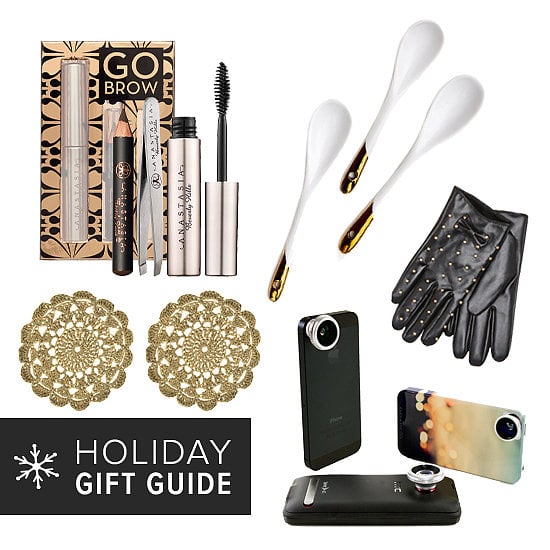 Chances are, your list of friends includes all types of women with individual interests and at various stages in their lives. So the gifts you get them should reflect that, at least to some extent. To help you with the task, POPSUGAR Smart Living rounded up gifts for women [8] that align with our own POPSUGAR sites — from the celebrity obsessed to the pet-lovers and everyone in between. The best part? They all cost less than $20!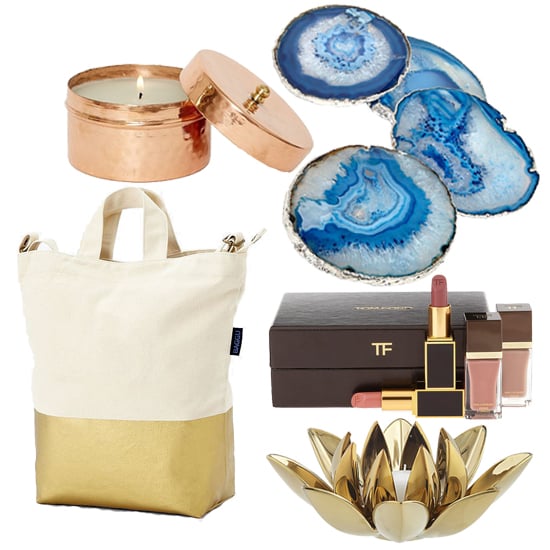 POPSUGAR Celebrity has already given you the ultimate holiday gift guide for 2013, and now it's time to break it down even more with 100 picks under $200. From fitness and fashion to beauty and books, check off the special people on your list with these affordable ideas [9].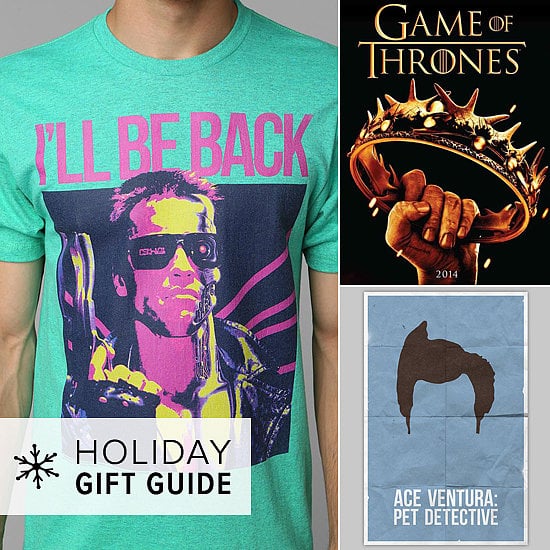 If you're stuck on what to give the guy in your life, then POPSUGAR Entertainment has the answer — if he's a pop culture addict, that is! Scroll through for tons of fun ideas [10] for your boyfriend, husband, or guy BFF. You're sure to find the perfect present, whether he's devoted to Game of Thrones, Arrested Development, The Big Lebowski, or something else entirely.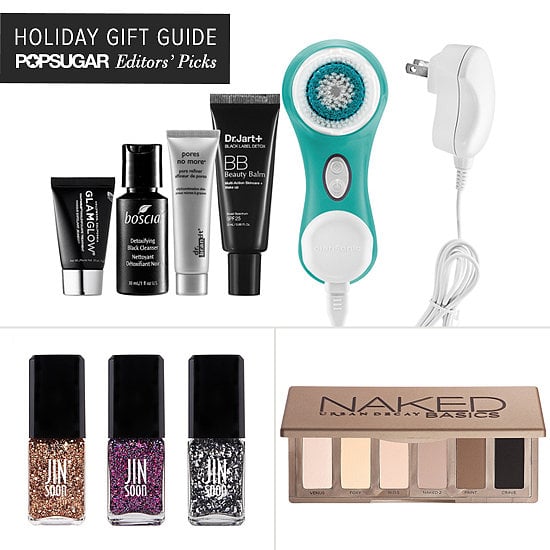 Right now, beauty counters are overflowing with amazing palettes and gift sets, so POPSUGAR Beauty is helping you cut through the chaos with their handpicked favorites [11]. Just keep clicking to see what they're giving (and hoping to receive!) this year.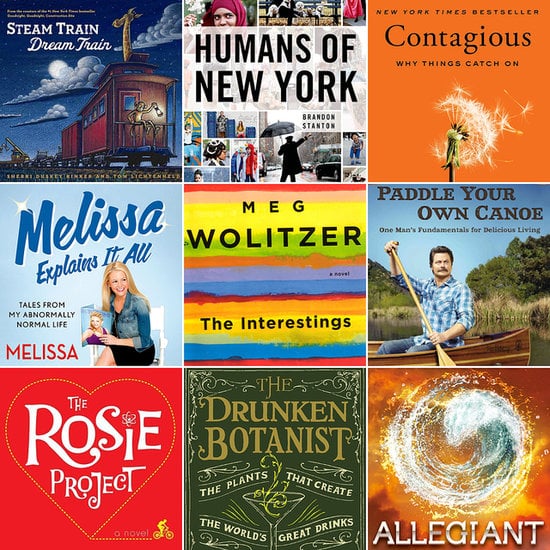 Pulling from the most popular 2013 titles across several genres, POPSUGAR Entertainment created the ultimate book gift guide [12] for every personality. It's a one-stop book shop for all the people you need to buy for this year, including everyone from your NPR-loving co-worker to your artsy niece.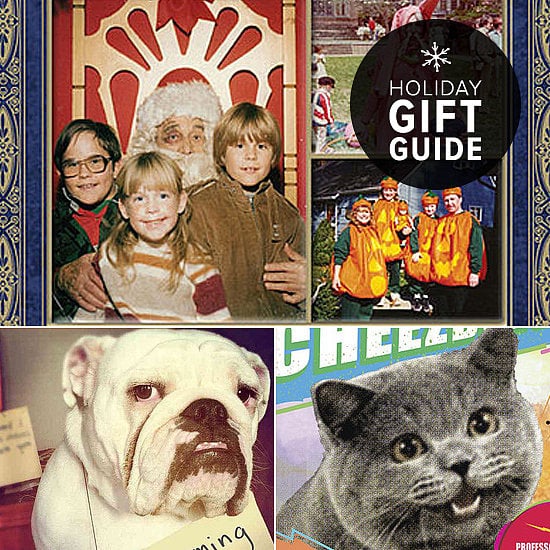 Encourage your webaholic pal to rest those tirelessly typing and swiping digits while savoring printed versions [13] of the Internet's most popular memes. You may need to explain the mechanics of page-turning, but once they master that archaic skill, giggles and sighs of nostalgia are certain to follow.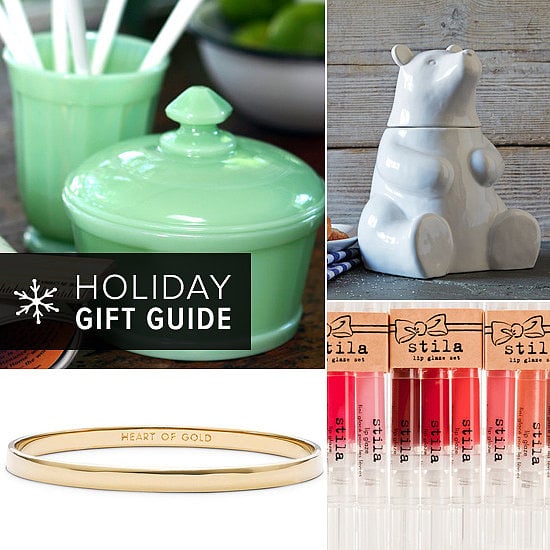 This holiday season, show your favorite babysitter or nanny how grateful you are with a present she's sure to love. Whether she's into art, music, crafts, beauty, food, or design, POPSUGAR Moms has curated a collection of great gift ideas [14] to suit her interests — and every item costs less than $50!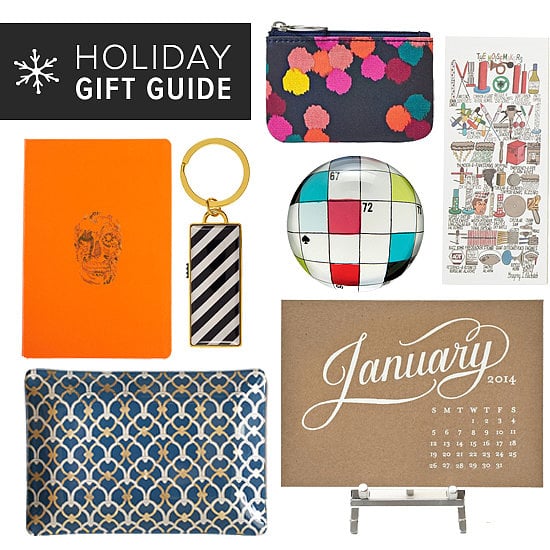 We all have a friend in our lives who's the hardest working girl we know, and she definitely deserves something special for all the hours she puts in. To help make her 9-to-5 life easier, POPSUGAR Smart Living gathered stylish but practical gifts [15] that will spruce up any office space.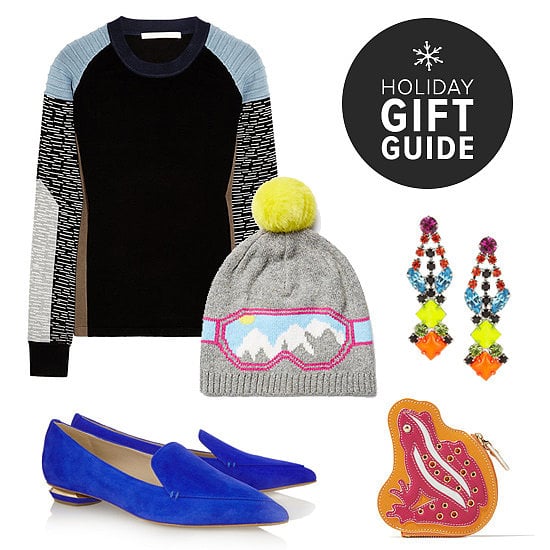 After uncovering everything from budget-friendly box clutches under $25 to the accessories of our ultimate fantasies, POPSUGAR Fashion is sharing their holiday favorites [16] at every price — along with a few gift-giving memories of our own.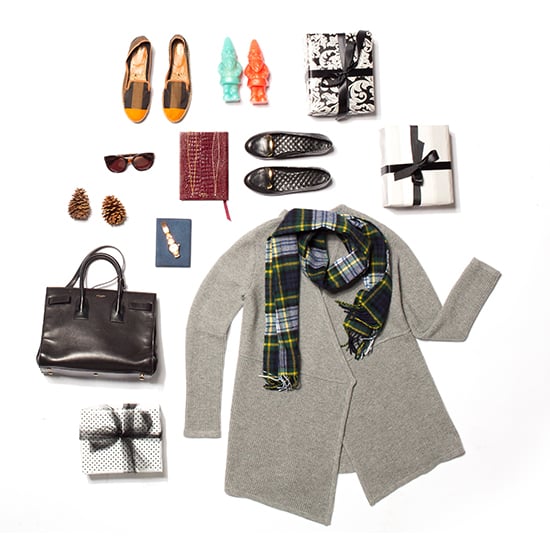 Yes, it's already that time of year! The POPSUGAR TV team is kicking off their holiday video gift guides with some ultrastylish gifts for mom. From classic loafers and sweaters to pretty accessories, make your holiday shopping a breeze this season!
American Horror Story is a giant hit, and if you know a fan, POPSUGAR Entertainment knows how you can make a giant hit over the holidays, too. There are plenty of creative ideas out there [17] for gifts to give the AHS fan, whether they loved Asylum or are just starting to get into Coven.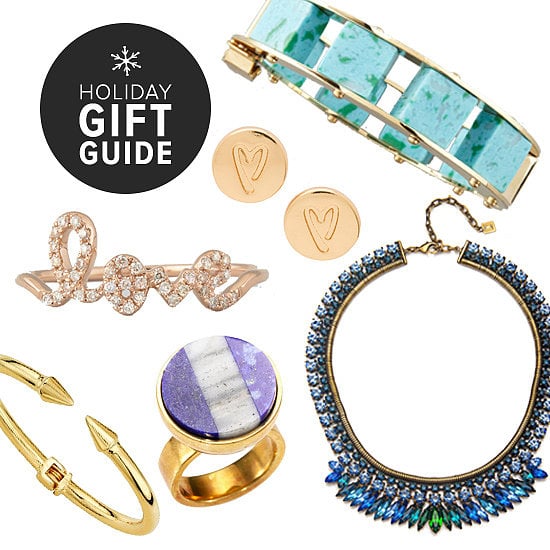 As one of the most popular gifts to give and get, jewelry has a special spot in the heart of holiday shoppers. Whether you're out searching for someone or crafting your own wish list, POPSUGAR Fashion is helping you weed through the field by selecting our favorite bits and baubles [18]. Click through to find the prettiest necklaces, earrings, rings, and more, all broken down by budget.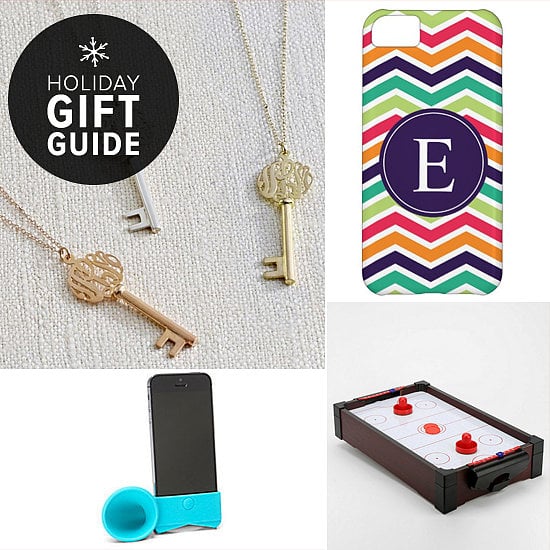 When it's time to give teens gifts, it's easy to write a check and call it a day. While they'll love the money, opening a card is not nearly as exciting as unwrapping a gift. From iPhone accessories to must-have fashion pieces, POPSUGAR Moms has presents that will please even the pickiest teens [19].
What do the funniest women on Twitter [20] have on their holiday wish list? Head to POPSUGAR Love & Sex to find out what they're asking Santa for this year, and you may even find some ideas for other funny ladies in your life!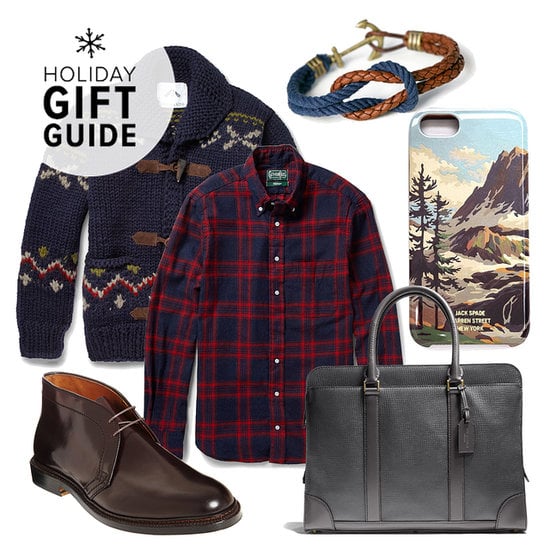 Whether it's for your father, your brother, or your boyfriend, selecting the perfect holiday gift for the guys in your life [21] is never an easy task. That's why POPSUGAR Fashion has handpicked the items guaranteed to make even the most sartorially discerning gent beam with happiness this holiday season.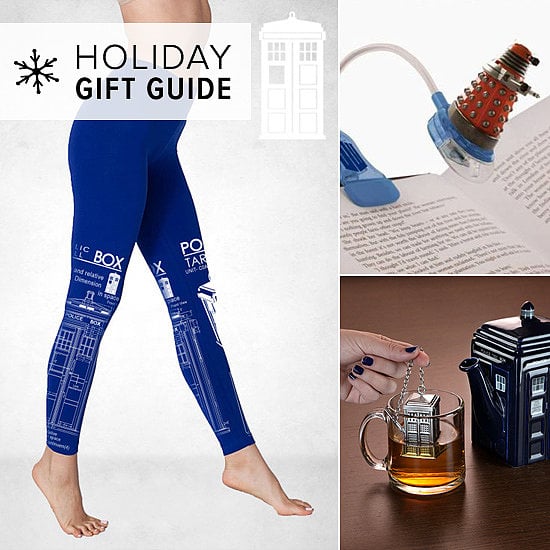 The official trailer, stills, and a prequel for the new Doctor Who 50th anniversary special have been revealed, and in case those teasers weren't enough to get you excited for "The Day of the Doctor," POPSUGAR Tech has scoured the far reaches of the universe for themed gifts worthy of the Whovian [22] in your life.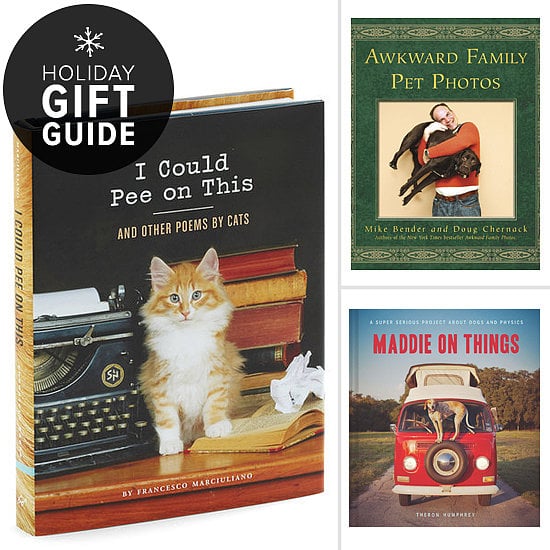 Check everyone off your gift list this holiday season with a book that showcases the cuteness of animals [23]. From silly to serious, all of these POPSUGAR Pets picks have one thing in common — total adorableness.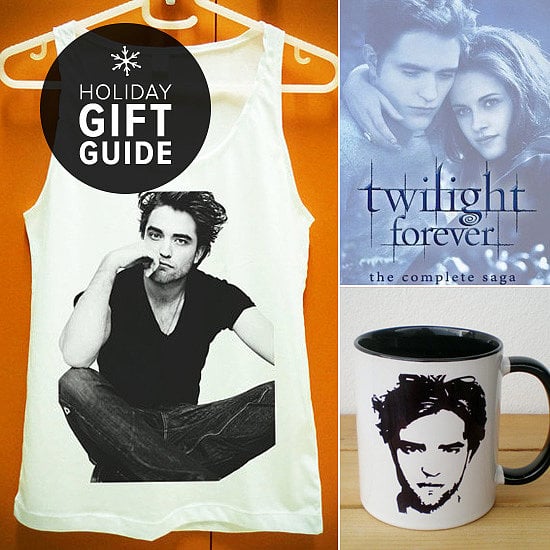 The Twilight craze may be just about over, but love for Edward Cullen — or more specifically, Robert Pattinson [24] — never fades. If you've got a Pattinson superfan on your shopping list [25] this year, then rest assured POPSUGAR Entertainment has got you covered with a ton of merchandise that will keep Team Edward support alive all year long.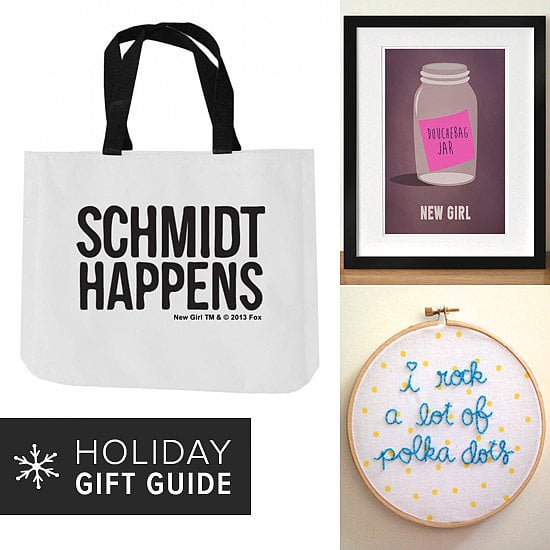 A "Schmidt Happens" tote bag, Jessica Day-inspired embroidery, and a full-season DVD — indulge the New Girl fan [26] on your holiday shopping list with these creative gift ideas.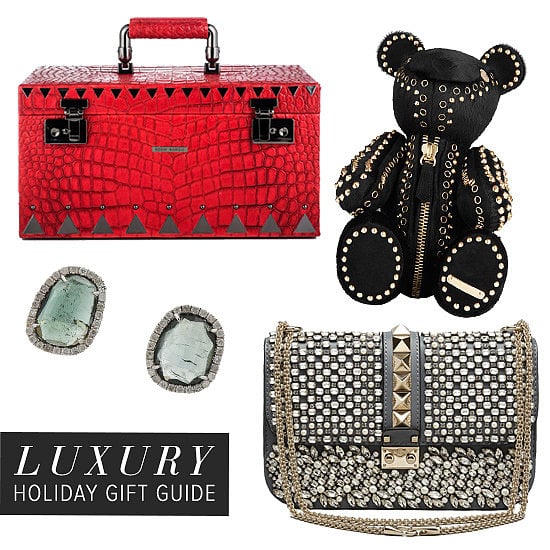 If you're looking for a big-ticket item this holiday (or simply want some retail daydream fodder), look no further than POPSUGAR Fashion's luxe shopping guide [27]. From croc-embossed jewelry boxes to designer stuffed animals, there's something for everyone on your list. A caveat? For gifts this special, someone should have been very, very good.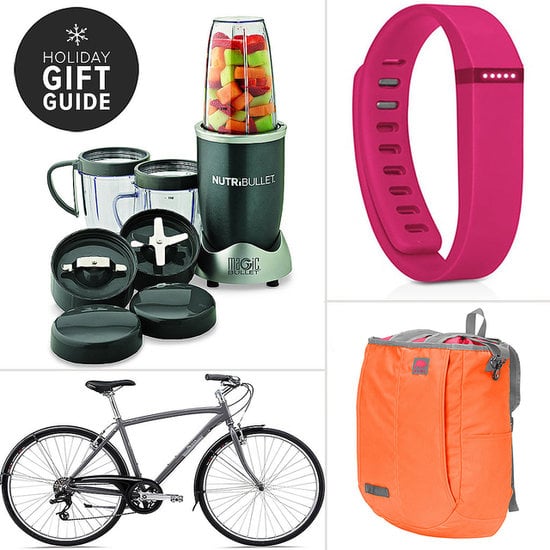 If you're trying to get a friend or relative to hop on board the healthy train, you want to be sure not to overstep your boundary and give a gift that could potentially offend. POPSUGAR Fitness has found some picks that are sure to inspire a healthy lifestyle [28] without offending the receiver.
POPSUGAR Love & Sex has given you a head start on your holiday shopping by scouring the web for small, affordable gifts [29] that your girlfriends are sure to cherish. So check out these funny, fancy, and unique gifts — all $20 and under — now!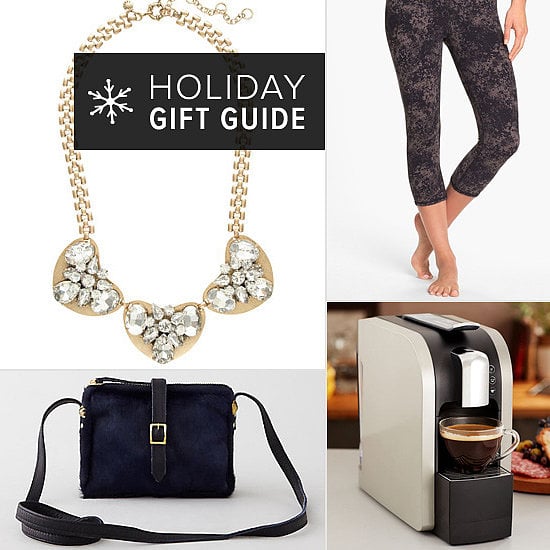 From beauty and caffeine fixes to easy, kidproof wardrobe updates, these presents are perfect for stylish been-there-done-that mamas [30]. Check them out now on POPSUGAR Moms!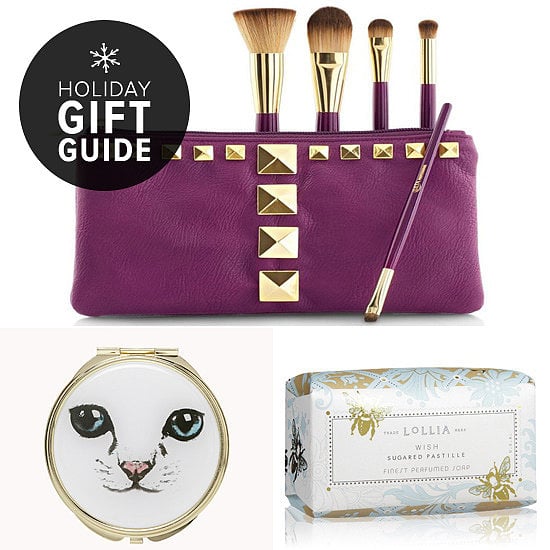 Coming up with something for a gift exchange can be stressful. You don't want to spend too lavishly, but you also definitely don't want to give a lame present. That's why POPSUGAR Beauty's 10 finds are all great options. They look more extravagant than they are [31], they're just the right size to go under a tree, in a locker, or atop a desk, and they're all between $4 and $31.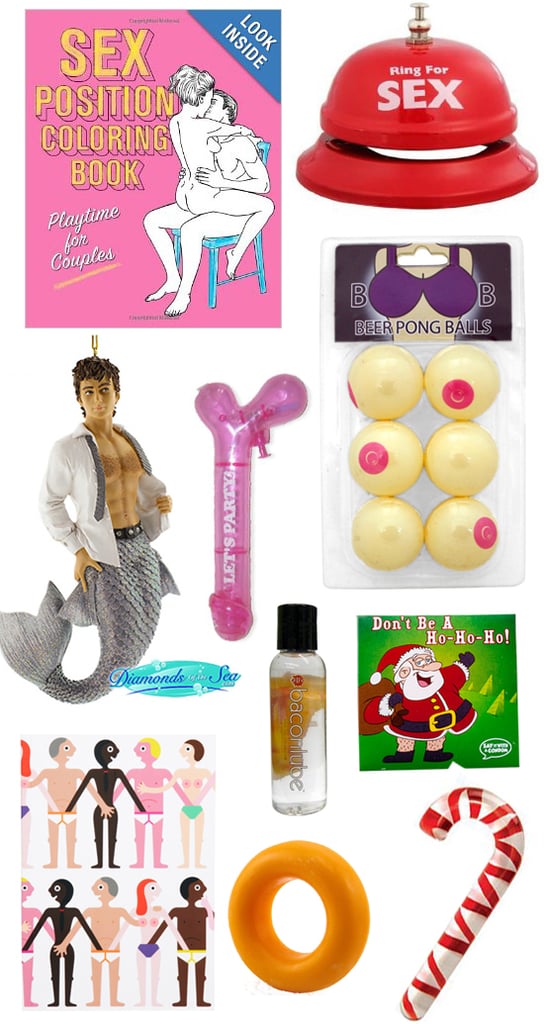 If you're gathering with your closest girlfriends for a white elephant party, take it as an opportunity to bring out the laughs with x-rated gifts [32]that'll make 'em feel like they just stepped into a bachelorette party. From the cheesy to the creepy and everything in between, POPSUGAR Love & Sex has finds that promise a good time!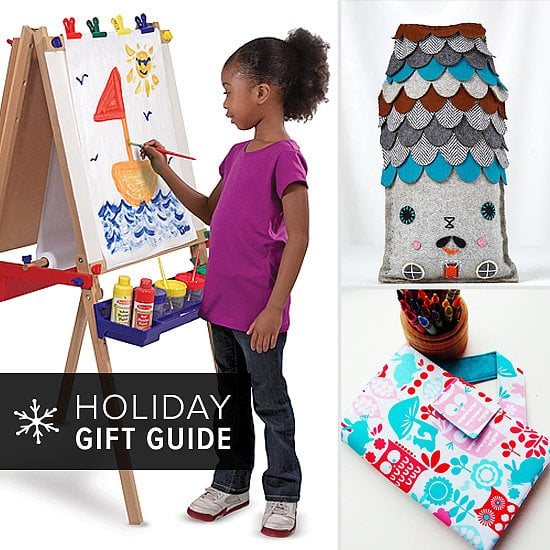 Your little one's works of art cover the fridge — and not because you feel obligated. Turns out he has some serious skills, so much so that you know a pack of crayons and a new coloring book won't make him happy. Get him MOMA-ready with POPSUGAR Moms's roundup of artsy gifts [33] that will harness his creative talent — not to mention help decorate your home!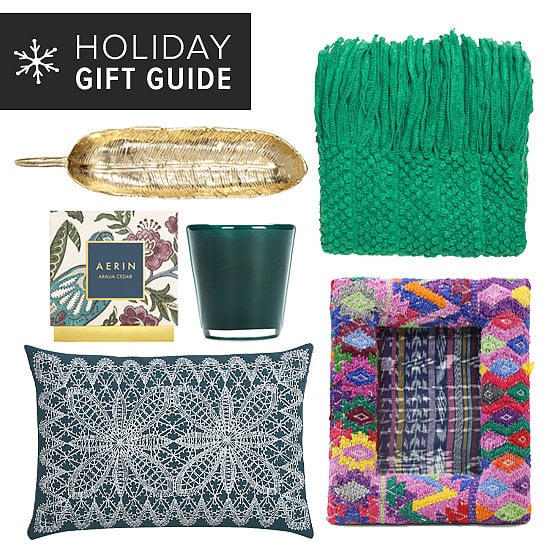 Without heading to a flea market or searching Etsy, POPSUGAR Home has earthy accents, whimsical prints, and patterned textures that are perfect gifts for your free-spirited friends [34].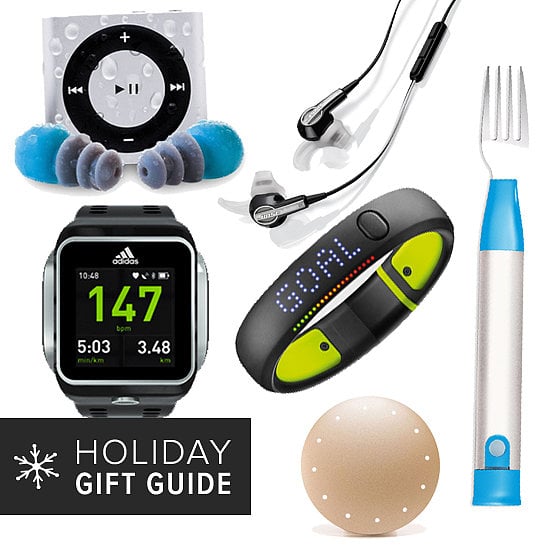 From scales to heart-rate monitors, POPSUGAR Fitness rounded up some of the best fitness gadgets [35] from this year; all perfect for gifting!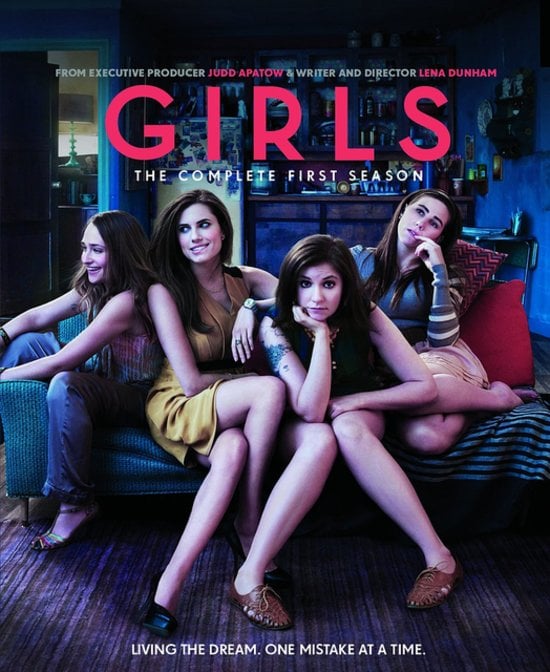 Do you have a friend who can't stop quoting Girls and is counting down the days until season three premieres? Then POPSUGAR Entertainment has some great Girls-related ideas [36] for what you should give them this holiday season.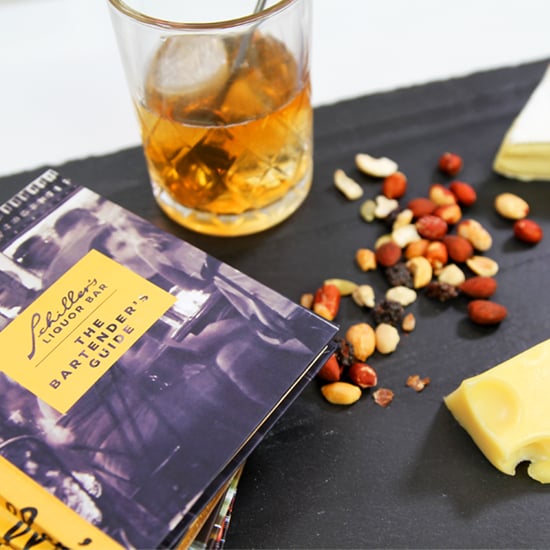 'Tis the season to stuff your face and fill your cup, so we're here to offer you the best gift picks for your food-loving friends and family. Keep watching to see the hottest host(ess) gifts of the season, then [break]get shopping.[/break] Featured in this video: Williams-Sonoma Yarai Cut Mixing Glass [37] ($60) and Spoon Stirrer [38] ($12) Schiller's Liquor Bar Cocktail Collection [39] ($20) Crate & Barrel Large Slate Board [40] ($30)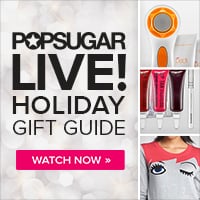 For the third year in a row, we're bringing our amazing holiday gift guides to life with our 2013 LIVE Holiday Gift Guide show. We have your secret to soft feet all Winter long, a must for any Breaking Bad fan, the cutest sweater trend of the season, and so much more. There's ideas for everyone on your list! Watch now as our POPSUGAR editors show off our favorite gifts for the season to help you with all your holiday shopping needs.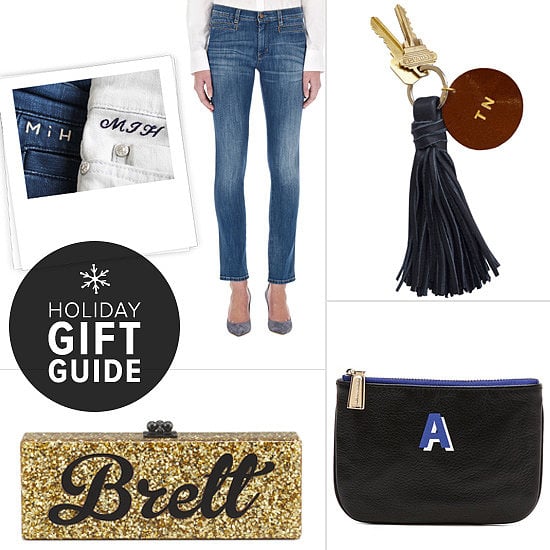 Whether you're shopping for a monogram lover [41] or someone who simply likes things that no one else has, the POPSUGAR Fashion editors personally took it upon themselves to make your holiday gifting easier.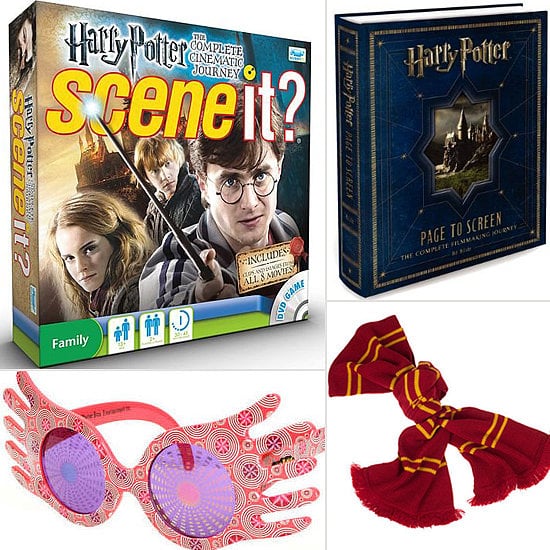 If you've got a Harry Potter-loving muggle in your life [42], then consider your holiday shopping done. With lots of options at every price point, you'll be sure to cast a spell with one of these goodies from POPSUGAR Entertainment.
Chances are you have a friend or five who's been loving every second of Justin Timberlake [43]'s big year, so why not wrap it up with a holiday gift she's sure to love? POPSUGAR Celebrity has plenty of presents to suit (and tie) the Justin superfan in your life [44].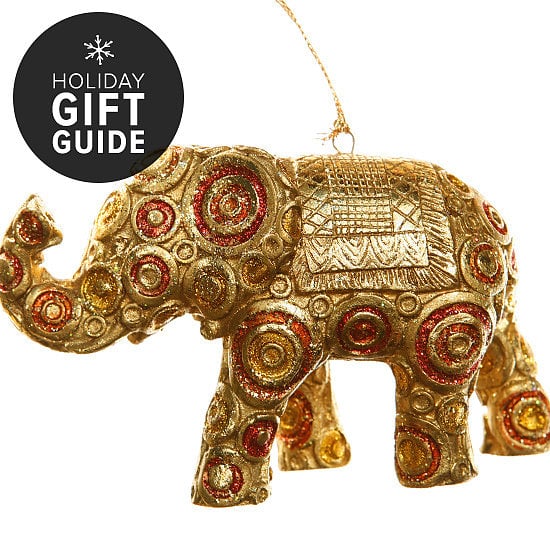 Do you have a white elephant party coming up? Or perhaps you merely have friends with goofy senses of humor. Either way, POPSUGAR Beauty has enough white elephant gag gifts [45] to last a lifetime!
Do you have a fashionable friend who always carefully plans out her gym outfits? Then look no further than this POPSUGAR Fitness gift guide. They've found a few cute, luxe items [46] made for sweating it out (or for throwing on afterward).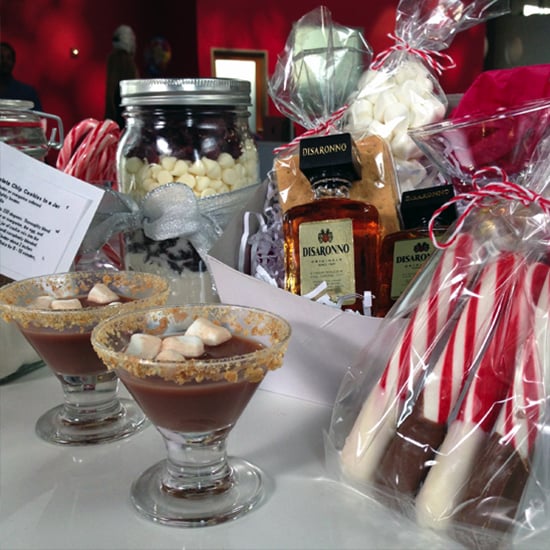 Not only are homemade gifts — particularly the edible kind [47] — a thoughtful way to show loved ones you care, but they're also often budget-friendly. The downside: many require a large time investment. But not these three fast and easy edible gift ideas! Watch the video to get inspired.
Everyone's always excited to see which products are going to get the ultimate seal of approval from Oprah Winfrey [48] in her annual list of favorite things — and while we'd surely love to have that luxury $2,900 watch, POPSUGAR Smart Living has picked out the Oprah-approved presents [49] that are under $50.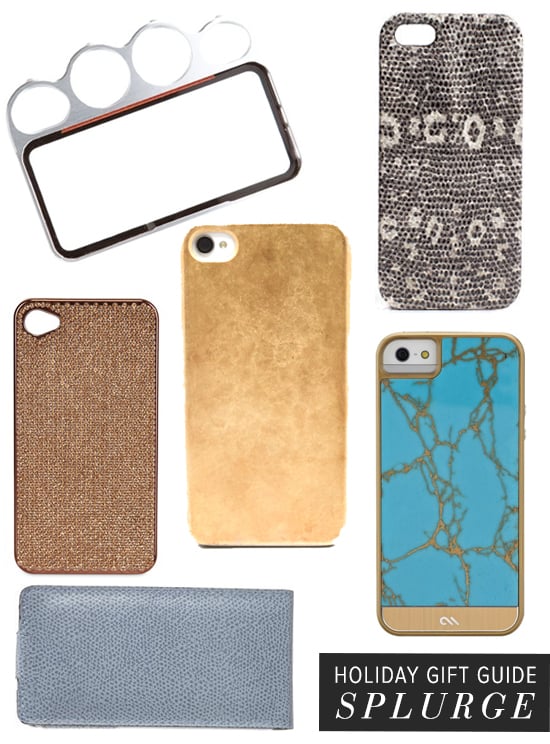 While you may not dish out the cash for yourself, stunning pricier-than-normal phone cases make the perfect gift for a loved one. POPSUGAR Tech has a crop of crazy-expensive iPhone cases [50] for you to splurge on now.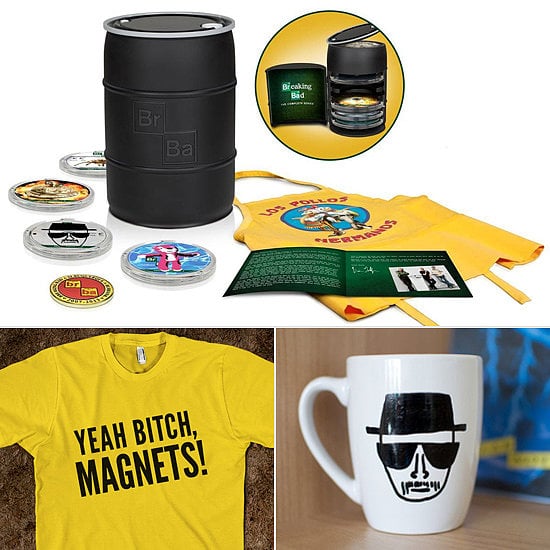 It doesn't matter that Breaking Bad is over, because we're still obsessed with the show and will continue to flaunt our love. If there's someone on your holiday shopping list who's also still obsessed — and bummed the show is over — then cheer her up with one of POPSUGAR Entertainment's cheeky Breaking Bad gifts [51].
Stumped about what to give the men in your life? Look no further than this POPSUGAR Smart Living gift guide that's chock-full of affordable and DIY gifts for men [52] of all ages.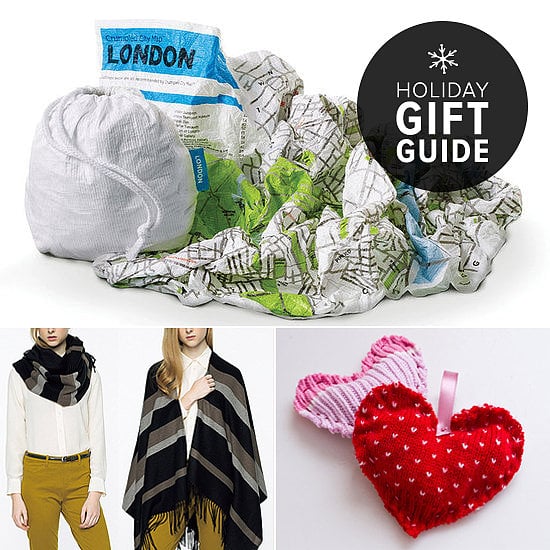 Every traveling expert needs an arsenal of products to make their journey smoother. If you're stuck on what to get your friend or family member who's been bitten by the travel bug, then head to POPSUGAR Smart Living for some savvy gift ideas [53]!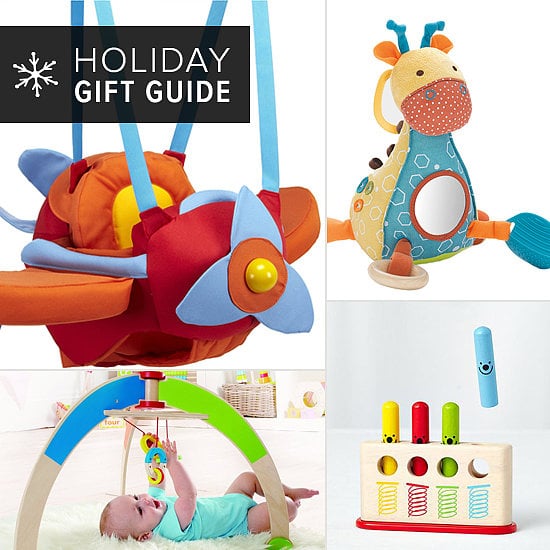 Baby's first holiday can't pass unnoticed. Though she may have more fun with the box than anything in it, there are still plenty of fun gift ideas to add to her toy chest [54] this time of year, and POPSUGAR Moms has them all for you to shop right now.
Classic, timeless presents are often the most practical — the ones that the recipient will love, wear, and use for years to come. From a beloved brand of ballet flats to the top trench in the game, POPSUGAR Fashion has the gifts any girl would want [55].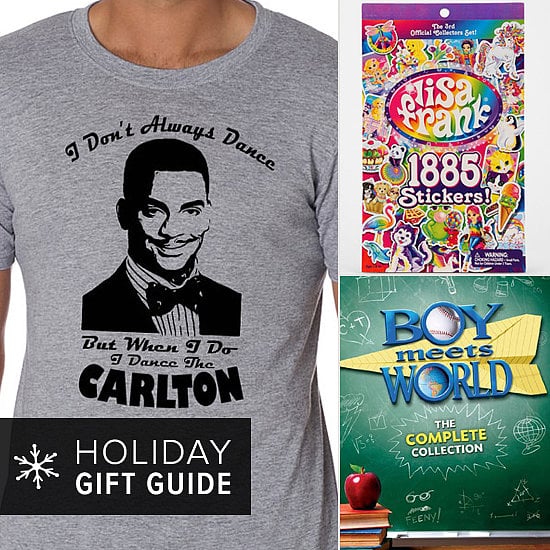 We all know '90s nostalgia is hot, hot, hot right now, and you can get in on the trend by giving one of POPSUGAR Entertainment's nostalgia-themed gifts [56] this holiday season.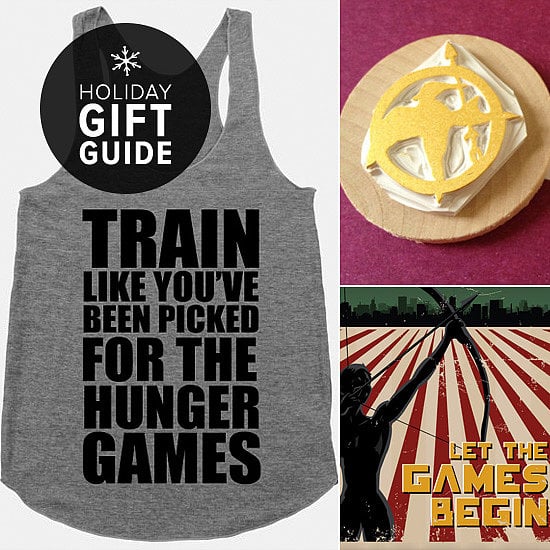 You probably know more than a few people who are fervent about the Hunger Games series. If so, POPSUGAR Entertainment has plenty of gifts for fans of the postapocalyptic tale [57], from essentials like DVD and book sets to cutesy apparel and accessories.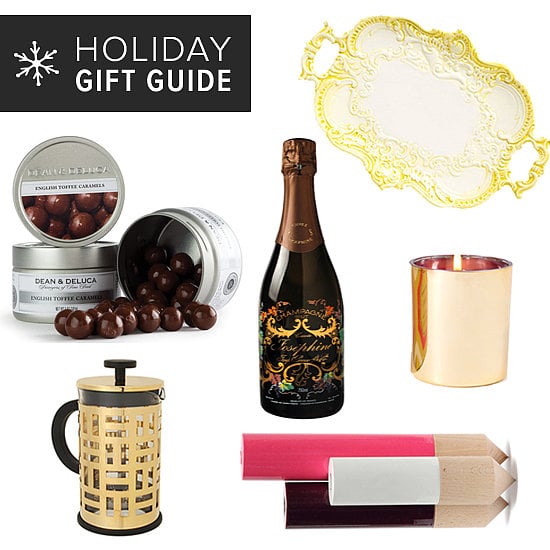 When you're meeting your significant other's family for the first time over the holidays, the pressure can be on to bring something memorable — in a good way. So if you find yourself in that boat, POPSUGAR Love & Sex has got some gift ideas to make a great first impression [58] and keep the meet-up stress-free.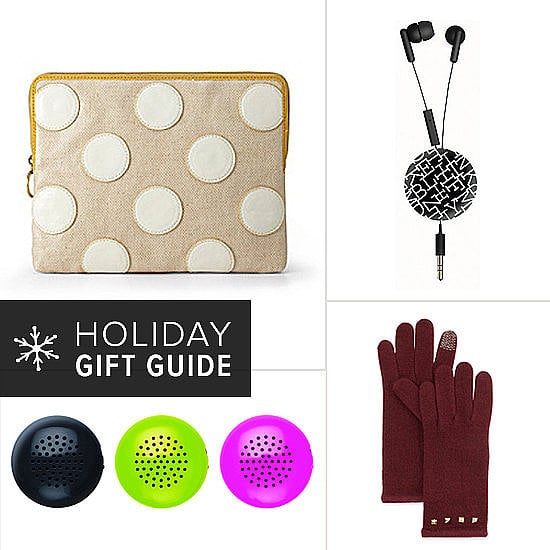 Check out the selection of POPSUGAR Tech gifts that your friends and family will love, all under $30. At that price, you can stuff their stockings [59] with more than one!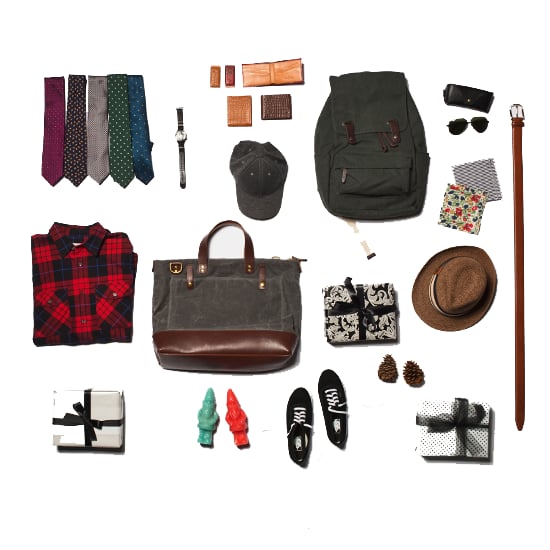 We've rounded up the best gifts for guys this holiday season to make your shopping a lot easier! Whether your guy is into hats, likes watches, or is a sucker for a good plaid, this video is chock-full of guy-approved gifts. Start shopping below!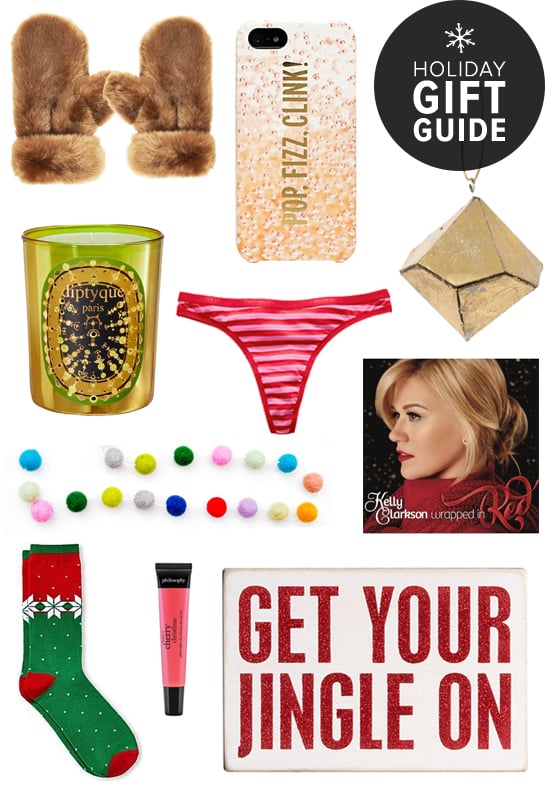 Take the initiative, and shower your girlfriends [60] with these POPSUGAR Love & Sex gifts that scream "ho, ho, ho!" In other words, get your jingle on, girl.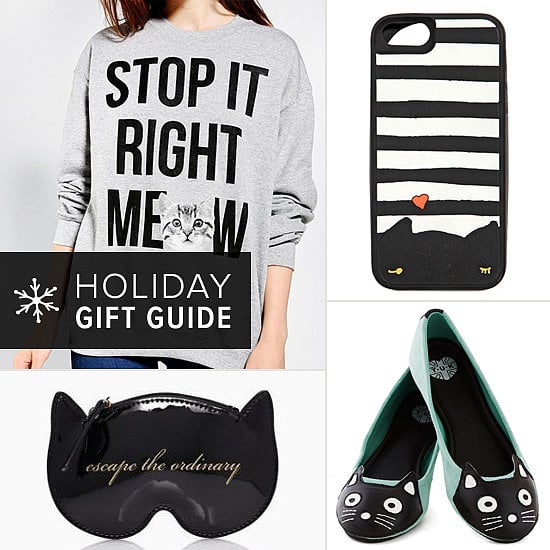 With so many celebrity cats these days — Grumpy Cat, Lil Bub, and Maru, to name a few — cat companions are as popular as ever. Whether you have a cat-fanatic best friend or you're the one with an affinity for felines, POPSUGAR Love & Sex has got the ultimate cat lady gift guide [61]. Meow!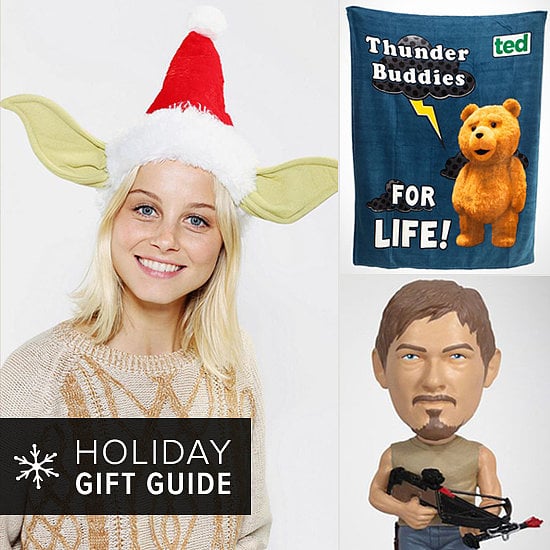 Head over to POPSUGAR Entertainment to find silly, weird, and cool gifts [62] to get your white elephant party started — there may even be stuff you want for real!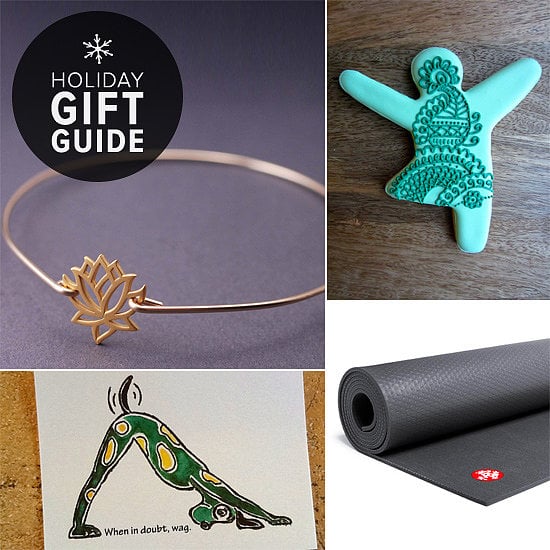 From handmade jewelry and prints to much-needed accessories and clothing, POPSUGAR Fitness has just about everything your yoga-loving gal [63] (or guy) could wish for.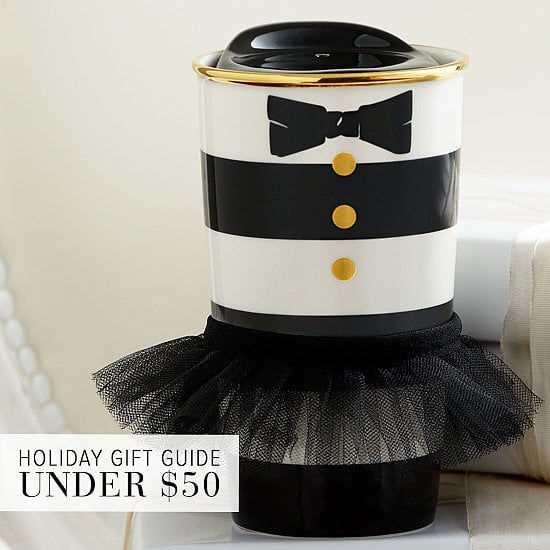 Whether you're scouring the web for the best thing to give the java lover in your life [64] or you're the coffee lover looking to add some fresh gift ideas to your wish list, check out POPSUGAR Food's coffee-related gifts now.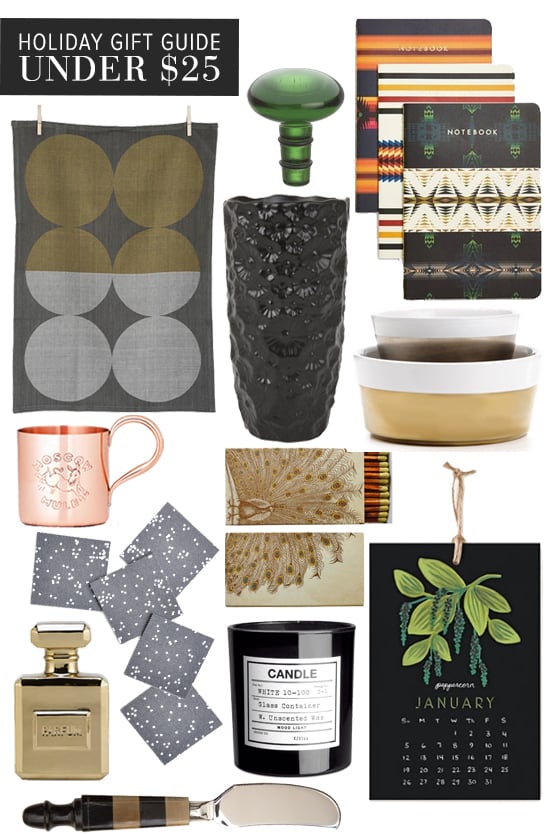 With a cap of $25, POPSUGAR Home has rounded up a variety of high-design finds [65] perfect for friends, family, and co-workers alike.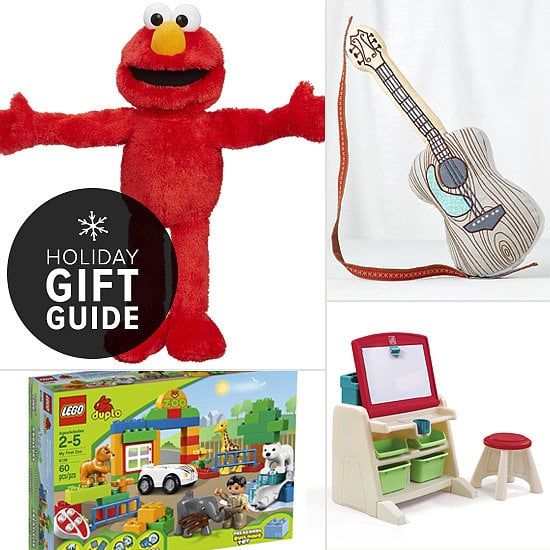 Who says the terrible twos are really that bad? Certainly not your little angel! POPSUGAR Moms has perfect holiday gifts [66] that will keep your tot so busy, he won't have time to get into trouble!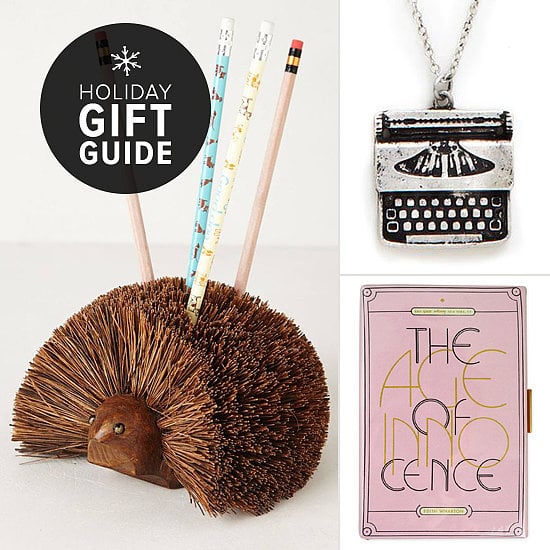 If you know any aspiring novelists who need a little nudge to get pen to paper (or fingers to keyboard), POPSUGAR Love & Sex has expert gifts to inspire a future Jane Austen [67].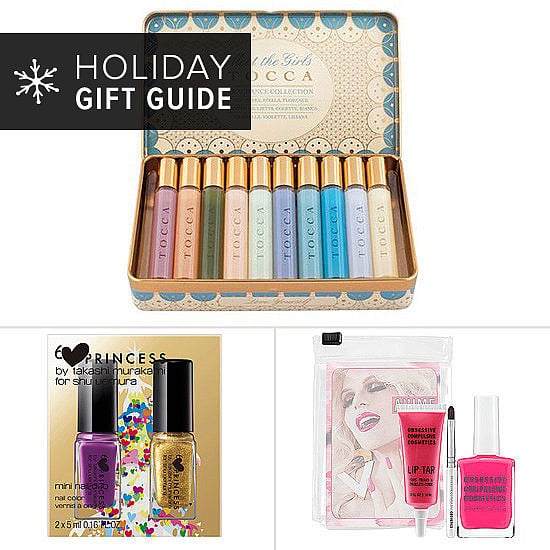 Minitrinkets are always fun to give (and receive!) during the holidays, especially for beauty lovers. POPSUGAR Beauty rounded up a collection of the miniature-size gifts [68] you'll want to dole out this holiday season!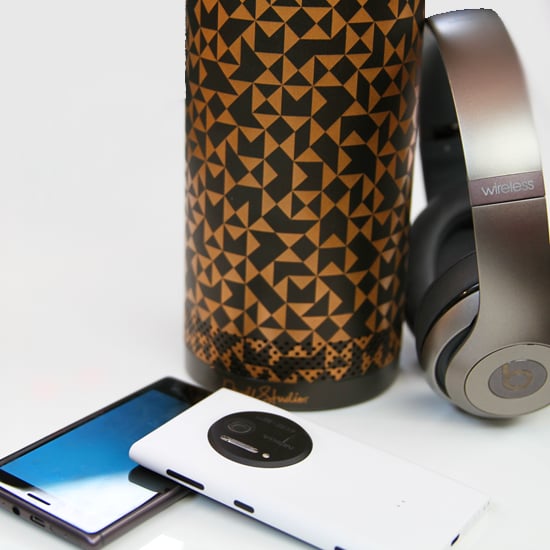 Even though your tech holiday shopping list is supposed to bring joy to others, that doesn't mean the gadgets can't be something you lust after as well. We tracked down three practical finds — a speaker, headphones, and smartphones — that are as beautifully designed as they are functional. From an electronic that could double as its own work of art to the phone designed with photographers in mind, don't be surprised if these good-looking tech pieces sneak their way onto your wish list too.
This holiday, there are plenty of gorgeous polish sets, small and large, for the lacquer-lover on your list. See all the best nail polish gift ideas [69] over on POPSUGAR Beauty.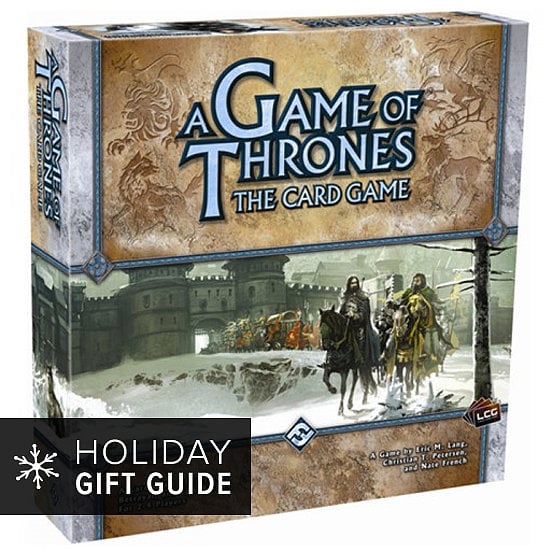 Winter is coming — literally — and it's never too early to start stocking up on holiday gifts for your loved ones. If you've got a Westeros enthusiast in your life, then you're in luck: POPSUGAR Entertainment has a ton of Game of Thrones-themed gifts [70] for the geek in all of us.
This year, why not be the best guest in the history of the universe and arrive bearing one of these amazing gifts? Each one is bound to make even the most discerning host or hostess say "thank you" and really mean it. Watch the video to find out why each one of these gifts is better than the last.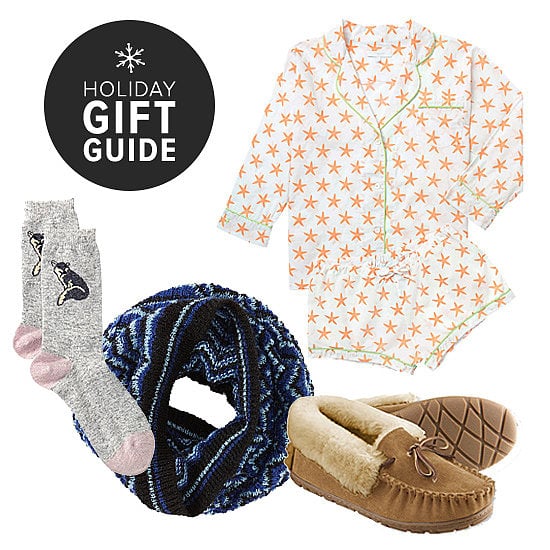 Think about it: what girlfriend wouldn't love a toasty scarf, ultraluxe cashmere sweater, or supersoft nightie [71]? With every price point in mind, POPSUGAR Fashion crafted a list of the must-shop gifts — the kind you'll really want to curl up in, lounge around the couch in, and even a few to go outside the house in.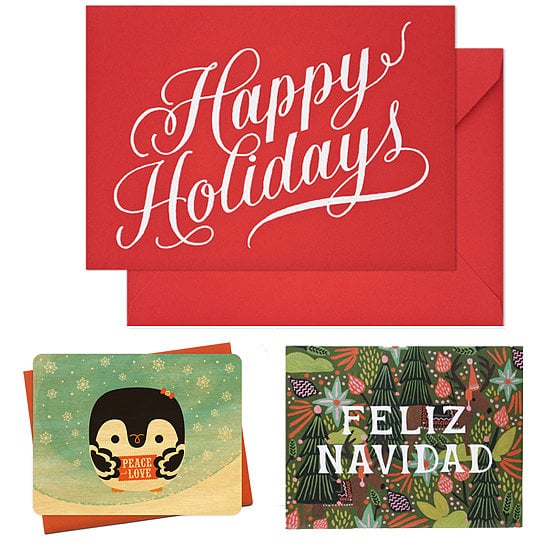 From playful greetings to personalized picks to modern, stylish options, the POPSUGAR Home editors have rounded up the best holiday cards [72] from their favorite stationery spots.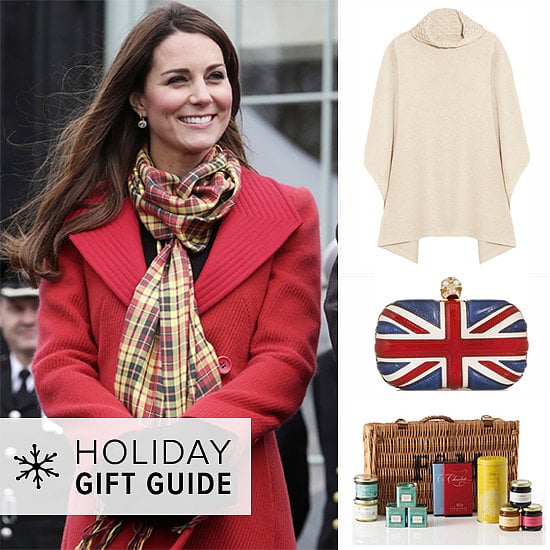 Using the Duchess of Cambridge as inspiration, POPSUGAR Celebrity has pulled together the perfect presents for any royal-lover [73], inspired by Kate's favorite brands, recipes, and her relationship with Prince William.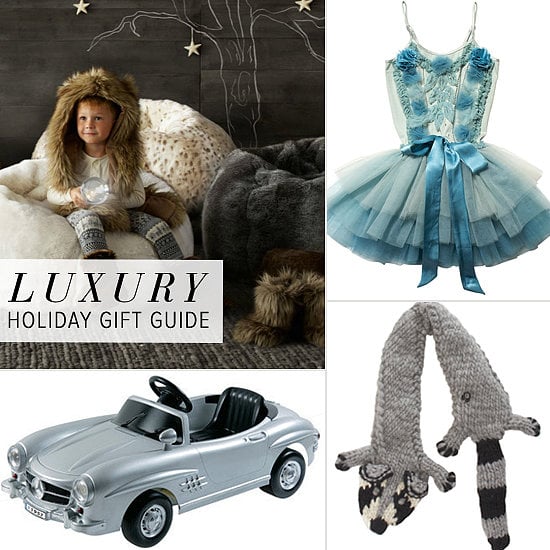 Check out POPSUGAR Moms' luxe finds for your precious tots [74] — from itty-bitty babes to bigger kids who love to live the good life.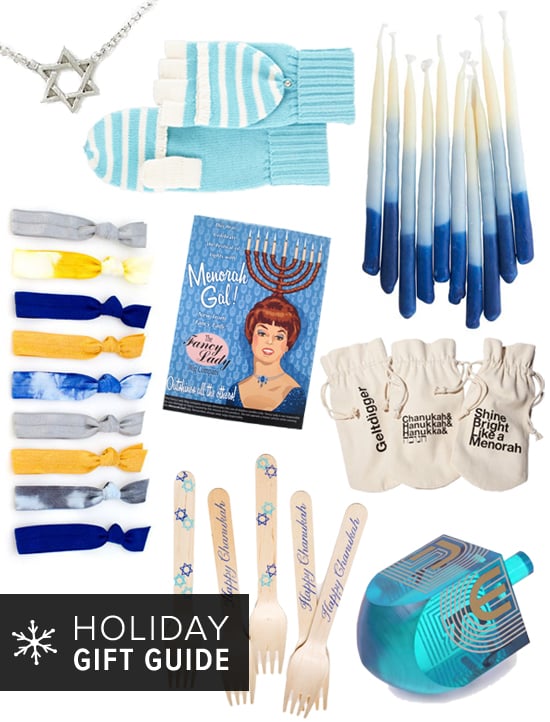 Get a head start on the holiday spirit with this Hanukkah gift guide [75] for your favorite ladies — shop all the great picks on POPSUGAR Love & Sex.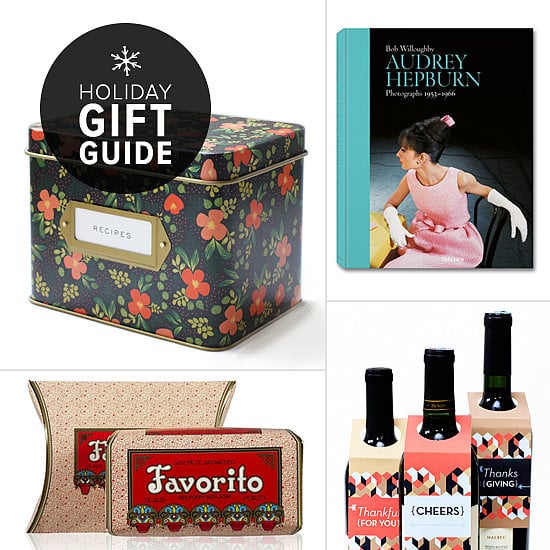 From home goods with classic packaging to retro barware to beautiful coffee-table books, these nostalgic POPSUGAR Love & Sex picks are sure to please the hostess who loves Mad Men [76] or hopes to channel her inner pinup girl.
Get ahead of the rush, and hop on over to POPSUGAR Fashion to kick-start your holiday shopping with 21 one-size-fits-all gifts [77].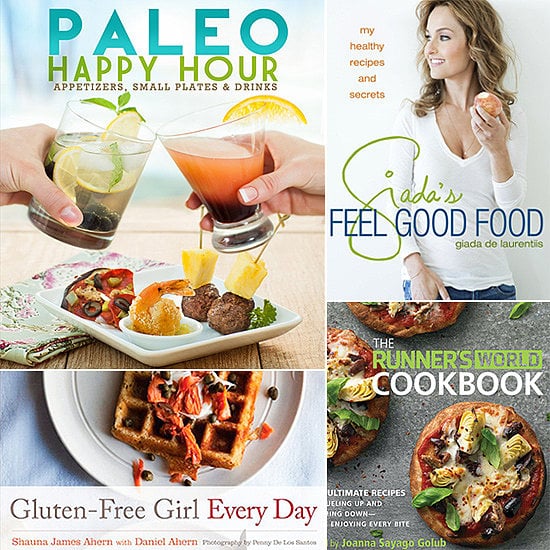 For your health-conscious friends who love to spend time in the kitchen, gift them with a beautiful cookbook this year [78]. Regardless of their dietary preferences (or restrictions), POPSUGAR Fitness has a pick for everyone on your list.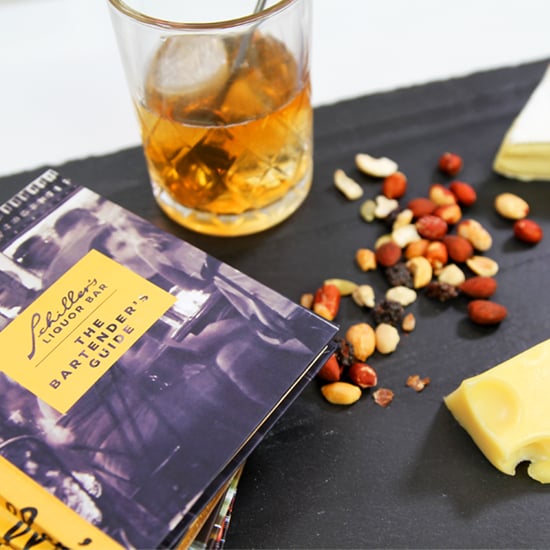 'Tis the season to stuff your face and fill your cup, so we're here to offer you the best gift picks for your food-loving friends and family. Keep watching to see the hottest host(ess) gifts of the season, then [break]get shopping.[/break] Featured in this video: Williams-Sonoma Yarai Cut Mixing Glass [79] ($60) and Spoon Stirrer [80] ($12) Schiller's Liquor Bar Cocktail Collection [81] ($20) Crate & Barrel Large Slate Board [82] ($30).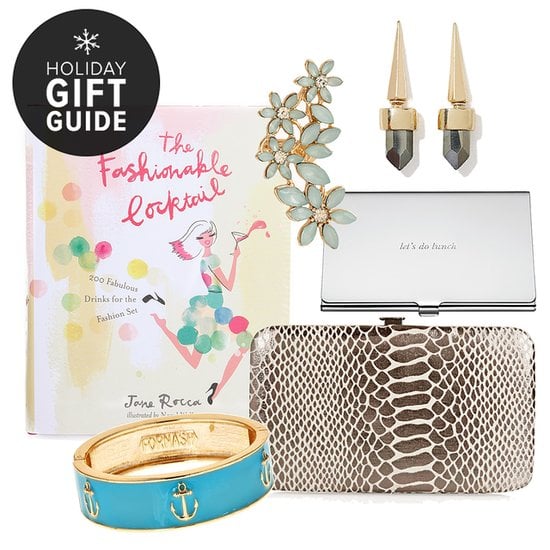 Compared to when you're on a really tight budget, spending $30 can feel like a downright splurge! And with picks this special, it will look that way, too. POPSUGAR Fashion has many things [83], including sparkling smoking slippers, makeup cases with attitude, and more than one bauble to kick-start a year in style, just to name a few.
Whether you're perusing presents for a fitness buff, a friend looking to improve her health in 2014, or anyone who loves a good pop of color, click through all these water bottle options [84], and start checking friends and family off your list.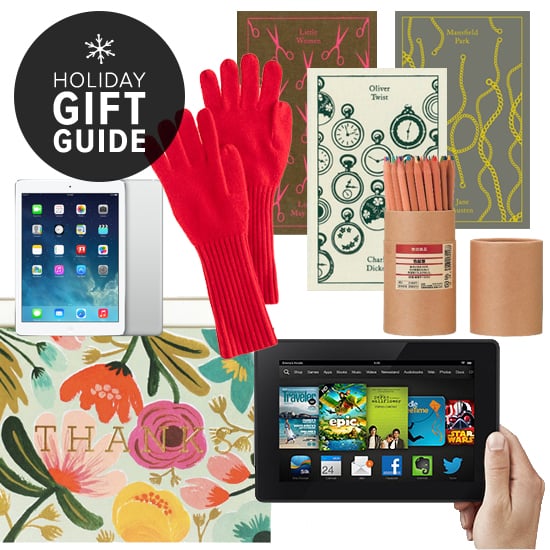 Put down the "best teacher ever" mug . . . and the vanilla candle, and the personalized ornament, and, heaven forbid, those apples! This year give your children's teachers the gifts they really want. Chocolates and Starbucks cards might be nice, but if you really want to impress teacher, consider one of the gifts [85] in here.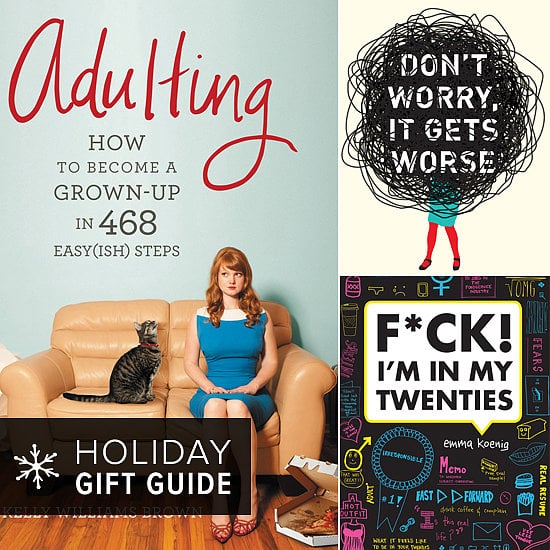 If you have friends in her 20s who's on the verge of a quarter-life crisis, then here's what to give her this Christmas. POPSUGAR Love & Sex has selected a collection of books with poignant advice [86], hilarious personal experiences, and worst-case scenarios to help her (or you) get over the my-life-is-hopeless hump — or at least laugh about it!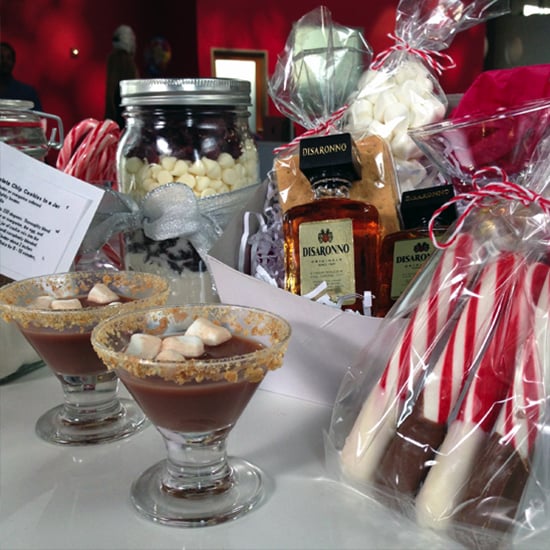 Not only are homemade gifts — particularly the edible kind [87] — a thoughtful way to show loved ones you care, but they're also often budget-friendly. The downside: many require a large time investment. But not these three fast and easy edible gift ideas! Watch the video to get inspired.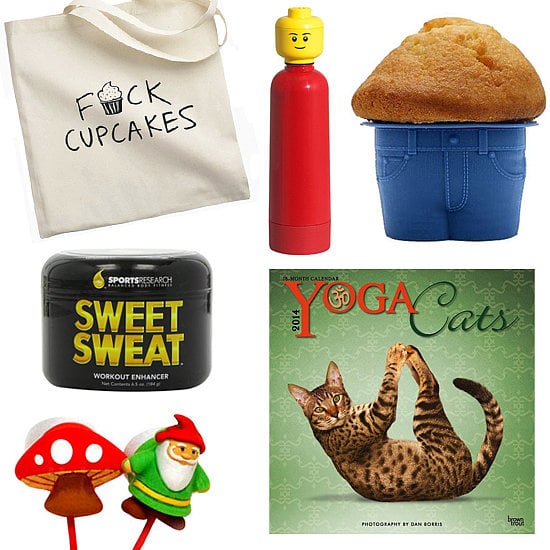 What do yoga cats and muffin tops have in common? Funny you should ask! They make perfect fitness-related gifts for any white elephant exchanges on your calendar this season. For friends who can take a good joke, these 10 finds are ones they'll never forget [88]!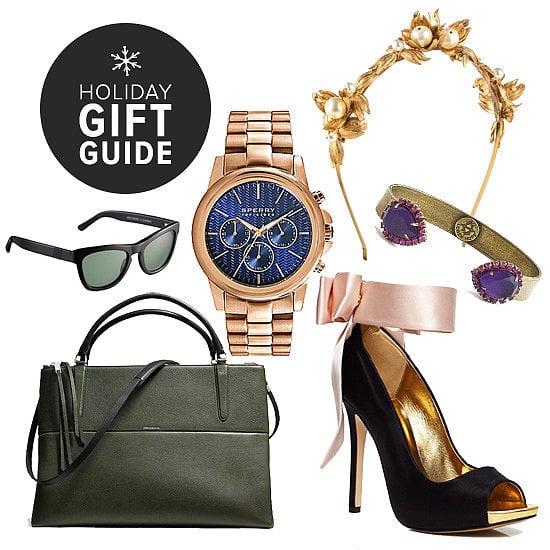 At its best, shopping for others can be a cinch, but at its worst . . . "difficult" doesn't even begin to describe it. To help, POPSUGAR Fashion collected presents perfect [89] for all the different personality types in your life.
Not only do good things come in small packages, they come with good design and affordable prices. Keeping style, stockings, and savings in mind, POPSUGAR Home found a few trinkets [90] that are sure to delight.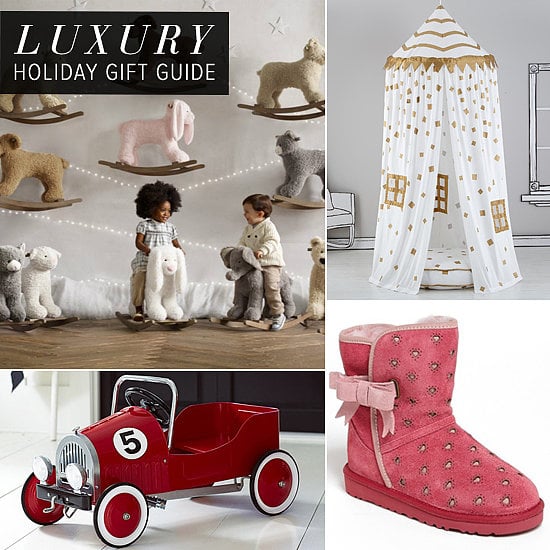 If you want to really wow your kid this holiday season, splurge on a gift that's guaranteed to induce squeals, screams, and maybe even some jumping up and down. Yes, the following gifts aren't exactly budget friendly (all come in at more than $100), but if you want one showstopping present under the tree, these are the gifts for you [91]!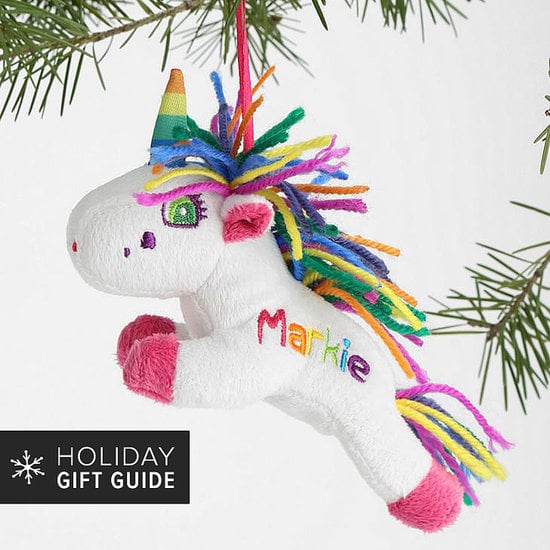 For those of us women who grew up in the '90s, nothing beats reminiscing about all the fashion, music, books, games, and toys that made the decade so totally rad. But what happened to those lanyards we made at camp or those Lisa Frank stickers we traded at recess? Sadly, they've long since been lost, thrown out, or sold off at garage sales. So whether you have a girlfriend, sister, or significant other who's missing her '90s girlhood this holiday season, check out POPSUGAR Love & Sex's nostalgic stocking stuffer guide [92] — she's sure to be visited by the ghost of Christmas past!
Believe it or not, it's perfectly acceptable to give someone a pair of socks for Christmas. All you have to do is make sure that the pair is perfectly suited to the personality of the recipient, and the rest is as easy as finding the wrapping paper. From the seriously luxurious, hand-knitted options to ones that look like your toes are having a party, these sock options [93] should have you feeling great about investing in them for the holidays.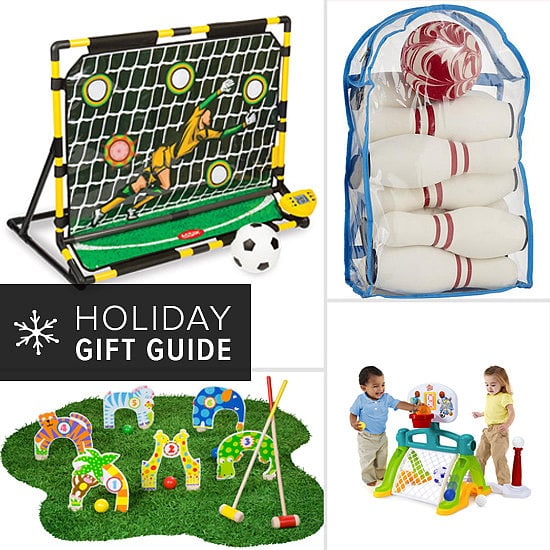 Got a little one who can't stay away from the field, rink, court, or greens? Be glad! His or her novice athletic skills are a great way to learn about the values of teamwork and fair play, make lifelong friends, and stay fit. Reward your athletic tot (or sideline-sitting baby) this holiday with one of these spectacularly sporty gifts [94]!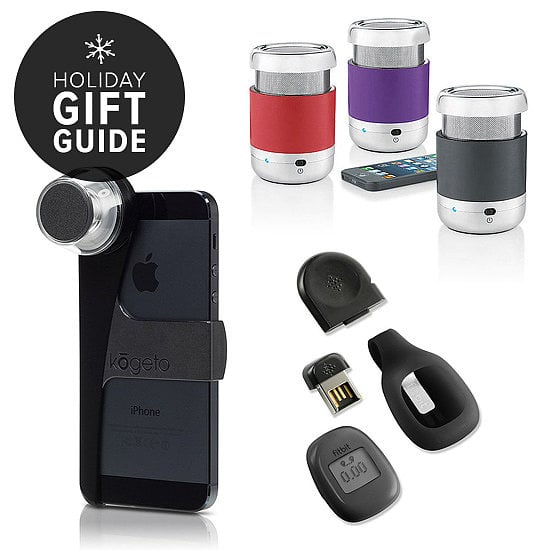 Dad is your rock. He's the family IT guy, the authority on all things sci-fi, and the ultimate adventurer. So this holiday season, get him gadgets and gizmos that'll up his tech game. POPSUGAR Tech wrangled some trinkets [95] for outdoorsmen, photographers, Einstein enthusiasts, and more. See all the fitness trackers, panoramic photo accessories, wireless speakers, and other doodads we handpicked for geek fathers in the gallery!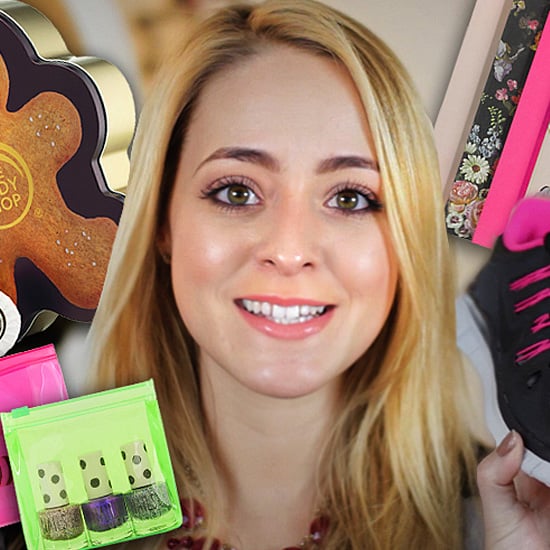 Meet Fleur DeForce, POPSUGAR Girls' Guide's new fashion series host! Some of you may know Fleur from her beauty and fashion videos on her own channel. Now, we're super excited to be bringing her style inspiration to POPSUGAR Girls' Guide! On this episode, she is making a list and checking it twice — with this ultimate holiday gift guide for girls! Which gift ideas are your favorite? Do you have any gift ideas you'd like to share?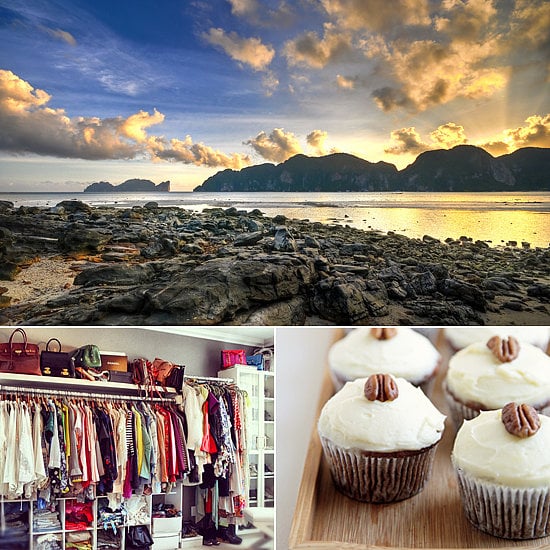 Remember when you were younger and you gave "coupons" to your parents for things like a free car wash? Well, this holiday season, it's time to bring those back, except in a more sophisticated, grown-up way. There are still things you can do [96] to help your family or friends, either by taking a family portrait or booking their next vacation, at little or no cost to you. No doubt they'll appreciate the sentiment, no matter how old you are.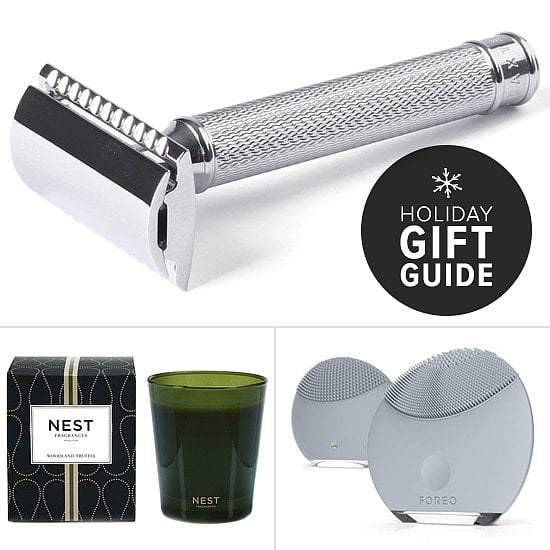 It's always good to have an extra present on hand for the holiday guest you forgot or didn't expect, and these options will work for any unexpected reveler [97] — male or female. Not only will no one feel left out, but they'll have no idea you didn't have them in mind when you picked it out.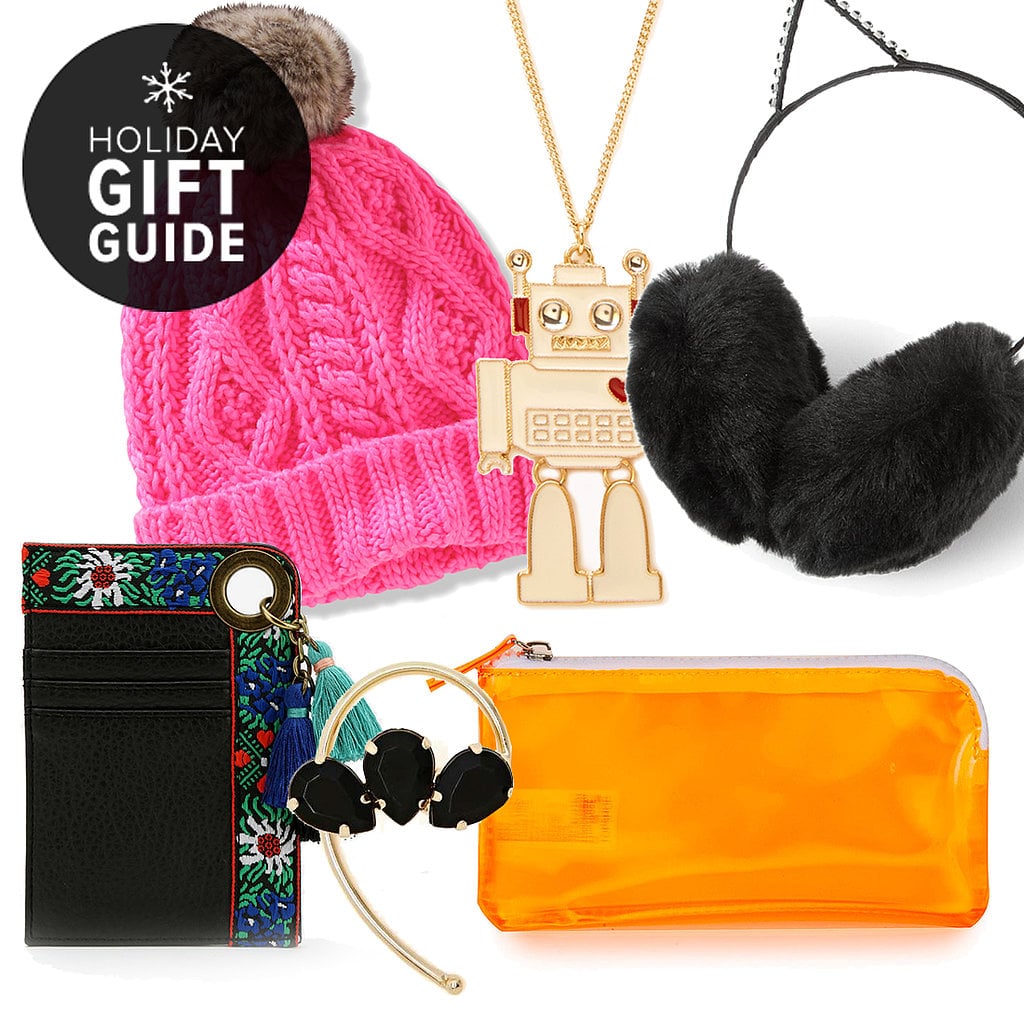 White Elephant, Yankee Swap, Dirty Santa — call it what you will, but the one thing that faithfully remains constant? The task of trying to find a cute, cheap gift that everybody will love. Thankfully, that's where POPSUGAR Fashion comes in. Not only will all of these baubles, wares, and accessories elicit glances of envy from other swappers — and maybe even a few chuckles — but they all ring in under $15 [98]. It's time to start swapping.
Did you know that breakups are most common during the holiday season? It's sucky but true. If you have a friend who's going through the hard time, then get her one of these awesome, sometimes-silly gifts [99]. Whether she's the dumper or the dumpee, the finds will put a bandage on her heart and a smile on her face.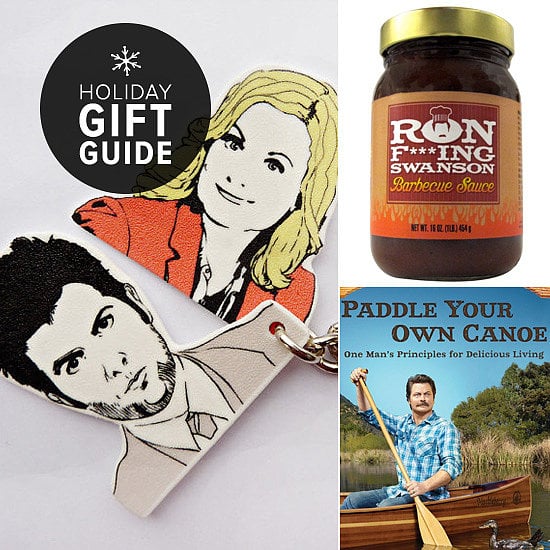 Parks and Recreation is one of the those TV shows that seems to keep getting better — and simultaneously inspire its viewers to love it even more. If you know a big Pawnee fan, then this Parks and Rec gift guide will have the perfect present for her. And, of course, if you're the fan, then take the opportunity to, as they say, treat yo' self.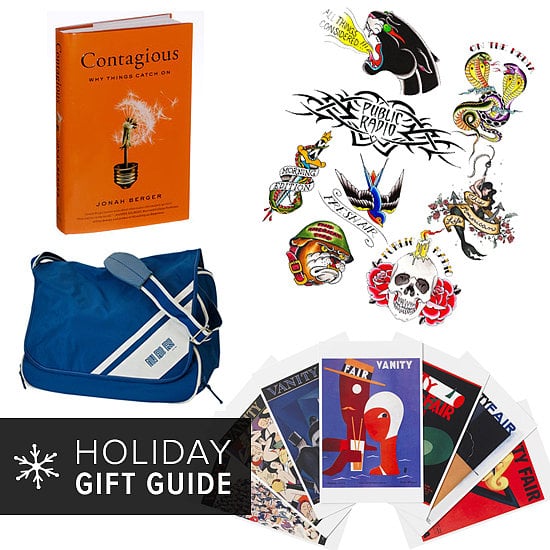 Know someone who donates to NPR every year and considers The New Yorker perfect beach reading? Then POPSUGAR Celebrity & News has the gifts she'll love [100]! They range from historical — like a look at the 50 most iconic photos of all time — to modern: think a coffee-table book filled with beautifully designed Obama campaign posters.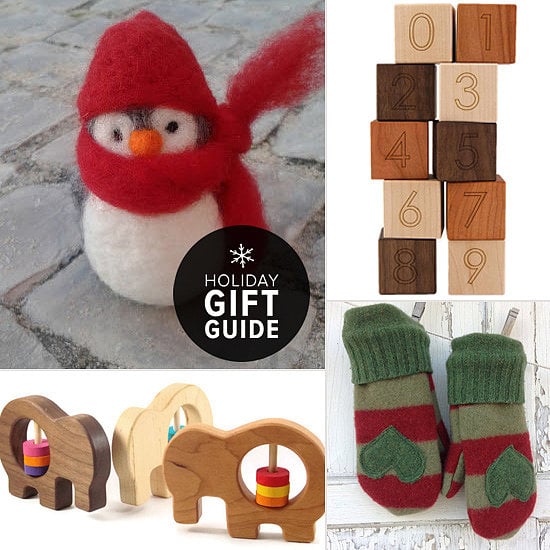 Even the most organized, well prepared of moms have to leave something to the last minute, and for many of us, that something is stocking stuffers. Filling the kids' stockings with fun, original trinkets [101] is always a challenge, but POPSUGAR Moms has found that Etsy is a great resource for making things a whole lot easier.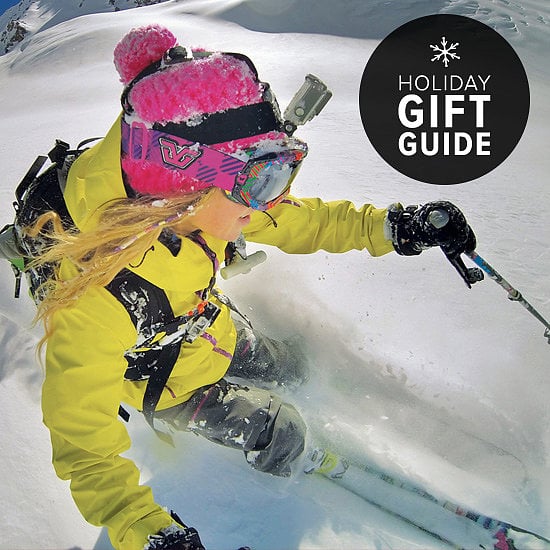 The adventurer in your life wouldn't think of letting dipping temperatures keep her from hitting the slopes or continuing on a quest to hike every local trail. For the recipient who can't spend a weekend inside, POPSUGAR Tech tracked down the gadgets that'll have her tuned in on the slopes [102] and armed with a smartphone camera when it's a tropical Winter getaway.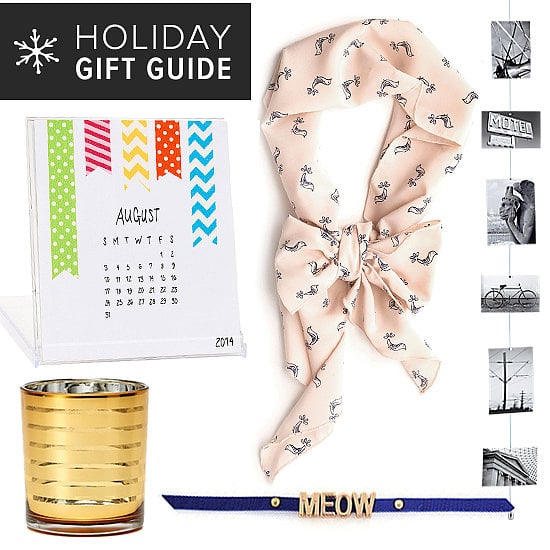 Finding the perfect gift during the holidays is a victory in and of itself. But add the word "affordable," and you've got a win-win. That's why POPSUGAR Smart Living searched the net for budget-friendly finds [103] that everyone from Mom to co-workers will love. And the best part is they all ring in under $10. That's right — $10!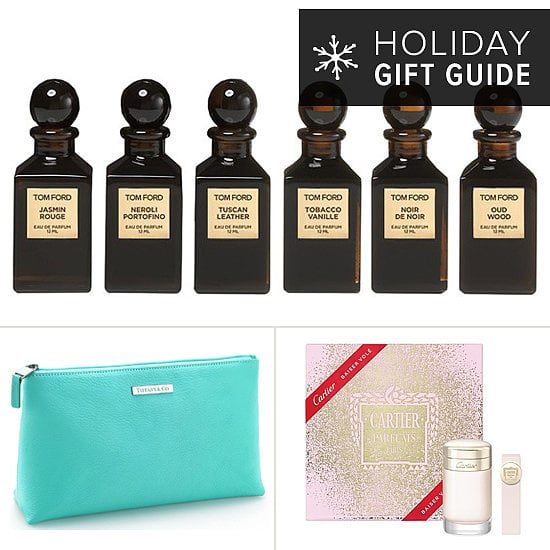 From makeup brushes to cosmetics cases and perfume sets, fashion designers are putting their coveted names on all things beauty this holiday season. Whether she's a label snob or just into the finer things in life, she'll be happy to unwrap one of these designer gifts [104].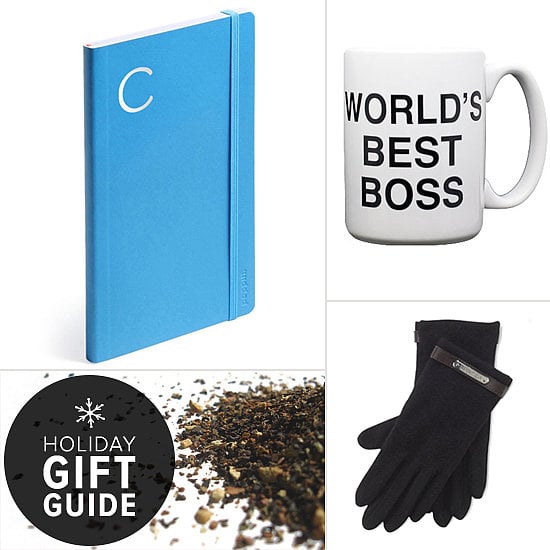 The year is ending, and with work deadlines and a list of holiday gifts to buy and errands to run, you shouldn't be stressing over whether to give your boss something. The decision is completely up to you, and your boss probably won't expect anything, but it's a nice token of your appreciation for her great management — or at the very least, the pretty packaging will leave a good impression come performance-review time. Here are 10 ideas for you [105], all under $100.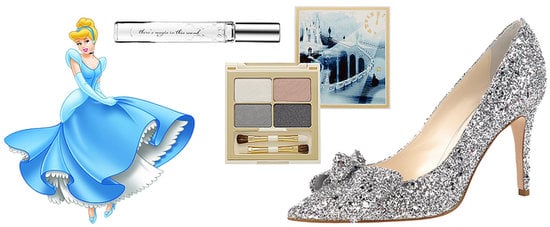 This holiday season, give the women in your life some nostalgia with these presents inspired by Snow White [106], Cinderella, Ariel, and the rest of Disney's royal ladies. Whether it's a girlfriend who's still waiting for her prince charming or a sister who dressed as Belle every Halloween [107], anyone who's still got a soft spot for Disney princesses will love these gifts ideas. Check them out now for a happily-ever-after holiday!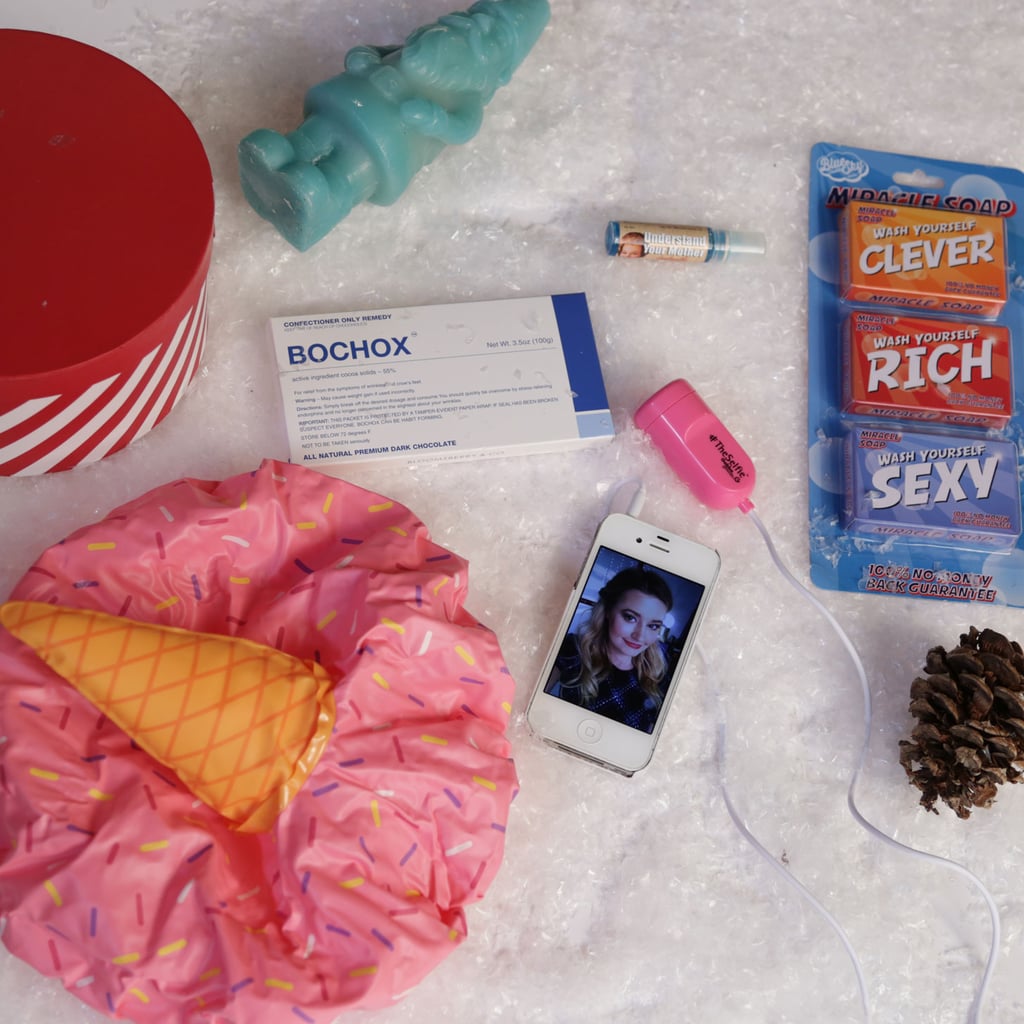 White elephant gift exchanges are a great excuse to get kooky and find those random, bizarre, hilarious gifts and bring them to the table (or office party). Whether you're just trying to understand your mother — there's a breath spray for that — or want to upgrade your selfie game, these gifts have you covered.
On Kirbie: Shoshanna dress