I just couldn't resist putting up this picture of little Samson as he sat nicely and waited for his Bit O Luv Bistro Beef dog treat. It's just too cute! Bit O Luv's philosophy about dogs not just being pets, but being a part of your family, goes right in line with my own. So naturally, I wanted to give the treats a shot. Well, not me, but Samson and North anyway.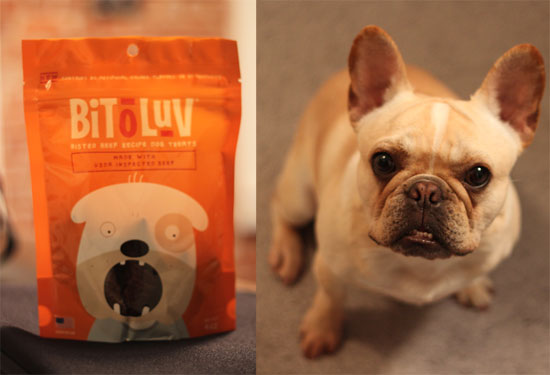 Bit O Luv makes all their treats here in the US without any by-products or fillers. And their jerky? Slow roasted. Sounds better than some of the things that I eat on occasion. If Samson's excitement to eat the jerky bits was any indication (well, let's face it —
this guy doesn't discriminate
), I think your doggie will love them too. Just make sure you check the feeding instructions on the back of the package so you don't overdo it. Just cause your pup is a good boy,
doesn't mean he should be overweight
too!