DKNY is defined by detail and color. Each bed ensemble portrays the distinctive style of DKNY — a style that banishes all the "rules."
Wildflower Field
If you are a dramatic woman who loves floral patterns, this collection is for you! With embroidered flowers in a vibrant cherry red, you can't go wrong — it will definitely add a little splash of color to your room.
Click here [1] to shop the Wildflower Field Collection.
Lilac Shadow
With a modern twist, DKNY's Lilac Shadow collection has a fun and floral feel while still giving off an elegant and feminine look with its cool shades of purple and taupe!
Click here [2] to shop the Lilac Shadow Collection.
Urban Vine
If you like your bedding with a softer, less drastic feel, Urban Vine is for you. It has some floral embroidery while still looking elegant with a traditional touch.
Click here [3] to shop the Urban Vine Collection.
Color Block
If you are a stripes kind of gal, this collection is right up your alley!  The large blocked stripes give an added touch to a simple room looking for some more snazz. Especially with the pretty toned colors and subtle floral design, it could really light up a room.
Click here [4] to shop the Color Block Collection.
Full Bloom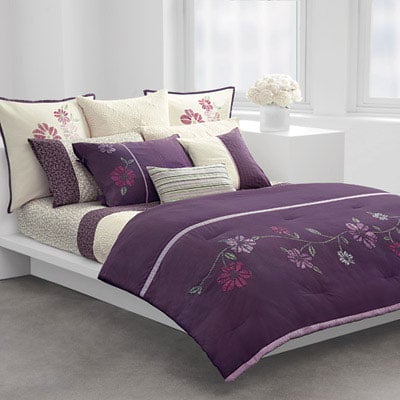 Looking to add a feminine but flirty touch to your bedroom? Take a look at the new DKNY Full Bloom collection inspired by DKNY Ready–to-Wear.  Who wouldn't want a bedding collection as fashionable as its RTW line?
Click here [5] to shop the Full Bloom Collection.
Floral Valley
If you find the beauty in simplicity but you're not a plain Jane, this is definitely for you. The pale green is totally serene while the florals add splashes of color. You're guaranteed some sweet dreams in this floral valley!
Click here [6] to shop the Floral Valley Collection.
DKNY Pure
For a "green bed," definitely check out DKNY's Pure Bedding collection! Made from organically grown cotton, this pure look comes in so many different options you can mix and match your sheets while being environmentally friendly.
Click here [7] to shop the Pure Comfort Collection.