Not only does Samson have a mighty fine eco-friendly toy box [1], but it's filled with tough toys — he's a super chewer [2]. So, of course, I sent mom home with a few choice Dogtronics [3] toys to see if they can hold up to the bulldog jaws of our favorite frenchie, but also to see if they are as fetching as all the testimonials say they are [4].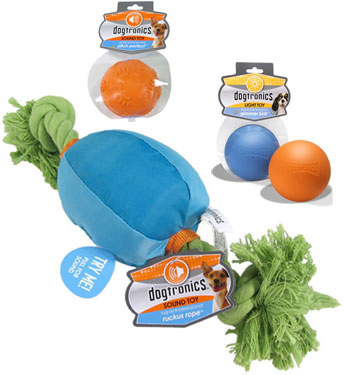 From what I hear, Samson couldn't decide which one to play with, and often played with all three toys at the same time! He had his choice between the fun and noisy
Pitch Perfect Sound ball
[5], the light-up
Glimmer Ball
[6], and the tough and tug-worthy
Ruckus Rope Sound toy
[7] that not only lets your pet pull, chew, and fetch, but it comes with sounds to keep him entertained. So just how well did Samson like the toys? Well, find out for yourself in the video when you .