Check out the latest styles from Express [1]! Also, visit Express.com [2] to check out styling tips for both men and women.
Get the Look!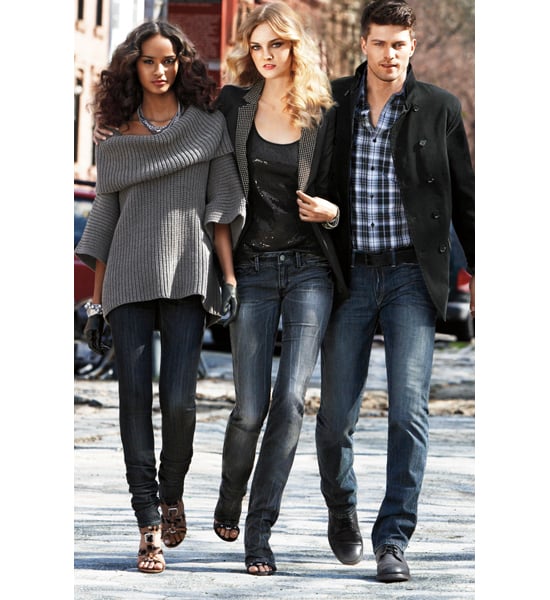 For Her
Boyfriend jacket: [4] Inspired by him, tailored for you. Suit yourself for days or nights in a fresh and flirty boyfriend jacket.
Sparkle tops: [5] A sleevelessly sexy shape, curve-skimming stretch, and shimmering sequin embellishments easily make this the hottest going-out look of the season.
Cowl neck sweater: [6] A hefty, luxe-sized sweater with an ultratrendy cowl-shaped neck is a new look you can warm up to.
For Him
Outwear: [7] Add effortless cool to your outerwear collection with this mock double-breasted jacket in smooth, ultrafine wale cotton.
Style We Love!
For Him
MK2 shirts (military details): [8] Cut slimmer through the shoulder, chest, and waist for a trim, clean fit. Box-pleat pockets and epaulets add military cool to the crisp, fitted look
Skinny ties: [9] 100 percent pure silk, expertly tailored. The perfect finishing touch.
For Her
Party tops with sparkle embellishments: [10] This season's hottest fit is off the shoulder and sexy. Faceted beads and studs add glittering shine for your days or nights.
Dark denim at $49.50: [11] Sweet and low on your hips, long and lean on your legs. Zelda brings out your sexy shape.
Iconic Look and Feel of Leather, Minus the Leather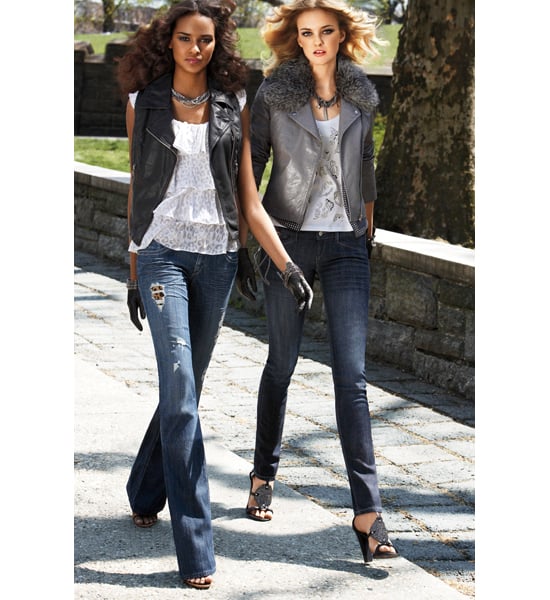 (Minus the) leather vest: [12] The sharp and sexy motorcycle vest goes faux for a cooler, animal-friendly alternative. It's the iconic look and feel of leather, minus the leather. Clever.
(Minus the) leather motorcycle jacket: [13] The iconic motorcycle jacket, minus the leather. Animal-friendly faux is the new state of cool. Look good and feel good in this modern leather alternative.
Destructed denim: [14] Worn and torn for the right look and feel. The jean for every body. Your legs never had it so good.
Graphic tees: [15] Trendy original graphics. Soft comfortable cotton. This is art. Wear it.
Skinny jeans: [16] Sweet and low on your hips, long and lean on your legs. Zelda brings out your sexy shape.
Walk in the Park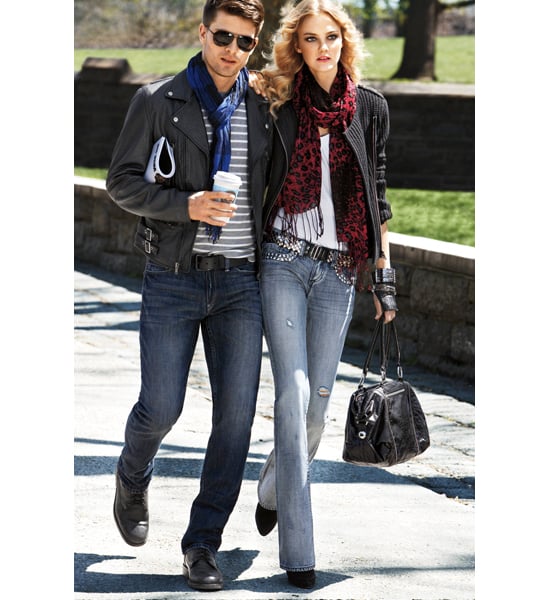 For Him
Motorcycle jacket: [17] Classic design. Cool hardware. The iconic leather jacket.
Zach fit jeans (extra slim fit): [18] Find your dark side. The straight and narrow Zach jean is the new cool and modern. Our slimmest fitting denim for straight up style.
Scarves: [19] Add a bold dash of color to your wardrobe with this lightweight check scarf.
For Her
Motorcycle inspired sweater: [20] An ultramodern twist on motorcycle chic. This cable-knit sweatercoat is cropped short with an off-center zipper and motorcycle hardware.
Scarves: [21] Super-soft comfort and bold, eye-catching color keeps your neck under wraps and your chic style on display.