Pet-Friendly Woof Loaf
From Sarah Lipoff, POPSUGAR Pets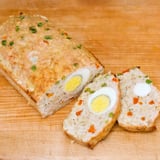 Ingredients
1 pound lean ground turkey
1/2 cup chopped carrots
1/2 cup peas
1/2 cup oats
2 eggs
3 hard-boiled eggs
Directions
Preheat your oven to 350ºF. In a bowl, mix together the lean ground turkey, chopped carrots, and peas. Both are healthy for cats and dogs, giving them the nutrition they need for strong eyes and good digestion.
Add the oats and eggs. Mix until the loaf mixture comes together. Oats help your pet's coat shine, and eggs offer extra protein. Lightly grease a loaf pan with olive oil and then add half the mixture to the pan.
Place the three hard-boiled eggs along the center of the loaf and then cover with the other half of the ground turkey mixture. Pop in the oven and bake for 45 minutes.
Cut a half-inch slice from the cooled loaf and offer it to your pet. He'll be woofing for seconds! If feeding a slice to your feline, it's a good idea to chop it up before adding it to her feeding dish.
Information
Category

Pet Treats, Dog Food

Yield

Makes 12 servings

Cook Time

45 minutes